When we started with social nudity, "naturism" was the only term we knew. The naked campsites in
Belgium
are called naturist campings and the clubs organizing naturist events are called naturist clubs. If we want to become a member, we have to ask the naturist federation. Everything was naturist.
Soon also the term "nudist" started to pop up, but almost exclusively in a negative sense. It was either used by naturists to point out other naked people who didn't (according to them) comply with the naturist values but just liked to be naked for the sake of it. Or the term "nudist" was used by textiles to talk about naturists in a somewhat humiliating way.
When we started to include naturism in our travels, we noticed new terms. In
Croatia
for example, we were suddenly going to FKK beaches instead of nude beaches. It became a bit confusing. From the messages we receive from beginning and aspiring naturists, it seems like we were not the only ones finding it difficult to see the wood for the trees.
What's naturism/nudism/Nude recreation/FKK
Now that we've spent many years as naturists and visited naturist places in
many different countries
, we've learned that the difference between naturism and nudism isn't much more than a cultural thing. In most parts of Europe, naturism is the most common term. We talk about naturist resorts and
naturist beaches
. Also "FKK" is still used quite a lot. This is short for the German word Freikörperkultur, meaning "free body culture". Since naturism as we know it originated in Germany, this was the first accepted term and still the one used in German-speaking countries and popular holiday destinations for German naturists.
In the
USA
, on the other hand, "nudism" is much more common. Does that mean that the American naked people have no interest in following the naturist values? Not at all. We've noticed that the philosophy of the American nudist and European naturist is exactly the same. Another new term which we found in the USA was "nude recreation". We like that, because it gives a more practical indication of what nudists actually do. They recreate in the nude.
Also in South America, the term nudist is more often used. For a very interesting reason: "naturist" was already taken. Unlike in Europe and North America, naturism/nudism in South America is still relatively new. When social nudity started to get a foot on the ground in this continent, the eco/bio movement was already using the term naturism. So there was no other option than to go for "nudism" instead.
In the end, it doesn't really matter how you prefer to call yourself. Naturism, nudism, nude recreation and FKK all come down to the exact same thing. It's about being naked among others in a non-sexual way and about respect for oneself, the others and the environment.
What is clothing optional?
For naturists and nudists, nudity is of course a very important aspect. No matter if you go to a naturist campsite or a nude beach, you will be expected to take off your clothes. This creates a sense of equality, a bit like a school uniform. Everyone is wearing exactly the same outfit. You accept how we look and we accept how you look. It's a basic but wonderful idea. But it's definitely not the perfect situation for everyone.
Some people like to be nude on the beach, but don't feel much for having dinner in a restaurant without at least some coverage. Others have no problem with walking around in the nude, but for their evening run or morning
yoga session
, they do feel more comfortable with clothes on. In the large
naturist villages
, you can literally do everything naked. Sunbathing and swimming, but also shopping, dining, cycling, play volleyball, do fitness, go to breakfast, lunch, and dinner, have a beer in the bar, sing a song at karaoke or dance the night away. Not everyone likes to do all those things in the nude.
Another difficulty appears when you are a nudist/naturist but your partner is not. How do you cope with this? Take two different hotels during your vacation? Spend your days at the beach on the border between the nudist section and the textile side?
Here's where "clothing optional" comes into play. Clothes are an option. You like to be naked and we prefer to keep some clothes on? We can live happily next to each other at a clothing optional place. It's mostly a live and let live philosophy. Everyone can do whatever he or she prefers (clothing wise at least). For some it's the perfect solution but other nudists will say that it disturbs the balance because clothed people are hiding their bodies while nudists have nothing to hide.
What is swinging/lifestyle?
Another form of social nudity can be found at swingers places. "Swinging" (also called "lifestyle" in the Americas or "liberal" in other parts of the world) is basically a term for swapping partners. Swingers places are not nude obligatory by default, nevertheless most of those places do allow social nudity. The big difference between swingers and nudists/naturists is that most swingers places do allow public sex.
Visitors of swingers places come for all kinds of different reasons. Some like to swap partners, but others just come to watch. Some like the public sex while others still keep the sex behind closed doors. We've heard from people visiting swingers places just because they like the atmosphere and the frequent parties.
Since there isn't a single country in the world that allows sex in public places, swinging is only possible in private locations such as swingers resorts, clubs or private beaches.
So technically, naturist places allow public nudity in a non-sexual environment. Swingers places allow both public nudity and public sex.
Pretty easy, right?
Or isn't it?
All in the mix
Although there's, in theory, a very clear distinction between swinging and naturism/nudism, in reality, this does cause a fair amount of problems. A major reason for this is that some swingers resorts tend to hide behind the name naturist/nudist. Sometimes because they believe that a nudist resort will be more easily accepted by the town than a swingers resort. Or because they believe that for their guests the step to go to a naturist resort might be easier than going to a swingers resort. And some do so because they hope to play on both sides (pun intended) and attract both naturists and swingers.
Of course, it doesn't work well this way. Naturists end up at a so-called naturist resort and see sex all around. For first time naturists, this can be a reason to never try naturism again.
There are other reasons why swingers tend to frequent naturist places. Naturist resorts are more common and are often much cheaper than swingers places. The perfect example is of course the nude beaches, which are free. This is the major reason why many nudists don't really like swingers.
Every different kind of social nudity comes with its own set of rules, or etiquette if you wish.
At naturist/nudist places you're not supposed to wear clothes (when the weather permits it) or to have any sexual activity in public.
Clothing optional places allow you to wear clothes or be naked, but also here public sex is off the question.
At swingers places, public sex is allowed. Whether you may or may not wear clothes is up to the particular resort.
As a swinger, you can perfectly visit a nudist resort. But stick to the rules and keep your romances behind closed doors. Similarly, as a nudist, you're welcome to visit a swingers resort. But know that you might see other people having sex and be invited to join (to which you don't have to agree if you don't want to).
The choice is yours.
Naked Wanderings' Complete Guide for the First Time Nudist ebook

Do you still have questions about nudism or naturism?
Are you looking for even more tips and tricks?
Our ebook will be the perfect resource for you!

Learn More
---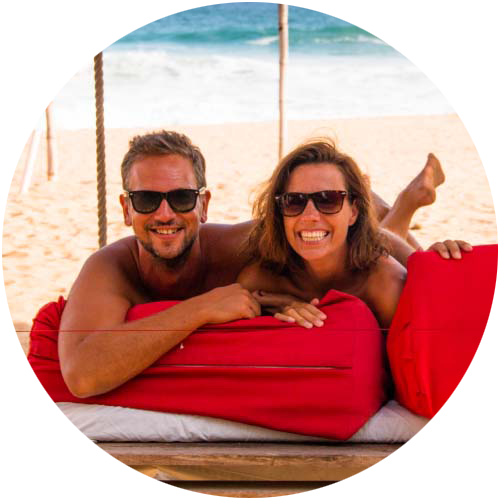 Support Naked Wanderings
Do you like what we do for naturism and naturists? Did we make you laugh or cry? Did we help you find the information you were looking for? Then definitely join our Patreon community!
---