Nudism is a social thing. Although there definitely is a large group of
home nudists
, the large majority of nudists do enjoy
social nudity
. The most obvious choice for your first nudist friend is, of course, your partner. Next up are your kids. Just like so many things in life, also nudism is better if you can share it with your loved ones. But what if you don't have a partner or a family or what if they don't want to have anything to do with your nudist habits?
No need to worry, if you search the internet you will soon find a bunch of nudist websites that promise to help you find new nudist friends. Or even nudist dates. Just like that, they could be the key to a nudist partner for life… Doesn't that almost sound too good to be true? Well, of course, that's because it isn't true. We've talked about
these kinds of websites
before, they're all just pure nonsense. Crooks trying to get away with your money or at least your personal details. This is the first and most important website: Many nudist websites are not what they seem.
A great example of such a dubious website is
NudistDatingSites.net
. Of course, you have to subscribe to get any results, but even without subscribing, you can get an indication. We searched for naturist women in Nauru (yes, that's a country) that are 24 years old. The system promises us more than 300 profiles if we subscribe. Now you have to know that Nauru only has 11 000 inhabitants. The odds that there are in fact more than 300 women that are 24 years old in the country are low. Let alone that all of them would be nudists.
Luckily, there are some better ways to find other nudists.
Visit a nudist resort
This is definitely the most obvious choice. If I want to find a nudist near me, I just go to places where there are many nudists. Like a nudist resort. If you visit a resort near to your home, chances are that you'll run into someone familiar, of whom you just didn't know that he or she is a nudist as well.
The main reason why you're looking for a nudist friend might be because you don't want to show up on your own at a nudist resort. Well, we can tell you that nudists, in general, are
very friendly people
and often think of strangers as friends they just haven't met yet. So even if you go on your own and you're a bit social, chances are high that you'll meet a lot of fun other nudists.
A difficulty, especially for men, is that some resorts apply quota for singles. It's sad but understandable, and it's a discussion we're not going to have now. What it comes down to is that men without female company might be refused in certain resorts. Luckily, there are other options.
Join a nudist club or federation
Personally, for a long time, we've never seen the advantage of joining a nudist club or federation. Being a couple and in our thirties was always enough to be allowed entrance to pretty much every nudist venue we wanted to visit. The time when a membership card was needed to have any nudist fun was long gone. We thought. But we've heard different stories, especially from singles. Often the nudist membership is seen as a kind of proof that you have never misbehaved at a nudist place. So having such a membership card does increase your chances to be allowed as a single.
But that's not the only reason why joining a nudist club or federation is interesting. The purpose of a nudist resort is to provide a space where people can enjoy some time in the nude. Nudist clubs, on the other hand, try to create a community. They bring people together. Obviously, these are great places to meet other nudists.
Nudists on social media
It's in the name, social media is social. There are definitely some
pros and cons of social media
, but in the end, we can't deny that it does bring people together. Never before has it been so easy to get connected with people from all over the world. It doesn't matter what you're interested in, whether it's climbing trees, cooking with celery, or nudism, there's a social media community for that.
A quick search on Facebook will definitely help you find nudist groups in your country or who speak the same language as you do. Not only do you get the chance to meet like-minded souls, but you can also often engage in interesting discussions and get good tips about places to go.
Unfortunately, also this comes with a downside. Social media is a virtual thing and some of the participants don't always have the best intentions. Or pretend to be someone else. Often they are very easy to spot. They have a profile picture of a supermodel, they immediately ask for nude pictures of yourself or they will start talking about sex. Especially for women on social media, these fake nudists can become a real pain in the ass. If you encounter them, the best thing you can do is to report their profile and ignore anything they say.
Online nudist communities
The problem with fake nudists online doesn't limit itself to social media. Maybe that's the reason why we were promised to find so many 24-year-old female nudists in Nauru. It's not much different at the online naturist communities. The most famous of these is
TrueNudists
. The website is a bit infamous among nudists just for its amount of fake profiles, nevertheless, it does also have many genuine nudists among its members. Also here it's just the trick to filter out the rotten apples.
TrueNudists
has it all. A chatbox, a forum, profile pages, a search engine, you name it. For finding nudist friends online it's definitely one of the best resources. Another option is
Naktiv
. We don't know how they do it, but apparently their number of fake profiles tends to be very low. The downside of
Naktiv
is that their website isn't particularly very well designed. If you're looking for new nudist friends online, both nudist websites are very worth a try. They're free and you never know what could come out of it.
Maybe any of the above tips will help you find some new nudist friends or nudist groups, or maybe not. Unlike those fake nudist dating sites, we're not going to promise you anything. But at least we do hope that we could be a helping hand.
Naked Wanderings' Complete Guide for the First Time Nudist ebook

Do you still have questions about nudism or naturism?
Are you looking for even more tips and tricks?
Our ebook will be the perfect resource for you!

Learn More
---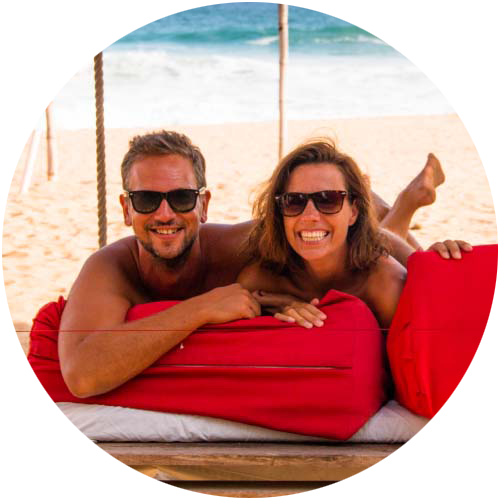 Support Naked Wanderings
Do you like what we do for naturism and naturists? Did we make you laugh or cry? Did we help you find the information you were looking for? Then definitely join our Patreon community!
---