First things first, what is a sensual or lifestyle resort?
These places come under different names, some call them a swingers resort or a liberal resort or even an erotic hotel. Lately, also swingers cruises are becoming more and more popular too. What it comes down to is that these are mostly adults-only all-inclusive hotels where swapping partners is common and sex in public places is allowed. In some unfortunate cases they hide behind the name naturist or nudist because nudity is also common in most swingers hotels.
What happens at a lifestyle resort?
For us, nudists, swingers are the antichrist. They give us a bad name, they flock our beaches and they even hijacked the term "lifestyle" in the USA so every time we told someone that we enjoyed the nudist lifestyle (we had no clue…) people frowned and gave us a dirty look. And now they're building these huge fancy resorts all over the world. What do they do over there? Behind their fancy walls? It can't be anything else than that those places are dens of iniquity, where people have sex in broad daylight and where from one moment on another spontaneous orgy arise. Right?
And then something downed to us… What do we actually know about those places? And aren't before mentioned prejudices the same as people used to have about nudists? What if swingers aren't just a bunch of perverts looking for every opportunity to engage in public disgrace with someone else's partner? What if they are a friendly bunch of people who just happen to be not monogamous?
There's only one way to find out…
And "luckily" for us, the Mexican coast happens to have a couple of those resorts which promise a "sensual", "erotic" and "intimate" vacation. So one day we found ourselves in front of the gates of
Desire Resort
, curious about what was going on behind those doors and wondering whether we, as genuine nudists and a monogamous couple, would be able to have a good time there.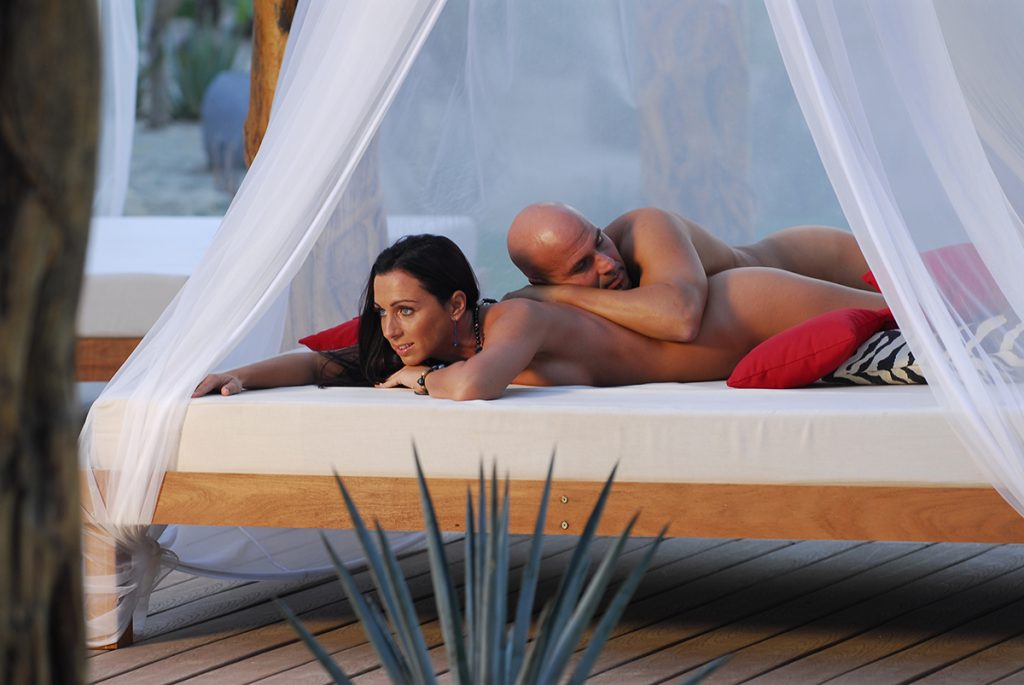 What about the nudist values?
Ok, we may have overreacted a bit. We clearly remembered when
we accidentally stumbled upon a swingers party in Brazil
years ago. And during our travels over the last year, we have had other encounters with swingers as well, sometimes they just told us, on one occasion this came together with an invite which we friendly declined and sometimes the rumor passed by via the word of mouth from the other guests.
This was something that started to bother us, everybody knew that this or that couple were swingers but they just acted like it wasn't true. They just looked the other way.
They had to, many nudist clubs are struggling to gain new members so the worst thing they could do was start kicking members out and neither did they want to give it a name because then it would become real and people would think it was a swinger resort. In the end, the swingers didn't really break the rules either, yes they went with four to the bedroom, but at least they closed the door.
Another interesting thing we had noticed by talking to many other nudists and which had sparkled our interest to check out the
Desire
was that several young nudist couples admitted that they like to go to lifestyle resorts. Although they're certainly not swingers themselves and they don't have the slightest intention to have sex in public, they knew that the parties at those places are often amazing. Now and then they wanted to exchange the weekly karaoke night for a foam party with a good deejay and techno music that lasted until the early hours.
Were they breaking down one of the pillars of nudism: non-sexual nudity?
Are we breaking down our own ethics by going to a lifestyle resort?
Maybe we can compare it with another lifestyle: Is it unethical for a vegetarian to visit a meat restaurant and just eat a salad? By going to that restaurant, the veggie is giving money to the meat industry just like going to
Desire
we were giving money to the…ehm (boy would we like to say "meat industry" here as well, but let's stick with "sexual nudity") that industry.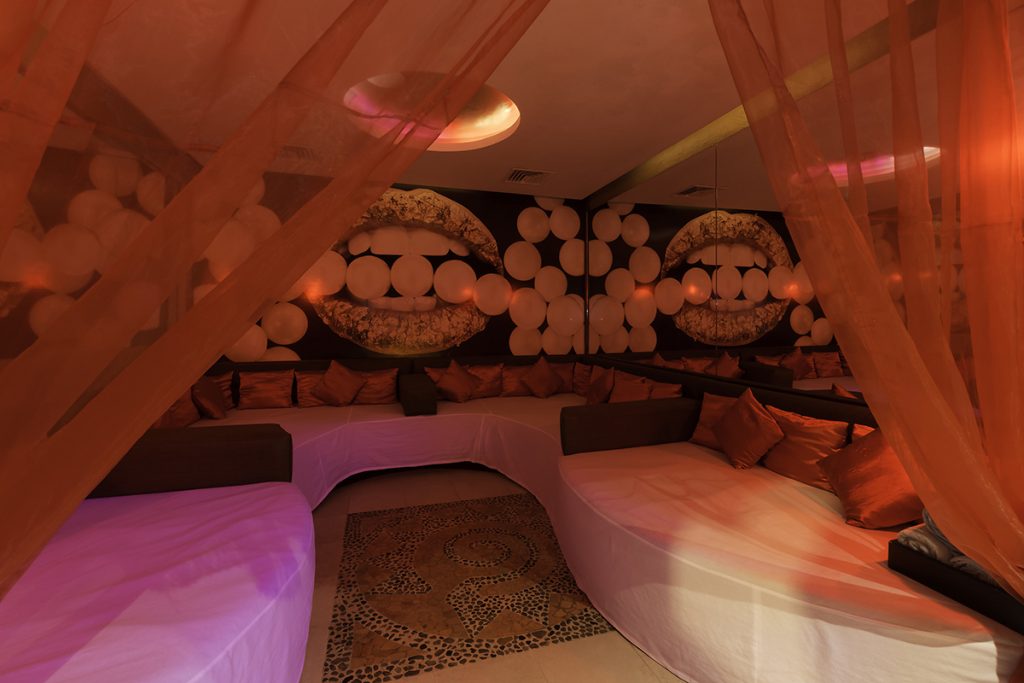 Why should we go to a lifestyle resort?
The big question is why you should go to a place that is not in line with the nudist values instead of giving your money to any of the local clubs who are already struggling and could use it much better?
These lifestyle resorts have several kinds of visitors and the main reasons for their visit are the lifestyle aspect, the nudism or the whole experience.
Lifestyle means that theoretically, you can have sex wherever and whenever you want and that nobody will give you a dirty look if it's not happening with your own partner or with just one partner. Now we have to be careful because what we're going to say can be easily misunderstood… The amount of sex we saw was quite disappointing. During the two days we were at the
Desire Resorts
, we can probably count the cases of sexual activity, on one hand, most of it happened after dark and at places of which we were warned that it would happen: the hot tub and the playroom. Most of the time the resort looked like a genuine nudist resort, only with loud music and more cocktails.
Another interesting thing we noticed was that we were never asked if we were swingers or if we were interested in any of those activities. The whole time we felt very comfortable as genuine nudists. (Afterwards, we heard that many swingers have small signs, visual and verbal, which make it easier for them to recognise each other).
We did meet a lot of other nudists at
Desire
as well who all had their different reasons to come there: Some for the parties, some for the all-inclusive formula, some for the top quality food, some for the staff and the hundreds of activities that are organized and some because they like the erotic atmosphere. It spices up their sex lives even though they still choose to keep it among each other and in their room.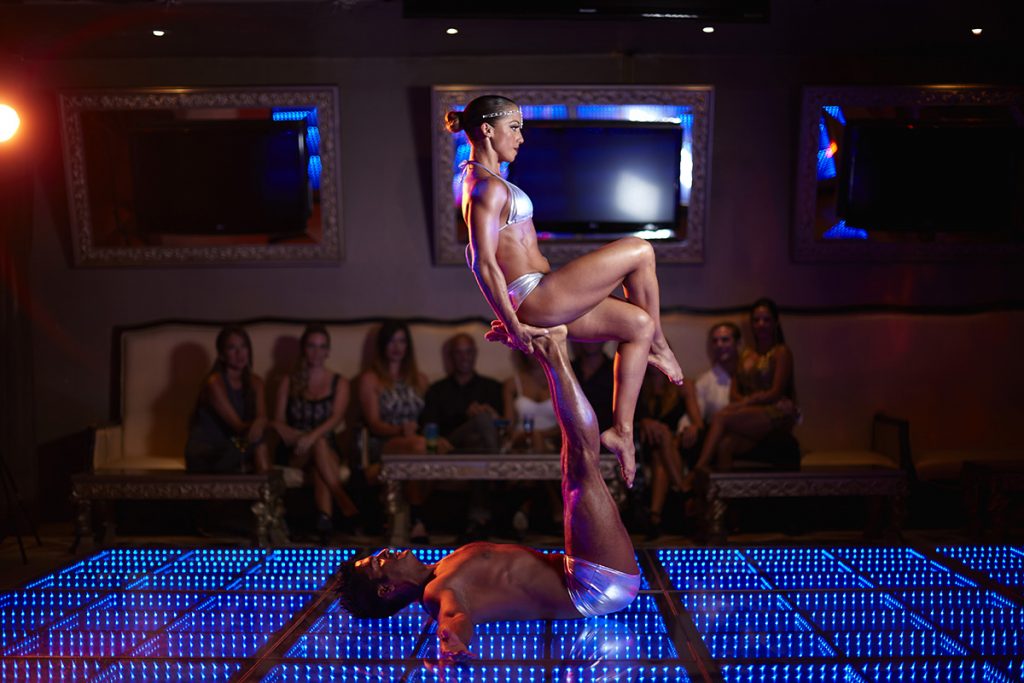 All kinds of nudists
We've probably already said this a million times, the term "nudist" has become impossible to define. More and more people start to turn towards nudity and see the advantages of it, but they also have many different reasons to do so. Trying to stick to a general definition is not going to work anymore and above is yet another example.
We have met nudist families and nudist couples who don't want their children to know. There were 24/7 nudists and holiday nudists. Nudists who like peace and quietness and we've met nudists who like big parties. We've met camping nudists and luxury resort nudists, nudists who like nature and nudists who like big cities. There are the nudists who like the connection with mother earth and those who like the equal tan. And then there are the gay nudists and single nudists and young nudists and older nudists and whatever other type of nudist that still has to come.
It's impossible to cater to all of those at the same type of organization.
But we digress and we still haven't answered our own question. Can a genuine nudist feel comfortable at a lifestyle place? We would say yes, but only if you are prepared to redraw the lines of nudism. You might encounter sexual activity, there's much more looking and being looked at and being naked is not the top priority of the resort, which results in dress code for some parts of the resort. Never during the time we were there we felt forced in any way or made uncomfortable. In fact, the biggest rule at those types of resorts is "No means NO". Cross that line and you're out! We were respected as nudists and we respected those with other ideas.
IMPORTANT NOTE: Desire Resorts are pretty high end and they are the only place we visited to base this article on. We can't say if this is the same for every lifestyle resort. 
FAQ
What is a lifestyle resort?
Lifestyle resorts come under different names, some call them a swingers resort or a liberal resort or even an erotic hotel. Lately, also lifestyle cruises are becoming more and more popular too. What it comes down to is that these are adults-only hotels where swapping partners is common and sex in public places is allowed.
What happens at a lifestyle resort?
Lifestyle resorts are mostly a place where you can find likeminded lifestylers/swingers. Public sex is allowed and often encouraged at lifestyle resorts. This can be with your own partner or with someone else.
Who visits lifestyle resorts?
Everyone is allowed to visit a lifestyle resort and you are not forced into engaging in any sexual activity. Nevertheless, the large majority of the visitors of lifestyle resorts are swingers or couples enjoying public sex.
Naked Wanderings' Ultimate Guide for Nudism in Mexico ebook

Are you looking for great nudist and clothing-optional resorts in Mexico?
Are you looking for the best tips for a nude vacation in Mexico?
Then our ebook will be the perfect resource for you!

Learn More
Need help with planning your trip? Check out our Resources Page for an overview of the best companies we use during our travels
Picture credit: All photos in this post are the property of Desire Resorts and should not be duplicated or republished without their approval.
---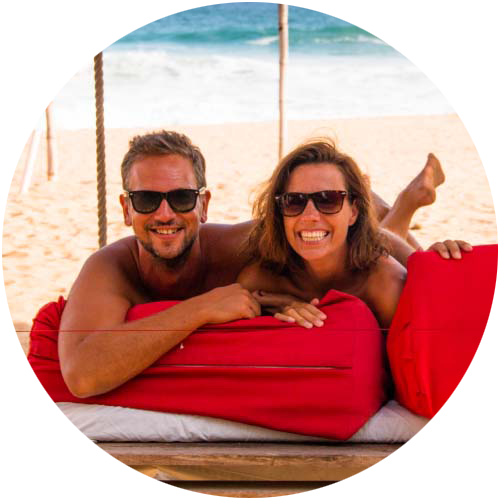 Support Naked Wanderings
Do you like what we do for naturism and naturists? Did we make you laugh or cry? Did we help you find the information you were looking for? Then definitely join our Patreon community!
---