Nudists, in general, are pretty loyal beings, at every place we visit we meet people who are telling us that they have been coming there for years. It doesn't matter whether it's at a naturist campground, a nudist resort, a clothing-optional b&b, or any other nudist holiday destination. When nudists like a place, they keep coming back. One of the reasons is because we often meet other nudists at a place and we agree with them to come back around the same time next year. Or next week.
The nudist club system which is still present in many countries also has a lot to do with it. We become members, we pay the fee and we like to take advantage of the discounts that our membership has to offer. Year after year after year. Maybe going to another nudist resort will require a new membership? Is our card valid at other places? We don't know.
And most importantly, why would we go somewhere else if we like it here so much?
Nothing wrong with this of course, but you may have noticed that we are not like that. Exploring new places is something we love and although we've been to places which we loved so much we could actually live there, we're always curious about what else the nudie world has to offer. We know that the grass is certainly not always greener on the other side, but there's only one way to find out whether it's like that or not… By going to all the other sides as well.
Many of you have been sending us e-mails and Tweets and Instagram messages enquiring how we keep finding these places. Well, it takes some research, but we have to say that we've gotten pretty good at it. By spending loads of time searching the internet we gained a lot of knowledge about traveling naked, the knowledge we, of course, want to share with you.
Check with the federations
This is a great way to find new places to visit. Many countries where nudism is allowed and which have nudist accommodations also have a local federation. Most of these federations have a website which lists all of the affiliated nudist destinations. For example the one of
AANR in the USA
or
FBN in Belgium
. A great and easy resource, but notice that we've used the word "affiliated". Certainly not every nudist place is a member of a federation and those who are not are of course not listed on those websites. Other than the standard accommodation types like campgrounds or resorts, several types like spas for example often have the option to stay for the night and few of those are linked to a federation. Bed and Breakfasts are other examples because they normally don't have more than a couple of rooms they also don't feel the need for support from a federation.
And then there are the countries that don't have an official naturist federation, like Greece for example, which does have a couple of
amazing naturist places
which you won't find on any federation's website.
Time to look further.
Stay at people's houses
If you don't know
Airbnb
you've probably been living on another planet for the last couple of years. This new way of traveling helps you to book a room in other people's houses or sometimes a whole apartment or house. These places are often less expensive than the hotels in the area and provide a more homely atmosphere. With more than 4 million listings it's needless to say that
Airbnb
has become a very popular way of traveling lately and of course, there are some places for nudists on there as well. The question is how to find them.
The only way for the owner of a place to mention that clothing is not the norm in his or her house is to put it in the description. Something you can not search on and it may take you ages scrolling through hundreds of places before you'll find one where you're allowed to be naked.
A Finnish couple has found a smart solution for this issue and created their own version of the website:
NaturistBnB
. The principle is the same, you're also staying at someone else's house but on their website, only nudist places are listed. They currently have more than 200 nudist accommodations available and we're pretty sure that there are more to follow. An interesting alternative for your future nakation.
The standard booking engines
If staying at someone else's house is one step too far for you or you prefer to be surrounded by more than a handful of other nudies or you just like the facilities that only the bigger places can offer, you could opt to use the standard holiday search engines.
Booking.com
and
Expedia
are probably the best known but other big players on the market are
Agoda
and
Alltherooms
. All of these have several nudist places included in their database but unfortunately, the amount is limited to the most commercial ones. And just like on
Airbnb
, there's no search function to find them.
The same problem with
Tripadvisor
, a great resource for all kinds of accommodation or restaurants you may be looking for and for sure there are quite some nudist places on there as well. But finding them is a whole other story.
Wherever you go, go NUDE
Save the best for last, we always say, and we're not just saying that because
NUDE
is our own baby. The problem with finding a nice nudist destination in a sea of textile places on all the standard sites was the exact reason why we decided to start
NUDE
. It's both the most complete search engine (well, currently, but we keep adding places to remain number one) when it comes to nudist accommodation and it's also a sort of Tripadvisor in the same niche. With
NUDE
you can both find a great place to get naked wherever you're planning to head for your next nakation and you can also rely on the reviews of previous visitors. Pretty cool, right?
We know that this sounds very much like a commercial for our own website and to be honest, it surely is. But that doesn't take away the fact that we've created a pretty good website, give it a try this summer while researching your new nakation spot, you won't regret it!
---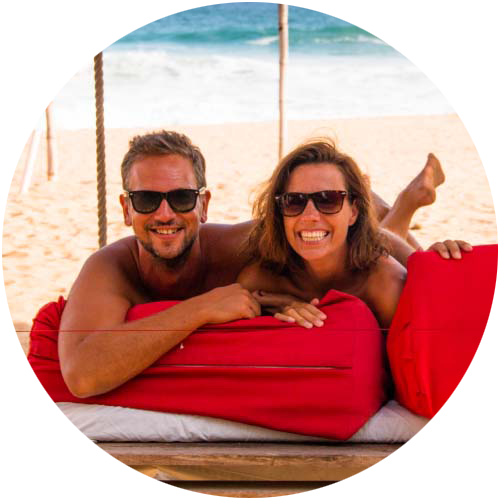 Support Naked Wanderings
Do you like what we do for naturism and naturists? Did we make you laugh or cry? Did we help you find the information you were looking for? Then definitely join our Patreon community!
---