This was the first time in our lives that we were going to visit a resort that promotes sensual nudity rather than non-sexual nudity. On purpose. For a long time, we had considered these adults-only all-inclusive lifestyle hotels completely out of our scope, but since we've met more and more genuine nudists who told us that they actually had a great holiday at places like the
Desire resorts in Mexico
, we felt that we did have to give it a try as well. The resorts we mean, not the sensual thing.
Of course, this was a big step for us as promotors of non-sexual nudity and we felt that it would be unfair towards Desire to fill our review about their resorts with our ideas about what they promote. So from the beginning, we have decided to split this review into two parts.
Earlier this week we have published an article in which we shared our personal opinions and thoughts about
visiting a sensual resort as a genuine nudist
and in this piece we will focus on what the Desire resorts actually have to offer. We keep saying resorts (in plural) because there are two of them, the
Desire Riviera Maya
(further mentioned as "RM") and the
Desire Riviera Maya Pearl
(further mentioned as "Pearl") and we had the opportunity to visit both of them.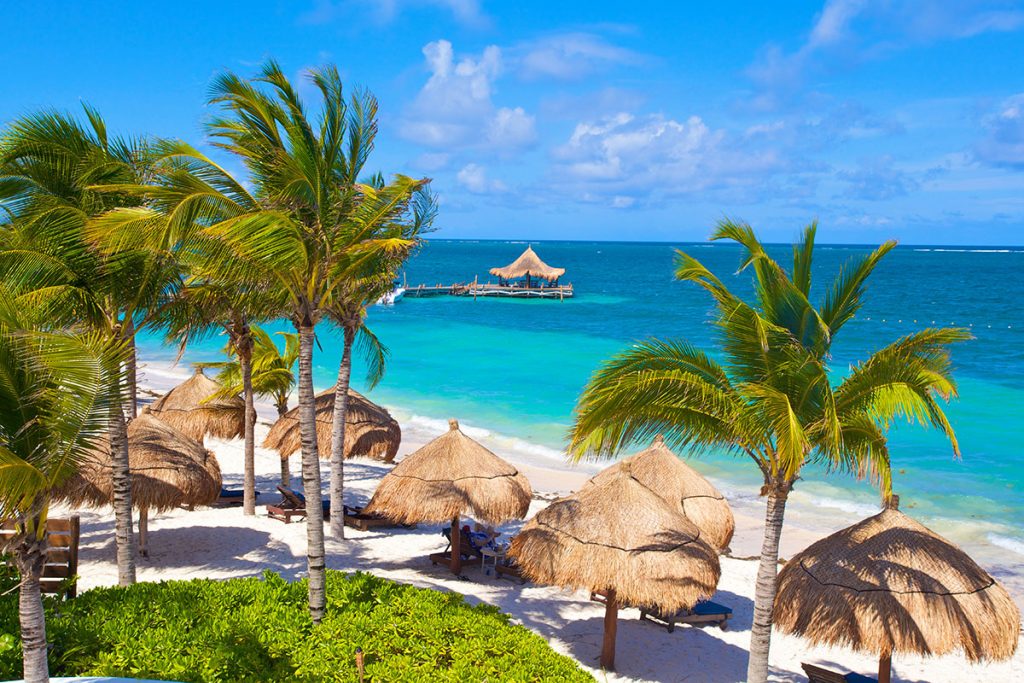 How to get to the Desire Resorts
As the name already gave away, both resorts are at the Mexican Riviera Maya, a wonderful stretch of coastline in the Yucatan Peninsula which goes all the way from Cancun towards the border of Belize. While several places along the way have developed itself to extremely busy tourist cities like the well known Cancun, Playa del Carmen, and Tulum, a small village called Puerto Moreles has more or less been able to keep its authenticity as a Caribbean fishing village. This is where you will find both Desire resorts at about a 15-minute drive from each other.
Getting to the Desire Resorts is easy, the nearest airport is Cancun which offers direct flights to more or less all major airports in the Americas and Europe. From Cancun airport, you're just a twenty-minute taxi drive away from the Desire resorts. You could also opt to take one of the airport buses towards Puerto Moreles and take a taxi from there, but you'll probably pay the same (if not more) so it's really not worth the hustle. Better ask for an airport pick up while booking.
If you're coming from anywhere in Mexico, flying to Cancun will still be your best option but there are also frequent ADO buses that run the coastline. If you're planning to explore more of the coast, a rental car may also be a good idea.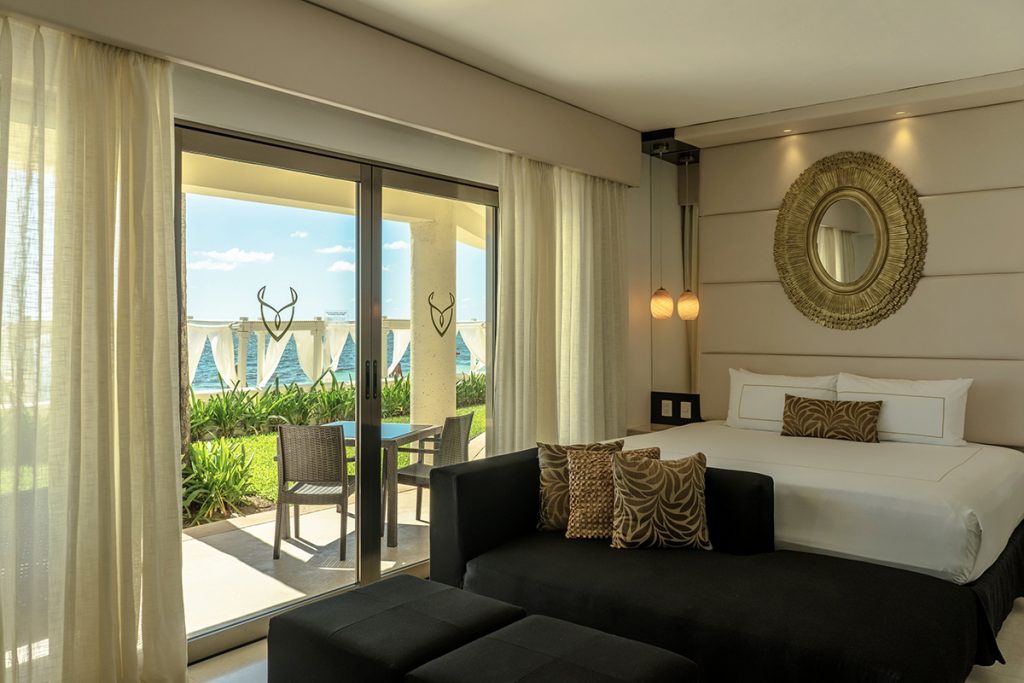 Where to stay at the Desire Resorts
The Desires are well known for their top-notch luxury and this is one of the reasons why they also attract a decent amount of nudists. From the moment you step out of your taxi, you'll be treated like a queen and king. After registration, your butler will show you to your room and this is your first sight of the luxury they will offer you during your stay.
At the
Desire Pearl
, we stayed in one of the Master Suites which came with a private terrace, two bathrooms, and a living room, all with individual climate control. At the
Desire RM
, we had one of the Deluxe Garden View rooms which had a separate bathroom and terrace. Overall we found the rooms at the Pearl much more luxurious, which is not really a coincidence as the Pearl is the newest of both resorts.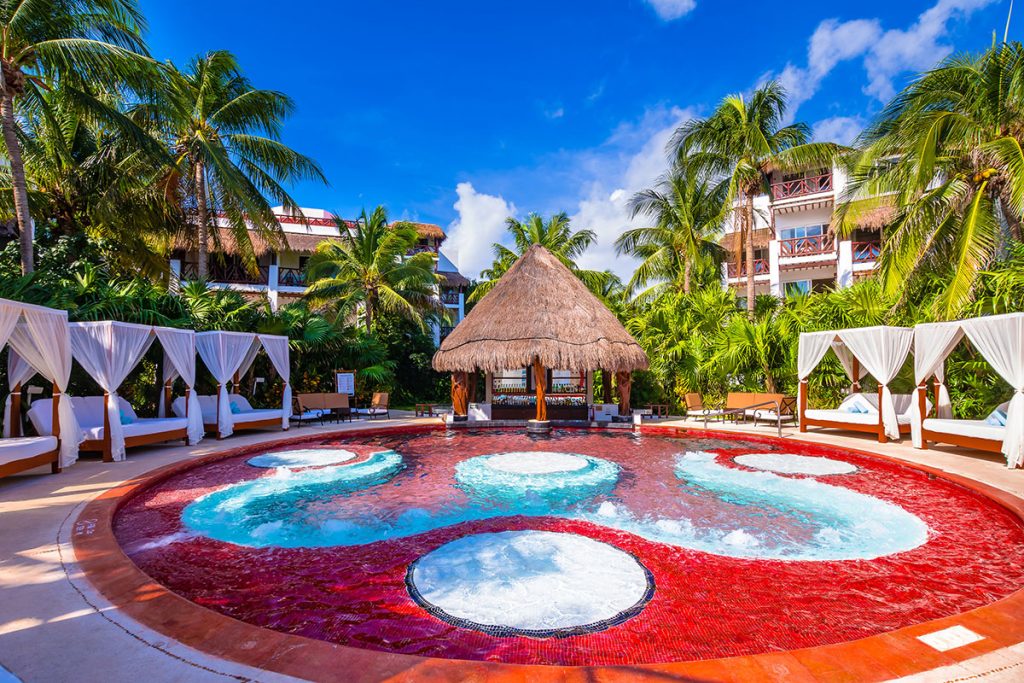 What to do at the Desire Resorts
Both the Desires have a large swimming pool, an equally large jacuzzi, and a private beach with beds for your daily chill-out session. All swimming pools and jacuzzis have a swim-up bar so you don't have to come out of that hot relaxing water for a refill of your Cuba Libre. What we liked a lot at the Pearl was that the swimming pool was divided into two parts: a quiet one and an active one. A big advantage if your idea of an ideal vacation includes reading a book or having a nap because the pool is usually the place where all the activities are happening. Both resorts have a team of "playmakers" who organize a huge range of activities in and around the pool. Think yoga, volleyball tournaments, Zumba, water polo, foam parties, you name it. Lots of fun at every time of the day and the swim-up bar is never more than a short wade away.
After all those sports and activities (and maybe the drinking as well), you can move your lazy behind towards the spa for your well-deserved massage. On the menu are next to the standard head, feet, and full-body massages also a range of special treatments including several erotic massages for those with big plans for the night.
But let's certainly not rush, remember that these are all-inclusive resorts and that the party will last longer if you get your stomach filled first. Both resorts have three onsite restaurants. In the
Pearl
, we had lunch at the Aphrodite (buffet/a la carte) and dinner at the restaurant Pearl (a la carte). In the
RM
our lunch was served at Tentazione (buffet/a la carte) and dinner at the Sahló (a la carte). All perfect examples of the luxury that Desire offers, nothing less than top quality food and wines were delivered to our table. Every single time.
Important notice for nudists: All restaurants have dress codes, only on the terrace of the Aphrodite in Desire Pearl it's possible to lunch/dine naked.
After dinner, you have basically two options. Either go to the jacuzzi to stimulate your digestion with another refill of your Cuba Libre or dance it off at the night club. Every night starts with a show and has a theme ranging from uniforms to lingerie to Latina or neon. Did you forget to pack your police hat? No worries, at the hotel shop you can find all the attributes you need for the night. Each night club also has its own "sin room", we haven't visited any of those, but you can probably imagine what's going on there.
When we were there, the evening entertainment at the RM was more sexually tinted than the one at the Pearl.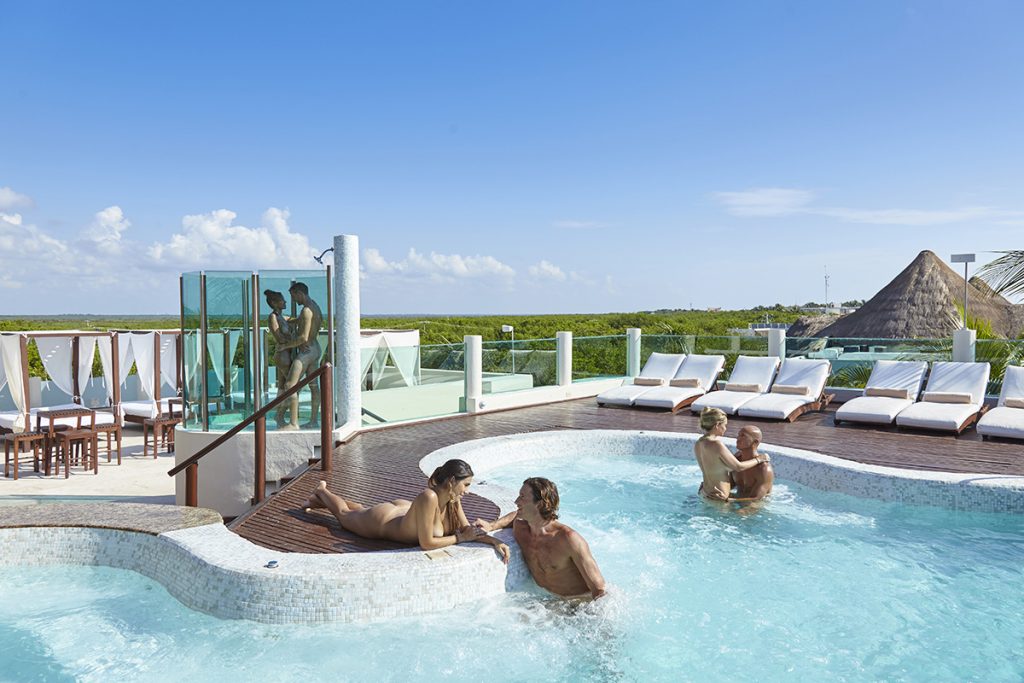 Around the Desire Resorts
Why would you ever want to leave this place?
Both the Desires can probably keep you busy inside their resorts for at least a week. But if you're staying longer you might want to visit some of the nearby spots on the Riviera Maya coast. Puerto Moreles town is only a short taxi ride away, it has a couple of nice bars and restaurants and has a very relaxed atmosphere. A little bit more south is Playa del Carmen, a big tourist town stacked with souvenir shops and places to get ridiculously drunk. It could an agreeable place if it wasn't for the thousands of touts trying to sell you everything from t-shirts to Cuban cigars to expensive tequila to boat tickets. Playa (as it's called among the locals) is also the main port for the ferry to Cozumel. A wonderfully beautiful island just off the Mexican coast. This is also one of the world's top diving spots.
We didn't like Playa all that much but started to appreciate it once we visited Cancun. A huge city which (at least to us) seems to be mainly focused on ripping off tourists. You'll pass by Cancun on your way to Isla Mujeres, another beautiful island, but the city is not really worth the stop. Trips to all these places and all kinds of other excursions can easily be organized via the Desire Travel agencies in each resort.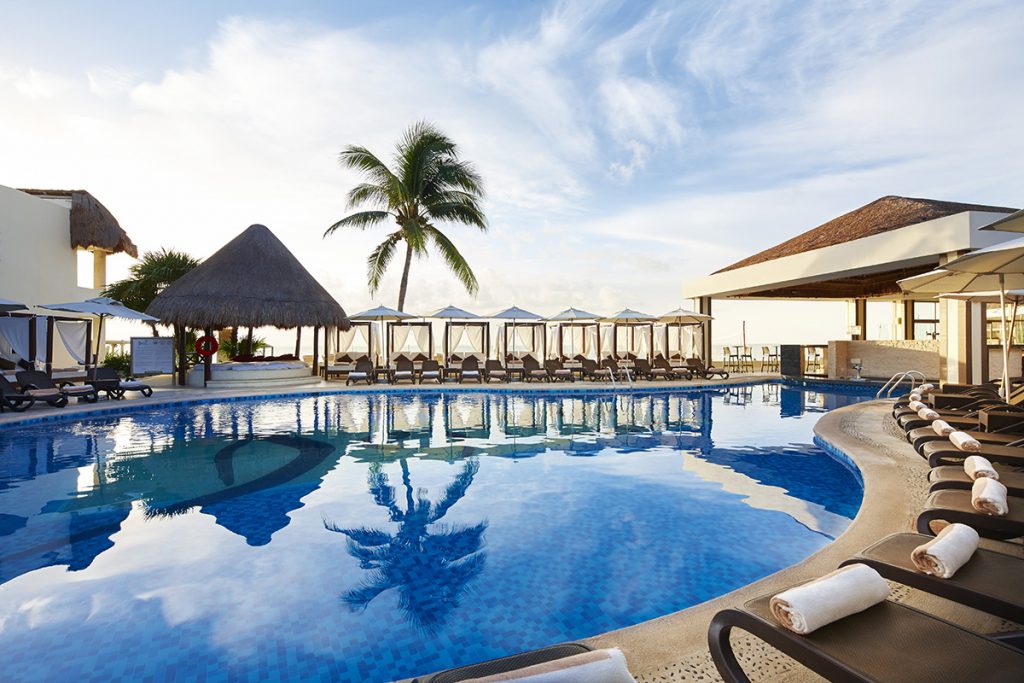 Staff at the Desire Resorts
A last and probably most important reason why we (and so many others) like the Desire resorts that much is the staff. The accommodation was great, the food impressive and the activities abundant, but what made our stay really exceptional was the personal attention of the staff. Both resorts are quite large (the Pearl has 88 rooms and the RM 122) but still the staff was able to give us the same treatment as we would get in a 3 room B&B. They knew our names and where we come from (well, more or less, but we forgive them as Belgium isn't exactly the best-known country in this part of the world). Sometimes they'd stop by to enquire how well our stay was going and other times just to make a small joke and put a smile on our face.
By the way, we're not just talking about the butlers here (because that's kind of their job) but also the personnel at the bar and in the restaurants and the playmakers were constantly confirming if everyone was having a perfect time.
From our experience, we found the staff at
Pearl
slightly more professional but on the other hand the playmakers of the
RM
more sociable, especially when they were not on duty.
Guests of the Desire Resorts
It has to be said, the Desire resorts attract a different range of visitors, and certainly, not all of those are genuine nudists. According to their statistics, 30 percent of the Desire public comes exclusively for the nudism. The other 70 percent come either for the lifestyle aspect, for the sensuality, or for the "experience".
Let us clarify this for you. It's popular among the resorts at the Riviera Maya to promote themselves as an "experience" rather than just a hotel, but we found that the Desire resorts really live up to this idea. Once you enter a Desire hotel you step into a different world, with different people and different rules. This gives a visit to their resort a spot on many people's bucket lists although they don't consider themselves nudists or swingers or anything alike.
During our stay at both Desires, we tried to find out other visitor's reasons for picking these particular resorts and from what we heard we would say that Pearl is more appreciated by nudists and those interested in the experience and that the RM was more appreciated by lifestylers.
Important to notice here is that in both resorts we never felt uncomfortable. The biggest rule is "No means NO" and if someone would become too pushy he or she will be ("punished" may not be the best word as that could attract a whole new audience) kicked out.
Summary
Since it's not completely nudist, we had to make some sacrifices of which the one that annoyed us the most was that we could not remain naked 24/7. Well, we could, but then we would get very hungry. But we've mentioned it before, the Desire resorts are an experience. Although it had never been on our bucket list as such, we're happy that we got the opportunity to find out what it's all about. It's another world that attracts nudists who like to think out of the box, and this doesn't necessarily mean that you have to agree with or engage in any of the side activities.
Find more reviews on:




Picture credit: For the privacy of the guests we were not allowed to take pictures at the Desire resorts. All photos in this post are the property of Desire Resorts and should not be duplicated or republished without their approval.
Naked Wanderings' Ultimate Guide for Nudism in Mexico ebook

Are you looking for great nudist and clothing-optional resorts in Mexico?
Are you looking for the best tips for a nude vacation in Mexico?
Then our ebook will be the perfect resource for you!

Learn More
Need help with planning your trip? Check out our Resources Page for an overview of the best companies we use during our travels
Disclaimer: We have been invited as guests of the Desire Resorts, but of course all opinions are our own. We are super confident you will love this place as much as we did!
---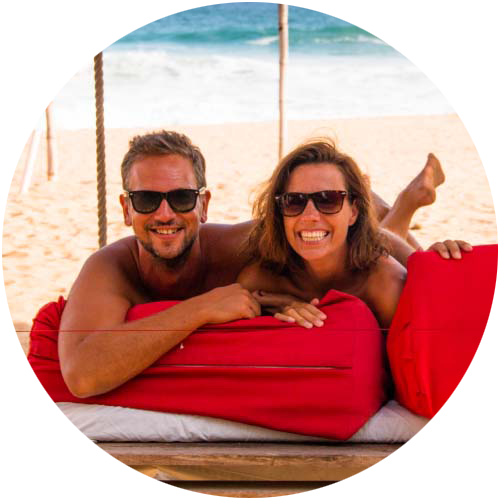 Support Naked Wanderings
Do you like what we do for naturism and naturists? Did we make you laugh or cry? Did we help you find the information you were looking for? Then definitely join our Patreon community!
---