This is one of the questions we often receive from
first time nudists
. They've decided to give social nudity a try, picked out a nudist resort which looks very nice and then start thinking about the most scary part of the whole experience: The point where they will have to undress.
When exactly does that happen?
From when are you supposed to be naked?
Do you undress in the car, the moment you've passed the gate?
Will they tell you at the reception that now is the time?
Can you take things at your own pace?
Can you wait until you feel comfortable enough?
Will you ever feel comfortable enough to get naked among strangers?
What's the perfect timing for getting naked at a nudist resort?
Well, unfortunately there isn't such a thing like a golden rule. The right time to take off your clothes depends on several different factors: the weather conditions, the time of arrival, the etiquette at the nudist resort and so on. Every situation is different so unfortunately we can't tell you here exactly when you will be nude.
But we can give you an indication of what to expect.
The nudity etiquette at the nudist resorts
The reason why people visit nudist resorts is because they can be naked over there. We think that's pretty obvious. But being allowed to be nude doesn't always mean that you're expected to be nude all the time. How this is implemented starts at the nudist resorts and their local nudity etiquette.
Let's put them in different categories.
Nude obligatory resorts
At nude obligatory resorts you are expected to be nude all the time. Or at least when the conditions allow you to be (see further). The idea behind this is that you came to the nudist resort to be nude so there is no reason for you to wear any clothes. Also, they believe that a mix of nude and clothed people would only create an imbalance, so it's better for all if everyone is just naked.
A great example of a nude obligatory resort is
Bare Oaks Family Naturist Park
near Toronto in Canada. You don't have to get naked on the driveway and you are allowed to keep your clothes on during the check-in, but afterwards nudity is the strict policy. If you ask at the reception when it's the right time to take off your clothes, the receptionist will smile and say "about half an hour ago". It's kind of meant as a joke, but nevertheless it reflects the idea behind nude obligatory resorts.
Clothing optional resorts
On the whole other side of the spectrum are clothing optional resorts. These follow a philosophy of
freedom
and believe that everyone should have the option to decide when to be naked and when not. Clothing optional resorts are often chosen by nudists who love sunbathing or swimming in the nude but don't feel much for being naked all the time.
Mixed nudist-textile couples (where one is a nudist and the other isn't) also tend to prefer clothing optional resorts. For them it's a huge advantage that the clothing policy works perfect for both. A disadvantage of clothing optional resorts, especially for beginning nudists, is that it doesn't always feel comfortable to be naked when there are clothed people around. If most of the visitors happen to be dressed during your first time visit, you may feel very reluctant to get nude yourself.
A general rule at most clothing optional resorts is that certain places, like in or around the pool, the sauna and the spa, are nude obligatory.
Naturist villages and large nudist resorts
Even though the very large nudist resorts or
naturist villages
might call themselves nude obligatory, this rule is almost impossible for them to maintain. There will always be dressed visitors because they're just arriving or leaving or because they find the temperature a little too chilly to wander around naked. For the staff it's an impossible job to ask every single clothed person about their reasons for not baring it all.
An example of such a huge naturist resort is
CHM Monta
in France. This resort has been a milestone in the history of modern naturism. It's where the
INF-FNI
(International Naturist Federation) was founded and it still promotes a nude obligatory policy. But with more than ten thousand visitors per day in high season, it's not uncommon to see visitors with clothes on.
CHM Monta
has put up huge signs around the resort asking you to not wear any clothes, but in reality they only enforce their policy in areas like the beach, swimming pools, etc.
All other nudist resorts
Most other resorts don't call themselves nude obligatory nor clothing optional. Their main idea is that you came here to get naked and that at a certain point you will. But that point doesn't necessarily have to be the moment you walk in. At these resorts you can take things at your own pace. If after some time (this could be hours or days, depending on the place) it doesn't look like you have any intention to get undressed, the staff will probably talk to you about this and tell you that in the end it is a nudist resort. A place where you're supposed to be naked. At least sometimes.
In most cases, the fact that you are clothed while all others are nude will be enough cue for you to take off your clothes as well. While at clothing optional resorts it might feel intimidating to be naked among the clothed, it's certainly also awkward vice versa.
Special conditions at nudist resorts
Long story short, at nudist resorts you are always allowed to be nude from the moment you walk through the gate. When or if you are supposed to be nude depends on the type of nudist resort and its etiquette. But of course there are some exceptions.
The weather
One time a friend asked us: "as a nudist, what do you do when it's cold?". Our answer was pretty simple: "We wear clothes". She seemed surprised, yet we thought that this was the most logical thing in the world. Most nudists believe that clothes were invented to protect ourselves from the elements and when there's no such protection needed, neither are clothes. But the elements are not always in our favour. The general rule is that when it's too cold you're allowed to wear clothes. Even at
Bare Oaks
, with its strict nudity policy, people wear clothes when the weather doesn't allow them to be nude. What did you expect? The resort is open year round and it gets to – 30°C over there in winter.
Getting installed
One of the first times we went to a naturist campground, we arrived around noon on a sunny day. All of the other visitors were nude so we figured that it was common sense to get nude as well as soon as possible. But then we had to set up our tent. If you've ever been campground, you know that setting up a tent requires you to bend over. A lot. Thinking about the insight you're providing your nearby neighbors is not very comfortable, we can tell you that.
With many strange moves we managed to set up our tent without mooning the whole campground, but it wasn't easy. Only later we found out that it's perfectly normal at the large majority of naturist campgrounds to set up your tent and get installed before taking off your clothes.
Sarongs
The biggest step for first time nudists is the moment that it's time to take off their clothes. You have to get from completely dressed to completely nude in a matter of seconds. We believe that "the faster the better" is a great strategy but the last thing you want to happen is to trip over and end up on your belly with a bra in your hand and panties around your ankles.
A good tip is to undress into a sarong. Walking around with nothing but a sarong will already give you some of the feeling what it is to be nude and the moment you feel ready to bare it all it only takes half a second to drop the sarong as well.
Women in their period
This is a question we receive a lot from
first time nudist women
. What do you do when you're in your period? Basically there are two options. You use a tampon and get completely nude anyway. Some women will put the cord a bit inside so the others won't notice it, but there's nothing wrong with letting it hang out either. This depends on how you feel the most comfortable.
The other option is to use panties or bikini bottoms and go topless only. Most nudist resorts allow women to use panties while they're in their period. In any case, when it comes to a first time experience, we would recommend you to plan it to sometime when you're not in your period, just for the sake of comfort.
The restaurant and bar
Another awkward experience when we just started with nudism, it was probably during the same trip as the tent incident, happened at the restaurant. All day we had been swimming nude, sunbathing nude and wandering around nude. Then in the evening we went nude to the restaurant and whoops… everyone else was clothed.
It's a phenomena we've seen at places around the world, sometimes it's a rule of the house and sometimes it's the guests who decide to get dressed for dinner. We think it's pure nonsense when nudist resorts enforce a clothing rule in their bar or restaurant. They claim that it's for hygienic reasons (like someone could accidentally put his penis on our plate) or because the guests don't want to see genitals during dinner (so they can look at nude people all day but when they're eating it's suddenly gross?). We still don't understand this.
It makes much more sense when it's the personal decision of the guests. It's not because you're a nudist that you don't like to dress up for dinner. Some know that they are messy eaters and are afraid to drop hot mash potatoes in their nude laps. And some already know that it's going to be a long evening and that it will be chilly by the time they have to return to their rooms.
We don't think it matters much. In the end this is your vacation and you should be able to do what you like the most.
At nude obligatory resorts, you will probably be required to dine nude as well.
The nude staff
Does the staff have to be nude or not? It's another much discussed subject. In most nudist clubs and small resorts, the staff is likely to be nude. For the simple reason that they're nudists as well, so why would they want to wear clothes at their own place? Many clubs work with a number of volunteers who of course also prefer to be nude as much as possible.
At the larger resorts it's more common to find clothed staff. Again, this is pretty logical. If you're employing a large staff it can be very hard to find so many nudists.
Even at places where the staff is often nude, they sometimes are required to be dressed. We've mentioned that nudists believe that clothes are only good for protection. Well, you might want some protection when you're frying bacon or cutting a tree. Restaurant staff is often asked to wear clothes for previously mentioned hygiene reasons. In
France
for example it's forbidden for kitchen staff to be naked.
Our personal opinion about nudity at nudist resorts
We basically have one golden rule: If you have no intentions to get nude and if you aren't visiting with a nudist friend or partner, you have no reason at all to visit a nudist resort. A nudist resort is not like a zoo where you can have a look at the naked people. Period.
That being said, we mentioned before that going nude for the first time among others is a huge step and the hardest part is to actually take off your clothes. After that, it gets much easier.
There are two different theories about what's the best way to do this. Some say that it's better to visit a clothing optional place first, so you can take your time. You can remain dressed for an hour, then take off some clothes, then some more, etc. Others say that it's better to visit a nude obligatory resort for the first time, where you can be sure that everyone will be nude as well.
https://www.instagram.com/p/BxeylymBVtN/
We believe that the latter is more true. Since taking off your clothes is the hardest part, it's better to get it over with as soon as possible. Then can you start enjoying nudism from the first moment instead of maybe struggling for hours before finally dropping your pants. A jump into cold water is easier than slowly walking in.
After your first experiences it's up to you to decide what you like the most. Do you prefer to be surrounded only by nude people? Are you okay with others being clothed? Do you sometimes prefer to wear clothes as well or do you want to spend as much time in the nude as possible? Based on your answers to these questions we're sure that you'll find some amazing nudist resorts which perfectly fit your wishes and needs.
Naked Wanderings' Complete Guide for the First Time Nudist ebook

Do you still have questions about nudism or naturism?
Are you looking for even more tips and tricks?
Our ebook will be the perfect resource for you!

Learn More
---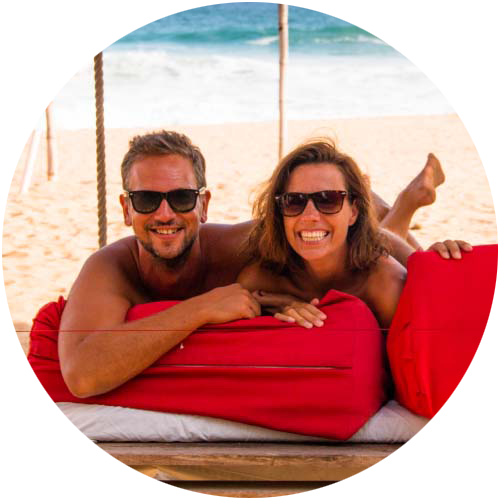 Support Naked Wanderings
Do you like what we do for naturism and naturists? Did we make you laugh or cry? Did we help you find the information you were looking for? Then definitely join our Patreon community!
---