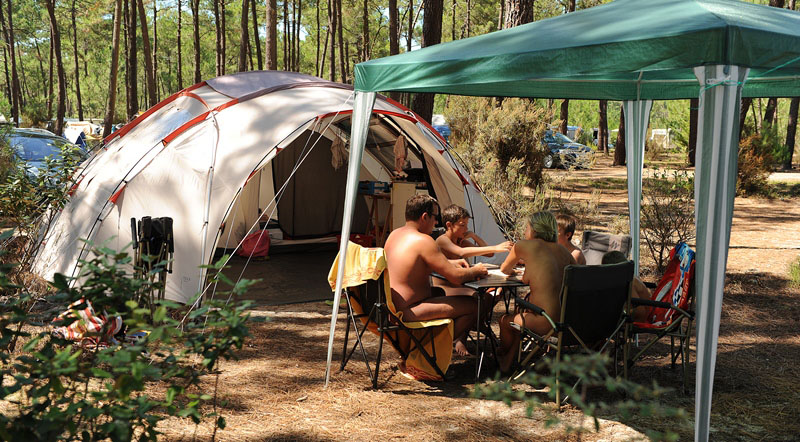 Size does matter: Big vs small nudist camps
Size does matter: Big vs small nudist camps
The difference in nudist camps is enormous, ranging from the small 10 spot campground which normally caters only to members and once in a while a guest to huge naturist villages like Cap d'agde in France.
The choice can be difficult, where do we want to go?
Both types have of course their advantages and disadvantages, and what seems to be an advantage for one isn't necessarily the same for someone else.
To help you find out what fits best in your perfect nakation, we'll give you some of the characteristics.
Facilities
It's easy to imagine that the amount of facilities on the bigger camps is much bigger than on the smaller camps, but that doesn't make them better. Swimming pools for example. Most nudist camps have one and the smaller camps often won't have a 25 meter pool. But what's the need when you only have about 20 guests at one time? Unless you're planning to practice your swimming skills, you'll have enough space in the smaller pool. When, on the other hand, there's only one big pool on the larger camp, it might get a cramped from time to time.
But if you're planning to spend your whole nakation inside the camp, only a swimming pool may not satisfy your needs. The bigger camps often offer more possibilities to keep you busy. Think about bicycle rental, volleyball and tennis courts, playgrounds, relax areas, massage services, you name it.
Also the sanitary facilities may differ. We have noticed that in the smaller camps it's more likely to have a queue at the shower block than on the big camps, just because there aren't that many showers. On the other hand, in the smaller camps the showers and toilets tend to be cleaner because if you made a mess, chances are that people will know that it was you.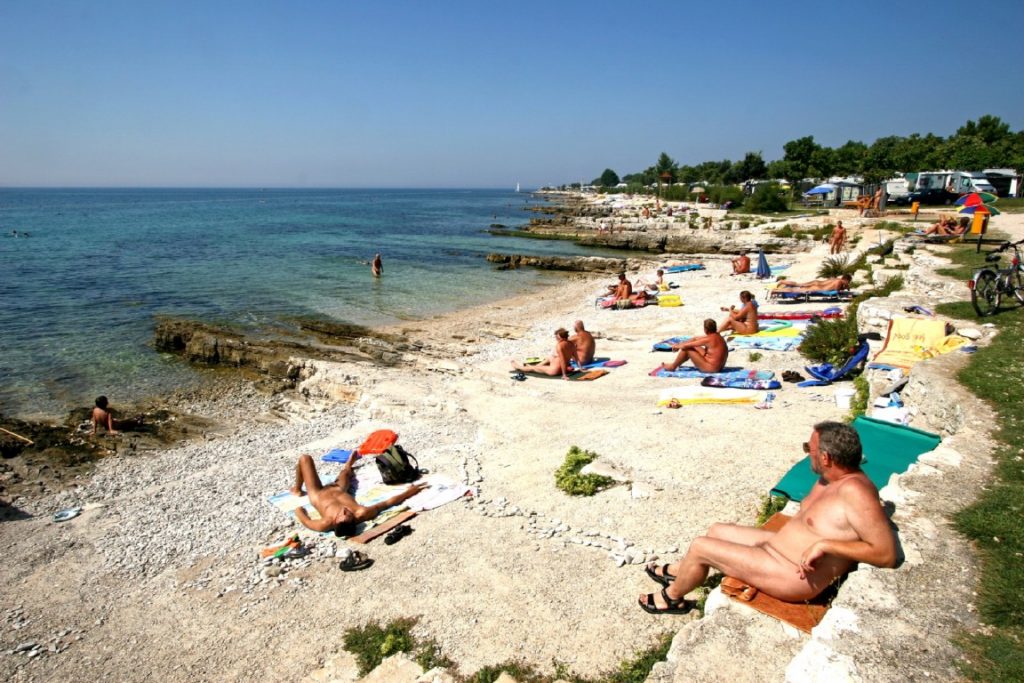 The location
If you're going for the amazing, ocean side locations, you'll probably end up in the bigger camps. Just because they have the money to buy the expensive grounds. But amazing isn't always better. When many others wanted to go to the same location as yourself and you're packed like sardines on that beautiful beach, it suddenly isn't that amazing anymore.
The smaller campgrounds on the other hands often have locations in the woods or in other secluded areas where peace and quietness is the norm. But we have to say that peace and quietness is important in almost any nudist camp we've ever visited. It's part of being a nudist, so don't worry too much about that.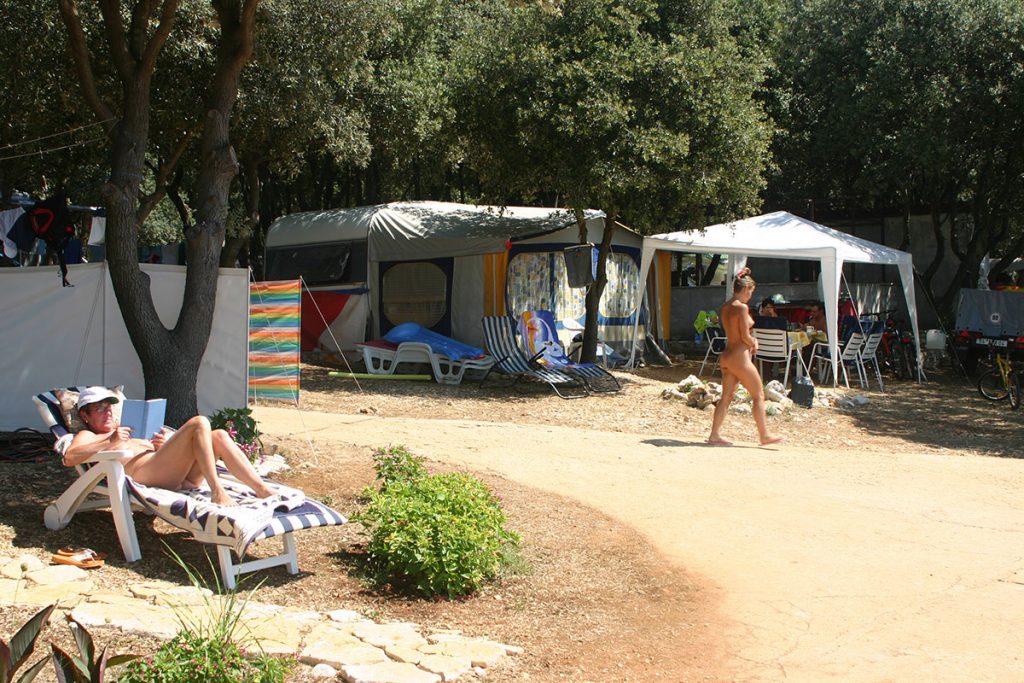 The people
Being in our early thirties, we're kind of the lost generation of nudists. It's often quite difficult to find other nudists our age. On the smaller camps this is even more difficult. It happened more than once that we were the only ones around of our age. We're not saying that it matters that much, but still it's always pleasant to meet others who are from the same generation.
On the bigger camps you'll have a huge variation in age, beginning nudists in their early twenties, families with children, people in their thirties, forties, fifties, whateverties. There's also more variation in where people come from. On a small campground in the north of France we were more than once surrounded by Dutch (nothing against the Dutch though) while on the bigger campground next door there were Germans, English, Italians, even other Belgians.
The nudists
Isn't that the same as the people? Well, yes, but we'd like to talk about the types of nudists here. On the smaller camps, most of the time everyone is a 24/7 nudist, meaning that they'll take off their clothes when they enter the place and put them back on right before they drive through the gate again, or when they get too cold of course. When you're onsite, everyone will be naked.
In the bigger camps you'll have more of a clothing optional feeling. Yes, most of the visitors will be naked, but certainly not all of the time. Some will keep their clothes on until they get to the pool or the beach, others remain clothed because their partner is a nudist and they're only joining. We've even heard about textiles who go to nudist camps because they like the atmosphere. That doesn't mean that you can't be naked all the time too, it just means that you might be naked among clothed once in a while, which is for some (especially beginning nudists) sometimes an issue.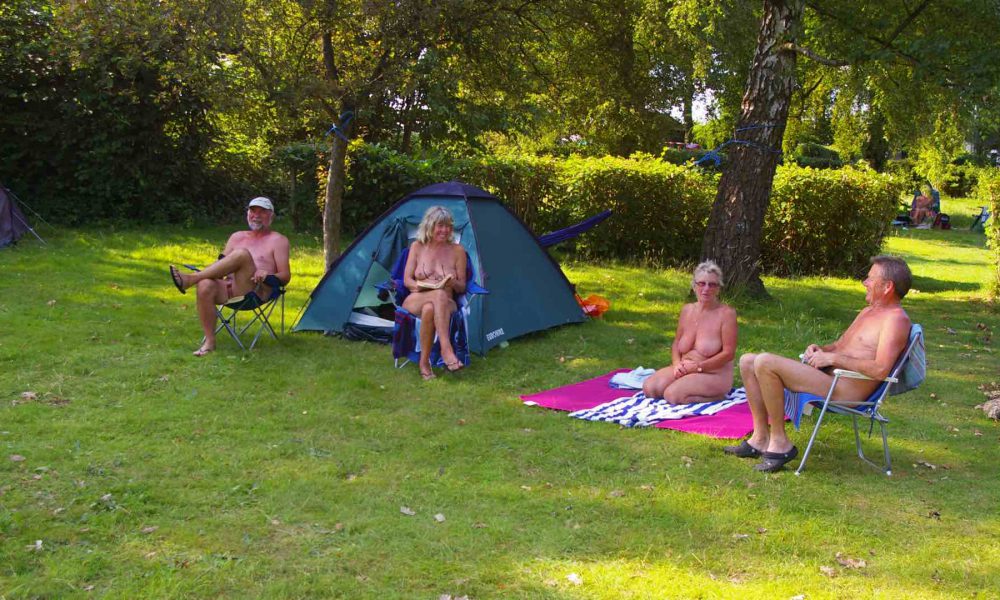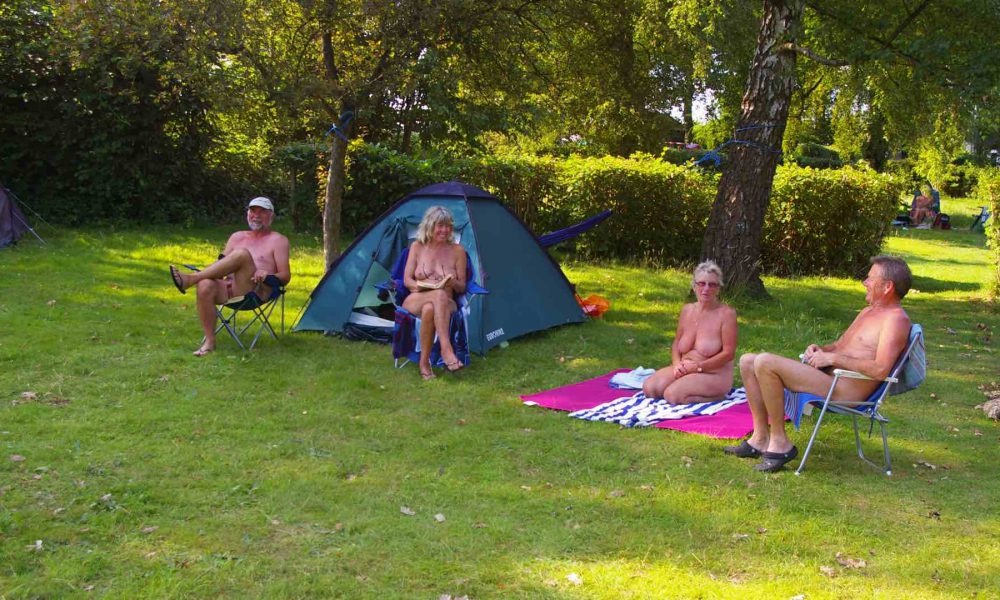 Know your neighbours
The social factor on the bigger camps does get much lower than on the smaller ones though. On a smaller camp, after a day or two you often know everyone, it's a very social thing. On the bigger camps however people are more to themselves. You might get to know the people in the tent next to yours and maybe meet some in the evening at the bar, but that's about it. Less community feeling.
Especially for nudists traveling alone, this is an important factor. On the smaller camps you'll be much more likely to get in touch with other nudists than on the big ones. But of course on the big ones you'll have much more things that will keep you busy when you have nobody to talk too…
The choice is yours.
Find the best naturist and nudist campgrounds on NUDE
Picture credit: The photos in this post are coming from Google and Twitter. If you find one of yourself and you don't want it to be on our blog, let us know and we'll remove it.