All of you who have ever heard of Nafplio, please raise your hands!
Haha, not that many eh… But no worries, before we came here, we also didn't know anything about the existence of this city, and probably neither do many who haven't visited Greece yet or who don't have a genuine interest in Greek history.
But the city has always played an important role in the history of modern Greece, once it was even the capital of the Greek kingdom. How about that?
These days Nafplio is mostly visited for its touristic sights though, its huge castle overlooking the picturesque old center, its range of bars and restaurants where you can chill out and watch the crowds while sipping on an Ouzo and dipping your bread in Tadziki.
On a close distance to the city (we keep calling it a city because of its historical importance but actually it's rather a town) you'll find Argos, the most ancient town of Europe, and numerous archeological sites in Mycenae.
And if the heat is hitting you too hard, there are lots of beaches nearby. On some of those… yes, you guessed it right, you don't have to wear any clothes.
Now just wait a bit before you start booking your next holiday to Nafplio, we have to mention that the nudist opportunities in the area are not exactly huge and that you have to be prepared for a serious clothing optional experience.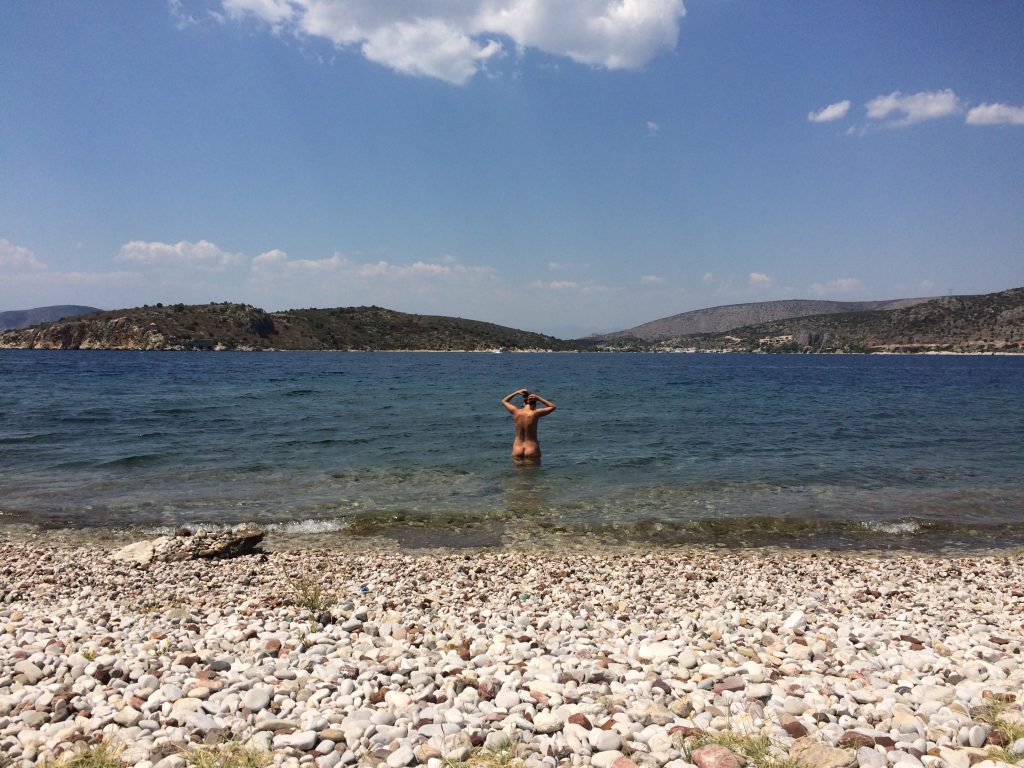 Kondili beach
For our nudist adventures in Greece, we mostly rely on the experiences of
Captian Barefoot
. The captain doesn't exactly have the most appealing website in the world, but as far as we know he's still the best reference when it comes to Greek nude beaches. For the area of Nafplio, the captain has put two spots on our map. The first one is Kondili beach.
The beach is pretty easy to get to if you have your own transport. From Drepano you follow the coastal road towards Iria and about halfway you'll see a sign to a road taking you down to Kondili. Don't drive too fast as you might miss the sign or the magnificent views along the way.
Maybe it was because we visited the beach on a Sunday in the middle of high season, but our first impression was that it's a real party beach. The place was very crowded with twenty-somethings recovering from their hangovers or already pre-drinking for the night to come. A couple of bars playing loud dance music and selling beers and cocktails of course added a lot to this atmosphere as well. But we weren't there to party, we had a mission: Finding the nude beach and going for a swim!
Meanwhile, we've gotten pretty good at spotting nude beaches, most of the time we search for a pile of rocks, climb over it and we find what we're looking for. At Kondili it wasn't any different, as soon as we were on the other side of the rocks (when you face the sea on the left side of the beach), we noticed a sign of "Greek Naturists". That's our spot!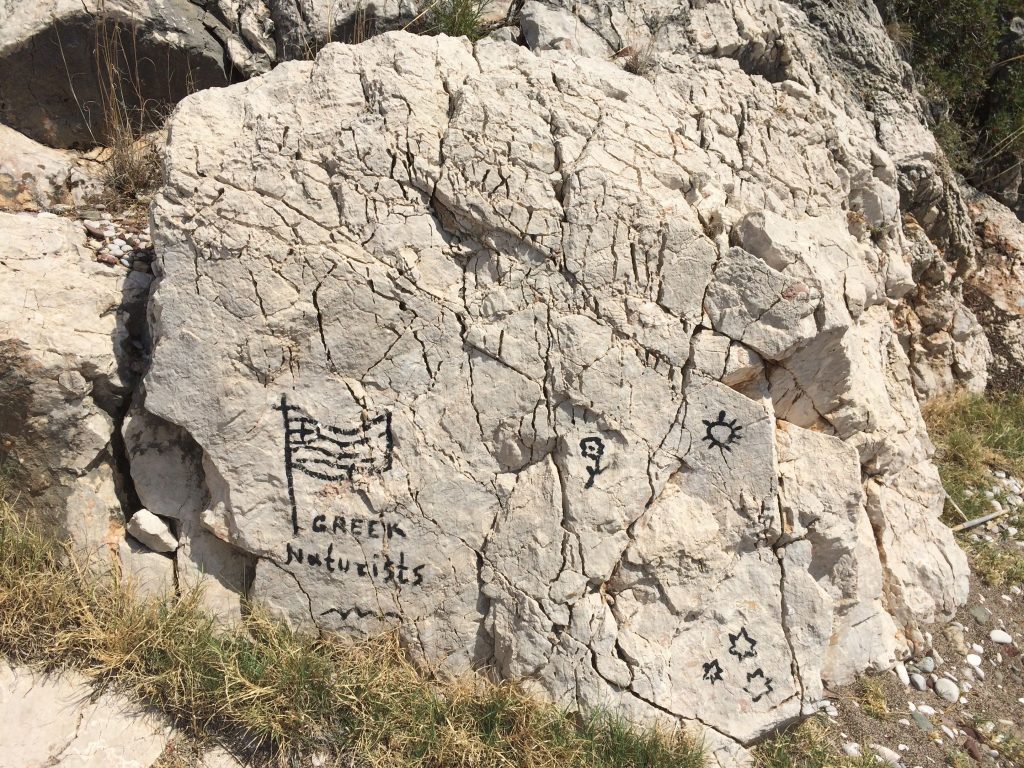 Unfortunately, there were quite some textiles who hadn't seen the sign or completely ignored it. In fact, there were no nudists at all. Luckily the nudist part is a long stretch so we decided to walk further, all the way to a beautiful little chapel in the end. Along the way, we passed numerous other people but none of them had their pants off. Strange. But we were on a nude beach, after all, so we couldn't care less, got nude, and jumped into the water. While we were sunbathing, several textiles passed us, but none seemed to be offended. Although, some people did turn around and walked the other way as soon as they spotted us.
Even if you are the only nudie around, don't let that stop you. One has to be the first, we always say. And the place is magnificent! Crystal clear waters in all shades of green and blue, the beach made of soft flat rocks and incredible mountainous surroundings.
When we were there for about an hour, a couple in a kayak passed by, stopped a bit further, and took off their clothes as well. We weren't alone anymore.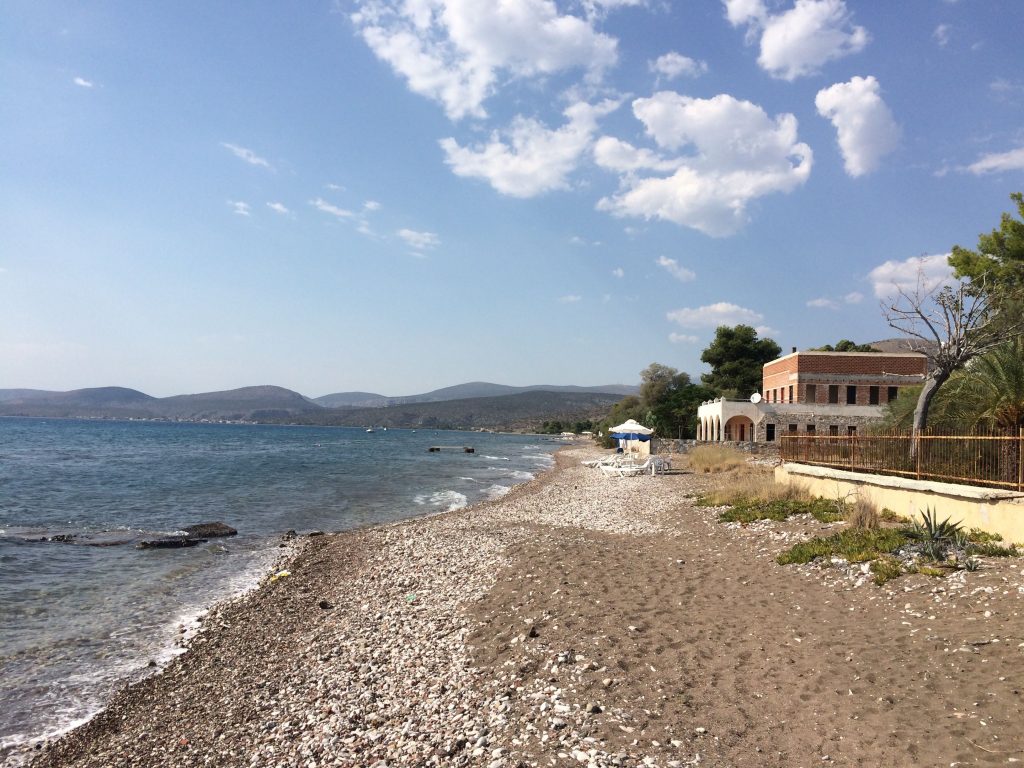 Iria beach
Our next stop on the Captain's map was Iria, only about 10 kilometers further away from Nafplio and quite different from Kondili. Even though it's a really long beach, there was only one bar on one side of the beach. Other than that it's just vacation houses and the people who rented it on the beach in front of them.
The water was as clear and colorful as Kondili, but the rocks were just that little bit sharper, the beach that little bit dirtier and the atmosphere that little bit more rundown. This is not the place where Western vacationers go to. And neither do many Greek, it seems, as the beach wasn't very crowded and the guy who gave us a lift to Iria was from Nafplio but had never been to the place.
So one side of the beach there's that bar and the vacation houses and on the other side, there are just huge villas with lots of space in between them. This side of the beach is almost completely empty. Again we didn't spot a single other nudist, even though we've walked the whole stretch. But due to the emptiness of the beach, we decided to take off our clothes anyway and go for a final skinny dip before returning to the city.
Find the best nudist accommodation in the area on NUDE
Naked Wanderings' Ultimate Guide for Naturism in Greece ebook

Are you looking for great nudist resorts and nude beaches in Greece?
Are you looking for the best tips for a nude vacation in Greece?
Then our ebook will be the perfect resource for you!

Learn More
Need help with planning your trip? Check out our Resources Page for an overview of the best companies we use during our travels
---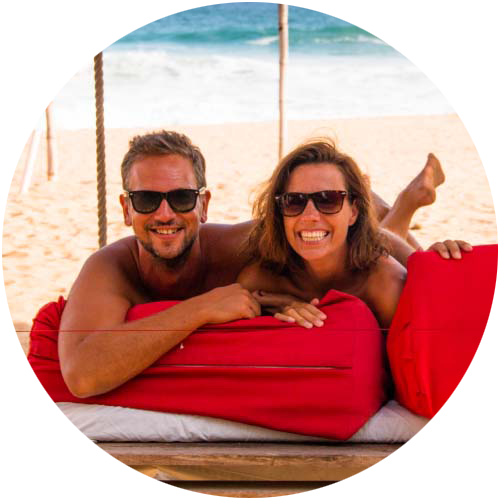 Support Naked Wanderings
Do you like what we do for naturism and naturists? Did we make you laugh or cry? Did we help you find the information you were looking for? Then definitely join our Patreon community!
---