We're not going to make a big deal of it, we are Apple people. We both have iPhones and we love them. But Nick's phone started to annoy us recently, it got incredibly slow and it requires a recharge at least twice a day in order to get through all the new social media posts.
So the question rose: "Shouldn't we get a new one?" We are in Asia, this is where smartphones are born. The iPhone X is way out of budget, but maybe we could get something cheaper?
A Huawei maybe?
Or an Oppo?
Oppo is a brand that is not yet known in "the west", but builds a very popular kind of smartphones for the Asian market, in which the focus is completely on the cameras. Decent quality front and back cameras which will make sure that you can make the best selfies ever We all know that the Asians just loooooooove selfies, but it sounded like an interesting thought to us as well, it's not that we need hundreds of apps while we are on the road, but the possibility to make great Instagram photos did appeal a lot to us. So we dived deeper into what they promised.
Beauty Technology
Other than impressing numbers when it comes to shutter speed, resolution, aspect ratio and a lot of other things that won't mean anything to you if you're not interested in photography, the Oppo F5 comes with a special kind of artifical inteligence (AI) which they call "Beauty Technology". In fact, when you take a selfie, the software will try to make you more beautiful. And that's just what we want, right?
Right?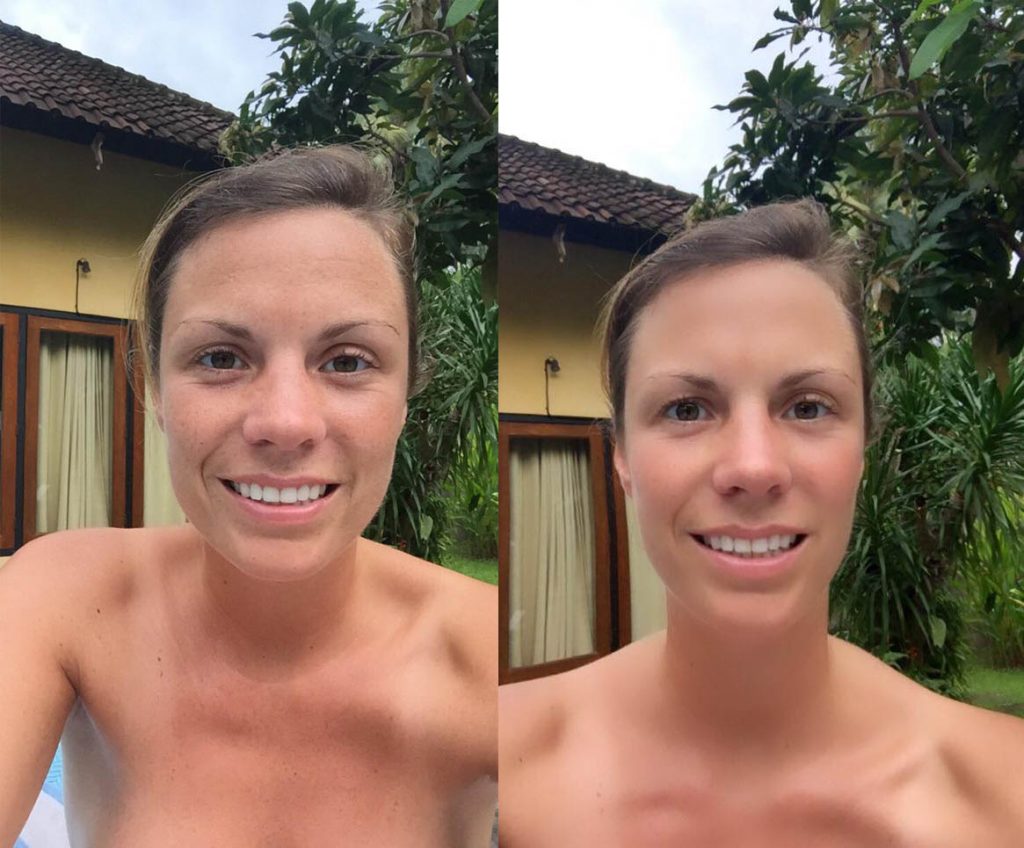 Basically, your phone is telling you that you're not beautiful enough to appear on your Facebook and Instagram profile and that they will make you look better via some new technology. We found this disturbing and frightening at the same time.
Of course adjustments to photos have been done for many years, long before digital photography existed, photographers had tricks to make their model look a bit more tight, a bit more fit, with a bit more tanned and equal skin. When Photoshop came on the shelves, all of this just got a lot easier and even the semi-professional photographer learned how to take away a wrinkle or two. We can only guess how humiliating this must be for models, to know that some guy has to spend hours to make you look good enough to be published in this or that magazine. But in the end, it was their job.
Everybody (online) supermodel
These days, twelve year olds have smartphones and are taking impressive loads of selfies. Social media have become their magazine. How absurd is it that when someone takes a selfie, it's immediately "auto-corrected"? The original is not even shown anymore, it doesn't exist. Somehow we're moving back to the once very famous
Second Life
, except that our avatars are now a more beautiful version of ourselves. Correction: Something what the software on the phone "thinks" that is more beautiful.
Faces get a slightly different shape, hair becomes a bit more shiny, bodies become more or less curvy, little wrinkles and zits are removed and this is how your Instagram friends will see you from now on.
What does the twelve year old think when he or she looks at their photo and afterwards in the mirror?
This doesn't only affect teenagers by the way. Nobody likes to hear that they could look better, but from that little device in their pockets they accept it, often without even thinking about it. Every selfie corrected via beauty technology is just a little reminder that you don't look that good the way you are…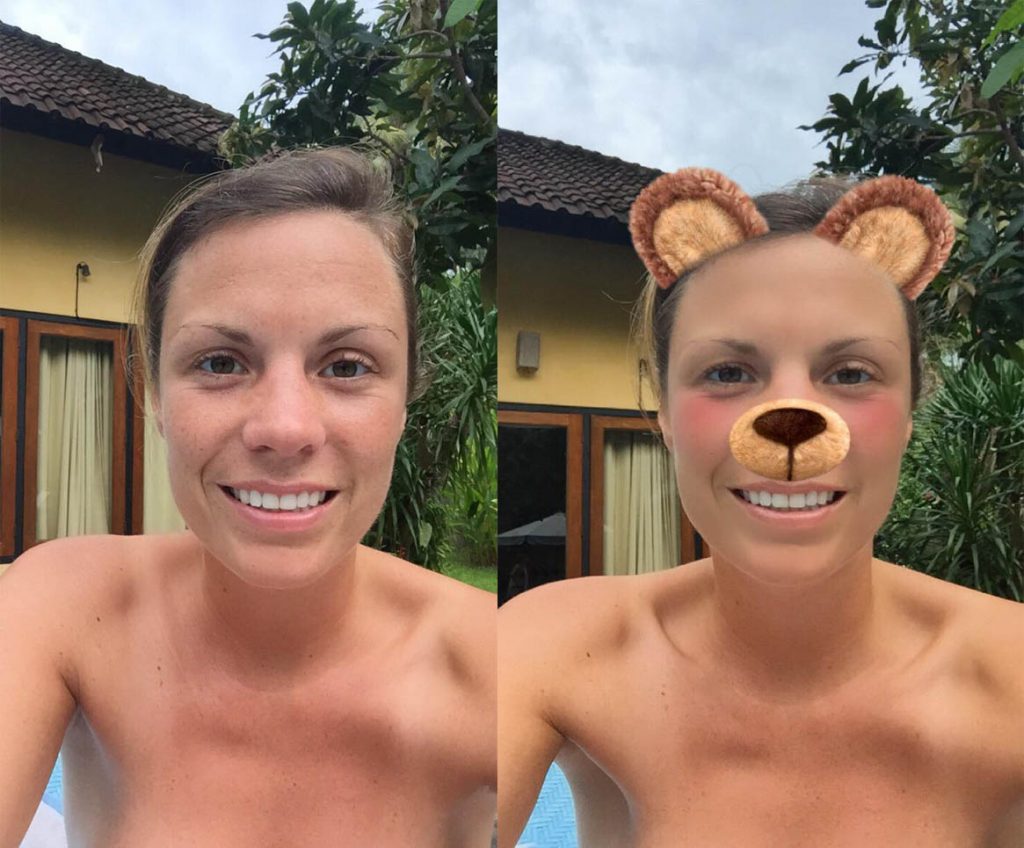 It's not just Oppo
We're shooting a lot at Oppo's newest technology here, but they are certainly not the only ones.
Our other "big friend", Facebook, has this very funny technology where you can give yourself bunny ears or cat ears or a crown or a nightcap or all kinds of other crazy things. It's hilarious! But when you look into detail, other than putting a couple of cartoon ears on your head, they've also made your skin a bit softer and your face a bit thinner.
Skype has a very similar technology, although it seems to us that the changes they make to your appearance are a little bit less obvious than on Facebook.
And then there is
YouCamPerfect
or Facetune with the very interesting tag line "Facetune helps you look your Hollywood best, even in photos taken on mobile phones."
We have to admit, many of us have tried a change of appearance to look a bit like Rihanna or the guy from the Twilight movies. Nick never stops telling people that the couple of grey hairs above his ears make him look like George Clooney.
But there's a difference.
Changing how you look on photo "on the fly" seems to us like the best advertisement ever for plastic surgery. On photo you already look different, so why not make it permanent?
Why not take away those two wrinkles?
Why not correct your eyes a little?
Why not make your face look a bit sharper?
Why not make your skin look a lot smoother?
In the end, you will look like a Hollywood movie star! Or a hobbit.
What's so wrong with just being you? Even when you did all the corrections the Beauty Technology indirectly advises you, don't think that they'll keep your picture as it is. That's not how it's designed. They're not making you more beautiful, they just want to make you feel like you could be just a little bit better.
---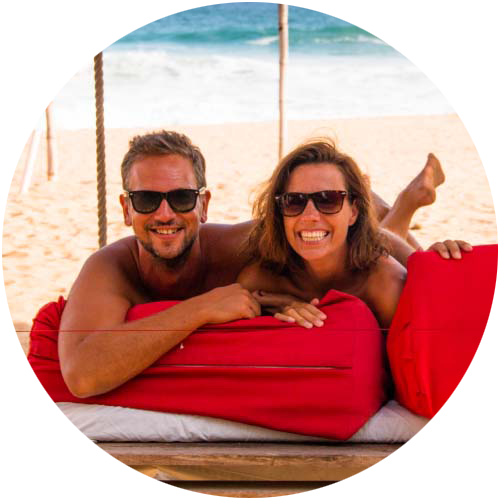 Support Naked Wanderings
Do you like what we do for naturism and naturists? Did we make you laugh or cry? Did we help you find the information you were looking for? Then definitely join our Patreon community!
---