Quite a while ago, a lady we had met at a naturist resort in
Thailand
told us this story about how her friend was advised by a psychiatrist to give nudism a try.
The friend had severe body issues and months of therapy provided of little help. She had been a victim of
body shaming
and the ideas that everyone was prettier than herself had nestled in her head. In such a strong way that the psychiatrist felt that it was time for extraordinary matters. She asked "Do you happen to know a nudist?". The patient did and was advised to ask the nudist friend to take her to a nudist club one day.
Arrangements were made and on a nice day both ladies entered the gate of some
nudist place in the USA
. By the time that the lady we had met in Thailand was able to take off her shoes, the other one (yes, the one with the body issues) was already running around naked. She loved it. For the first time in years she felt comfortable again within her own body.
In the evening another problem arose. When she
told her husband
about her newly gained experience, he wasn't all too happy about it. He didn't want his wife to see naked men, he didn't want her to be seen nude and rumour has it that he wasn't all too happy either with the confidence that had gotten into his wife. No more of that nudism!
Several months later they were divorced.
Embrace the vulnerability of nudity
We loved to hear that story, about how such a fragile woman with such big issues had turned into a confident one who wasn't afraid anymore to stand up for herself. It got stuck in the back of our heads and remained there for several months until we recently met a psychologist at a nudist resort in
Mexico
. We started talking and told her this story. Her reply was pretty simple: "Oh, I advise my patients to visit nudist resorts all the time". She had also noticed that many of the issues her clients were struggling with were things that could be related to body confidence. Her tactics to include nudism had shown to bring many positive results.
All of this goes back to vulnerability. People with body issues feel more vulnerable than others. They constantly think that others are prettier and better formed and that they are being judged for their flaws. Their issues can come from different sources. Some were heavily bullied during puberty or by a dominant spouse. Others were raped or had been in an accident that had left its scars. For some it was even just an idea that had gotten into their heads and never let go. It doesn't really matter where all of this comes from. For those who are struggling with body issues, the most vulnerable position they could ever be in is of course being complete nude and exposed. And that happens to be exactly what has helped many of them to conquer their issues and fears.
We see two important reasons why nudism can help in these cases. On one hand you're facing your worst fears. It's like the arachnophobic who let a tarantula walk over their hand or those who are afraid of heights and jump out of an airplane. It's a jump into cold water (well, hopefully not combined with that jump out of a plane) which makes you realise that it actually isn't all that bad once you're in the middle of it.
The other reason is equal vulnerability. By being naked you put yourself in the most vulnerable position but so does everyone else. Your scars and flaws are right there in the open. But so are everyone elses. At that moment you realise that the perfect body does not exist. That others are not any better or worse than yourself. A very liberating thought when you've been stuck in this negative spiral for who knows how long.
Nudism does not only cure body confidence issues
In Europe we notice a comeback of nudism especially between the age of 30 and 40. This is the time in your life when things start to go really fast (trust us, we know). You're working on a career, you're working on expanding the family, you have all these social contacts that have to be kept happy, you have this huge mortgage that has to be paid off and when you finally get some time for yourself somewhere late at night you turn on the TV and the news tells you that you have a bunch of other things to worry about. The economy is a dump, taxes will rise and many people are losing their jobs. Poverty is growing everywhere and don't even think that you cannot be next.
It's not a coincidence that burn-outs and depressions are some of the major diseases of today. The use of anti-depressants and sleeping pills and relaxation medicines is on the rise. We are poisoning ourselves on a regular basis in order to keep up with this rollercoaster rat race we call life.
In many cases, the solution is not to be found in a little pill (or a dozen of them) but rather in de-wiring. Some time away from it all, an hour, a week, as much as is necessary.
Some can do this through sports. By pushing themselves physically to the limits once in a while, they can temporary forget everything and the rush they get afterwards pumps up enough endorphins to help conquer the stress of the next days.
For those who are not that much into sports, nudism can provide a decent alternative.
Many nudists will testify
that with their clothes they also take off some of their worries or struggles. Because when you're nude you're out of your comfort zone. We see this as a completely different environment which makes it much easier to de-wire. Especially for first timers, it pumps up quite some endorphins as well.
This is old news
What we are telling here is not particularly something new. We have written articles in the past in which we talk about the
how nudism can help you to destress.
Nude Psychotherapy
has been existing since the 1930s. The several psychological advantages of nudism are just out there and yet we wonder why many psychologists would prefer a months long cure of Zoloft and Prozac over a couple of mandatory weeks at the local nudist resort. It certainly wouldn't hurt to give it a try.
Naked Wanderings' Complete Guide for the First Time Nudist ebook

Do you still have questions about nudism or naturism?
Are you looking for even more tips and tricks?
Our ebook will be the perfect resource for you!

Learn More
---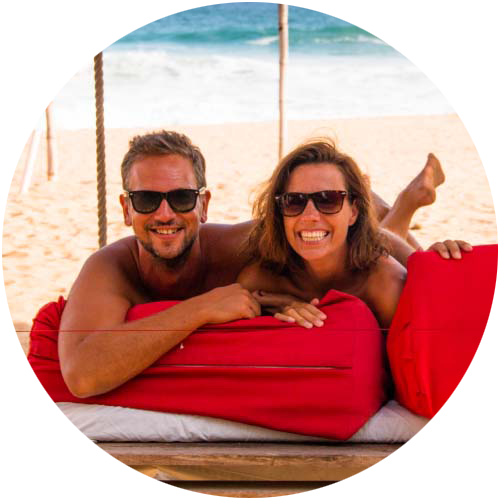 Support Naked Wanderings
Do you like what we do for naturism and naturists? Did we make you laugh or cry? Did we help you find the information you were looking for? Then definitely join our Patreon community!
---