People become nudists in many different ways. Some were born in a
nudist family
, some were talked into it by a friend or partner, some saw the light after a nightly skinny dip or (like ourselves) after visiting a spa and some just followed their curiosity.
Many of the first times end with a consensus: Let's not tell anyone.
Our first time
wasn't any different, we didn't have any friends or family of whom we knew that they enjoyed the lifestyle and we feared negative opinions and comments. For more than a year we didn't tell anyone and only went naked in places where we were sure that nobody would know us. We spent a lot of gas money those days.
When time went by and we got more and more into the lifestyle, went to new places, met some nice like minded people, we got more confident about being a nudist. In fact, we loved being a nudist, we felt so good while we were naked, it was kind of a revelation. Isaac Newton had an idea that would change the world of physics forever, he invented Calculus, and then decided not to tell anyone about it for many years. We are not like Isaac Newton, when we experience something great, we want to talk about it. So we started pitching the idea to our close friends to test their responses.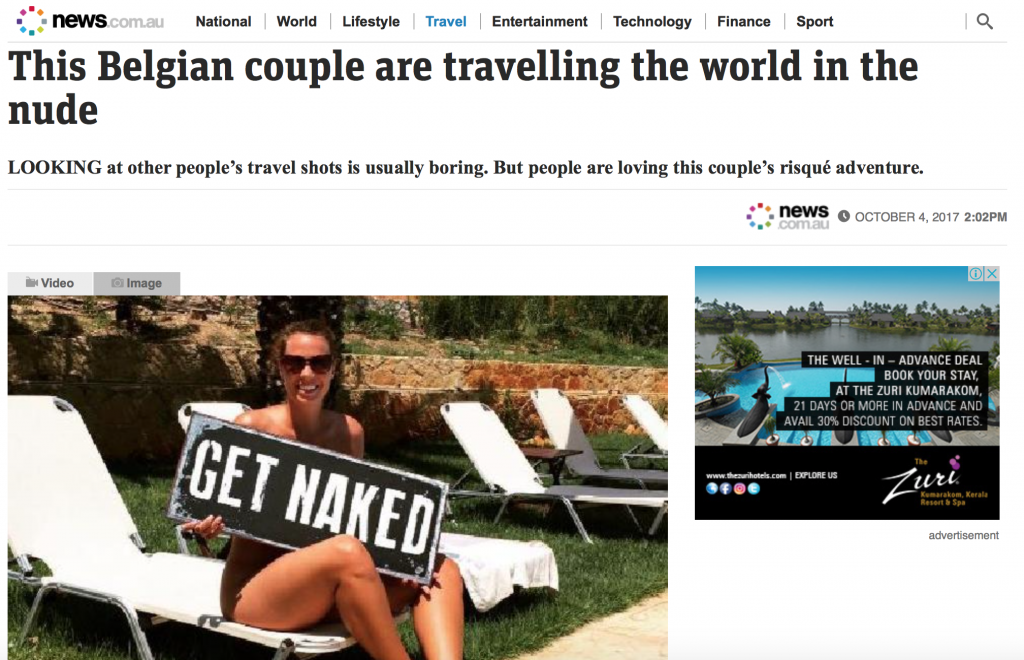 The small town taboo
We don't have to tell you that nudism is still a huge taboo. These days it's popular to talk about  guilty pleasures, over lunch you can hear all about the kilogram icecream your colleague ate last night, about how he spent half of his savings on new car parts and about the kinky thing she did in the bedroom last night. But talking about how they like to let it all hang out at the nude beach… nah, that's one bridge too far.
In the town in Belgium where we were born and raised, nudism was something that didn't exist. Talking about nudity, especially among others, gave even the biggest mouth a red blush on his cheeks so the subject was just completely ignored. On the rare occasion that a topic about nudism appeared in the news or in a documentary, someone dived at the remote control and the channel was changed. It was something "not for our eyes".
These were the pre-internet times, so we couldn't really research it any further. Yes, we could've checked book 13 of 24 of the encyclopedia on the book shelf, but let's face it, these books rarely made us much wiser, especially when it came to sensitive subjects.
When we grew older, mom and dad left us home alone once in a while and then it did happen that we saw a naturist being interviewed in some obscure human interest program. It was always a guy in his fifties or sixties, long hair, bit of a beer belly, completely in your face naked and explaining some philosophical theories about how he felt one with nature which made completely no sense to us.
All other times when we saw any nudity on TV it was either in a sex scene or in a commercial for shower gel. So that was the general idea: if you're not an old hippy, you can only be naked to have sex or to shower.
Ten years later, we weren't old hippies and we wanted to explain people who grew up in the same small town that it's so much fun to be naked, among others.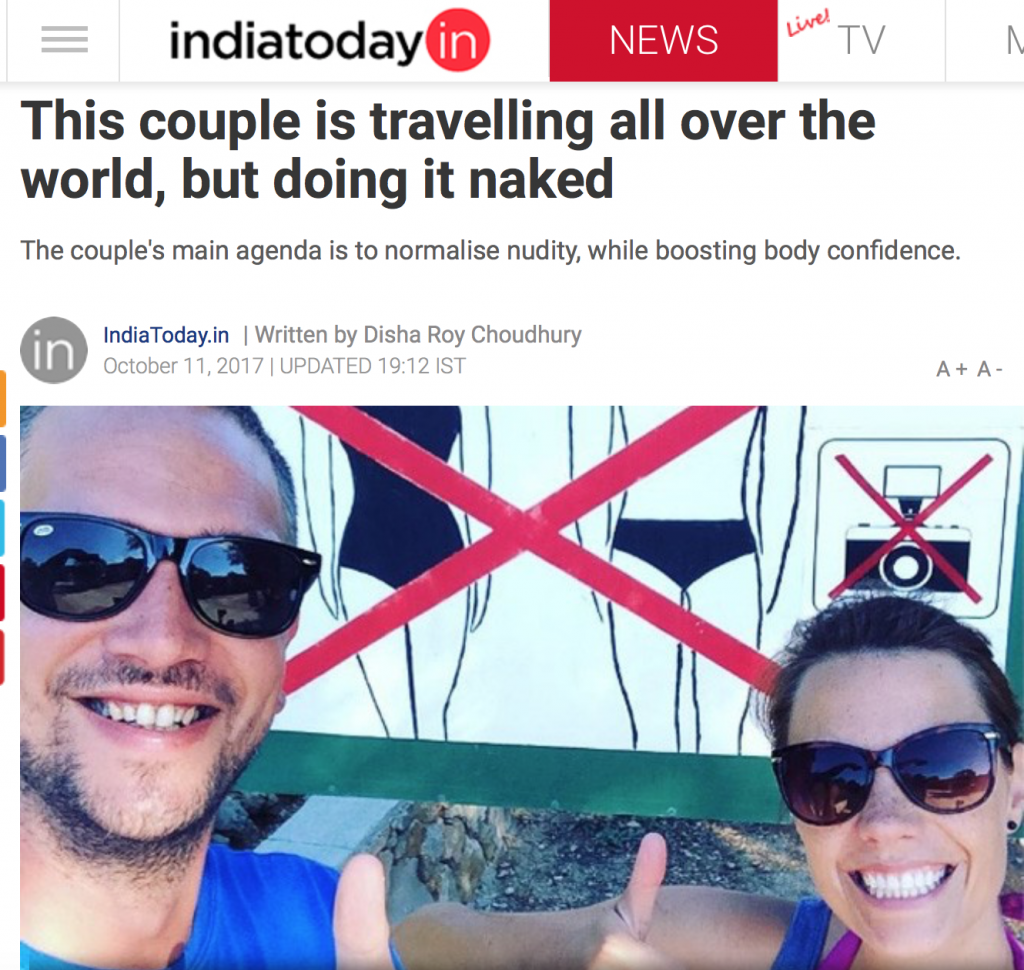 Who to tell?
We picked our test subjects carefully, only the most open minded, most adventurous of our friends got the news. In fact, they weren't that surprised at all, they knew us, they knew they could expect crazy things from us and this was just number twenty seven on the list of strange confessions we did to them. They asked some questions, told us that they would never do it themselves and let the subject rest.
One of the reasons why nudists like to be social is because we're looking for like minded souls. Sometimes we want to prove to ourselves that we're not strange, that there are others like us, normal others, who just like to be naked as well. Statistics have shown that about 5% of the world population has engaged in nudism one time or another. That's one out of twenty. That's at least 10 nudists on a busy moment in the supermarket, that's 500 nudists at an Ed Sheeran concert (we wonder if he sometimes realizes that) and God knows how many in last night's traffic jam. And yet, we didn't really know a single one of them.
Later we found out that the actual reason why we didn't know any other nudists was because, just like us, they didn't tell anyone. The more comfortable we became with our lifestyle and with the fact that it's really nothing to hide or to be ashamed about, the more we told our friends and family and once in a while someone said "Whoa, that's so cool, I'm a nudist too!"
But still we didn't want to tell everyone. Not because we were ashamed, not because we cared so much about their opinion but just because we didn't feel the need to do so. When the subject came on we never lied about it but we didn't go around the office, the bar or the family reunion saying "Hey, want the lastest news? We're nudists!".
Only to a few people we said nothing on purpose, because we knew that they wouldn't understand and we didn't want to get into an endless discussion.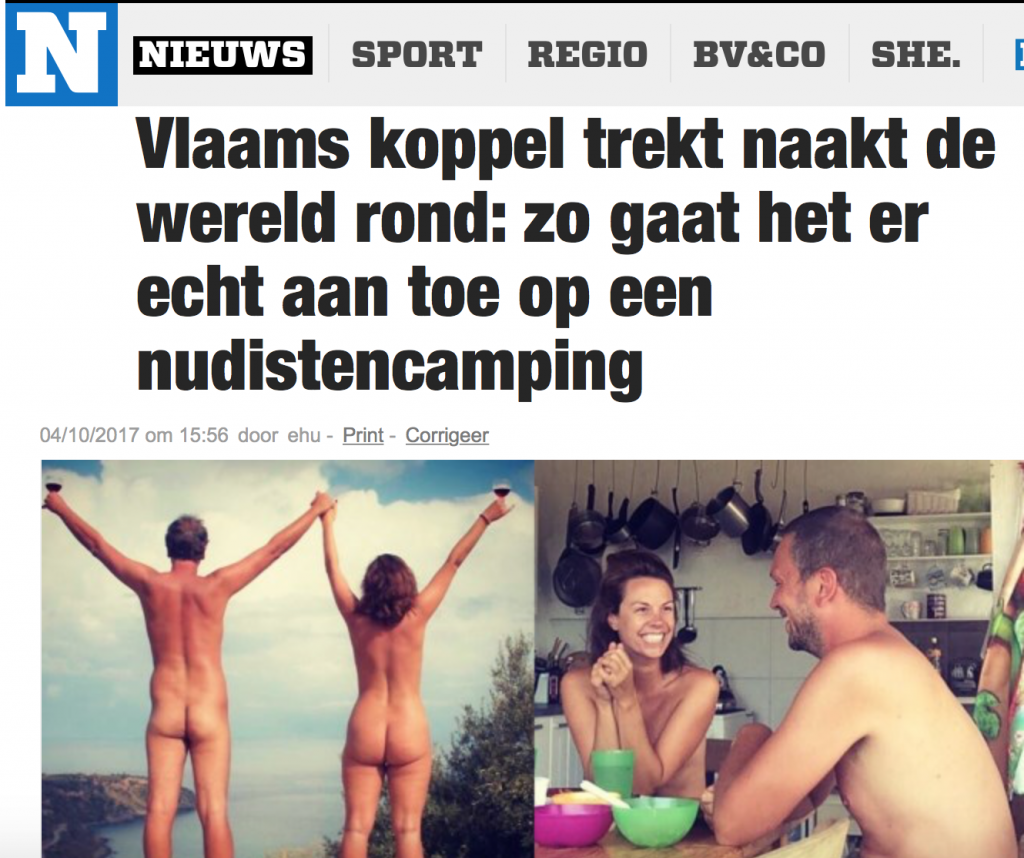 Because we were blogging about our experiences and because we are quite active on social media, more and more people just found out about our lifestyle, but last months the ball got rolling really fast. What started with an interview about our naked travels on
the English news site Metro
ended with articles about us in more than thirty countries. Including
a great piece on one of Belgium's biggest news sites
. Suddenly everyone knew about our naked lives.
The reactions
When this happened, most of our friends and relatives already knew that we were nudists, but some of them didn't know that we're actually with our naked asses on
Instagram
. And we understand, having a friend, daughter or nephew who likes to be naked once in a while is one thing, seeing them taking selfies for the whole world to see with their privates only covered by a well placed finger is something completely different. For them, not for us.
So concerns were raised.
"What are you going to do when you get back to Belgium?"
"How will you ever find another job?"
"What if you end up on a porn website?"
We don't care how many people have seen our bodies, everyone has one and in the end we hope that we made the world a little bit more nude-friendly. And if someone doesn't want to give us a job because we like to be naked, well screw them, we'll find a more open minded boss.
All in all we received a lot more positive than negative reactions, people thought we were brave and that we did funny things and they were happy that we enjoyed ourselves.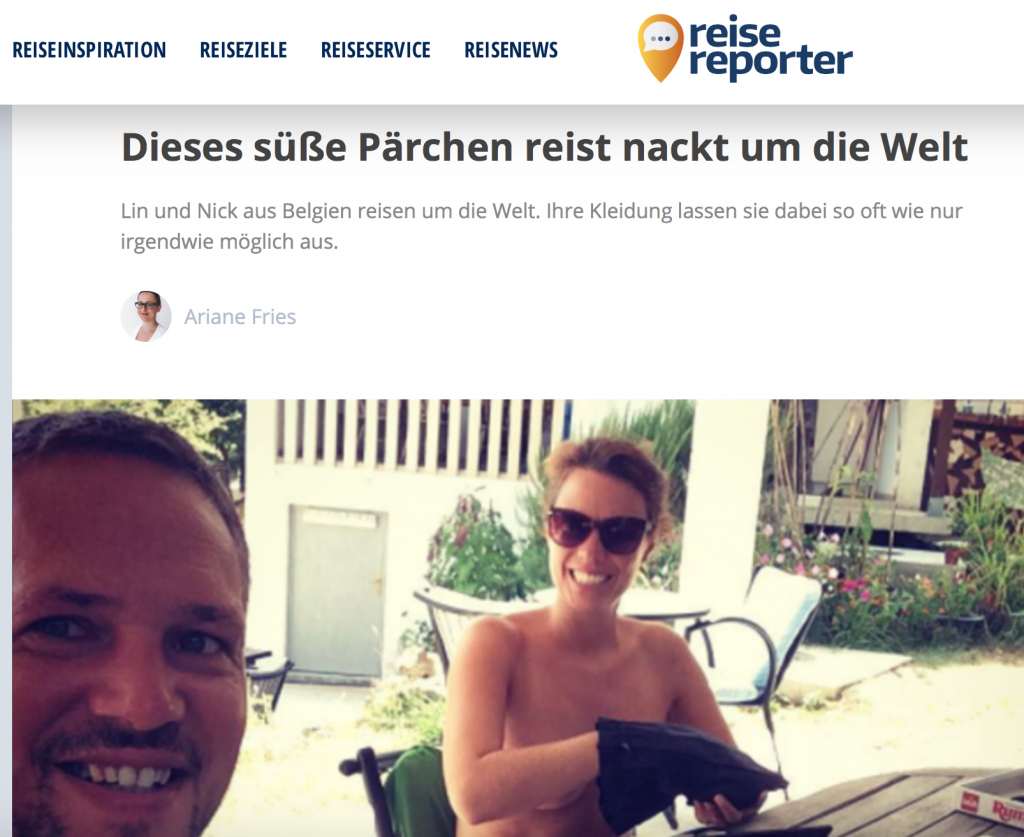 Of course with all the publicity we also got a lot of reactions from people we didn't know. Although we shouldn't read the comments on those websites, we often couldn't resist. And then we read things like:
"Wait until they go to Syria and Afghanistan, haha"
"Nobody wants to see their ugly bodies"
"They should be banned from the internet, my children can see this"
And other crap like that. Big mouths always like to have their say, especially anonymously online.
But the number of positive comments was startling, people telling us how we helped them taking the first step, congratulating us on how we promote nudism and take it in a brighter light. In the end, that's why we do it.
And because we LOVE to be naked of course.
Naked Wanderings' Complete Guide for the First Time Nudist ebook

Do you still have questions about nudism or naturism?
Are you looking for even more tips and tricks?
Our ebook will be the perfect resource for you!

Learn More
---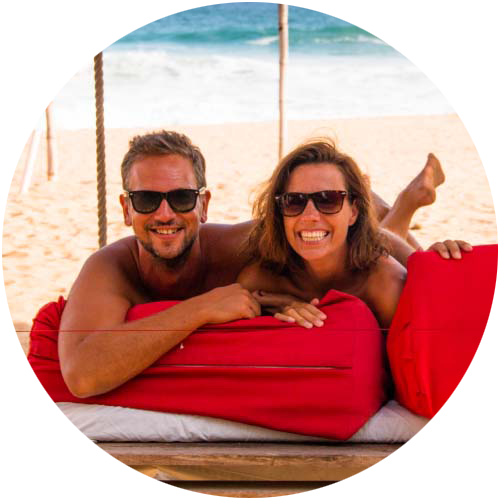 Support Naked Wanderings
Do you like what we do for naturism and naturists? Did we make you laugh or cry? Did we help you find the information you were looking for? Then definitely join our Patreon community!
---