Some time ago a friend brought it to our attention that
one of our photos had been used
by a Twitter account called @BeNudeToday. Without our approval of course.
This has happened before to us and honestly, what can we say? Ever since the beginning of Naked Wanderings we have been "stealing" pictures from the internet as well. Before we started this journey we didn't particularly have a huge album with naturist photos and we could certainly not find the necessary pictures of our own to document all the topics we wanted to talk about. So we took pictures from Twitter and the internet as well, always with the mention that if someone recognizes their own photo, they can ask us to remove it and otherwise we'd be happy to mention them in the credits.
Although we were technically stealing, we've never considered it such a big issue. We were using someone else's naturist images to promote naturism. And that's what it's all about, right?
Therefore we've also never made a big deal about others using our pictures. If they help to make the world a little more nude friendly, please use them wherever you can!
This time, however, the purpose of our image wouldn't exactly be promoting nudism.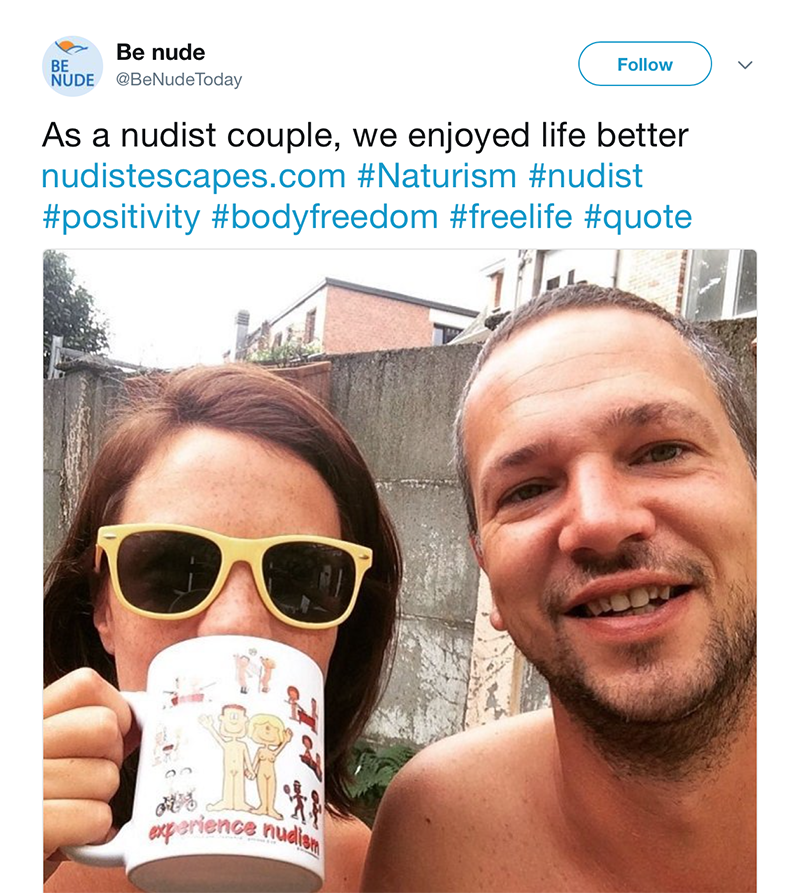 Naturist scams
At first sight, there didn't seem anything wrong with the picture. The account is called Be Nude, an expression we certainly stand behind and the picture was given a quote "As a nudist couple, we enjoyed life better". We can't remember having said this and the past tense of the sentence makes it sound a little like we're not a nudist couple anymore, but other than that these could certainly have been our words.
Then we clicked the link.
We were taken to a website called nudistescapes.com, apparently a dating site for nudists. Although we don't really appreciate our photos being used as a commercial promo campaign, even until this point nothing was really wrong. But alarm bells started ringing.
We had checked this website in a small Canadian town called Arnprior, a village with about 10 000 inhabitants. Yet Nudist Escapes already showed us on the first page 12 women between the age of 26 and 40 from this little place looking for a nudist partner.
Really? This must be the lonely naturist hearts club of Canada!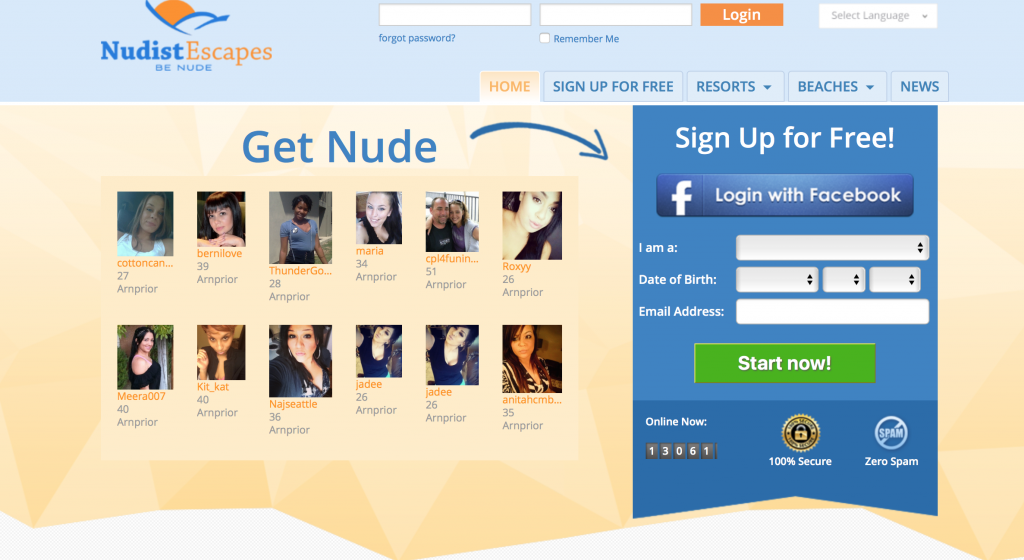 We didn't even have to register to find out what was really going on here,
Naturism Of Color
had already done this for us. Of course, it was yet another scam trying to empty the pockets of lonely single men. They are all over the internet, using fake profiles with stolen photos attracting visitors via certain niches. This one focusing on the naturists.
Sadly we can understand that this works too.
"Hey, a naturist dating site! Here I can see my future partner naked before I even meet her in real life… How cool is that?"
Not so cool buddy. And if that's your way of thinking, maybe you're worth to be ripped off. Of course, as long as you keep paying, they will keep stealing our pictures and misusing the term nudism.
So why not trying to find a partner at a bar? Or a real dating site.
Some history of nudist photography
People take pictures all the time. Now more than ever of course with our cell phones and DSLR cameras and memory cards that can contain thousands of photos. But even when we were still using film, we took pictures of ourselves and others. They are our memories. When we do something fun we want to have a snapshot of it which will bring back the happy memory years later when we find back that photo album.
For naturists, of course, lots of those fun moments happen when they are naked.
Although naturism already exists for more than a century, for a long time it has happened exclusively behind hedges and fences. The first time the lifestyle was brought into the open was probably as a result of the revolutions at the end of the sixties, the moral got less tight and it was time to show the world what we were really doing. And not only that, we needed a way to connect with each other and to tickle the interest in naturism for a bigger crowd. Back in the day, this had to be done via magazines.
Of course, at the time, nudity in magazines was not particularly well accepted. Ours didn't contain naked supermodels either, you could see men and women of all ages and sizes, families too and (God forbid) naked children. The first of these magazines were immediately banned, the publishers were sent to court and it took several years and lawsuits before some smart judge pointed out that we had the right to be naked. That this was a human right. We had won this fight, naturist magazines were back on the printers.
Paying to see someone's nude holiday photos?
It didn't take long before someone with less ideologic ideas saw an opportunity in the market. Now you could easily publish naked people in magazines, just make sure to call them naturists. Add some philosophical naturist text to it, "As a nudist couple, we enjoyed life better" for example, and there you go. Completely legit. A gate had been opened which was impossible to guard.
And then came the internet, a technology which has unfortunately been neglected hugely by the naturist society. While the naturists were focusing on their magazines and newsletters, frauds started buying naturism related domain names and started spreading pictures and movies of naked people around. All under the name naturism of course and all with the same little texts saying something about the advantages of the lifestyle.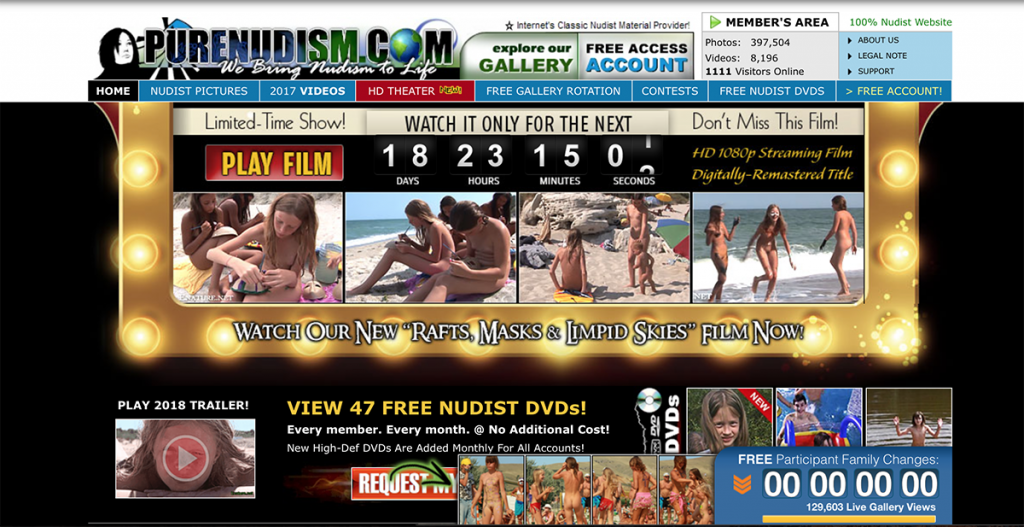 It will take us quite some time before we'll be able to catch up with all this malicious content. When you google something like "nude beach" or "naturist fun", how long does it take until you end up on a porn website? It's sad to see how a lifestyle about non-sexual nudity can turned into something sexual so easily.
It's wrong in so many ways.
Not only are our pictures used to turn on some pervert and eventually empty his pockets, they are also completely boycotting our cause of promoting non-sexual nudity and even worse, because they make people believe that nudism is something sexual, they are sending people with the wrong intentions to our nudist places. People who will eventually cause problems and create a bad vibe.
We can imagine that many of those who visit naturist places for the wrong reasons are pretty disappointed when they finally get there. When the porn industry noticed that the naturist scene, although everyone is naked, might be a bit boring for the average porn viewer, they have created their own "naturist images". Often featuring young models who are rubbing each other with sunscreen or sitting with wide spread legs towards the camera, winking at the photographer. When they arrive at the nude beach the amount of models is disappointing and there are no winks when they take a photo, the only attention they do get is from the big guy asking them to leave.
But still these websites flourish, a good example is Purenudism.com who ask their visitors to pay for legit naturist photos and movies. Now please tell us, why would a genuine naturist pay money to see someone else's pictures? Not only do we see real naked people on a regular basis, for us naturist pictures are the regular holiday pictures. We don't really like it when people ask us to spend hours going through the photos of their last holiday or Christmas party. Let alone that we would ever pay for it.
---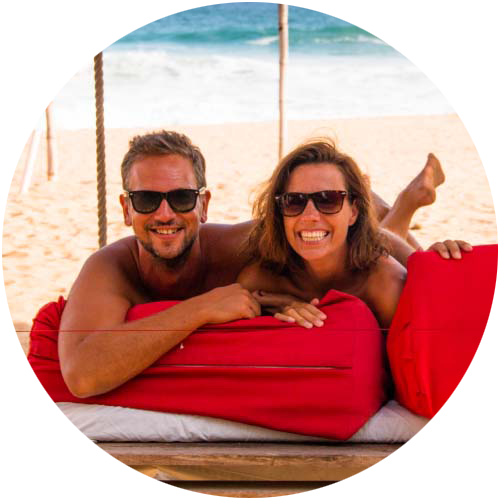 Support Naked Wanderings
Do you like what we do for naturism and naturists? Did we make you laugh or cry? Did we help you find the information you were looking for? Then definitely join our Patreon community!
---