You, our readers and followers, often tell us that we are living the perfect life. And honestly, we think so too. We're not going to fake some kind of modesty here. We love our life. It's the best life we could wish for. We love the many people we meet, the many places we visit, the traveling (well, after 16 hours on a crappy night bus we might tell you something different), the warm weather we keep chasing and the time we can spend without clothes. And we love taking funny pictures for Instagram and writing about all our experiences, ideas and visions. You're absolutely right. We are living the perfect life.
When a blog becomes a business
One downside of the world we're traveling through is that it's not organized according to the
Black Rock City
principle, the temporary city in Nevada where the annual Burning Man festival takes place. In such an alternative world, we would be able to exchange our photos and stories for food, booze and a roof over our heads. Whereas today, we need euros, dollars and pesos to keep ourselves alive and on the road.
When we started Naked Wandering back in 2016, we had no idea where this would be going. We couldn't have dreamt that today, almost 4 years later, we would find ourselves in a town in Mexico still writing blog posts. Naked Wanderings started from ideology. We noticed that the nudism we were experiencing was not like the nudism we read about on the internet. We wanted to show the world that nudists are more than just a bunch of grannies playing petanque or hippies living in the woods with no hot water or (the horror!) wifi connection.
Things started to go fast. Our story got picked up by the international news and soon we found ourselves butt naked in newspapers all over the world. Our family was so proud… We even got featured
live in an American TV show
, long before we had ever set foot on American soil. Our audience boomed. From 7000 readers per month in 2016, to 20 000 per month in 2017, to 50 000 per month in 2018, to more than 150 000 monthly readers in 2019.
We saw an opportunity here. What if we could start earning money by doing what we do? What if our bank accounts could start filling up again, instead of running as dry as the Sahara desert?
The struggles of running an online nudist business
We are not the only ones with this idea. There are lots of other
nudist bloggers
out there who also figured out that that there's money to be made with running a website. We started copying the blueprint of successful travel bloggers. We had read their success stories and figured that with an audience the size of ours, we could easily make thousands of dollars with advertising and affiliate marketing. We put on our rose-colored glasses and saw a bright and comfortable future, full of nudist traveling, ahead of us.
Most of our applications to advertising and affiliate networks got rejected one after the other. For one reason: nudity. Or in some cases even porn. No harm done, we wrote back to explain that nudism is nothing sexual, that it's a very genuine lifestyle and that the number of worldwide nudists keeps growing steadily. The statistics of our website and social media are the best proof. 150 000 monthly readers in 2019, that's a huge specific market which few others are reaching.
We received a lot of excuses. "It's not us, it's our advertisers. They just don't want their product to be shown anywhere near a naked body". So far making big bucks.
The alternative ways to monetize nudism
You're probably wondering where this very long introduction is leading to, so let's get to the point. Like ourselves, the other nudist bloggers ran into the exact same problems. We all started to search for alternatives, for ways to avoid the prudish dictatorship of Google and Facebook. Some put donate buttons on their websites, asking their readers for financial support so at least the costs of keeping a website online could be compensated. And then a new way of gathering donations became popular, in the form of
Patreon
and
OnlyFans
.
Technically, these websites provide a subscription platform. Visitors pay a monthly fee to subscribe to your account and in return, you give them premium content that nobody else gets. A bit like subscribing to a newspaper or a magazine. But of course, who's going to pay to read your writings? 150 000 people happily read our blog posts for free, but how many of those are going to give us $10 a month to do so?
Because of social media censorship, some bloggers noticed an opportunity. If you become a member of their Patreon or OnlyFans account, you get to see the uncensored version of their photos. And more! You get to see specially made uncensored photos. And videos!
Who sells nudist pictures? And who buys them?
If you ever Googled the terms "family naturism", we hope that you were as disgusted as we were when we did so for the first time. The first 15 items of more than 124 million results (if these were all genuine nudist websites, the whole world would be nude by now) give you the opportunity to buy pictures and videos of naturist families and children.
Now we wonder… We are nudists, we see naked people all the time. Including families and children. For us, that's as normal as can be. Why on earth would we pay money to see pictures of someone else's family?
For social and family reasons, we're often forced to watch the endless series of pictures from our friend's or aunt's latest vacation. We often think that they should pay us to do so. No way that we would pay to watch some stranger's holiday pictures.
It's not too hard to imagine that the people who pay membership fees to those websites are not nudists like you and us. Then what with those who subscribe to your OnlyFans account to get to see your uncensored pictures and premium videos?
The controversy with selling nudist pictures to support nudism
It's important to mention that not everyone who supports a nudist Patreon account is by default a pervert. Plenty of them do so because they appreciate all the work the blogger puts into his or her project and because they want the project to keep running. Similarly, we're also pretty sure that not every single person who visits Naked Wanderings or looks at our
Instagram photos
does so with the right intentions.
So what's the difference? No matter if you sell your content or just give it away for free, it will always reach both the right and the wrong people. And if creating paid content actually helps you to write more, take more pictures, create more videos and visit more nudist places to tell the world about, isn't it actually a better idea than the risk of running broke and becoming the next nudist website that has to shut down for financial reasons?
Our biggest problem with creating paid nudist content is the message it sends to the outside world. As nudist bloggers, we have an exemplary role. We show the world what nudism is and what it means to be a nudist. What will the world think when we show them that as nudists, we sell premium uncensored pictures of ourselves?
Let us know what you think.
---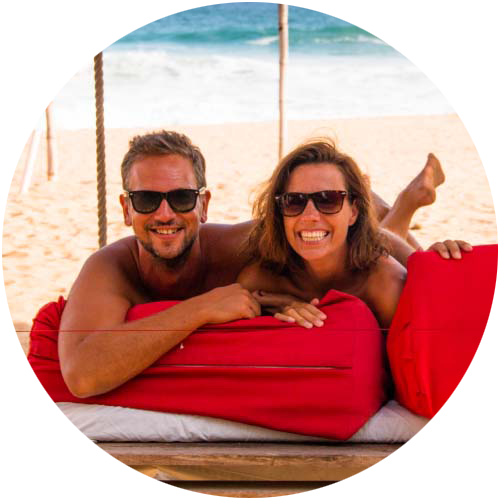 Support Naked Wanderings
Do you like what we do for naturism and naturists? Did we make you laugh or cry? Did we help you find the information you were looking for? Then definitely join our Patreon community!
---