Once upon a time, The United States was known as "The land of freedom". The place where everything was possible. A refuge for 19th-century Europeans who felt suffocated or persecuted in their home countries and dreamt of a better life. Everything, even the complete impossible, was possible in America.
Today, especially in naturist circles, Europeans like to joke about the USA. Land of freedom… yeah right. Land where you're likely to get fired or sued if a friend of a friend happens to spot you on a nude beach. In a world where naturism seems to be growing, in the land of the future it only seems to go backwards. At least, that's the message that travels across the Atlantic. And if there's one thing we've learned, it's to not always believe ocean-traveling messages.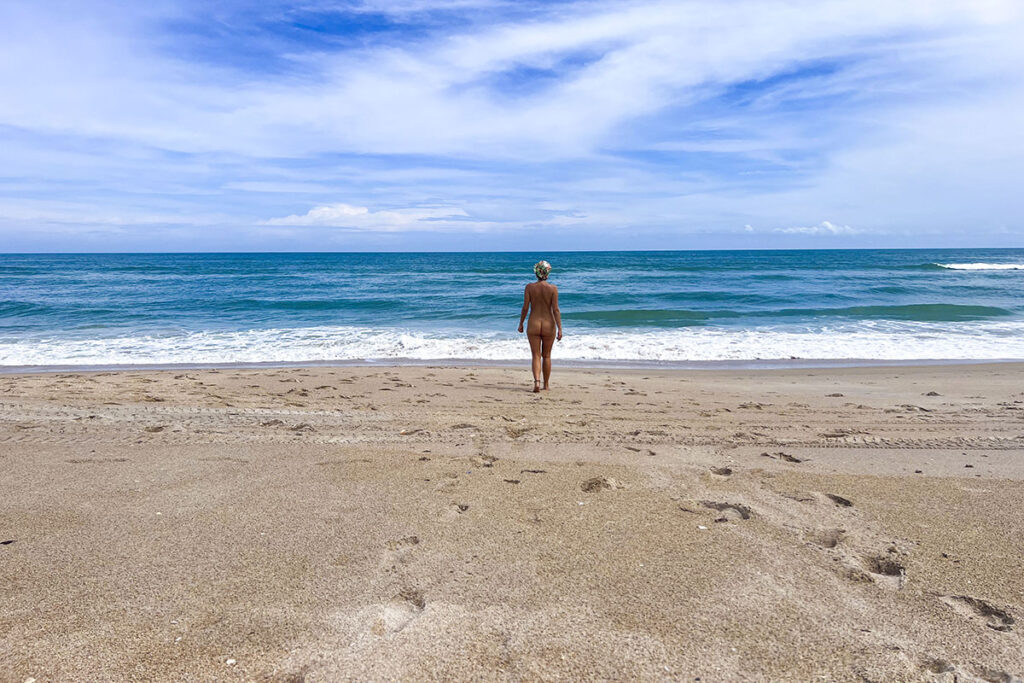 What's in a word?
We have a Mexican friend who likes to point out our mistakes whenever we use the words "America" or "Americans". People around the world are using these terms to talk about the United States and its residents, whereas technically you're talking about every person in the American continent (s). Mexicans are Americans too. So are Uruguayans and Jamaicans, and even though they don't like hearing this, Canadians too.
As Europeans, we like to think of The United States as one big country and believe that just like in any European country, there can't be much of a difference between north and south, or east and west. What we fail to realise is that the country is exactly what the name suggests: A union of different states. Each with its own culture. Only by travelling to the USA, do we realise that comparing Florida to let's say, Montana, would be like comparing Spain to Lithuania. Of course, there will be similarities. In the case of the USA, there's even a shared language. But there will also be many differences. Especially when it comes to experiencing nudism.
When we went to Cypress Cove
Cypress Cove
is probably the most famous nudist resort in America (yes, the whole continent, not just the USA), but we went with few expectations. In the land of the blind, the one-eyed man is king. In the land of the not-so-much-freedom-anymore, what does it mean to be the number one nudist resort?
We realised that we had underestimated Floridian nudism from the moment we had our first stroll around the resort. This place could have easily been stolen from France, Spain, or Croatia. There were shops and restaurants, all kinds of activities and entertainment. Everything you can find at a successful European resort. This was all but the small club hidden in the woods that we had expected.
Our biggest surprise though was one morning when we were having coffee in front of our van and saw a truck pass by. Did we really see this right? We cut through our neighbour's pitch to try to catch another glimpse of the vehicle. It was true! It was Amazon. Later during our stay, we would also see the mail truck and a blood donation bus at Cypress Cove. All these just came to The Cove as if they were delivering at any other given neighbourhood. The high impenetrable walls, so typical for nudist resorts, seemed to be non-existent here. Something unseen even in Europe.
When we went to the beaches
The message that progressive nudist resorts do exist in the USA must have been caught in a storm above the Atlantic because we don't think that it ever reached Europe. But then again, we're talking about a private resort here, this could be a lucky shot. Which it wasn't, as we would learn in the coming weeks, but we didn't know that yet. So we figured that we should have a look at public nudism: the nude beaches.
Our expectation was to park in the middle of nowhere, then have a steep hike for an hour or so to end up at a small rocky beach where we would be sitting among a handful of suspicious-looking men. The "middle of nowhere" part was correct, at least for three of the four nude beaches we visited, but we could have left our hiking shoes at the campground because the parking lot was just steps away from the beach. And we really mean "beach". As in long, wide, and sandy. Comparable to the French Atlantic nude beaches, but with better weather.
The crowds totally beat our expectations. Even though we visited most nude beaches on weekdays, there were always a bunch of naked people of all different ages, sizes, genders, and skin colours. A mix that is quite uncommon at even the most famous nude beaches in Europe.
Naked under the Miami skyline
And then we hadn't visited Haulover Beach yet. We were told to come early enough because parking space tends to run out quickly. This can mean two things, either it's a popular beach or a small parking lot. It was the first, and even that is an understatement. The parking lot was roughly the size of one you can find next to a sports stadium, yet it was indeed getting dangerously full.
We've been to many naturist places around the world, but we can honestly say that we've rarely seen a nude beach busier than Haulover.
Cap d'Agde
is just one that comes to mind. Interesting side note: Just like "Cap", Haulover Nude Beach is said to have different sections for people with…ehm…different interests. We noticed none of this though because we came with local friends who made sure that we stayed in the "have a great nude time with friends without benefits section".
Strangely enough, Haulover is a very urban beach. Many visitors are residents of Miami or the surrounding cities and from the high skyscrapers, you can see every naked person on the beach. The idea that all American (USA resident) nudists are afraid of encountering someone they know on the nude beach is a total contradiction to the number of people at Haulover. We imagine that if you live in the area, it must be impossible not to run into someone you know.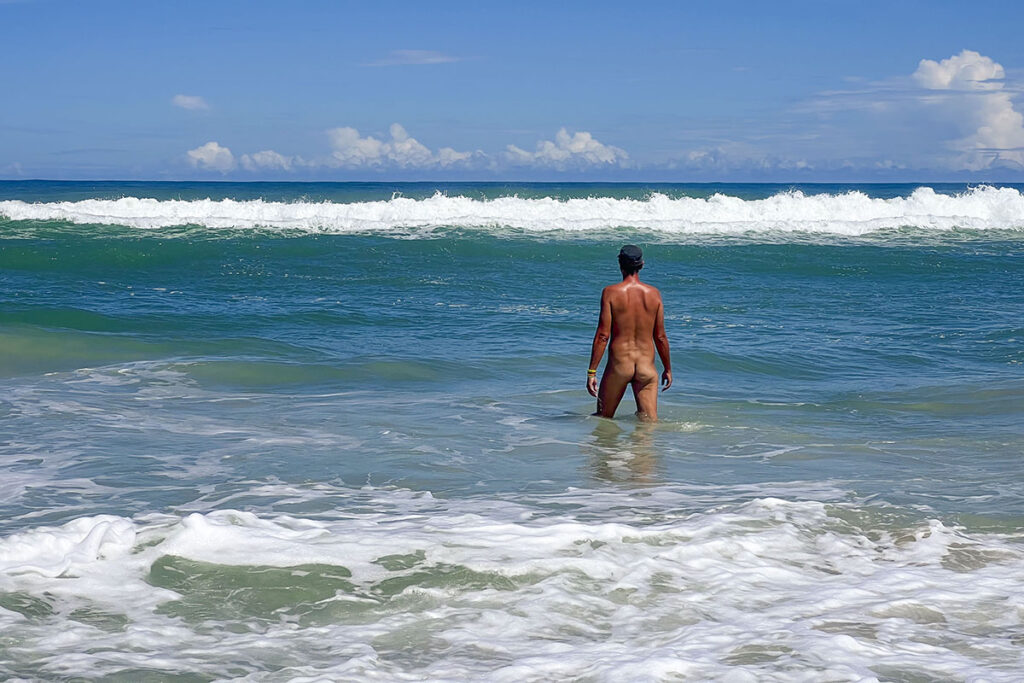 Fake news?
Can we conclude that the messages we've been receiving in Europe are just fake news? Unfortunately not. The healthy state of nudism in Florida is not representative of the whole country. On the other coast,
DeAnza Springs resort
in California has recently turned textile.
Two other Californian nudist resorts
are currently up for sale, with no guarantee that they will remain nudist. So in a matter of weeks or months, California could lose more than 50% of its nudist resorts.
It's not a coincidence that nudists from all over the States flock to Florida for a naked getaway. The question that kept us busy though was how to export the success formula of Florida to the other states and make America naked again. We haven't figured it out yet… thoughts anyone?
---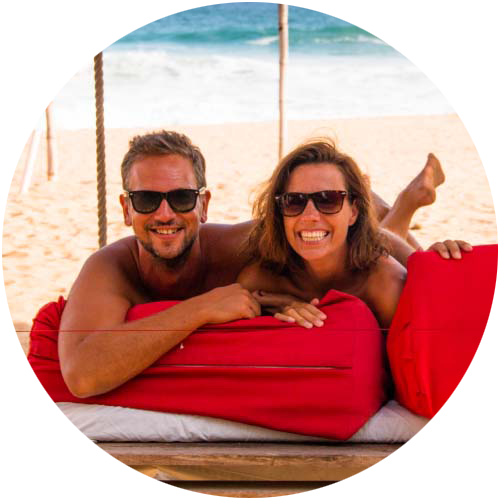 Support Naked Wanderings
Do you like what we do for naturism and naturists? Did we make you laugh or cry? Did we help you find the information you were looking for? Then definitely join our Patreon community!
---