It had been 5 years since we first tried naturism in the USA. Or should we say "nudism", the more accepted term in this part of the world? At the time, we needed to choose between Florida, famous as a nudist destination, and California which was more considered the nudist underdog. We chose the latter, because why would anyone want to read about a place that everyone seemed to have already visited, right?
Ever since that time, we have been receiving very regular messages asking when we would put Florida on our itinerary. We should have come a lot sooner, but a little virus messed up those plans. Now the right time has finally come, and we decided to dive in head first by visiting what's probably America's most famous nudist resort.
How to get to Cypress Cove
If you're coming by plane, the most convenient point of arrival is definitely Orlando International Airport which connects to an endless list of places inside and outside of the USA. From Orlando, it's about a 1 – 1.5 hour drive to Cypress Cove. Flying into Fort Lauderdale or Miami is also an option, but then you're looking at a 3-4 hour drive.
Although it is possible to reach Cypress Cove by public buses, the best option is to rent a car. Pretty much every car rental business in the US has an office in the airports. An Uber from Orlando airport will cost between $75 and $100 USD.
From Orlando, you take the 417 South and follow directions to Kissimmee. Once you get there, you head to Pleasant Hill Road, which will take you to the resort. Coming from Tampa, you take the 4 Freeway towards Orlando, follow directions to Kissimmee from there and take S Poinciana Blvd just before you get to Campbell. If you come from southern Florida, drive north on the 95 and take the 192 west from Melbourne. Once you get to Kissimmee, take the 17 south and then head to Pleasant Hill Road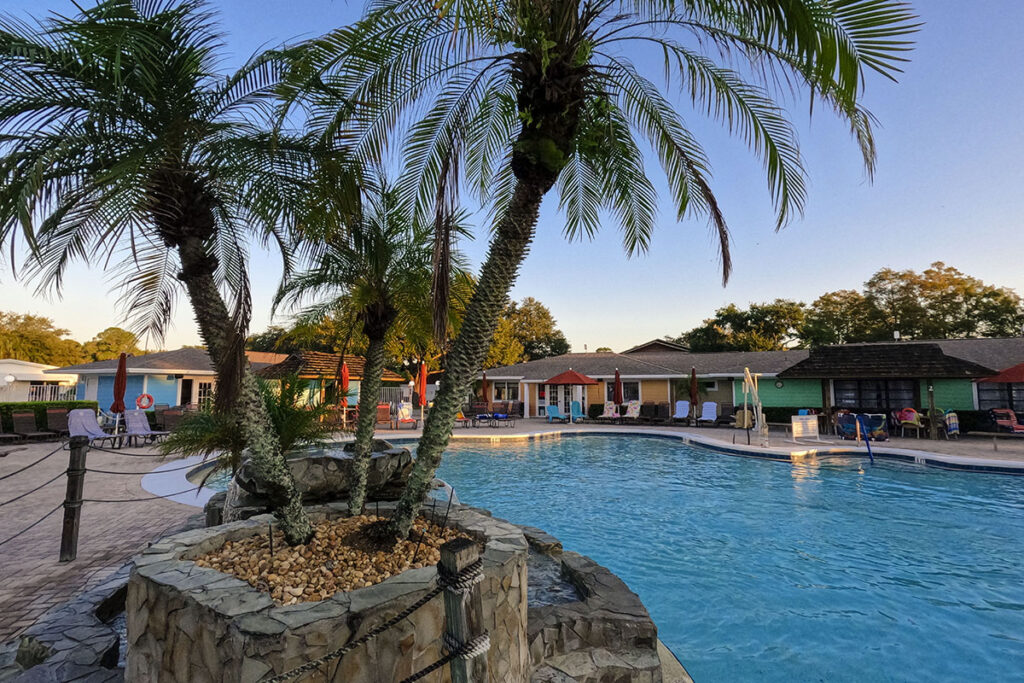 Where to stay at Cypress Cove
Cypress Cove has a variety of accommodation options. For the campers, there's the choice between unserviced sites for tents right next to the lake, and serviced sites all around the resort. We visited "The Cove" in a camper van and stayed in one of the serviced sites. One thing we immediately noticed was the cleanliness of the shower and toilet blocks. It always felt as if they had been cleaned just before we got there. This could have been the case, but after 4 days we were pretty sure that it wasn't a coincidence anymore. The outdoor showers too were something we very much appreciated.
Rental options are available in the form of hotel rooms and villas. We didn't get to see the rooms from the inside, but the villas were very well designed, with a spacious sitting area and kitchen, a large bathroom and a very comfortable bedroom with two beds. Both the room and the living room had digital TV and there's a private terrace outside. Some villas have been enhanced to welcome guests with a disability.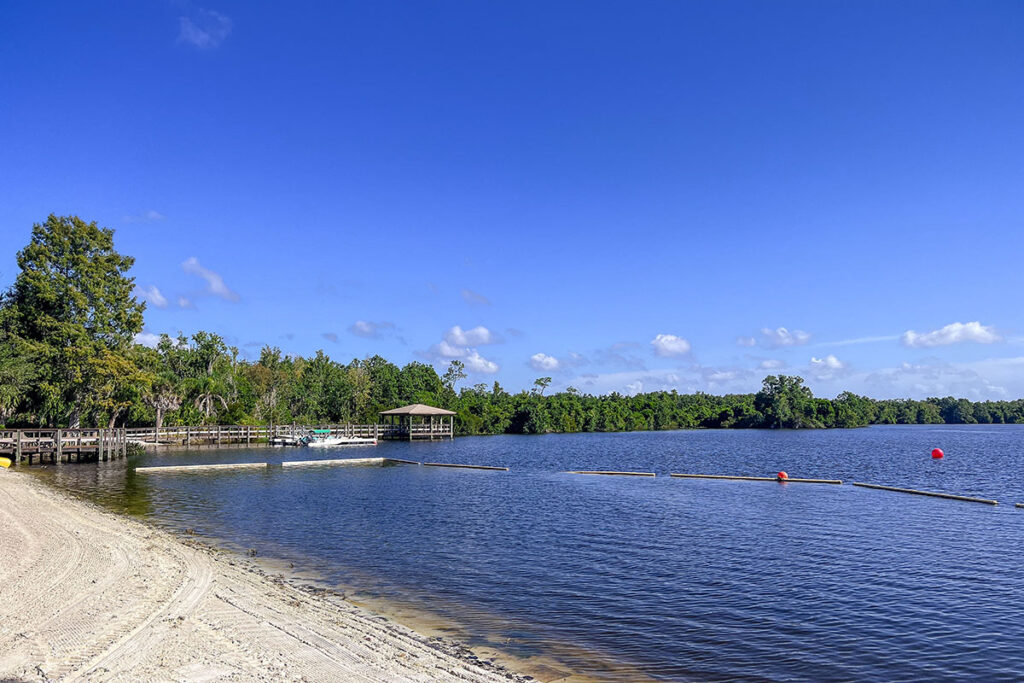 What to do at Cypress Cove
One of the reasons why Cypress Cove is such a popular resort is because of its variety of amenities. We'll be honest with you, we totally underestimated this and found that our time at The Cove was way too short to explore everything there is to do. The central area has two swimming pools, the one next to Cheeks bar is known to be the social pool, while the other further away is the quieter pool.
Cheeks bar is probably as famous as the resort is, here you can get drinks and food throughout the day and parts of the night. Around the central area, you'll also find a number of shops, a gym, a games room, a jacuzzi, a massage service, a children's playground, several games like cornhole, and probably some other things that don't immediately come to mind.
The other recreation area is the lakeside. It is allowed to swim in the lake in a designated area. Here you'll also find the lakeside restaurant, Cypress Cove's signature restaurant which has its own entertainment and menu. Although this is a classy restaurant, we very much appreciate that nudity is still the most common dress code. The lake is also the perfect place to relax on the beach or next to the campfire at night. A bit further are more sports facilities like tennis, pickleball, and golf.
The other reason for Cypress Cove's popularity is definitely its ambience. Being social is very much encouraged with lots of activities and big events like Nude-A-Palooza which attracts many national and international nudists. This too is something we loved about Cypress Cove. Not just the partying itself, but getting the choice between mingling among people or just relaxing next to the lake. Last tip: If you like a good cocktail, ask for the "Yellow Rose" and thank us later.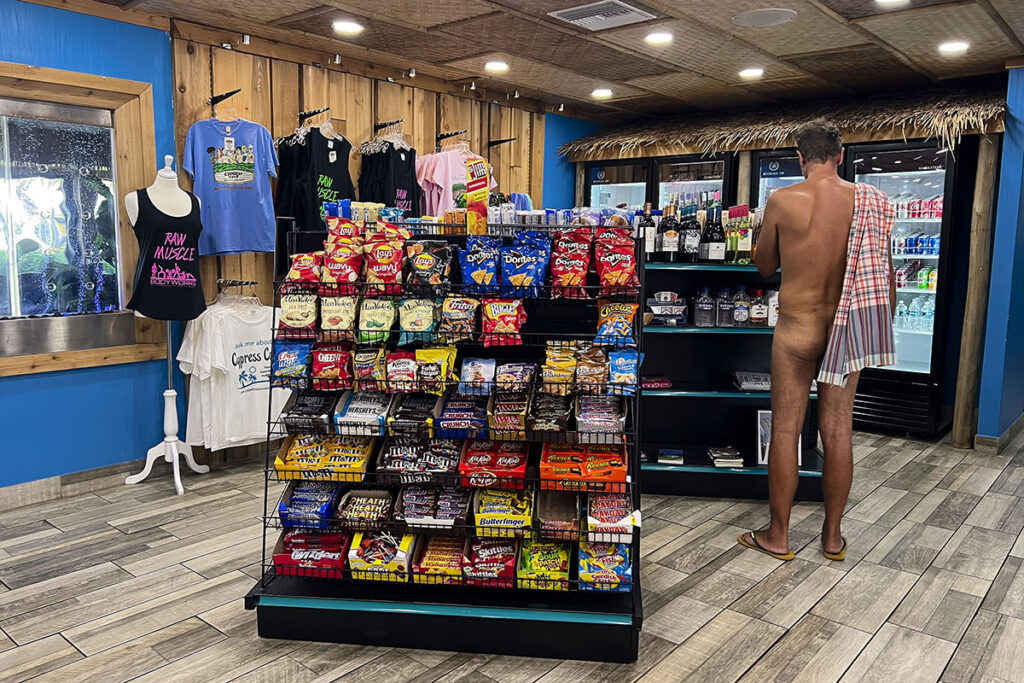 Around Cypress Cove
Florida yearly receives millions of international visitors and many of the top tourist highlights are more or less located in Cypress Cove's backyard. Well, at least by American standards. Disney World is just a half-hour drive away, Seaworld and Universal Studios are hardly 45 minutes away. Depending on the traffic, you can get to downtown Orlando in not more than an hour.
About an hour and a half to the east, you'll get to the Canaveral National Seashore, also known as the space coast. The Kennedy Space Center is worth a visit, and if you're lucky you can witness a rocket launch. You don't have to drive all the way there to see things being shot into space though, we've watched a rocket launch while drinking beers next to Cypress Cove lake. Yes, naked. The Canaveral National Seashore is also home to two official nude beaches: Apollo Beach and Playalinda.
An hour and a half to the west will bring you to Tampa. There are a number of nudist resorts in that area that you could check out on a day pass. No nude beaches on this side of the peninsula, yet getting to the coast is worth the trip because you'll find some of the whitest sand you've ever seen, especially in the Siesta Key area.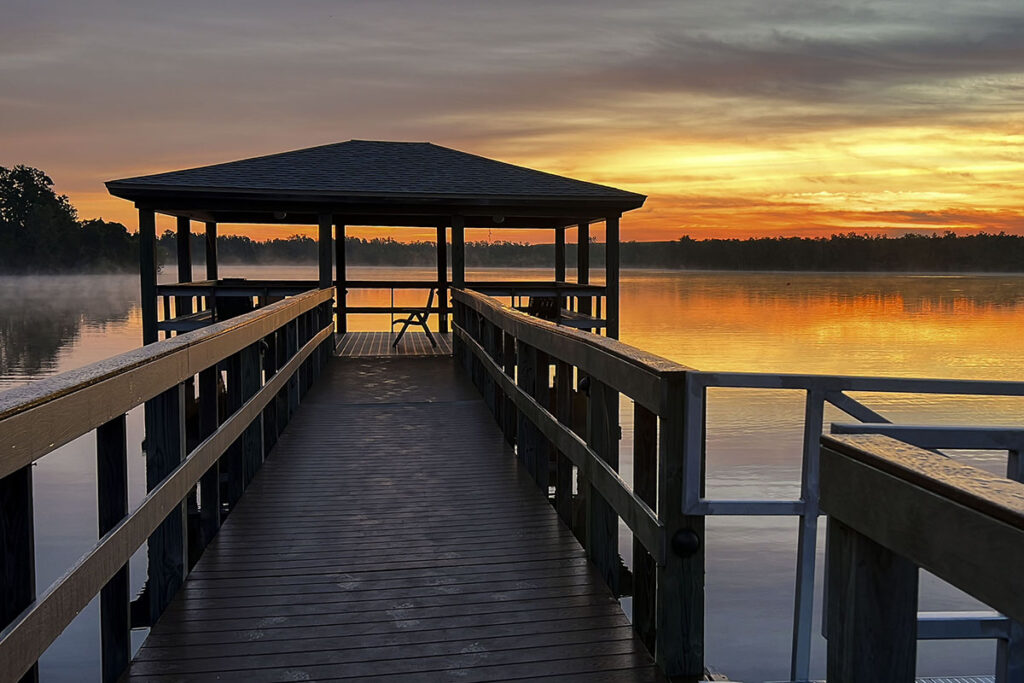 Staff & Guests of Cypress Cove
Being one of the largest resorts in the USA, Cypress Cove has quite a number of staff members who make sure that the place both looks and feels nice. We've found that the staff was very professional and kept an eye out for possible misbehaviour. When we were taking pictures around the pool area early in the morning, someone immediately spotted us and asked what we were doing.
Many of the guests we've spoken to came from Florida or the surrounding states. But we visited the resort during the shoulder season. Once winter comes, Cypress Cove gets a lot of snowbirds from the northern states and Canada. Thanks to the mild climate in Florida, this area is an excellent winter getaway for naturists. International guests are starting to return after COVID as well, especially because of the high level of facilities at The Cove, as well as for its proximity to so many bucket list items.
Book at Cypress Cove
The best ways to book at Cypress Cove are:
Summary
Cypress Cove is the perfect getaway both for those who want to spend days in a row without clothes and for those who want to visit the highlights of Orlando while spending some time in the nude in between. Thanks to the resort's high standards, its atmosphere, and its facilities, it just keeps growing in popularity even though it probably already is America's most famous nudist resort.
---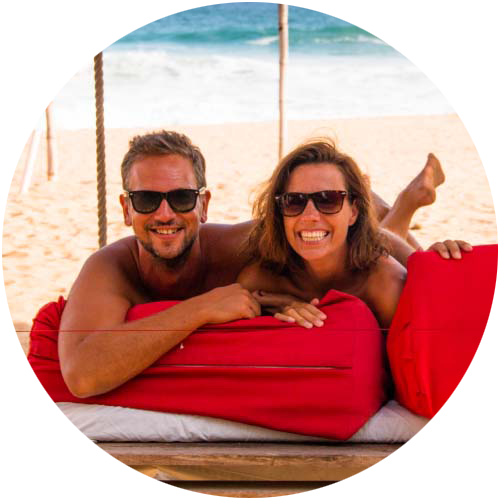 Support Naked Wanderings
Do you like what we do for naturism and naturists? Did we make you laugh or cry? Did we help you find the information you were looking for? Then definitely join our Patreon community!
---