Finally. In 2020 we're finally going to the Zipolite Nudist Festival. Ever since the first time we heard about the festival, we've put it high on our bucket list. When we visited Zipolite back in 2018 and fell in love with the cozy little town and its magnificent nude beach, the festival became the number one nudist event we wanted to attend. And now, within less than a month and a half, we'll finally check it out. Can you hear how excited we are?
Because we've visited Zipolite before and because we've been doing quite a lot of research about the festival lately, we ended up with some valuable information which we want to share with you. Maybe it can be a help to plan your first visit to the festival. Or maybe it'll trickle your imagination so much that you'll call in sick at work and get the first flight to Mexico. That's up to you.
What is the Zipolite Nudist Festival?
We've already written quite a lot about Zipolite in
previous blog posts
, so we're not going to repeat all of that. Important to know is that Zipolite has been known as a nudist destination since the 1950s. That's long before the large nudist resorts found their way to the Mexican Riviera Maya. In the early days, Zipolite was mostly popular among local nudists and hippies, but that changed in the 21st century when more and more travelers found their way to the cozy little beach town.
In 2016, the Zipolite Nudist Festival was organized for the first time, attracting somewhat 200 participants. Not too bad for a first edition, but we don't think anyone had guessed what the festival would soon become. In 2019 the number of participants had grown to 5000. For the 2020 edition, the organization expects about 8000 nudists from all over the world. That's a lot of naked people together, making the Zipolite Nudist Festival the largest event of its kind south of the United States.
The 2020 edition of the Zipolite Nudist Festival happens from January 31st to February 3rd.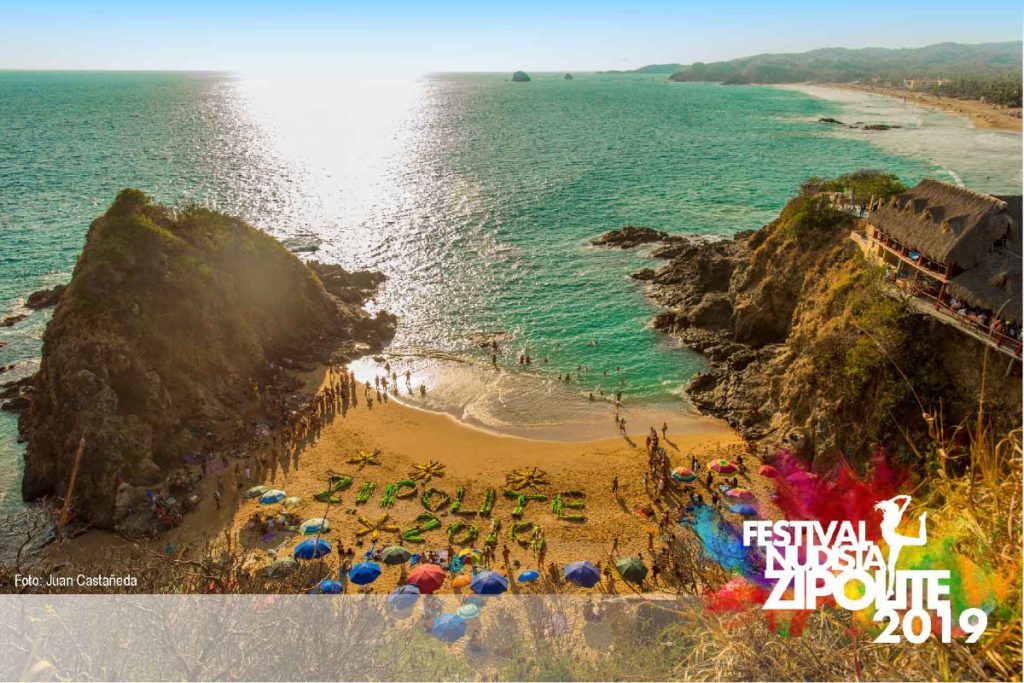 Why you should go to the Zipolite Nudist Festival
Or better, why are we so much looking forward to the festival? First of all, because we love Zipolite. The last time we were there, we planned to stay for a week and ended up leaving after a month. When most people think about Mexico, it's either about the wild north where crime and drugs are the news of the day or the spring break capital Cancun where rum and coke is consumed by the gallon. Zipolite is neither of those. It's a tropical little paradise village full of cozy restaurants and small guesthouses.
Then there's the weather. While most of the Northern Hemisphere is covered in snow or at least heavy rains, it's high season in this part of Mexico. In January and February, Zipolite gets pretty much no rain and agreeable temperatures around 27-30°C (80-85°F).
Another important factor (at least for us) is that Zipolite is cheap. For most foreign travelers, Mexico is already a cheap country to visit, but Zipolite is cheaper than most other parts of the country. Especially much cheaper than the Riviera Maya.
Lastly, Zipolite is young. Over the last couple of years, nudism in Mexico has known a great boost. Especially among the younger generations. Add to that mix a large number of backpackers passing by the village and you know that you won't end up in some kind of nudist retirement home when visiting Zipolite.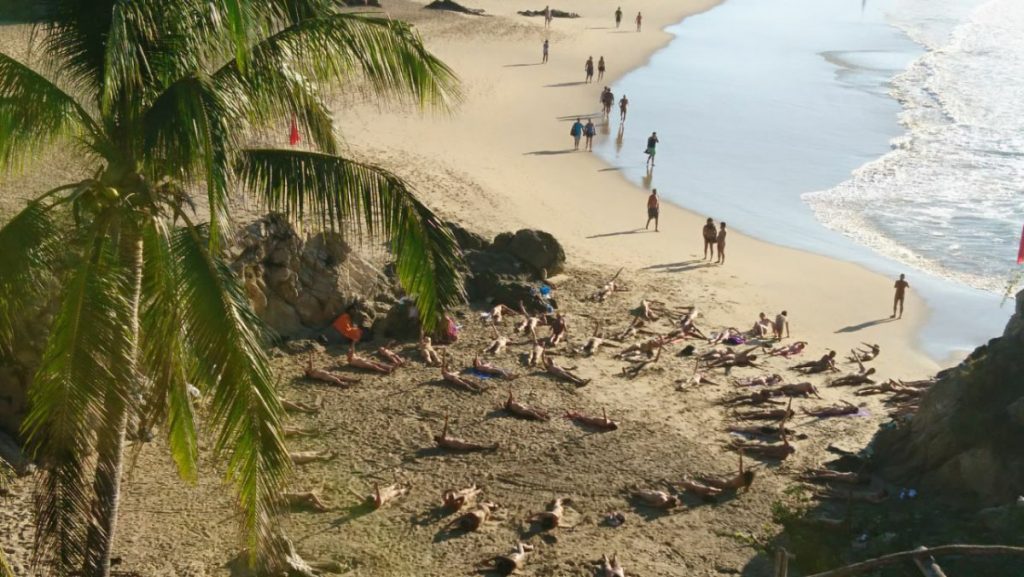 How to get to the Zipolite Nudist Festival
There are two airports close to Zipolite town. The one in Puerto Escondido connects to several Mexican cities and the airport in Huatulco even has direct flights to the USA and Canada. If you have the chance, Huatulco definitely is the better option. Have a look at
Kiwi
or
JetRadar
to find the best flights from your place to Huatulco.
Once you arrive in Huatulco, you're only a one-hour taxi ride away from Zipo. Here you can save quite some money by taking a taxi outside of the airport. Airport taxis will generally charge about 800 pesos ($40) to Zipolite, the taxis outside of the airport only charge 400 to 500 pesos. A lot depends on your negotiation skills in Spanish as well.
If you're really traveling on the cheap, you can take a public bus from Huatulco to San Pedro Pochutla and from there take a minivan to Zipolite. This ride will only be a fraction of the price of a taxi, but of course, it takes much longer.
If you prefer to travel overland instead of flying, there are several bus companies traveling the Mexican coast but do know that the road is long and quite unpleasant. The hundreds of thousands of speed bumps make sleeping on the bus as good as impossible (trust us, we been there). The mountain road from Oaxaca to Zipolite isn't much better, taking 9 hours for barely 250 kilometers.
Where to stay during the Zipolite Nudist Festival
Zipolite has a handful of clothing-optional hotels and guest houses, of which
Hotel Nude
is definitely the most famous one. It's right on the beach where most of the activities will be happening. Other great places where you can stay nude are
Casablanca guesthouse
,
Hotel Buda Mar
,
Heven,
and
Villa Aikia
. Then there's a nice variety of hotels in Zipolite where you will need to cover up. You can find a complete overview of all nude-friendly hotels in Zipolite on the
Zipolite-Mexico
website!
Unfortunately, if you still need to book your hotel for the 2020 Zipolite Nudist Festival, there won't be much left on
Booking.com
. Especially the clothing-optional places get fully booked about a year in advance. In this case, you could have a look at
Airbnb
or find yourself a hotel room in one of the nearby towns like San Agustinillo (4km), Mazunte (5.5km), or Puerto Angel (3km).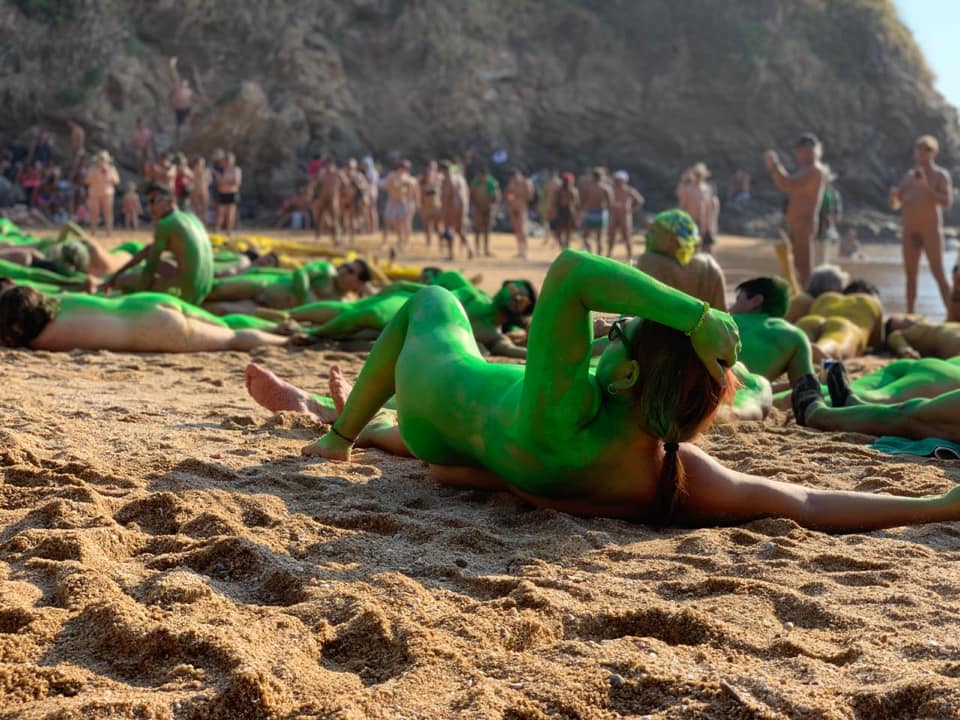 Activities during the Zipolite Nudist Festival
We're talking about a real festival here, not just another vacation at the nude beach. At the time of writing, the complete activities list for the festival hasn't been published yet. But a look at the program of last year gives us already a sneak peek of what we can expect.
The morning nude beach yoga sessions are meanwhile famous and very popular. There will be volleyball tournaments, body painting, a nude obstacle run, bands playing, parties, nude surf classes, and plenty of other activities which you may expect during a festival on a Mexican nude beach.
The Mexican nudist federation will also organize special events for their members. If you'd like to join those as well, you can
become a member
for as little as $15.
Money in Zipolite
Important! Many establishments in Zipolite don't accept credit or debit cards and Zipolite has only one ATM. With 8000 people coming to town during the festival weekend it's not hard to imagine what will happen. Probably the ATM will soon run out of money and if not, there will be huge queues. Don't be the person getting a sunburn while waiting to get some money. Both airports have ATMs where you can stack up on pesos before coming to town.
If you do need extra money during your stay, there's also an ATM in Mazunte and one in San Pedro Potchutla.
Technically the festival is free and so are most of the activities. You only need to pay for your hotel, food, coronas, Cuba Libres, maybe a massage, maybe a surfing class… Long story short, bring enough.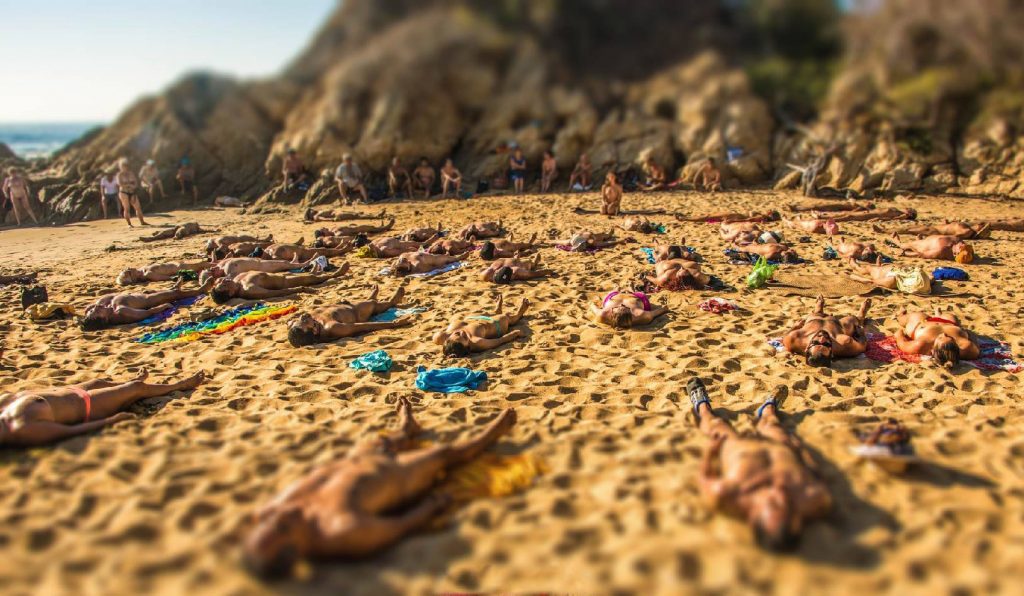 Safety in Zipolite
Mexico has never won the prize of the world's safest country and that's probably not going to happen any time soon either. Luckily, Zipolite is a rather safe place to be compared to most other regions of Mexico. But petty crime does happen, so always use common sense. Don't leave your valuables behind unattended. Don't walk the streets drunk in the middle of the night waving with a pack of dollar bills. Chances that someone will ask for your passport are pretty low, so it's better to carry a copy and leave the original in your hotel room. Those kinds of things.
What's really not safe in Zipolite is the sea. Every year people die because they underestimate the currents, so unless you're a damn good swimmer, don't go much deeper than knee height. If you do want a good swim in the pacific ocean, it's better to go to the beach in San Agustinillo. But you'll need a bathing suit there.
Nudity in Zipolite
More and more, Zipolite is becoming known as a little piece of nudist heaven. Probably also because we keep telling people that. So we do have to mention here that nudity is only allowed at the beach and the clothing-optional hotels. At the restaurants, the bars, and certainly the street clothing is not an option. It's mandatory. Even a lot of the beach bars do require some cover-up if you want to have a drink there.
That said, we're talking about the nudist festival here and the rules will probably slightly get bend when 8000 nudists will flock to the town. The Mexican Nudist Federation will create a list of all bars and restaurants that are willing to make an exception to their nudity policy for the festival. If you like nude dining and drinking, ask for a copy of that list so you know which places to go to.
More info about the Zipolite Nudist Festival
A great place to read up more about Zipolite and the nudist festival is the
Zipolite-Mexico
website.
For the Spanish speaking among you, there's also this great video by Hector Martinez with more info about the festival:
And then there's, of course, this very website, Naked Wanderings. Check our
Mexico Directory
for more info about Zipolite and other places to go in Mexico while you're there.
Naked Wanderings' Ultimate Guide for Nudism in Mexico ebook

Are you looking for great nudist and clothing-optional resorts in Mexico?
Are you looking for the best tips for a nude vacation in Mexico?
Then our ebook will be the perfect resource for you!

Learn More
Need help with planning your trip? Check out our Resources Page for an overview of the best companies we use during our travels
PICTURE CREDIT: All pictures in this blog post are the property of the organization of the Zipolite Nudist Festival.
---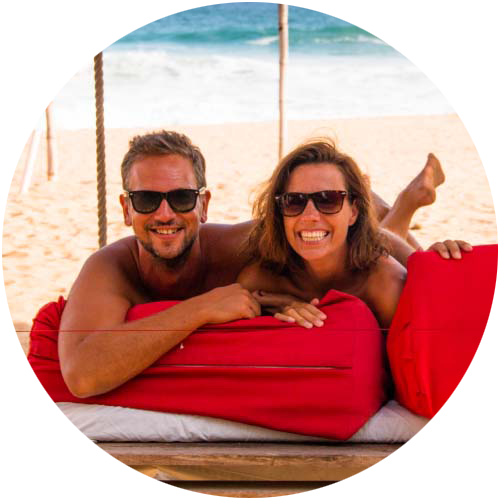 Support Naked Wanderings
Do you like what we do for naturism and naturists? Did we make you laugh or cry? Did we help you find the information you were looking for? Then definitely join our Patreon community!
---