Christmas is just behind the corner and these couple of weeks before the holidays we have to start thinking about which gifts we will give our loved ones this year. Another pair of reindeer socks? Another one of those woolen Christmas sweaters? The options are plenty and beautifully decorated shop windows are screaming for our attention.
But what do we buy for our nudist friends and family members?
Actually, if you've been other posts on our blog you probably already figured out that nudists are just like all other people. Except that we prefer to do some things in the nude. So you can buy literally everything for your nudist friends that you would buy for your textile friends as well. Even clothes. Nevertheless, it might be fun to give your nude fellows something that could be handy or fun in their nudist life. If you lack inspiration, here are some tips.
A waterproof backpack
The days when nudists did nothing else than lazing around in the nude are long gone. The 21st-century nudist likes to be active. We love nude sports and naked hiking for example. In fact, one of the great advantages of naked hiking is that we don't end up with wet clothes after a sudden unexpected downpour. But what with our valuables?
A waterproof backpack will not only save your nudist friend's wallet and camera from the rain but also from the sand on the nude beach.
[amazon asin=B07ZPNSYBR&template=iframe image][amazon asin=B07FF6Q9X5&template=iframe image][amazon asin=B07YVHFGNT&template=iframe image]
A quick-dry PackTowl
You find them everywhere these days. Towels that dry quicker than their shadows. Especially if your nudist friend loves to camp, this one is a great gift. The walk from the communal shower back to the tent is often enough time for the towel to dry. Because they dry so fast, it's also very easy to wash the towel. A moment later you can use it again.
[amazon asin=B074C3TMGM&template=iframe image][amazon asin=B01EJ8RJ48&template=iframe image][amazon asin=B07QF12F4Y&template=iframe image]
A sarong / pareo
Our friend once called the sarong the "the destroyer of naturist worlds". There is some truth in this. Since the sarong has found its way to nudist resorts it has become much more easy for nudists to cover up. Even on moments when they would otherwise be nude. Then again, this is also the strength of a sarong. It's very multi-functional. You can sit on it, it protects your butt from the sand on the beach and you can wrap yourself in it whenever you feel chilly or uncomfortable. Some sarongs can even be turned into a dress.
We are still fans.
[amazon asin=B07RGCTD2M&template=iframe image][amazon asin=B07TTCMVWH&template=iframe image][amazon asin=B074MGS4C3&template=iframe image]
Nude beach gear
Lots of nudists love the beach and there are many things you can give your nude friends so they can enjoy the nude beach even more. We're not going to list all of them again. We already did so in our blog post with
The Very Best Nude Beach Packing List
.
A hydro flask bottle
We are big fans of reusable water bottles. Only by not having to buy water in a plastic bottle every several hours (we drink a lot) we're making our
travels more ecological
. And then to think about the money we're saving. In most countries, fresh water comes straight from the tap. For free.
The downside of a regular re-usable bottle is that your water tends to get warm. That's where the hydro flasks come into play, keeping your water cool for hours. In fact, you can put hot coffee in it for the morning, when it's finished you fill up with fresh water and in the evening you can even pour margaritas in your bottle. And we thought that the sarong was very multi-functional.
[amazon asin=B078ZKJZ7X&template=iframe image][amazon asin=B01GW2G92W&template=iframe image][amazon asin=B00GA03F2O&template=iframe image]
A SteriPen water purifier
When you like to travel to faraway countries, you won't always find free drinkable water. Or just not always trust the shady substance that comes out of the tab. In this case, a water purifier will save your body from bacteria and your mind from worries. It's the perfect combination with a hydro flask.
[amazon asin=B00M3SOJIG&template=iframe image][amazon asin=B00V7P1R86&template=iframe image][amazon asin=B00NK9948M&template=iframe image]
A Diva Cup
Talking about keeping the planet clean, did you know that each year over 12 billion sanitary pads and 7 billion tampons are dumped into landfills? And that's only in the USA. Menstrual cups like the Diva Cup bring a solution to that problem. Not only are they reusable and easy to keep on hand, they also save you a ton of money. Because the Diva Cup gives you up to 12 hours of protection, you basically only need to change it once in the morning and once in the evening. So they're pretty convenient as well.
[amazon asin=B000FAG6X0&template=iframe image][amazon asin=B000FAG6XA&template=iframe image]
Phone stickers
Some nudist resorts still prohibit the use of smartphones, but they're becoming less and less. Our phone has become such a big part of our lives that we feel naked without them. Even when we're already nude. Of course, allowing smartphones at nudist resorts does increase the risk of appearing in someone else's vacation shots. It happened to us before, that we were recording a video with our front camera but other nudists thought that we were filming them with our back camera.
The solution to the problem is phone stickers, which you can use to cover your back camera. Some resorts give them away for free, but you can also create your own saying something like "I'm Tom but I'm not peeping".
Stickermule, for example, has a great range of sticker options.
Airpods
If you only need your phone for calling or listening to music, Airpods are even better than stickers. You don't even need to get your phone out of your pocket. Ehm… Let's rephrase that. Out of your waterproof backpack. The new Airpod models come with their own charging case and provide access to Siri.
[amazon asin=B0828BJGD2&template=iframe image]
Camping gear
We've mentioned before that lots of nudists like to go camping. If your nudist friends are among those, you can definitely cheer up their Christmas with camping gear. There are thousands of options. From sleeping bags, camping tables and tents to all kinds of gadgets for an RV or mobile home.
[amazon asin=B019N9W7WC&template=iframe image][amazon asin=B074YR4LR1&template=iframe image][amazon asin=B00005OU9D&template=iframe image]
A power station
Another interesting gadget for nudists who like to camp, especially for those who like to camp in the wild, is a standalone power station. Wild camping has never been this comfortable. With a power station, you still have the chance to charge your phone, your camera, your laptop or whatever it is that's about to run out of battery.
[amazon asin=B07YWWVRWD&template=iframe image][amazon asin=B07XFLDF7C&template=iframe image][amazon asin=B07P9DP5WL&template=iframe image]
A NOCO Boost jumpstarter
One of the most annoying things that can happen during your vacation is to have a dead car battery. And it happens a lot. To everyone. You forgot to turn off the lights, you listened to long to the radio or sometimes even the heat can empty your battery. A quick boost from a jumpstarter will get your car or RV back on the road in no time.
[amazon asin=B00PKIBVU0&template=iframe image][amazon asin=B081ZW8R3Z&template=iframe image]
Water shoes
We read a funny blog post the other day from our friend
The Meandering Naturist
about how his closet at home is stuffed with water shoes. It's the typical thing you buy on vacation when you notice that the nearby nude beach is a rocky one instead of soft sand. And it's the typical thing that finds its way to a dark corner of the closet once you're back home. Only to be remembered next time you're on a pebble beach.
By giving your nudist friend a pair of water shoes, other than the comfort they will also have an emotional value and won't be forgotten that easily.
[amazon asin=B07CMK6PYR&template=iframe image][amazon asin=B081SDSJZR&template=iframe image][amazon asin=B07H3JFCSX&template=iframe image]
A travel hammock
Once you learned about the joys of a hammock, there's no return. These things are more comfortable than any kind of possible chair. At least, any kind of chair which you can carry all the way to the campground or the beach. If you like the outdoors and you also like a decent rest now and then, a travel hammock will soon become a permanent resident of your travel gear.
[amazon asin=B07MNLMP2G&template=iframe image][amazon asin=B07FBD68ZV&template=iframe image][amazon asin=B07Q7PTCG8&template=iframe image]
A nude vacation
We don't know who the nudist friend or family member is for whom you're trying to find a great gift right now. Nor do we know how much you're planning to spend. But if there's something that will make every nudist happy it must be a nude vacation. The options are more than ever and can be found around the world. Have a look at the
Destinations section
of this website or on
NUDE
for ideas. Many nudist resorts also sell day passes if you don't want your nudist friend to go away for the whole week.
A naturist travel guide
If your nudist friend already has a vacation destination in mind, you'll probably do him or her a pleasure with one of our
Ultimate Naturist Destination Guides
. These don't only give a complete overview of the naturist resorts and nude beaches in a certain region, but also a lot of tips on how things work for nudists in this or that country and much of additional information.
For the Dutch speakers among you, there's also our book called "
Alles Uit
". This isn't a travel guide but our own story. It somehow started as a protest against the often old fashioned and patronizing naturist literature that was already out there. Alles Uit is a feel-good book. It's about how we rolled into naturism accidentally, the questions and doubts we had and how naturism became a lifestyle. Engaging us into a nude trip around the world.
Our t-shirts
Giving clothes as a present to your nudist friends might sound a bit weird. But there are many times when a nudist just can't be nude. On the streets for example. Or when the pool at the nudist resort becomes more appropriate for ice skating than for swimming. That's why we came with the idea "If you can't wear your birthday suit, wear ours". The result is
a fun series of t-shirts
with our naked butts on. We promise you, you'll feel a little bit less clothed wearing one of our t-shirts.
---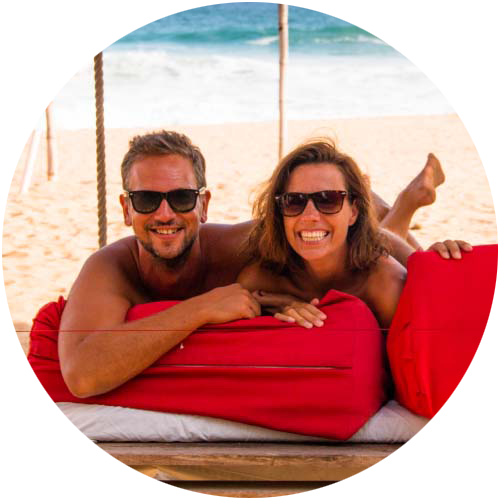 Support Naked Wanderings
Do you like what we do for naturism and naturists? Did we make you laugh or cry? Did we help you find the information you were looking for? Then definitely join our Patreon community!
---