Oh, Zipolite… From the moment our toes touched the warm sand on your nude beach we knew that we were going to like this place. A lot!
Initially, we had planned to stay about 10 days in town, after busy California and rushing through central Mexico we felt that we needed a couple of days off. To relax on a laid back beach, have some beers, let the days pass by, and catch up with writing new blog posts. Eventually, we stayed for about a month in Playa Zipolite (or "Zipo" as the locals lovingly call it). Never before had we spent such a long time at the same spot. Especially not in such a small village. The fact that we could be naked on the beach most of the time probably has something to do with it. But there's certainly more.
And let's face it, what is Zipolite anyway? It's a town with two and a half streets stocked with
bars, restaurants, and hotels
. Probably not more than 500 people are actually living there. It's basically impossible to swim in the sea because of its currents. Yes, it does have
Mexico's only public nude beach
but would we cancel our plans for the next 2.5 weeks just for a stretch of sand where we can be naked? We've been around you know, we've been to the most magnificent nude beaches all over the world. What's so special about this one?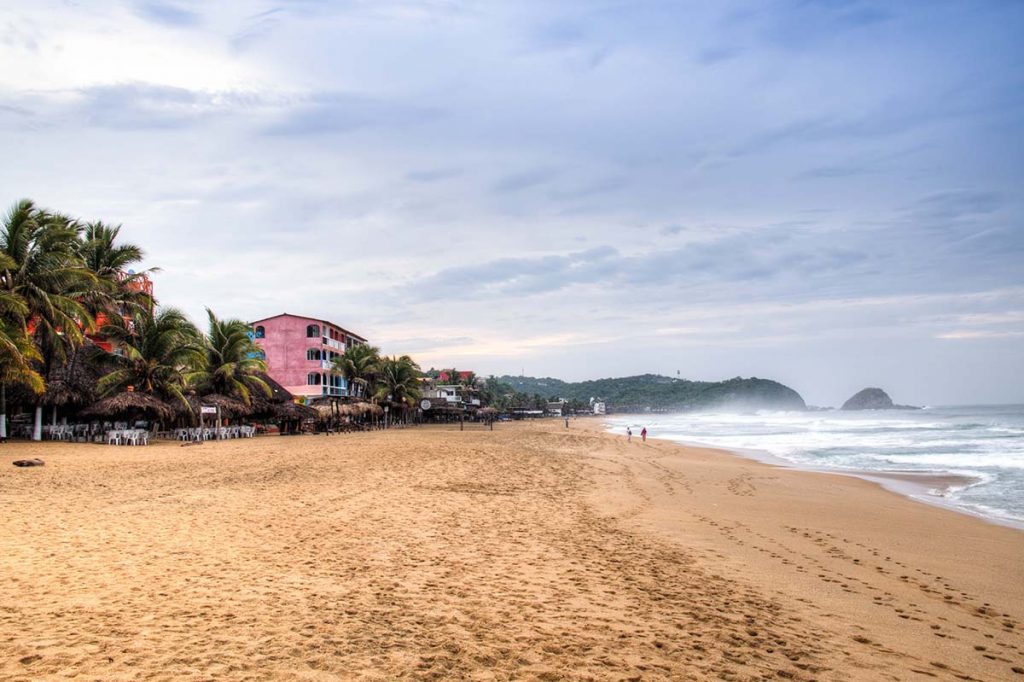 Is it truly magic?
We were not the only ones who got enchanted by Zipolite, some stay for months, others for the rest of their lives. We heard a story about a girl who had thrown her third going away party a week ago and was still around. Rumour has it that in a month or two she will probably throw her fourth. When Kelly and Sherry from
Casablanca Guest House
discovered Zipo they bought a piece of land during one of their first stays and started building their own place. And in order for us to eventually be able to leave, we had to buy two expensive non-refundable plane tickets and promise ourselves that within a year we would be back. Only then we could let go.
Some say that the reason why Zipo has such an attraction on people is rather materialistic. Food and drinks are cheap, even compared to Mexican standards. There are accommodation options for every kind of budget and mind-expanding substances are not that expensive either. Well, what did you expect? This used to be a hippie village.
We tend to believe that it's more than that. We believe that it's the whole atmosphere that casts a spell on its visitors. Some call Zipo a "nude beach", but it's certainly not the kind where textiles are frowned upon or chased away. Others call it a "clothing optional beach", but also this doesn't project its true value. We like to go for "free beach". You can be whoever you want to be, you can look like whatever you want to look (if you like to be clothed, that's fine, if you like to be naked, fine too, if you like to dress up as Peter Pan, nobody will care) and more especially: you can be your true self. There's no judgment.
Oh and just for the record: These are not before mentioned substances talking.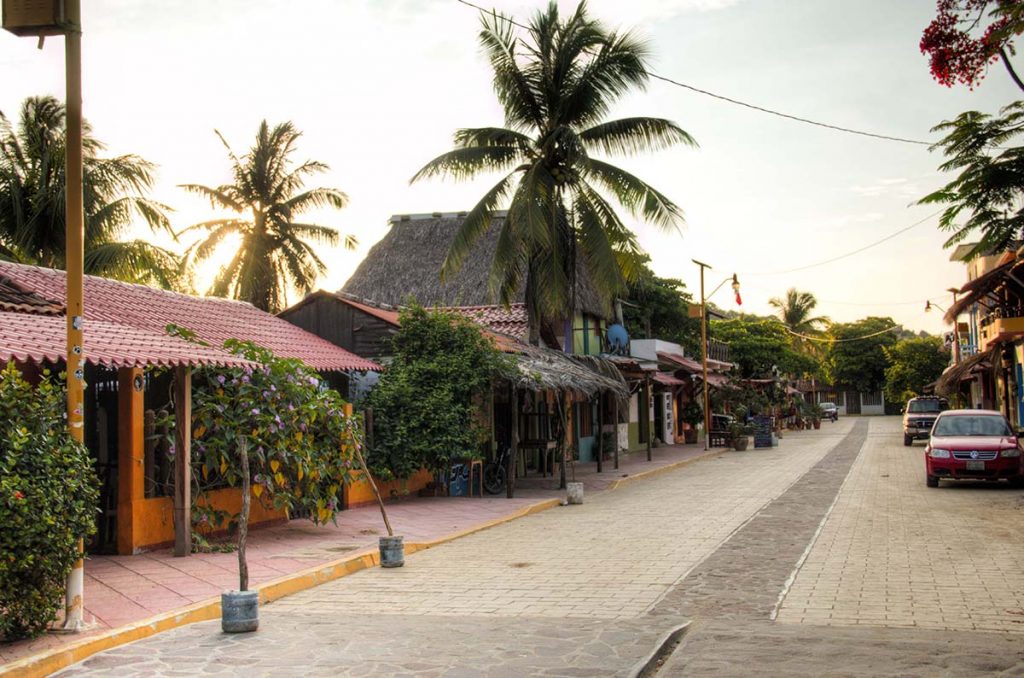 Where to eat in Zipolite?
Really everybody we met who has ever been to Zipo told us to have breakfast at Orale Cafe. This is supposed to be head and shoulders the number one when it comes to your morning food. Unfortunately, because we were there during the low season this place was closed so we don't know (yet). But do share your thoughts if you've been there. The places where we liked to have our breakfast were Le Castelet (great crepes), Nice Place On The Beach (great eggs), and La Mora in San Agustinillo (great everything).
We don't usually have lunch so there's little we can recommend to you but a decent sandwich can be had at pretty much every restaurant on the beach.
For dinner, we do have quite some tips. If you're traveling on the cheap we can certainly recommend Nicole Tacos on Roca Blanca but since all food is reasonably priced you may as well have the delicious fish in white wine sauce with mash potatoes at El Mare (about 5 dollars). Tres de Decembre is a good veggie place that also has decent pizzas but the best pizzas can be found in San Agustinillo at La Termita. Nothing beats the vegetarian pizza with pepperoni. The best burgers are supposed to be found at Sal y Pimienta but we were not convinced.
For top-notch food go to either La Providencia (reservation needed) or El Navigante in San Agustinillo.
Where to sleep in Zipolite?
There are accommodations available for every budget in Zipo. On the east side of town are a couple of campgrounds for those who are really traveling on the cheap, but if you want a good budget minded room,
Brisa Marina
is where you want to go. Decent standard rooms, some with ocean view and private bathroom, for a very low price.
The most known place among the nudist community is probably
Hotel Nude
. It was the first clothing-optional hotel on the beach and has very nice cabaña style rooms. Even nudists who stay at other places tend to hang around Hotel Nude during the day.
We found the most comfortable place for a decent price at
Casablanca Guest House
, it's about a 15-minute walk from Zipolite beach but less than a minute down to Playa Camaron. A small beach where nudity is also allowed.
Other clothing-optional places in Zipo can be found on
NUDE
.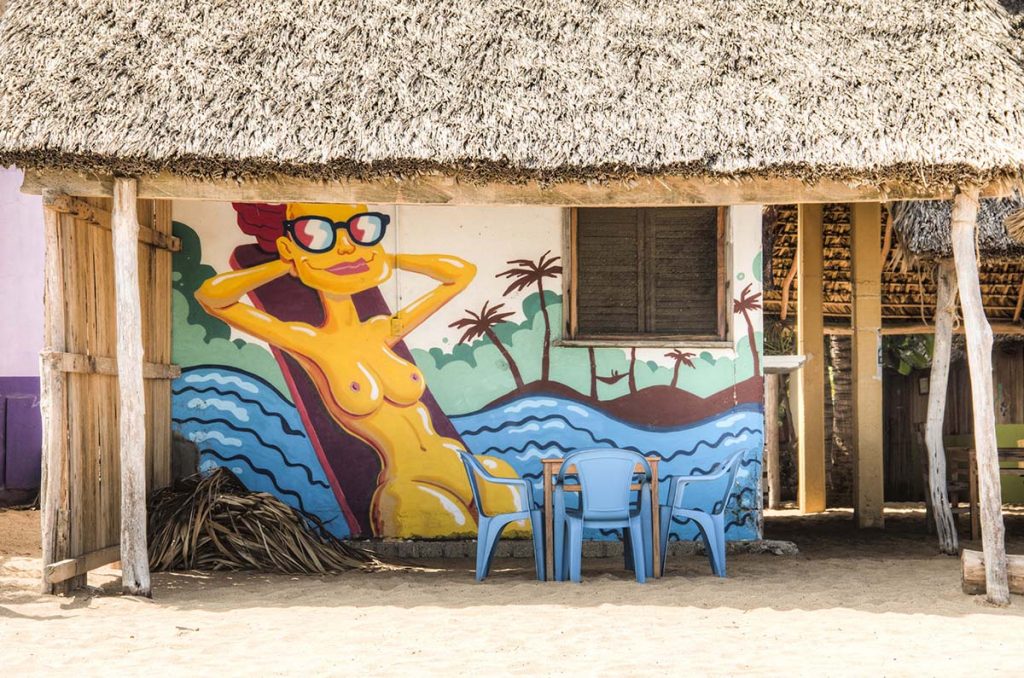 What to do in Zipolite?
There are several things to do in and around Zipolite but we would strongly advise you to take it easy, at least for the first days. Get a nice tan, read a good book, refresh in the ocean, drink some cocktails or Coronas, let the hours pass by and get soaked up by the place.
Another small beach called "Playa de Amor" (beach of love) can be found at the east side of town, but beware that there's a reason why they call the beach like that. We probably don't have to draw you a picture.
Next to A Nice Place On The Beach is a small surf shop and we asked one of the instructors whether you can take naked surfing classes. Guess what… You can. If that's something on your bucket list, bring a pen to cross it out.
Around Zipo are the busy fishing village Puerto Angel, the amazingly nice beach of San Agustanillo (nudity is not allowed but topless sunbathing is) and the "pueblo magico" Mazunte. A great half-day trip is the lagoon of La Ventanilla where you can take a boat and check out the great scenery with lots of birds, iguanas and crocodiles. There's another amazing beach east of Puerto Angel, we don't recall the name but ask at
Casablanca
for the magnificent beach where they took Nick and Lins and they'll understand what you mean. We don't know about the high season but during low season it was perfectly possible to be naked there as well.
IMPORTANT NOTICE: Every year in February Zipolite hosts an annual nudist festival. Thousands of national and international nudists get together for a couple of days of music, activities and nudity of course. We haven't been there, but it's certainly on our bucket list!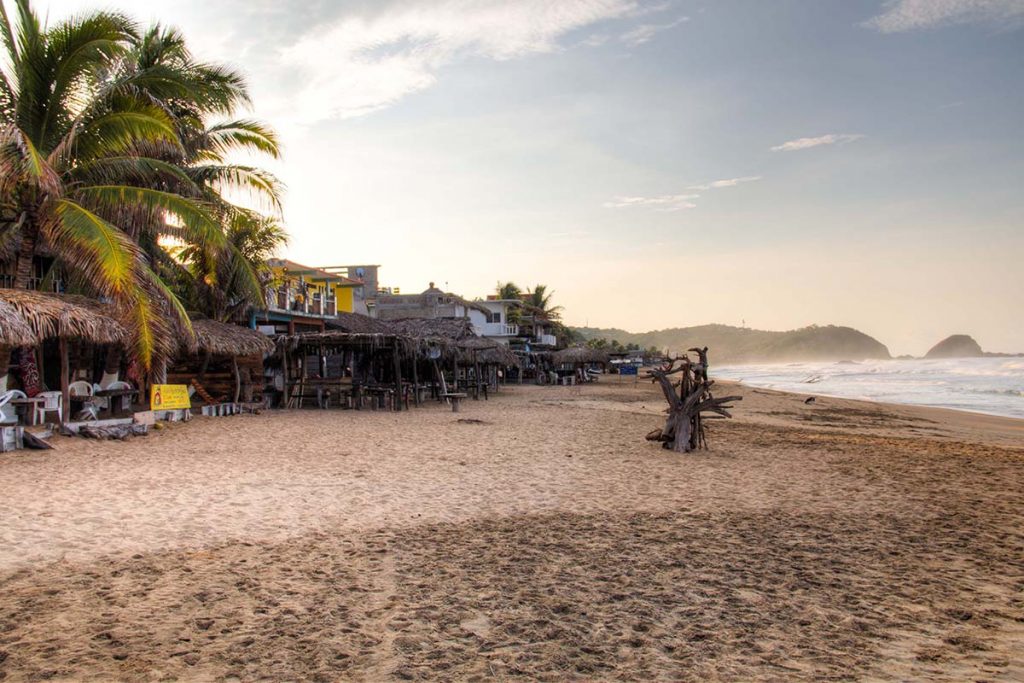 How to get to Zipolite?
We wanted to call this "How to get to and away from Zipo" but who would ever want to know how to get away from it? That's something you'll figure out when you really really have to go.
There are two airports near Zipolite, both at about an hour drive from town. The smaller one is at Puerto Escondido which has flights to Mexico City and a couple of other cities in the country. The other one is at Huatulco, which not only connects to Mexican cities but also to several Canadian ones including Calgary, Vancouver and Toronto.
If you're not Mexican or Canadian, our tip is to check
Jetradar.com
for the best connections via Mexico City.
Summary
We believe that Zipolite is more like an experience than it is a destination. And the only way to know how the place really is, is to get your naked ass over there and see for yourself. Unless your idea of the perfect holiday is a huge five star all-inclusive hotel, we can promise you that you won't regret it.
Naked Wanderings' Ultimate Guide for Nudism in Mexico ebook

Are you looking for great nudist and clothing-optional resorts in Mexico?
Are you looking for the best tips for a nude vacation in Mexico?
Then our ebook will be the perfect resource for you!

Learn More
Need help with planning your trip? Check out our Resources Page for an overview of the best companies we use during our travels
---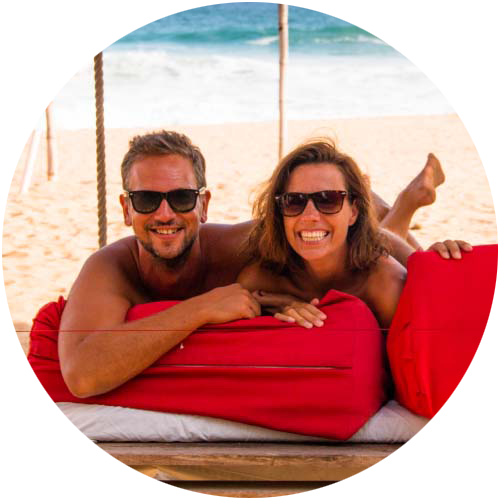 Support Naked Wanderings
Do you like what we do for naturism and naturists? Did we make you laugh or cry? Did we help you find the information you were looking for? Then definitely join our Patreon community!
---