Many naturists take their first steps into social nudity at the
nude beach
. But in parts of western Europe, another phenomenon is quickly becoming the new number one place where people get naked with strangers for the first time. Or even with friends. Especially in countries like Germany, Belgium, and the Netherlands, the wellness or spa center has proven to be a great stepping stone for naturism.
Of course, these countries are not particularly known for having year-round great weather and perfect nude beach days are rather limited. Spa centers, on the other hand, are great to visit on a rainy day. With lots of indoor facilities to keep you warm. And even on sunny days, the outside pools are refreshing and the garden is excellent for working on your tan without sand crawling into places where it's not supposed to be.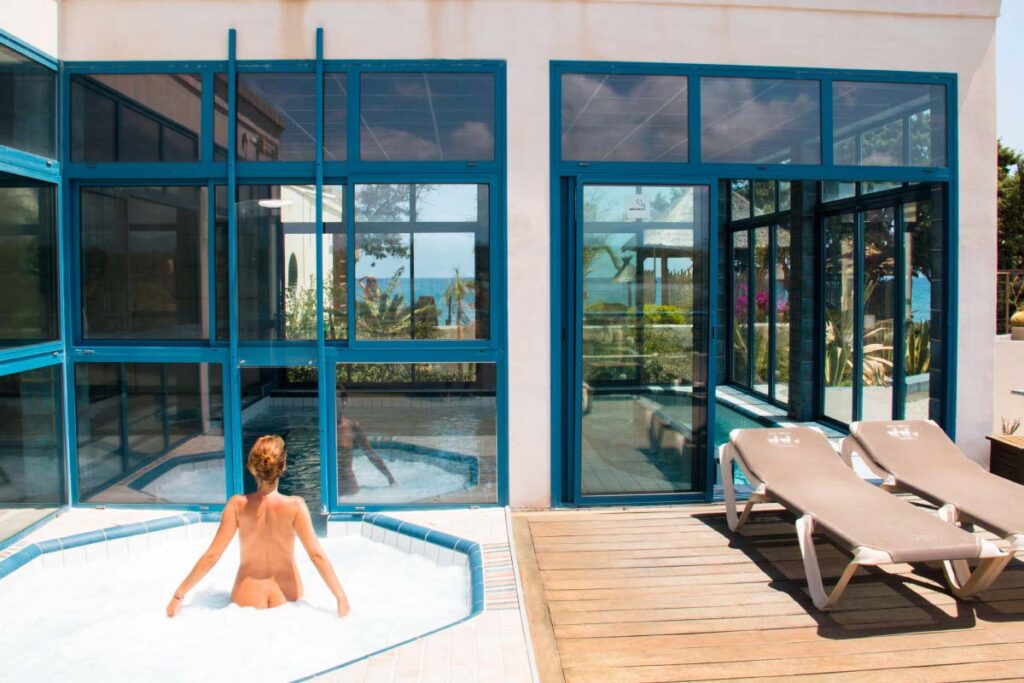 The European Spa culture
Public baths were already popular in the times of the Greeks, the Romans, and the Ottomans. They served mostly as a central place for people to wash (water supply networks weren't really a thing in those days), but also as a social meeting place. Back brushes weren't a thing either, so it probably came in handy if you could ask someone to cover the parts that you can't reach. During the dark ages that followed, this habit of communal bathing pretty much got completely lost.
It took until the 19th century before a revival came. People started to realize that minerals have quite some health benefits and the rich and famous of that time started building magnificent buildings around thermal water sources. Another name for a spa center is "thermen", by the way, which comes from thermal water.
The Germans, known for their relaxed attitude towards nudity, were the first to start visiting these communal bathing houses without a bathing suit. It took a while until other countries followed. Until the eighties, if you could find a naked spa anywhere else in Europe, you were much more likely to receive an indecent proposal than a back scrub.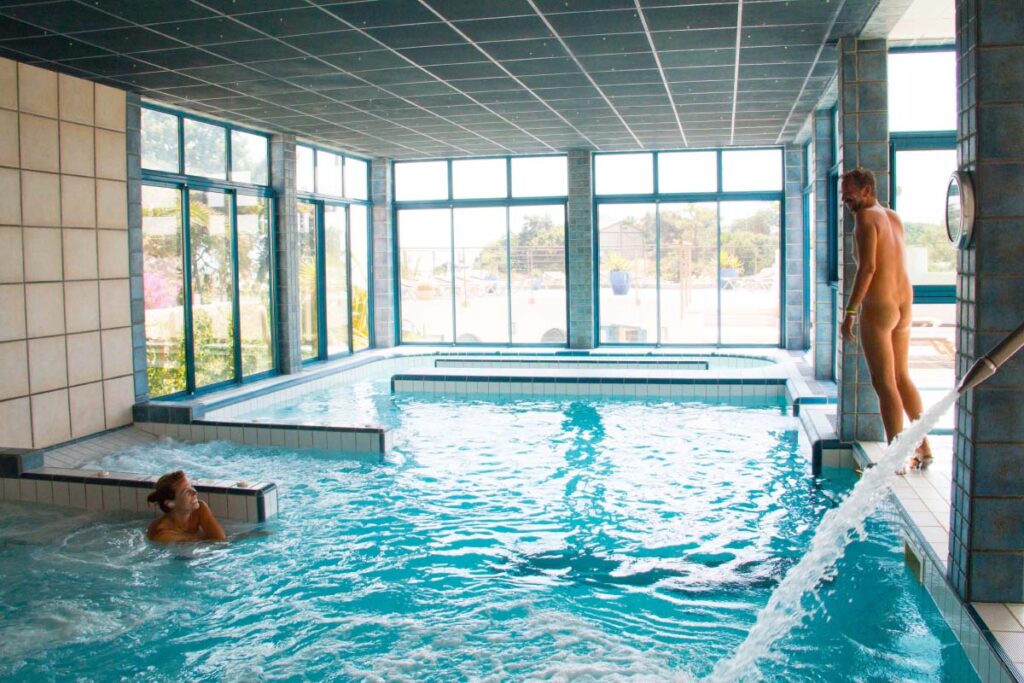 The spa today
A lot has changed during the last decades. Just like the early adopters of the spa were looking for physical health benefits, people now are looking for mental health. The rat race became overwhelming. Stress, burnouts, bore outs, and depressions started to be more frequent and it was certain that a getaway from reality was much needed. The spa brought the answer. A couple of hours away from the world, with nothing than your bare body. Soaking in water, sweating in a sauna, and getting a good old pampering.
Thanks to this new interest, the spa centers started expanding. Today, the average European spa has one or more swimming pools, jacuzzis, steam baths, steam rooms, hammams, cold baths, warm baths, saunas, and an endless list of massages. If you don't walk out of the spa completely zen, you must have been doing something completely wrong.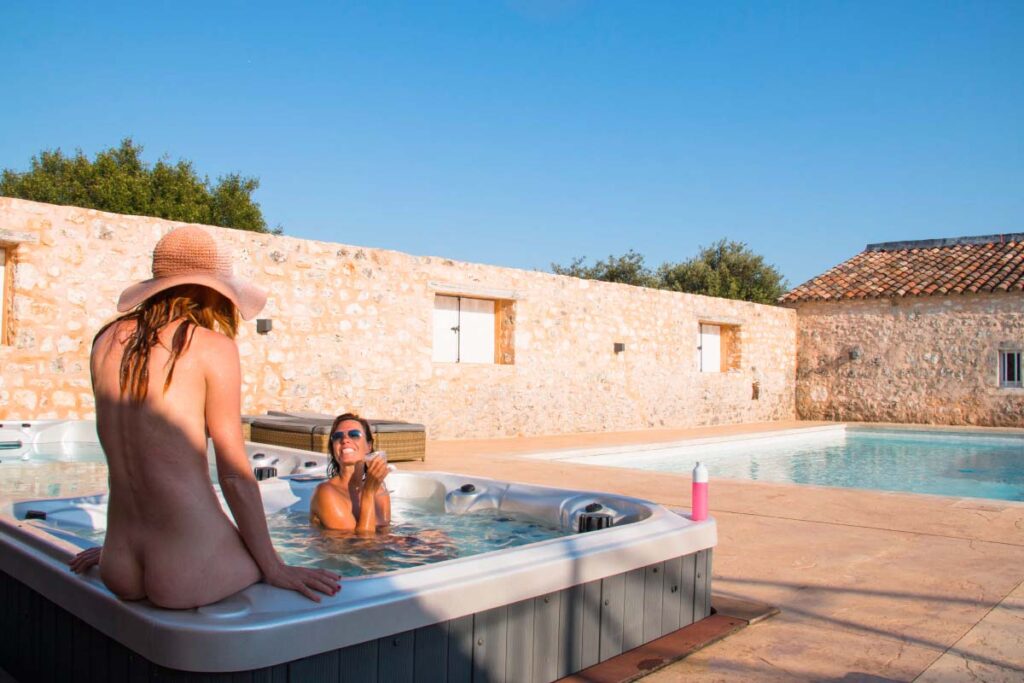 The spa etiquette
Meanwhile, several
European countries have copied the nude spa culture
from Germany. In Belgium and the Netherlands, you'll find more nude spas than clothed ones. Also
Austria
, Switzerland, and several eastern European countries have spas where clothes are not an option. If you're planning to visit one, here are some good tips.
The spa doesn't equal naturism
Many naturists like to go to the nude spa when the weather doesn't allow them to go to a resort or nude beach. But certainly not everyone who visits a spa considers him/herself a naturist. The question "So, how long have you been naturist?" might result in weird frowns.
Nude is not nude all the time
The general principle at a nude spa is not that it's mandatory nude, but rather that bathing suits are prohibited. So don't be surprised if you see visitors wear a bathrobe or wrap around a towel when moving from one facility to another. If the place has a bar or restaurant, you'll likely be required to cover up when you want to drink or eat something.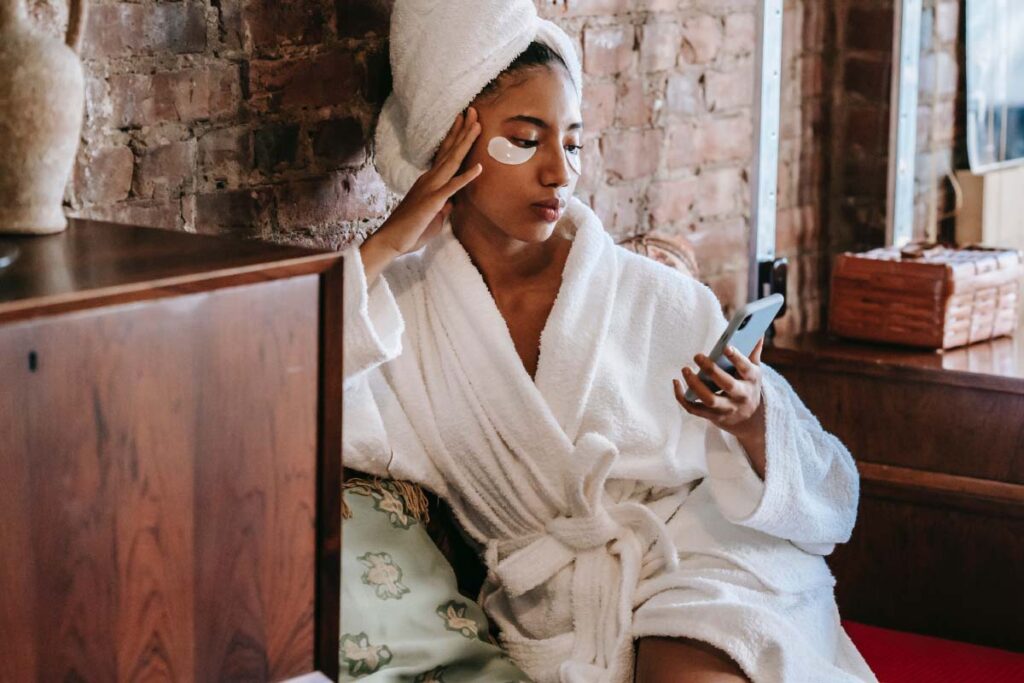 You can leave the sauna when you want to
Different saunas often have different temperatures. And we can tell you, some are really awfully hot. The best thing you can do is take one of the lower benches, as heat tends to move to the ceiling. And lay down, so your muscles are completely relaxed. But also remember: It's not a competition. If you feel like you're going to pass out before the hourglass is turned around, do leave!
Don't forget to close the door
Ever seen a very upset naked European? Try leaving the door of the sauna open after you exit. It takes a while to heat these things up, so warmth is very precious. If you hear someone yelling "this is not a church!", it means that you didn't close the door fast enough.
Be on time for the Aufguss
If there is one thing you really need to experience at a spa, it's the "Aufguss". This is like a regular sauna session, except that it has a "sauna master" who puts water on the stones and adds different scents. Often in combination with different sounds. It is meant to bring you into different stages of relaxation. Important to mention is that these sessions tend to be very popular, so be on time if you want a good spot.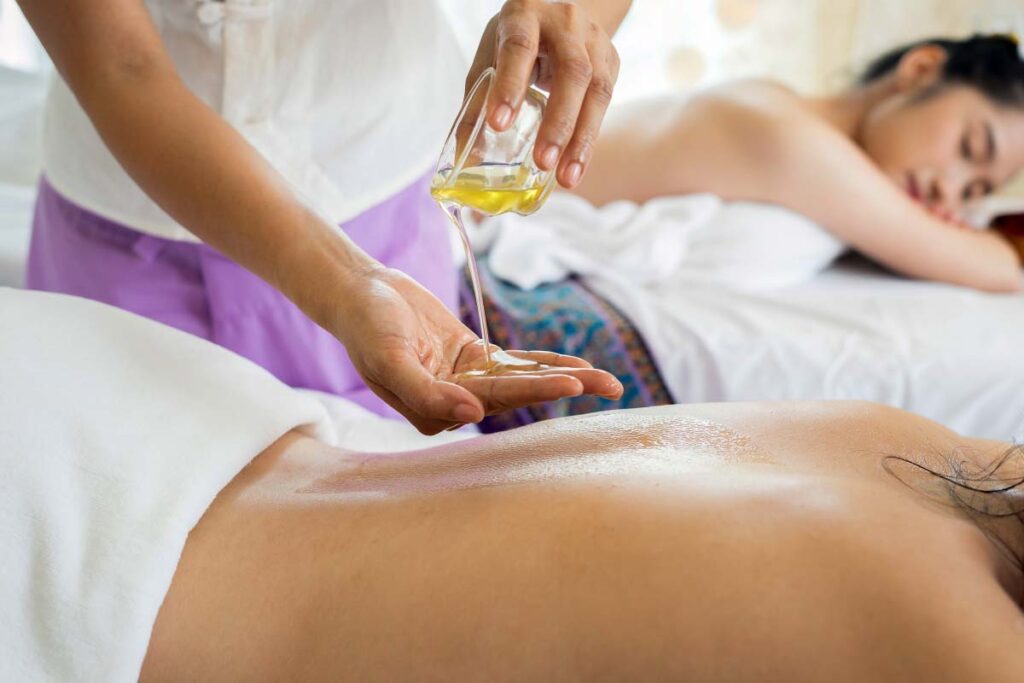 Massages are naked too
We've already written a
complete blog post about nude massages
, so we'll keep it short here. When you have a massage, you will be asked to remove your towel or bathrobe. This is completely normal. The therapist will most likely remain clothed.
Not the whole place is interested in your conversations
As this is a place where people come to relax, try to keep the sound of your voice to a minimum. We get that you are excited about this spa experience, but nobody wants to hear how you keep raving about it to your friend. Whispering is perfect.
Drink lots (and water too)
You'd be surprised about how much sweat your body can lose just by being a couple of minutes inside a sauna. Make sure not to get dehydrated. Most places will recommend not to drink alcohol. We don't really agree with that. Nothing beats a good glass of wine (or two) during an afternoon of relaxation. But make sure to drink water as well.
Slightly related, if you drink lots of water, don't pee in the pool.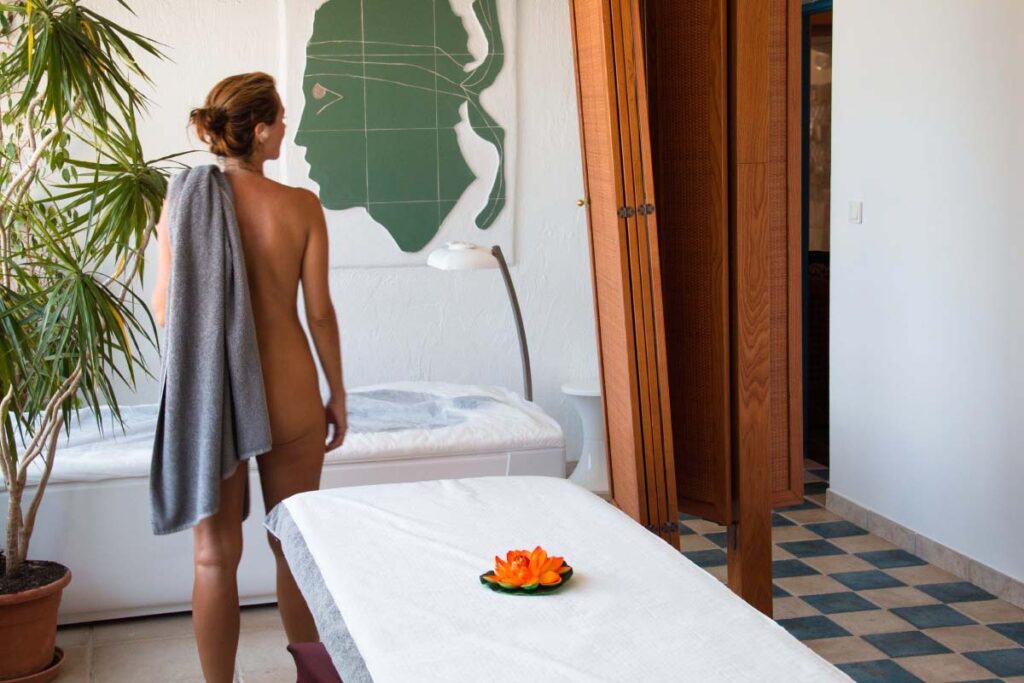 Take lots of showers
You'd be surprised about how much sweat your body can lose just by being a couple of minutes inside a sauna. Don't just jump from the sauna into the pool, have a shower first. Basically, the rule is to have a shower before you enter and one afterward.
Beware of clothed days
Many spas organize a clothed day once per week or month. During those days, bathing suits are allowed and often mandatory. These days are basically meant to give people who feel uncomfortable naked the chance to also enjoy the spa once in a while. Personally, we think that they just exist to give people the experience of how uncomfortable wearing a bathing suit in a sauna or jacuzzi really is. Anyway, you want to avoid these days.
Relax… this is what it's all about
Did we stress you out with all these tips? Perfect, then it's time for you to hit the spa! Don't worry too much about everything we mentioned here. Most of it is really common sense. If you remember to shower, to not annoy the other visitors, and to not pee in the pool, you'll be doing great!
---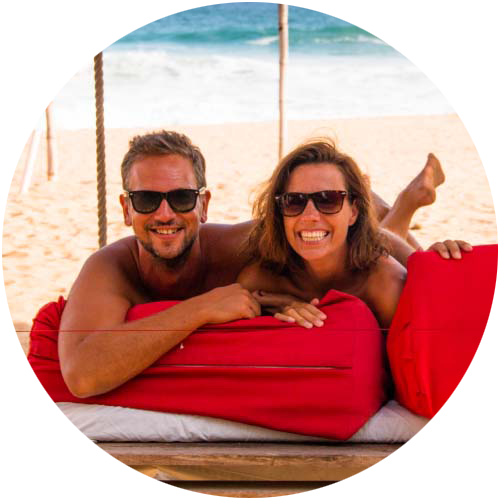 Support Naked Wanderings
Do you like what we do for naturism and naturists? Did we make you laugh or cry? Did we help you find the information you were looking for? Then definitely join our Patreon community!
---