The spa culture has been growing fast during the last decade or two in Europe. Especially countries like Germany, Belgium, and The Netherlands are seeing a growth in visitors of spa centers. We're talking about "centers" and even that might be an understatement. A
Western European wellness center
is pretty much a water park for grown-ups. Often there are several swimming pools, jacuzzis, saunas, steam rooms, cold baths, warm baths, and the possibility to more different kinds of massages and treatments than you could ever imagine. An important factor here is that bathing suits are forbidden by default in these facilities.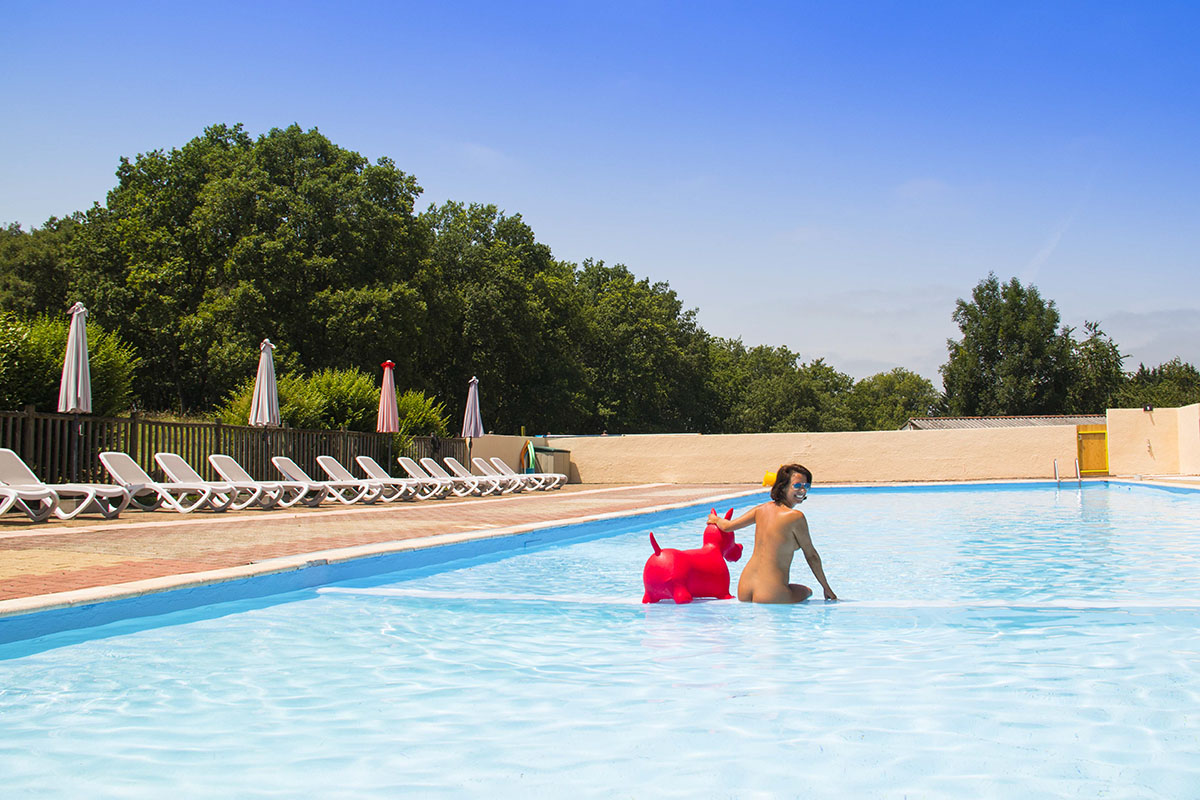 Being socially nude doesn't make you a naturist
So western Europe sees a growing number of people who visit a spa now and then. A spa where they will be nude at a certain point together with other people. That does sound a lot like naturism or nudism, doesn't it? One would think that this would have an immediate effect on the amount of memberships of the naturist federations. But it doesn't. For example, research has shown that approximately 1.9 million Dutch enjoy nude recreation in one way or another. Yet the Dutch naturist federation NFN "only" counts about 60 000 members. Why are the other 1 840 000 Dutch not interested in becoming a member of the federation?
Although our first experience in social nudity also happened
at a nude spa
and although we've met several other European naturists who made the step from the spa to other naturist events or accommodations, apparently the spa isn't a successful source of new naturists in the end. But of course we're only looking at the federation memberships here. And of course there are many naturists who don't feel the need to become member of a naturist federation. We needed something else to confirm our ideas. We needed to test this.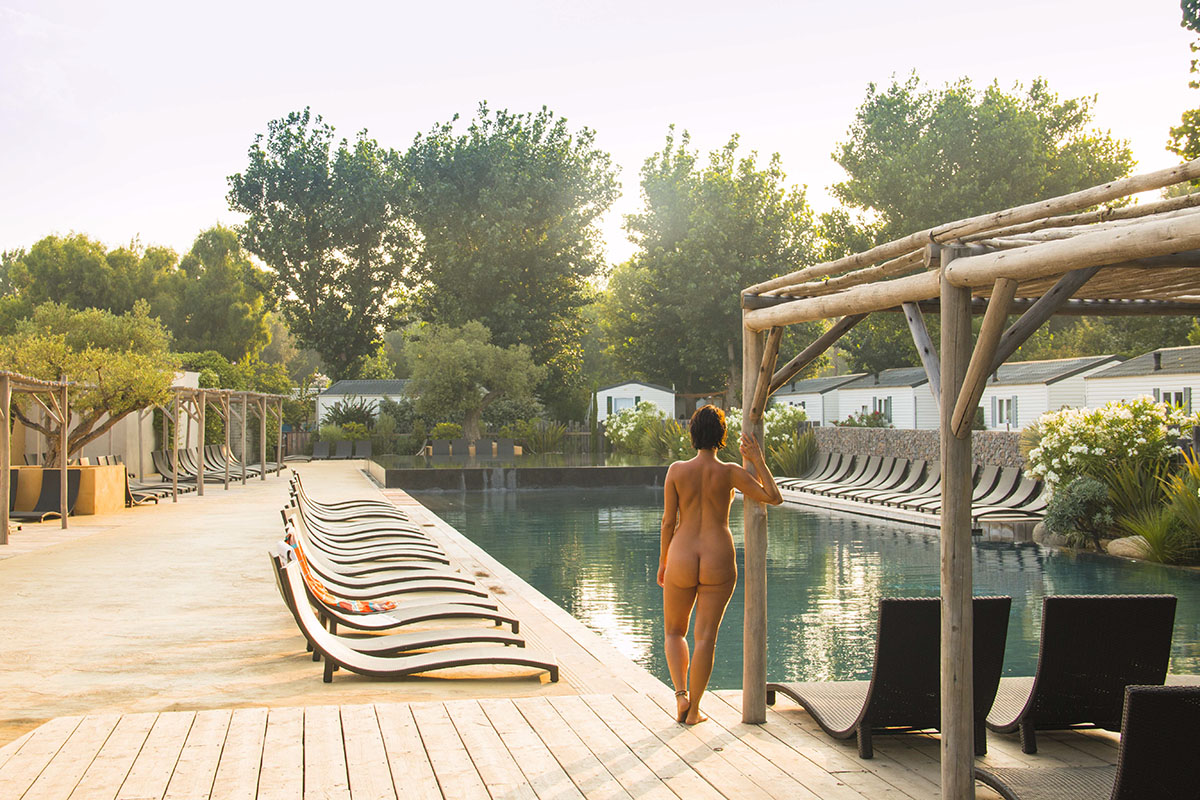 Our big nude spa test
Camping
Sérignan Plage
in the south of France was the perfect setting for a test. This camping has both a textile and a naturist part (
Sérignan Plage Nature
) and right in between these two sections is a wellness center. Accessible from both sides. During the afternoons a bathing suit is required and during the mornings all clothing are prohibited. So one morning we put ourselves on a deck chair near both entrances. We were going to count how many visitors would enter from the textile part, even though they are required to get naked.
The numbers were overwhelming. After an hour, 40% of the visitors of the spa actually stayed at the textile section of the camping. That's 40% who decided not to camp in a next door naturist camping but did go nude in the spa. Even though they could perfectly go in bathing suit just a couple of hours later. What does this mean?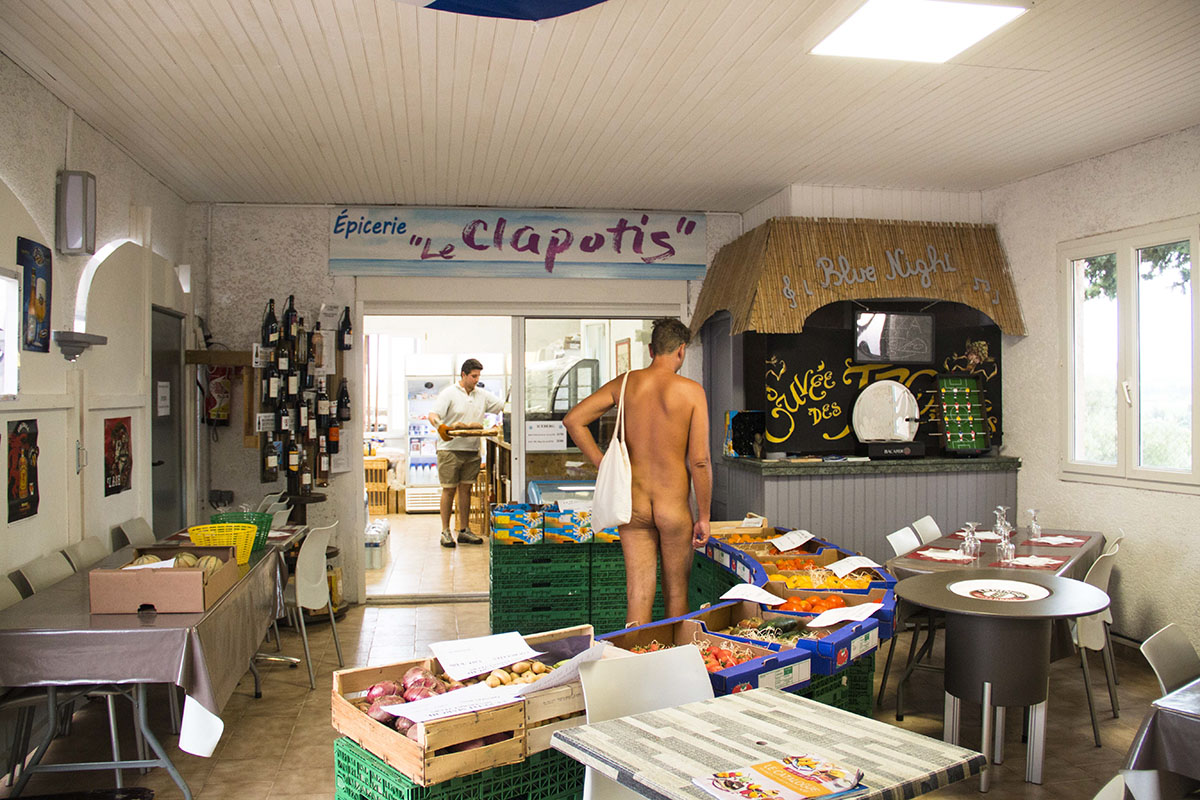 The naturist stigma
Our "big test" isn't the first time we notice such a phenomena. We've met people at nude beaches who stay at textile campings even though there are also naturist campings nearby. We even met people staying at textile campings and visiting a nude camping with a day pass. Just to enjoy its facilities. For us that sounds a bit awkward. If you like social nudity and you have the option to stay at a naturist place, why don't you grab that opportunity with both hands?
The answer can be found in some of the doubts that naturist resorts receive from
first timers
. Often they worry about
when they will be expected to be naked
.
Do I really have to walk around naked all day?
Do I really need to shop naked?
Do I really need to be nude in the restaurant?
Do I really need to do my morning run naked?
Do I… you get the point.
Naturism is often seen as a lifestyle where you have to be nude as much as possible. It's all or nothing. Either you are a naturist and follow this philosophy or you are not a naturist. And that's something that's keeping people who do enjoy social nudity occasionally away from other naturist places.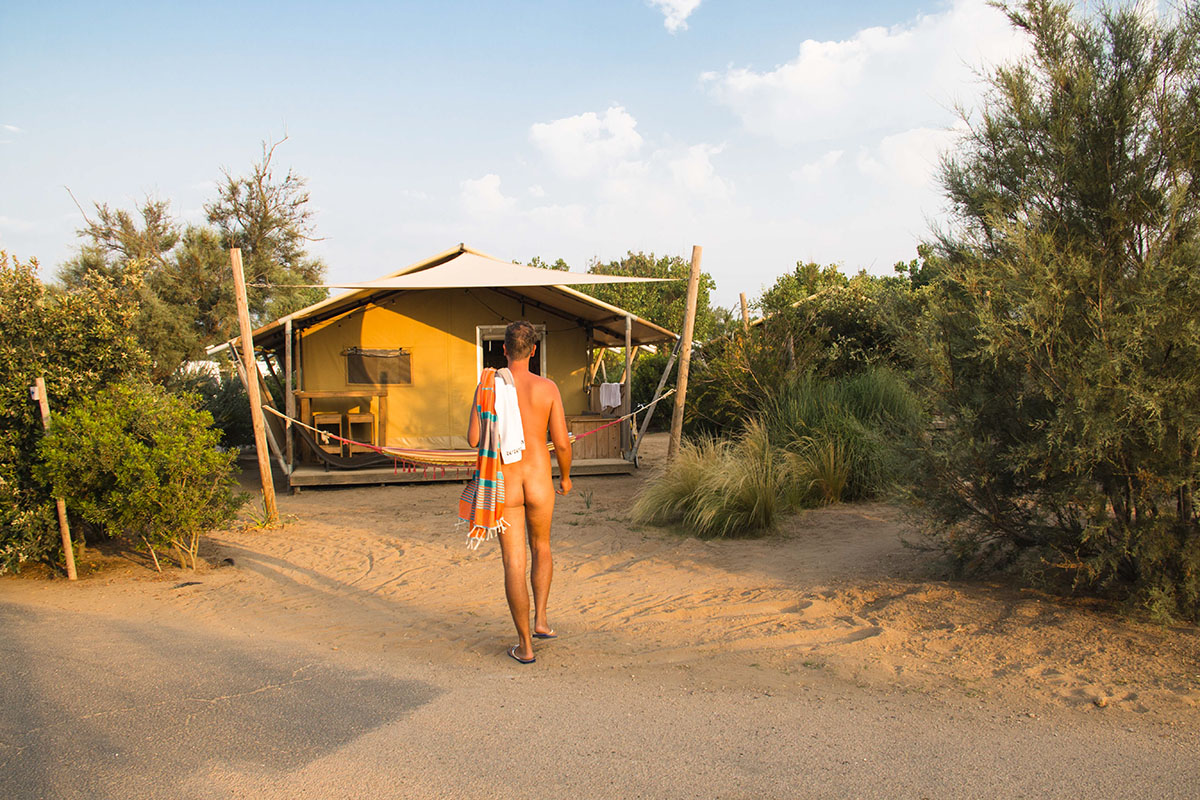 The rise of the sarong
A difference between the nude spa and the naturist resort is that at the spa clothing is only prohibited inside the facilities. Meaning that you have to be nude in the sauna or the pool but the walk between them can be done in a bath robe. Many naturist resorts have also seen this new market of "occasionally nude people" but didn't of course want to start allowing clothing on their premises. The solution came in a piece of fabric called the "sarong". Easy to sit on when nude and perfect as a cover when you're not feeling comfortable.
The sarong didn't receive applause from all sides. Many naturists feared that there would come a time when everyone would be covered in sarongs at their favourite naturist club. So far social nudity. We don't think that it will ever get that far. First of all because visitors of naturist resorts do have the intention to get nude, at least sometimes. Otherwise they would just not visit the place. And also because getting used to being naked happens in steps. The sarong, which is very easy to put on and off, just makes these steps a bit easier.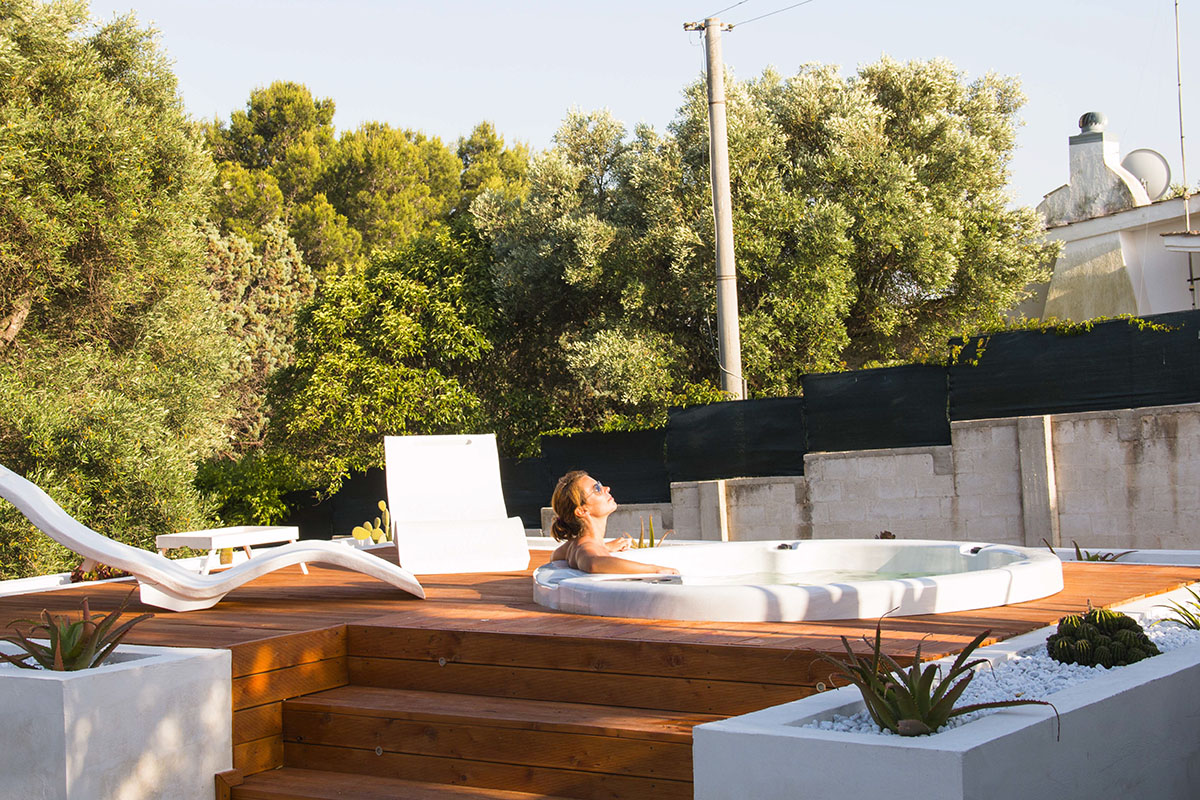 What does this mean for the future of naturism?
There is a huge gap between the occasional nude spa visitor and the die hard advocate of naturist clubs where all textile is renounced. Naturists could stick to the ancient idea of naturism and keep yelling that all the others are not "real naturists". But where will that get us eventually? The main question is whether we can meet somewhere in the middle.
We've advocated for a more clothing optional approach before and we still think that his could be a way forward. When properly managed of course. This is not only our own idea by the way, we already see this happening in many naturist resorts in Europe. Lots of European naturists like to dress up for dinner and thus it's not uncommon to see many clothed people in the resort's restaurant. At the resorts where the clothing rules are looser for teenagers it's much more common to see a younger crowd. But of course clothing is always prohibited when it's completely absurd to be dressed. In the pool or the sauna for example. Do you see the link?
Naked Wanderings' Complete Guide for the First Time Nudist ebook

Do you still have questions about nudism or naturism?
Are you looking for even more tips and tricks?
Our ebook will be the perfect resource for you!

Learn More
---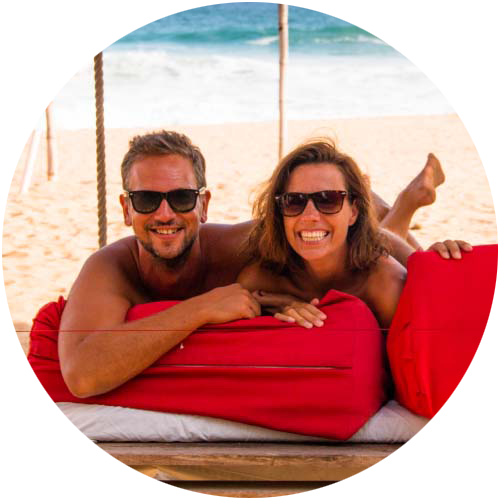 Support Naked Wanderings
Do you like what we do for naturism and naturists? Did we make you laugh or cry? Did we help you find the information you were looking for? Then definitely join our Patreon community!
---