We love massages. They are so relaxing, and if they're done well, we feel like a different person once we walk out of the massage room. Our muscles feel as if they're brand new and that sweet smell lasts until your next shower. If we were rich, we would probably have massages every day. In fact, that's pretty much what happened in
Thailand
. We didn't get rich there, unfortunately, but the massages are amazingly low priced. In parts of the country, you can get a one hour massage for about 5 dollars. It often happened that when we had a free hour before dinner or before taking the overnight bus, we just had a massage to pass time. It was actually cheaper than having a couple of beers.
But this blog post isn't about Thai massages, especially because they're not nude. As Europeans, we found this a bit surprising. We are used to nude massages. The birthday suit is pretty much the basic dress code for massages in Europe. Although the clothes they make you wear in Thailand are definitely comfortable, it's still not the same.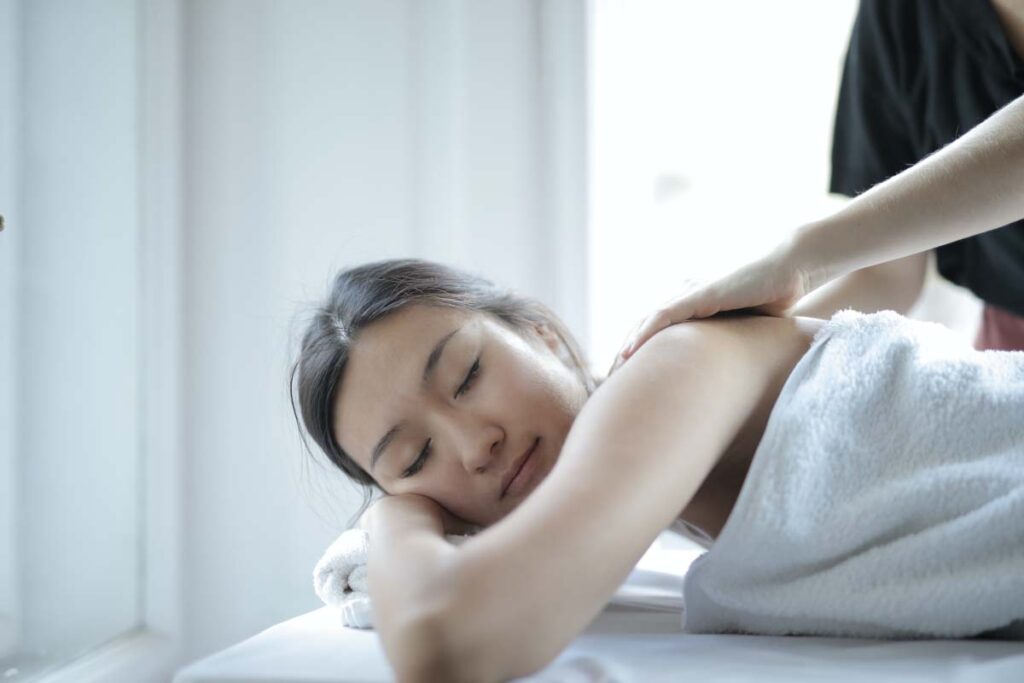 Where to get a nude massage
A great place to get a relaxing massage is obviously a massage salon. These can be found around the world. What the dress code will be completely depends from place to place. Some may ask you to keep your underwear on, some will give you a special outfit (as is the case in Thailand) and some will prefer that you are nude. If you want to avoid awkward situations, it's better to ask upfront.
In Europe, it's also very common to get massages at
wellness or spa centers
. These have a couple of advantages. Because those centers often receive many guests, they also have several massage therapists, each with his or her specialties. Therefore the list of options often goes much further than the default foot, shoulders, or full body massage.
An even bigger advantage of having a massage at a spa center is that the experience lasts longer. Instead of walking in, getting a massage, and going back home, you can spend half a day or a full day relaxing in the sauna, pool, or jacuzzi.
In the spa, the dress code for the massage will be the same as in the other facilities. If the spa has a no-nudity policy, you will be expected to wear a bathing suit during the massage as well. If it's a nude obligatory spa, you'll be expected to be nude during the massage as well.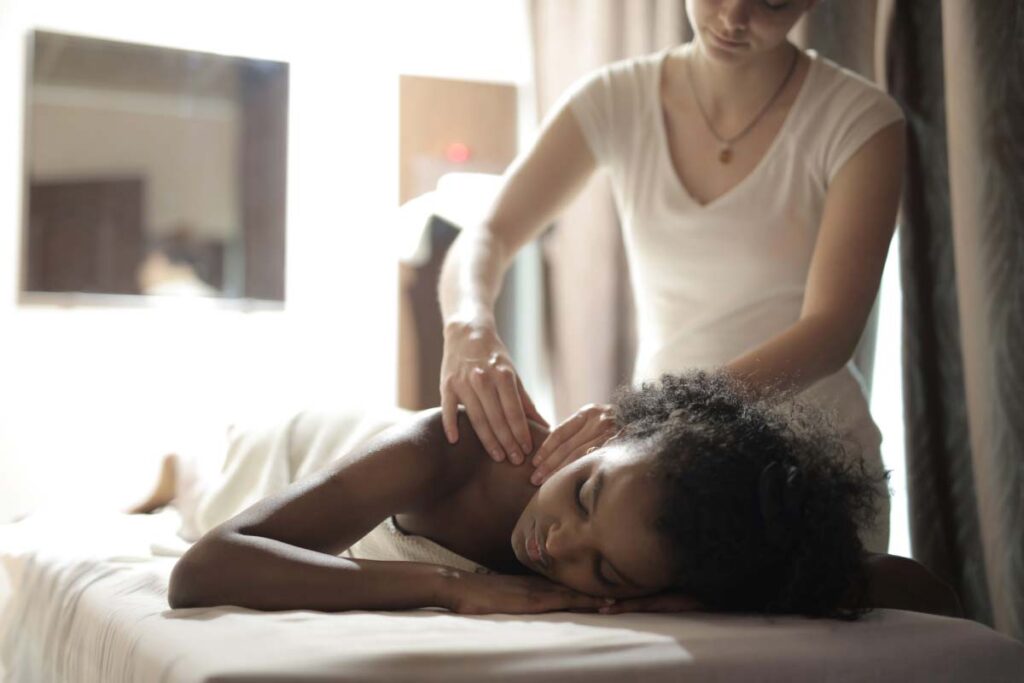 Tips for your first nude massage
The idea of spending an hour butt naked on a massage table can be scary. Even for naturists. Because let's face it, it rarely happens that a stranger comes this close to you at a naturist resort. Let alone that they rub your body with oil from head to toe. Lots of first-timers balance between the question "Will they think that I'm a perv if I just walk in naked?" and "Will they think that I'm a prude if I like to keep something on?". The answer to both questions is "no". The most important is that you feel comfortable.
It's always a good idea to have a short chat with your massage therapist or anyone else from the staff. They will set your mind at ease and tell you everything you need to know. Especially if you mention that it's your first time. This is also a good time to talk about your preferences and worries. If you have any specific pains, it's important that the therapist knows this. If you tell these things upfront, you avoid disturbing their work and your relaxation halfway through the massage.
It's also a good idea to have a shower right before your massage. The warm water will warm up your muscles and your smell might be more agreeable for the therapist. Keep in mind that those people need to touch pretty much your whole body and that they'll appreciate it if you're not sticky or stinky.
Maybe the most important of all, make sure to turn off your phone. This really is the last place where you want to receive a call. And it's also incredibly annoying for the massage therapist.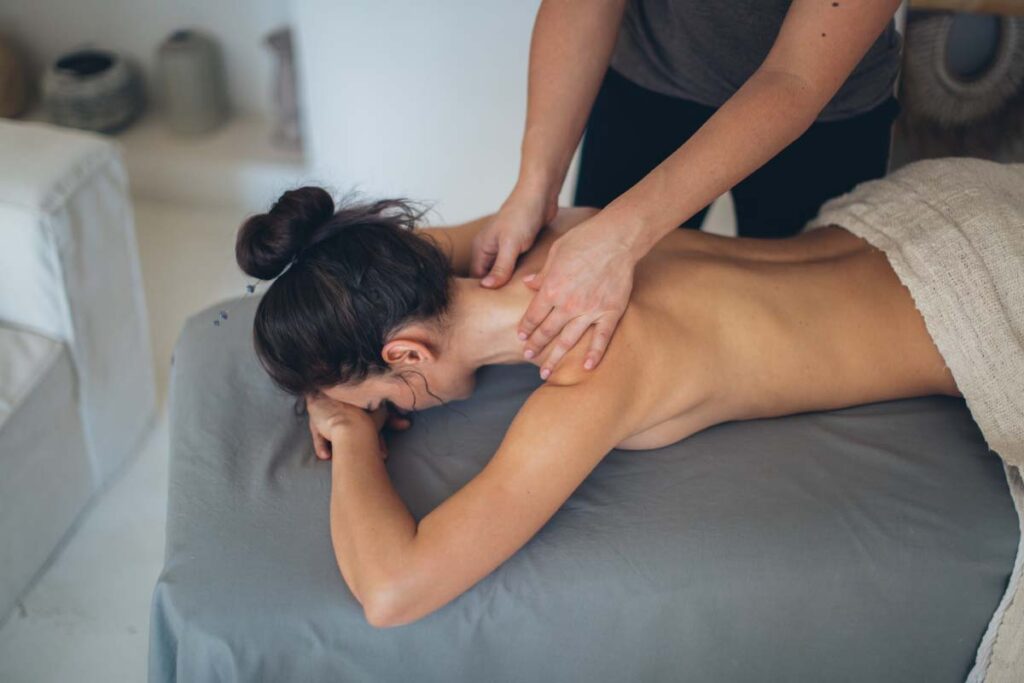 Nude massages and sex
Just like swingers sometimes hide under the name "naturism" or "nudism", brothels sometimes hide under the name massage salon. This phenomenon is not something you'll find at large salons or spa centers, but rather at smaller places. In any case, it's best to double-check this if you want to avoid a (really) awkward situation.
The fact that you'll be laying naked on a table might make you a bit uncomfortable and some people feel the urge for an ice breaker. We can tell you this: Jokes about a "happy ending" are NOT the way to go. Not only have the therapists probably heard these jokes a million times before, but it's also derogatory to their job.
Your full moon won't be out in the open all the time anyway. In most cases, your therapist will cover the body parts that are not being massaged at the moment with a sheet. Also keep in mind that those people are doing this as a job and have seen and touched many naked bodies before. They have seen it all, so there's no need for worries or shame.
A special note for the men
A lot of men are worried that they will get an erection during the massage. Similar to the worry of getting one at a naturist venue. The
etiquette on both occasions
is quite the same: It may happen but don't make a big deal of it nor be too proud of it. The difference is, of course, that unlike at a naturist venue, you don't really have many options to hide an erection if it should occur.
Massage therapists also know this and they've all had a customer with an erection before. In fact, they are used to working around other awkward situations as well. Lots of people fall asleep during a massage and start snoring, drooling, or letting off some gas. Remember, these people are professionals and you can count on them to handle these situations in the most professional way.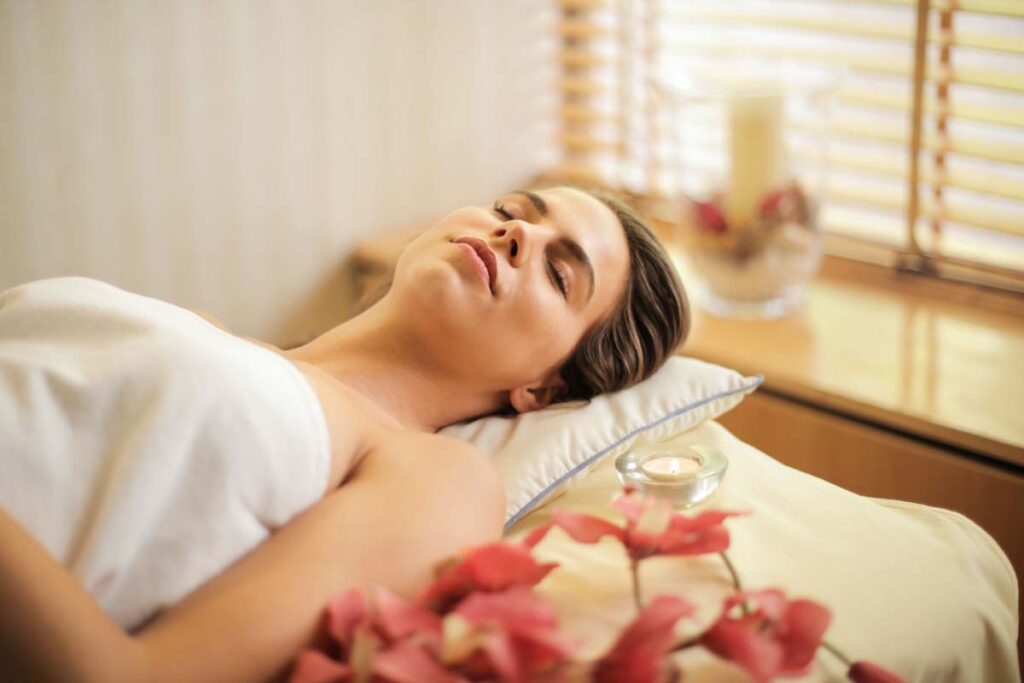 Who will give me the massage?
Most of the time, the therapist performing the massage is assigned to you based on the time of your appointment. This can be a man or a woman. Everyone has their preference, some people love it when their therapist is the same gender, others prefer being massaged by someone of the other gender. If this is really important to you, you can often specifically ask for a woman or a man. But generally, it's the best idea to just go with whoever is assigned to you.
A massage is all about relaxation and it's very important that you feel comfortable to completely enjoy the experience. We hope that the above tips will help to set your mind at ease. We'll leave you with two important DON'TS of the nude massage:
1. Massage therapists touch a lot of your body, but not your genitals. If this would happen, there's probably something shady going on and you better mention this to the center's responsible.
2. As a client, you are not supposed to touch the therapist at all.
---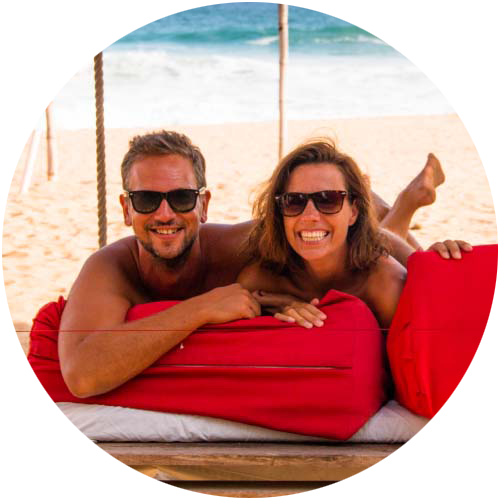 Support Naked Wanderings
Do you like what we do for naturism and naturists? Did we make you laugh or cry? Did we help you find the information you were looking for? Then definitely join our Patreon community!
---