UNFORTUNATE NEWS: The owners of O'Naturel have announced that the restaurant will shut down on February 16th 2019.
Because the weather in
Canada
started to turn cold and grey, our time to move on had come. Less than twelve hours after we boarded the plane in Montreal we touched ground in one of Europe's most amazing cities. Although a good nap sounded like a great way to get rid of our jet lag, we had different plans. How could we be sleeping when we might as well… eat? Lately Paris has been home to one of the latest naturist trends: naked dining. The nudist restaurant O'Naturel in the center of the city allows you to have great food just as nature intended. Nudists from around the world come to the city for this experience and now it was going to be our turn.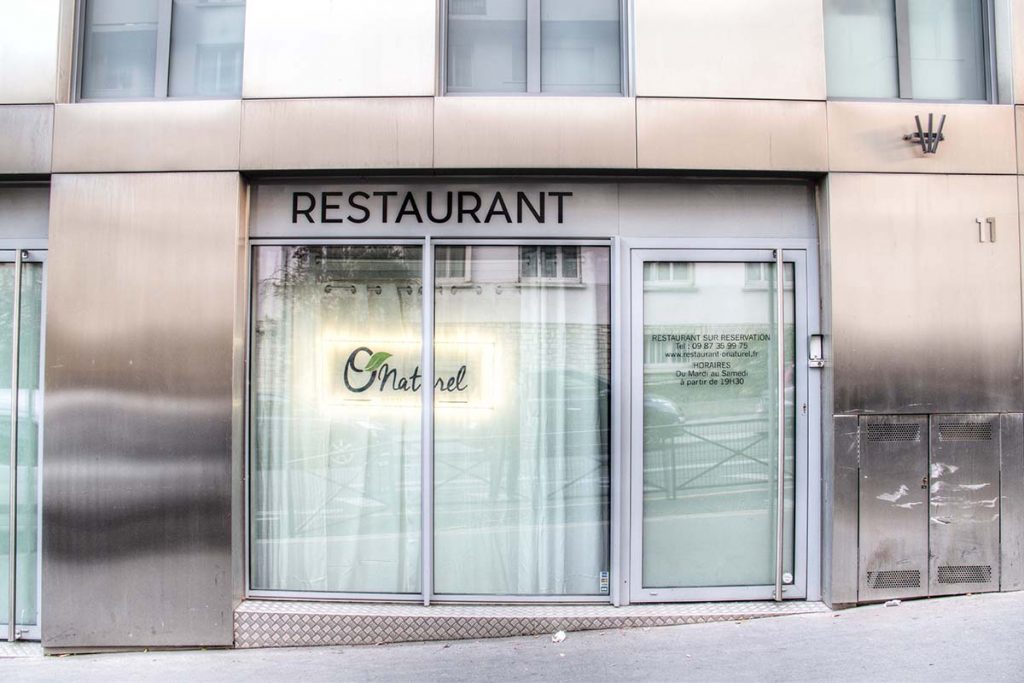 Time to check a bucket list item
Several hours after landing in Paris we found ourselves with sleepy eyes sipping wine on the couch of Laurent and his partner. Laurent is not only president of the ANP (Association des Naturistes de Paris) but also a major power when it comes to "renewed naturism". Especially in Paris. His name might not sound familiar, but if you've been following the news about naturism lately you've probably heard about Bois de Vincennes, the naked park in central Paris. Yep, he was one of the forces behind it. Does the naked tour of Palais de Tokyo ring a bell? Again, thanks to Laurent and his team. Here's a fun fact about that tour by the way, if you look at the pictures taken during this tour it might seem like they had just an average upcoming, nothing exactly spectacular. But listen to this… Only about 150 visitors were allowed on the tour, by the time it started there was a waiting list of over 30 000. Pretty impressive, no?
Another time when Paris has hit the naked news around the world was because of the opening of O'Naturel, a naked restaurant in downtown Paris. For this one we can't give the credits to Laurent but the award goes to Mike and Stéphane, two Parisian brothers who came to the luminous idea that many naturists are also moved by the beauty of the city and also have to eat of course. Within weeks after they opened, journalists from many major newspapers took a seat at their tables to check out what such a naked dinner is all about. Their articles promised a unique and never seen experience and O'Naturel became a top bucket list item for naturists around the world. We certainly didn't want to miss this. For journalistic purposes of course! And maybe also because it was on our bucket list as well.
O'Naturel is located in arrondissement 12 close to the Paris Bercy train station. Most probably you'll be coming from somewhere else in downtown and you're best choice would then be to take metro line 8 towards Michel Bizot station from where it's about a 5 to 10 minute walk to the restaurant. Or you could do like us and visit the Bois de Vincennes in the afternoon and have a nice 45 minute stroll in the evening sun towards the restaurant. It's all up to you.
From the outside your first thought might be "I'm too early" or "I arrived on the wrong day" because the place looks like it's closed. Don't let this fool you though, the closed curtains are only there to keep out curious eyes.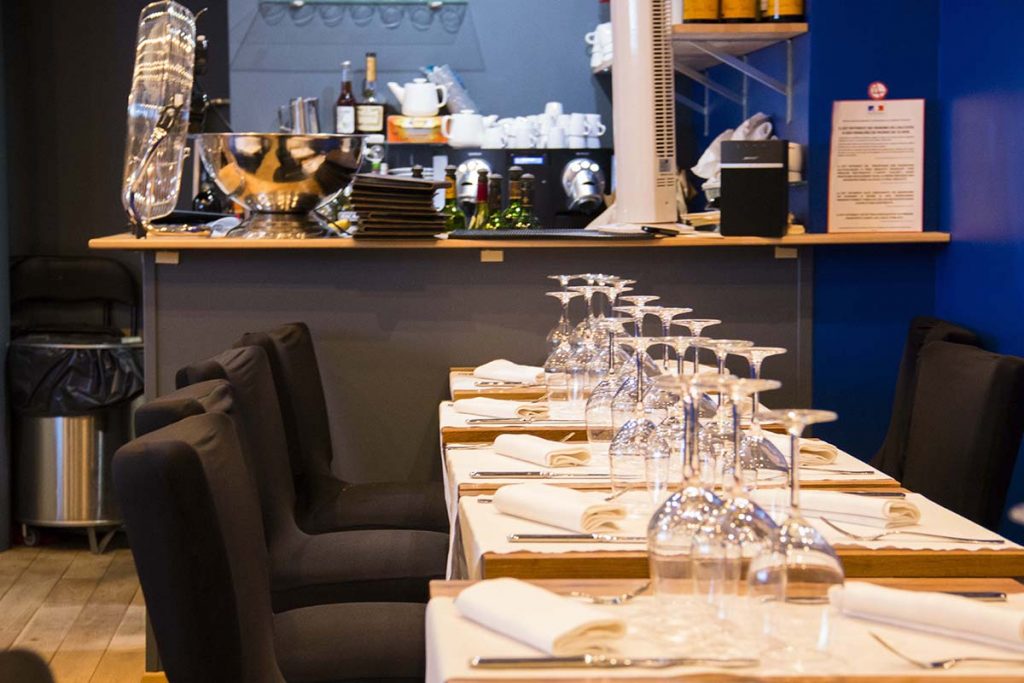 So… What's it like?
One of the things we were curious about was how the actual "getting naked" would work. Will we be shown to our table and do we have to get undressed right there? What do we do with our clothes? Let's just hope they don't expect us to arrive semi naked…
It's nothing like that at all, after we rang the bell and one of the brothers opened the door we were directed to a dressing room, just like one you'd expect to find in any spa or swimming pool. There you get naked, put all your stuff in a locker and open the next curtain. This is your first sight of the actual restaurant. Experienced naturists as we are, we did bring our sarong to sit on but also that seemed to be unnecessary. All the chairs have a cover which goes straight into the washing machine after you leave.
Although this place is extremely exclusive, there's only one like this in Paris and as far as we know there are only 3 around the world (the other two are in London and Bristol), our fear that this exclusivity would negatively influence the experience and worse, the price/quality, was completely unfair. With only room for about 40 guests, the place breathes a very relaxed atmosphere and the smiles and comfortable chit chat of the brothers only add to this.
Drinks were ordered and our growling stomachs told us that it was about time to have a look at the menu. There are 5 different options for starter, main course and desert and for each of those there is one vegan option. We were told that the cook could make adjustments in case we had any food allergies, but hey… we've spent the last year in pretty remote areas where waiters have never heard about something called gluten, but anyway, we were happy to have the option and to reply that we were comfortable with all ingredients.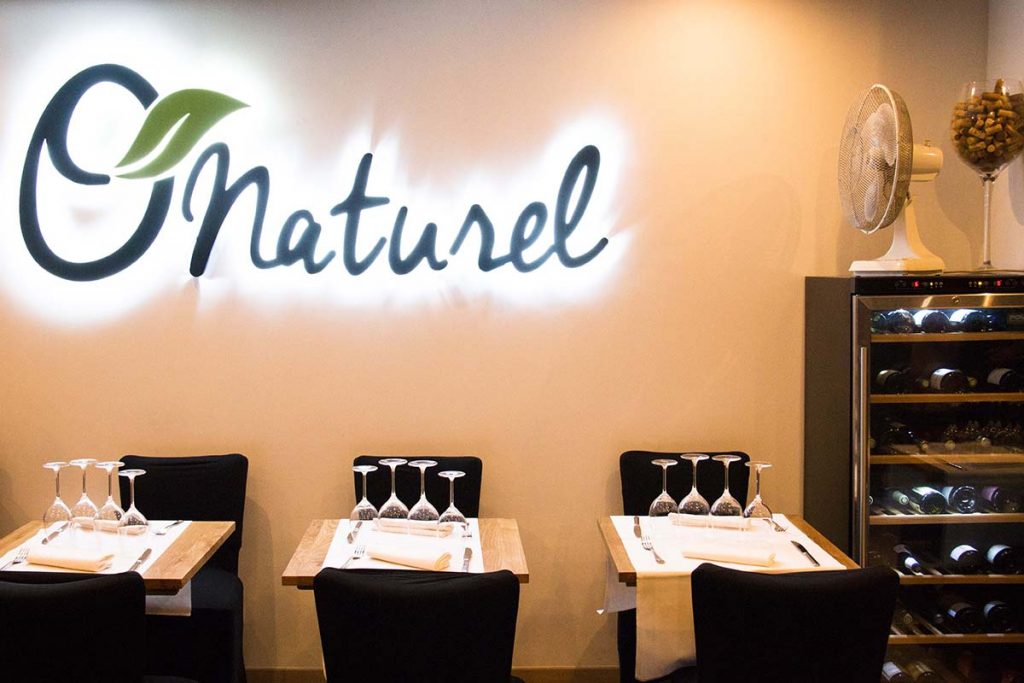 To make you a bit jealous we'll tell you what we've had… For starters Lins had the foie gras with apple-pear chutney and Nick the smoked salmon with beetroot. Our main courses were a Pearl Barley risotto and a steak with patate dauphinoise and by the time we had finished our bottle of Bordeaux wine and our moelleux were served, we started asking ourselves why on earth we hadn't become food bloggers instead of naturist bloggers. This food was awesome! But then again, how many times does a food blogger get the chance to dine naked? We quickly dropped the idea.
Why you really have to go to O'Naturel
Although we half expected that O'Naturel might take advantage of its popularity to serve average food for an expensive price, we found the place serving quality food for very economical prices instead. Really, try to order the same food on Montmartre or the Champs Elysees and you'll easily pay triple the price. And you'll have to wear clothes.
Although at first it felt a bit strange to sit with our naked behind on a chair without our sarong as protection, we really started to appreciate the idea of not having to think about that extra layer and still be sure that another naked person hadn't been there minutes before our arrival. Hygiene must certainly be a very high priority for the owners by the way, our wine was served in the cleanest glasses we've seen in a long time.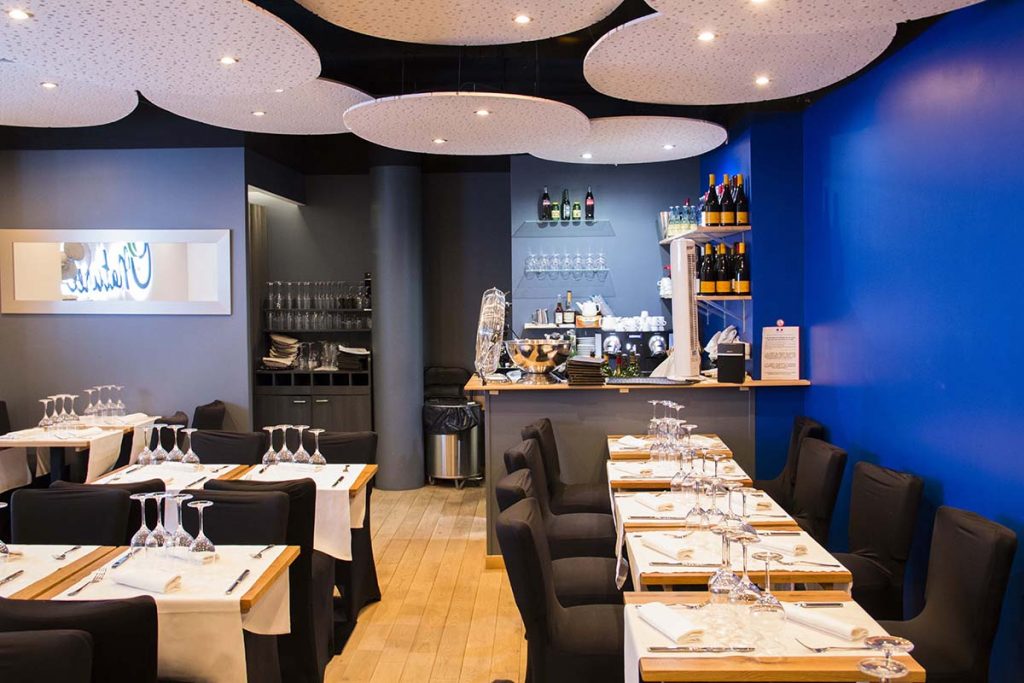 O'Naturel provided us with an experience of high class dining in a naturist atmosphere and a very interesting thing to see was that just like in many other naturist settings people who had never met before just started talking to each other. This is something you're very unlikely to encounter in any textile restaurant. The professionalism of the hosts in combination with the friendliness of the other guests created a genuine naturist atmosphere which was only slightly disturbed when one of the kitchen staff peaked one time too much into the dining room. Something we noticed but the majority of the other guests probably didn't.
If O'Naturel is still on your bucket list, we can strongly advise you to really make it happen one day. And we're certainly not the only ones who think like that. The Irish guy sitting at the table next to us sent us an e-mail a couple of days later saying that he had been back several times. His bucket list clearly demanded to try every item on the menu. We might have done this too if we had the time.
By the way, even if you're not a naturist, we would still advise you to make a reservation at O'Naturel. Paris is a city of once in a lifetime experiences. Some spend a lot of money on a Moulin Rouge show, some spend an almost equal amount to get to the top of the Eiffel tower and some wait in queue for hours to look into the eyes of the Mona Lisa. So why not try out one of the world's only naked restaurants? Maybe you'll start to enjoy naturism… and if you don't, at least you had a great dinner.
More info and reservations: https://www.restaurant-onaturel.fr
Disclaimer: We have been invited as guests of O'Naturel, but of course all opinions are our own. We are super confident you will love this place as much as we did!
---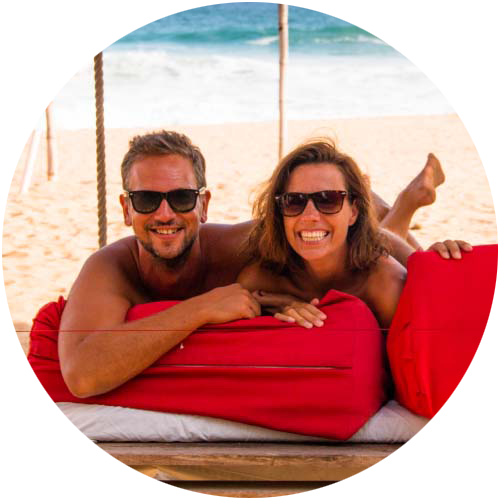 Support Naked Wanderings
Do you like what we do for naturism and naturists? Did we make you laugh or cry? Did we help you find the information you were looking for? Then definitely join our Patreon community!
---