The shock of moving back from Mexico to Belgium was also temperature-wise. Every time we return to our home country to spend some quality time with friends and family, we're surprised about how cold it can get. Especially now, in mid-summer. Luckily, we had something to look forward to. Soon we would
move on to France
, the country that had thrown three heatwaves our way last summer.
That didn't work out exactly as we had imagined. The stream of cold air and rain that had forced us to keep our clothes on in Belgium, followed our tracks as we crossed the border into France. We shouldn't exaggerate, during the three days that we spent at naturist campsite Domaine de la Gagère, we did have one day of excellent summer weather. The kind that's typical in this region for most of the summer. Excited by this sudden change, we spent most of the day baking in the warm sun, drinking more wine than is healthy (even in France).
After watching the sunset over the hills, we realized that we had better spent this day taking pictures. But we had not. So before you continue reading this review, most of the photos don't really represent what the campsite looks like on a regular warm, and sunny day. Just imagine every one of them with a bright sun and two reddish-skinned Belgians with wine glasses.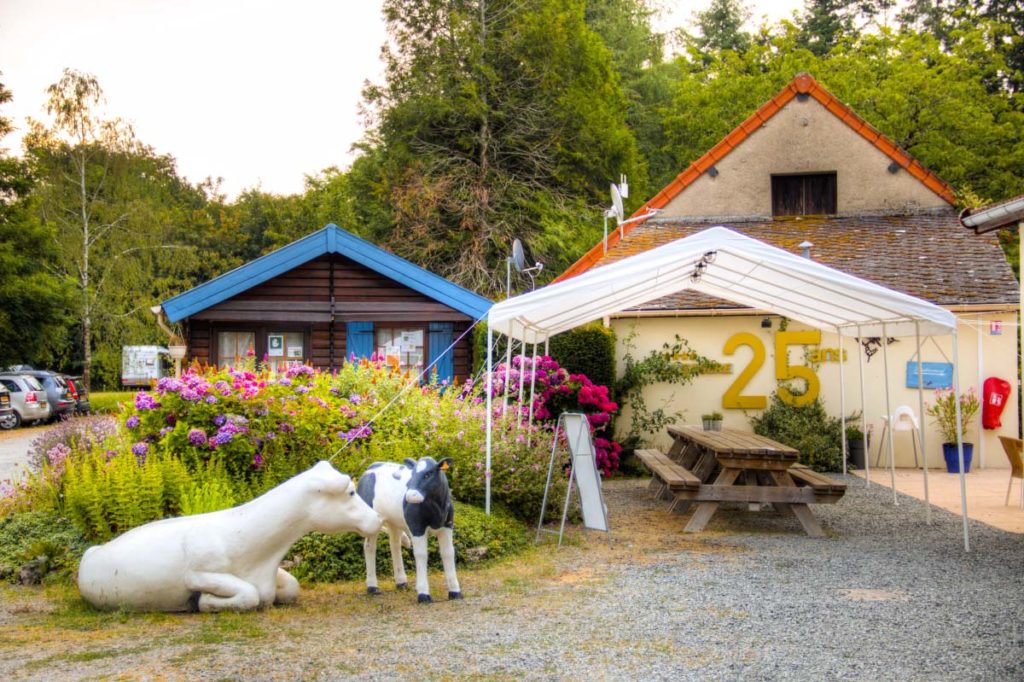 How to get to Domaine de la Gagère
Before we'll make you dream about a nude vacation at La Gagère, let's first see how you can get there. One of the advantages of this naturist campsite in the south of France's Burgundy region is that it's easy to reach with your own transportation from many western European countries. From Belgium, we're talking about a 6-7 hour ride. From the Netherlands, that's 8-9 hours. Also from southern Germany and northern Italy, it's just an easy day's drive. If you're leaving from Luxembourg, Switzerland or anywhere else in France, we're talking about not much more than an afternoon in the car.
In Luzy, the nearest town to La Gagère, you can find a train station with direct connections to Nevers and Dijon. From both cities, you can easily connect to Paris and other major cities in France. There are several car rental offices in the train stations of Dijon and Nevers, making it possible to drive the last part of your journey. Otherwise, a taxi ride from the train station in Luzy to La Gagère shouldn't cost you more than 25-35 euros.
If you're flying in, the nearest international airports are located in Paris and Lyon. From there, you can continue your journey by train.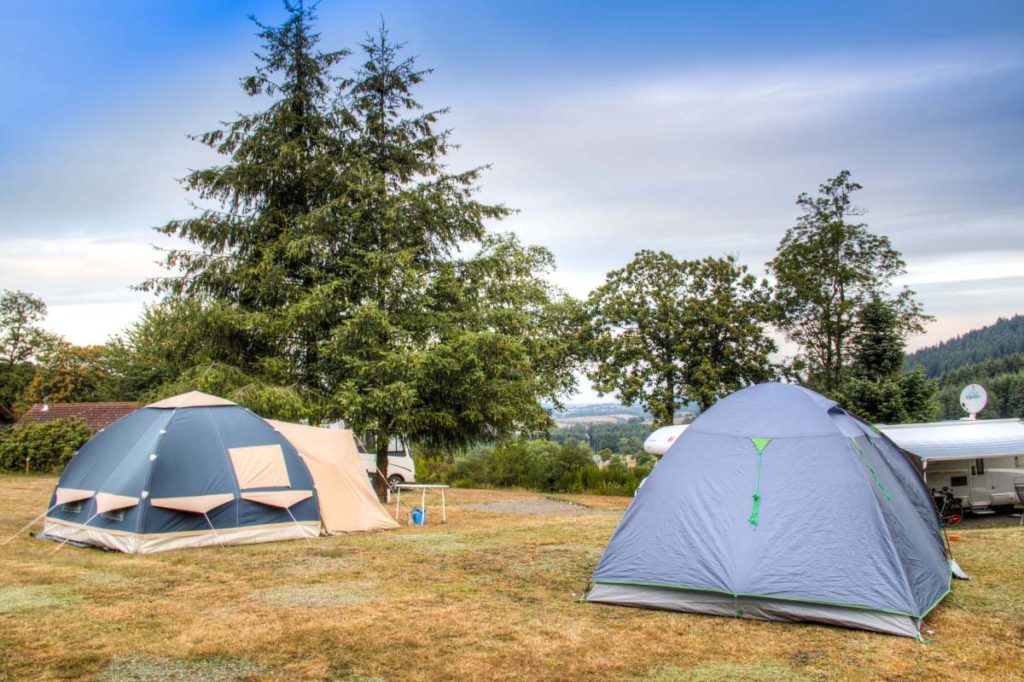 Where to stay at Domaine de la Gagère
The 5-hectare domain has a total of 100 spacious pitches for tents, caravans, and campers, which are all nicely divided in different sections. Even if the campsite would be completely full, in and around your accommodation you'll never get the feel of the size of the domain. Finding your preferred section largely depends on your personal needs. Some are only steps away from the main facilities while others provide more peace and quiet.
The spot where we've put down our tent, couldn't have better fit our personal needs. We like a good view when we wake up, and boy what a view did we get. Every morning our sleepy eyes stared over the Done valley, a typical Burgundy countryside.
Other than the awesome view, one of the things that amazed us the most during our stay was how spotlessly clean the shared facilities and washrooms were. Our camping experience has taught us that unclean toilets and other people's bodily leftovers in our shower are just part of the deal. Well, we found none of that at La Gagère. No matter the time of the day, it always seemed like the place had just been cleaned before we got there. Even more surprisingly, we never saw anyone cleaning! We played with the idea of setting up a lookout post, just to make sure that Floor and Tim didn't have a secret bunch of minions running around. But then we figured that it was just more fun to have a wine and stare some more into the valley down below.
If you're not bringing your own accommodation, it's possible to stay in one of the 16 rental chalets. Some were located near our pitch, providing the same or probably even better views. The others can be found at the far end of the domain, with nothing surrounding them except for lush nature.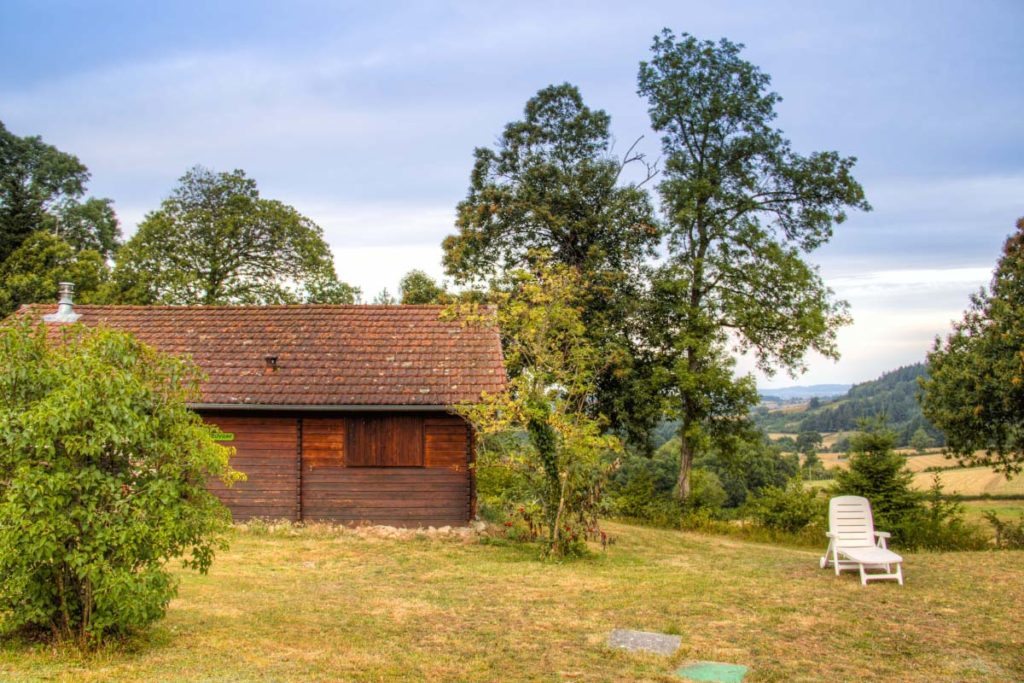 What to do at Domaine de la Gagère
While making notes for our reviews, we always try to come up with a couple of key points. Things that need to be included at all cause. Very early during our stay, we had written down the word "rest". Later we'd put some exclamation marks behind it and circle the word a couple of times. Today, while writing this review, we realize that "rest" wasn't the word we were looking for. Although the fresh air was definitely a source for some great nights of sleep, the feeling that had been following us should rather be described as "peace of mind".
Peace of mind because whatever we wanted or didn't want to do, there was always an option. Yet, there was never pressure. There's no huge list of activities that makes you feel like you're missing out on everything if you're having a lazy day. But there are definitely enough things to keep yourself busy during your stay. There are plenty of spots to get social and an equal amount of places where you can hide from the rest of the world. You can cook your own food, enjoy French cuisine at the restaurant or just get some French fries from the Friterie. We can go on and on like this, but you get the point. The possibilities are always there, but the necessities are none.
Other things that are definitely worth a mention are the large swimming pool, a real treat during hot summer days, and the dishwasher. Say what? Indeed, we had the same reaction when Brigitte from the reception gave us a coin for every day of our stay. Within 5 minutes, the machine cleaned our dirty dishes, using a significantly less amount of water and chemicals than we would have if we had to do it ourselves. A heaven's gift for environmentally conscious (and quite lazy) campers like ourselves.
One more tip before we'll tell you what the region around La Gagère has to offer: The massages at the campsite are crazy cheap. Take advantage of that, but book in advance because they're in high demand. We weren't the only ones who realized this economical advantage.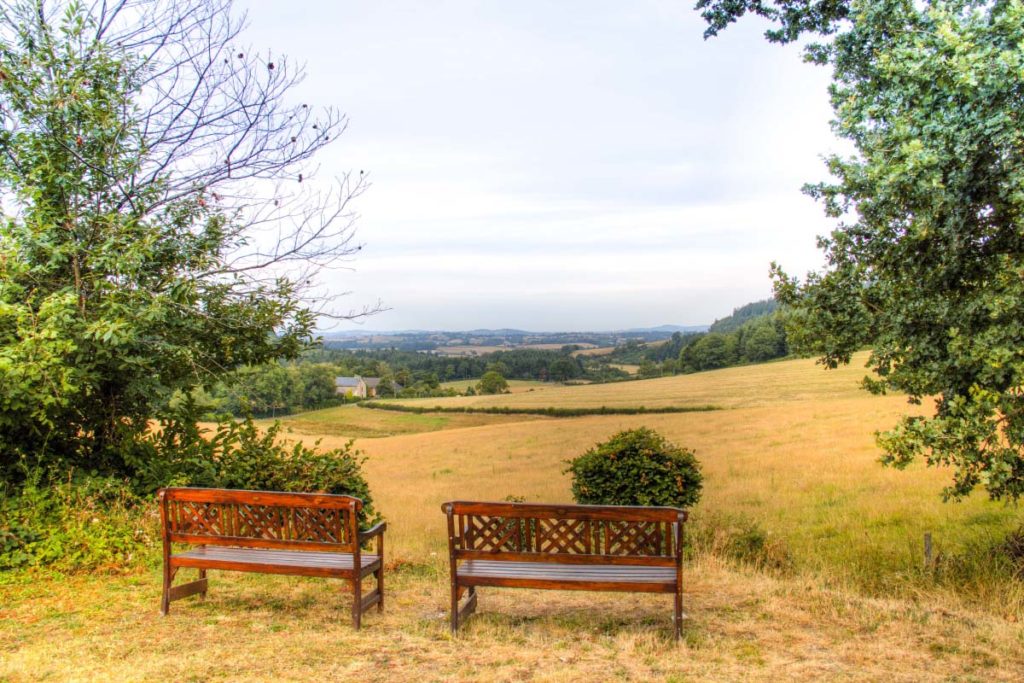 Around Domaine de la Gagère
Burgundy is not at the top of France's tourist destinations, which gives it a kind of underdog status. Here, you'll rarely find tour buses or ridiculous degustation prices at the wineries, but you will get the chance to taste some delicious dry red and white wines. History lovers will definitely enjoy the region's Romanesque heritage and if you like to spice up your food, Dijon mustard is the best you'll ever find. Ever!
The Morvan Natural Park, in which campsite La Gagère is located, is known for its excellent natural scenery. Several hiking routes can be found near the campsite and will bring you past streams, lakes, waterfalls, and amazing views. The park is also great for cycling, but beware: Those roads are steeper than they initially seem. So get those calf muscles oiled (or massaged afterward).
Burgundy also has a vibrant music scene. From the jazz in Nevers to Blues at the Le Creusot festival. Internationally recognized are the Sacred Music Festival of Dijon and the Festival of Baroque Opera in Hospices de Beaune.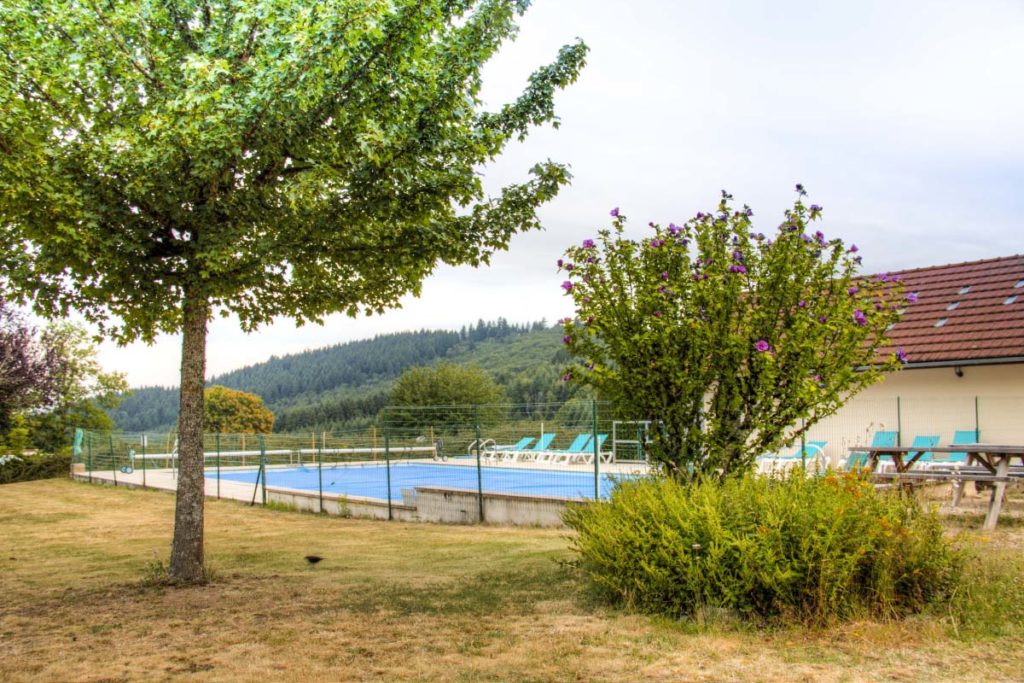 Staff of Domaine de la Gagère
The invisible minions aside, there's a number of staff members who will get your attention. In a good way, of course. From Brigitte at the reception who immediately made us feel at home away from home to the friendly man behind the bar whose name evaporated from our memory when the drinks kept flowing.
The owners of the campsite are Floor and Tim, a Dutch couple of about our age (we think, we've gotten to an age when you don't really ask those things anymore). They've earned their stripes by working for a year at campsite Creuse Nature, before moving on with their family to Burgundy, where they bought their own campsite only two years ago.
We feel bad for everyone in the hospitality sector who got hit by the COVID-crisis, but even more for those who are just in their first years of business. Yet they manage the situation with their heads high and smiles on their faces. Something which they directly reflect on their guests. You can cry in a corner or be inventive and flexible to make the best of the situation. They chose the latter. An attitude that will definitely work in their advantage in the future of running a business like a naturist campsite.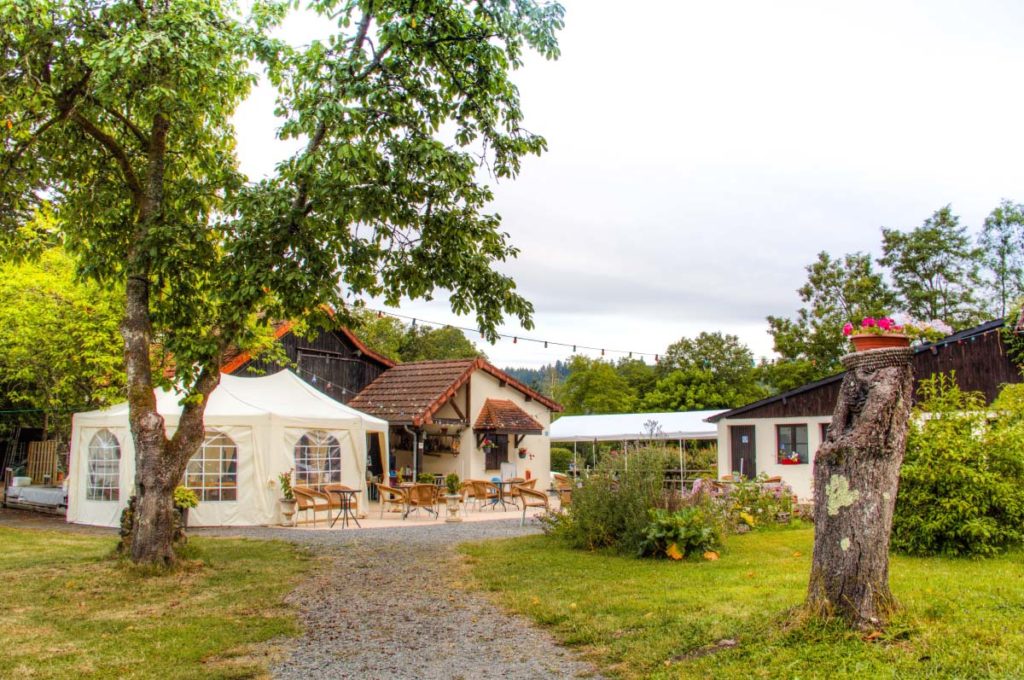 Guests at Domaine de la Gagère
Domaine de la Gagère has been in Dutch hands for many years and birds of a feather tend to flock together. So we were not surprised to see that many of the other visitors came from the Netherlands. Yet, La Gagère is not the typical "Dutch campsite" like several others scattered around France. Floor and Tim actively focus on a wide range of national and international guests.
Especially French naturists are starting to find their way to La Gagère and appreciate the multi-lingual signs and staff, but La Gagère is a place where everyone can feel at home. No matter where you are from. The friendly atmosphere, the way people greet each other while passing by or strike up a conversation, maybe typical for naturist resorts in general. Yet, some resorts actually seem to motivate this vibe. La Gagère is one of those.
La Gagère is also a family campsite and is being promoted as such, so we wondered why there's only one activity planned per day for the kids. We asked Floor about this and her reply was simple but hit the nail exactly: "Having a family vacation doesn't mean dropping off your kids at some club in the morning and picking them up again before dinner". At La Gagère you get the chance to spend time with your whole family, and there are plenty of other kinds that you'll offspring will befriend.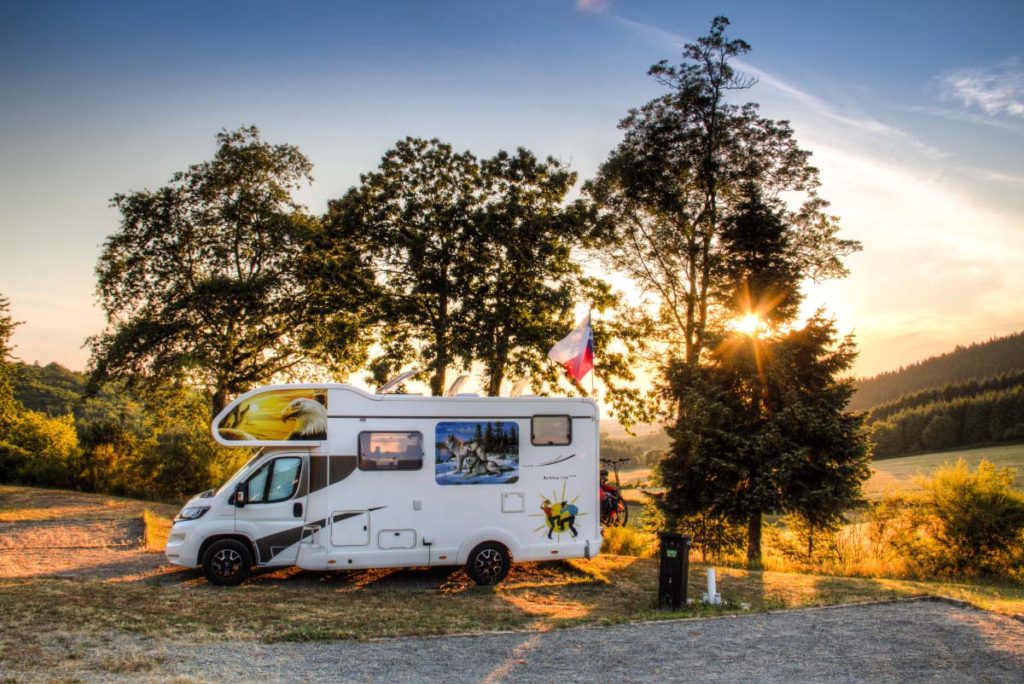 Reservations & Contact
In "normal" times, La Gagère opens its doors from April to September. As long as COVID hasn't been conquered, it's best to check
their website
for accurate information. Because of COVID, La Gagère will exceptionally be open in 2020 until November 1st.
Reservations are definitely recommended, especially for rental accommodation and for the best camping pitches. The best ways to claim your great view are:
✅ Their Website: https://la-gagere.com
✅ Phone: +33 (0) 38 63 04 811
✅ E-mail: [email protected]
It's possible to communicate in French, English, and Dutch.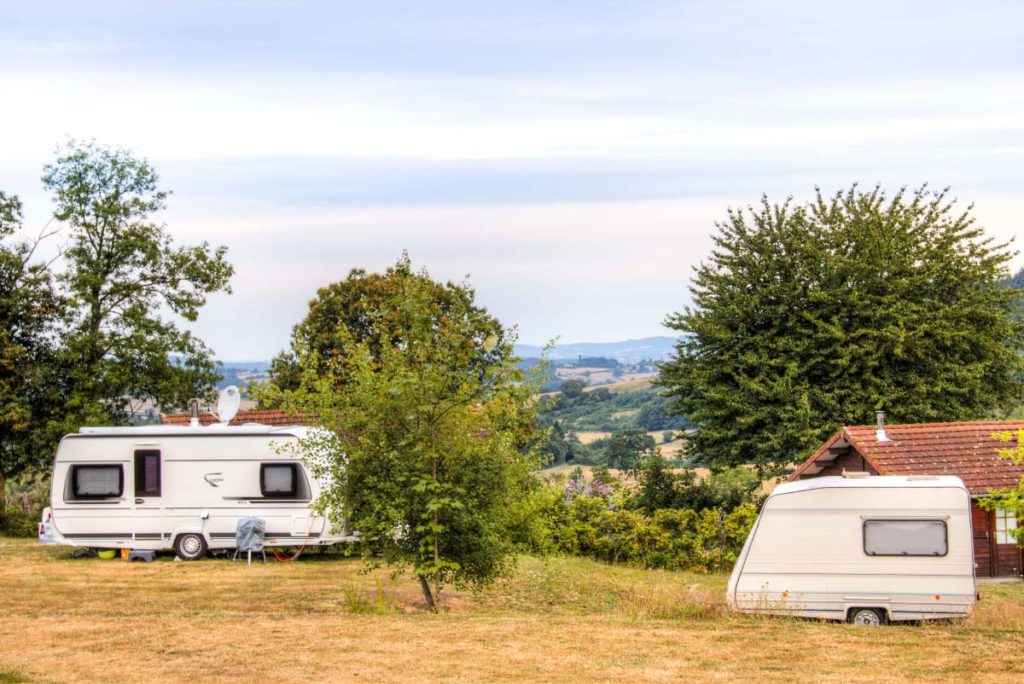 Summary
If you fancy a comfortable clothes-free holiday in a rather unspoiled region of France, a naturist camping vacation for the whole family, or just waking up with an amazing view, you definitely want to consider putting La Gagère on your bucket list!
Disclaimer: We have been invited as guests of Domaine de la Gagère, but of course all opinions are our own. We are super confident you will love this place as much as we did!
---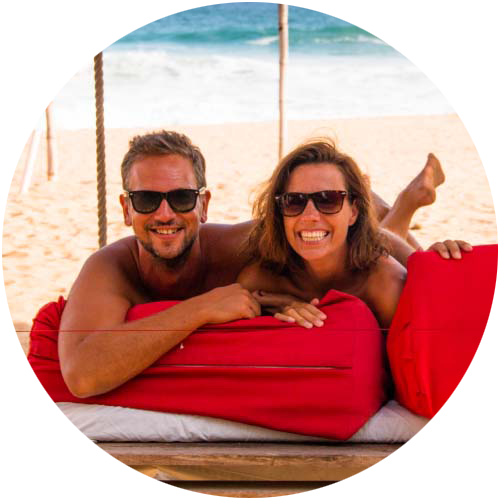 Support Naked Wanderings
Do you like what we do for naturism and naturists? Did we make you laugh or cry? Did we help you find the information you were looking for? Then definitely join our Patreon community!
---