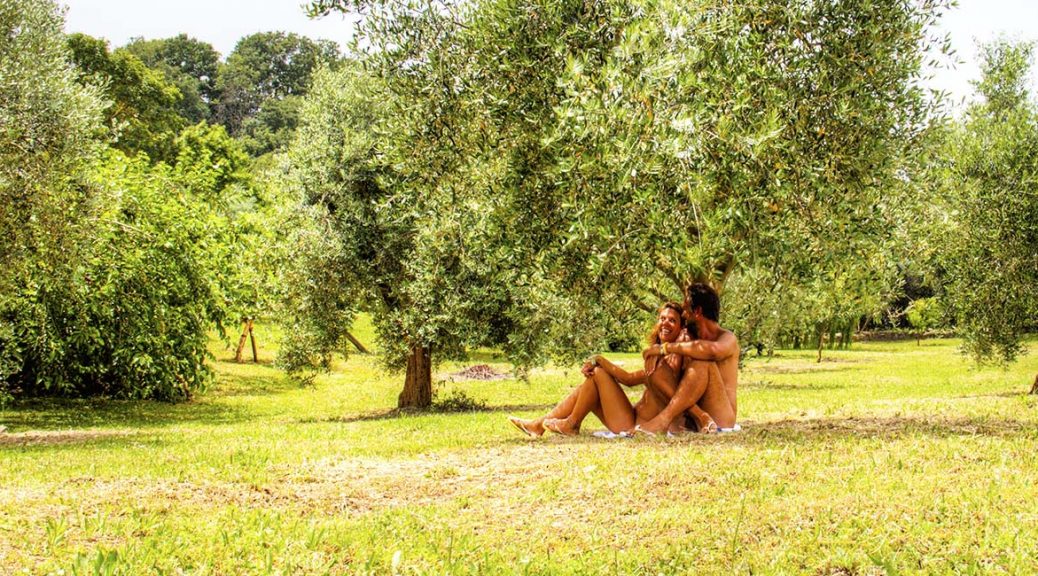 Nude Vacations in Italy: A Naturist Road Trip
Nude Vacations in Italy: A Naturist Road Trip
This post was last Updated on September 17, 2020
Italy is often considered the world's capital of Christianity. It's where Vatican City is located and where the Pope lives. This hasn't exactly been an advantage when it comes to social nudity. While topless sunbathing on the beach was pretty common in many Western European countries since the sixties or seventies, it has only become legal in Italy in the year 2000. Prior to 2006, full nudity at Italian beaches was prohibited by law and thus so were nude beaches. When it comes to nude vacations in Italy, the country has some serious catching up to do.
Luckily, that seems to be exactly what they are doing.
We've spent several weeks in Italy in search of the best nude beaches and naturist accommodations. We were happily surprised by what we found. That's why we've put together a wonderful road trip which will bring you to some of the country's most magnificent places and meanwhile you'll be able to sleep in great naturist resorts and skinny dip at Italy's best nude beaches.
Time needed: 2-3 Weeks.
Why would you go on this Italian naturist road trip?
It's important to mention that this trip only covers a part of what Italy has to offer. Both in terms of sights and culture as when it comes to naturism. It's the route we've followed ourselves and all experiences in this article are our own. We can assure you that this road trip will take you past some of the best parts of Italy and a variety of magnificent naturist spots.
Naturism in the Romagna region: Borgo Corniola
Our road trip starts in Bologna, home of the world-famous Bolognese sauce. Strangely enough, it's quite hard to find this sauce on menus in Bologna's restaurants. So here's already a first tip: If you like to taste the real bolognese sauce in Bologna, ask for a "spaghetti Ragu".
Bologna is a nice place to spend a day or two with its historical center and cosy squares, but that's not the real reason why we are here. And neither is the spaghetti Bolognese.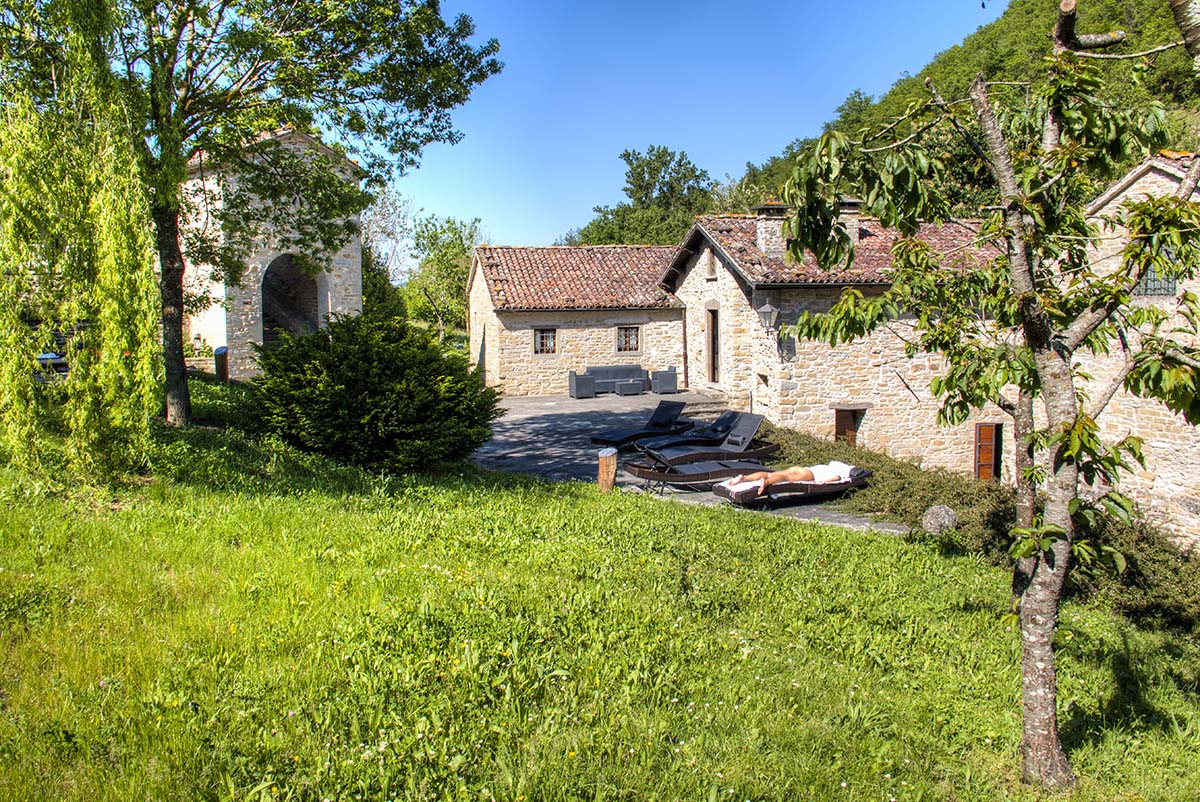 We travel south-east from Bologna, towards the valley of the Acerreta river, where we find our first nude destination: Naturist B&B Borgo Corniola. Tucked away between the hills right at the side of the river, Borgo Corniola is the perfect place to find rest in nature. Which also makes it a great first destination for our trip. Laura and Francesco welcome you in their typical home, serve you delicious breakfast and invite you to one of the "aufguss" sessions in their large sauna. Afterward you'll enjoy a skinny dip in the river or in the hot tub or you'll lay yourself down at one of the sunbeds and forget that there was a life before you came to Italy.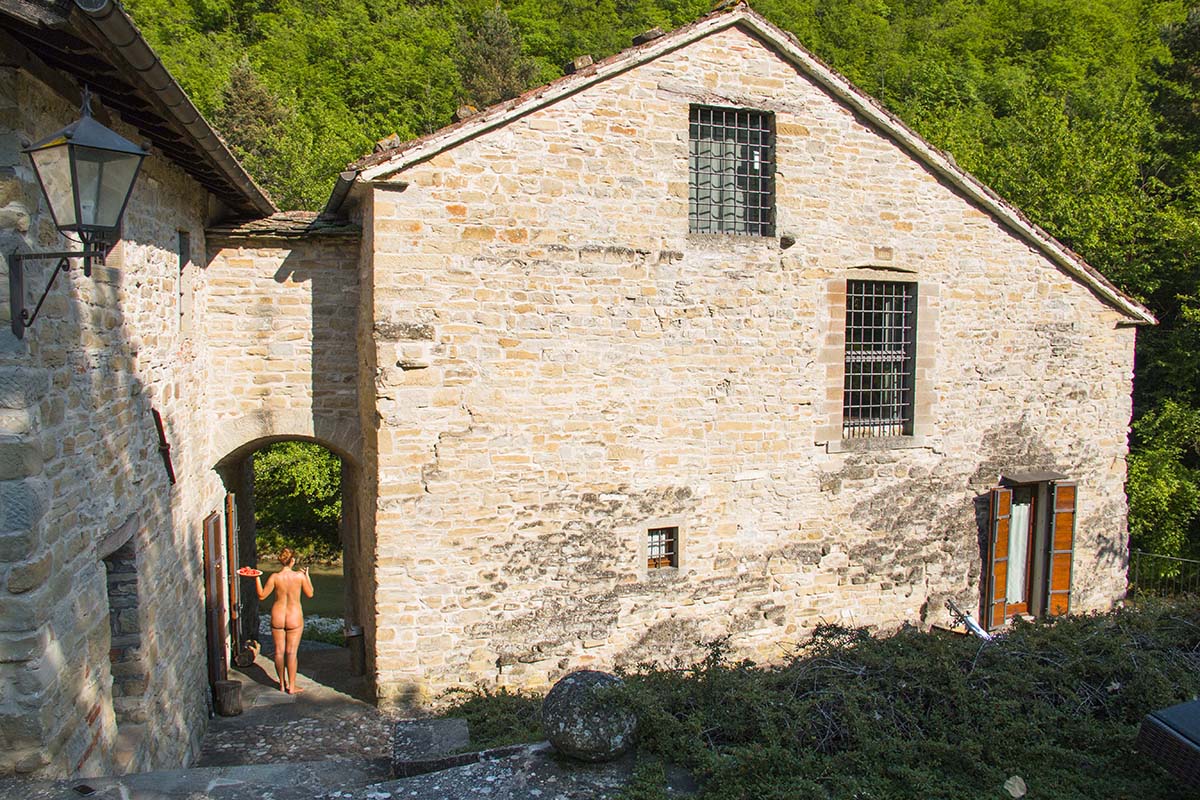 If you'd like to start your trip active, you could join Francesco during his daily workout or hike one of the several trails in the region. Borgo Corniola is also a great base to visit wonderful cities like Florence or Bologna or typical Italian towns such as Tredozio and Modigliana where time seems to have been standing still for a couple of decades. This is the Italy from the old movies.
At Borgo Corniola you have the chance to stay in one of their typically styled guest rooms.
Bookings at Borgo Corniola are preferably made via e-mail (
info@borgocorniola.com
) or WhatsApp (
+39 349 5311729
), in English or Italian.
A full nude Tuscany experience at Locanda di Terramare
From Romagna, it's only a short drive into Tuscany, which is the most visited region of Italy and not without reason. It's easy to fall in love with Tuscany. The hilly landscape is of such a magnificent beauty that you'll find yourself saying "ooooh" and "wow" maybe a million times per day. Dotted between the forests and fields are typical Italian villages filled with flowers. And then there are cities like coastal Livorno, Pisa with its bent over tower, cozy Lucca and of course Florence, home of some of the most renowned Italian artists.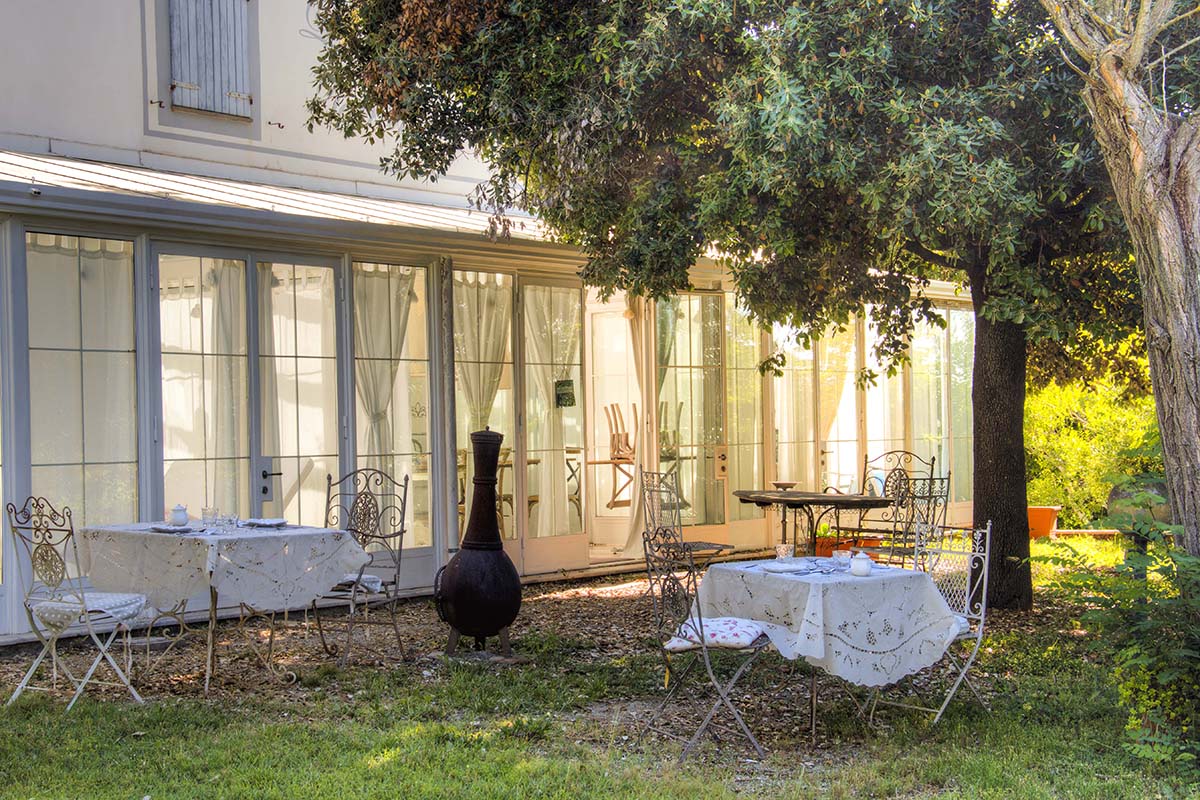 Tuscany is not the kind of place where you want to spend your days inside a hotel. But as naturists, we do prefer some nude time during our holiday as well. Naturist B&B Locanda di Terramare provides the perfect solution. Waking up under the Tuscan sun and having a nude breakfast in the green garden is a great start of a day of sightseeing. When you return in the evening you'll be happy to drop those clothes again and relax in the sauna or on a deck chair under the big evening sky.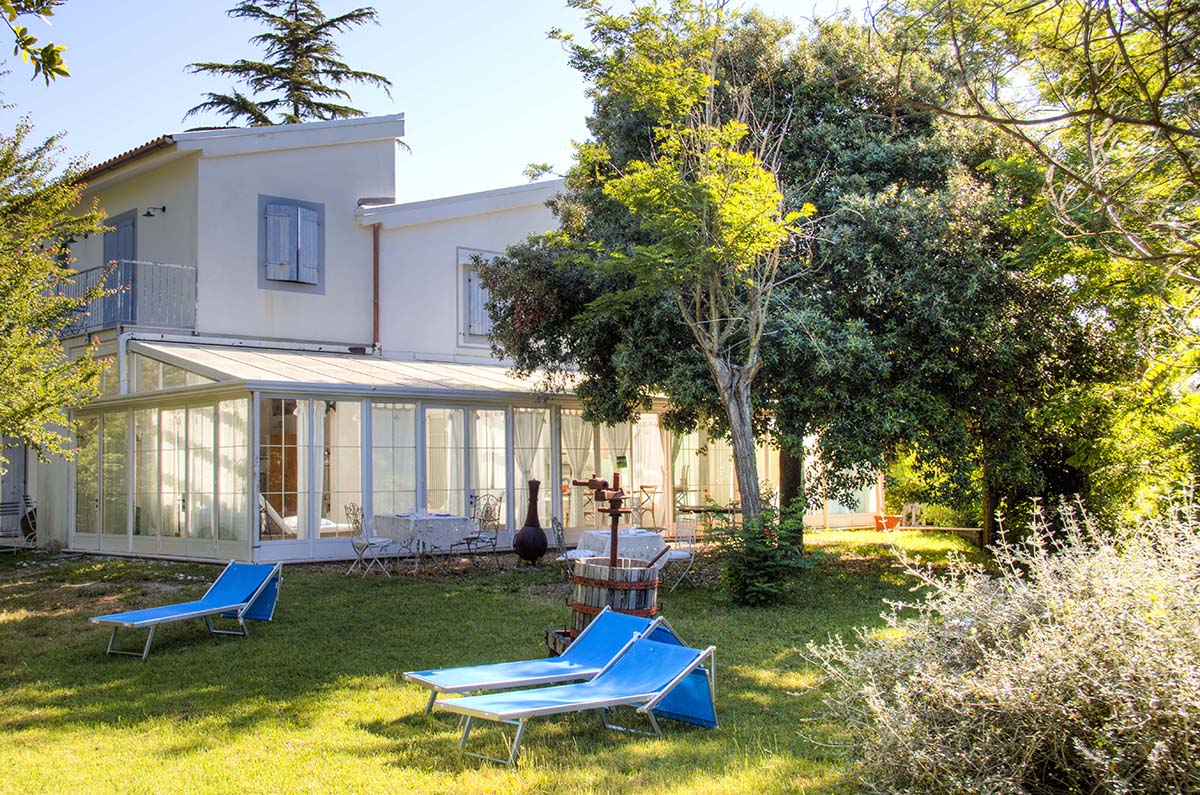 Even if all those sights become a bit overwhelming, you can add a nude relaxing day at Locanda di Terramare to your itinerary, only leaving the B&B for dinner in one of the nearby local restaurants.
At Locanda di Terramare you have the chance to stay in one of the stylish guest rooms. It's also possible to include breakfast to your stay.
Bookings at Locanda di Terramare are preferably made via e-mail (
locandaditerramare@gmail.com
) in English, Italian, French or Spanish.
Nude beaches near Livorno
The name Tuscany calls for images of rolling hills, wineries, beautiful cities and ancient art and architecture. We would almost forget that Tuscany has a coastline as well. What few people know is that this coastline even counts several nude beaches. How cool is that? We visited three nude beaches in the Livorno area which provide a break from all that art and culture and an option to skinny dip in the Mediterranean sea.
All below nude beaches are easily reachable from Locanda di Terramare.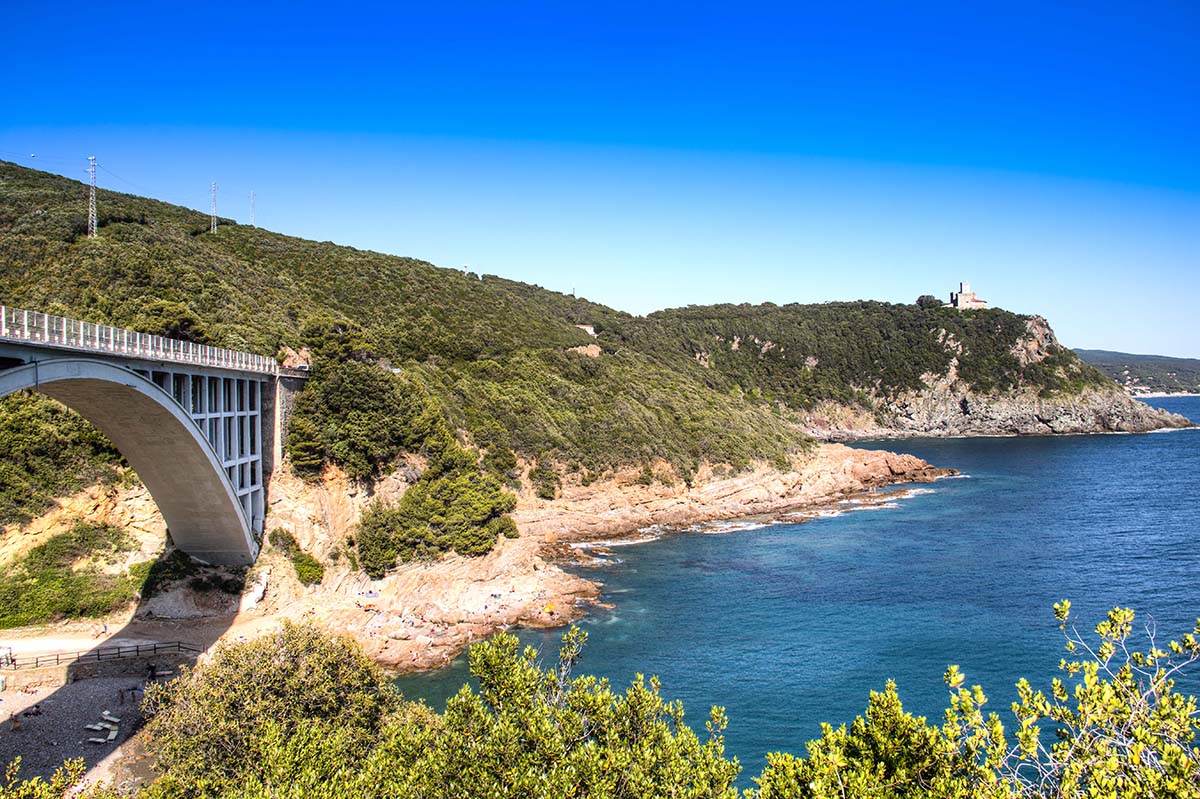 Sassoscrito nude beach
Sassoscrito can be found at about 10 kilometers south of Livorno. The nude part of this beach was only opened in 2018, which makes it one of Italy's newest nude beaches. The beach consists of large flat rocks that are ideal for sunbathing or diving into the deep blue mediterranean sea.
Coming from Livorno you follow the Via Aurelia south. After you pass Punta del Miglio, you'll see a hotel and restaurant called Il Romito on your right-hand side, here you can just park your car at the side of the road. Behind Il Romito is a steep track that will lead you down under the bridge. At the first part of the beach, you'll find many textiles, walk further along the rocks to get to the naturist part.
When we were there, there were several naturists and a van selling drinks at the textile part.
Marina di Bibbona nude beach
Marina di Bibbona is a summer resort town just south of the city Cecina. It has a very long beach of which the southern part is frequented by naturists. When you park your car near the beach, just start walking south. You'll pass several areas with sunbeds and beach bars and afterward, the beach gets more desolated. This is where the naturists tend to come. There are no signs indicating the naturist section.
When we were there on a sunny weekday in June, there were only a handful of other naturists. Make sure to bring an umbrella because there's no natural shade. Food and drinks can be bought in the bars and restaurants in the textile part of the beach.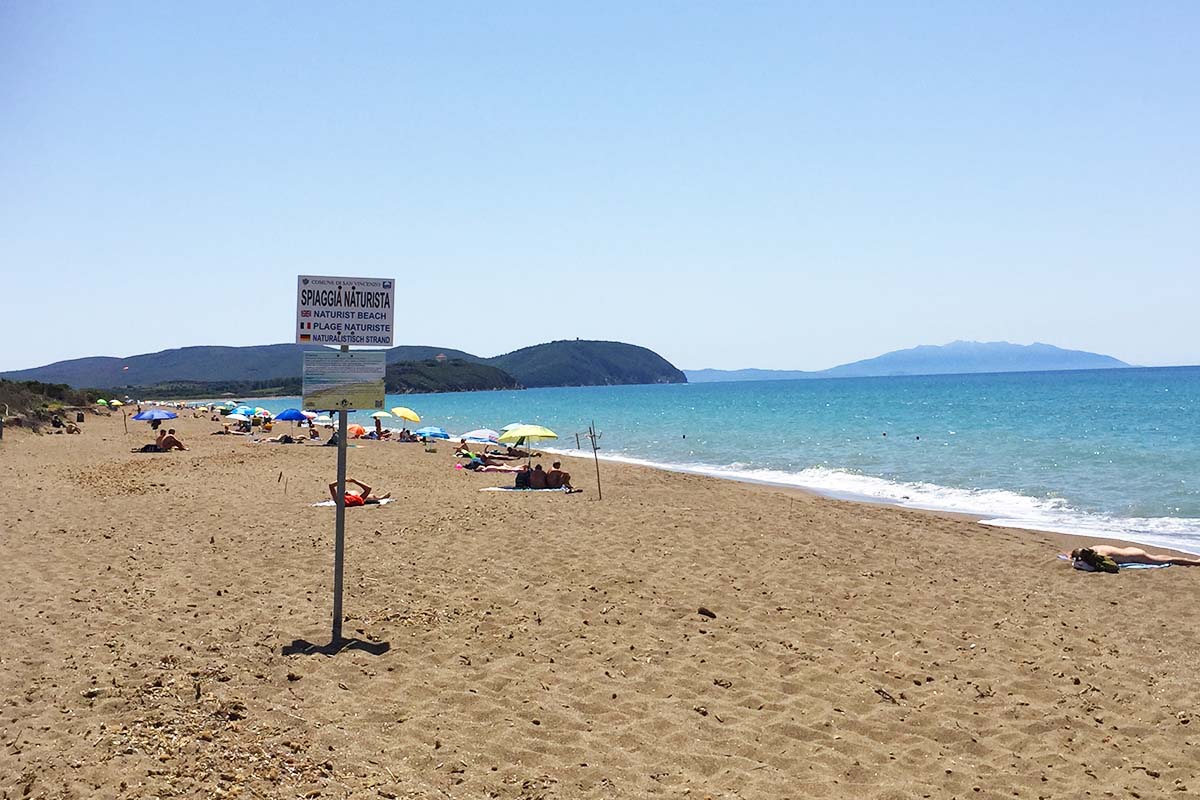 Nido Dell' Aquila nude beach
Nido Dell' Aquila is the most popular nude beach of the region, which we immediately noticed when we arrived. Although it was a weekday in June, there were certainly more than 50 other naturists enjoying the nude beach. It's said that during weekends the number of visitors easily reaches 500. There are several signs marking the naturist part of Nido De'll Aquila beach.
To get there, you want to park your car somewhat 7 kilometers south of San Vincenzo village on the main road, where you see two buildings about 200 meters from each other. One building looks very old while the other is renovated. Next to the old building is a path, the gate will likely be closed but you can access right next to it. From there you follow the trails in the direction of the sea. Along the trails are several signs pointing towards the nude beach.
Nude in nature at Sasso Corbo
A downside of traveling through Tuscany, especially in high season, is that it gets overrun by tourists. Millions of them come to this small part of Italy. Queues at popular monuments and museums tend to go for tens if not hundreds of meters and traffic jams take away much of the romance that's normally so much linked to Tuscany.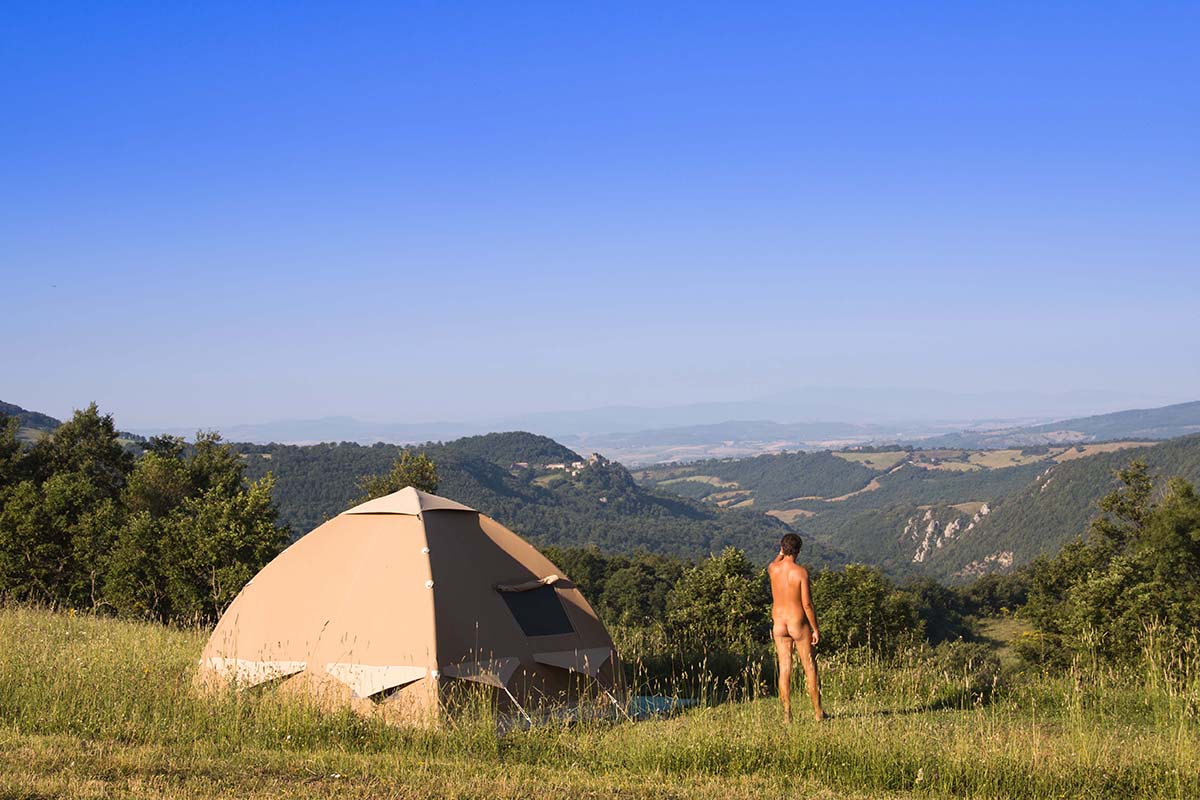 But not in the south of the region. The Grosseto part of Tuscany has somehow remained undiscovered by mass tourism and proves to be the perfect spot to escape the heat of the summer and the tour buses. On the side of a mountain, overlooking a beautiful valley, you can find naturist camping Sasso Corbo. With only 42 camping spots and three glamping tents on a 23-hectare domain, Sasso Corbo is a place where you can bring your nude self back to nature. While enjoying the company of other like-minded naturists.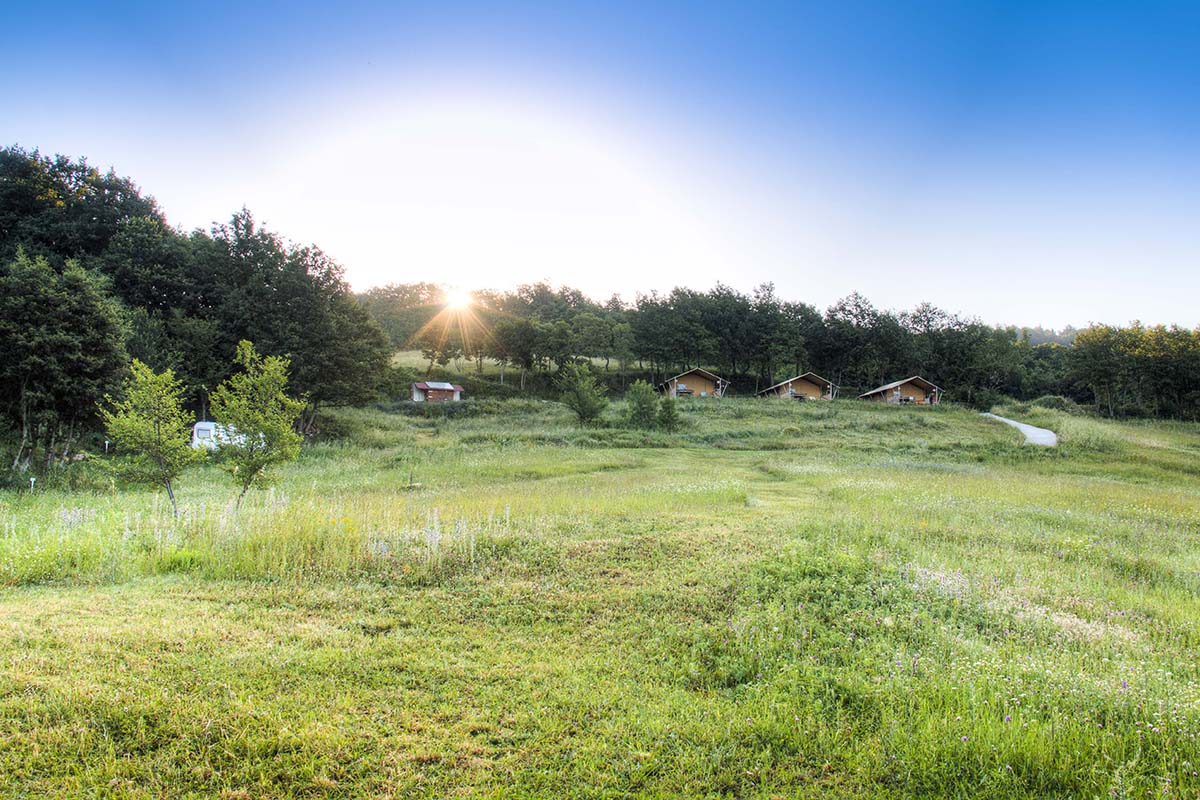 Many visitors prefer to spend lots of time at the camping, wandering around the property, skinny dipping in the pool, sunbathing in front of their camper or just staring in the far distance. During high season events like communal dinners and wine tours are organised so you can learn something about the local cuisine without having to put pants on. But it's definitely worth to explore some of the region as well. Natural beauty, ancient Etrusk villages and friendly people will be welcoming you. This region is not the place to rush from one sight to another. There is no stress here. Sipping wine on a terrace tasting local delicacies and watching life go by is something you'll quickly learn to appreciate.
At Sasso Corbo, you can either put your tent or camper down at one of their 42 idyllic camping spots or rent a super deluxe safari tent.
Bookings at Sasso Corbo are preferably made via their website (
www.sassocorbo.com
) or by phone (
+39 366 28 55 065 / +39 366 477 87 40
), in English, Italian, Dutch, French or German.
Nude time while visiting Rome at Suncave Gardens
Many will agree that Rome is the masterpiece of every road trip through Italy. The city has so much history that it becomes almost impossible to comprehend. Julius Caesar, Augustus and Nero (and many other emperors) once shaped a significant part of the world from this very spot. Architectural sites like the Colosseum and Forum Romanum make it easy for your imagination to teleport yourself back to ancient times. Also for religion, Rome was and still is a very important place.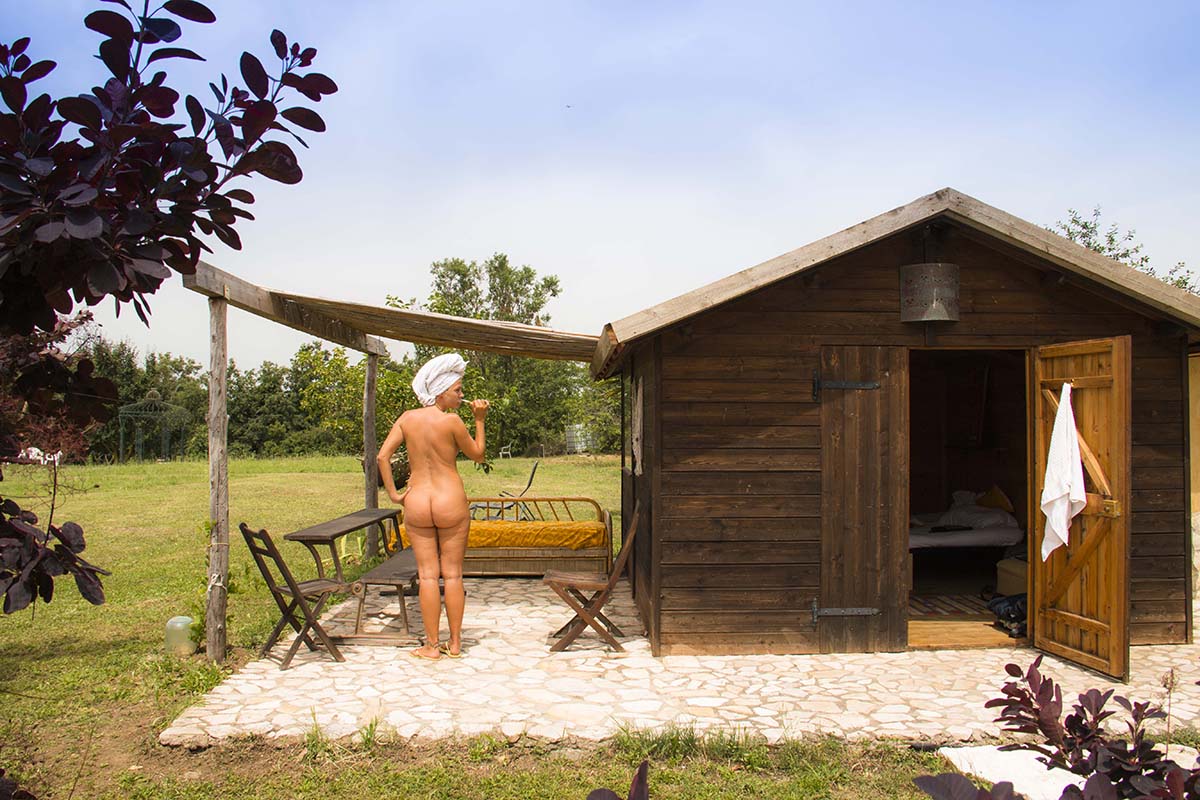 Getting naked in Rome will be difficult, if not impossible. Luckily, at about an hour drive from the city center, you can find Suncave Gardens. A naturist domain tucked away in the hills around Lake Bracciano. If you don't want to stay in the busy city center of Rome and if you like to spend a part of your stay in the region in the nude, Suncave Gardens will prove to be your perfect retreat. The large domain consists of an olive grove, many fruit trees, a large swimming pool surrounded by a lawn perfect for sunbathing and the cherry on the cake: Their own cave.
Why would you want a cave? You'll be surprised about how multifunctional they are: escaping the warm afternoons, meditating, yoga or just a good nap. The cave proves to be the perfect spot for all of that.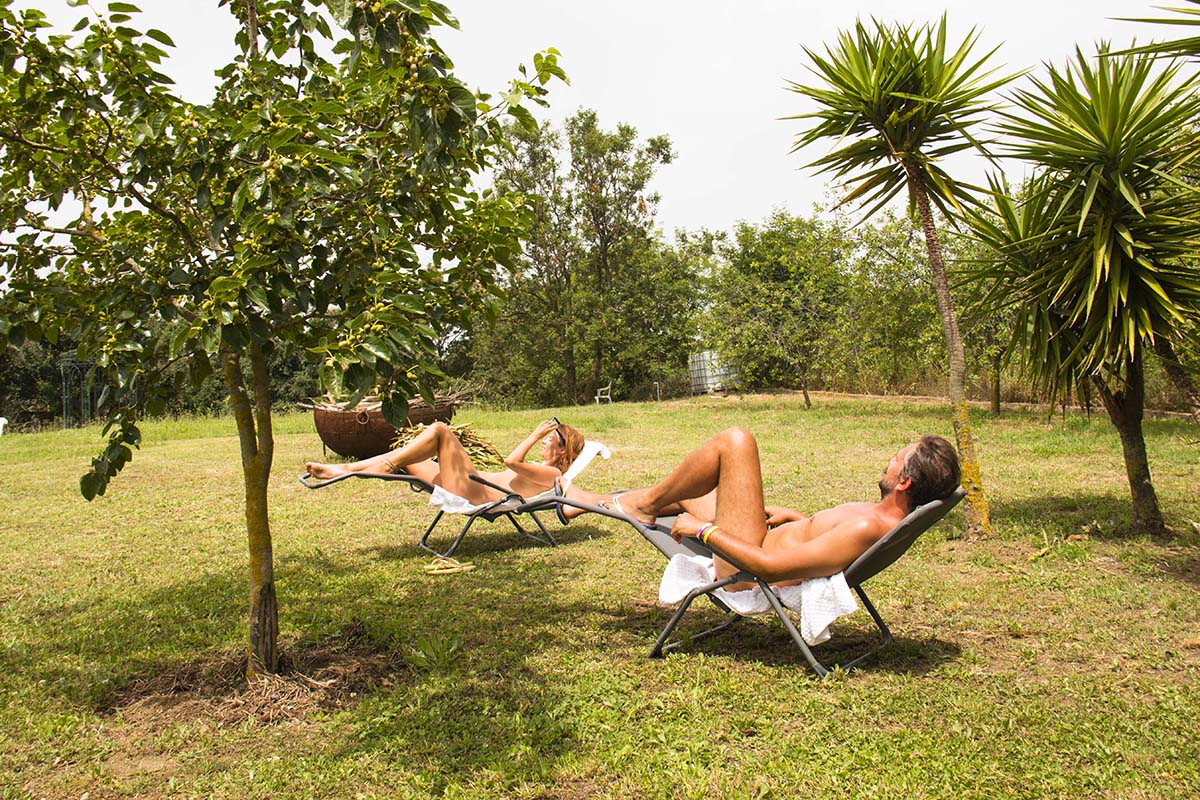 Suncave Gardens often organizes mindfulness, meditation, and yoga sessions as well as cultural events. More culture can be found nearby in the villages around Lake Bracciano. Cozy small streets and impressive castles will suck you up into the Lazio culture. The region is also perfect for hiking and cycling and the before mentioned nude beach is only a 30-minute ride away.
At Suncave Gardens you can either stay in one of the guest rooms or in a chalet or cottage.
Bookings at Suncave Gardens are preferably made via e-mail (
suncave13@gmail.com
) or by WhatsApp (
+39 329 790 4369
), in English, Italian, German, French & Spanish.
Nude with the Romans at Santa Severa beach
A popular nude beach near Rome can be found in the small town of Santa Severa, just north of the city. It's a long stretch of black sand textile beach which has its own naturist section. We found it a bit strange (at least for Italian standards) that the naturist part is located right between two textile parts. This made us expect some gawkers pretending to walk from one textile part to the other, but surprisingly we didn't see any of those on the warm Sunday afternoon when we were there. The presence of the local naturist association of Lazio might have had something to do with that.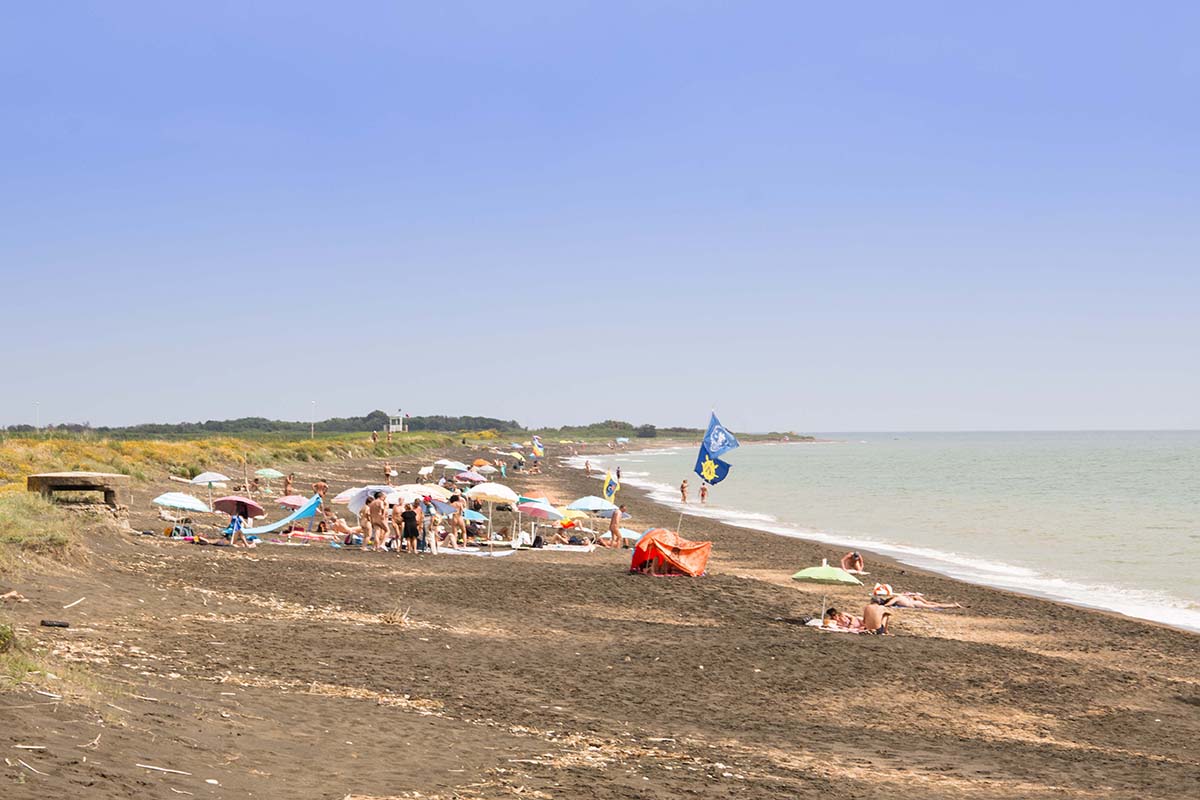 Getting to the Santa Severa nude beach is a bit tricky. If you're in front of Santa Severa castle, you want to get to the left size of it. There used to be a path but when we were there, the gate was closed. We noticed some naturists go via the right side of the castle and around it, which includes wading through the water and via sharp rocks. Luckily we found a small trail near the parking which goes via a field to the nude beach. If you ask around, people will probably show you the way.
It takes less than a 30-minute drive from Grottamiranda to Santa Severa nude beach.
Beware: There is no shade at the beach and the black sand tends to get very hot under the sun. So bring an umbrella and decent footwear. That Sunday when we were at the beach, there was a guy selling ridiculously expensive drinks. It's much more economical to bring your own cooler.
Comfortable naturism at Grottamiranda in Puglia
For the last part of this nude road trip to Italy, we'll take you all the way down south, to the Puglia region. Puglia is often called the "real Italy". A part of the country where the people are loud and friendly and talk more with their hands than with their mouths. It's the very end of Italy, the last piece of land. And luckily there's also a wonderful naturist resort in Puglia, called Grottamiranda.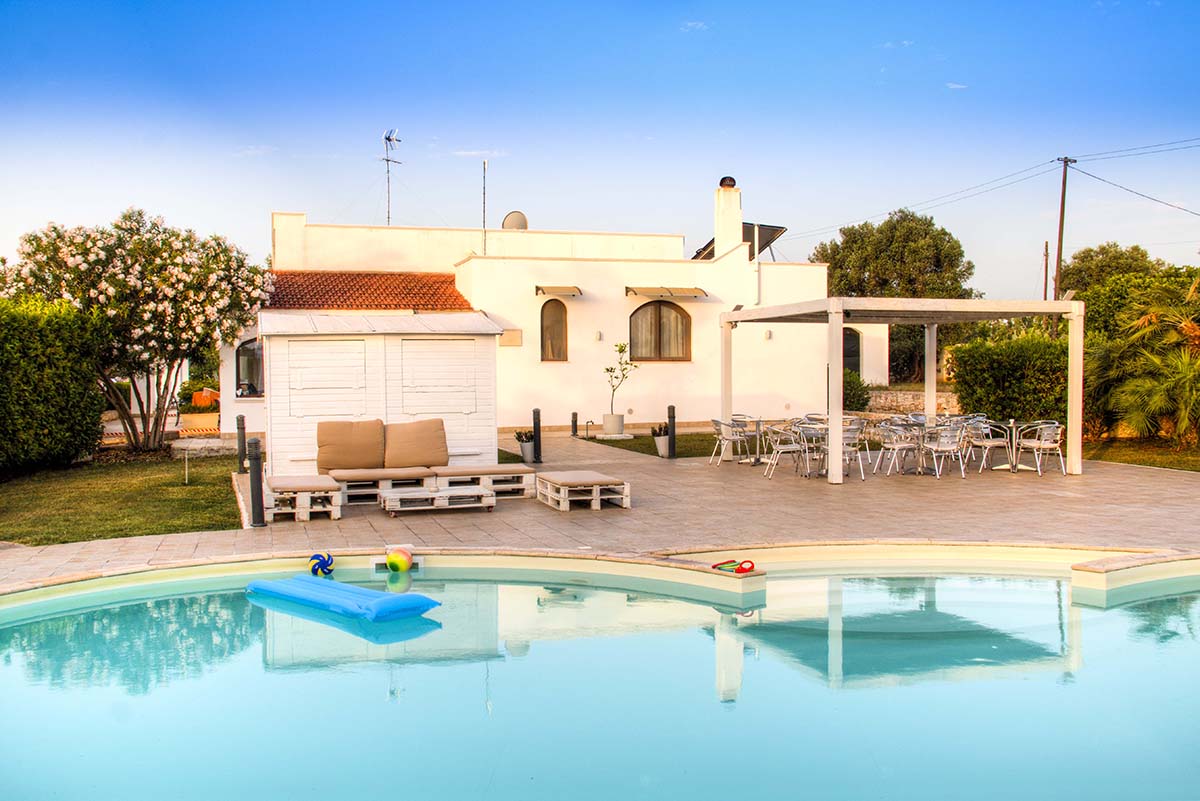 Grottamiranda can be both the perfect ending or the perfect start of your Italian journey. It's a place to relax after a busy time at work or to prepare for going back to the rat race. Grottamiranda is a typically styled farmer's home with comfortable studio apartments and a large swimming pool where you can cool down from the dry heat during the summer months. There are many secluded spots on the domain perfect to read a book or take a nap in all peace and quietness. In the evenings you may want to move to the jacuzzi from where you'll awe at a million stars. Most of all, Grottamiranda is a place where you come home and where Martine and Pierre take excellent care of you.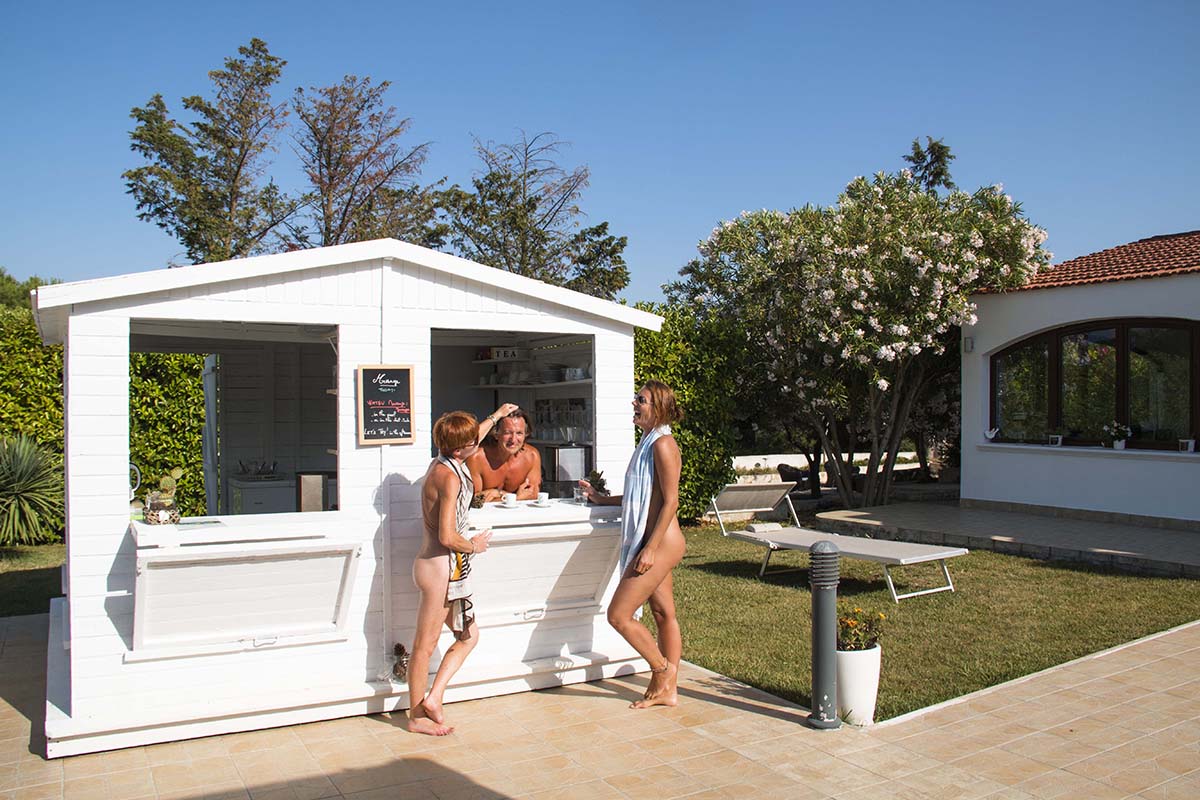 If you find the time between all those skinny-dips and books and naps, the Puglia region is certainly one you'll enjoy exploring. There are wonderful seaside villages, ancient cities sprawling with history and culture and probably the most archaeological sites in the country. We would also recommend to rent a bicycle for the day and ride through endless olive groves while deciding on the perfect tree to have your picnic under.
Skinny dipping in the Adriatic sea
Lots of naturists have already enjoyed a nude swim in the Adriatic sea, but the large majority of them did so on the Croatian side. At the last destination of our nude road trip through Italy, you get the possibility to get your naked behind in the Adriatic on the Italian side. At the Torre Guaceto nature reserve. Here you'll find all that the Adriatic is famous for: A calm and shallow sea in all different shades of blue.
Finding the nude beach at Torre Guaceto is not easy but luckily Martine and Pierre from Grottamiranda can give you the perfect instructions to get there.
Torre Guaceto nude beach is located only 7 kilometers from Grottamiranda.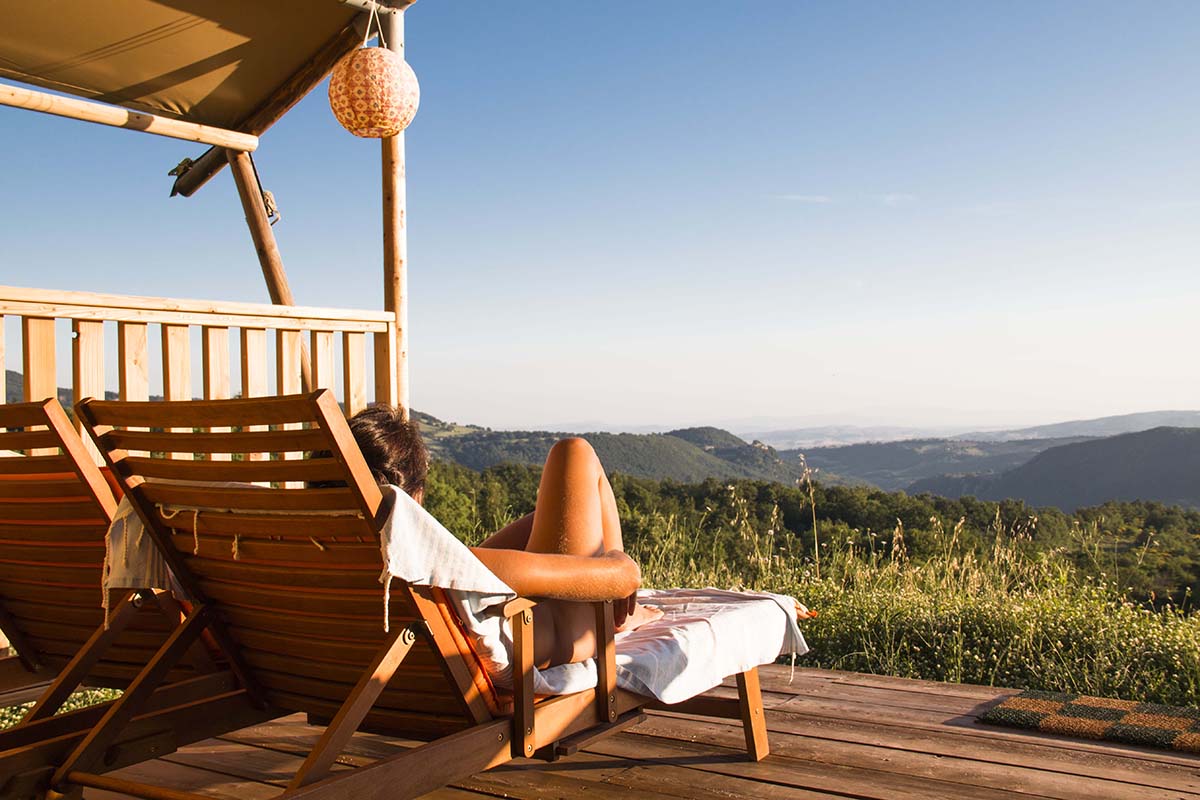 Practical info for this nude road trip through Italy
Accommodation
At all the places we've picked it is not necessary to bring your own tent or camper. All five naturist places have accommodation options for rent. If you do bring your own, Sasso Corbo welcomes guests with a mobile home, caravan or tent. At Suncave Garden it's possible to put down your tent.
If you're planning to make other stops at places with no options for naturists,
Airbnb
has lots of accommodations in Italy. Or you could rent a mobile home, have a look at
Outdoorsy
for some great options.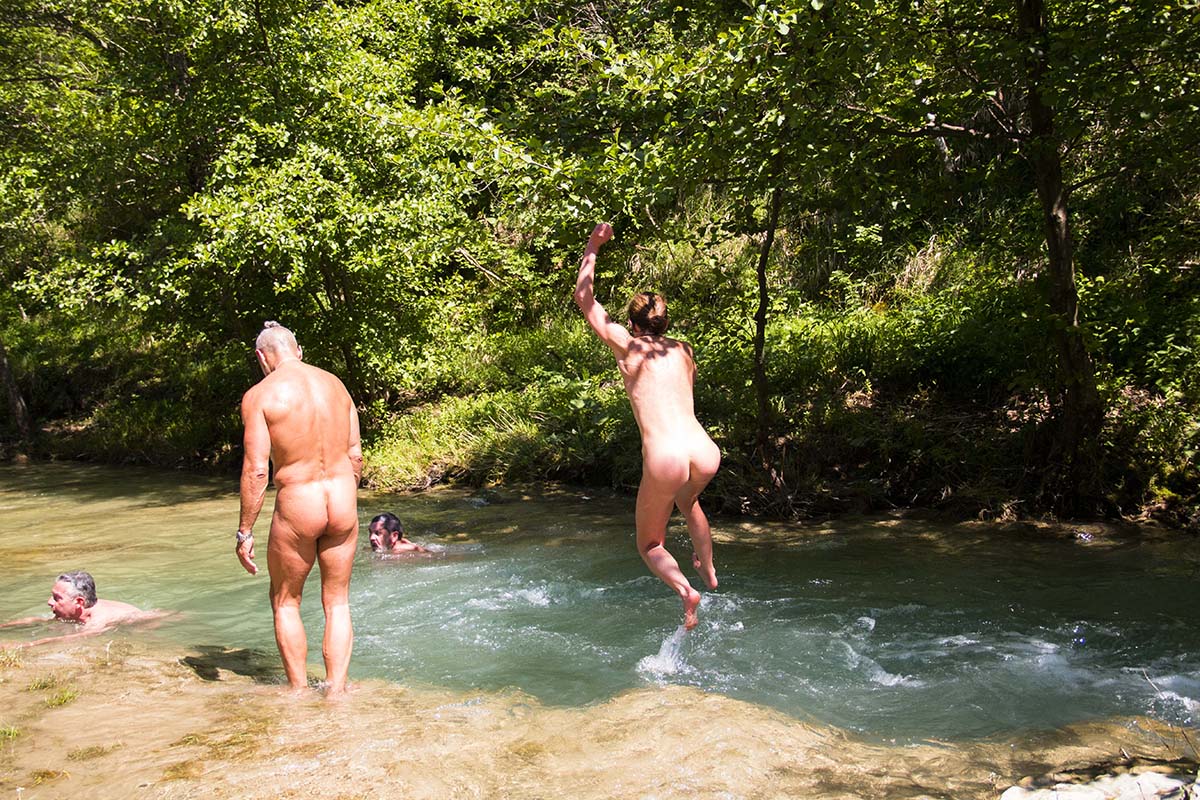 Transportation
For this road trip, private transportation is a necessity because most places are hard (if not impossible) to reach via public transport. Our research showed that
EconomyBookings.com
gave the best options for a rental car in Italy. But it's always better to check more than one website and compare the prices. You can find several great websites for rental cars on our
Resources page
.
Both Bologna (the start of this road trip) as Brindisi (the end) have international airports with connections to all over Europe. We found that Ryanair had the best options because we travel with hand luggage only. It's a good idea though to compare flight prices via websites such as Skyscanner.
For the last lap, from Rome to Brindisi, you might want to consider taking the train because of the distance. There are several connections per day and the ride takes about 5 hours.
Flixbus
is significantly cheaper but takes between 7 and 11 hours. It's possible to rent a car in Brindisi or Grottamiranda can also arrange a pickup.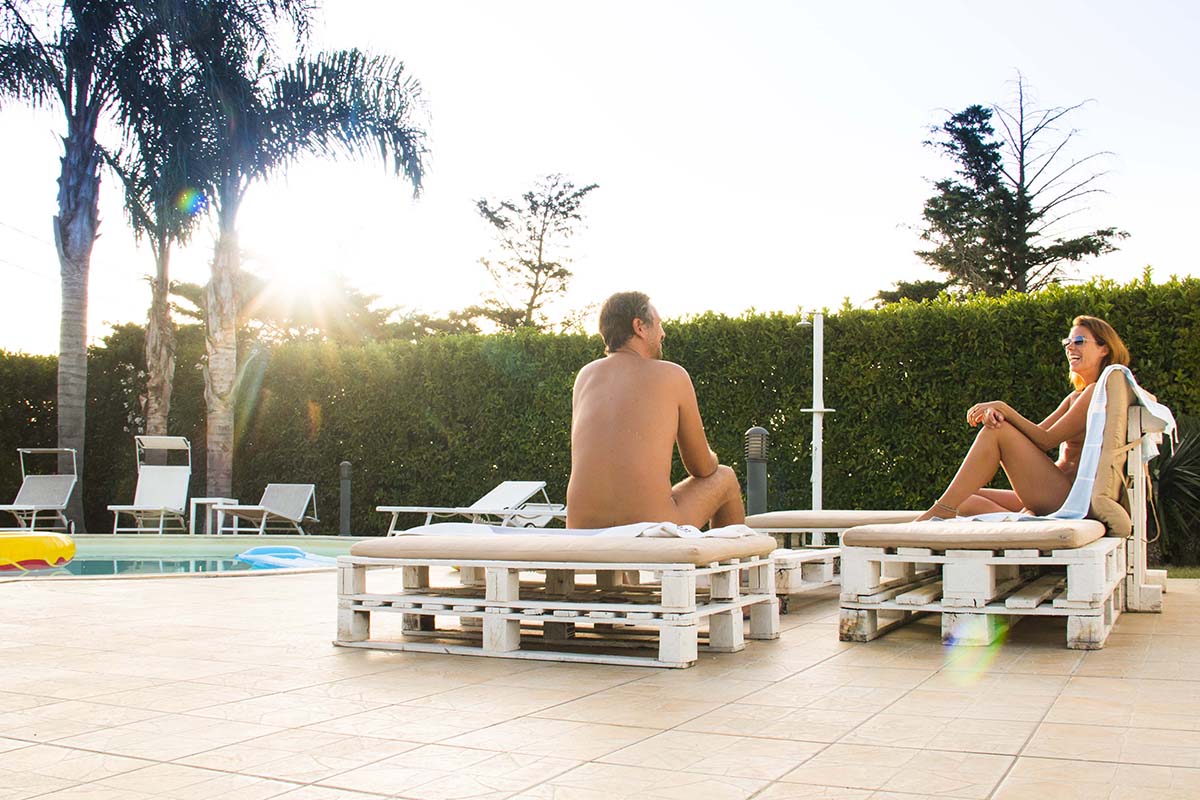 The language
It's often said that Italians don't speak anything else than Italian. We found this not to be true. At least not in the places we visited. English will get you a long way and also French and Spanish might not be perfectly spoken but are often well understood.
Food and drinks
Food in Italy is so much more than pizza and pasta. In fact, we believe that the country has some of the most delicious foods in the world. And then we're not yet talking about the wines.
It's important to know that Italians tend to eat in four courses:
1: Antipasti: A selection of small bites
2: Primi: The first course, often pasta, risotto or soup.
3: Secondi: The main dish, this can literally be everything.
4: Dolci: The desert.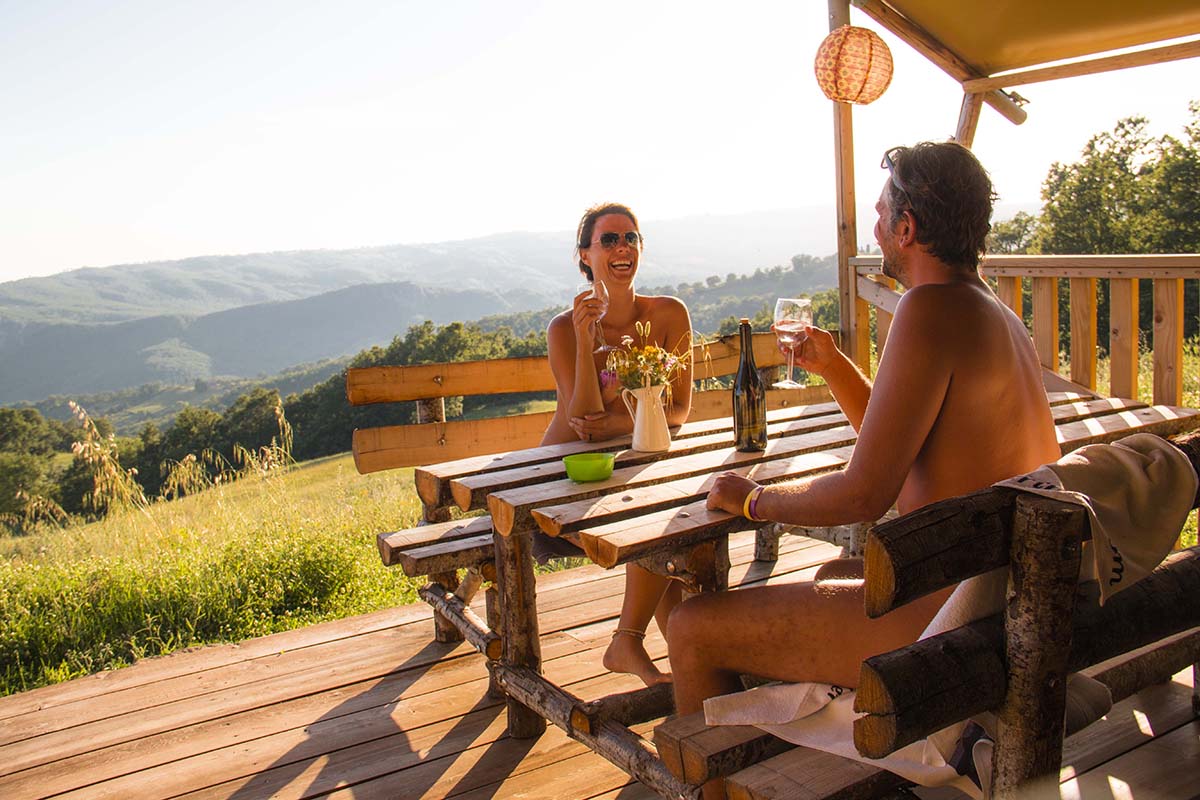 Depending on the restaurant and the region, antipasti can really be a lot. In the Puglia region especially. We found ourselves already full when the first course still had to come. Often it's a good idea to order one antipasto for two persons.
If you're into pasta or risotto, keep in mind that this is the first course in Italy and that the sizes will not be very large. Many visitors who only order a pasta bolognese leave the table still hungry.
According to Italian standards, the main dishes don't come with sides. Or maybe just a leaf of lettuce and a slice of tomato to give the plate some color. You're likely to find a section "Contorni" on the menu, where you can choose possible side dishes.
No matter how much food you order, make sure to leave some space in your stomach for a desert. Italy is famous for its gelato (ice cream), but also tiramisu and panna cotta should be added to your food itinerary.
If you really want to dine like an Italian, finish your meal with a digestive. Limoncello, grappa, and amaro are the most popular ones.
Which brings us to drinks, and we can be really short about this. Try the Italian wines, they are delicious. Each region has its own kind of wine, we particularly preferred the Chianti wines in Tuscany and the Salento wines in Puglia. At many bars, you'll get a variety of snacks when you buy a glass of wine. In the hot weather, more than once these snacks replaced our lunch. It's a good tip.