Oh France, you naturist paradise! It almost feels like we should start a separate blog, just about
naturism in France
alone. Even then we would probably not be able to explore everything the country has to offer for the naked traveler. During this summer we decided to travel through the southern regions of France and search for the best naturist vacation destinations. Because we found so many places to talk about, we decided to split our experiences into two blog posts.
Some time ago you could already read about the naturist spots we found in the south-western part of the country, in our
Nude French Road Trip Part 1
. Today we're going to tell you about our travels in the south-east part of the country. On this road trip, we'll take you to the Provence and east Occitanie. We'll tell you about the beautiful family naturist campings and about getting naked in pure nature. And we'll show you that naturism in France is more than only camping. As a cherry on the cake, we take you to Europe's largest naturist domain. And we're sure that you'll be surprised.
Why going on a nude vacation in the south-east of France?
France is a pretty large country (to European standards) and the regions differ a lot from each other. Only one thing is sure, wherever you go in France, you will find nice places to get naked. The specific region through which we're going to take you on a road trip today is often considered the most famous in the country. We take you to the beautiful Provence, known for its hills and rivers, for its historical cities and endless lavender fields. And you're going to explore a part of the Côte d'Azur, the French Riviera. The part of the French coast famous for jet set holidays and topless sunbathing.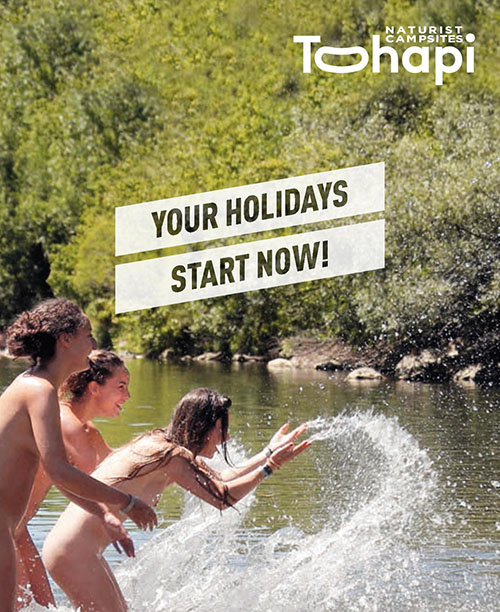 We're not satisfied with only topless though. We want the full nude experience. Luckily for us, the options are plenty. And they're never much further away from each other than a couple of hours drive. The downside of these French regions is that they tend to become completely overrun by tourists during high season. Luckily there will always be the option to retreat to a relaxed and peaceful naturist resort. Because even though
naturism in France is seeing a significant uprise
, the atmosphere at the naturist places hasn't changed at all.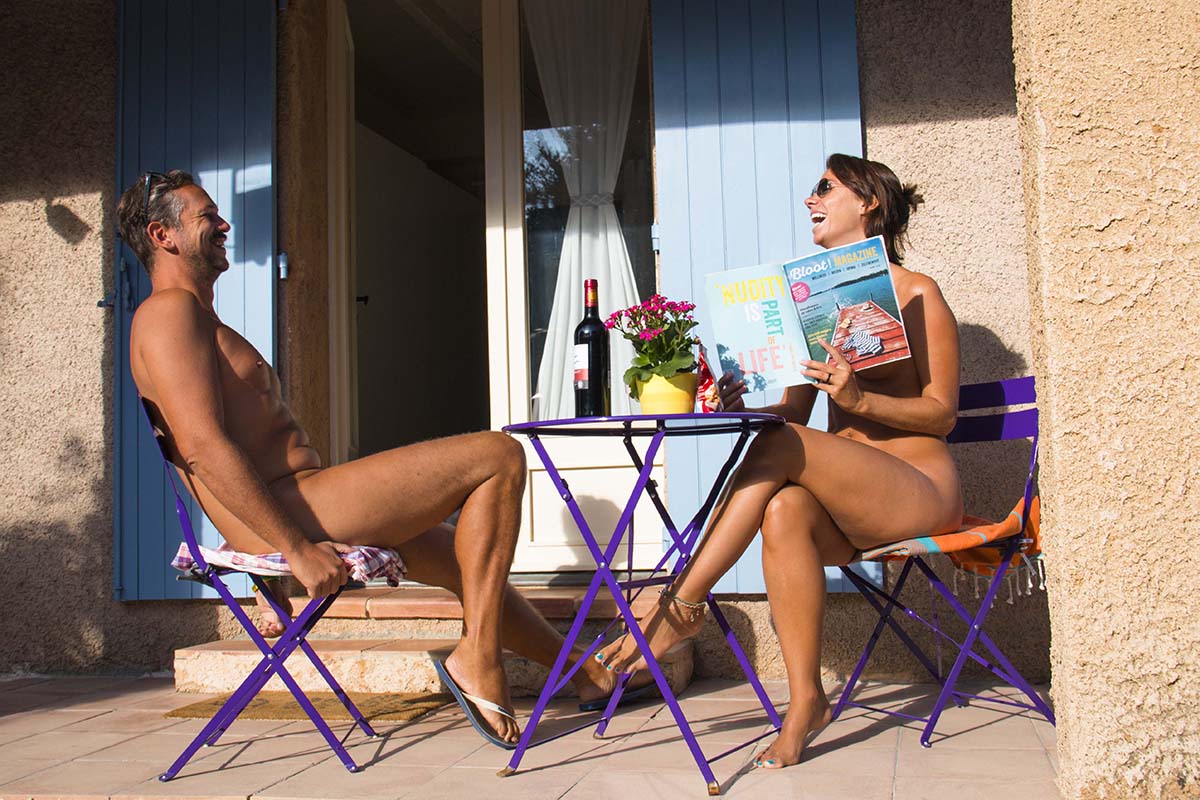 A nude gateway to explore the Côte d'Azur: Naturist B&B La Fenouillère
We don't know about you, but when we go on a vacation (and especially a nude one), the first couple of days we want to completely de-stress. Give ourselves the time to adjust to our holiday mood and most of all do nothing we would do back home. No cell phones, no cleaning, no cooking, no nada. That's exactly why we've picked La Fenouillère as the perfect starting point for this nude road trip through the south-east of France.
La Fenouillère is a three-room naturist bed and breakfast where all the comfort you need is provided in a friendly family atmosphere. Marijke and Geert welcome you in their home and take care of you as if you're old friends. Something you'll probably become by the end of your stay anyway. Spend your days in the nude relaxing next to the swimming pool, read a book, have an occasional skinny dip and work on that equal tan under the French sun.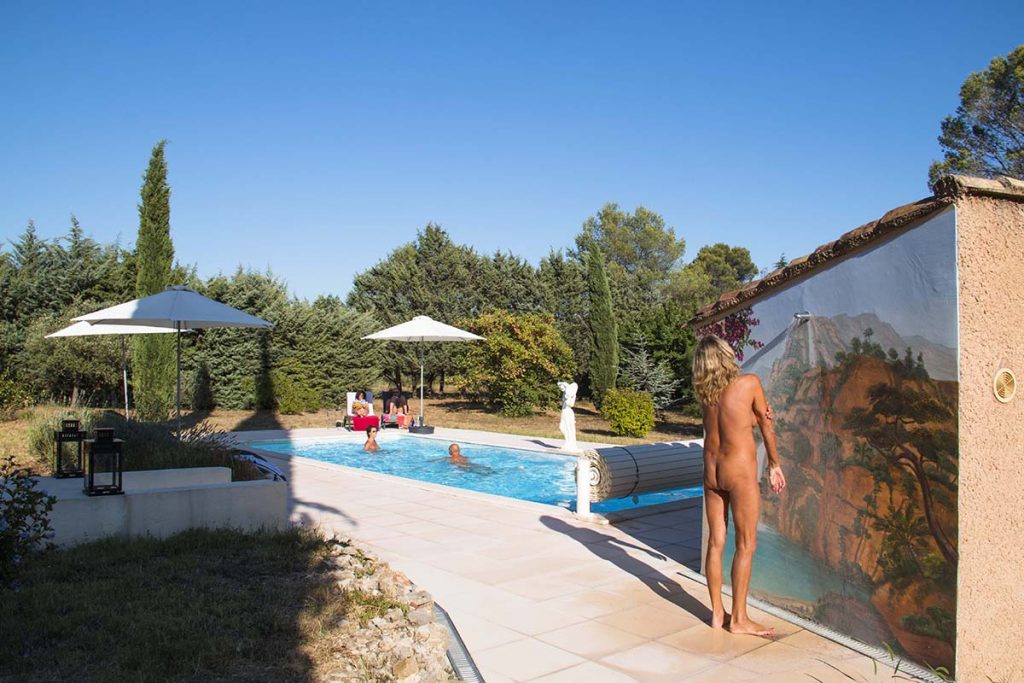 Even if you get hungry there's no need to put your clothes on. You get the chance to participate in a delicious evening dinner together with your hosts. Long evenings of good food, great wine, and wonderful company are the best to end your first vacation days. If you do want to get active from day one, there's lots of natural beauty in the region, there are about 400 wineries to try and the Var department happens to have the most nude beaches of the whole French Riviera (see further).
Bookings at La Fenouillère are preferably made via their website (https://www.chambres-dhotes-naturiste-provence.com), e-mail ([email protected]) or by phone (+33 (0)7 85 08 89 54).
Nude beaches between Hyères and Saint-Tropez
The French Riviera, locally called the Côte d'Azur, has been famous for its topless sunbathing for decades. But there are quite some parts of this beautiful coastline where you're allowed to drop your pants as well. We've visited three of the nude beaches between Hyères and Saint-Tropez. There are several others, ask at La Fenouillère for a complete overview.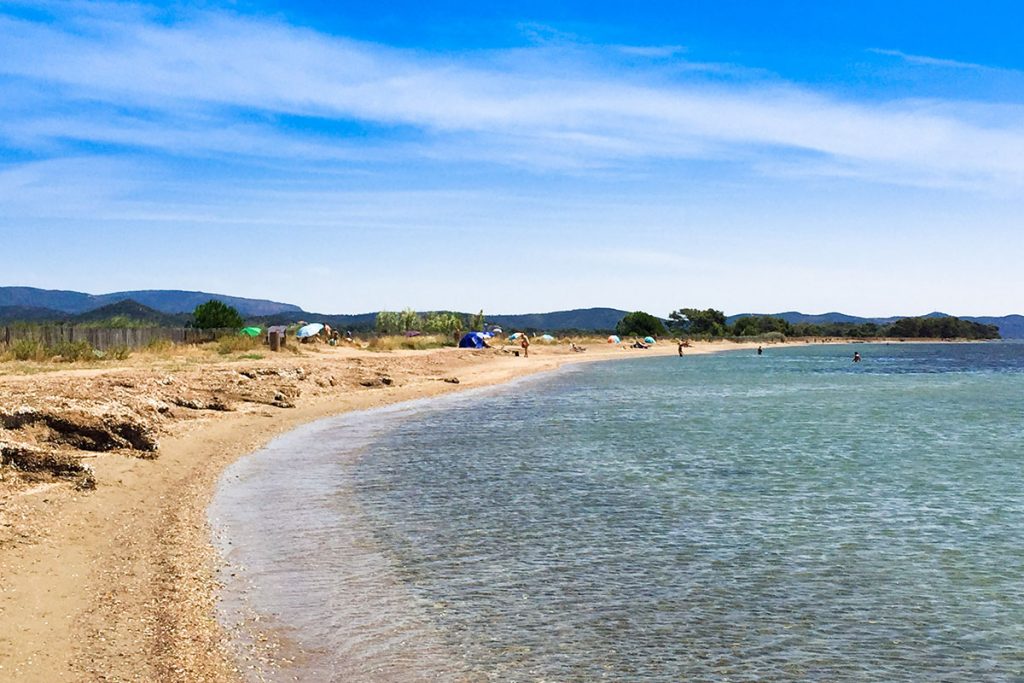 Les Salins d'Hyères
A very large stretch of sandy beach near the town Hyères. Park your car at the far end of the village Salins d'Hyères and when facing the sea start walking to the left. Once you get past the busy textile section you'll end up between the naturists. Or if there aren't any, when you're far enough from the others it's okay to drop your pants. There was quite a strong wind when we were there, which made our sandwiches really live up to their name (yeah, we know, bad joke). Otherwise, it's a really enjoyable beach and great for nude swimming in the Mediterranean.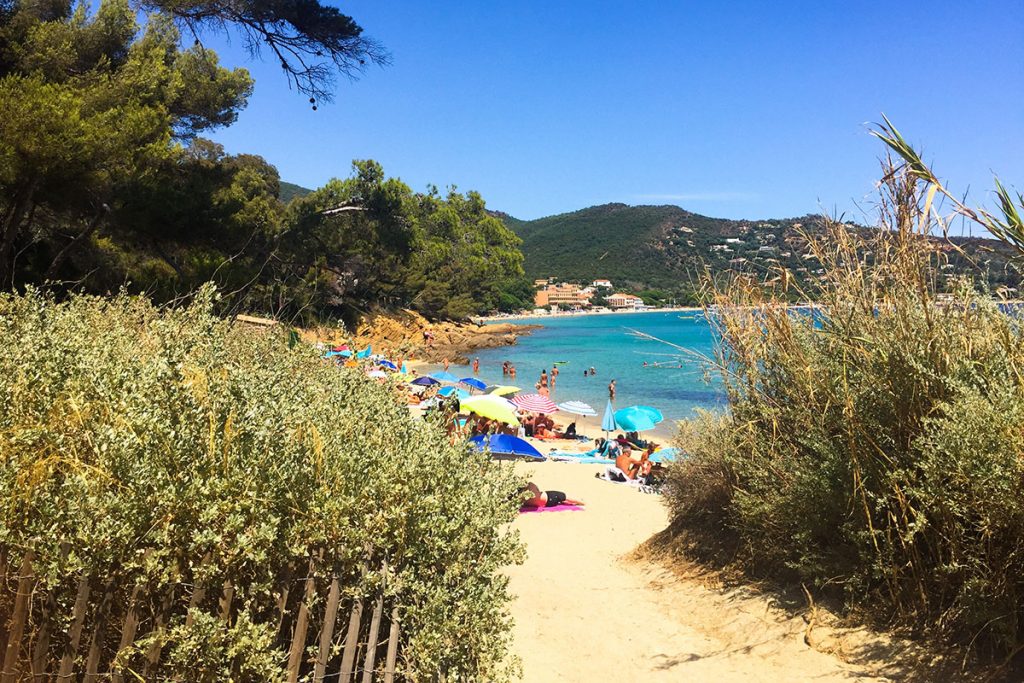 Plage du Layet
One reason why we love nude beaches so much, other than the fact that we're allowed to be naked, is because normally they're much less crowded than their textile neighbors. Well… Plage du Layet is one of the few places where it's completely the other way around. The beach is located in one of the small bays of Pointe du Rossignol. While there weren't that many visitors in the other bays, Plage du Layet was packed. Really. There was barely a single spot left on the sand.
Of course, there's a reason for that. The beach is one of the most idyllic ones in France. The flat emerald-colored water in the bay could perfectly be stolen from the Caribbean. Even with lots of other people, there was quite a relaxed vibe and best of all, there's a bar/restaurant on the nude beach. You are required to wrap yourself into a sarong to enter though. At Plage du Layet there are also deck chairs for rent. So our tip: If you want to go and you want a good spot, go early.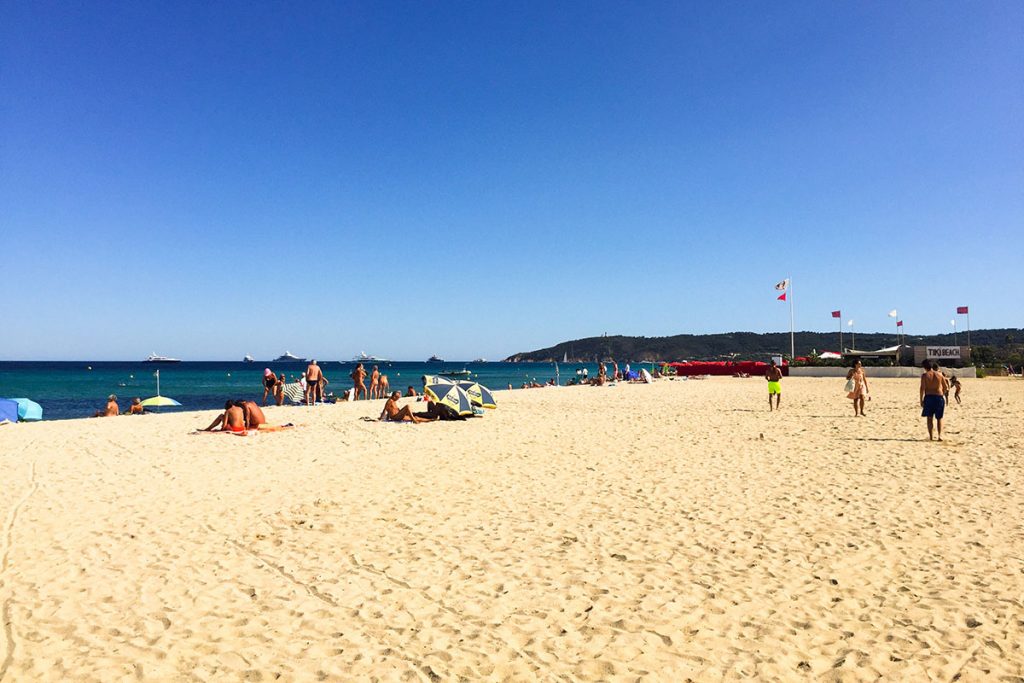 Plage Neptune
Although technically located in Ramatuelle, Plage Neptune is considered one of the beaches of the famous Saint-Tropez. This is a nude beach in the mids of the jet-set city. We have to warn you though, Plage Neptune is not for everybody. If your idea of a day at the nude beach means nature and relaxation, this is not the place you want to visit. Right behind the nude beach are several exclusive beach bars sending loud music over the whole place. These bars are not naturist of course, so there's quite a textile public as well.
We liked Plage Neptune just because of that. There we were with our naked butts in the sun while others were passing by in bikinis that probably cost more than our rental car. And we're not talking about the rental price. Plage Neptune is the proof that nudity and expensive clothing can live next to each other. The question is only for how long. Even though Plage Neptune is an official nude beach, we're a bit afraid that the power of money might overrule the right of freedom one day. That's another reason why we're happy that we've been now. We don't know how long this nude beach will keep existing.
Extra: Île du Levant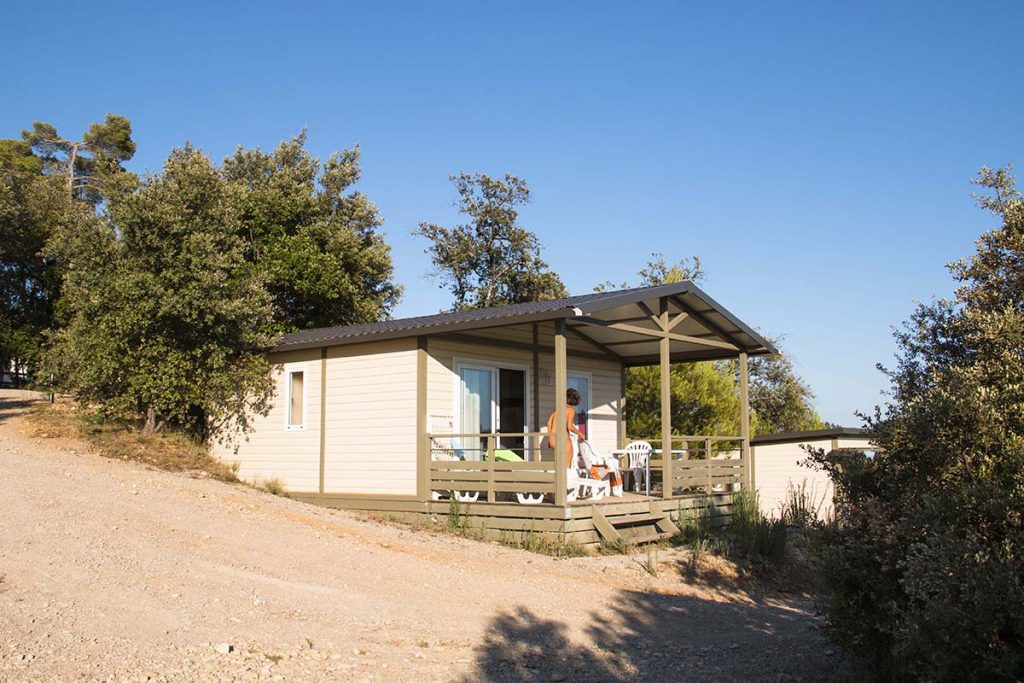 Nude in splendid nature: Camping Naturiste Verdon Provence
Now and then we stumble upon places which are not (yet) on the beaten naturist path of France. One such example is the beautiful Camping Naturiste Verdon Provence. With only about seventy camping spots, Verdon Provence is considered to be among the smaller naturist campings in France. But that's only one way to look at it. When we tell you that the whole domain is 33 hectares, that's a whole other story. That's a lot of place for not so many naturists.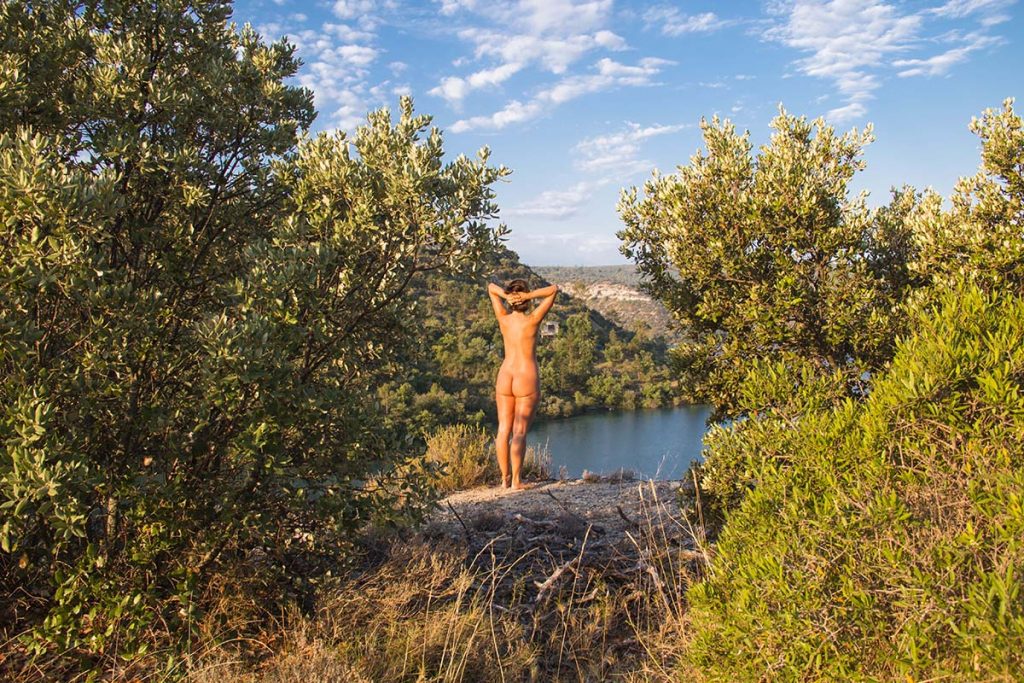 If being naked in nature is important for your naturist vacations, we can definitely recommend camping Verdon Provence. But the place offers much more than that. Even if you don't like the 15-minute hike down to the lake, you can still enjoy the swimming pool. You can still enjoy the bar and the restaurant and the amazing views.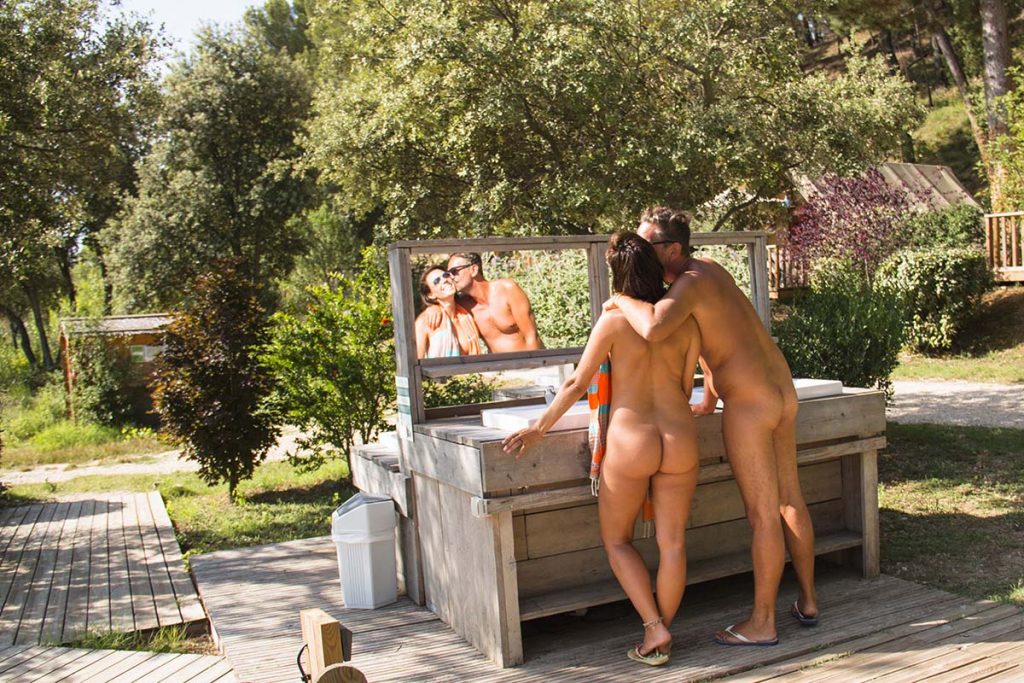 France's most famous family naturist camping: Domaine de Bélézy
Does Domaine de Bélézy still need an introduction? It's one of the best-known family naturist campings in France and also one of the very few who can be proud to present five stars. Bélézy is definitely an established name and from the moment we walked in we knew exactly why. The place just has it all. The domain is roughly divided in two by a road, the camping part on one side and the recreation part at the other. Because of a tunnel between both parts you are never required to put clothes on.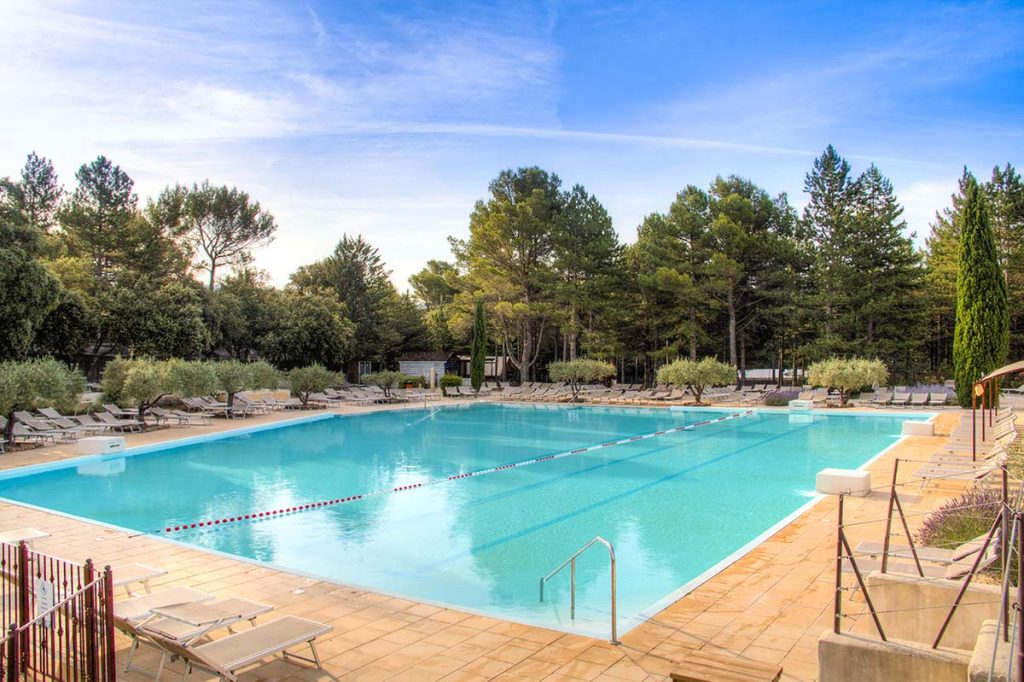 The recreation part is something we've rarely seen before. And we've been around, you know. There's always so much going on, it's incredible. You just won't believe it unless you've seen it. Activities start from the early morning until late in the evening. There's sports and art and excursions and so much else. If we keep talking about what to do at Bélézy there will be little space left for the other places we want to mention in this blog post. Another highlight is the location of camping Bélézy. Right at the foot of the Mont Ventoux. This is the Provence from the documentaries. Lavender fields and hills and greenery and wineries and everything you could wish for your nude vacation in the region.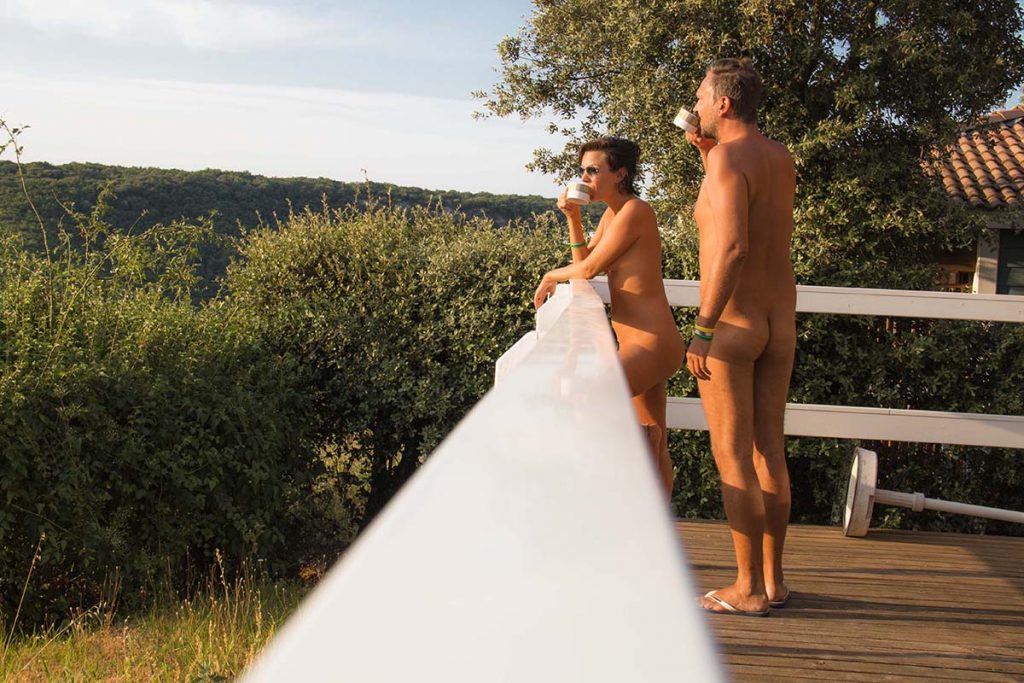 High on the hills: Domaine de la Sablière
Another very well established name when it comes to naturist campings in France is, of course, Domaine de la Sablière. It's the combination of wonderful nature with all the facilities that come with a large naturist camping. The domain reaches from the top of a hill all the way down to the Cèze river. The good thing about this is that there's something for everybody.
If great sunsets and amazing views are your things, try to stay at the top of the camping. If you prefer green surroundings and early skinny dips in the Cèze river, stay at the bottom. And if you want to stay close to all the facilities, get your spot about halfway down. And the facilities are numerous. Several swimming pools, all kinds of sports, three restaurants, activities, entertainment, you name it.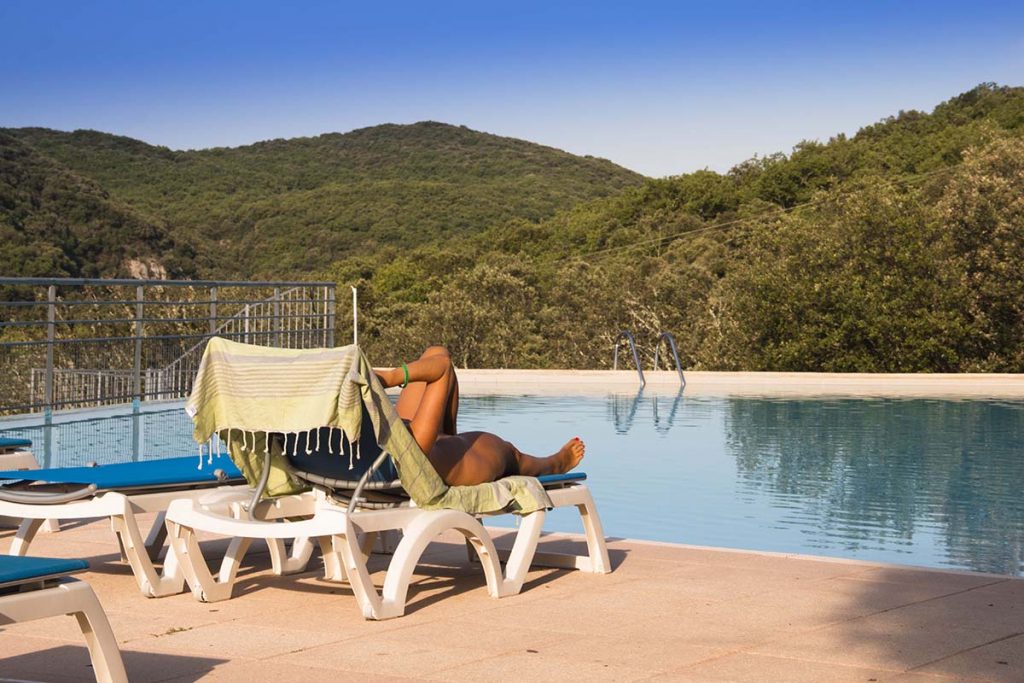 One of the great things about La Sablière is that it never seems like a 600 pitch camping. Only when you start walking up and down the hill you get an idea about how large the place really is. But once at "home", you get all the privacy of a small naturist camping.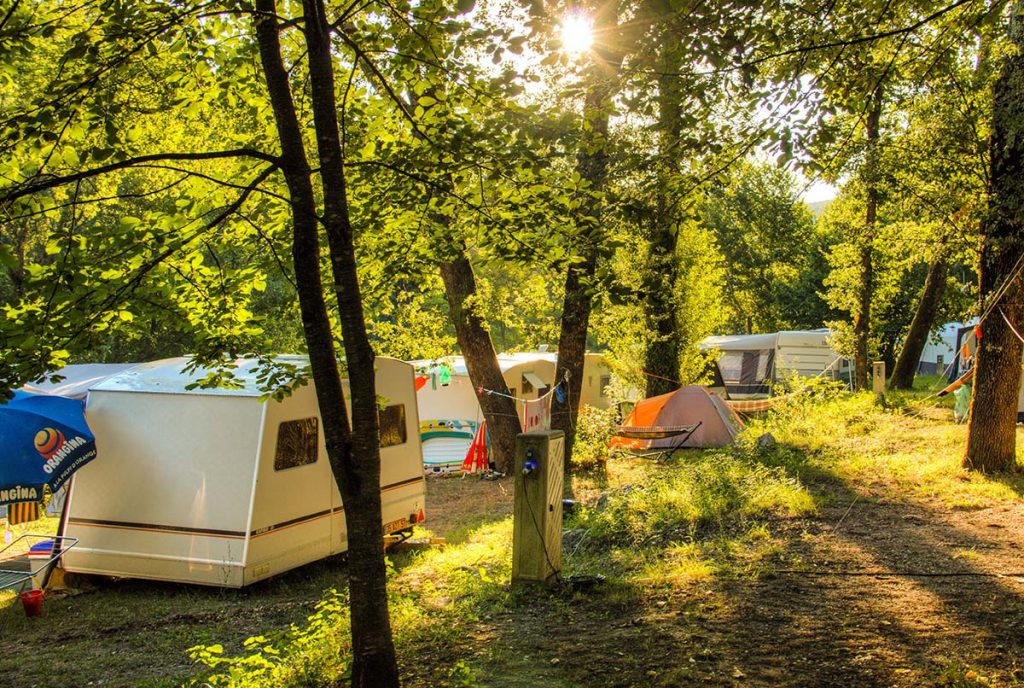 Naked skinny dipping in the river: La Genèse
There's a short an a long way to get from La Sablière to our next destination: La Genèse. The long way is about half an hour by car, the shorter option is a five-minute walk. The tricky part of the latter is that you have to cross a river. La Genèse is located right at the other side of the Cèze river, but yet it appears to be a completely different place. At La Genèse, the whole camping is located right next to the river. Some will miss the wonderful views, but others will be more than happy that they don't have to walk up and down that hill anymore.
The Cèze river is the heart of La Genèse and from several parts of the camping, there's immediate access. The location of La Genèse couldn't have been much better because it gives you the chance to explore the river in its different identities. Families with small children enjoy the shallow parts of the river, where even their three years old can still stand. Teenagers tend to move to the large rocks from where they can take the most acrobatic dives. And couples move to the far ends to have the privacy of their own secluded spot.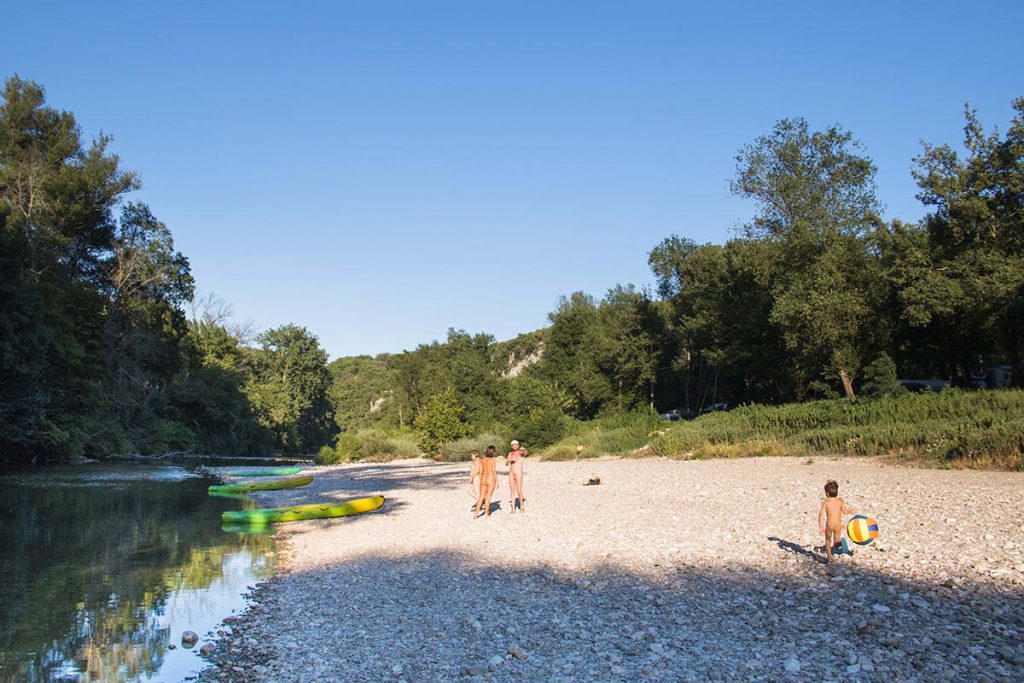 While the Cèze river is the heart of La Genèse, the other facilities should not be neglected. A large swimming pool, a shop, a bar, a restaurant and a very nice variety of activities complete the image.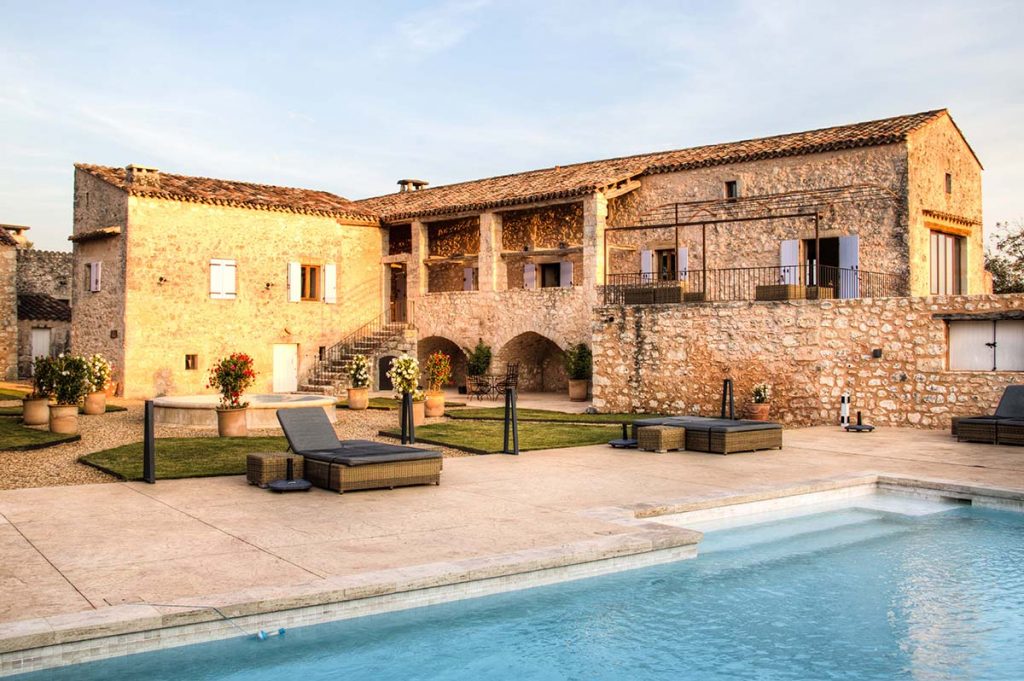 Exclusive naturism in Europe: Domaine de la Quiquier
Domaine de la Quiquier is the most exclusive naturist resort in Europe. The mix of complete luxury and privacy and all of that in a natural environment might well be unique in the whole world. La Quiquier is not just a nude holiday destination. It's a place where memories for life are made. That's exactly why we picked this place as the perfect end of this nude road trip. What made the place even more special for us, was the personal touch.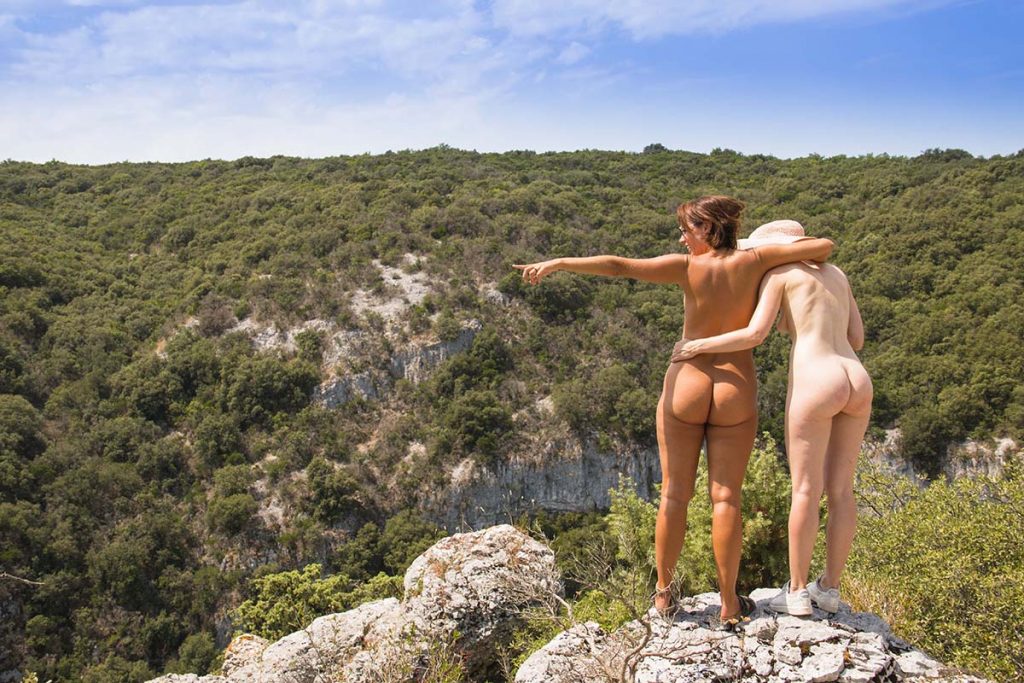 That's probably how we could describe La Quiquier the best. Pure nature and pure luxury but all of that in a familiar atmosphere. No need to walk on the tips of our toes. It's the place you come home to in your most wonderful dreams. It's the place where you come to celebrate the good life. To celebrate a milestone like a wedding, anniversary or (like we did) the birthday of Lins. It's the perfect end of a wonderful nude road trip through France.
Practical information for this naturist road trip through south-east France
Accommodations
During this road trip, you're going to visit different types of accommodations. All the places listed here have rental options, so it's perfectly possible to visit them when you're traveling with your own or rental transport. At La Fenouillère and Domaine de la Quiquier, rental accommodation is the only option.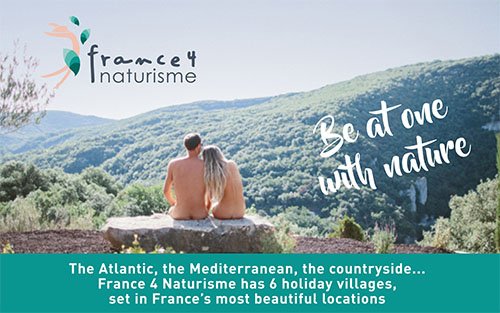 Transportations
Most of the places we visit during this road trip are not easily accessible via public transport. In fact, most naturist places in France aren't really. So having your own transportation is pretty much a must. If you aren't coming by own transportation from home, it's very much recommended to rent a car in the airport or train station when you arrive in France.
This road trip starts and ends near Marseille. A city which is very well connected to the French TGV (high-speed train) network and has an international airport. Also, Montpellier is definitely a good endpoint when it comes to transportation options. If you take this road trip in the opposite direction and want to explore some more of the French Riviera afterward, you could also use Nice as a transportation hub.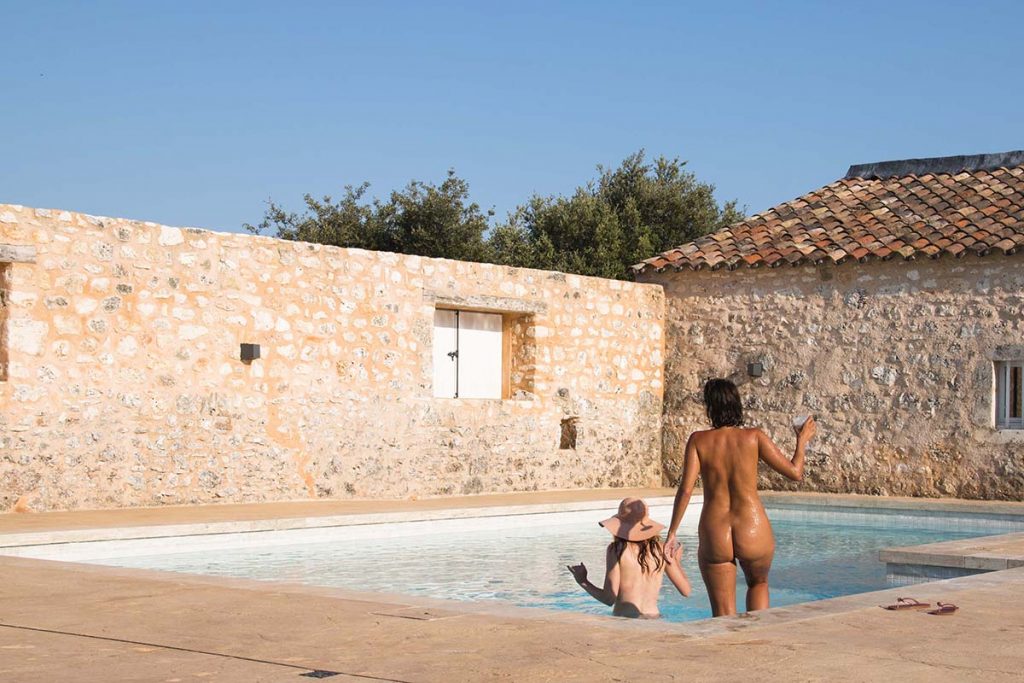 Timing
To complete this road trip in a comfortable way, we recommend that you spend about 3 to 4 weeks in total. If you have less time, it might be better to skip a place instead of rushing through them.
Naturist resorts in France are generally open from early May until the end of September. May is a tricky month weather-wise, but from June to September you can normally expect lots of sunshine. The high season is typically from half of July to half of August. Prices go up and naturist places get fully booked. If you're traveling in this period, make sure to book your spot upfront. In high season you'll also find the most variety of guests and entertainment.
The language
At all the naturist places we visited on this road trip, several different languages are spoken by the staff. You'll definitely be able to converse in English and of course French. Often also Dutch, German and Spanish belong to the options.
Naked Wanderings' Ultimate Guide for Naturism in France: Occitanie ebook

Are you looking for great nudist resorts and nude beaches in Occitanie?
Are you looking for the best tips for a nude vacation in Occitanie?
Then our ebook will be the perfect resource for you!

Learn More
Need help with planning your trip? Check out our Resources Page for an overview of the best companies we use during our travels
---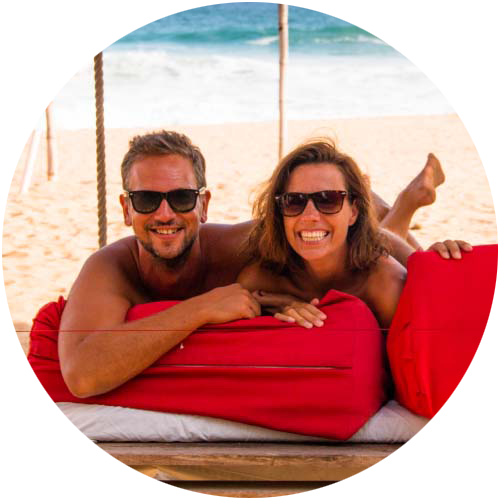 Support Naked Wanderings
Do you like what we do for naturism and naturists? Did we make you laugh or cry? Did we help you find the information you were looking for? Then definitely join our Patreon community!
---