If there's one country in Europe that is still off the radar of most naturist travelers, it must be Portugal. How many of you knew that there are any naturist places in Portugal before we started blogging about the country a month ago? Honestly, we didn't know either. Only when we were contacted by the friendly people of
Quinta Do Maral
, the country appeared on our map as well. Really? A naturist campsite in Portugal? Would this be the only one? Or might there be others? Well, look at that, there ARE others. In different forms as well, campsites and guest houses, even some nude beaches!
That was the perfect queue for us to start planning a naked road trip through Portugal! And now that we've set out the trail, we welcome you to step in our footsteps. With this naturist road trip through Portugal, you'll not only find some amazing places to get naked, but you'll also get to see lots of the beauty of the country.
Time needed: 2-3 Weeks.
Why would you go on a naturist vacation in Portugal?
There are quite a lot of reasons for picking Portugal as the destination for your next nude vacation. As mentioned in the introduction, there is a nice variety of naturist places in Portugal. In this specific road trip, we'll pass by five naturist resorts and two regions with nude beaches. But there are several more. Both resorts as beaches.
Another reason is the weather in Portugal. Especially in the south of the country the number of sunny days easily reaches 300 per year. This makes Portugal an interesting naturist destination even outside of the busy summer months. In Portugal, it's also easy to escape extreme weather. If the heath of the mainland would be too much for you, you're always just a short drive away from the cooler Atlantic coastline or the northern mountains.
If this doesn't convince you yet, we can also tell you about the friendliness of the welcoming Portuguese, the excellent seafood, the wonderful nature and culture, and the prices which tend to be half of what you would pay in let's say
France
or northern
Italy
.
Ready to get naked in Portugal?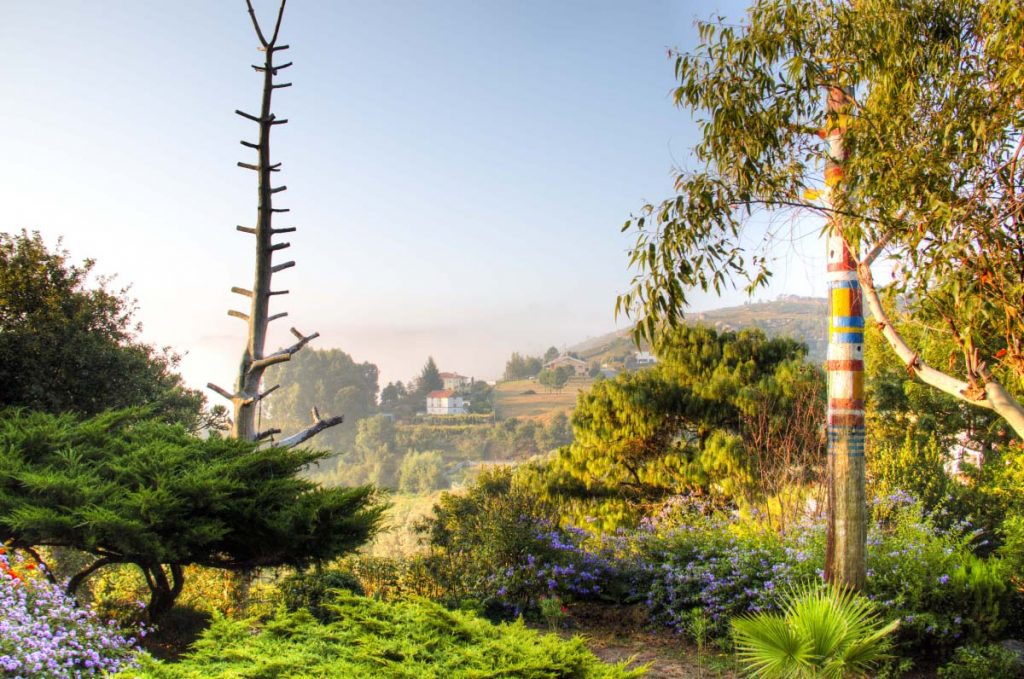 Nude in the green north: Limanature
During this road trip, we will travel with you from the very north of the country to the very south. Starting at a wonderful little campsite called Limanature in the hills of northern Portugal. Limanature is run by Manuel and Iria, father and daughter, who wanted to create a little naturist paradise for themselves and meanwhile let others enjoy their place as well. Manuel is a professional gardener and that's probably one of the things that makes Limanature such a special place. It's like campsite in a botanical garden.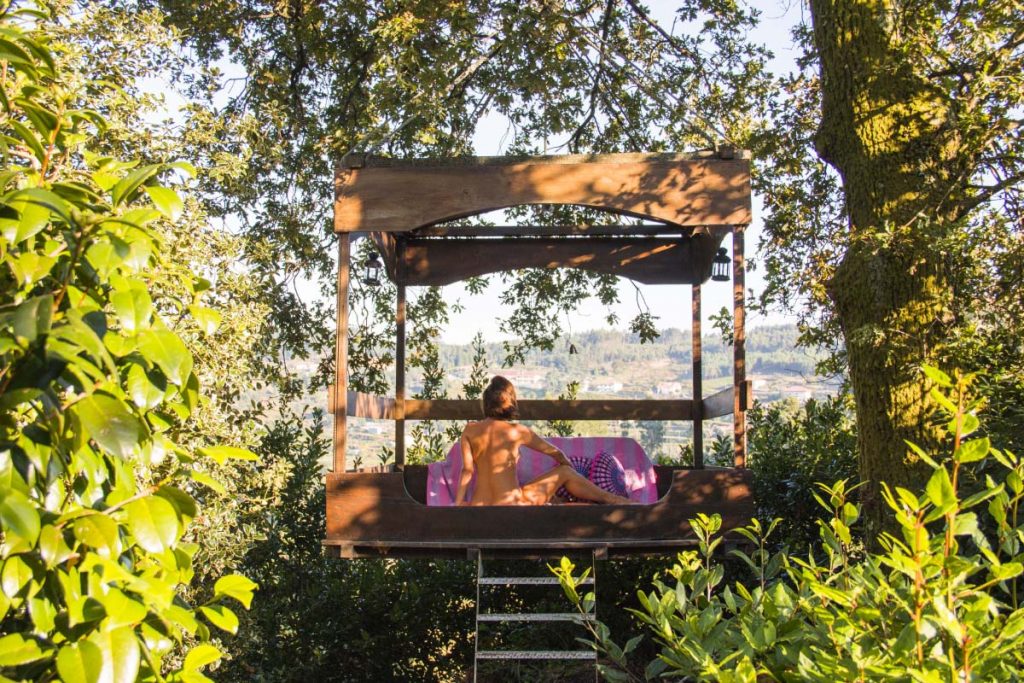 Limanature is a very small naturist campsite with only about 10 tent spots, two camper spots, and two rental accommodations in the form of a cool dome and a guest room. At Limanature it's all about the homely family atmosphere. As a visitor, you become part of the Lima naturist family. Limanature has a large swimming pool and several places to relax and decompress. The surrounding area is mostly forest and hills which are excellent for hiking. For culture lovers there are some interesting places like Porto, Viana do Castelo, and Ponte de Lima nearby.
Bookings at Limanature are preferably made via e-mail ([email protected]) or through their website (http://www.limanature.com), in English, Portuguese or Spanish.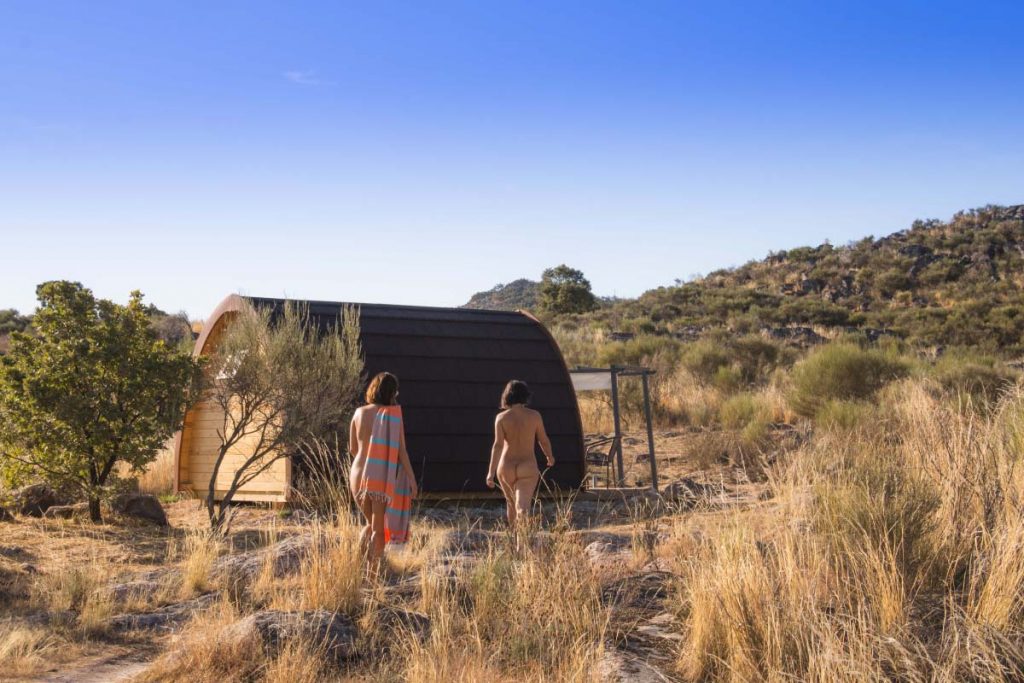 Wild naturist camping in central Portugal: Quinta Do Maral
From Limanature we make our way south towards the center of Portugal. Our next stop will be in the middle of a natural park called Serra de São Mamede: Naturist campsite Quinta Do Maral. Some say that this region is the heart of Portugal. Some say that it's the "real" Portugal. All we know is that the combination of stunning nature and picturesque villages will be in our hearts forever. And of course, the fact that we could spend our days naked over there.
Quinta Do Maral is a naturist campsite without walls or fences. Staying at this campsite gives you the impression of living in a world which hasn't been overrun by people yet. And were clothes are nothing but an option for cold evenings. It's an excellent place to come at ease with yourself. To spend your days naked in the sun while watching the postcard views surrounding the campground. Or you could use Quinta Do Maral as your naked basecamp for exploring the region. That's up to you.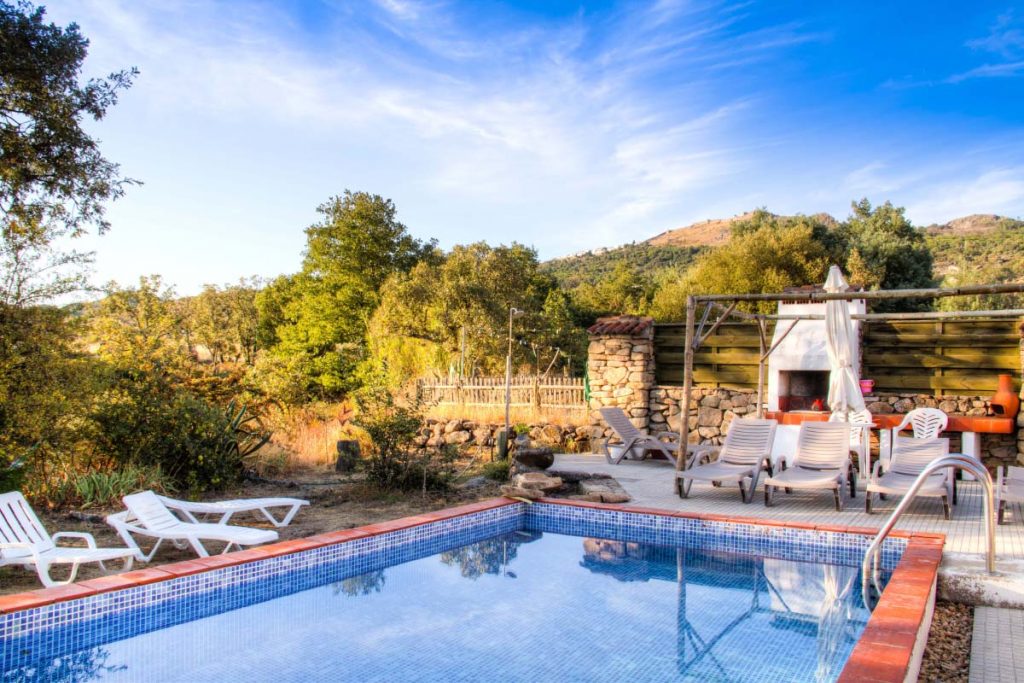 At Quinta Do Maral you can stay at one of the large camping spots, in one of the two guest rooms or in the picturesque wooden cabin.
Bookings at Quinta Do Maral are preferably made via e-mail (
[email protected]
), phone (+351 963 462 169), or through their website (
https://www.quintadomaral.com
), in
English
,
Portuguese
or
French
.
Lisbon and its nude beaches
One thing that surprised us during our naked travels through Portugal was that even though there are quite some naturist resorts, none of them are in the proximity of Lisbon. Nevertheless, a road trip through Portugal (naked or not) would never be complete without a visit to its splendid capital. There may not be any naturist accommodations, but there are some great nude beaches.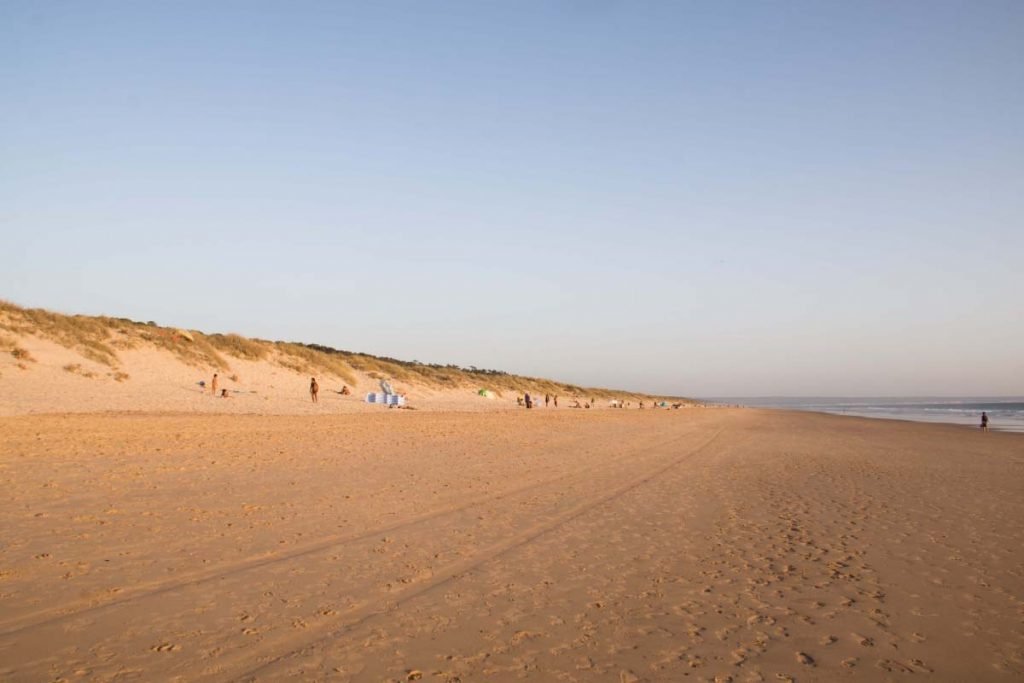 Praia da Bela Vista
All three official nude beaches near Lisbon can be found at a large strip of Atlantic coastline at the peninsula south of the city. When traveling down this Costa da Caparica, the first nude beach you will encounter is Praia da Bela Vista. A large sandy beach with small dunes in the back. The naturist section of this beach is popular because it's the nearest nude beach to downtown Lisbon and because there's a (non-naturist) beach bar. Praia da Bela Vista does have a problem with "meerkats". Read in our
full review of the Lisbon nude beaches
what that means.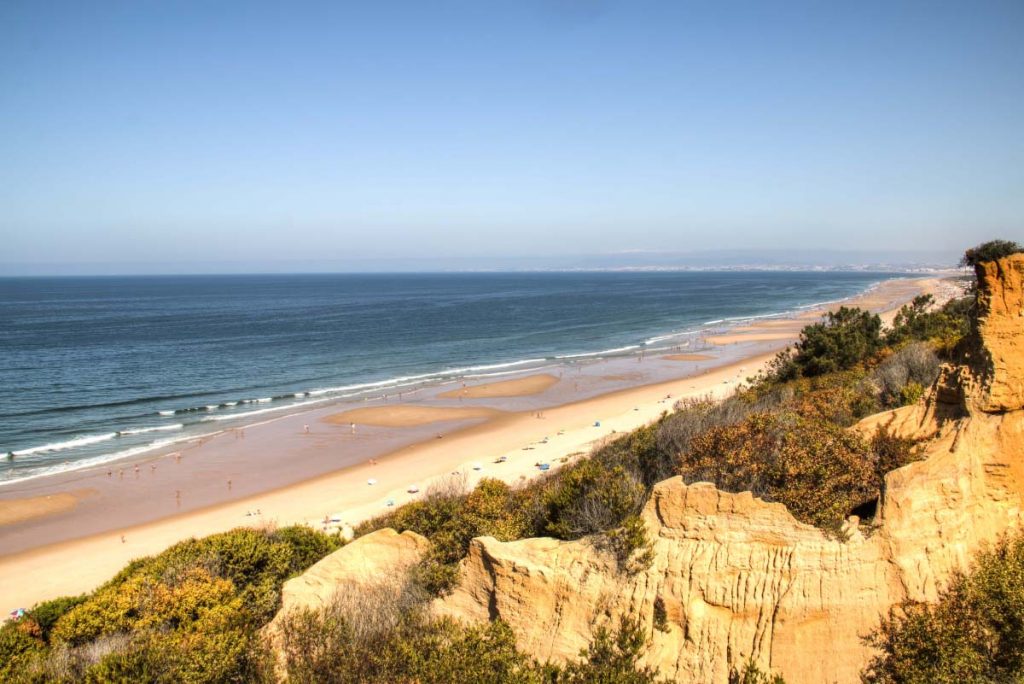 Praia da Adiça
Several kilometers south of Praia da Bela Vista you'll find what many consider the most beautiful nude beach near Lisbon: Praia da Adiça. A long stretch of pristine beach with large cliffs in the background. Praia da Adiça is the most difficult of the three beaches to reach and doesn't have a beach bar nearby, so this beach is never overly crowded. It's an excellent beach to relax, read a book or do some
naked yoga
. Because of the current, the waves at Praia da Adiça are lower than on the other nude beaches, which makes swimming more agreeable. If you can endure the chilly Atlantic waters of course.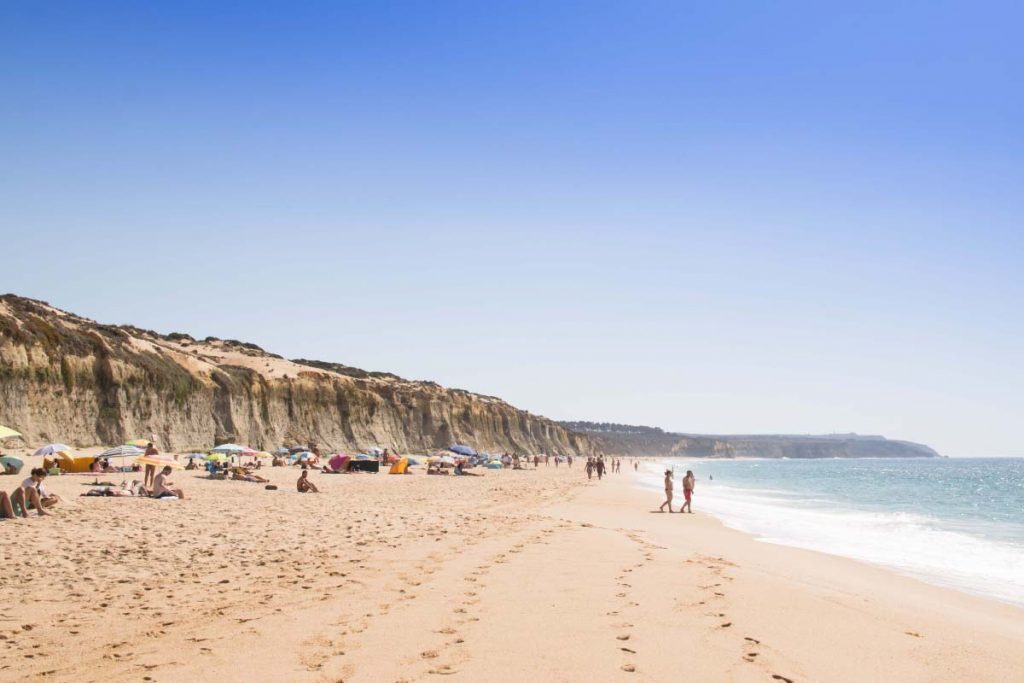 Praia do Meco
Most naturists we met from the Lisbon area pointed out Praia do Meco in the very south of the Costa da Caparica as their favorite nude beach. It's easy to see why. Praia do Meco has the same picture-perfect setting with endless white sands and high cliffs as its northern sister Adiça. But it's much easier to reach and to park your car and there are two (non-naturist) beach bars nearby where you can refresh on caipirinhas, gin-tonics, and seafood. Praia do Meco does tend to get busy during weekends and in high season.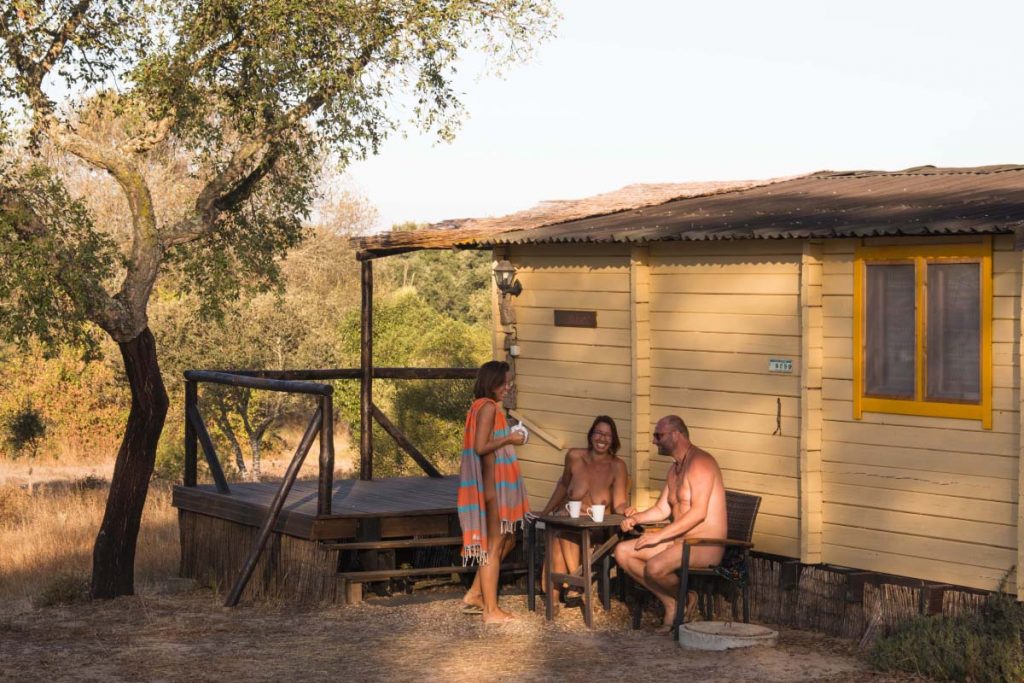 Naturism between the cork trees: Monte Naturista O Barão
While traveling south of Lisbon you'll see the surroundings change completely. Now we're entering the very dry country, flat like a pancake only speckled with cork trees. In the midst of this desolate landscape lays another pearl of a naturist campsite: Monte Naturista O Barão. This is also one of the pioneers of naturist camping in Portugal, started more than a decade ago by the Dutch couple Laura and Jeff.
At Monte Naturista O Barão you might get confused about whether you're still in Portugal or somehow moved on to the African savannah. But believe us, this is still Portugal. Wild nature is one of the highlights at this campsite. It's a place where you come at rest from the moment you set foot through the gate and lose your clothes. If the afternoon sun would be a little too much for you, you can get a refreshing skinny dip in the pool or a (maybe even more refreshing) beer at the bar. Or you move your naked behind to one of the nearby nude beaches (see further).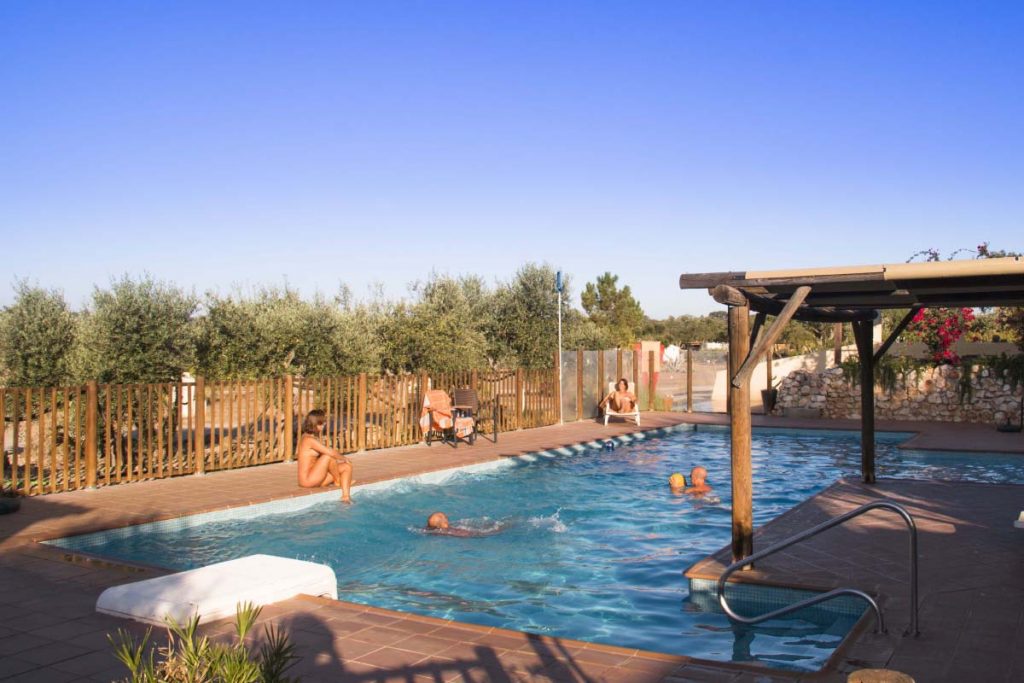 Monte Naturista O Barão has plenty of camping space where you can set up your tent or camper wherever you want. Or you can stay in one of the rental cabins.
Bookings at Monte Naturista O Barão are preferably made via e-mail (
[email protected]
), phone (
+351 936 710 623
), or through their website (
https://montenaturista.com
), in
English
,
Portuguese
,
Dutch
,
German
,
French
,
Spanish
or
Italian
.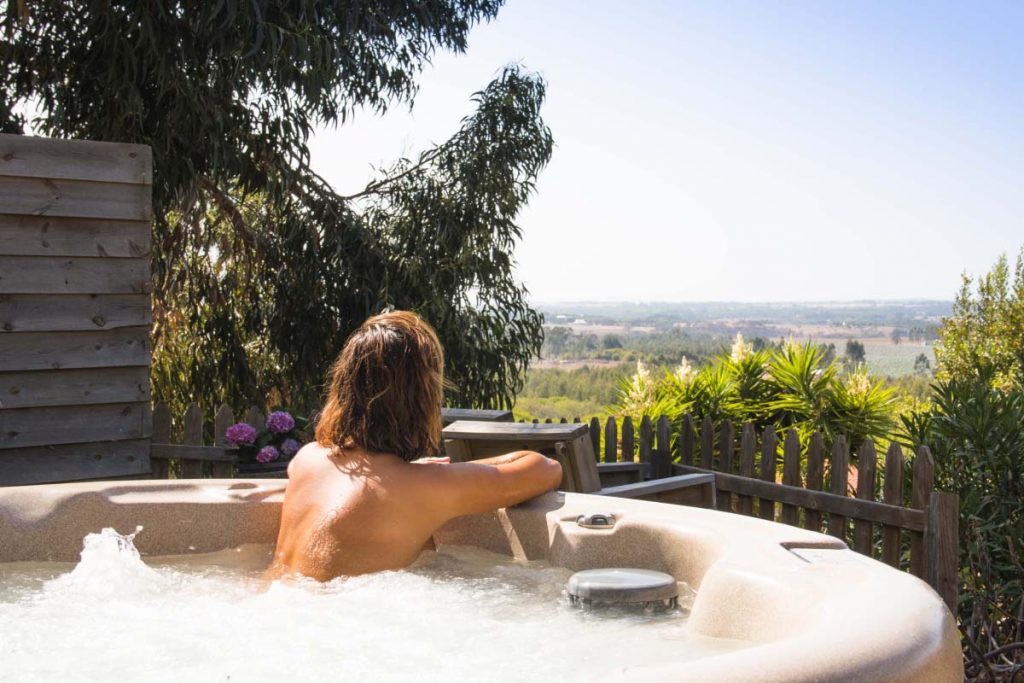 Luxurious naturism in south Alentejo: Samonatura
Naturist resorts in southern Portugal are more abundant than in the center and the north of the country. So it takes only about an hour before we reach our next nude destination: Samonatura. Not a campsite this time but a wonderful naturist villa resort. At Samonature you get the chance to spend your naked days in luxury and style. The 5 different bungalows and apartments can be rented as self-service accommodation and provide all the necessities to make your stay as comfortable as possible.
Most guests at Samonatura spend their days in or around the swimming pool. The evenings are great for a game of petanque or a dip in the hot tub and if it does get a bit chilly, early or late in the season, there's always the sauna to bring your nude body back at its preferred temperature. Just outside Samonatura are some options for nude hiking. Near the coast, you'll find picturesque fishing villages with nice restaurants and 4 official nude beaches for some more naked vacation time.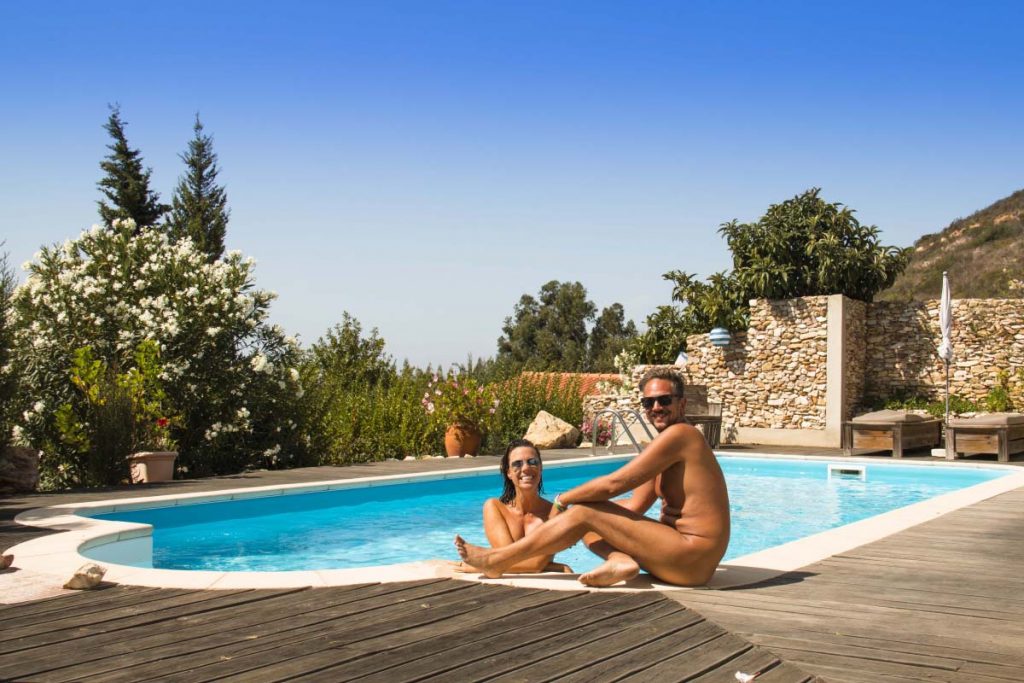 Bookings at Samomonatura are preferably made via e-mail (
[email protected]
), phone/WhatsApp (
+351 967 939 397 / +351 965 068 165
) or through their website (
https://samonatura.com
), in
English
,
Portuguese
,
Dutch
or
German
.
South Alentejo nude beaches
The stretch of beach in South Alentejo is the only place in Portugal where you can find four official nude beaches so close to each other. An additional advantage is that all these beaches are easily reached from both Monte Naturista O Barão and Samonatura.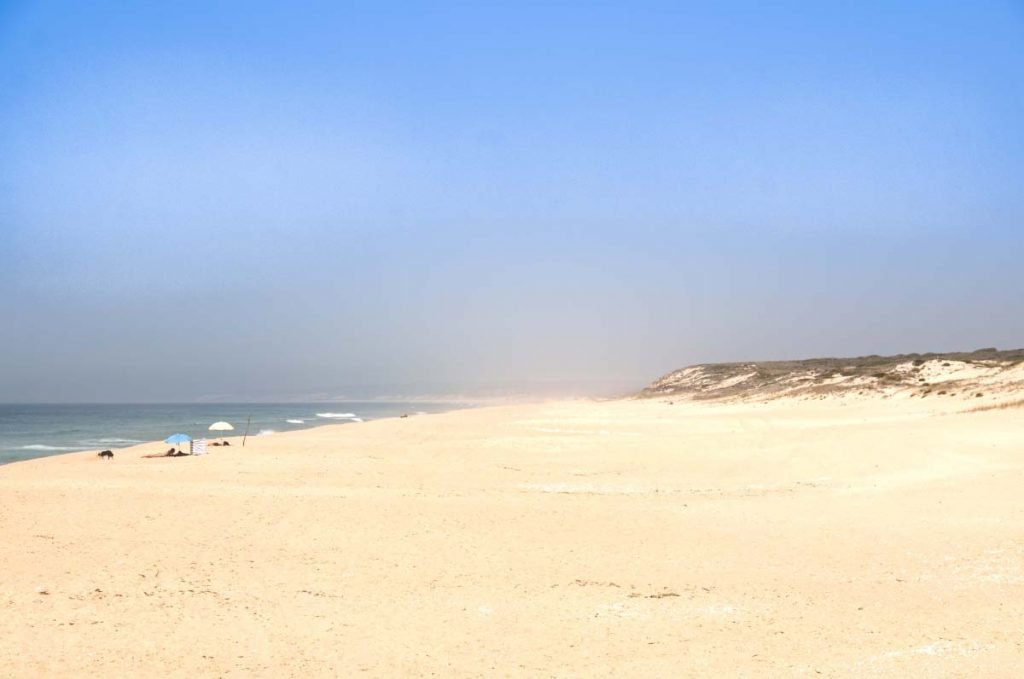 Praia do Monte Velho
From north to south, the first nude beach we pass by is Praia do Monte Velho, located north of Sines. This beach is quite known among the local naturists but not yet discovered by the tourists. So even on weekend days, it tends to be rather quiet. Once you've parked your car just follow the wooden path through the dunes. At the beach turn right to walk away from the first clothed visitors and soon you'll have lots of space to sunbathe naked. And we really mean LOTS here. It seems like this beach has no end. Because there are no nearby towns, it's possible to walk for kilometers in the nude without encountering anyone else than a possible other nude walkers.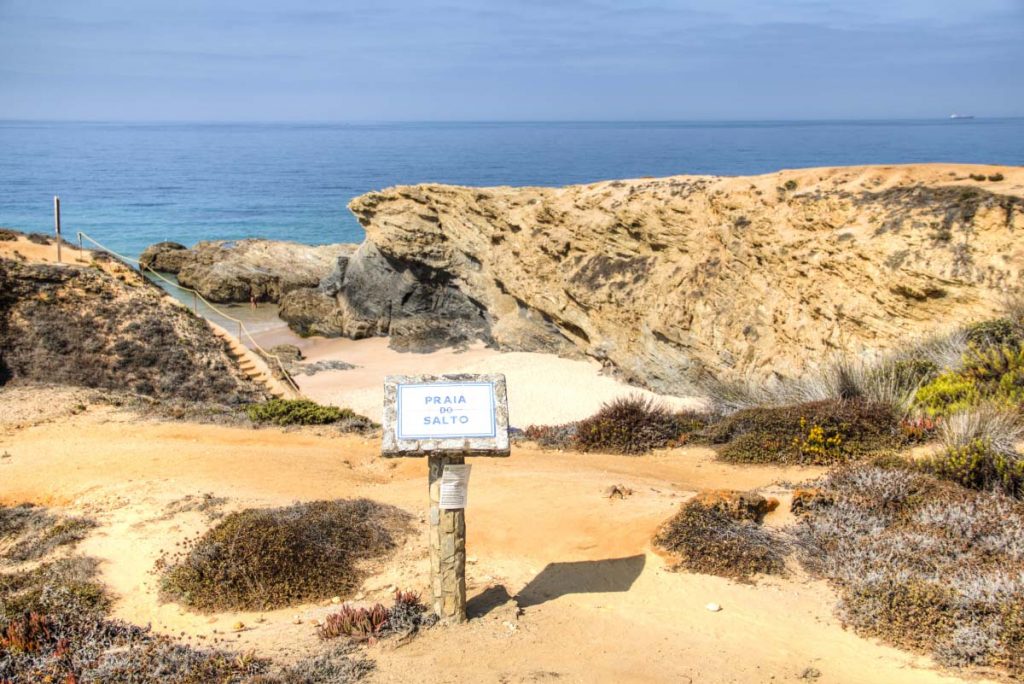 Praia do Salto
This nude beach north of Porto Covo is considered by many one of the most beautiful nude beaches of Portugal. We can definitely agree with that. Located in a small bay surrounded by high rocks, the combination of emerald green waters and white sand couldn't be more idyllic. This is the kind of setting they use in the movies. The small waves make for perfect water to refresh yourself or to take amazing photos. The downside of Praia do Salto is that it easily gets overcrowded because it's such a small beach. If you're planning to go, make sure to go early and avoid going on weekends or holidays.
Another tip is to have your lunch in the picturesque center of Porto Covo.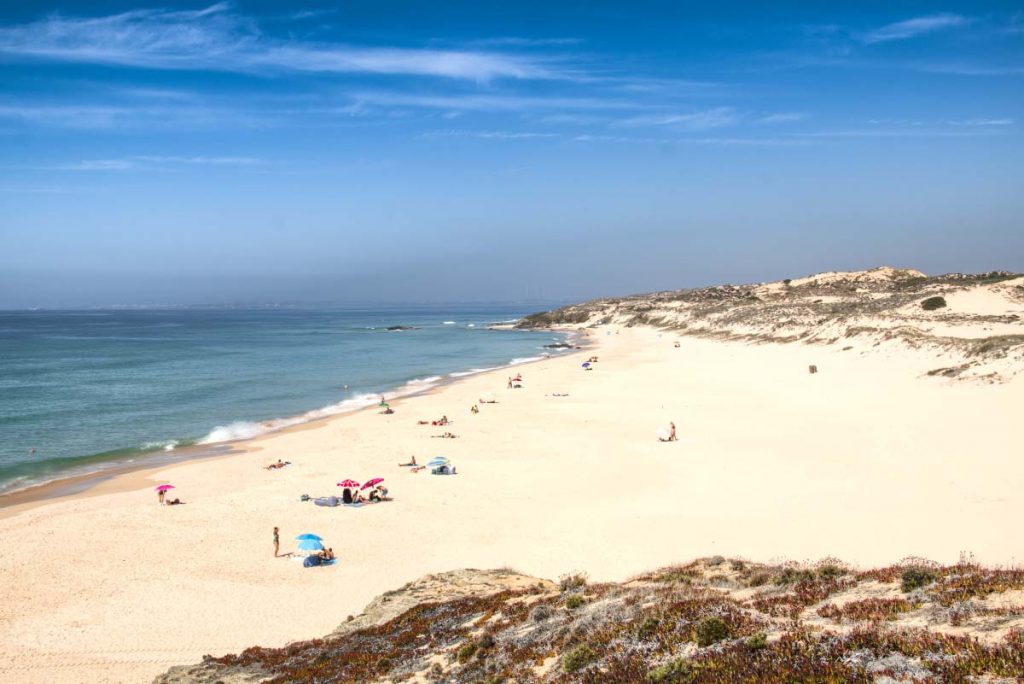 Praia do Malhão
The next beach is Praia do Malhão, which looks completely different than the northern Praia do Salto. This is a long stretch of beach instead of a small cove, but the many rocks in the water make the ocean calm and swimmable as well. Praia do Malhão is part of a range of several large beaches. When arriving, park your car at the farthest parking, the closest to north beach. Once you get to the beach you'll see a sign with some explanation about the nude beach. This sign DOES NOT say that the naturist section of the beach starts right there. Instead, you have to walk to the end of north beach, past some rocks, until you find another sign indicating the start of the nude beach.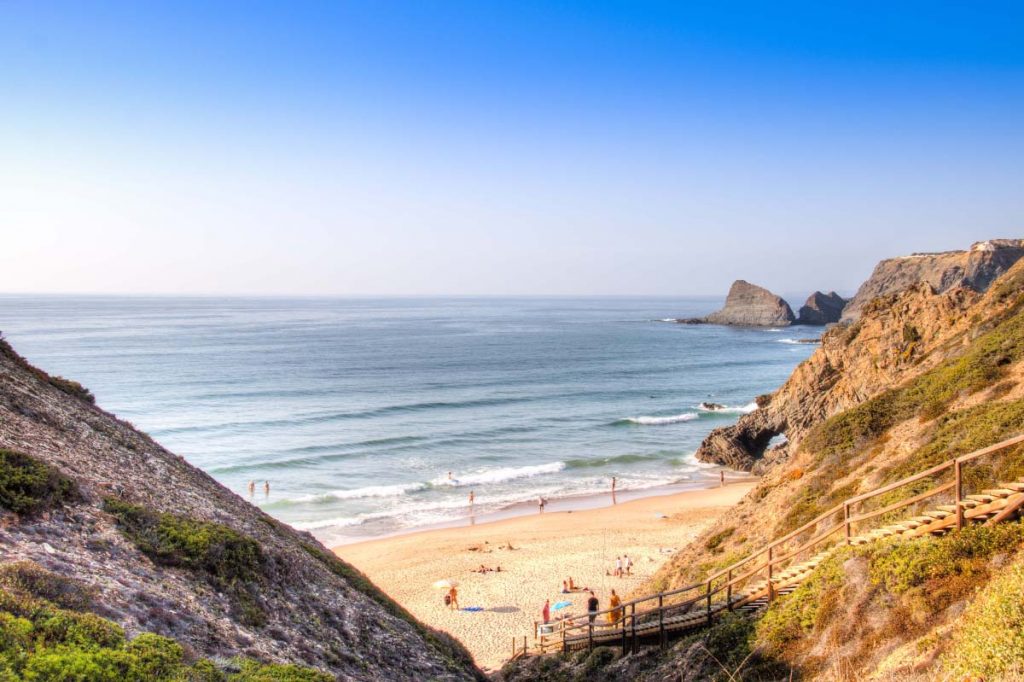 Praia das Adegas
The southern official nude beach, Praia das Adegas, is probably our favorite of all four nude beaches. Its setting is similar to Praia do Salto, a cove surrounded by high cliffs, but Adegas is much larger which also makes it much less crowded. Even if there are more people. When we visited Praia das Adegas there was a very nice vibe among the guests. There were couples, singles, families, and groups of friends, all enjoying a nice evening at the nude beach. There was chatter, sunbathing, and yoga. In short, Praia das Adegas was the perfect place to end our day visiting the nude beaches.
Important to mention here is that there's one more nude beach in the region: Praia dos Alteirinhos. We didn't get the chance to visit this beach. If you've been there, let us know in the comments what it's like.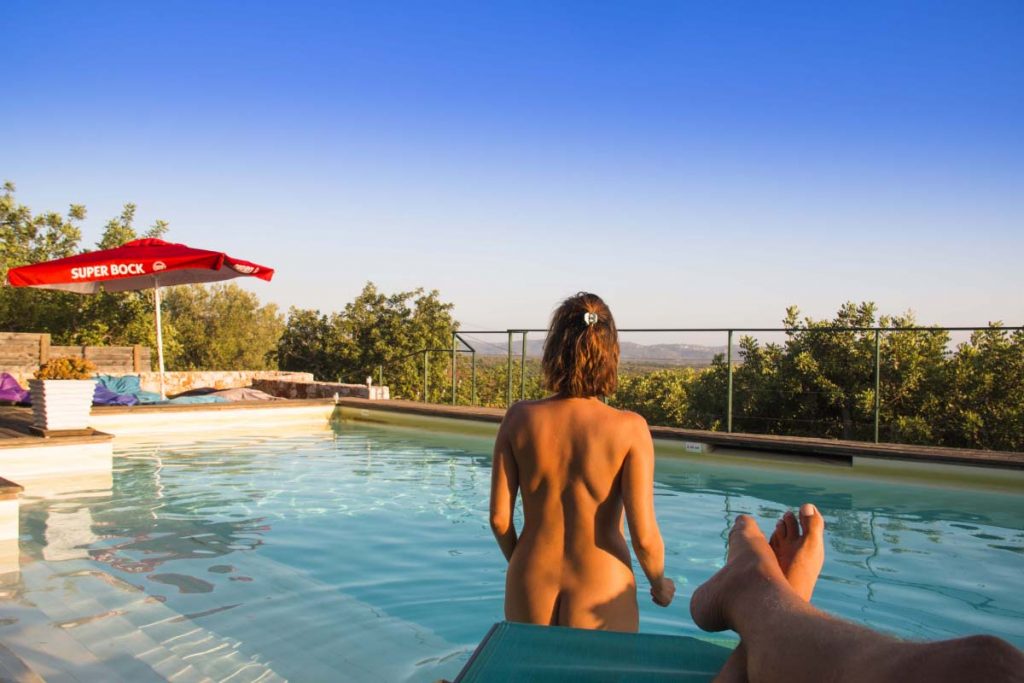 Getting naked in Algarve: Cabanadelsol
For the last stop on this naturist road trip through Portugal, we're taking you to one of the most popular tourist regions in the country: The Algarve. This is the Portugal you've seen in the commercials. And we wouldn't be writing this if there wasn't a great place to spend some of your naturist holidays: Cabanadelsol. A cozy
naturist bnb
in the center of Algarve.
Cabanadelsol offers five guest rooms in the typical wooden style of the region. All designed specifically to provide the guests with a maximum of space and comfort. The swimming pool provides next to refreshing skinny-dips also amazing views over the region. In the garden below you can find several "relax-hangouts" as well as a natural hot tub and a massage table. Cabanadelsol is also the perfect starting point for your visits to the Algarve region and its excellent beaches.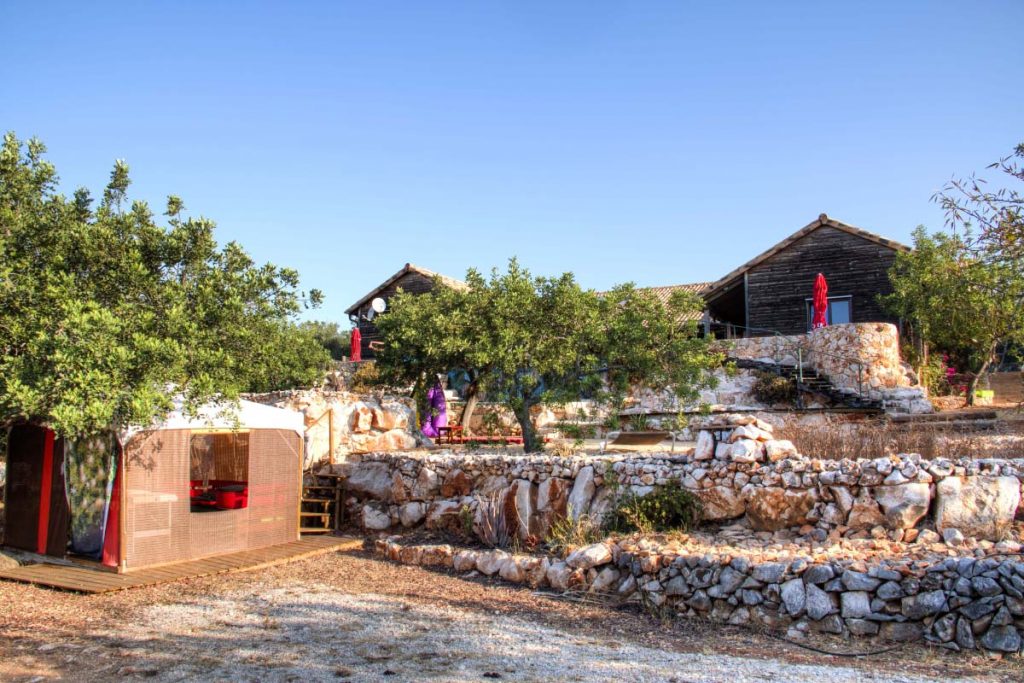 Practical info for this nude road trip through Portugal
We have traveled this road trip from north to south, but it can of course also be done the other way around. One important thing to keep in mind is that it's best to visit the north of Portugal in the summer months, while the south and center of the country have great weather in spring and autumn as well. Even in winter, you can often enjoy a couple of nude hours per day outside.
Accommodation
On this road trip, we have visited three campsites and two guesthouses. Rental accommodation is available at all places, but make sure to book upfront. Especially in high season.
If you're traveling with a camper, caravan or tent, you can most of the time just show up at Monte Naturista O Barão and Quinta Do Maral, because they rarely get completely full. Because Limanature is such a small place, it's recommended to call upfront to check the availability.
Camping is per definition not possible at Samonatura and Cabanadelsol. But you can always ask nicely and see what happens.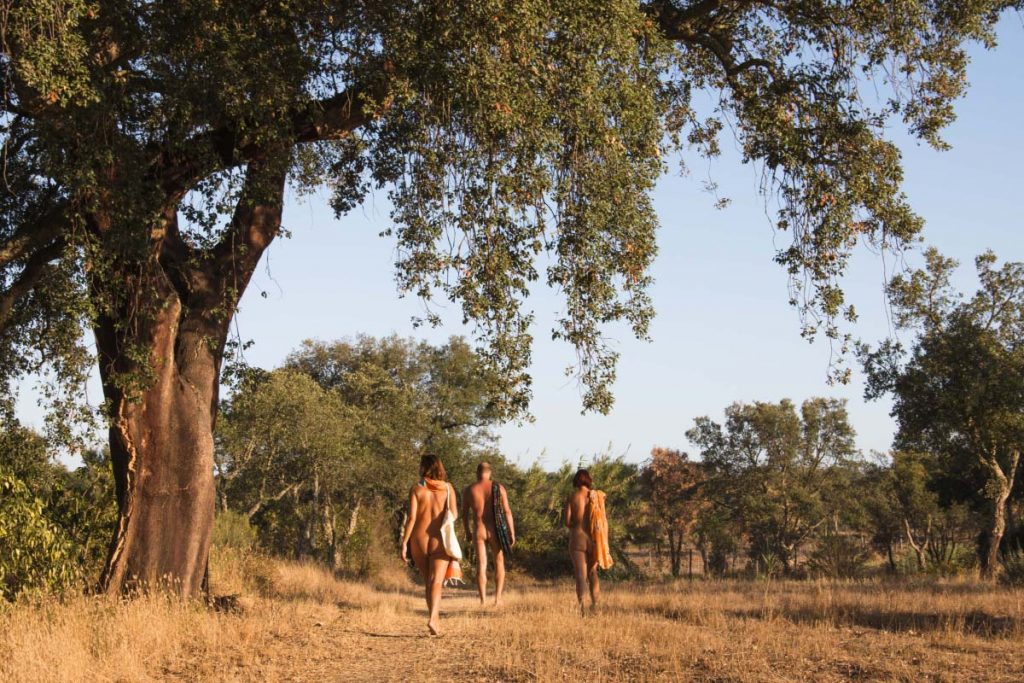 Transportation
Most of the naturist resorts in Portugal are in such faraway places that they are almost impossible to reach via public transport. So renting a car or coming with your own transportation is quite a must. Especially if you also want to explore the nude beaches and the surroundings of the resorts as well.
The start and the end of this road trip have an international airport nearby. To get to the north of Portugal it's best to fly to Porto. The nearest airport in the south is in Faro. For intercontinental travelers, it might be a better idea to fly into Lisbon instead.
Note that the major highways in Portugal are toll-roads, but that often there are equally decent national roads which are toll-free. Especially in the south of Portugal, it doesn't make much difference whether you take the E1 (toll) or the IC1 (toll-free). If you decide to take the toll roads, do know that it's often not possible to pay at the highway entrances or exit. The system for paying tolls in Portugal is complicated and it's best to hire a small device at the car rental office for about 1-2 euros per day, which registers the tolls so you can pay them by credit card afterward.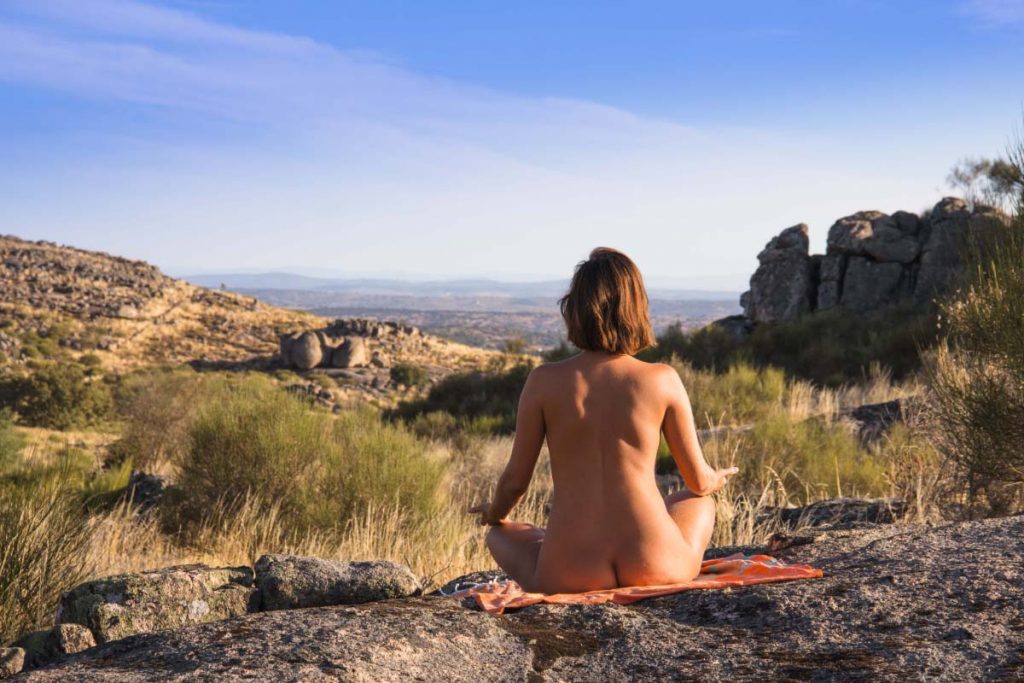 Language
Portuguese is a difficult language to understand and people in Portugal tend to talk quite fast. Luckily, most of the population speaks English as well. At all the resorts we visited during this road trip, it's perfectly possible to communicate in English and often also in Spanish or French.
Nevertheless, it's often appreciated if you make the effort of speaking just a little of the local language. So here are some basic phrases to learn:
Hello: Olá
Good morning/good day: Bom dia
Good afternoon: Boa tarde
Good evening: Boa noite
Thank you: Obrigado (m) / Obrigada (f)
Please: Por favor
A bottle of red wine: uma garrafa de vinho tinto
Where is the naturist beach? : Onde fica a praia naturista?
Having this said, there's little more we can help you with preparing an excellent naturist road trip through Portugal. Have an amazing holiday and don't pack too many clothes. You won't need them.
---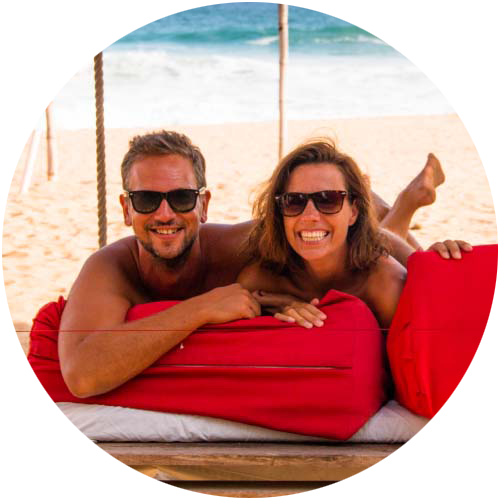 Support Naked Wanderings
Do you like what we do for naturism and naturists? Did we make you laugh or cry? Did we help you find the information you were looking for? Then definitely join our Patreon community!
---