While traveling through France, we often wondered how all those naturist places managed to be so different from each other. Let's be honest, without wanting to sound disrespectful, a campground is a campground. It's a large space divided into many small spaces where you can put your tent, camper, or caravan. Of course, there's a difference in facilities. Some have a larger pool than others, more sports options, more food on the menu, or cleaner showers. But is that really what makes us love one naturist camping more than the other? We have been to some impressive places during our travels. If a comparison of the facilities is what makes us like a place, we would probably dislike 95% of all the campsites that we visit.
Which isn't the case, of course. Surroundings are also an important aspect. If you're a beach person, you'll obviously like beach resorts better. If you're into hiking, a campsite in the middle of a natural reserve will be more attractive than a city-campsite. But what if you, like ourselves, care more about the campsites than the surroundings?
When we traveled and visited more places, we realized that what made places stand out for us is nothing touchable. You can call it the atmosphere, the ambiance, or the "something in the air". Some places just feel right. Even if they don't have the largest pool, a huge variety of facilities, or the most spectacular environment. They just have a great vibe. Places like Domaine du Coq Rouge, for example.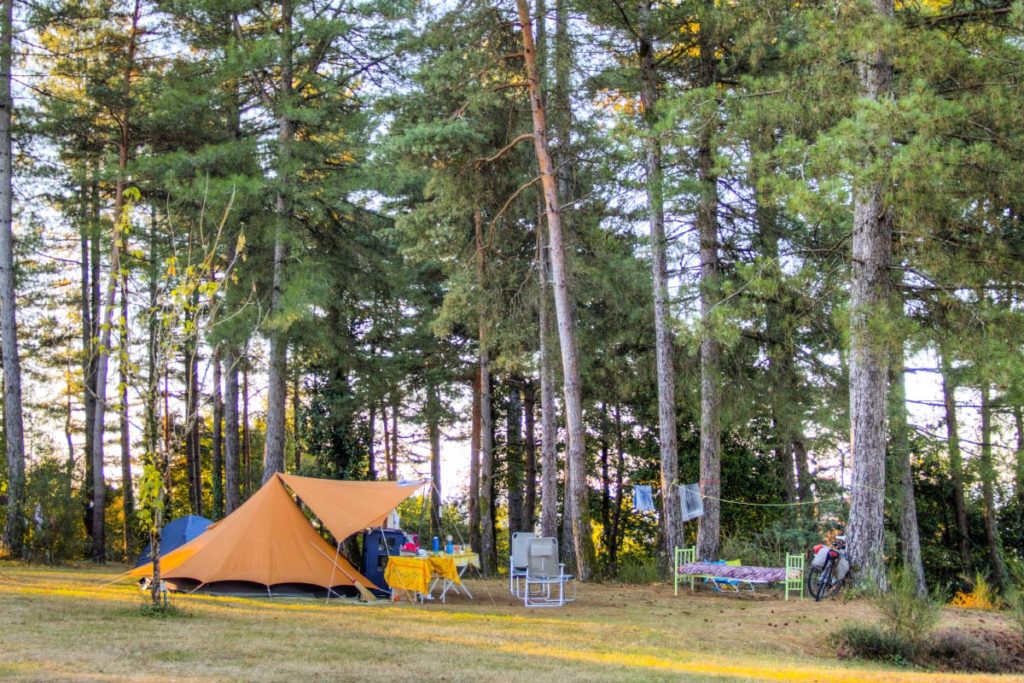 How to get to Domaine du Coq Rouge
Domaine du Coq Rouge is located in a small department of France called the Corrèze. One of the three departments that form the Limousin region, which is then again part of the much larger Nouvelle-Aquitaine.
The best way to get there is definitely your own transportation. From the north of France or the neighboring countries in that direction, you want to follow the A71 and A20 highways from Paris to Toulouse. Toulouse is also the direction that you want to follow if you're coming from the east of France or from the direction of Spain. In all cases, you want to end up on the A20 and get off at Brive-la-Gaillarde.
Brive-la-Gaillarde is also where the nearest train station to Domaine du Coq Rouge is located, with direct connections to Paris, Marseille, and several other major cities in France. There are several car rental offices in town where you can rent your transportation for the last 20 kilometers. A taxi ride from the station to the campsite will set you down about 50€ one way.
If you're arriving by air, you'll find the nearest airport to Domaine du Coq Rouge in Bergerac, which has several connections within France, to the UK, and the Netherlands. The airport in Limoges also has Ryanair connections to several places in the UK. Larger airports with connections to all over Europe can be found in Bordeaux and Toulouse.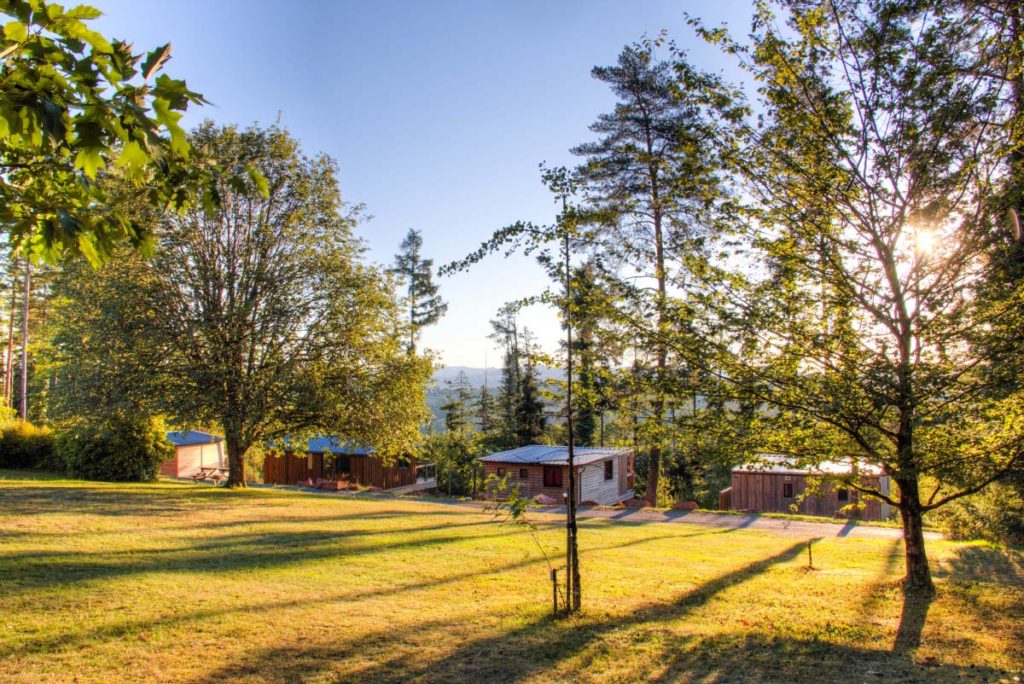 Where to stay at Domaine du Coq Rouge
With only 50 pitches, Domaine du Coq Rouge is a small naturist campsite according to French standards. What did surprise us, is that there are also 19 rental accommodations which come in 6 different types. This was a deliberate choice from the owners because they wanted to make Domaine du Coq Rouge accessible to everyone. Not just campers with their own tent or caravan, but also people who prefer to travel without bringing their own accommodation.
Because of the variety of rental options, there's something for every budget. The small rental tents and caravans start at around 50€ per night in high season, safari tents and chalets at around 100€ per night. Unlike many other campsites, it's also possible to book rental accommodations for fewer days than the standard week.
We stayed in one of the Maori tents, which have their own terrace, a kitchenette, a fridge, and a couch. Similar facilities can be found in the other rentals. Only the cottages and chalets come with a private bathroom. This too has been a conscious choice. During their travels to other naturist places, Sandrine and Sébastien noticed the social aspect of the communal shower. More than anything, they wanted their own Coq Rouge to be a social place, hence the choice to direct their guests towards the shower blocks.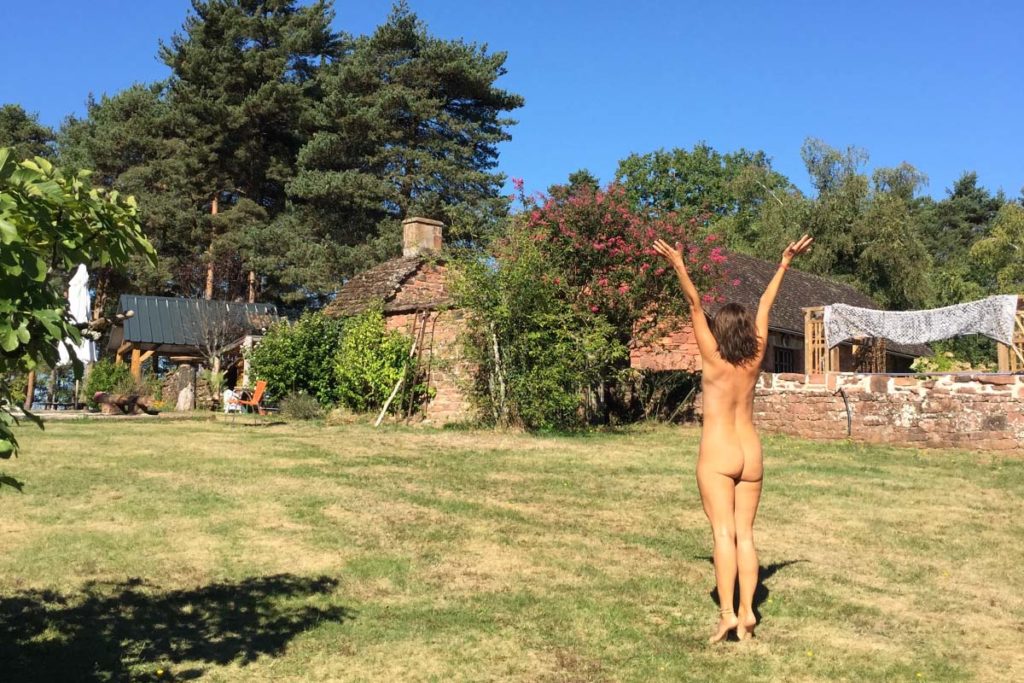 What to do at Domaine du Coq Rouge
The focus on this social aspect is definitely a source of the great vibe at Domaine du Coq Rouge. Simple motivations to bring people together can also be found in the different activities. Of course, in times of COVID, this isn't always easy. Several activities, like the children's club, had to be canceled and the long table where the communal dinners normally happen had to be divided to maintain the social distancing. No matter how fun a gathering with many naturists may be, health is more important of course.
The colorful, wooden structures of the central area at Domaine du Coq Rouge also create a certain alternative atmosphere. The pitches, that are spread around the domain instead of nicely in rows also add to that. When we arrived, our first impression was as if we had arrived in some kind of hippie village in the woods, where also creativity is seen as a high value.
A typical day at Domaine du Coq Rouge starts with an hours-long breakfast in the morning sun, after waking up with the sound of the birds. The warm afternoons are ideally spent in or around the swimming pool or under one of the many trees on this 5-hectare domain. In the early evenings, it's time to get active (and/or aperitive) with a game of Molkky or
Petanque
, after which you can move to the bar for food and drinks. By the time your dinner is finished and the air turns chilly, the sauna has been brought to temperature. Time to sweat out the end of the day, knowing that tomorrow will be pretty much the same.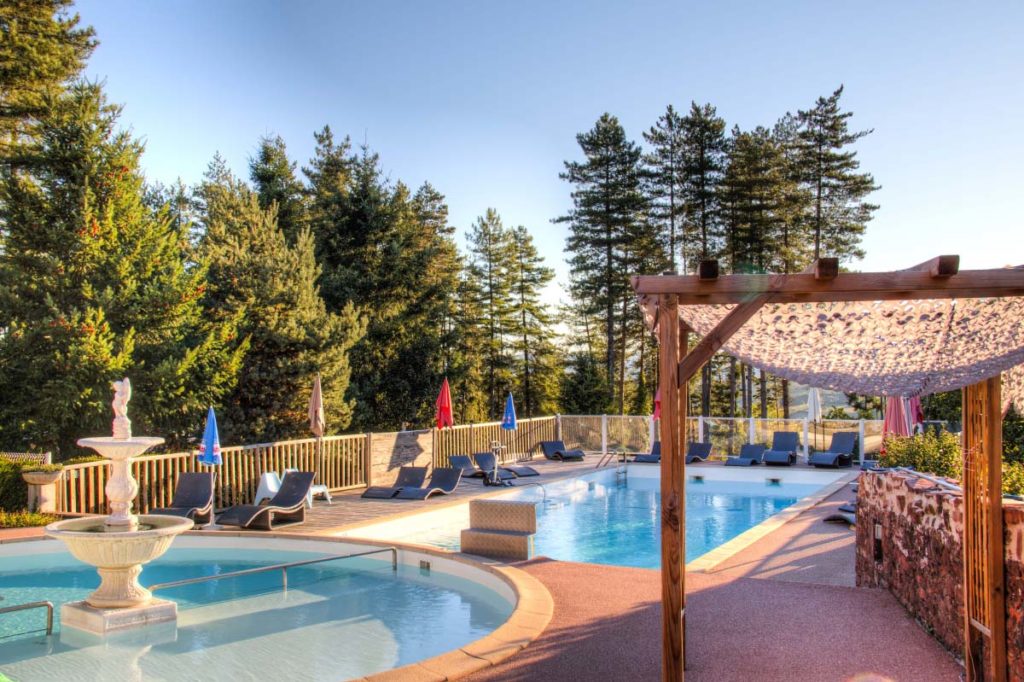 Around Domaine du Coq Rouge
The Corrèze department is often also called the "Gates of the Dordogne". Less touristy than its western sister, the Corrèze is just a short ride away from all the activities that make Dordogne so popular. The caves of Lascaux, the historical towns like Monpazier, Périgueux, Sarlat, or Rocamadour, and the many adventurous activities in the Vézère valley, just to name a few.
But also the Limousin region is well worth exploring. Right outside the gates of Domaine du Coq Rouge, you'll find the red sandstone village Collonges-la-Rouge. One of the most famous villages of the Corrèze valley. Also nearby Curemonte and Turenne are on the
official list of most beautiful villages in France
.
If you like history and architecture, a visit of Les Pans de Travassac definitely deserves a spot in your itinerary. An impressive site where slate is being extracted and processed. This region is also great for nature walks in the forests or towards the waterfalls of Murel.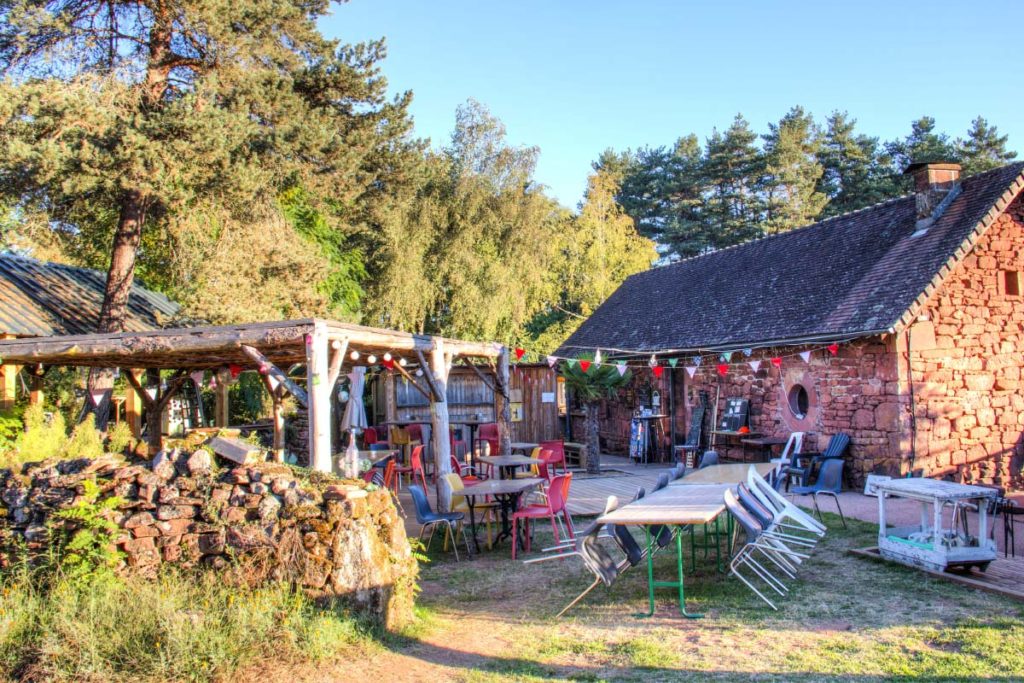 Staff of Domaine du Coq Rouge
Some people may remember Domaine du Coq Rouge from the time that it was still a club campsite. We don't, but we've heard the stories about the strict regime that was applied back in the day. Those days are gone though. Sandrine and Sébastien bought the domain after the club had closed down and basically rebuilt everything. Making the place their very own.
The result is noticeable as soon as you arrive and after a chat with the happy couple, you feel that the soul of Domaine du Coq Rouge is their very own. They have built the campsite like the kind of place where they would want to have their vacations. And it works, it's the kind of place where we, and plenty of others, like to have vacations as well.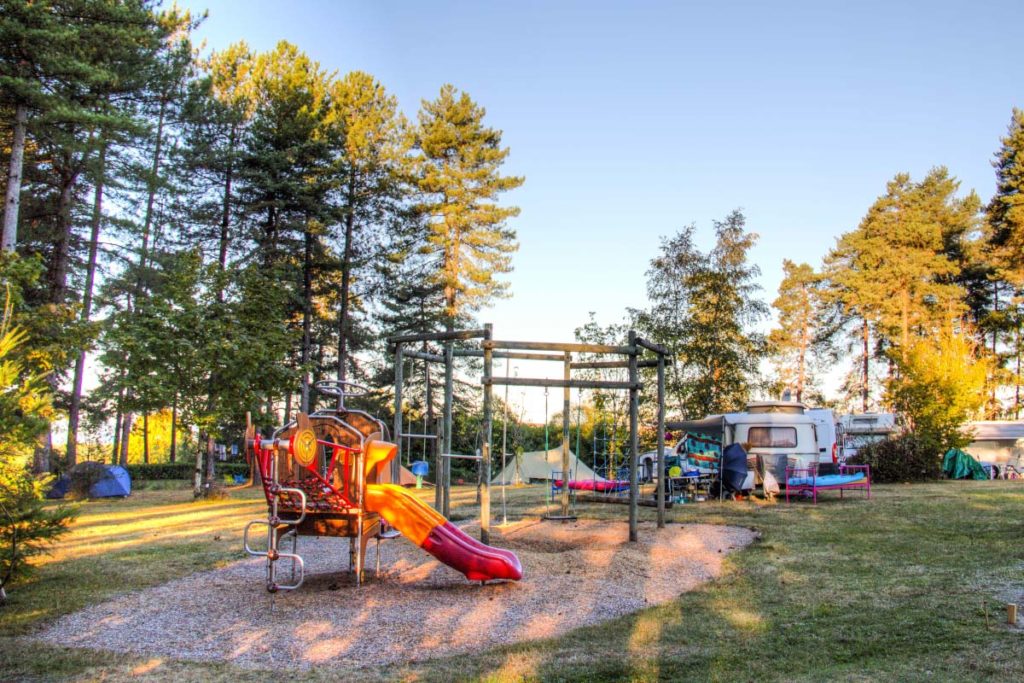 Guests at Domaine du Coq Rouge
Being a relatively small campground, located in a not super-touristy region of France and owned by a French couple, it's not a surprise that the majority of guests at Domaine du Coq Rouge are French. This year, because of COVID, even more. But normally about 70% of the guests will be from within the country. Of course, the campsite is also located at about a day's drive from Belgium and the Netherlands. Making it a perfect first stop for those who are on their way to the Mediterranean, the Pyrennees, or to Spain.
We have a warning though for those who are planning to visit the campsite just as a stopover. It's the kind of place that makes you want to stay longer than expected. The best examples are probably Christophe and his wife, whom we've met during a game of petanque. This spring, they decided to sell their business and take a year off to travel. The pandemic got a bit in the way, but in June they could finally leave. They booked 4 days at Domaine du Coq Rouge. When we met them, in early September, they had already been there for over three months, with no immediate plans for leaving.
Now that's the vibe we've been talking about throughout this blog post. The campsite has something familiar, something that makes you feel like you belong there. For some, this feeling is so strong that they may never leave.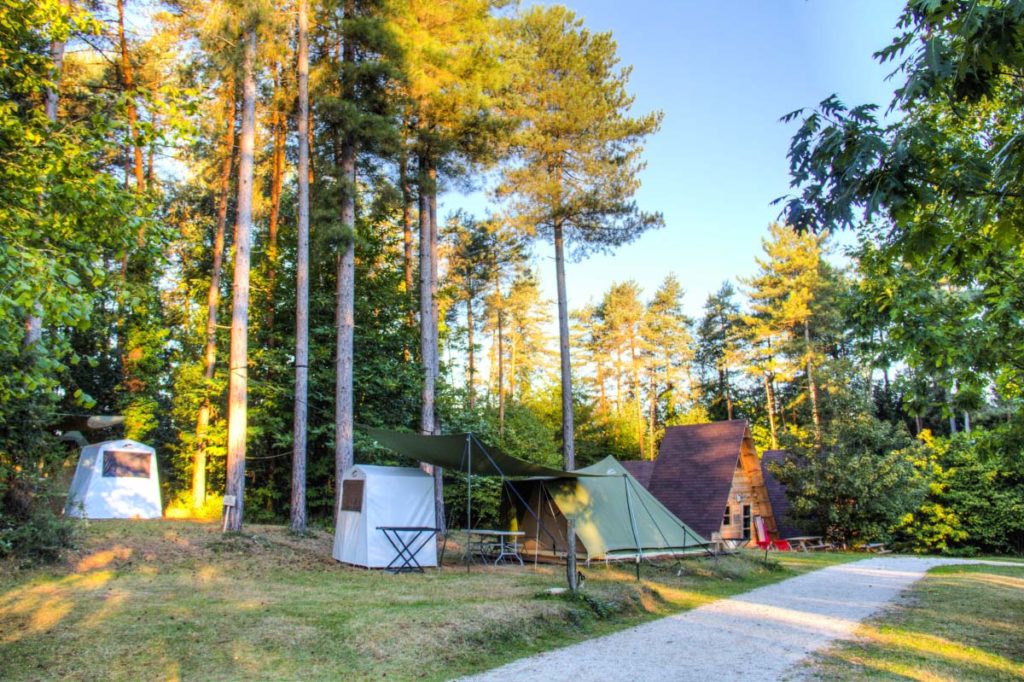 Reservations & Contact
Especially during the high season and for rental accommodations, it's recommended to book upfront.
It's possible to communicate in French and English
Summary
Naturist campsites are much more than just a place where you put down your tent or camper. They are social places, places where you find like-minded people, and where you can spend your time in a non-judging environment. This kind of atmosphere is exactly what you'll find at Domaine du Coq Rouge. And much more.
---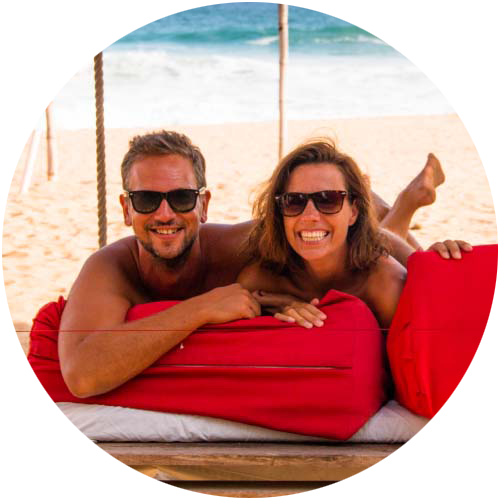 Support Naked Wanderings
Do you like what we do for naturism and naturists? Did we make you laugh or cry? Did we help you find the information you were looking for? Then definitely join our Patreon community!
---