Our trip through the French Aquitaine region was already halfway and we figured that it was time to leave the coast behind. We had visited several wonderful naturist beach campings and our next destination, naturist camping Domaine Laborde, would take us towards another very famous tourist destination: The Dordogne.
Domaine Laborde is part of the
naturisme.com group
, a collaboration of six naturist campings in France with the purpose of promoting their domains and naturism in the region in general.
We were up for another scenic ride when we left
Arnaoutchot
towards our new destination. The beautiful pine forest in the Landes department, the wonderful chateaux and vineyards in Gironde, and eventually the breath-taking hilly scenery for which the Dordogne department is so well known. We can easily imagine why this region attracts thousands of visitors every year but the real bonus came when we arrived at our destination and noticed that we would be staying the next couple of days at one of the most scenic campgrounds we had ever been to. And we would be staying there naked.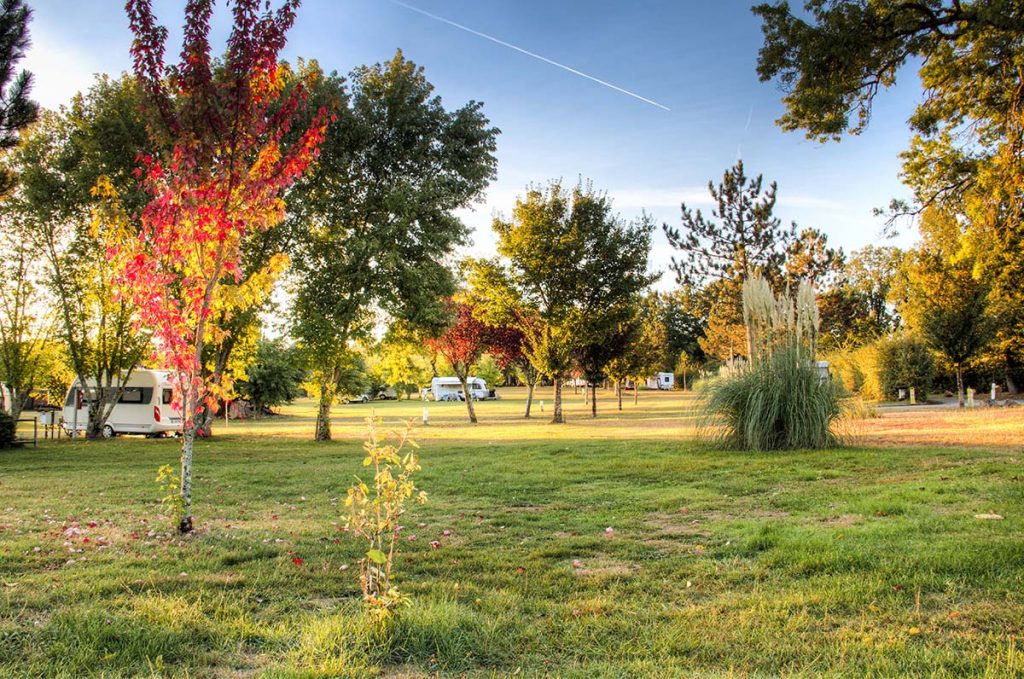 How to get to Domaine Laborde
Getting towards Domaine Laborde is a wonderful experience on its own, make sure that you have the directions set in your GPS so you can enjoy the ancient French villages, hilltop castles, and endless views over the countryside you'll be passing by. If you really want to get the most out of your ride you can take the small roads and drive from one amazing sight to another (and meanwhile save some money avoiding France's notorious toll roads). But make sure to plan enough time because driving fast is not an option here. The locals do so, but we wouldn't recommend it if this is your first time in the region.
We can of course also understand if you want to get naked as soon as possible. In that case, you'll want to take direction Limoges if you're coming from the east and from there follow towards Bergerac. Coming from the west, you'll want to drive towards Bordeaux and then towards Bergerac from there. Keep following the signs to Villereal from where you'll find great signage towards the campground. Villereal is a nice place to stop for lunch or dinner by the way.
Getting to Domaine Laborde with public transport could be tricky. Bergerac and Bordeaux are the nearest major train stations and both cities have an airport as well. Although Bergerac airport only serves a very limited number of international destinations. After arrival, we would strongly recommend you to
rent a car at the train station or airport.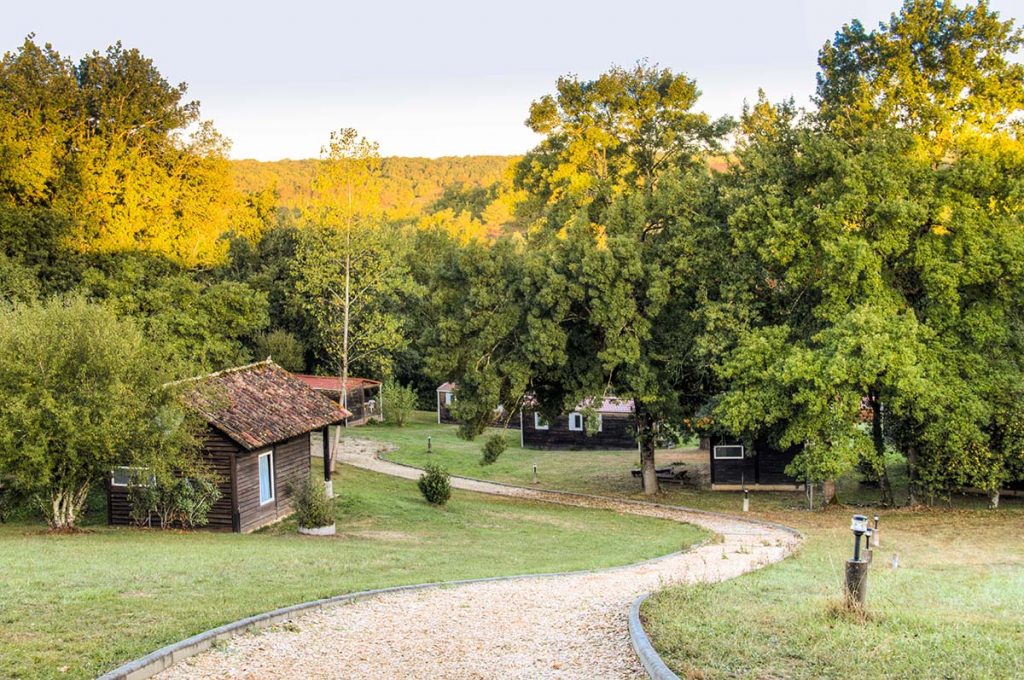 Where to stay at Domaine Laborde
The fact that only 125 camping spots are available on this 20ha domain should already give you an indication of the spacious feeling you will have at Domaine Laborde. For mobile homes, campers, or any other type of large vehicle in which you prefer to spend your nights there's a huge lawn available between the entrance and the central building. If you're coming with a tent you'll find some much more idyllic spots next to the river.
For those who didn't bring their own accommodation, there are plenty of rental options that will surely fit your needs. Four different types of chalets and two types of fully furnished mobile homes that can accommodate up to 6 people should certainly provide you with all the comfort you need during your stay. Several chalets have been adjusted to accommodate visitors with disabilities. Also here they have picked up the latest trend and installed several glamping tents.
We've spent our nights at Laborde in a "Chalet Comfortable" and the wooden style of our chalet almost made us wish for snow outside, just for the cozy feeling of looking at it through the window. But we were happy that it was actually warm and sunny. Also very much appreciated was our welcome gift: A free bottle of Domaine Laborde wine. It was like they could read our minds.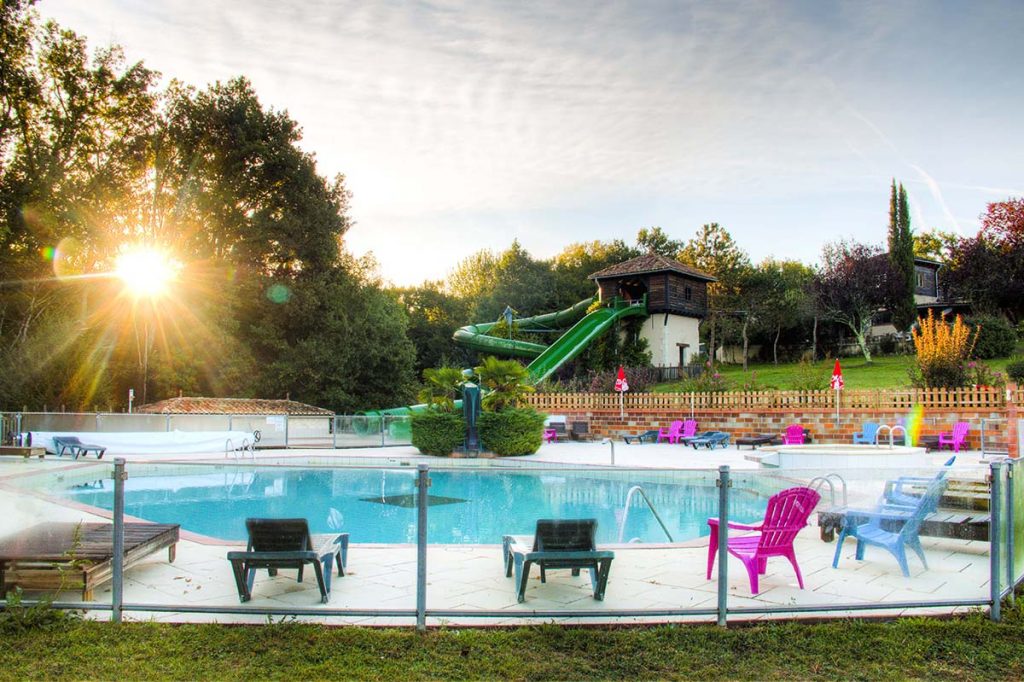 What to do at Domaine Laborde
One reason why France is still the queen of naturist holidays is that even the "smaller" campgrounds have enough facilities to keep yourself busy for a while. Three outdoor swimming pools of which one with huge slides, check. In indoor swimming pool for the colder days, check. A sauna and hammam, of course. And all of this completely free by the way. Talking about free… this is also the first place on this part of our trip where we got free wifi, which is for naturist bloggers in the south of France almost as important as cheese and wine.
Personally, we'll always prefer natural water over a swimming pool so we were happy to find out that Laborde has two lakes on its property in which you can swim or just refresh on your air mattress listening to the songs of the birds in the surrounding trees. When there are no swimmers, fishing is also allowed in the lake.
Other available sports facilities include tennis, petanque, and volleyball courts.
During high season lots of activities are organized to keep yourself and your family busy: sports competitions, live music performances, potluck dinners, painting classes, it's all there. In between activities you'll probably find your kids running from one of the playgrounds to another while you're having your well-deserved nap next to the pool. Volleyball tournaments are pretty exhausting, you know.
Your stomachs can be pleased in the restaurant/pizzeria Le Pigeonnier or for a quick bite you can always pass by the snack bar. Make sure to try the mixed cheese and meat platters, they are awesome!
Important basics like bread, wine, and toilet paper can be bought at the small shop behind the reception among other things you might need but are not worth a ride to a supermarket.
Another very interesting facility is a sleeping room for early leavers. Nobody likes to break up camp in the early morning, so at Laborde, you can relax and already load the car the evening before without having to sleep under the stars.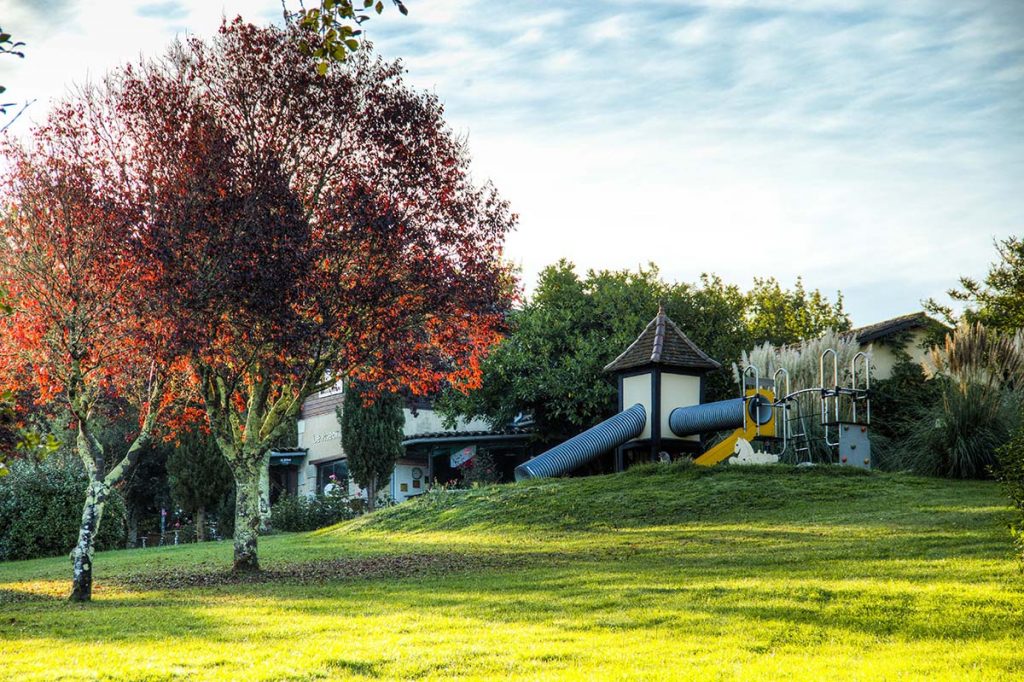 Around Domaine Laborde
We've said it a couple of times before, the Dordogne is one of the most wonderful regions of the country. It's not a coincidence that it has been given the nickname " the Tuscany of France". It's the perfect region to explore by bicycle, just make sure to stretch before you leave because the hilly landscape might attack your muscles, and don't forget to stop now and then for refreshments. These refreshments can also be found in one of the local markets, in the high season, not a day goes by or there's one in some nearby village.
Foie gras, walnuts, chestnuts, and prunes are some of the local delicacies which you just shouldn't miss.
For the culture lovers, there are many picturesque villages, walled towns, and castles which seem like time has forgotten about them for at least a decade or three. Make sure to add Monpazier, Bergerac, and Rocamadour on your itinerary. If you're lacking inspiration for visits, the staff at Laborde will certainly give you some valuable tips.
Wine tasting, kayak trips on the Dordogne river, horseback riding in the nearby forests, visits to the caves of Lascaux, and Padirac and long walks in the middle of nowhere are just a handful of the possibilities.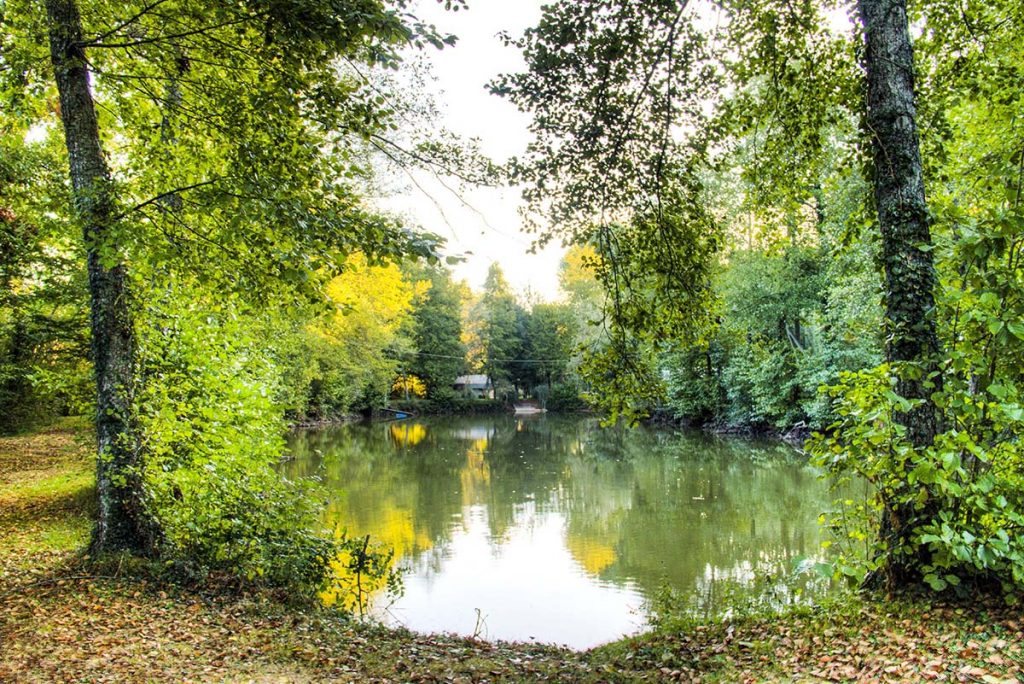 Staff of Domaine Laborde
New management at naturist places often means a well needed fresh wind and we had no doubt that this would be the same at Domaine Laborde, especially when we heard that the new owner had gained his experience at
CHM Monta
. François and Jacqueline will make sure that all your needs are fulfilled.
Most of the additional staff only come for the summer months and since we visited Domaine Laborde at the very end of the season we didn't have the chance to meet them. Except for the girl who we kept seeing cruising around the domain in her golf cart doing all kinds of shores. We never got her name but we'll remember her friendly smile.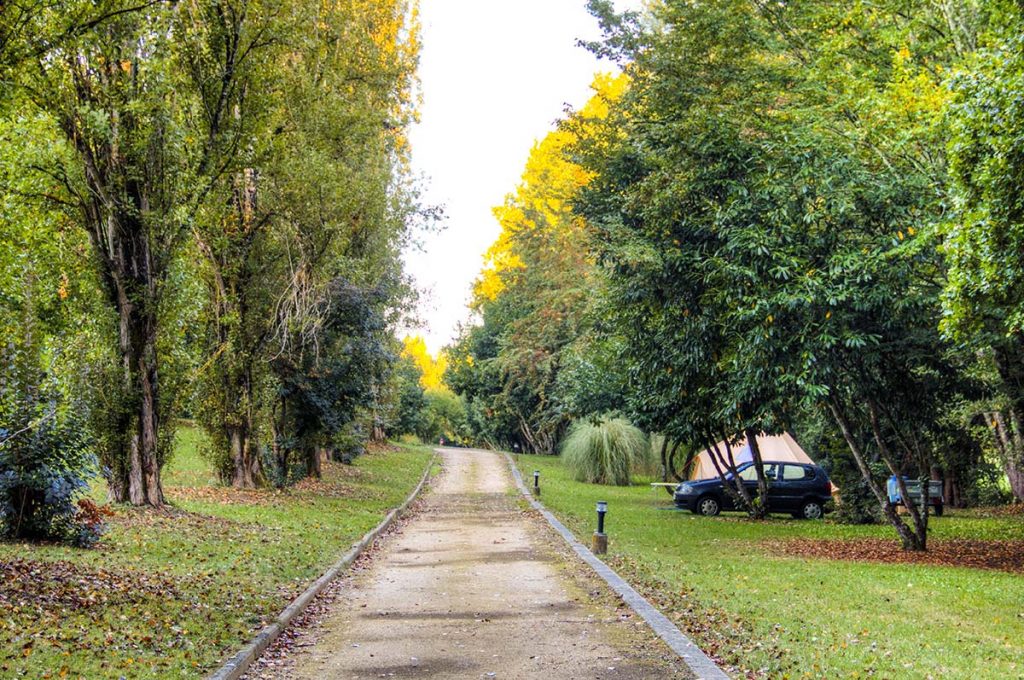 Guests at Domaine Laborde
The previous owners of Domaine Laborde were Dutch and something we have noticed during our travels is that Dutch owners often attract Dutch guests. Although the place has now been taken over by a French couple, we did still see quite a number of Dutch license plates among the campers. The terrace of the restaurant is the place to be for an aperitif and around dinner time to meet up with other visitors and François does a lot of effort to bring his guests together. This results in a friendly atmosphere and long talks often fuelled with lots of local wine.
A very nice encounter we had at Laborde was with Emmanuel Thomas, a naturist photographer, and owner of the website
Nature et Naturisme
. We had never met in person but we had been in contact for a while because a while ago we used some of his pictures in our blog post with
tips for the first time nudie family
. And now we just ran into each other. The naturist world is a small but wonderful one.
Summary
The Dordogne area is France like you have seen it in your dreams and Domaine Laborde is the perfect naked getaway to explore this wonderful region. Or even if you don't want to explore anything, you'll certainly have a wonderful time spending your days naked at this great naturist campground.
Read more about Domaine Laborde on  
NUDE
Disclaimer: We have been invited as guests of Domaine Laborde, but of course all opinions are our own. We are super confident you will love this place as much as we did!
---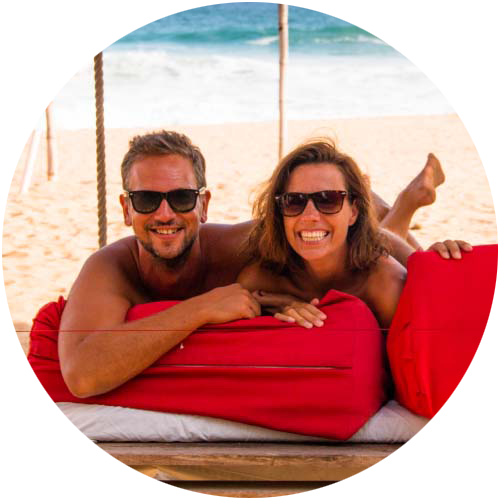 Support Naked Wanderings
Do you like what we do for naturism and naturists? Did we make you laugh or cry? Did we help you find the information you were looking for? Then definitely join our Patreon community!
---