A couple of weeks ago a friendly follower pitched us the website
#isitnude
. Basically it uses artificial intelligence to figure out whether a picture contains nudity or not. Sounds familiar? If you ever had a
Facebook
or Instagram ban for nudity (often not legit, but that's another story) you know exactly why we found this subject interesting. Although we don't have proof of this, we're pretty sure that these artificial intelligence algorithms are exactly what social media is using to figure out whether our photos are appropriate or not. Maybe after the machine check a real person does a double check, but we honestly doubt it. Based on some of the photos for which we have been banned, the big anti-nudity machine seems to be nothing more than… exactly… a machine.
We're not going to bother you with many of the details about how this system actually works, if you want to read more about it, you can find all info
Here
. What it comes down to is that just like for face recognition it searches for skin patches and based on their positions and sizes the system tries to figure out whether the skin is part of one of those body parts that should remain hidden for the world (according to them, not to us). One could call it "penis recognition" or "female nipple recognition"… One term even more disturbing than the other.
Does it really work?
Why do we even bother? If you've been following our
Instagram page
you already know that we've gotten fed up with social media censorship a long time ago and that we've been using our own ways to hide the "delicate" body parts. And that has been working very well and we're having a great time taking those pictures (what else would we do all day at a nude beach?).
But as nudist bloggers we feel like it's our responsibility… no, our duty to test this system! We feel like we have to educate humanity! We feel like we have to check every little detail that has even by far something to do with nudism!
Nah, we're kidding with you. We just have a lot of time and we love messing with these things.
Here's what we did. We searched for a huge amount of pictures on the internet with the purpose to check whether this algorithm really works, what it has to say about the pictures for which we got banned on social media and most important: whether we can fool the system!
So does it really work? Let's start with the basics. We'll feed the website pictures of clothed people and naked people and see what it has to say.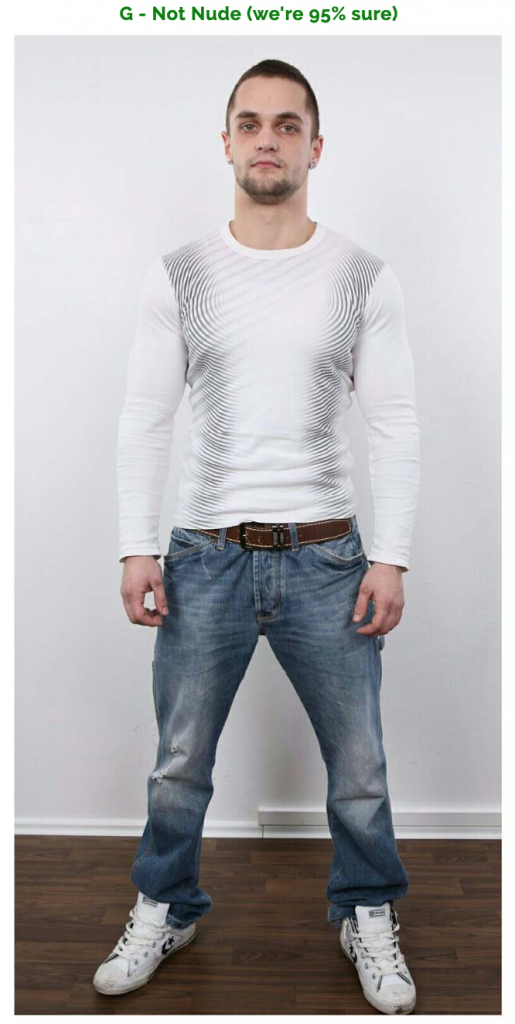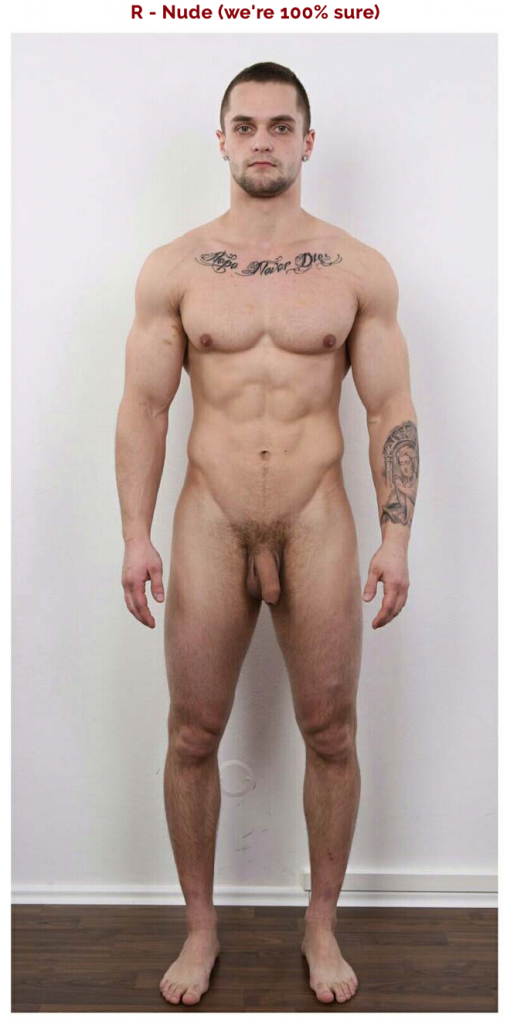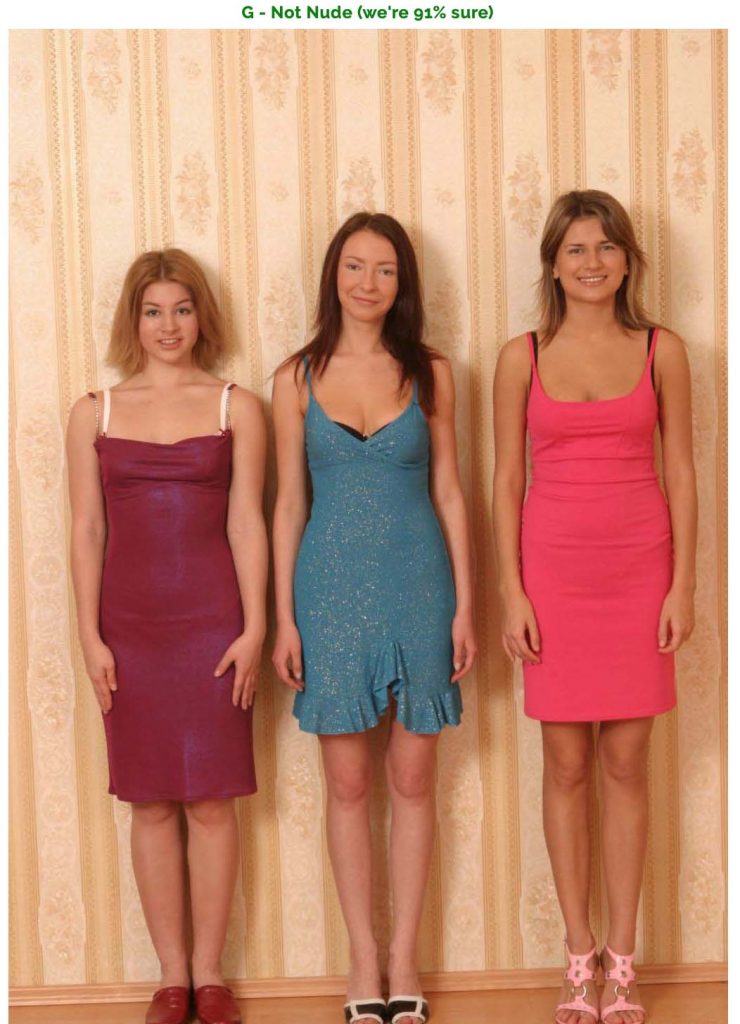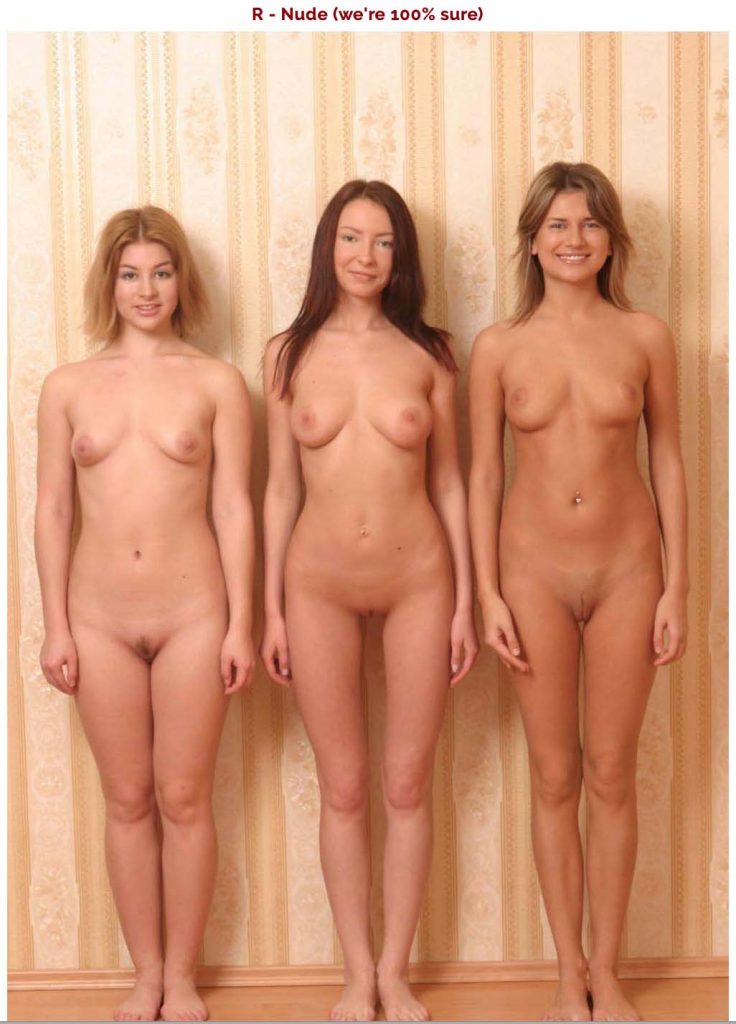 Ok, so far so good. For both men and women the system clearly detects when a person is nude. Interestingly it's always 100% sure about the nudity while only ninety-ish about being not nude. Does this mean that the algorithm leans more towards nudity? Or does the system just want us to double check our images for an accidental nipple before we post them on Facebook? We'll leave that in the middle.
Above images were pretty obvious of course, let's see what it has to say about male and female chests.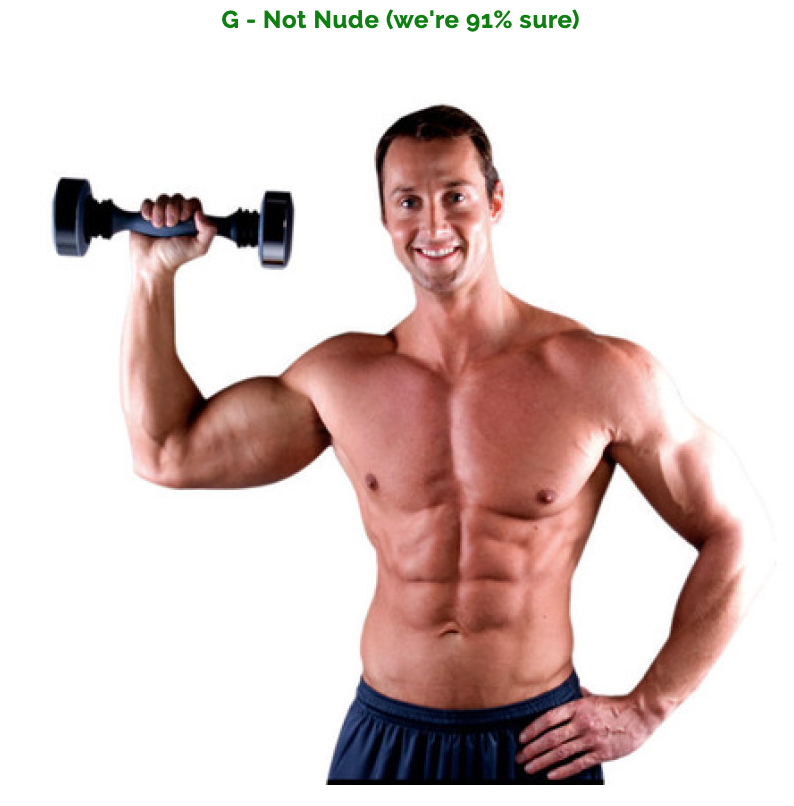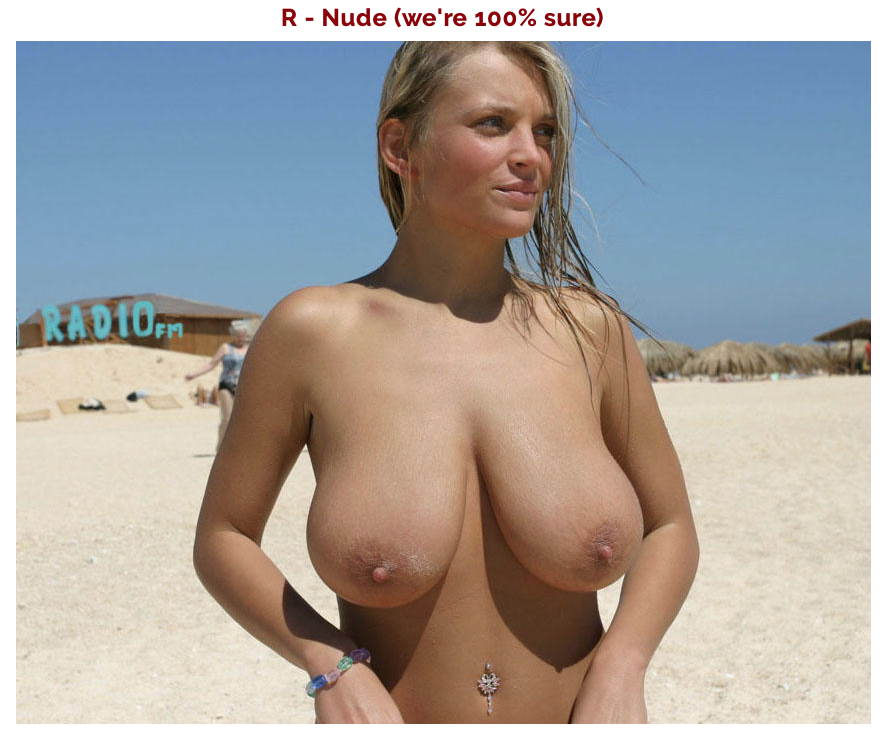 Interesting… the nude chest of a man lifting weights is not really nude while the chest of a woman on the beach clearly is 100% nude. Of course this only proves what we already knew and what the whole
#freethenipple
movement is all about.
Then we started wondering… which upper body parts really define whether we are male or female. Does the algorithm uniquely know this by the form of the chest?
An evil mind took over and we wondered… what if we cut off their heads?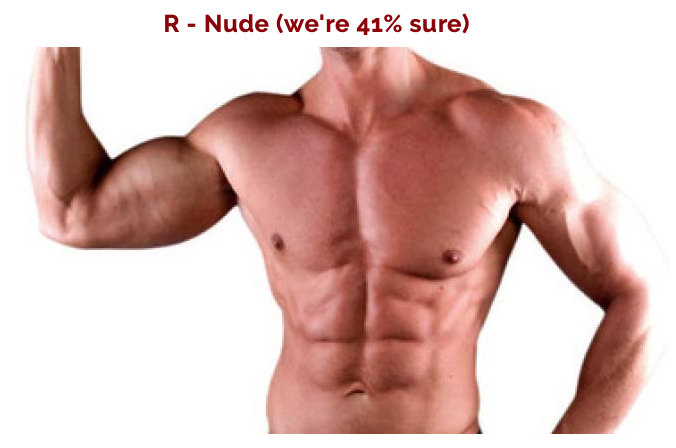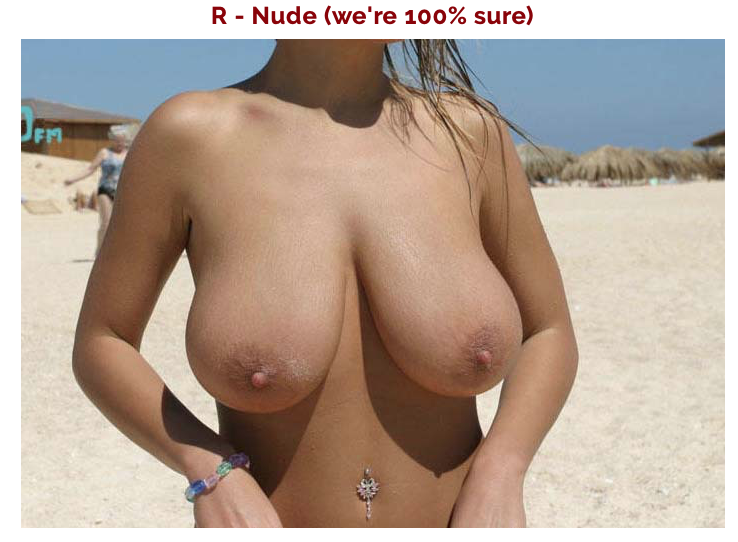 If that's you on the picture we're truly sorry about the head, we'll get you a new one! But hey, at least you helped proving a point. Without the guy's broad cheek bones the system isn't that sure anymore. As we can see on the picture of the lady, the form certainly has something to do with it because it's still 100% nude but now also the guy appears to be pretty nude as well.
Lessons learned for the men: When you want to brag with your broad chest, make sure to include your face or social media may not like it!
Messing with the algorithm
Alright, we think we can say that the algorithm works pretty well although we've already been able to fool it once during our first tests.
That was cool and interesting, but now let's have some fun!
Case: You're really sick of Facebook and you want to quit your account but then all your friends will be saying "hey, don't you like me anymore?", "how are you going to look at the pictures of my food and cats now?" and stuff like that. So you actually WANT Facebook to ban you but you don't feel much for exposing yourself butt naked for all of Facebook to see…
The perfect solution: A nude suit!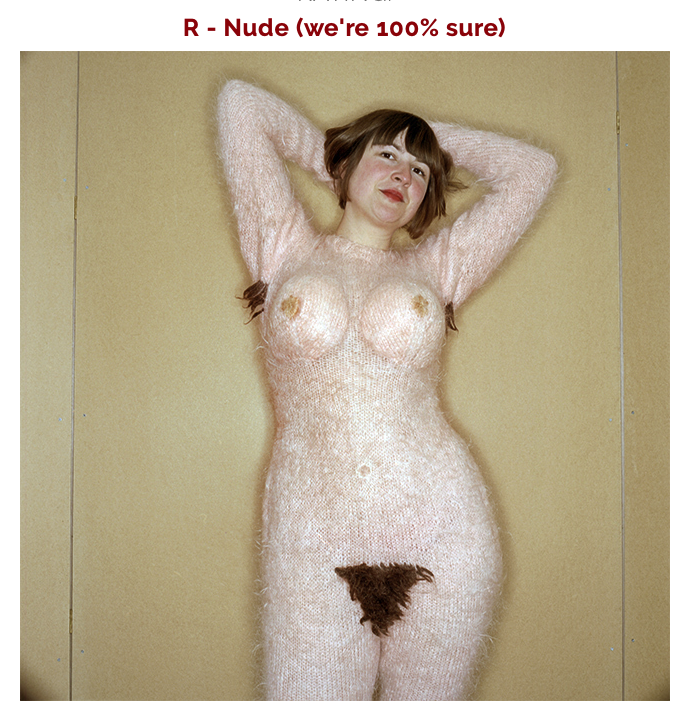 Kissing your baby in a weird position might also do the trick…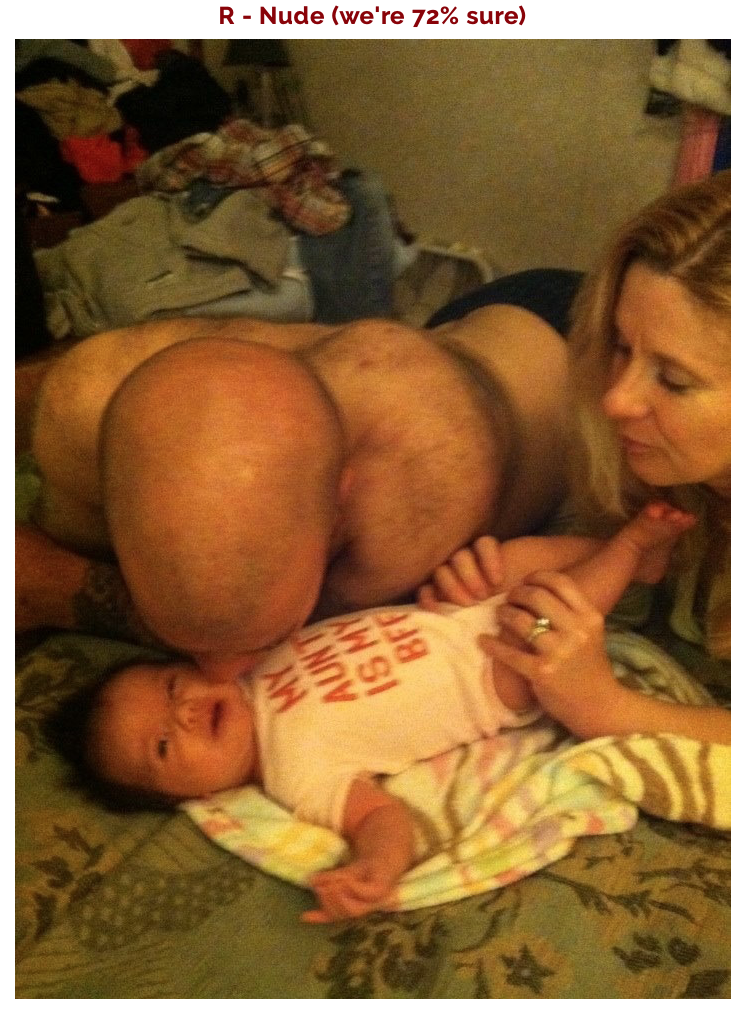 Case: You really really want to flash some naked body parts on Facebook but you do not want to get banned.
Solution: Body painting works like a charm!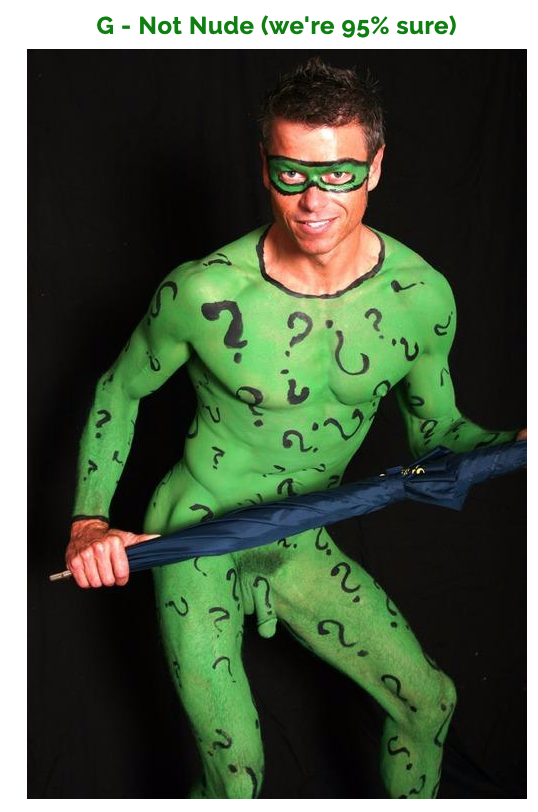 See through clothing does not.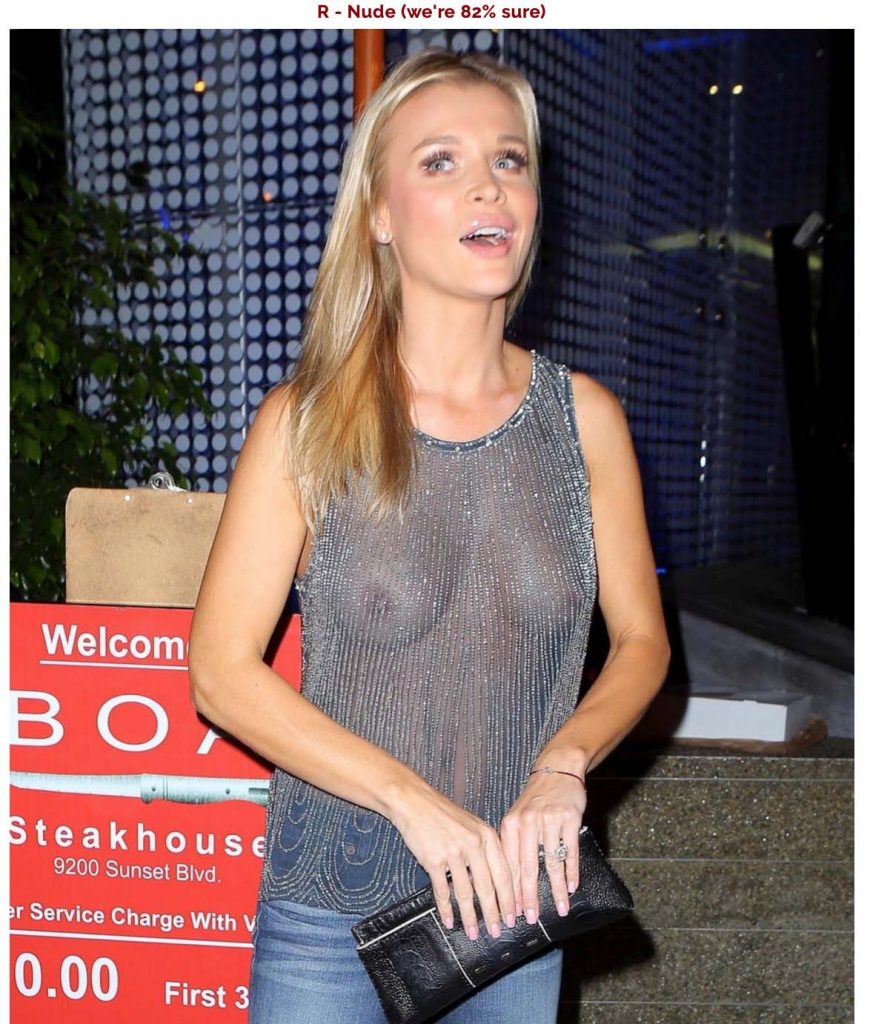 Will this system protect us?
As we can see, it's pretty hard to define what will be allowed and what not. Of course it's a lot of fun to play with these things but in the end they are implemented to protect the social media users. To protect ourselves.
Let's have a look at how much we can rely on this protection.
Case: Let's say you're Rihanna or Mariah Carey and you have a serious problem with escaping nipples. Will you be safe on social media?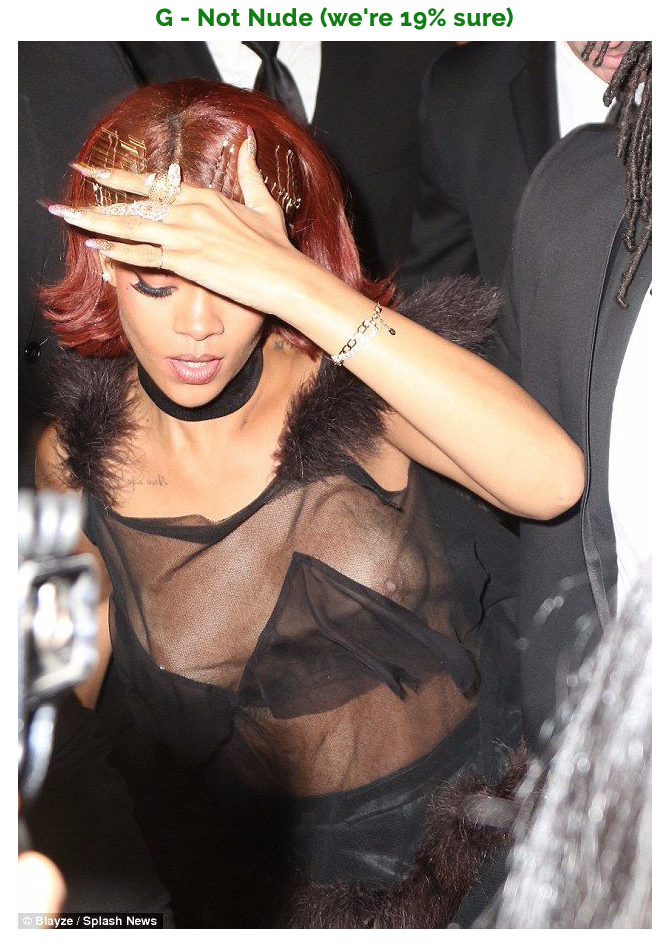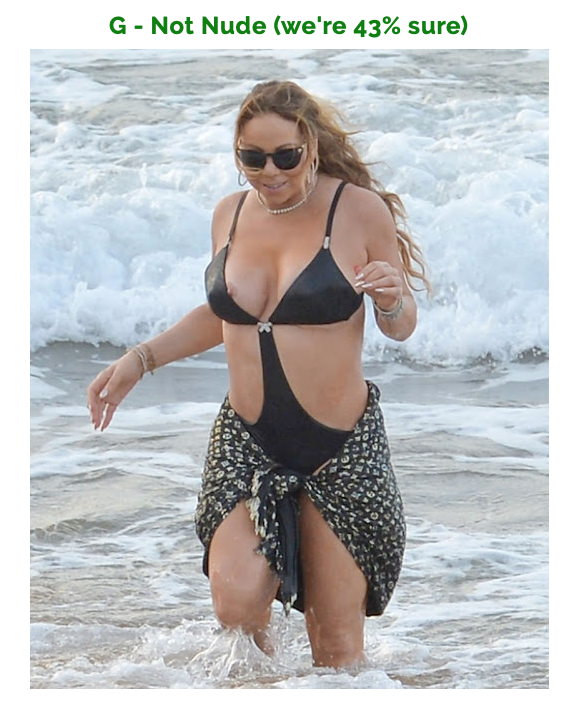 Sorry Mariah and RiRi…
Case: You got ridiculously drunk in Ibiza and someone talked you into buying a Borat bathing suit. Will you regret this tomorrow?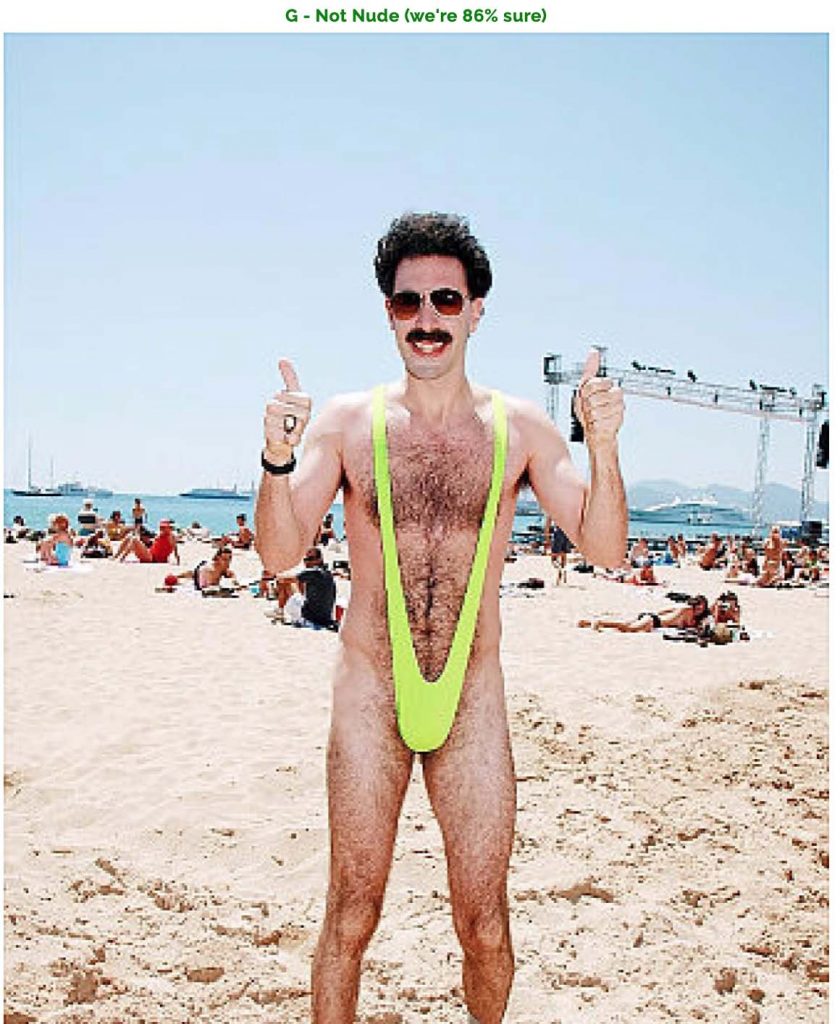 Not so very naaiize…
Case: You only brought one bikini to Ibiza, you evil girlfriends decided to cut away most of it and all the bikini stores are closed.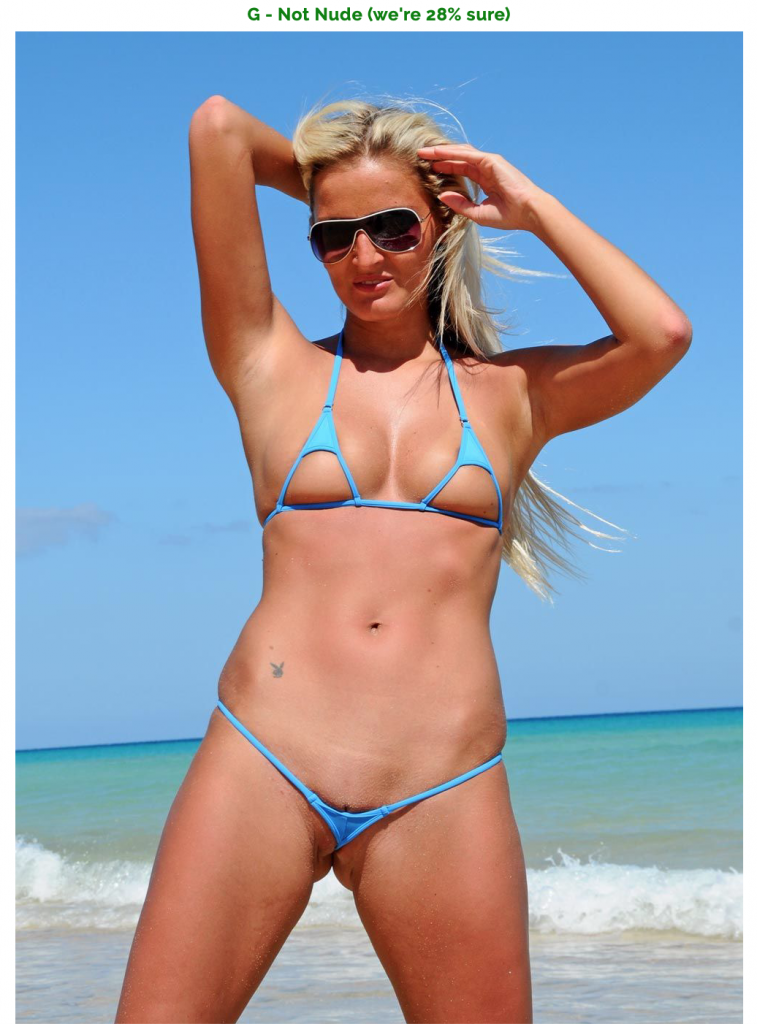 We may be joking but this is actually very sad… Remember the photos from our first tests? Those were forbidden. But this one perfectly passes the test.
Nudity in the animal kingdom
As far as we know, the no-nudity rules on social media only apply on humans. That would be really weird if you were forced to put your pets in ridiculous dresses before you can post their picture on the internet. But these days, you never know.
So we decided to do the test with the animals closest to people: monkeys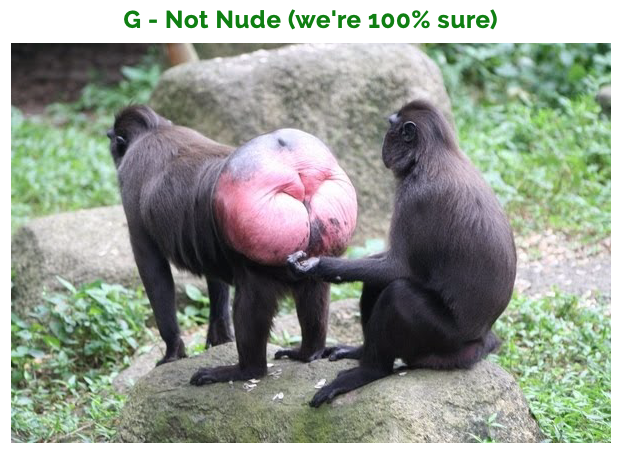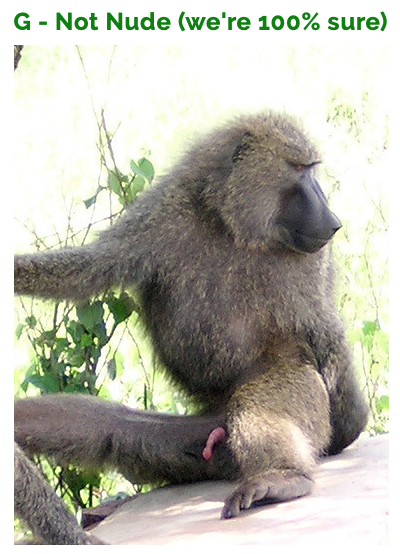 Both or monkeys passed the test! Hooray!
Short side note: If your partner says you're a pig we're pretty sure that doesn't count.
Unfortunately we also found animals that didn't succeed… Strangely enough we couldn't even see any of their "forbidden parts"…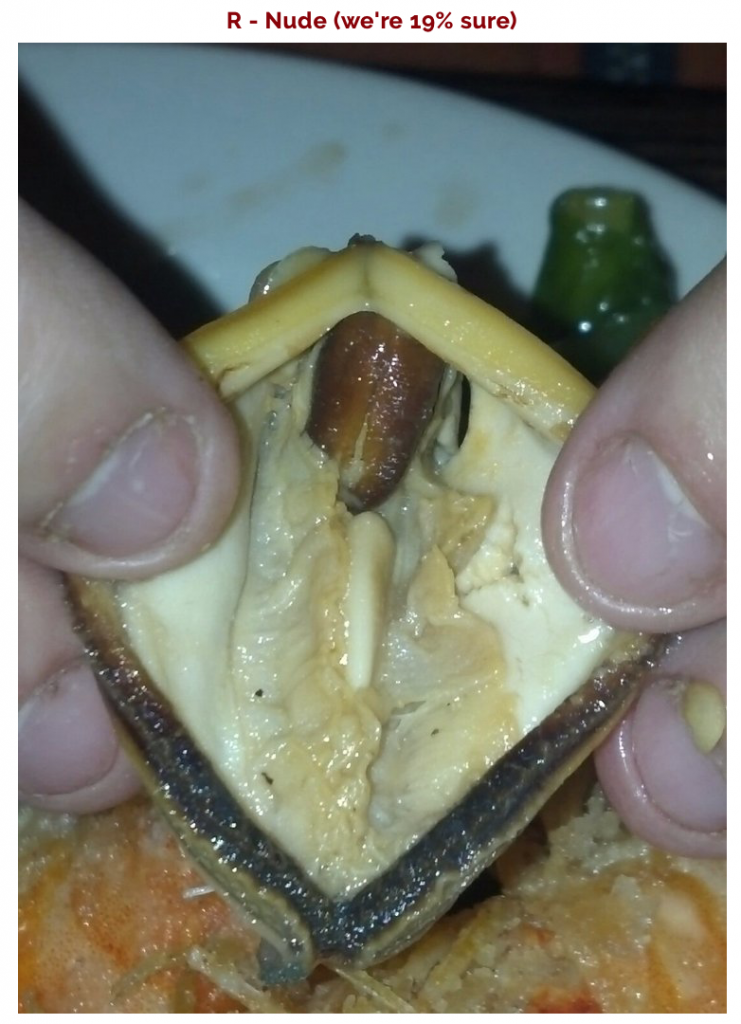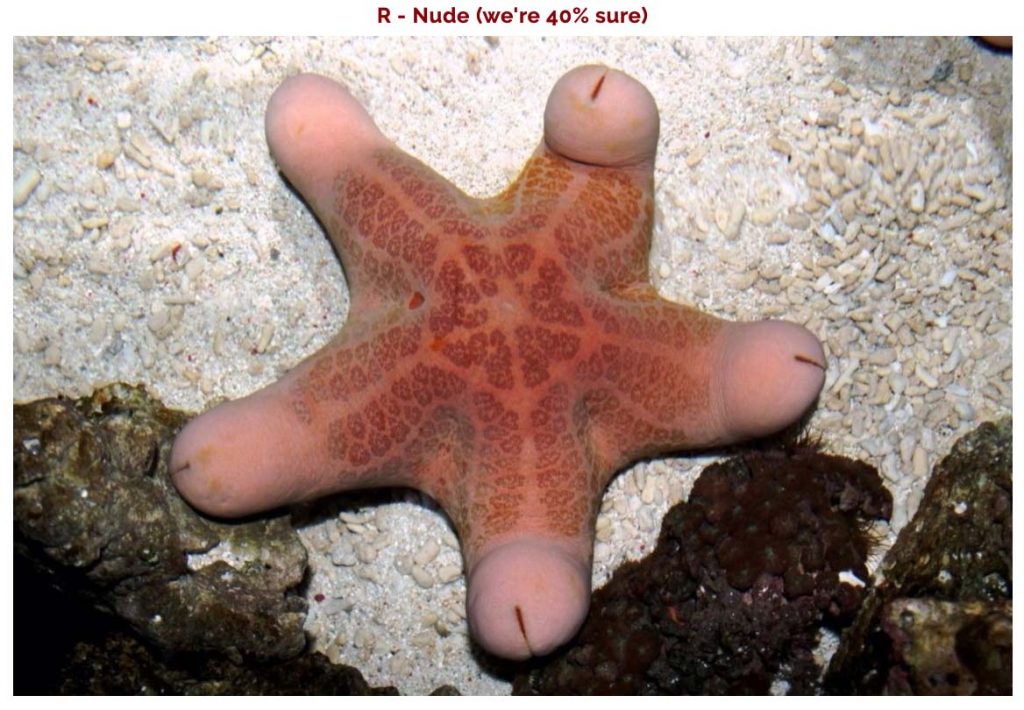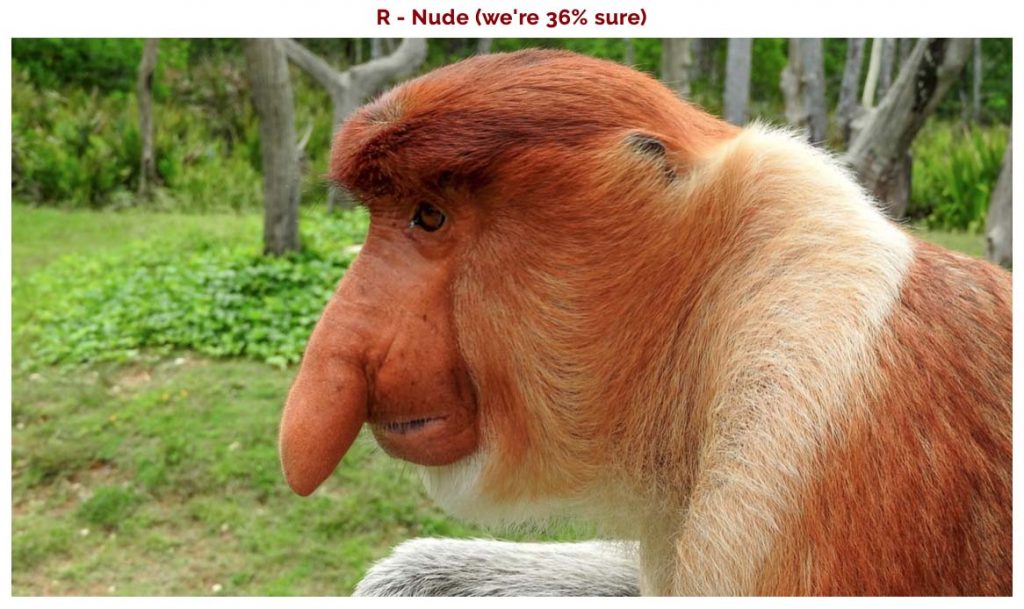 Is that a penis on your face? According to #isitnude it 36% certainly is. No wonder the poor guy looks so sad.
Nudity in the arts
Some time ago we couldn't have been more proud about our Belgian tourism board because they were picking a fight with Facebook through this
hilarious video
for banning nudity in art.
So we wondered what
#isitnude
would think about this.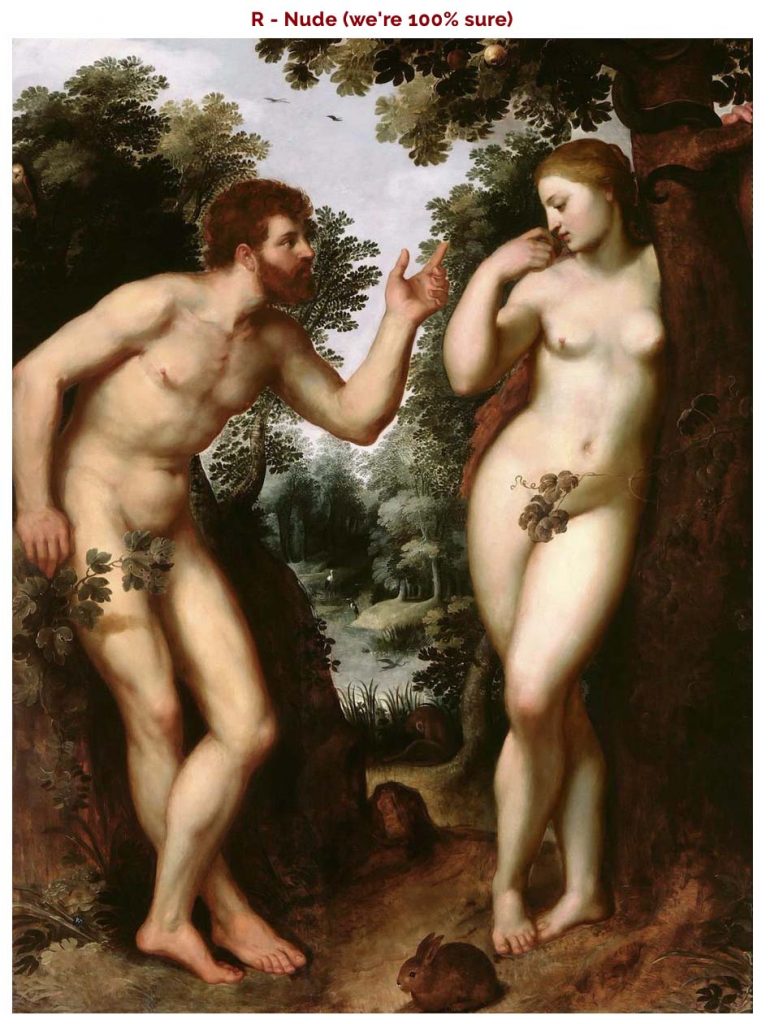 Apparently the 17th century Flemish painter Peter Paul Rubens knew pretty well how to paint anatomically correct nudes.
Now that nude museum tours are becoming a big thing around the world, can you post pictures of that experience online?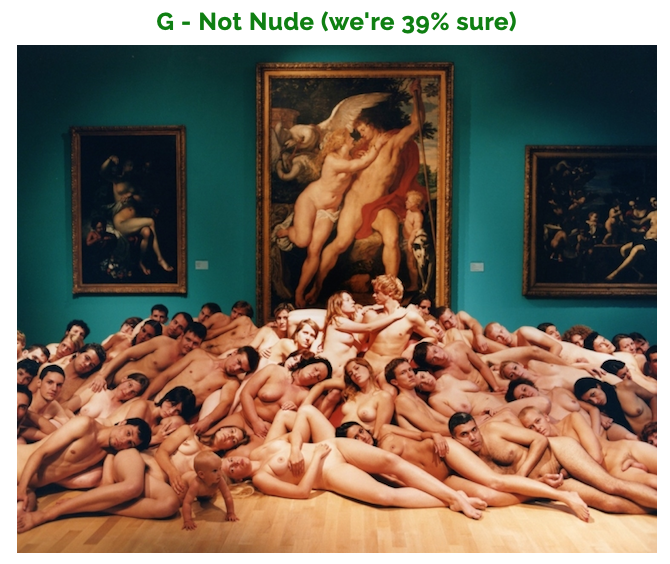 Yes you can! As long as you get closely together in a somewhat awkward pose.
Talking about lots of naked people, what will they say about Spencer Tunick?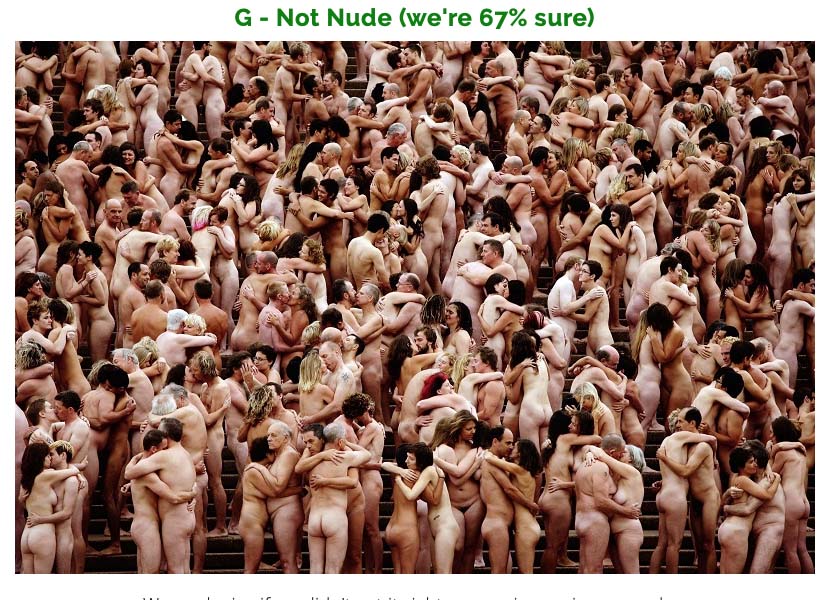 Also Spence passed the test perfectly!
Our "nude" pictures
Although all these tests have been a lot of fun to do, we do get some doubts about society. Or at least about how society is seen by some machine running on artificial intelligence. Dark nightmares of The Terminator movie are coming back. How bad will it be for us if we let machines make the decision between good or evil, between nude or not.
Let's have a look at two of our own pictures for which we have been banned on Facebook and Instagram.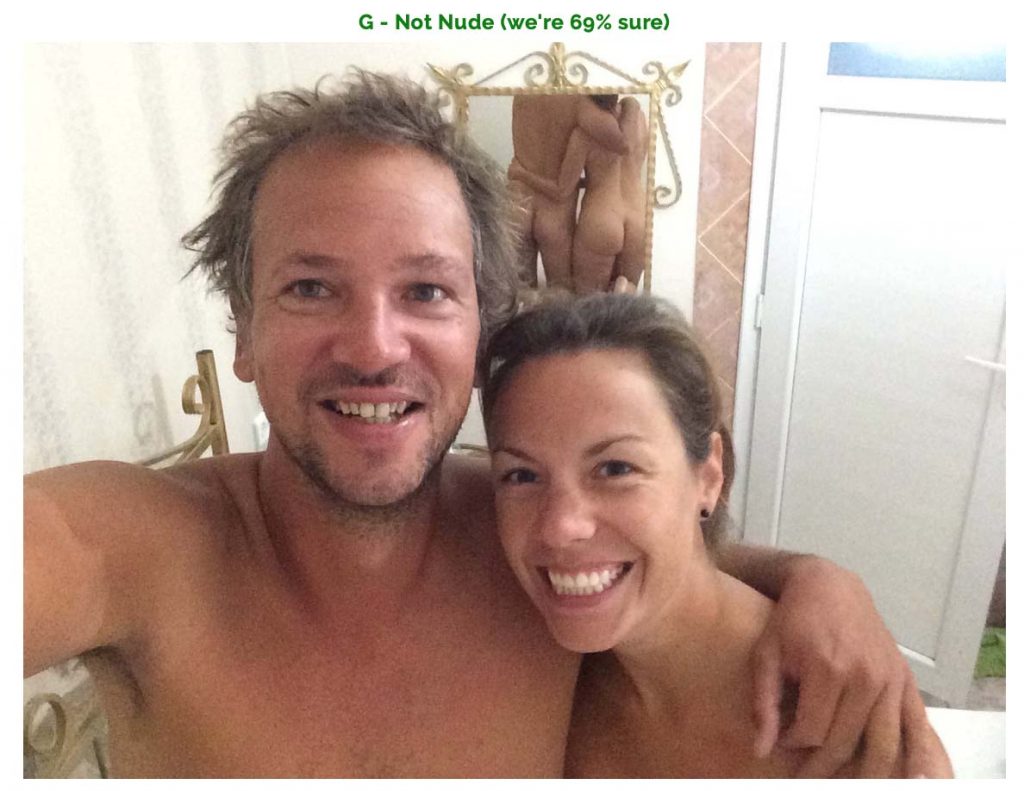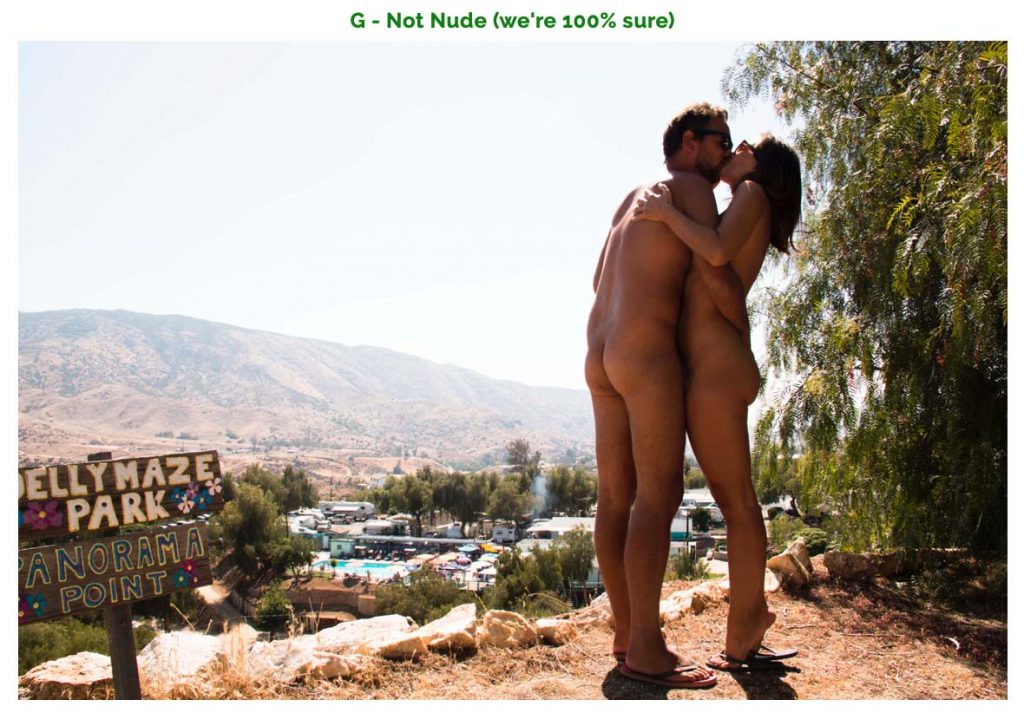 To the #isitnude standards both photos seem non-nude and yet they got us banned. Meaning that the algorithm Facebook and Instagram are using is different than this one or that there are other (human?) checks involved as well. We'll probably never know.
Summary
If you ask ourselves, the monkey with the big nose or RiRi, we believe we can all say that that #isitnude is not 100% waterproof. On the contrary. Our hopes that someone will invent an algorithm that can differentiate non-sexual nudity from porn are buried deep again in our back yard. But it did show us how ridiculous the whole system is.
Now we just hope that Google doesn't ban us for all those weird searches we did today.
Wanna give it a try as well? Visit https://isitnude.com and see if your pictures are nude or not and if you can beat the system. Send your best ones to

[email protected]

and if we receive enough we'll publish them! (No Porn!)
Picture credit: The photos in this post are coming from Google and Twitter. If you find one of yourself and you don't want it to be on our blog, let us know and we'll remove it.
---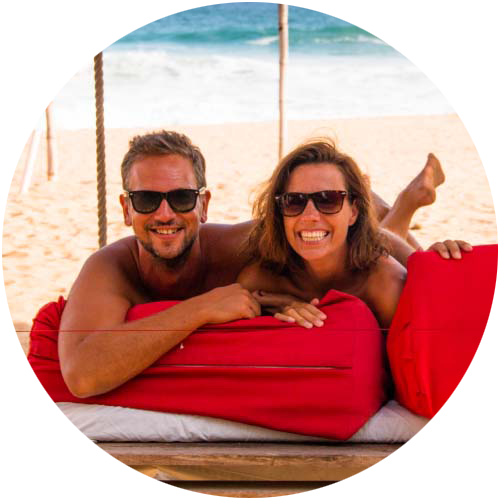 Support Naked Wanderings
Do you like what we do for naturism and naturists? Did we make you laugh or cry? Did we help you find the information you were looking for? Then definitely join our Patreon community!
---