Let's start this blog post with a question we've asked many times before… Why do so many nudist resorts fail to attract new members? Especially younger members?
For the resorts it's a big frustration because much of their income and their future are based on that. But also their members like to see a new face now and then and would love their naturist club to regain the vitality it had decades ago when there were weekly volleyball tournaments, kids running around and and young couples enjoying life without clothes.
Human as we are, we blame others for this. Youth has become prude, our resort doesn't advertise enough, our
naturist federation
is a failure, it's all because of
social media
and the smartphone… We've been through this a million times already.
An obvious question could be: If you want more members, why don't YOU bring them?
You have family, friends, neighbours, schoolmates, Facebook connections, colleagues, a postman (or postlady) and a doctor.
Why don't you bring them?
Silence.
Our nudist friends
It had never occurred to us to bring our textile friends, family members or our postman to a nudist resort.
Nudists are friendly people
and we always managed to make some new friends at every nude spot we went. Somehow we lived in two different worlds: Our clothed world with the people we've known for a long time and the nudist world with completely other people, most of them we've just met. And that's fine. It's comfortable. We just create a new group of friends.
Isn't that how it happens all the time? We have our friends at the sport club, our colleagues, our friends from school. People with complete different backgrounds with whom we just happen to share a certain interest or passion. Just like we do with our naked friends. A big difference though is that we might invite our school friends for a drink at the bar of our gym. We introduce our colleagues to our family at this or that party. When we're having a chat with our postman we might even introduce him to aunt Lilly who happens to pass by.
Aunt Lilly is rarely introduced to our nudist friends though and neither have we ever invited our neighbour for a drink at the naturist club.
The last taboo
We've been through a number of large steps out of our comfort zone during our "naturist career". We had to learn to feel comfortable among a bunch of naked people and to be naked ourselves among others. Both didn't take more than about half an hour but nevertheless this first step was huge.
Then we had to adjust to the idea that we now had become naturists. Or nudists. We even had to find out what we had become. And then we started telling people about our newly found lifestyle. We had to answer the questions and try to explain that we just did every day things like all other people do at a campground or a beach. Except that we do them naked.
None of our friends ever asked if they could come with us. And it never occurred to us to invite them either.
Bring a friend to the nudist club
In fact, we're not so sure how we would have felt if some had said that they wanted to come with us. We feel 100% comfortable among our naked friends because we've met them naked and have already spent a lot of nude time with them. When someone is about to leave the nudist resort we make the lame joke "Hey, I didn't recognise you with your clothes on".
But now we're talking about our clothed friends. People we've known for years but who we've never seen naked. And who have never seen us naked. How do we cope with that?
The idea came when we saw the "bring a friend" campaigns organised by several naturist federations. At first it did seem a bit awkward but pretty soon we started to see the brilliance of it.
How can we attract more people into naturism? By bringing them. By holding their hand during the first steps. But then we have to get over the idea that it might be weird. Another step out of our comfort zone but maybe an important step for naturism.
Because let's face it, we introduce people to new stuff all the time. We take them to the movies or to a bar we just discovered. We invite them to a restaurant we love, we talk them into starting to run or picking up a new sport. We have them over to meet our friends and family. Why wouldn't we take them to our favourite nudist spot?
Homework
For us it's difficult at the moment to figure out if this strategy really works. To see if it's fun to introduce friends to naturism and whether they have any benefits from it. Maybe our relation could benefit as well from being together in such an open and honest environment. We do see the advantages but unfortunately few of our friends and family is currently where we are. In Brazil. And neither is our postman.
We rarely ask something from you but now we want to give you some homework. You probably already guessed it… We want you to try to introduce a friend to naturism. We want to learn from your experiences.
If you've already done so, lucky you! No homework!
Just let us know in the comments section of this post how it went.If it has been a while, you may also tell us whether it changed anything to your relationship. A partner also counts as a friend by the way and so does family, neighbours, schoolmates, facebook connections, colleagues, your postman and your doctor.
Give it a try and let us know in the comments!
We're very curious.
Naked Wanderings' Complete Guide for the First Time Nudist ebook

Do you still have questions about nudism or naturism?
Are you looking for even more tips and tricks?
Our ebook will be the perfect resource for you!

Learn More
---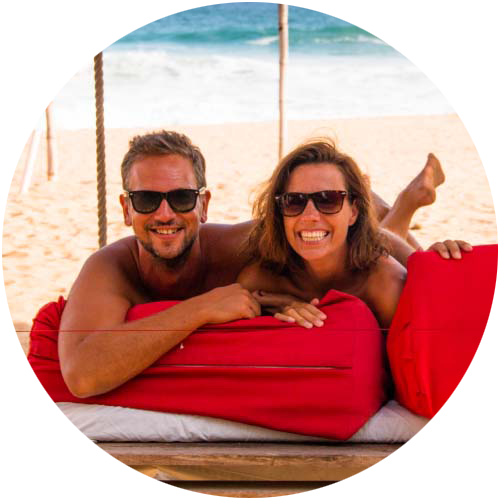 Support Naked Wanderings
Do you like what we do for naturism and naturists? Did we make you laugh or cry? Did we help you find the information you were looking for? Then definitely join our Patreon community!
---