Important note: This place has meanwhile become "liberal", which is Brazilian for saying that it's a swingers place!
Brazil is a bit of a strange country when it comes to nudism. When you look at the year-round temperatures, you can hardly see a reason to own any clothes at all. And the Brazilians adore their bodies, they spend lots of time in the gym (and often at the plastic surgeon too) to create and maintain a "perfect" body. And they love to show it off as well, preferably on one of their many beaches.
Because of the above factors, one would think that nudism in Brazil would be a big thing. But it isn't. What makes it even more strange is that on Brazilian beaches the main rule is "the lesser, the better". Men are often seen with speedos or g-strings and women's bathing suits are better categorized under rope than under fabric. But, there has to be something, anything. Completely nude is not done.
So there's little nudism to be found in Brazil, and most nudist facilities are located around or south of Rio De Janeiro. But yet we were able to find this little piece of heaven on only one hour drive from Salvador in the Bahia state.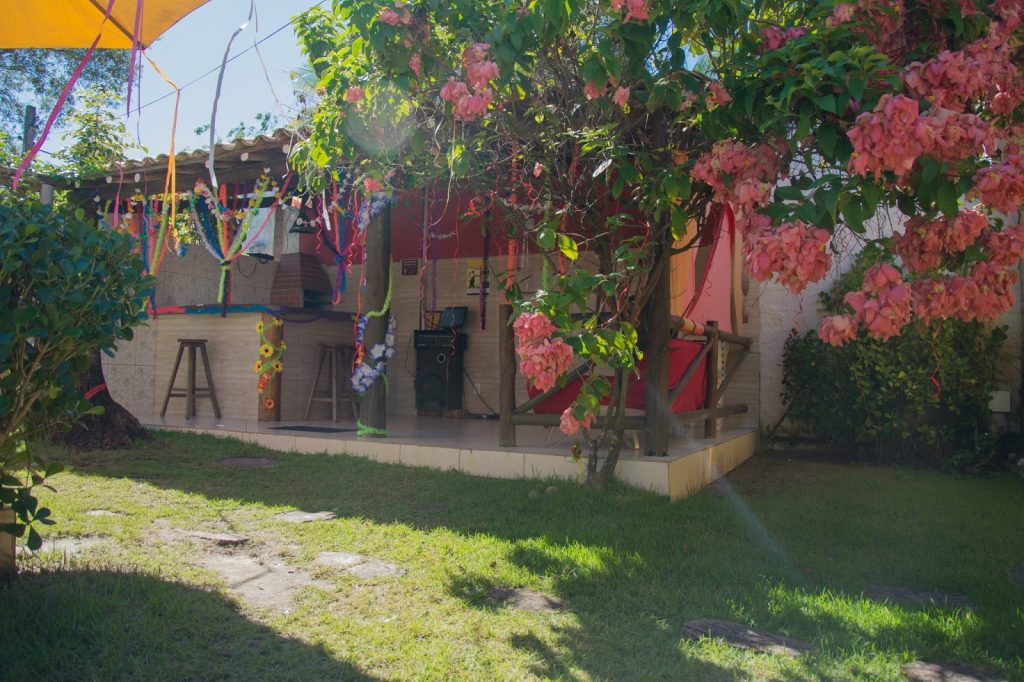 Location
The village of Massarandupió is located near a stretch of coast which is called the "Coconut Coast". This place is everything you imagine when you hear the name, white beaches, blue sea, coconut trees everywhere, and warm Brazilian sun. To get there, you must take the Coconut Road (how convenient) for about an hour north from Salvador.
If you don't have your own transportation, it's a bit tricky to get to the village because it's still about 5 kilometers from the main road and there's no public transport. Most of the time there will be motorcycle taxis waiting at the place where the bus drops you off, but if they aren't there you'll have to walk. Luckily you have about 95% chance that if a car passes by, they will stop and pick you up. Often making another stop along the way to buy you a drink.
Accommodation
Encanto de Massarandupió is quite a big pousada (that's the Brazilian word for guesthouse or B&B). It consists of a garden with a small swimming pool in the middle surrounded by rooms. The rooms are pretty basic but spotless and they have an attached bathroom, or at least the one we had done.
Because of the nice weather and the beautiful garden you don't need much more as you won't be spending a lot of time inside anyway.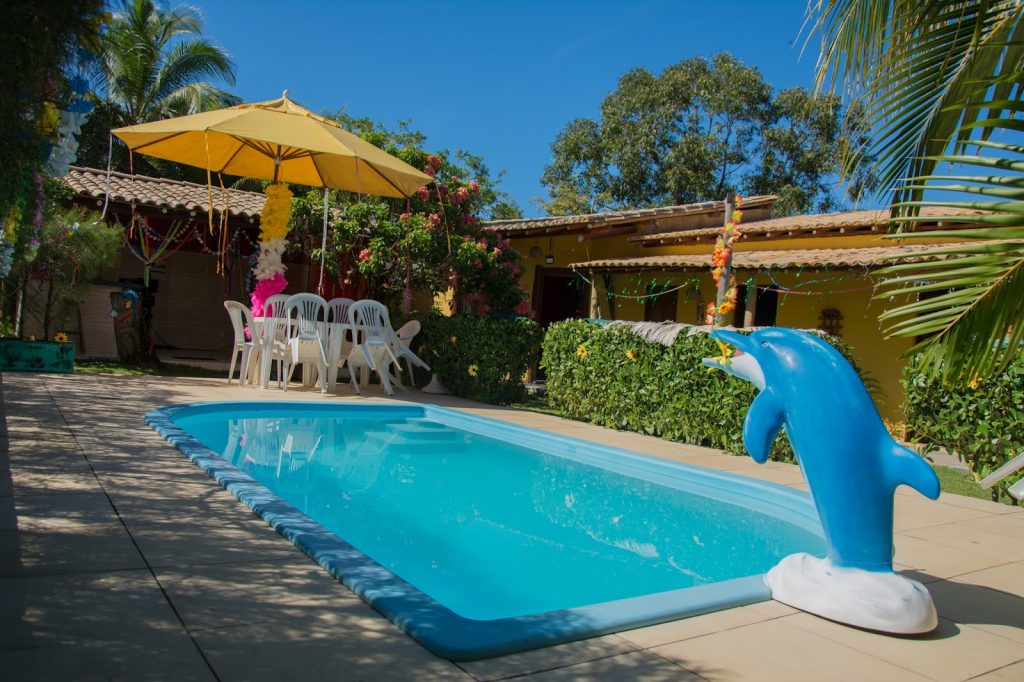 Facilities
The options to keep yourself busy in this place are rather limited. There is a swimming pool, but don't expect to become a professional swimmer here. The main purpose of the pool is to cool down rather than to swim some laps. Other than that you can relax with a beer in one of the chairs or hammocks and that's about it.
If you're looking for an active holiday, this might not be the right place for you, but if you want to spend some days relaxing in the sun and reading a book, you'll love it here.
Surroundings
As we mentioned before, this is the Coconut Coast, so the best attraction is probably the beach. And lucky you, one of the few nude beaches in Brazil is located within walking distance from the village! And what kind of a nude beach… It's big, it's white, it has palm trees and it has a bar.
Be careful though, the sun is really strong over here. We managed to get sunburned even though we'd spend most of the day under an umbrella and at that time our skin was already quite adjusted to the Brazilian sun.
The village itself is really small-town Brazil. Sand roads, a couple of houses, a couple of bars, two or three restaurants and a shop, and that's about it. If you want to get some action it's better to take the bus to one of the more touristic villages in the neighborhood. Praia do Forte for example which is only about 15 minutes away (once you got to the main road), where you can visit the impressive castle, ride a horse, go diving or surfing or banana boating. If you come in the right season (Dec-Feb) you can even see a lot of sea turtles.
And if you really want to get busy, Salvador is only one hour away. The city is famous for its history and culture, its historical center, and many cathedrals, but as well for its lively atmosphere. There are music and caipirinhas everywhere.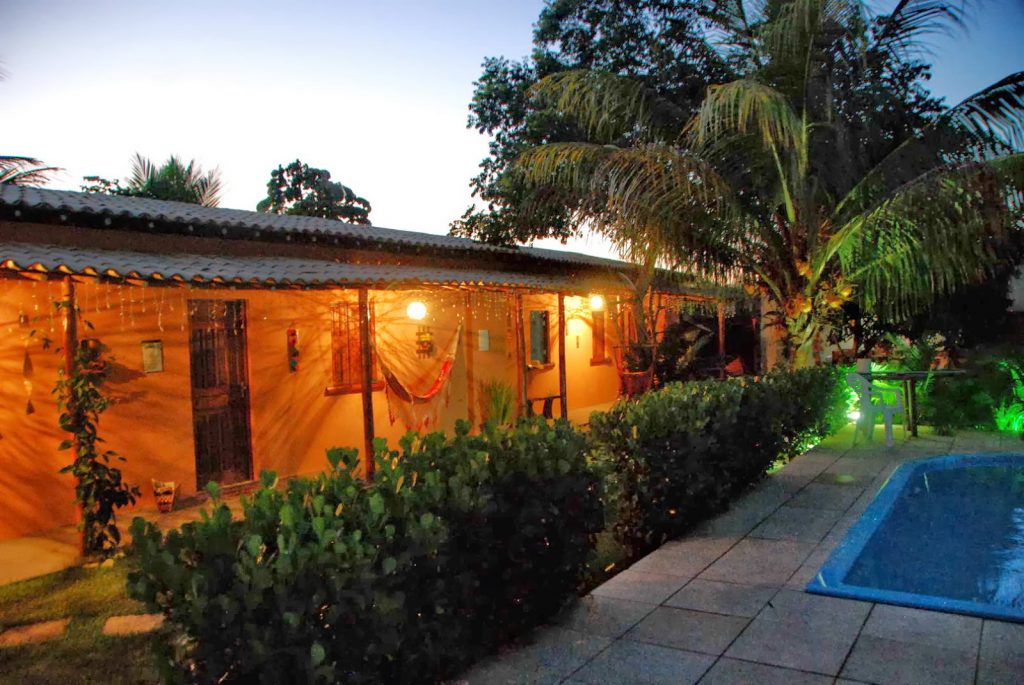 Staff
There isn't so much we can say from the staff because we had a huge language barrier. None of the staff we met spoke a single word of English and our Portuguese is… well… let's call it basic.
Nevertheless, they were helpful and patient with us and they made sure we had everything we needed.
And oh yeah, they make delicious breakfast!
Guests
When we were there, there were very few other guests. We don't think that they get a lot of foreign tourists in this place, everyone else we saw was Brazilian. The other guests were not particularly chatty. During the day that is. In the evenings, when beer and rum started to flow it suddenly became a lot easier to make contact and we did have some interesting late-night talks.
Summary
For foreign tourists, this place is quite "off the beaten track", it's not the kind of place we're used to in Europe or the US. But don't let that hold you down. If you like a bit of adventure we're sure that you'll love this place. At least we did!
---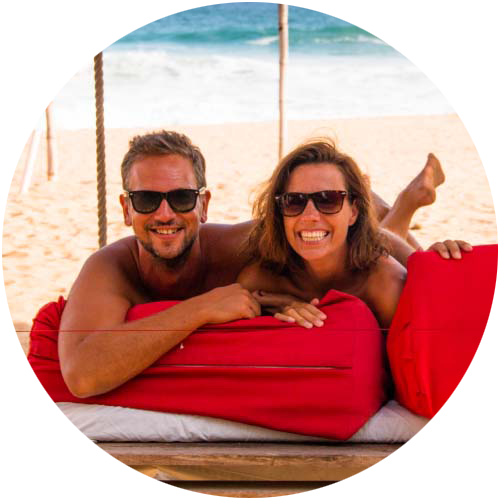 Support Naked Wanderings
Do you like what we do for naturism and naturists? Did we make you laugh or cry? Did we help you find the information you were looking for? Then definitely join our Patreon community!
---