One of the main reasons why we started this project is to show the world that naturists are not some strange dark commune but that actually everyone could be one… Or could enjoy being one if they took the first step.
Our main example of "everyone" is of course ourselves, we write posts about naturism in general but also about our own experiences. But some of you might be thinking "Yes sure, those two are probably just the strange kids in the block…" (nah, we know you're not thinking that about us, but we're trying to write an introduction here). So we decided to let other naturists have a word as well.
So please sit back and get inspired!
Meanwhile we already published interviews with people from all over the world. You can find them in the
The Naturist Talks
section.
Today we'll be listening to Michal from Poland
Hello Michal, tell us something about yourself
First of all, I would like to say hello to all readers and all naturists! I am (already) 34 years old and I live in the southern Poland, in the mountains – far from the sea and beaches. Moreover, during most of the year, I spend ¾ of my day at work, behind the desk and in front of the computer, however this doesn't interfere with the fact that my real passion are travels (the further, the better) that provide me with a sense of freedom and independence (without telephones, computers, Internet, e-mails, alarm clocks and watches). In my experience, the travelling and sense of freedom are associated with naturism, which for me is as a relationship of man with nature, landscape, water, sun …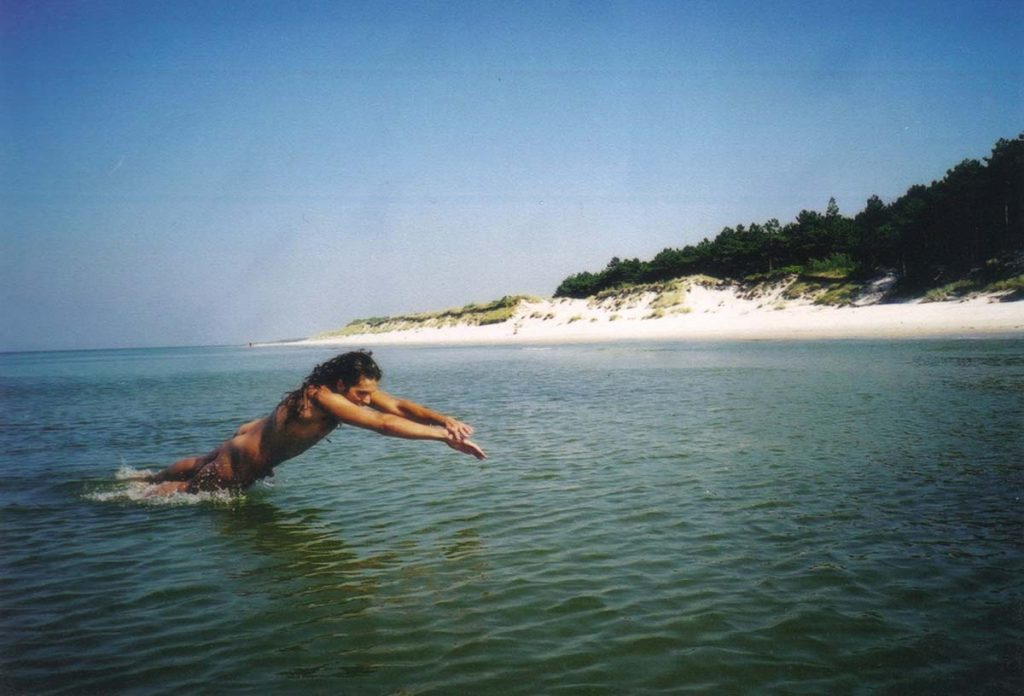 How and at what age did you become a naturist?
I have been a naturist almost my entire life. My fist contact with naturism and naked beaches took place when I was 6 or 7 years old, during the holidays with my parents in former Yugoslavia (I think that currently it's Croatia). Already as a child, I was thinking that in some situations it's simply more comfortable to be without clothes, than wearing them – for example, I didn't like to wear pyjamas or swimming trunks. My opinion on this subject has not changed.
I've lived in Germany for many years and naturism (it's abbreviated FKK) is very common in this country. Naturist beaches by the lakes or rivers (often official) can be found practically in every city, while at the seaside, particularly at the Baltic, not only numerous nude beaches are located, but often there's even no distinction between naturist and textile beaches. Everyone is chilled out, there's a mutual tolerance and freedom to sunbath/swim the way you want.
I also had a chance to visit naturist beaches in the Netherlands, Spain, Czech Republic, Ukraine, Romania and Bulgaria. The experiences were of course diverse and I would even say that there are various European naturisms – from the fully sanctioned and official FKK in Germany, Czech Republic or the Netherlands, through tolerated, however not very popular naturism in Poland, to naturism that still has (the way it was in the Eastern Bloc countries in the 70s or 80s) the character of contesting modern civilization or revolt and being an expression of certain subcultures – e.g. in the Crimea (I was there, when it was a part of Ukraine) or Romania.
Is naturism allowed in your country and what's the public opinion?
Yes, naturism is legal in Poland in designated (few) places, however it's not too popular, and it has been perceived as something suspicious, "dirty", forbidden for many years. This situation is getting better and the first officially marked naturist beaches are appearing at the sea, as well as more and more people use saunas or SPA in accordance with the rules of correct saunaing. Moreover, we have over a dozen of unofficial beaches at the Baltic Sea and at least several places at the lakes or rivers, where naked people are usually gathering.
Nevertheless, much distinguishes us in this context from other European countries, and – in the case of living close to the border with the Czech Republic and Slovakia – we prefer to go to naturist beaches there, than in Poland (of course only if you don't take into account going to the Polish sea – which is located pretty far – because nothing can replace the appeal of wild Baltic beaches, this white sand that squeaks under your feet, as well as sand dunes and forests. Just like in the polish song – "sound of the sea, singing of the birds, golden beach among the
trees" …). However, I have to also add that in some places the concept of naturism is distorted, and mainly homosexuals and peepers gather there with sexual motives on their mind – whereas this isn't what naturism is all about and people with their family, wife or children wouldn't want to visit such places.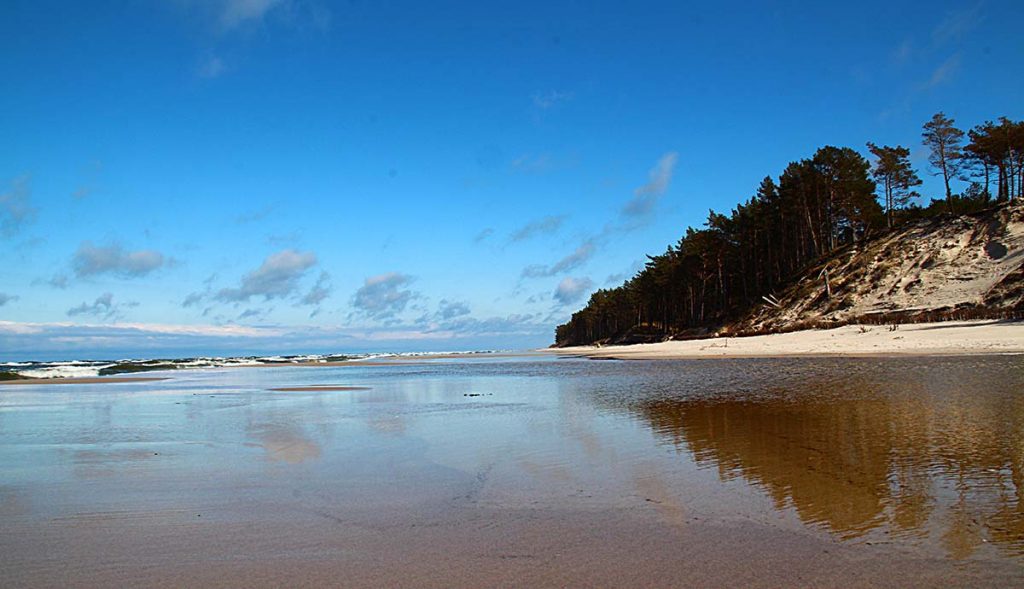 What do you think is the best and worst thing about naturism?
If it had to use only one word to describe it – naturism means freedom for me. Personal freedom, freedom from modern civilization (its oppression, rush, materialism). Freedom and unity with nature; naturism provides the possibility of direct encounter with the wind, sun, water and landscape.
What's the worst? I don't know what can be the worst in naturism – I have no negative experiences or memories. The only bad thing is that you can't practice naturism in your everyday life, because when I get back home in the evening, the first thing I do is take off these constricting and oppressive pants, shirt, socks…
Do you find it easy to make naturist friends?
Unfortunately, it's not easy to get to know other naturists. We are naturists together with my wife, but with the exception of one other couple living about 100 km from us, we have no other naturist friends. Although you can meet someone on the naturist beaches, they are usually temporary and short-term relations, consisting of playing football together or watching each other's things, when someone goes for a swim.
Also, it would be difficult to propose a joint trip to the naturist beach to my friends from work, because as I mentioned before, the naturism in Poland is not perceived neutrally yet. There's of course the Internet and various groups on Facebook – but in this case, you never know who you're dealing with and also, there are many people who verbally declare that they are naturists, but in reality they wouldn't go to a nude beach or they would go, but not because they are naturists.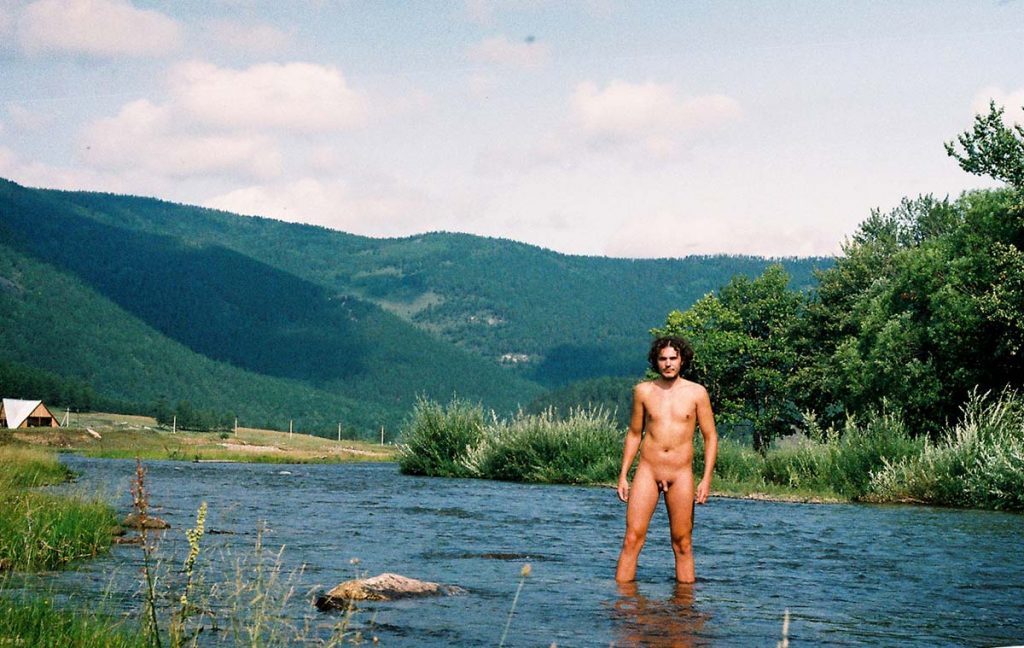 What's the best tip you have for beginning naturists?
You should discover naturism just for yourself. You can't be forced to naturism, just like you can't be forced to a particular worldview or political ideology. If someone categorically couldn't undress in a (more or less) public place – then that someone should not do it. If someone would like to try it, but has some worries – it's a good idea to start with a quiet secluded place, like a wild beach or other remote area. Other than that, I have no more tips – you can't never be too old or too young for naturism. Therefore, it's never too early or too late to become a naturist.
Anything else you'd like to share with our audience?
I'm very happy that I was given this opportunity to express myself and briefly tell you about my experiences with naturism. I would like to thank you very much and I send greetings from Poland!
In order to sum up, I will tell you which naturist places impressed me the most: firstly, the Rügen island located on the Baltic Sea in Germany. It's full of beautiful landscapes, with sandy beaches, cliffs and forests that go on for over a dozen of kilometres… Plus a whole bunch of naturist beaches, as well as those where everyone swims and sunbathes the way they want – whether in swimsuits or without them. Everyone will find there something for themselves, whether they are looking for a peace and quiet or want to play football, listen to music or buy ice cream/cold beer on a nude beach. The second place of such type – Vama Veche in Romania. A few years ago, this small village at the Black Sea had a very special beach, combined with a wild camp of cars, tents and trailers on the sand. It was full of hippies, people with long hair, who were drinking wine from morning till night, organizing bonfires, playing guitar and singing. I was there a few years ago and probably a lot has changed since then (it probably became more civilized), but I will never forget when on my first day there, I was walking on the seaside promenade in Vama Veche, not expecting anything, while suddenly we noticed a naked man, who in Adam's outfit came to the town centre in order to buy a beer in some
store.
Lastly, I would like to add one more thing – I know that this is not the place to advertise anything, but maybe the administrators of this site will allow me to slip one little thing  – I run a group on Facebook dedicated to the topics of travelling and naturism:
NATURYZM I PODRÓŻE – Naturist Travels
. I encourage you to visit it, if you're interested in such topics!
Thank you so much for your participation Michal!
Do you also want to tell your story and experiences in naturism? Please get in touch via the CONTACT page! As long as we have people who like to contribute, we can keep The Naturist Talks running!
---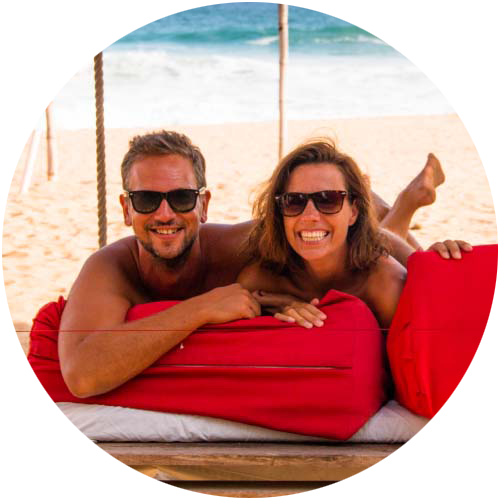 Support Naked Wanderings
Do you like what we do for naturism and naturists? Did we make you laugh or cry? Did we help you find the information you were looking for? Then definitely join our Patreon community!
---