Bali is one of the most popular tourist hot spots in Asia because of its year-round amazing weather, its thriving culture, its magnificent nature, and splendid beaches. And then we haven't said anything yet about the food… Yummy!
But yet many nudists tend to skip the island due to its lack of nudist resorts and nude beaches.
Bali
is governed under the Indonesian Muslim law, which means that public nudity is not something you like to engage in if you don't want to end up in jail.
Although the majority of the Balinese are Hindu, the local community is not very accepting of social nudity when it's not for bathing or religious purposes. But since tourism has been growing immensely and lots of westerners are hitting the Balinese beaches, local people tend to look the other way if a woman decides to take off her top while sunbathing. But full nudity.. Oh no.
Although you shouldn't expect any official nude beaches on the island, it does have a great advantage when it comes to accommodation. Because of the flood of honeymooners coming to Bali every year, there are plenty of options that will give you a great amount of privacy. The best example is of course the private villa which often has its own pool and garden and a huge wall around the property so the visitors can enjoy inside and outside time in the nude.
We decided to pay Villa Rini in the Ubud area a visit.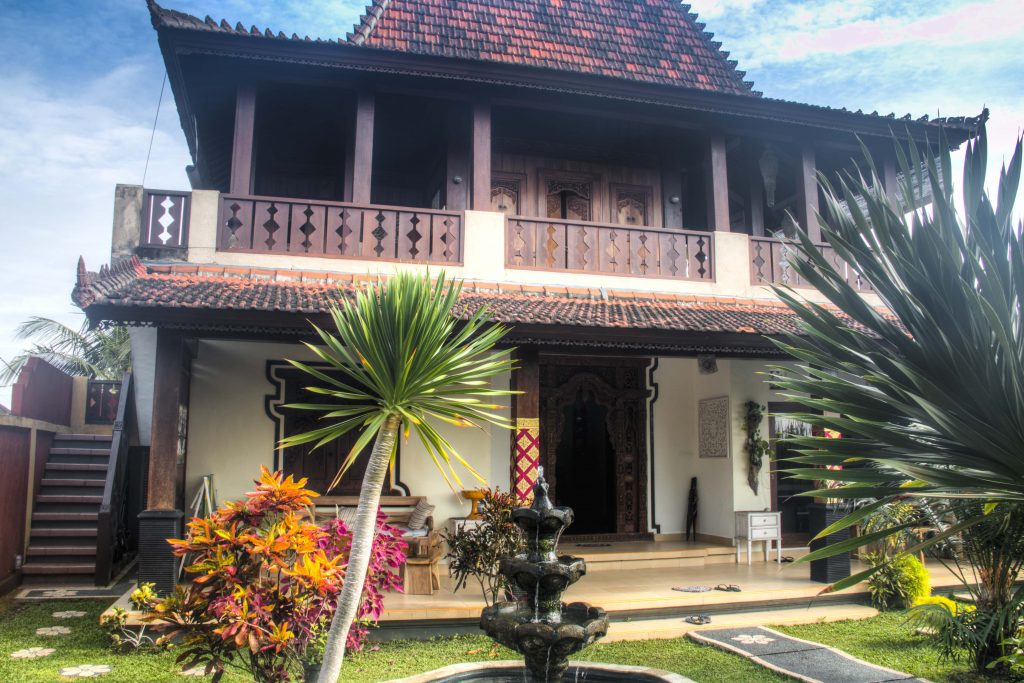 Location
Ubud is the most popular area on the whole island for those who want to taste something else than just the beach. At a very convenient distance of 25 kilometers of the international airport in Denpasar, there's no need to have a stopover somewhere else on the island once arriving.
The city of Ubud is touristy, very touristy. It's great for a visit but we preferred to stay somewhat more away from the crowds.
Villa Rini is located about 10 kilometers south-east from the center of Ubud, in the middle of the green and yellow rice fields and palm trees. During our stay, the only things we heard, smelled, or saw was nature.
Make sure to pin the location on Google maps or your GPS before you head to the villa as there are no signs.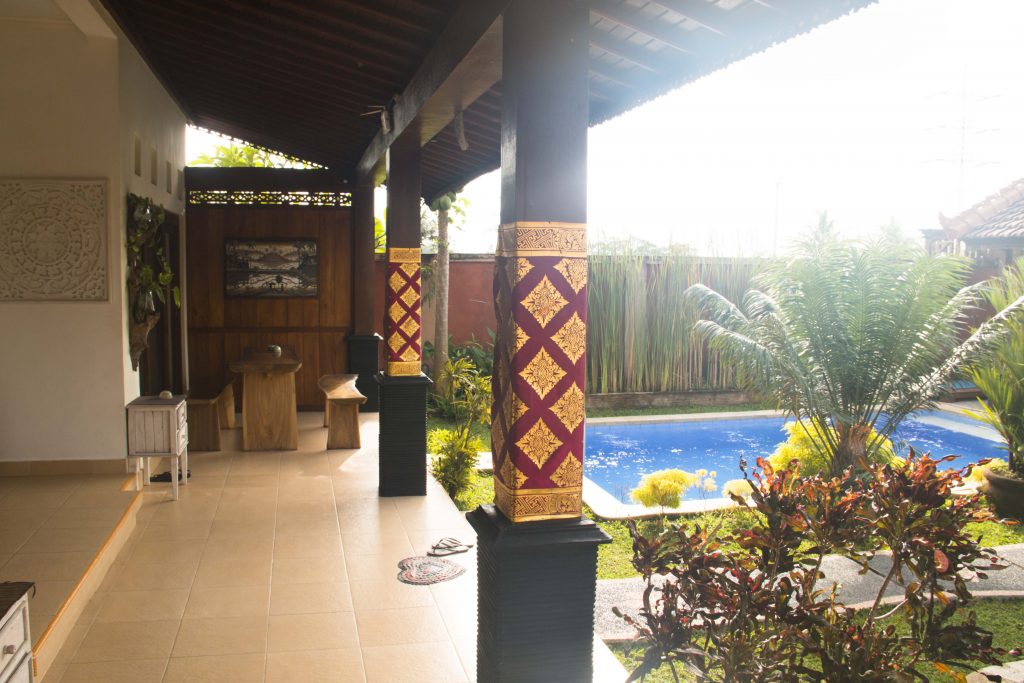 Accommodation
Imagine a typical Balinese style villa with a nice garden and just enough wall that prevents the few passers-by to have a peek inside. The villa is never shared with other guests, so the whole place will always be your own. The building consists of two levels, both with huge terraces and many options to relax or to hang around when the rains kick in. There are two bedrooms, the master bedroom is on the ground floor and has air conditioning.
The smaller second bedroom on the top floor has the advantage that if you wake up at the right moment you can enjoy amazing sunrises on the background of the nearby volcano. The top bedroom has some small toilet facilities so if you like to have your space while refreshing, the bathroom on the ground floor is where you want to be. As proud Belgians were delighted to see that the shower was actually a statue of our own "Manneken Pis".
Also on the ground level, a well-equipped kitchen and living room complete the image.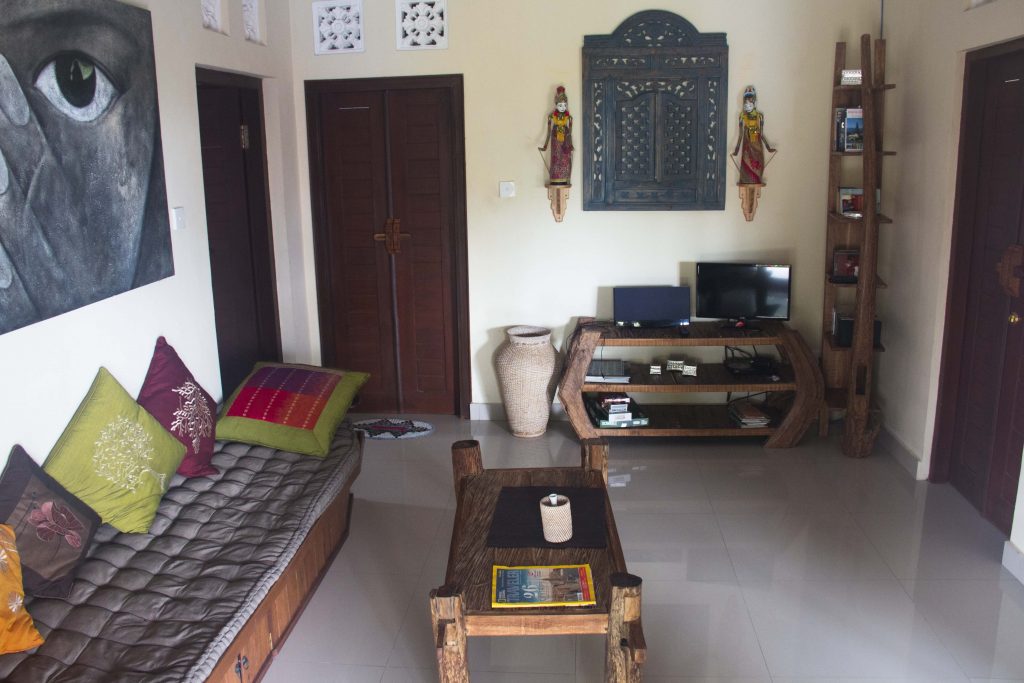 Facilities
The top of the bill at Villa Rini is of course the swimming pool with at the back a very nice relax area. The hours we've spent there reading a book while enjoying a beer and an occasional dip in the water… you don't want to know.
The kitchen is well equipped with the necessary tools to make yourself a quick snack or a whole meal and the fridge is always filled with an assortment of water, beer, orange juice, and soda. All available for very democratic prices.
If you've forgotten your literature at home or on the plane (that has happened so often to us), in the living room you can find a variety of books and travel guides. Other than that there are also several DVDs available and a collection of (according to our taste of course) very good CDs.
Everything else you could require can be arranged by the staff. Do you want to rent a scooter or a bicycle? Need any transportation in the area or to other destinations? Want to arrange a day trip or any other activity or do you just want some tips about where to eat? There's a local cell phone with the numbers of the staff available for you and they will make sure that your needs are served.
Surroundings
It's not a coincidence that Ubud is such a popular destination. Although we were not big fans of the town center (full of touts, tourist shops, and too expensive restaurants), the area around the town is just magnificent. Hours and hours we walked through the rice fields, once in a while stopping to admire the small local art shops or the magnificent views.
Furthermore does Ubud have a pretty impressive art museum, lots of temples in the center or the near environment, and a monkey sanctuary where you can walk between the Balinese macaques (and being robbed by them if you're carrying any food).
Closer to the villa, at about 5 minutes walk there is the Tegenungan waterfall, during the day it tends to look like the local swimming pool, but if you go early you can have the place more or less for yourself. Then there are also a couple of small villages nearby where you can experience the non-touristy side of Bali. And also quite nearby are a small zoo and the "hidden canyon", which is actually not very hidden anymore but still a nice place to visit. Bring a swimsuit.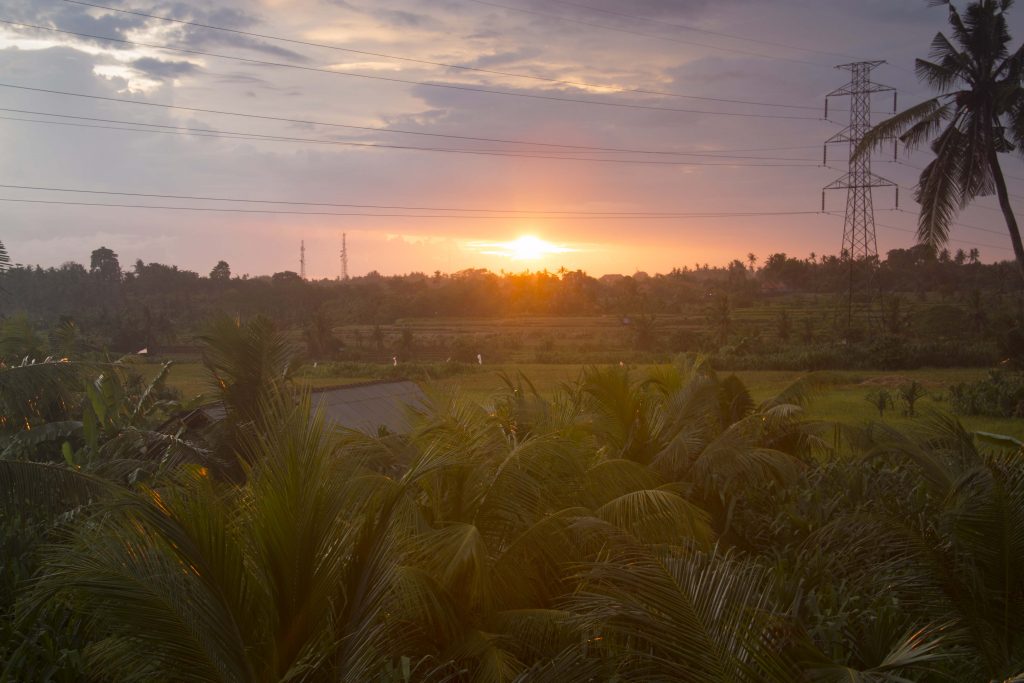 Staff
The owner of Villa Rini is a fellow Belgian who spends most of his time in his and our home country, so he leaves maintenance of the villa and the reception of the guests to his lovely uncle Philippe and his Balinese wife Sarini. Two great hosts who live at walking distance of the villa and to whom no question or request is too much. Their quest is to make you have the best holiday ever.
Every morning Sarini will come to the villa to make you a delicious breakfast and afterward you have the whole place to yourself. If she's planning to come back in the afternoon for cleaning or to refill the fridge she will tell you from before. She has also never entered the property without yelling a friendly "hellooooo I'm heeeeere" from behind the gate so we had the time to wrap a towel around ourselves (in fact we never asked if she would be okay with us being naked, out of respect for the Balinese culture and because she never stayed longer than half an hour we didn't care covering up).
Summary
If you like to get away from the crowds, enjoy a magnificent landscape, get in touch with the village life and still be close to where it all happens, Villa Rini is the perfect place for you.
If you like to hang around the whole day with your naked butt in and around the pool, Villa Rini is as well where you want to be.
More reviews on Booking.com
More info and reservations: http://www.villa-rini.com
More photos:
On our Facebook
Disclaimer: We have been invited as guests of Villa Rini, but of course all opinions are our own. We are super confident you will love this place as much as we did!
---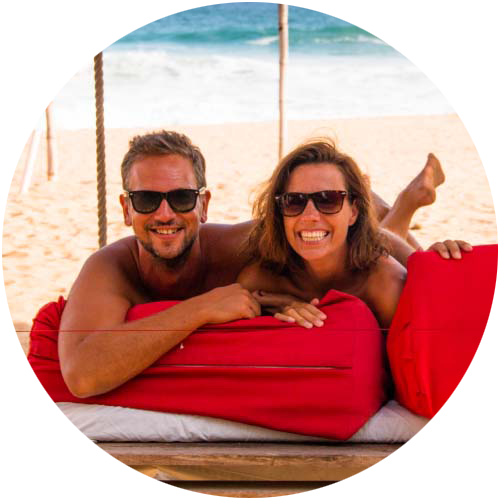 Support Naked Wanderings
Do you like what we do for naturism and naturists? Did we make you laugh or cry? Did we help you find the information you were looking for? Then definitely join our Patreon community!
---