There are numerous private villas in Bali where you could get comfortably naked without having to fear that any unwanted visitor will walk up to you.
Villa Rini
is a great example. The big advantage of a private villa is of course the unlimited privacy as you're basically at your own house.  But, although the villas often have a number of staff, there are still many things that you will have to arrange for yourself, unlike a nudist resort where facilities like restaurants, massages, or tour desks are immediately available. But nudist resorts are few on
Bali
.
So we wondered… What if we could have our own private villa INSIDE a resort.
We wouldn't be writing this if we had not found what we were looking for. At  Amertha Bali Villas in Pemuteran we found the privacy of a private villa combined with the convenience of staying in a resort. Pretty cool, right?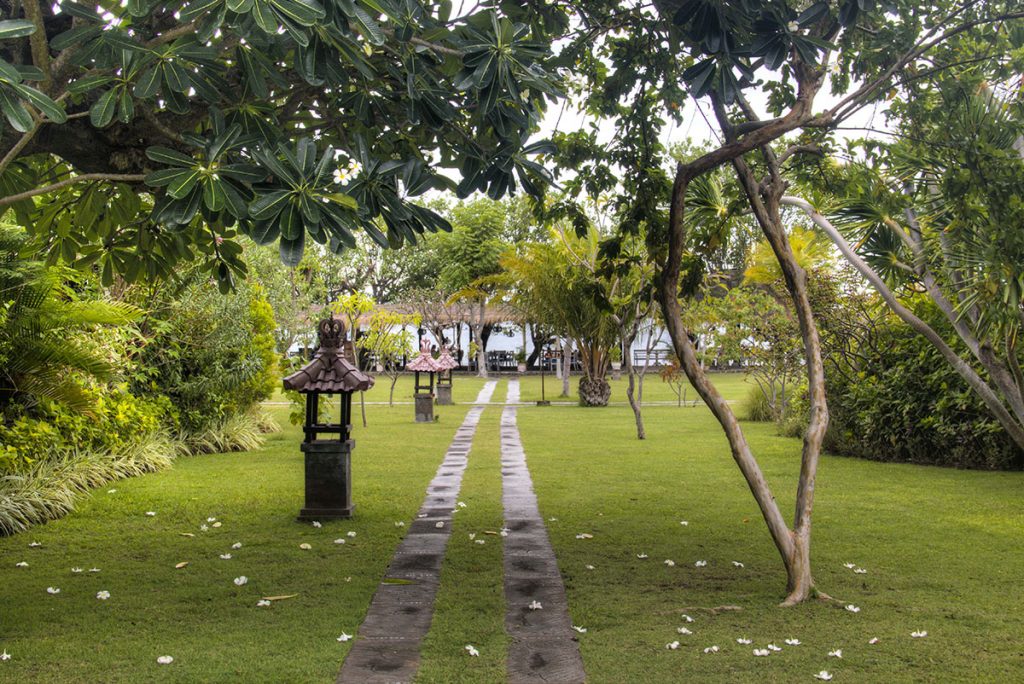 Location
Pemuteran is located at the north-western side of Bali, a bit out of the route of the popular tourist trails on the island. And truth has to be said, it takes a long ride from the beaches near Denpasar or the hills of Ubud to get to Pemuteran. What you get in return is a getaway from the crowds.
Pemuteran has a lot of possibilities for tourists and yet you will feel in a completely different place.
As there is no (or very little) public transport in Bali, you could arrange your own transport or ask the people from Amertha to send a pickup service for you. Another option would be shared transport, which is available from the major tourist towns like Ubud, but they are not frequent.
Accommodation
Well, as we mentioned before, you will stay at your own private villa inside a resort. But be careful while booking a villa if you have the intention to spend some/all of your time naked. Only villas 12, 14, and 15 have a full wall around the property (villa, garden, and swimming pool) which allows you full privacy, so make sure to mention either of those in your booking request or to explain that you want the privacy and they will take care of it.
We have stayed in villa 14 and what we got was just amazing. The main building consisted of a huge master bedroom, a smaller second bedroom, and a bathroom with a separate shower and toilet. The second building has on the ground level a fully equipped kitchen and dining room and on the first level, a relax area with a queen-size bed which is nice to rest during the day but in which you also have the opportunity to sleep outside during the night, with a roof securing you from the rain. Next to the two buildings, there's also an outside shower, another relax area, and another dining room. And then there's a huge garden with of course an amazing swimming pool.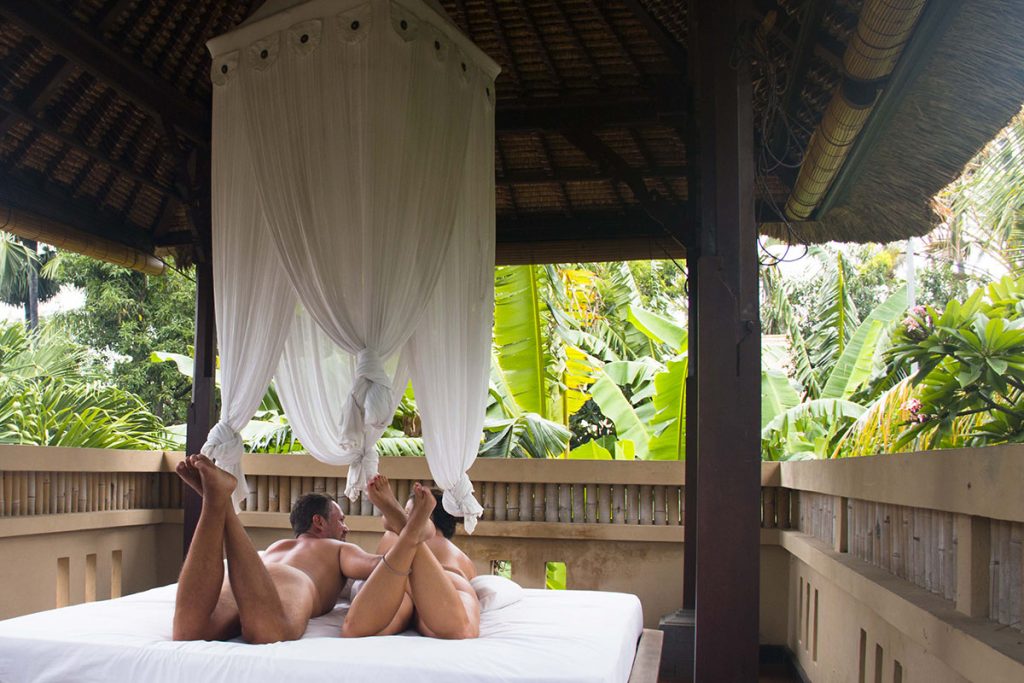 Facilities
We can easily imagine that some visitors would rarely leave their own villa, but that would be a pity as the resort has much more to offer. We're talking about two restaurants of which one is directly on the beach, a public swimming pool (nudity not allowed) with sunbeds and a bar, an onsite spa where you can get your muscles stretched during a typical Balinese massage, and a tour agency.
Other than the standard package of tours to the nearby islands, waterfalls, hot springs, mountains, or temples, Amertha Bali Villas also includes several specific tours and workshops. Ever wanted to learn how to make a flower from a watermelon?
Wanted to learn more about meditation techniques?
Wanted to learn about the Balinese principles of offering?
We have chosen this last activity and learned about how to make the offerings from scratch and then witnessed the whole ceremony at a nearby temple. A really unique experience.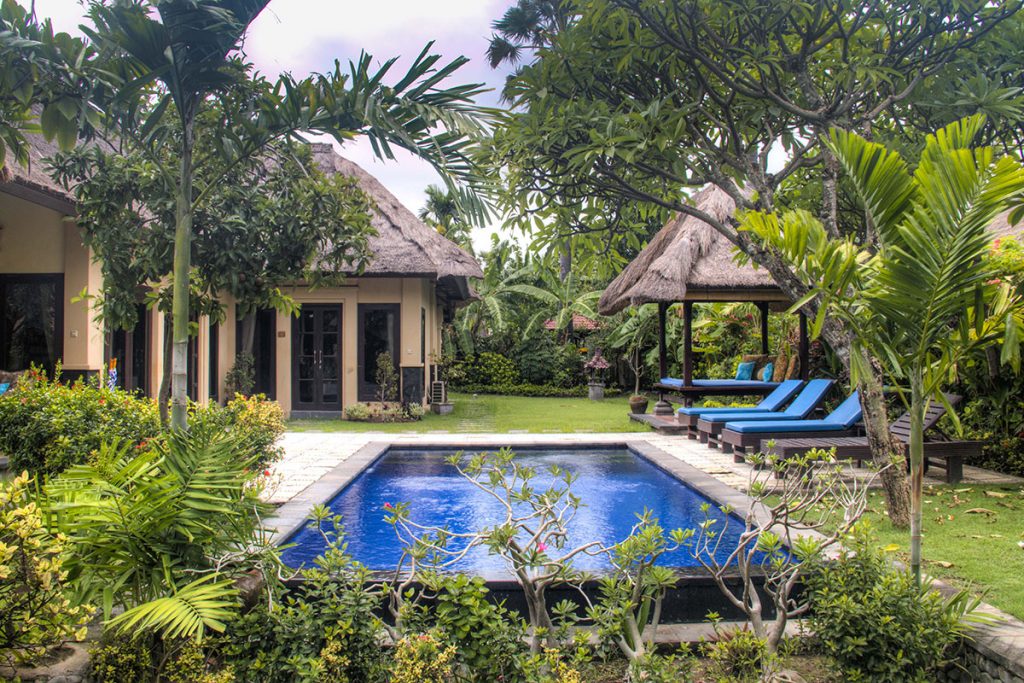 Surroundings
Pemuteran is the furthest resort village on the island and not many people do the effort to get there, which makes it a real pristine destination. We were there in the low season and other than on the busy beaches of Kuta or Seminyak, we often found ourselves alone on Pemuteran beach. On the main street, there are a couple of restaurants, bars, and shops without the annoying touts you'll find everywhere else on the island.
Pemuteran is said to be a magical place because it's right between the volcano and the beach. Whether you believe this or not is completely up to you, but those two parameters do make sure that it's an extremely beautiful place. From many spots inside the resort, you'll see the lush green mountains on one side and the sea on the other.
A real must do in the area is the Batu Kursi temple, located on a hill and only accessible by a stairway. It takes about twenty minutes to climb, but the views are magnificent.
Half of the sights lay below sea level though. Pemuteran is a great place to go snorkeling and diving and the entrance to one of the reefs is immediately in front of the resort.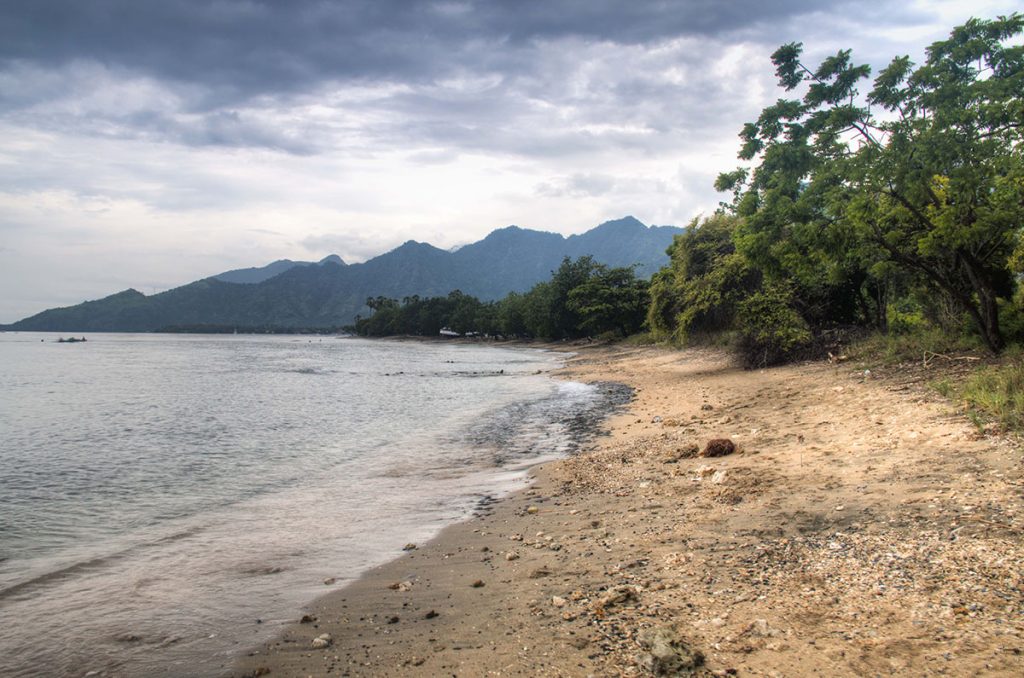 Staff
Most of the staff is local, which means that they can give you the best information about the surrounding area and that you will always be greeted with one of those typical Balinese smiles. Day and night they inquired if we were having the best possible stay and if there was anything they could help us with.
On arrival, we made sure they knew that we wanted optimal privacy while we were at the villa, so they did the daily cleaning when we were having breakfast. One time we forgot to remove the "do not disturb" sign and although they knew that we were not in the villa, they came to us first to ask permission to enter. Now that's what we call privacy!
Guests
Because of the low season, there were not that many other guests while we were there, most of the others were couples or families who just like us preferred to get away from the busy parts of Bali.
Summary
If you're planning to visit the Pemuteran area, Amertha Bali Villas will be your perfect place to stay. But even if this was not on your itinerary, it would be well worth considering a detour. Amazing landscapes, mountains, coast, Balinese friendliness, and a magnificent villa where you can spend all your free time in the nude.
More reviews on Booking.com
Disclaimer: We have been invited as guests of Amertha Bali Villas, but of course all opinions are our own. We are super confident you will love this place as much as we did!
---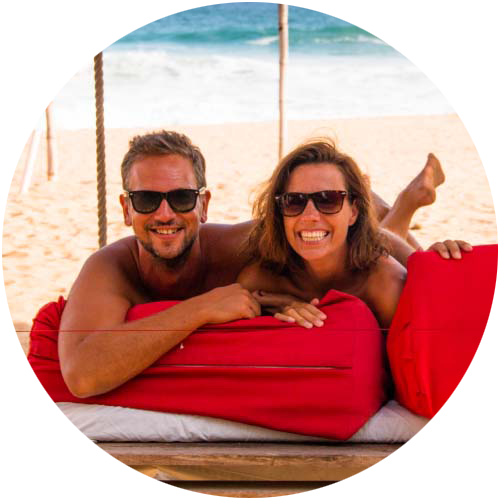 Support Naked Wanderings
Do you like what we do for naturism and naturists? Did we make you laugh or cry? Did we help you find the information you were looking for? Then definitely join our Patreon community!
---