After more than a week in New York, it was time to get away from the cold weather and move to the other side of the USA, to California. Well, at least half of that plan worked out, we did get to California. We shouldn't complain though, the temperatures weren't as tropical as we would have wished them to be, but we had a great place to go to: nudist B&B Arroyo del Sol.
After picking up our rental car at LAX airport we went straight to our destination. We were very much looking forward to meeting Rolf and Cynthia and maybe we were even more looking forward to meeting Bailey, their puppy, but don't tell them. Finally, we would be having a place again where we could be naked outside our room!
How to get to Arroyo del Sol
Arroyo del Sol is located in Altadena, which is kind of a suburb of Pasadena, which is kind of a suburb of Los Angeles. If geography is not your thing we'll make it a bit easier: Arroyo del Sol is about 30 kilometers from LAX airport or 45 minutes as they would say in California.
While making all the arrangements for California we had not noticed that we had never received the actual address of the place, something which came up the moment we were in the car and Lins asked "So, what do I put in the GPS?". Luckily Google is our friend and soon we found an address on Tripadvisor, an address that would bring us to an empty former UPS store in central Pasadena… This could not be it… We wandered around, maybe the house number had been incorrect, but soon we saw that there was no place in the area that even looked like it could be a bed and breakfast. A quick phone call to Rolf solved things out, we had to be in Altadena instead.
So here's a good tip for you if you're planning to stay at Arroyo del Sol: Do not trust Tripadvisor but ask for instructions first! Anyway, several minutes later we were in front of the right house… and what a house!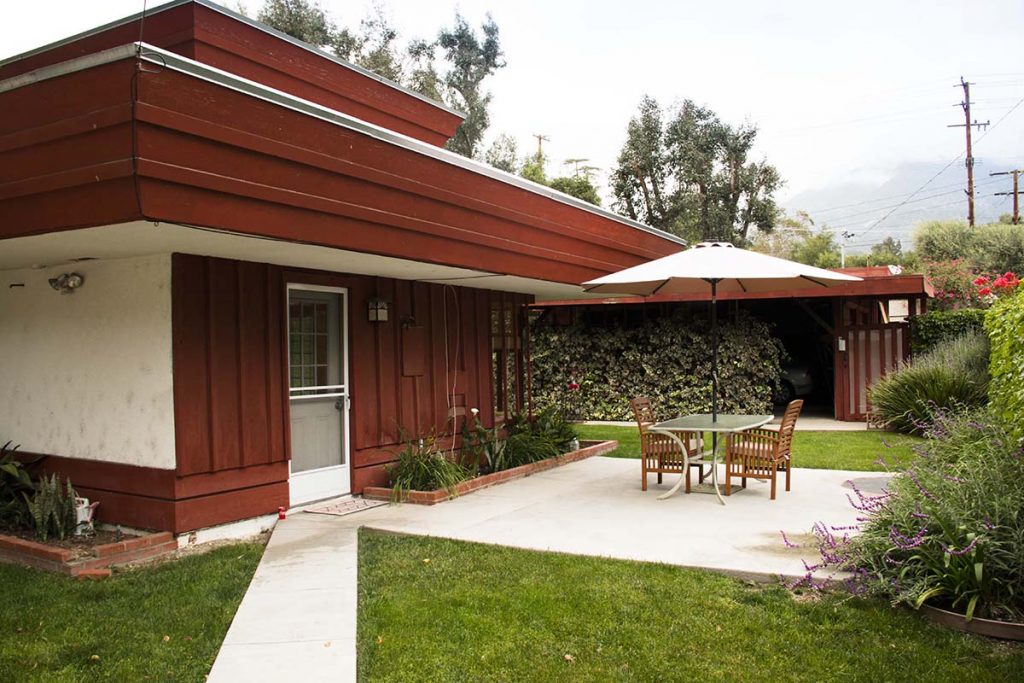 Where to stay at Arroyo del Sol
Arroyo del Sol is a bed and breakfast, which caters for a limited amount of guests and has two accommodation options: either one of the two bedrooms in the main house or the – as they call it – "small guest house". You have to know that sizes in the USA tend to differ from the rest of the world, a small coffee is enough for the whole morning and a large pizza can keep you fed for about a week. The "small" guest house appeared to be more like a villa than the cottage every European would have in mind when hearing the term and we were very happy to see that we would be staying there. We had our own naked palace!
The guest house has all the amenities to enable you to actually live there. Next to a nice bedroom with an extremely comfortable bed, there's a bathroom with a shower in which you could easily throw a party if you wanted to. The living room has a couch and a huge TV with plenty of DVDs and a subscription to Netflix, Hulu, and whatever other online movie services available.
Then there's the kitchen, which is fully equipped, and not in the way that there's a sink, two glasses, and a couple of forks and knives. This kitchen is FULLY equipped. A huge American fridge, an oven, a dishwasher, and all kinds of pots and pans and glasses and cutlery and whatever else you could need to prepare your dishes.
Also the guest rooms in the main house have a living room, albeit a shared one if both rooms are occupied, and have all the Netflix, Hulu, and DVD options as well. And we're pretty sure you could use Rolf and Cynthia's kitchen if you wanted to.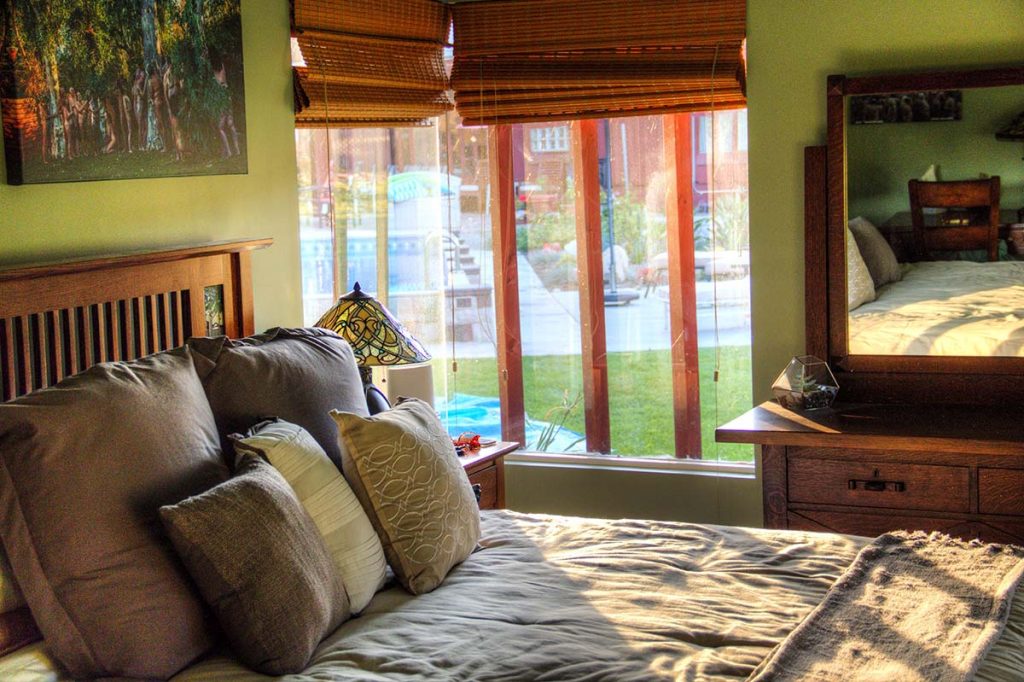 What to do at Arroyo del Sol
A B&B obviously includes breakfast, and lucky you (or us), Rolf is a magnificent cook! Every morning, next to croissants and muffins and all that we were offered a delicious warm dish, one day it would be a huge omelet with more vegetables than the average Thai dinner, the next day it would be poached eggs in a tomato sauce and the day after… nah, we're not going to tell you, we don't want to ruin the whole surprise.
Outside there's a huge lawn and a very nice swimming pool. If the weather allows, you'll probably find yourself often on one of the deck chairs next to the pool reading a book, having a drink, and occasionally cool down in the pool. If you like it more hot and bubbly, the Jacuzzi on the other side of the house will be your place to be. With views over the surrounding hills and NASA's Jet Propulsion Laboratory, you'll be relaxing with your naked ass in the hot tub, knowing that below there are people working on the next Mars Rover. Life can be good.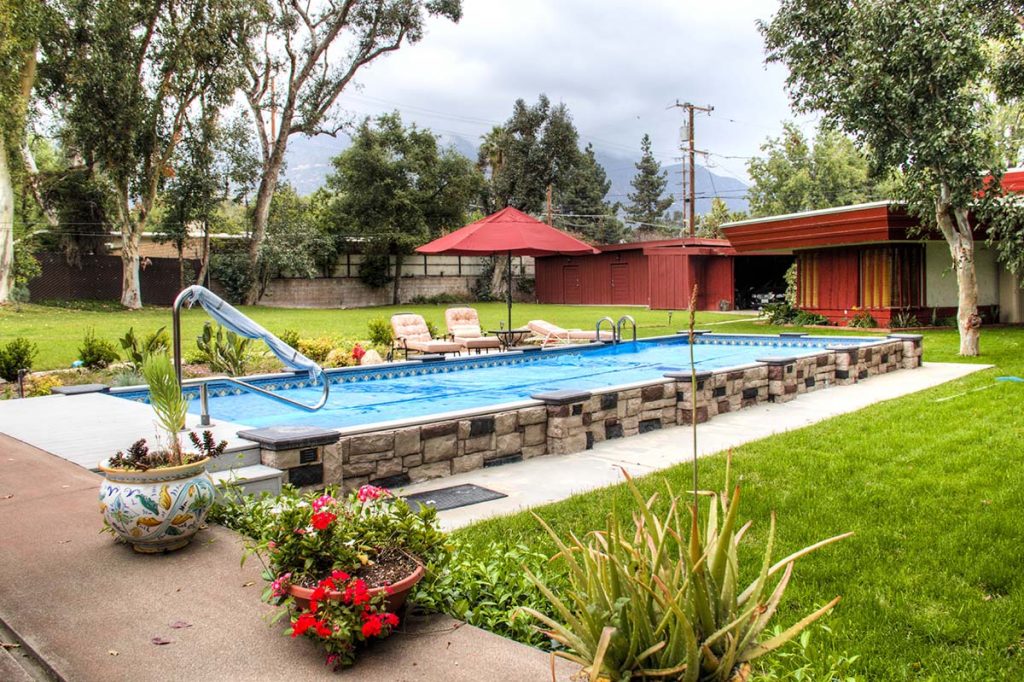 Around Arroyo del Sol
Well, this is Los Angeles, this is where dreams are born! Many of the top actors and musicians of today started on the sidewalk of this huge city, but very few of them probably started naked in a hot tub. Down the street, you could run into Madonna or Bruce Willis or 'N Sync (believe it or not, but that just happened to us!).
You'll need several days to even get a grasp of what Los Angeles has to offer. We skipped Chinatown and the financial district and decided to do what really matters: celebrity spotting! Hours and hours we drove through Hollywood, Beverly Hills, and Melrose, gasped at the enormous houses, tried to peek through the gate of the Playboy Mansion, and got amazing views over the city. Few celebrities were to be spotted though, but did we already mention that we ran into 'N Sync? Call it cliché, but these places are a must to visit when you're in Los Angeles, and just like millions before us, we were excited like little kids to take a selfie with the Hollywood sign in the background.
Nudity is strictly prohibited on the beaches in LA County, but that doesn't mean that they aren't worth a visit. We had heard about Malibu and Santa Monica and Venice beach in every other movie and somehow we felt like a celebrity ourselves just by walking around there. And why not run in slow motion over the beach like David Hasselhoff or Pamela Anderson did in Baywatch? You know you want to!
Even if Los Angeles is not your final destination, you're very likely to end up there while flying in or out of the state and its location makes it the perfect getaway for the Californian coastline, Palm Springs, San Diego, or even Las Vegas.
Staff of Arroyo del Sol
When we arrived at Arroyo del Sol, even before we had been able to ring the bell we were greeted by Rolf, who runs the bed and breakfast together with his wife Cynthia. Rolf is the president of the
SCNA
(Southern California Naturist Association) and a board member of
AANR West
and is dedicated to his task of spreading naturism around the state. Because of his position in several federations and his widespread network he's also the perfect person to help you plan your perfect nakation in southern California.
After a warm welcome from himself, Cynthia, and a handful of Dragonflies (not the insects but the SCNA ladies), Rolf gave us a tour of the house which is basically a huge list of "feel free to use this" and "don't hesitate to ask if" and "feel welcome to stay here or there". A very comforting introduction to a magnificent place. But what we loved the most was the line he used to end his tour: "This part I like to most of the tour, next time you'll see me, I will be naked".
So will we Rolf, so will we!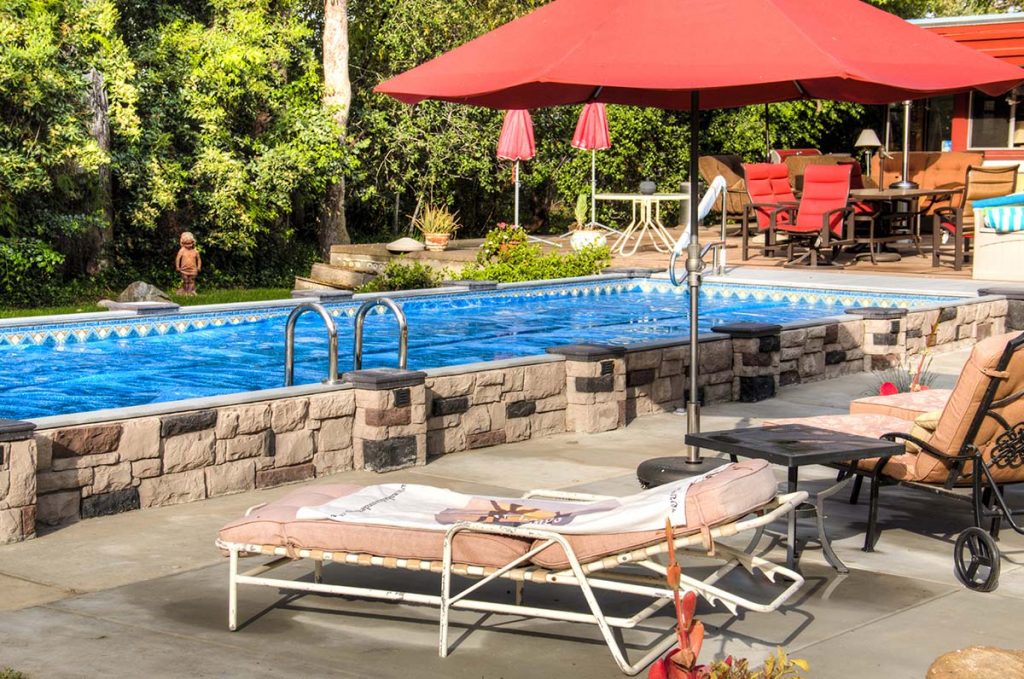 Guests at Arroyo del Sol
While we were at Arroyo del Sol it was still early in the season and we were the only guests, other than one of the Dragonflies who didn't want to drive all the way home in the evening and decided to stay for the night. From what we hear, Arroyo del Sol attracts both national and international guests and has several returning visitors, even for a longer time. It's especially a perfect destination for the beginning nudist as you'll have a huge amount of privacy. But do check with the owners first because once in a while SCNA activities are held on the property and then it does get a bit crowded. Ask Rolf and Cynthia for the picture book and you'll know what we mean.
Summary
If you find yourself in Los Angeles, Arroyo del Sol is your only option when it comes to naturist accommodation. But don't let that be your only reason to visit this B&B. In fact, the B&B could well be a reason for you to come to Los Angeles. Have some great talks with Rolf and Cynthia, skinny dip in the pool, watch the surroundings from the hot tub and enjoy an amazing breakfast in the morning. And who knows, maybe you'll run into 'N Sync as well.
Naked Wanderings' Ultimate Guide for Nudism in California ebook

Are you looking for great nudist resorts and nude beaches in California?
Are you looking for the best tips for a nude vacation in California?
Then our ebook will be the perfect resource for you!

Learn More
Need help with planning your trip? Check out our Resources Page for an overview of the best companies we use during our travels
Disclaimer: We have been invited as guests of Arroyo del Sol, but of course all opinions are our own. We are super confident you will like this place as much as we did!
---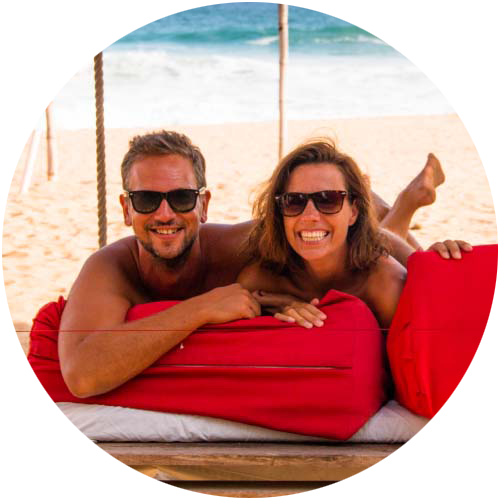 Support Naked Wanderings
Do you like what we do for naturism and naturists? Did we make you laugh or cry? Did we help you find the information you were looking for? Then definitely join our Patreon community!
---