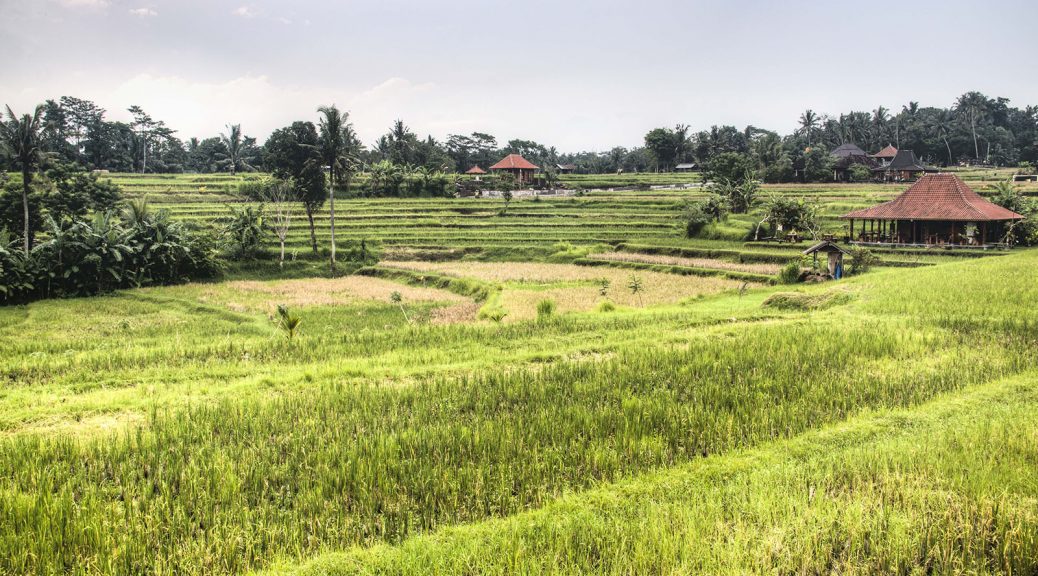 Getting naked in Bali
Getting naked in Bali
You probably thought we were crazy when you got the news that we were going to Bali. After spending a month complaining about the lack of nudist opportunities in
Sri Lanka
, we picked an Island in Muslim Indonesia as our next destination… Now we don't have to tell you that in Indonesia nude beaches are non existant, so why Bali?
Bali isn't exactly known as a nude vacation destination, but we had a very good reason: A google search showed us that there were supposed to be
two nude beaches and one nudist resort
on the island. Okay, it doesn't immediately sound like a
Croatia
in Asia, but at least it was something.
So off we went to Bali!
Nude beaches in Bali
Our first stop on the island was Kuta, conveniently located at only five kilometers of the international airport and infamous for its party scene. But that's not why we were there. As soon as we could we headed off to the beach to find ourselves a nice place to get naked. We would not find it. Not only was the whole beach overly crowded with all kinds of souvenir, drink, food, clothing and whatever other stands you can imagine, it's also an incredibly dirty place. Trust us, we've seen a lot of beaches around the world, but one like in Kuta is rarely seen. There's more plastic on the beach than sand and we are not exagerating.
Since Kuta beach was certainly not an option, we made our way to the other mentioned beach, Uluwatu, at the southern tip of the island. But again waited disappointment. The beach did look much nicer than the one in Kuta, but although we were there in low season, it was crowded with locals and other tourists and the chances for some nude sunbathing or even a skinny dip were below zero.
➡️
Click Here for great hotel deals in the much nicer nearby Seminyak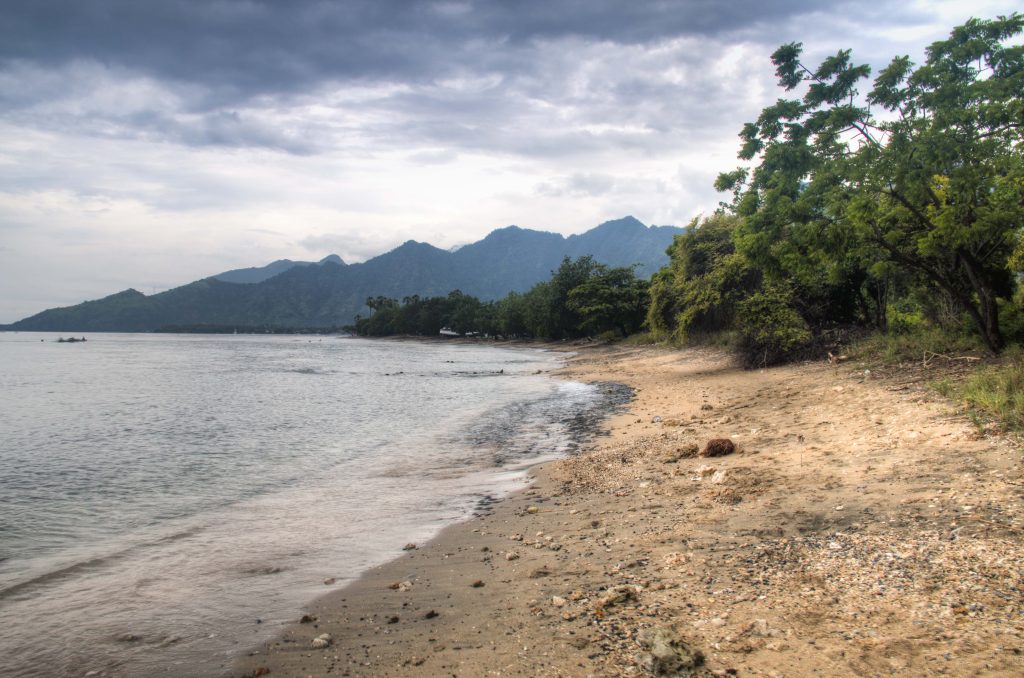 Bali is also called the "island of the Gods" and we started to believe that all those Gods had turned against us. They must be messing with us, these two beaches were part of the reason why we came here. But one week later, when we had made our way to Pemuteran at the whole other side of the island we finally found what we were looking for. Empty beaches.
Pemuteran is a much nicer strip of beach than the ones close to the island's capital Denpasar and it receives a lot less tourists. Which gives it a more relaxed atmosphere in general and which provides for some empty stretches where you could drop your pants. We noticed the same on other parts of the north coast of the islands, here and there are some beautifully secluded beaches which provide good chances to get nude in Bali. But keep in mind that we were there during low season and don't forget to watch your back as public nudity is illegal by Indonesian law. Although…
Public nudity in Bali
Although Indonesia is the country with the largest Muslim population in the world and also implements its law based on Islam fundamentals, Bali is something completely different. About 85% of the island's population are Hindus who follow their own laws.
When we had moved away from Kuta towards the more quiet hillside around Ubud, we spotted our first nude Balinese person during a walk through the rice fields. A local woman was bathing topless in a small river, not caring at all that we were passing by. In fact, when we waved at her, she smiled and waved back. A strange sight in a country where public nudity could put you in jail for up to 10 years.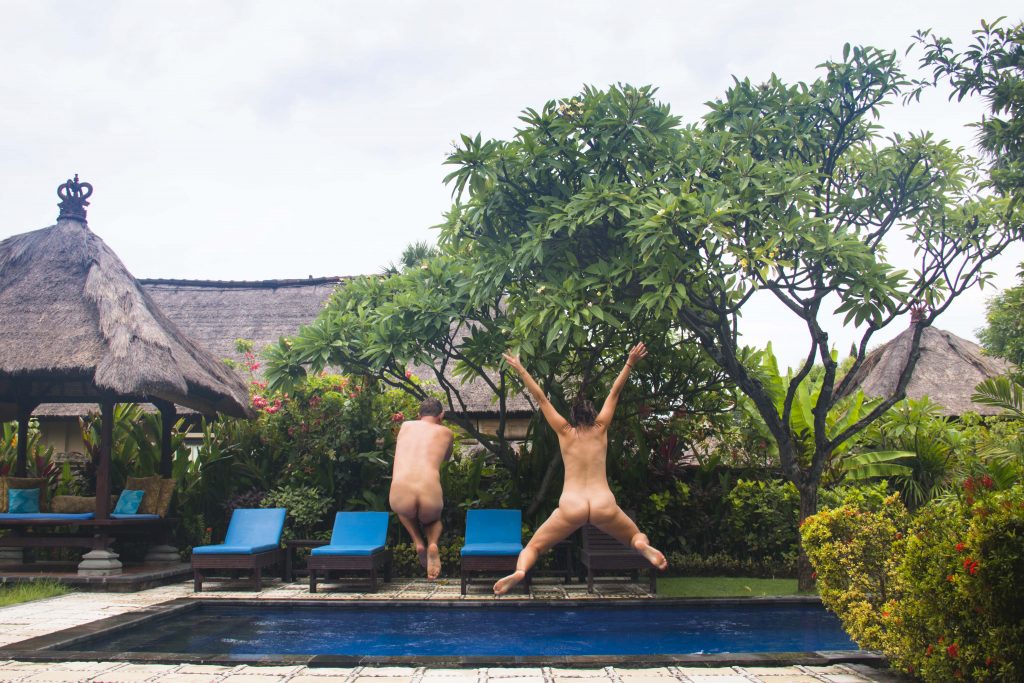 The more we explored the island, the more we found the same scene. Especially while cruising with our scooter through the small villages in the inland. Completely naked locals, men and women, washing themselves in a river or a small canal next to the road. Not hiding at all from passers by. It soon occurred to us that public nudity was commonly accepted as long as it was for the single purpose of getting onself clean. Nudity in a recreational way would be really frowned upon, although we doubt that many locals would actually have something against it.
At several waterfalls we found signs saying that naked bathing is prohibited, but we have our doubts whether this is to prevent shocking the local community or the other tourists. But then again, the locals have probably not seen many white asses before, so if you decide to take a river bath yourself you might get an audience.
Not to miss activities in Bali:
Where to get naked in Bali
Your best chances to be nude in Bali is on private property.  And luckily, Bali has a lot of those. Being one of the top honeymoon destinations in the world, the island has been focusing a lot on properties that provide the necessary privacy for love birds. And thus… most of the time these places are excellent for nudist as well.
Most of the time this accommodation comes in the form of private villas. These are available for every need and budget, ranging from one room cottages to huge three story mansions. When picking your perfect villa, just make sure that there is a wall around the property so nobody can peek in. And of course the availability of a personal swimming pool was for us rather a must than a welcome addition. We stayed in an amazing private villa,
Villa Rini
, in the area of Ubud.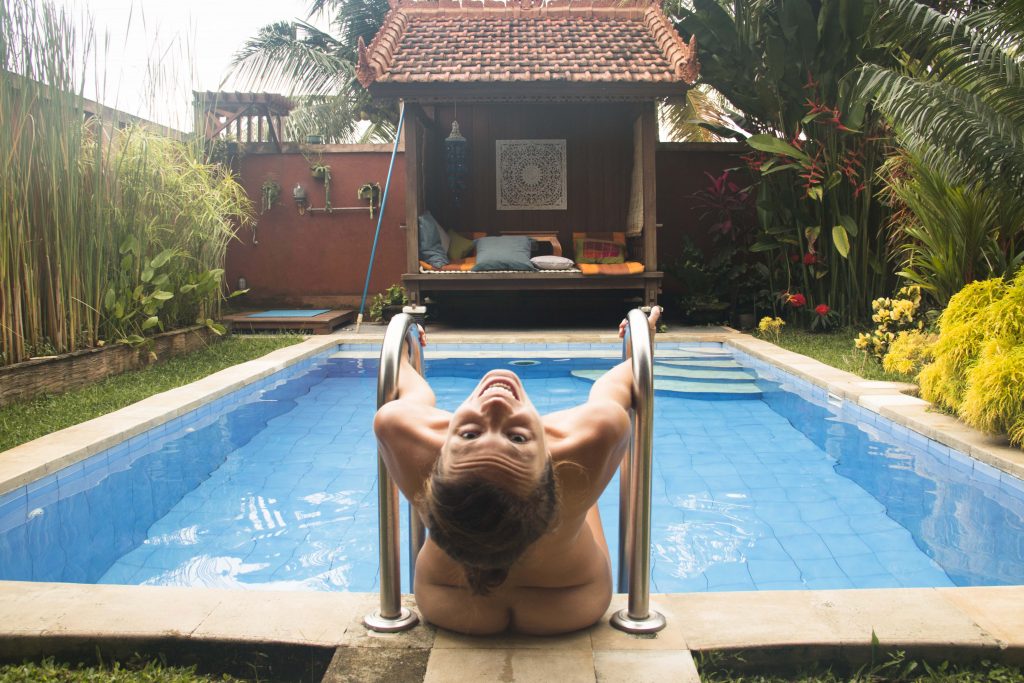 There's also the option to rent a villa inside a resort. This means that you have all the privacy of a personal villa but as well the comfort of staying at a resort. We picked
Amertha Bali Villas
as our test case for this type of accommodation and can certainly recommend it to all of you.
And then there is of course
Au Naturel
, the only couples/women friendly resort on the island. Your trip to Bali is not complete without paying them a visit as well.
There are two male only nudist resorts on the island: Laki Uma Villa and Spartacus Villa, but since Lins would not be allowed in, we didn't visit them. If you have, we'd love to hear your opinion.
Tips and tricks for traveling in Bali
There are a couple of things about Bali we wish someone had told us before we went. So we'll share them with you.
There is no public transport on the island and the private transportation industry is a real maffia. The prices for getting from one point to another are ridiculous on such a cheap island. On the other hand, scooter rentals are ridiculously cheap. We advise you to pack light (if you're planning to stay nude anyway, why need luggage) and rent a scooter for your whole stay.
The beaches in the south of the island are horrible, don't bother visiting them but move either north or east.
The Balinese eat in small portions, if you don't want to find yourself eating desert after desert after desert, have some appetisers.
The area of Sidemen is probably the last gem of Bali which is not yet overrun by tourists. Go there NOW, if you want to see some of the real Bali because in a couple of years it will become the new Ubud. We stayed there in an amazing guest house called Bukit Luah.
Find the best nudist accommodation in the area on NUDE
Naked Wanderings' Ultimate Guide for Naturism in Thailand ebook

Are you looking for great naturist resorts in Asia?
How does a nude vacation in Thailand sound to you?
Our ebook will be the perfect resource!

Learn More
Need help with planning your trip? Check out our Resources Page for an overview of the best companies we use during our travels