Where do you start with nudism?
The nude beach or a nudist resort is obviously the most common answer but they do not necessarily reflect the truth. Most often, nudism is something that starts at home. The reason why people tend to name certain social nudist places as their first "nude experience" is just because often home nudism is not really seen like nudism at all. When people asked us in the past about when and where we had become nudists, we would have answered "around 2010 at camping Bleesbruck in
Luxembourg
".
Now we know that this isn't exactly true. Ever since the day we left the metaphorical nest (being our parent's house) we did spend a lot of time in the nude. We slept nude, we walked from the bedroom to the bathroom to the kitchen for a midnight snack in the nude. On lazy Sundays, we often didn't wear many clothes either. We were nudists without even ever considering the term.
Home nudism is underestimated
Our steps into social nudism all happened somehow by accident. If we hadn't gotten that
coupon which led us straight to a nude sauna
and if the textile part of that campground in
Luxembourg
hadn't been so full and loud, chances are that we would never have discovered the fabulous nudist lifestyle. It's very likely that our nudism would have stayed between the four walls of our apartment.
There are many statistics about the number of nudists per region or country. In western countries like most of Europe and the USA, this number tends to be around 5% of the population. Which isn't much. If you'd count the number of people who sleep with a teddy bear, who eat hamburgers every day of the week, or who think that the world is flat, it's likely that they could outnumber the nudists.
This is mainly because even though many people like to spend some time in the nude, they don't necessarily consider themselves nudists or naturists. Many people enjoy nudity at home but don't feel any need to be naked around strangers. Some live in countries where social nudism just does not exist or
is even illegal
. And many others have concerns about nudist places or gave it a try but
didn't like nudist resorts
. They like to be nude in their house and garden. But maybe it would be better if it was shared with some others.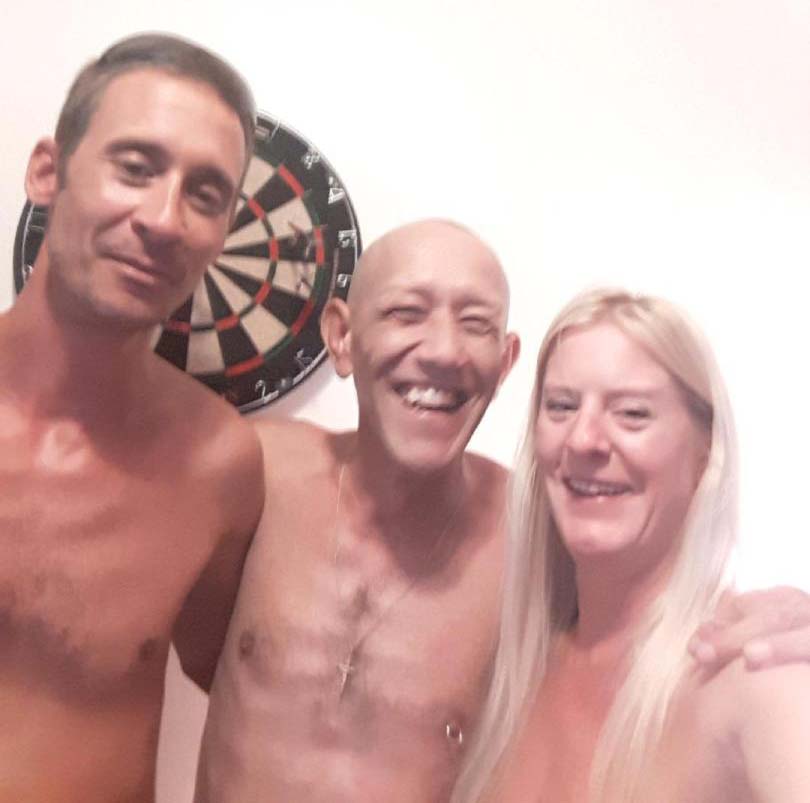 The story of a home nudist…
We can't relate to this but we have a friend who knows all about it. If you've been following Naked Wanderings for a while or if you're active in online nudism the name will certainly ring a bell: Attila Deak. Indeed, the guy who was waiting for us at Toronto airport some months ago with a bouquet of flowers and a big balloon.
Attila was a home nudist in his apartment in some place with a funny name, which currently escapes us, in the outskirts of Toronto. Although being nude at home is quite fun, he felt like he wanted something more. Luckily, Toronto is not the worst place in the world when it comes to nudist opportunities. It's not exactly like the Netherlands or France but nude swim events or volleyball tournaments are organized once in a while. Probably because Canada's most famous nudist resort,
Bare Oaks
, is just nearby.
So Attila went to those events. Being a talkative guy with a great sense of humor and a funny accent (he's European) it didn't take long for him to meet interesting other nudists. He made good friends who he wished to see more often than the Toronto nudist event schedule permitted. Being a home nudist as well, the link was obvious. He invited them into his home.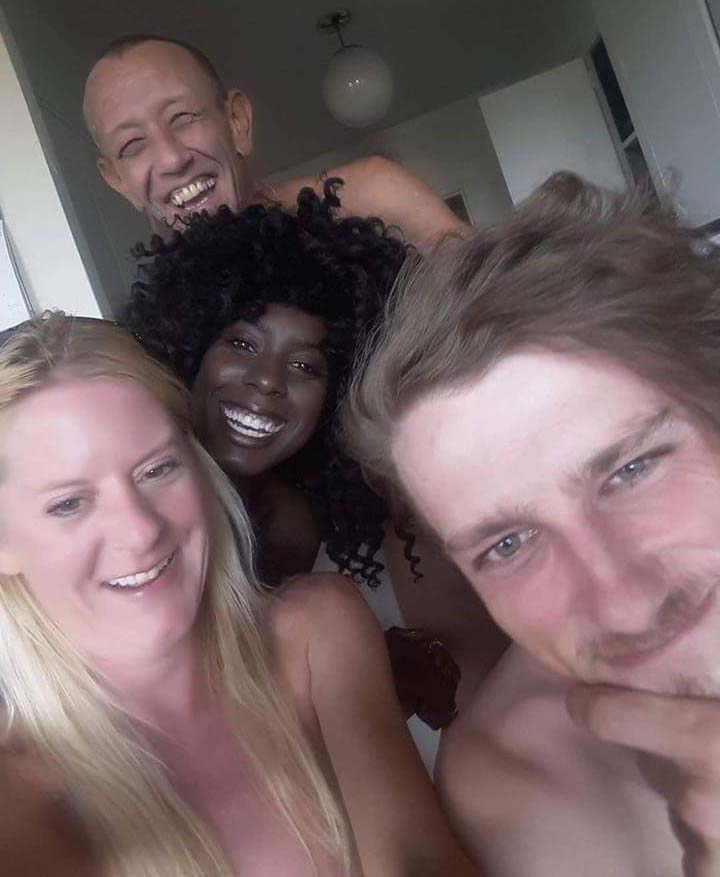 … who started his own nudist home parties …
Attila proved to be the best host ever. His first nudist guests were a couple he had met at one of the nude swims and over wine and snacks, the question arose about who else could join their little home nudist club. The idea came up to start a
Toronto nudist Facebook group
. From that moment he became the organizer of nudist home parties in his own apartment on the outskirts of Toronto.
Inviting people you've already met is one thing, inviting strangers is something completely else. Just like every nudist place, Attila had to set rules. Rules that had to be simple but strict. The following was added to the invitations:
1. All guests have to change into their Eve or Adam costume at arrival. There will be a designated room for that.
2. Nudism is not sexual, so sexual activities will not happen at these parties. Neither will it be discussed.
3. Everyone is kindly asked to bring food and/or beverages.
4. If the food needs any preparation, everyone is kindly asked to help a hand.
5. There will be no overnight staying.
6. Those who are new to nudism are allowed to remain dressed at the first event.
Rules that are simple and strict but turned out to be perfect. Even rule number six, when people decided to remain clothed at first they felt so awkward being the only ones not nude that they quickly undressed anyway. The only rule to which Attila ever had to make exceptions was number 5. Some people don't know their limits when it comes to alcohol consumption and he just could not let them drive home after the party.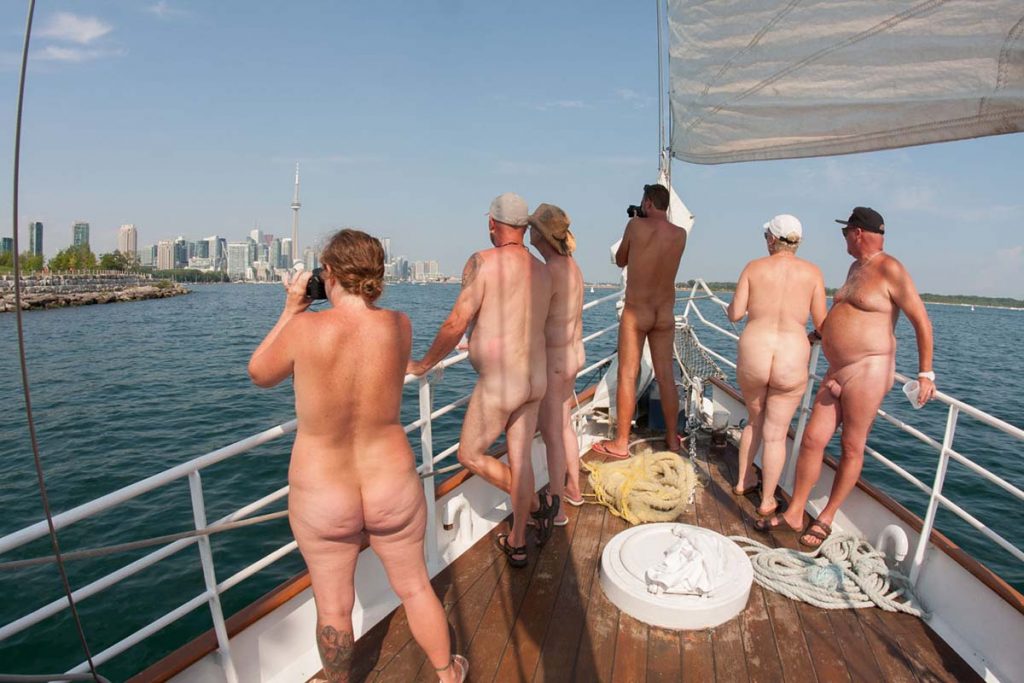 … and became a top promotor of nudism in Canada
When we're talking about Attila's home parties, don't expect huge raves with hundreds of participants. He would probably have liked this but his apartment was not the perfect place for that. Instead, there were 5 or 10 or 15 people enjoying social nudity and each other's company. There was music, some were watching a game on TV, some were preparing salads in the kitchen, some were barbecuing on the balcony (a top floor balcony where it's perfectly possible to be nude. We know from experience). A home party just like all others, except that everyone is naked. When the food is ready, everyone gets together to fill their stomachs, and later there would be nude darts games, chatting, or watching the end of that game on TV.
It didn't stop with those home parties. Attila's
Facebook group
kept growing and soon he started inviting people for other events outside of his home. We are the perfect proof of that. While we were staying at his place, Attila took us to both Ponderosa resort and Bare Oaks. But not only that, the main reason why he invited us was to participate in his Home Party Master Piece: A
Nude cruise on Lake Ontario
.
What started as a fun nude gathering with a couple of nudists he met at a swim event turned into the first Canadian nude cruise. How cool is that?
Today, Attila doesn't live anymore in the place with the funny name near Toronto so your chances to join one of his home parties are unfortunately gone. But you still have the chance to meet this wonderful guy in person! Attila keeps organizing gatherings in and around Toronto throughout the year, make sure to follow his Facebook group for the latest news.
The joy of home nudism
"I know that out there are billions of home nudists, we should get them together even in small nudist gatherings like nude house parties. These gatherings are ideal for those living in places where nudism is not allowed by law, and hey … we all have curtains." With these words, Attila concludes his story. There is nothing wrong with home nudism and being a home nudist doesn't mean that it has to be just you. Attila keeps bringing nudists together and who knows what will happen after his second nude cruise?
The only thing we can say for sure is that we are happy that we've been part of it once and that we hope that one day we can join one of his projects again.
When we asked Attila for one tip for aspiring organizers for nude home parties he said: "Be innovative and
introduce others to nudism
!". There you go. Now it's up to you.
Naked Wanderings' Complete Guide for the First Time Nudist ebook

Do you still have questions about nudism or naturism?
Are you looking for even more tips and tricks?
Our ebook will be the perfect resource for you!

Learn More
Photo Credit: The photos in this blog post are property of Attila Deak and should not be duplicated without his approval.
---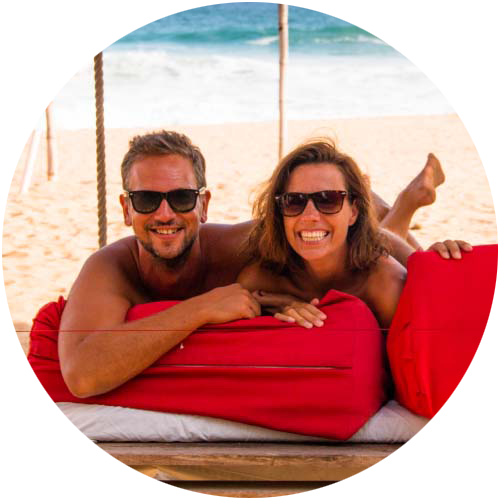 Support Naked Wanderings
Do you like what we do for naturism and naturists? Did we make you laugh or cry? Did we help you find the information you were looking for? Then definitely join our Patreon community!
---