More and more we're starting to think that nude events might be the key to a bright
future for nudism
. Especially the younger generation nudists want to get from behind the fences of the naturist clubs and resorts and do something fun, something spectacular. Luckily the options for amazing nude events seem to be larger than ever before. There are naked bike rides, nudist games, nude contests, nude cruises, nude festivals, nude tournaments, you named it. Everything is there for some amazing nude experiences in 2019. If you don't have any inspiration about where to spend your naked time this year, here are 12 + 1 tips!

NKD Festival
If someone really understood the value of nude events it must be the people from
British Naturism
. During the last several years they have put a significant part of their time in organising some great nude festivals and NKD Festival is certainly one you want to put on your calendar. This festival focuses mostly on families and the younger generations so don't expect the obvious petanque tournament. Instead there will be live music, lots of nude games (nude slide anyone?), campfires, daily yoga sessions, paint fights and much more!
Where:
A secret location near Dorset, UK
When:
May 24th – 27th
More info: https://www.nkdfest.co.uk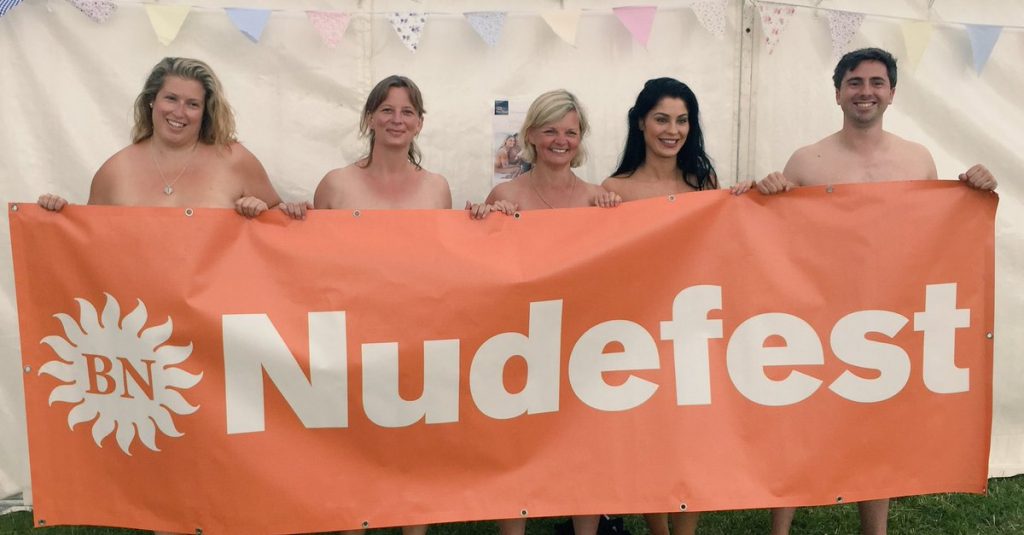 Nudefest
The other nudist festival in the UK which you don't want to miss is Nudefest. It might be focused more on traditional naturism than its younger brother NKD but it's certainly a guarantee for several days of great nude fun. Also here there will be live music and yoga, several nude sports tournaments (yes, also petanque), quizzes and craft sessions. This year Nudefest will celebrate its 12th edition.
Where:
Thorney Lakes Caravan and Camper park, Langport/Somerset, UK
When:
July 8th – 15th
More info: https://www.nudefest.co.uk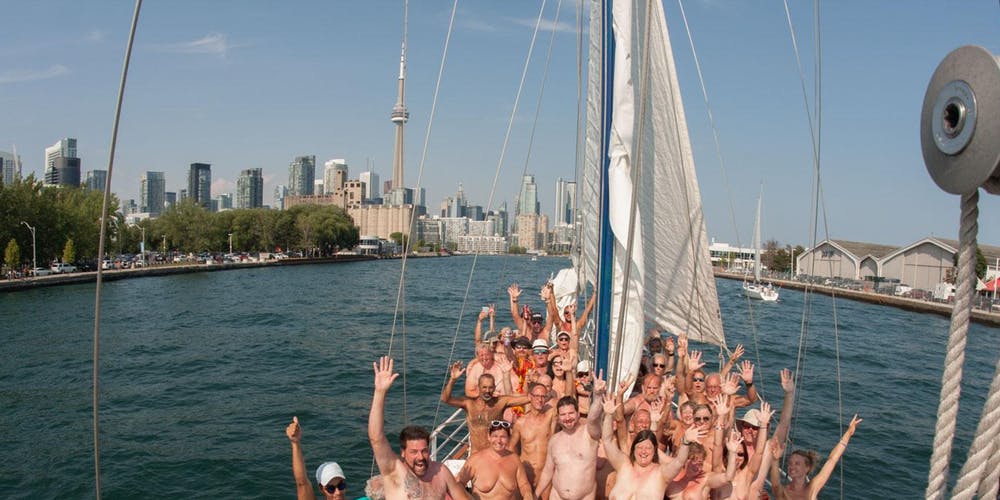 Nude Cruise on Lake Ontario
If there's another type of nude experiences that's really taking off lately it's nude cruises. Today you can find several in the Caribbean, the Mediterranean or Dalmatian sea but who has ever heard about a nude cruise in Canada (or any cruise in Canada whatsoever)? Well, frequent readers of Naked Wanderings probably have because last year we experienced the
first nude cruise ever in Canada
. And we had a blast! Half a day of naked fun on a boat, sipping Coronas and eating delicious food, dancing to the sounds of the DJ while cruising the wonderful Lake Ontario. A little bird told us that the 2019 edition will be even bigger and better and that tickets are selling fast. Make sure to get yours in time!
Where:
Lake Ontario, Toronto, Canada
When:
August 24th
More info: https://www.eventbrite.ca/e/nude-cruise-toronto-2019-tickets-51021718333
NATCON 8
Another name for the only international naturist event organised in Asia is "The Annual International Naturist Conference in Thailand". We have to admit, we get a twitching eye as soon as we hear the words "naturist conference" after our recent
experience in Lisbon
, but we can promise you that NATCON is nothing like that at all. Yes, there will be talks about naturism in Asia but most of all you'll be able to join activities which you've never done in the nude before. Rock climbing, ATV riding, zip lining and various other amazing nude games. Not only will you be able to have some fun naked experiences, not only will you be able to have your say about naturism in Asia, but you'll also get the chance to meet some wonderful naturists from around the world.
Where:
The Canal Garden Resort, Petchaburi, Thailand
When:
May 3rd – 5th
More info: https://thailandnaturist.com/natcon-8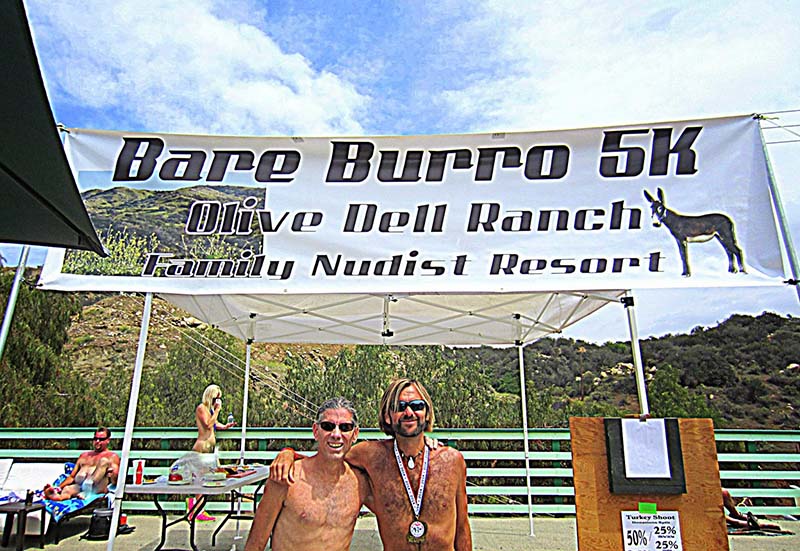 Bare Burro 5K
Some call it the queen of nude 5k runs in the United States, some call it the best nude party ever and Californians just call it something that starts with "dude". In any case, the Bare Burro is legendary. The epic nude run through the desert of southern California yearly attracts more than 300 participants and is the main attraction of the day. But there's much more to do. For those who get easily dehydrated there's the (maybe even more epic) Beer Mile run. We're not going into details, you just have to try this. If you're still thirsty afterwards, a game of beer pong might get you in perfect shape for the evening Toga Party.
Where: Olive Dell Ranch, Colton, CA, USA
When: April 28th
More info: https://www.active.com/colton-ca/running/trail-run/bare-burro-nude-5k-trail-run-2019

Portland's World Naked Bike Ride
The World Naked Bike Ride could be considered to be one of the first public nude events ever. Currently it's organised in many cities around the world which we can't list all. Participating in a WNBR is always fun and gives you the unique opportunity to ride your bike naked through the center of some of your favourite cities. If you can pick one place around the world though, we would recommend you to ship your bicycle to Portland, Oregan (or just rent one there). The city may not sound as exotic as Paris, Los Angeles or Sydney but has one huge feature: It's the largest WNBR in the world and you'll be cycling among about 10 000 of other nude people. Needless to say that this is more than just a nude bike ride, it's one of the world's largest nude events.
Where:
Portland, OR, USA
When:
June 29th
More info: https://pdxwnbr.org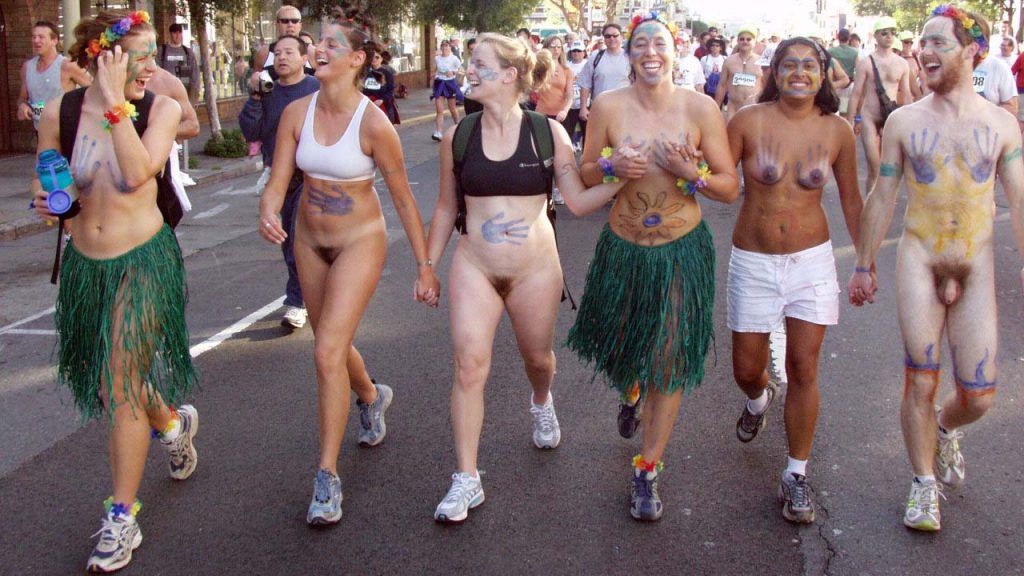 Bay to Breakers
If you're more into running (or walking) than cycling, we have some good news for you. Every year the amazing city San Francisco organises a fun race where the participants typically wear the most creative suits. And here's some more good news, only on this day your birthday suit will also be allowed! Yes, you've heard it well, you can walk or run stark naked through the streets of San Fran and the cops will wave at you instead of chase you.
Be careful though, we've participated in the Bay to Breakers (or Bare to Breakers as the nudists like to call it) last year and the San Francisco winds were not in our favour. It was freezing! But hey, if you want to do something cool some sacrifices may be needed.
If you're planning to run naked, it's best to stay the night before at
Lupin Lodge nudist resort
and take their morning transport, because finding a parking spot during Bay to Breakers is a nightmare.
Where:
San Francisco, CA, USA
When:
May 19th
More info: https://www.baytobreakers.com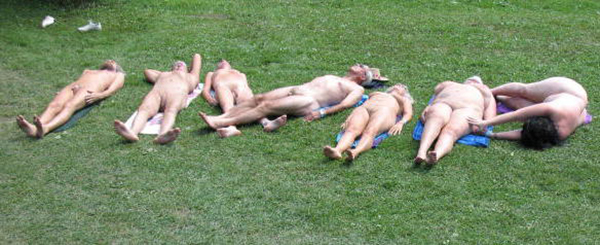 Northeast Naturist Festival
The Northeast Naturist Festival at Empire Haven Nudist Park, New York is already celebrating its 28th edition. That alone makes them deserve a place in this great list of nude events. 6 days of nude fun with more than 150 different activities will make sure that you have the time of your nude life. There will be lots of sport events, drum circles, dancers and a range of workshops around health and alternative healing. If you want a great nude experience in New York this summer, here's your opportunity.
Where:
Empire Haven Nudist Park, Moravia, NY, USA
When:
July 31st – August 5th
More info: https://www.empirehaven.net/northeastnaturistfestival
Body Fest
Every year at the famous
Bare Oaks Family Nudist Park
near Toronto, Canada you can participate in the most random range of nude games you could possibly imagine. There's nude olympics, yoga, body painting, fire spinning and a lot of activities of which only the Canadians know what they exactly include. For the verbal talented among you there's an open mic (not to be confused with karaoke) and the day ends with standup comedy and a dance party.
Meanwhile you also have the chance to get to know the wonderful Bare Oaks resort.
Where:
Bare Oaks Family Naturist Park, Newmarket, ON, Canada
When:
August 9th
More info:
https://member.naked-club.org/events/BodyFest-2019-Canada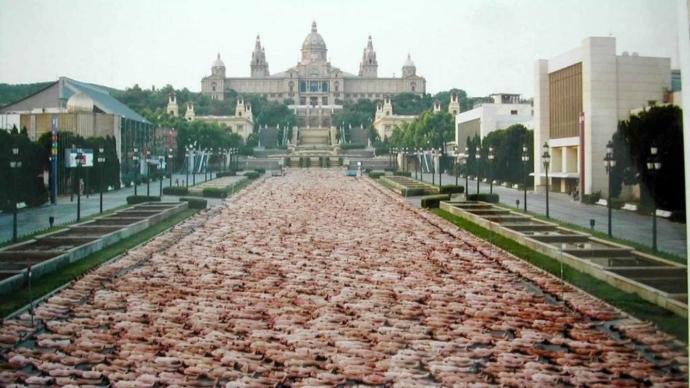 Spencer Tunick in Valencia
It's weird… we have difficulties finding one single person who wants to be in our naturist pictures but when "The Spence" turns up suddenly everyone jumps out of their underwear. Okay, truth has to be said, his pictures are slightly better than ours.
This month you have the chance to drop your pants with thousands of others in Valencia, Spain and meanwhile be part of some amazing art.
Where: Valencia, Spain
When: March 30th
More info: https://www.spencertunick.intramurs.org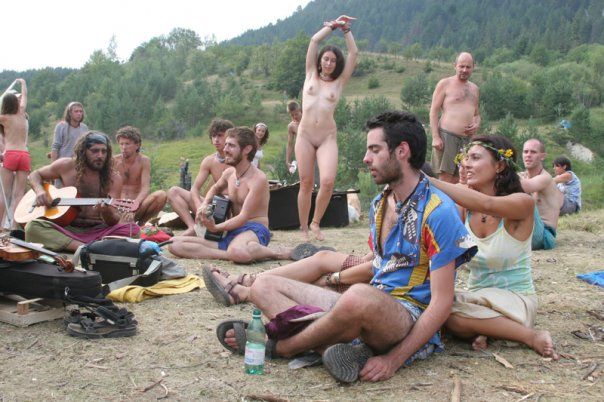 World Rainbow Gathering 2019
The "rainbow people" share the ideology of living in peace, harmony, freedom and respect. Do those terms ring a bell naturists? Although they organise several events a year around the world where they build a temporary community somewhere far away from the outside world, their main event is certainly the annual World Rainbow Gathering. We're not going into detail about the whole philosophy around Rainbow Gatherings, there's a great
wiki page
which already does that. The only thing we want to tell you is that dress code is none existing at these meetings. So yes, you can be nude if you want to! Rainbow Gatherings often last for more than a month but you're welcome to just spend a couple of days or weeks.
This year, the World Rainbow Gathering will be organised in Colombia.
Where:
Colombia (the country)
When:
April 5th
More info: https://www.facebook.com/events/447885415661359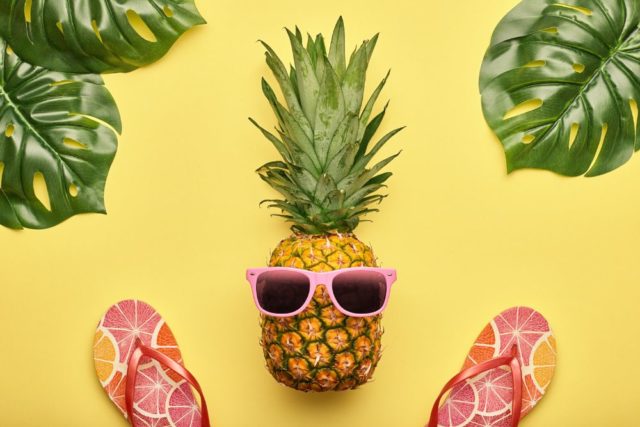 Blootgewoon! Festival
Also the
NFN
(the Dutch naturist federation) is jumping on the nude events bandwagon. This summer they are organising the three day Blootgewoon! festival. Three full days of workshops, yoga, music and sports and during the evenings there will be a bonfire, a movie on large screen and a DJ party. If you still have some power left in your muscles on Sunday, you can let it all out during the nude opstacle run.
Where:
Flevo-Natuur, Zeewolde, Netherlands
When:
July 19th – 21st
More info: https://www.blootgewoon.nl/activiteiten/blootgewoon-festival
Zipolite Nudist Festival
When you've read the title of this article you may have wondered what the "+ 1" stood for… well, for this one. We were doubting whether we should add the Zipolite Nudist Festival to this list because the 2019 edition already happened in February of this year. But then again it's such an amazing festival at such a magical place that we just can not leave it out.
Three full days of music, dance, party and arts under the hot Mexican sun was enough to attract between 6 000 and 8 000 visitors this year and we're pretty sure that these numbers will keep rising year after year. Because
Zipolite
is a small town, the accommodation tends to fill up quickly during the period of the festival so make sure to book early!
Where:
Zipolite, Mexico
When:
jan 31st – Feb 2nd 2020
More info:
https://www.facebook.com/groups/1464381013859578
So… Have you been able to fill your agenda? Have you booked your flights and purchased your entrance tickets?
Let us know which nude events you'll be attending this year!
Picture credit: The photos in this post are coming from Google and Twitter. If you find one of yourself and you don't want it to be on our blog, let us know and we'll remove it.
---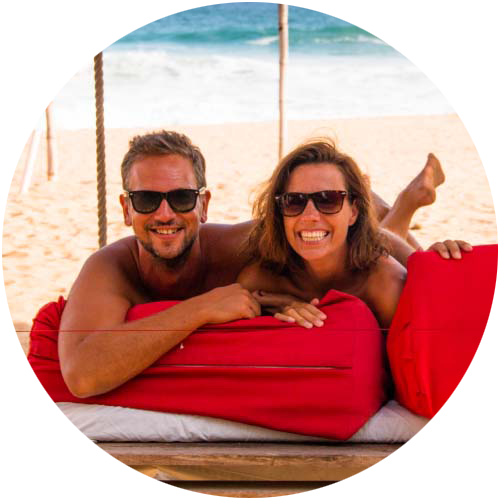 Support Naked Wanderings
Do you like what we do for naturism and naturists? Did we make you laugh or cry? Did we help you find the information you were looking for? Then definitely join our Patreon community!
---