Every summer roughly 2 million naturists find their way to France for a nude vacation. 2 Million! That's a lot of people. That's the population of Slovenia. They're not all Slovenians though. Naturists from all over the world put France on their nude itinerary. Interestingly, the variety of naturist accommodations in France is not what one would expect. The large majority of places are campings and we've met plenty of naturists who didn't have a clue that there are any other types of accommodations. Like bed and breakfasts. We did know and looked very much forward to exploring those as well. So we went to the very south of France to naturist B&B La Fenouillère in Brignoles.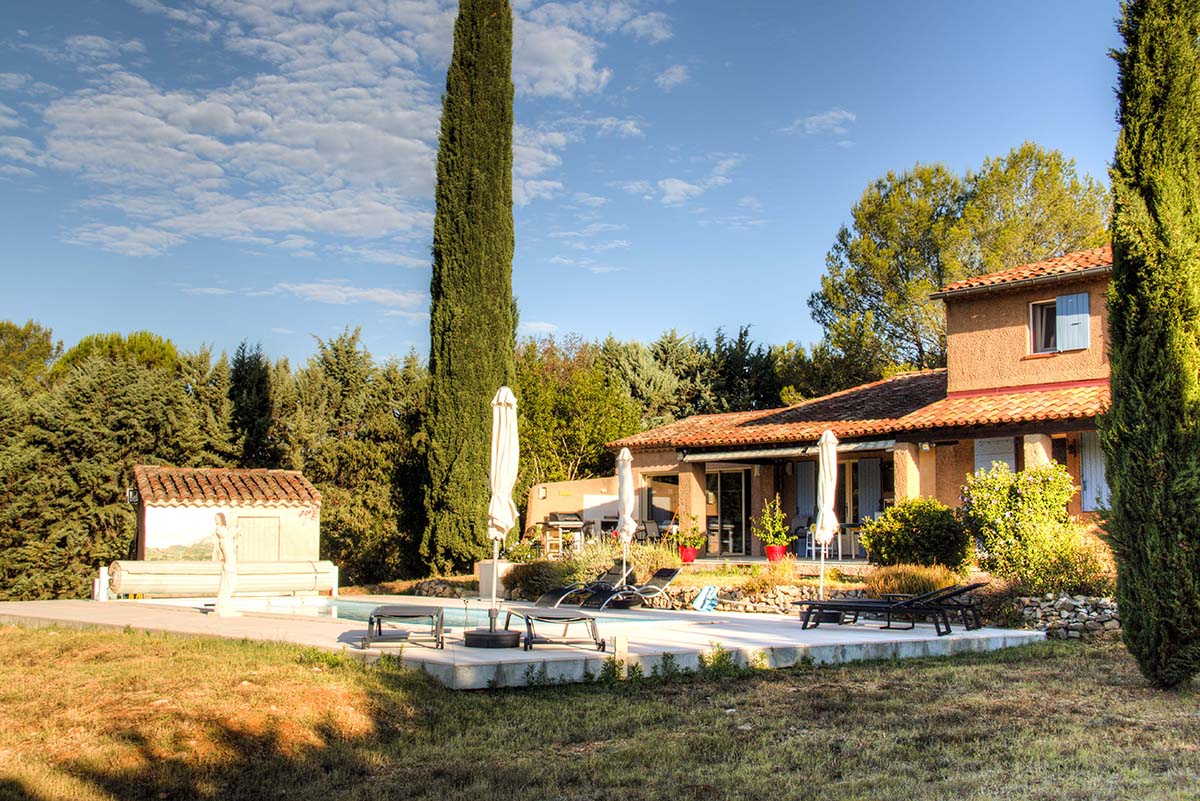 How to get to La Fenouillère
La fenouillère is easily located near the southern France A8 highway. Coming from the north of France or anywhere in Belgium, The Netherlands or Germany, you want to get on the A6 highway (beautifully called the "route du soleil", the highway of the sun). In Lyon, you continue on the A7 and in Aix-en-Provence, you switch to the A8 direction Nice.
Coming from the west of France or from Spain, you follow the coastal A9 highway and take the A8 in Aix-en-Provence as well. Coming from the Cote d'Azur or Italy you want to take the A8 in Nice and drive towards Aix-en-Provence.
In all cases, you take the A8 exit in Brignoles, from where it's just a couple of minutes more to La Fenouillère. Your GPS will find the way.
The nearest major airport is Marseille-Provence which receives flights from all over Europe and even Canada, Turkey, Maroc and Tunesia. Marseille also has a TGV (high-speed train) station but the one in Aix-en-Provence is slightly closer.
If you're coming by train or plane, we highly recommend renting a car to get to La Fenouillère and to visit the region.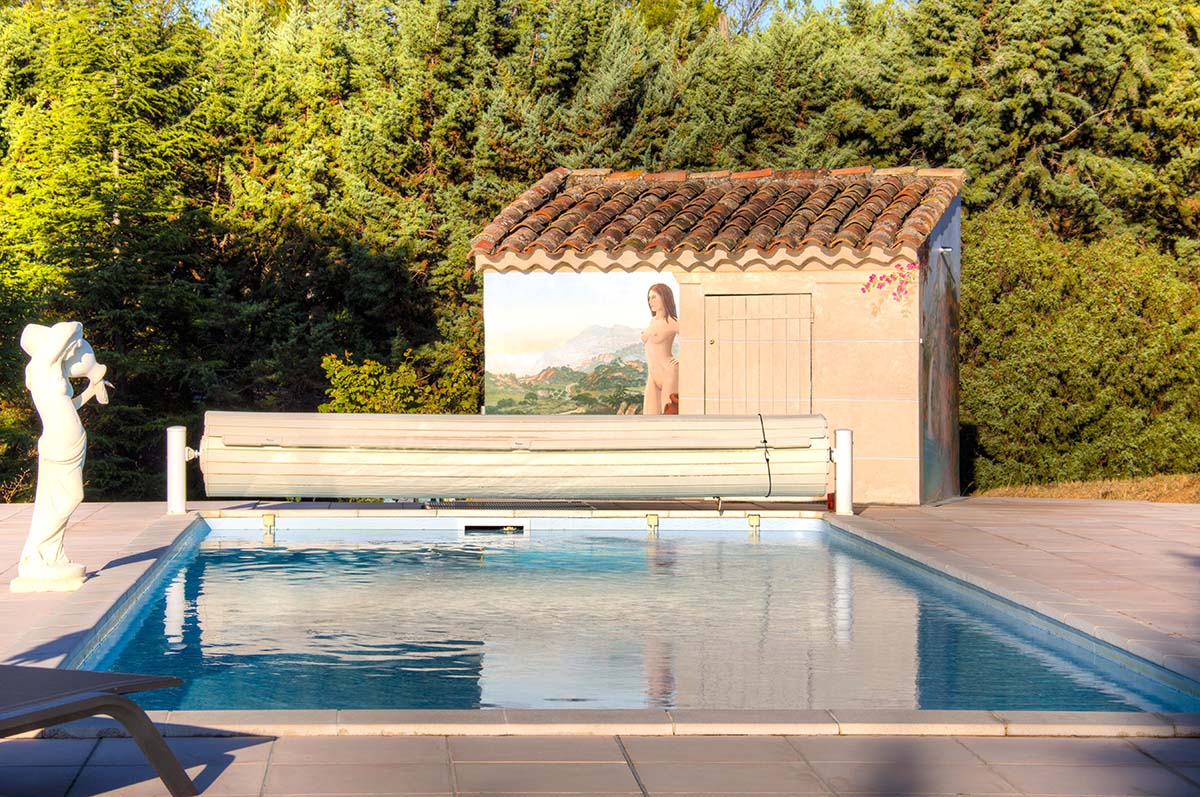 Where to stay at La Fenouillère
The initial idea of the bed and breakfast principle is staying in someone's home. People rent out a couple of rooms because they like to provide hospitality and because they want to get to know new people. La Fenouillère fits exactly in this concept. It's a home with three guest rooms, stylishly decorated according to a certain theme.
The "La vie en rose" room has pink aspects and the "Lavender" room obviously leans towards the light purple colour which reflects the landscapes of lavender fields in the region. We stayed in the "TonPierre" room, highlighting the ochre colour of the mineral.
All rooms come with private bathroom and toilet and other facilities such as a fridge are shared with the other guests.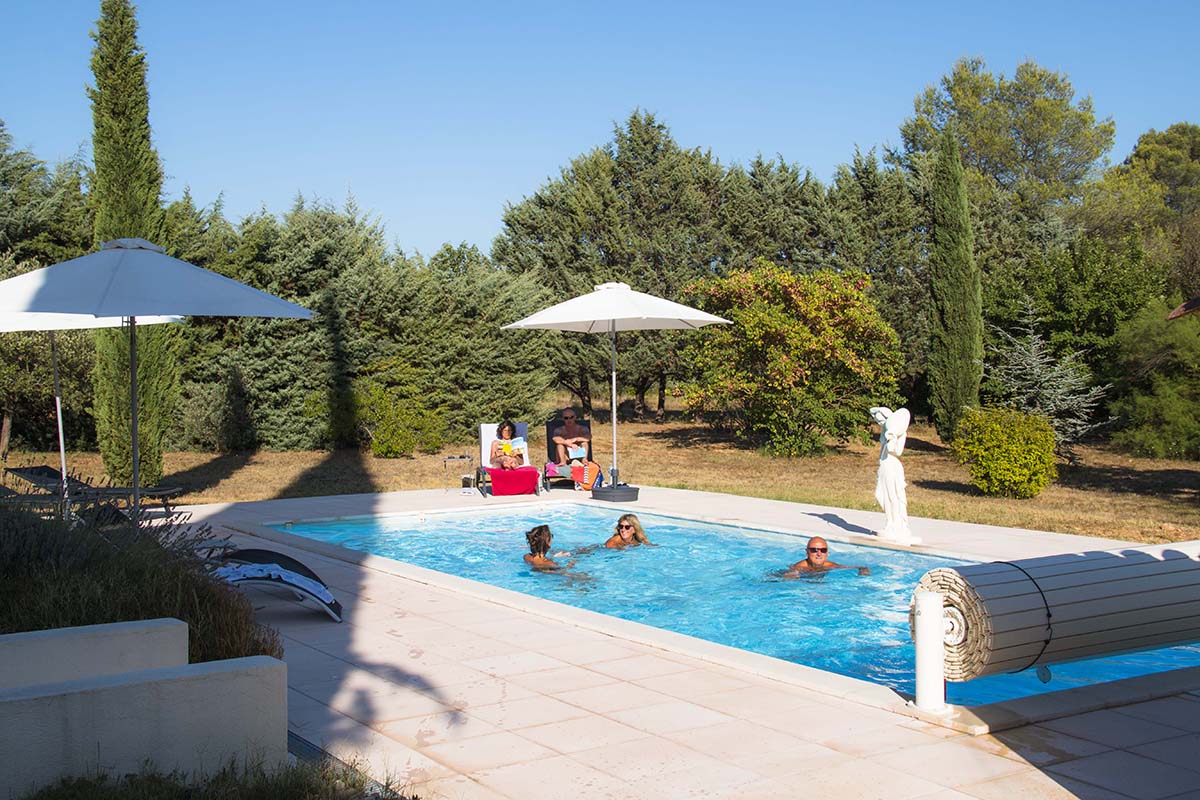 What to do at La Fenouillère
La Fenouillère is a place where you come to find rest. Rest after busy weeks at work, rest after a long drive to the south of France or rest after a day of visiting the region. It's a place where you put your lazy naked behind in a deck chair next to the pool, get sucked up by a good book and forget that there's another world behind the gate. Only to be woken up from whatever you may be dreaming about by Geert at 7 pm sharp. That's aperitive time. The daily kickoff for dinner.
With this previous paragraph, we've already given away the main reasons why guests enjoy a visit to La Fenouillère. The large swimming pool is the perfect escape from the heat of the summer months in the Provence. Almost like a magnet, it keeps pulling the guests towards it. Read, swim, a beer, swim, a nap, swim… It's a fun routine if you ask us.
The other highlight is definitely the evening dinner. The French have a word for this: table d'hôte. Just like "chambre d'hôte" means guesthouse (well literally it means something like a room at a host's house), "table d'hôte" means the table of the host. Which in this case translates into putting your feet under the table of Marijke and Geert and get a delicious three-course meal served to you. Other than the obvious advantage of having dinner without the need for clothes, this is also the time when the guests come together and when the talking starts. Often until way after desert.
Talking about food, because of the complementary typically French breakfast also the early hours of the day are spent together with the hosts and other guests. But when everyone is still a bit sleepy the morning conversations tend to remain more compact. The never-ending attraction of the pool might have something to do with this as well.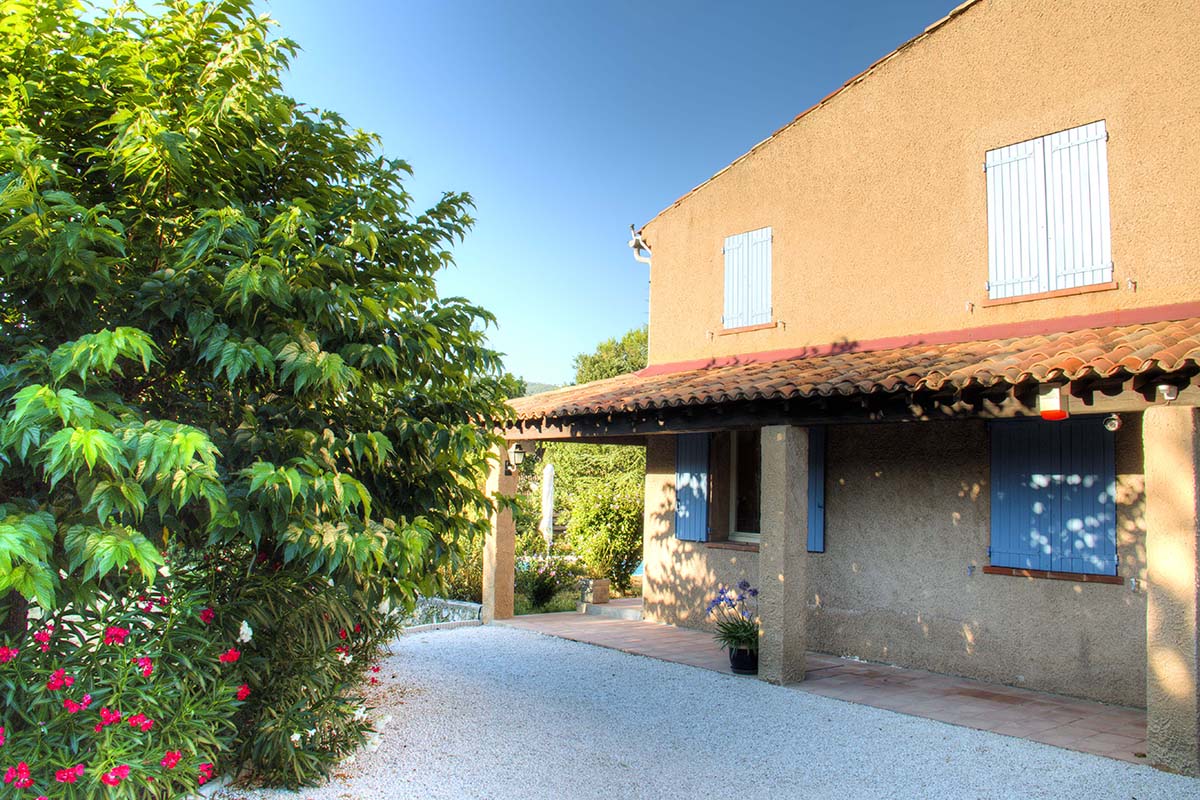 Around La Fenouillère
The main highlight of the Var region is definitely the French Riviera, locally called the Cote d'Azur. For many decades this part of the French Mediterranean coast has been attracting the rich and famous. Even today Bono from the band U2 and Elton John have a house at the Riviera, Leo DiCaprio is often spotted on his yacht around Nice and Jay-Z likes to frequent St. Tropez with madame Beyonce. The real face of St. Tropez, Brigitte Bardot, also still lives there but doesn't leave her house very often. You better have a look at here statue.
Other than celebrity spotting, the French Riviera is a great place for sunbathing, nightlife and visiting great cities like Cannes or Nice. And it's also an interesting place for nude beach visitors. If that's you, you're up for a treat. The Var region has the most nude beaches in the whole area!
Between Toulon and Fréjus there are 7 official nude beaches and another handful of unofficial ones. All of which are easily reachable from La Fenouillère.
During our stay we visited the one in Les Salins d'Hyères (quiet and relaxed), Plage du Layet (very crowded, go early for a good spot) and Plage Neptune near St. Tropez (nude among the jet set).
Another interesting day trip for the naked traveller is a visit to naturist island Île du Levant, which also includes Europe's oldest
naturist village
, Heliopolis. Drop your clothes when you get off the boat, not to put them on again when it's time to leave.
North of La Fenouillère is the other highlight of the region: The Gorges du Verdon. A breathtaking valley filled with small villages, rivers, lakes, high cliffs and winding roads. Every turn you take you'll find yourself saying things like "oh" and "wow" and "this is so amazing" (or whatever equivalent in your language). Make sure to leave early because you'll want to make more stops than you initially expected. Trust us, we know.
And then there's so much else to do in the region. City trips to wonderful Marseille and Avignon, shopping in Aix-en-Provence, wine tasting in the somewhat 400 wineries in the region and lots of other things for which we don't have space here to mention them all. Just ask at La Fenouillère, they know.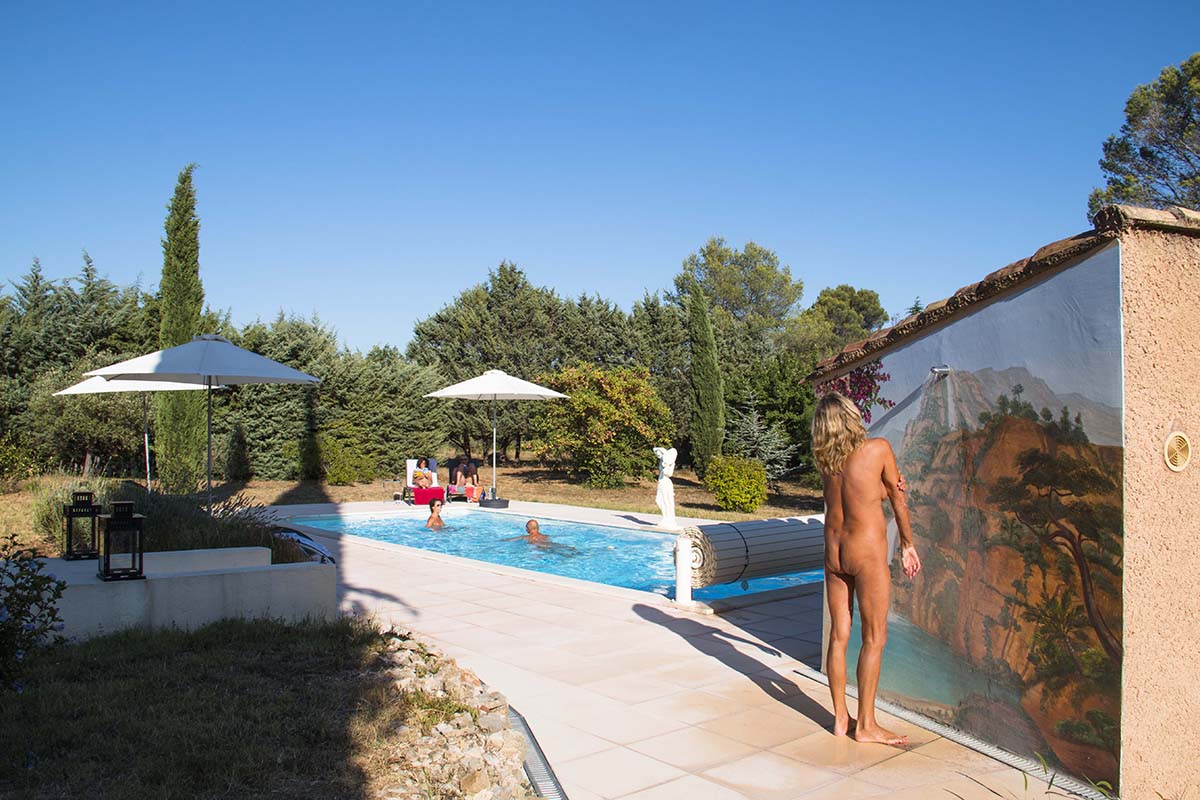 Hosts of La Fenouillère
We've briefly mentioned their names before. The hosts at La Fenouillère are Marijke and Geert. A Belgian couple who decided four years ago that they had enough of the rat race and the Belgian weather and moved towards a more naturist friendly climate. To a place where clothes became rarely necessary. To their own naturist bed and breakfast.
Their roles in the management of La Fenouillère suit them perfectly. Geert is the Pater Familias. The family man who takes care of the wellbeing of his guests. He will keep enquiring about how you enjoy the region, your night's rest and your plans for the next days. Geert is a resource of information about pretty much everything ranging from local highlights to naturist beaches to the best places to taste local rosé wines.
Marijke takes care of the practical aspects of your stay. She will make sure that your room is clean, that you know all about the working of the B&B and most of all that your stomach is pleased. Every evening she puts yet another delicious dish on the table d'hôte. By the time you've finished tonight's one, you start wondering about what will be served tomorrow.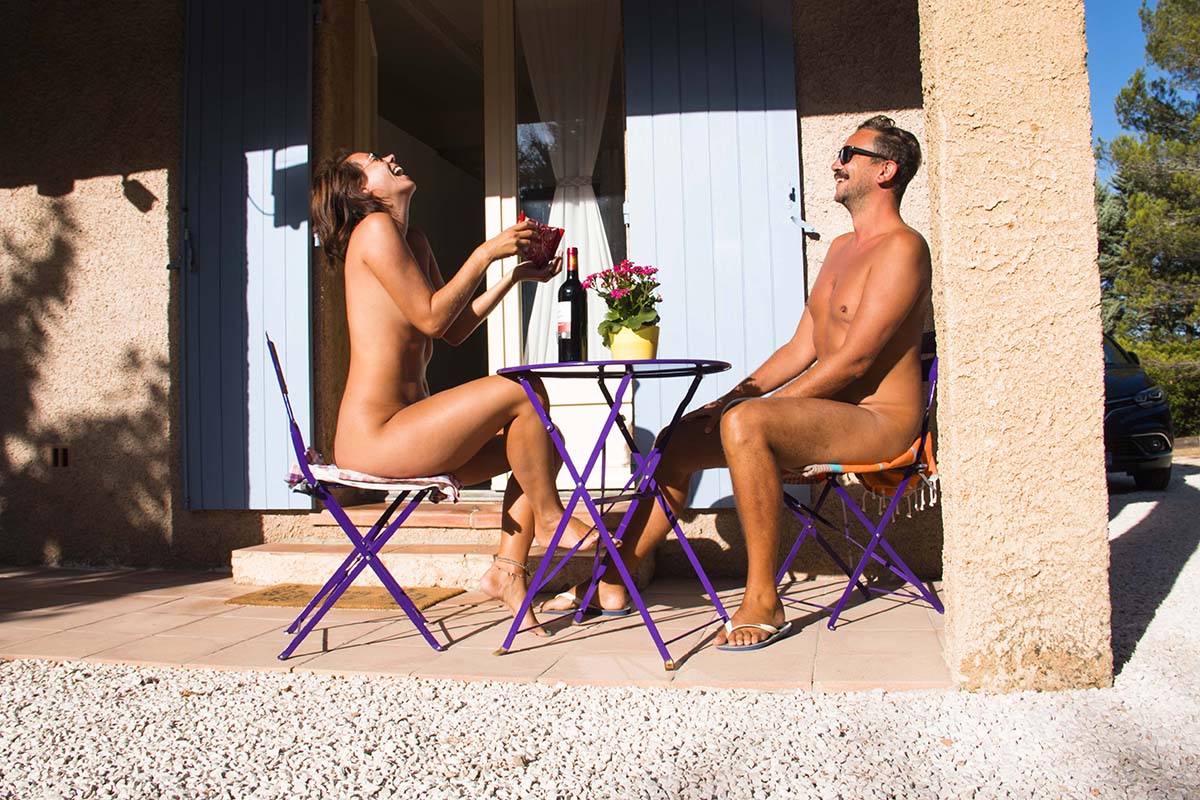 Guests at La Fenouillère
Running a bed and breakfast (and especially a naturist bed and breakfast) is something that makes people rich. But rarely in a monetary way. It's something you do because you love meeting like-minded people because you love to learn from others and share some of your own wisdom. In these cases, it is of course very important that you get a click with your guests.
The ideal guests for Marijke and Geert (well, at least how we see it) are naturists who love to relax during their holiday but most of all who want to enjoy the good life. Good food and good company in a homely atmosphere. Naturists who enjoy being pampered in a personal way and who like good conversations.
Since Marijke and Geert are from Belgium, they attract a large Belgian crowd (that's how it always seems to go). Nevertheless about half of their guests come from other countries like The Netherlands, France, Italy and others.
Although La Fenouillère is not adults only per definition, the aim is definitely more on couples rather than on families. For the simple reason that kids might easily get bored at La Fenouillère.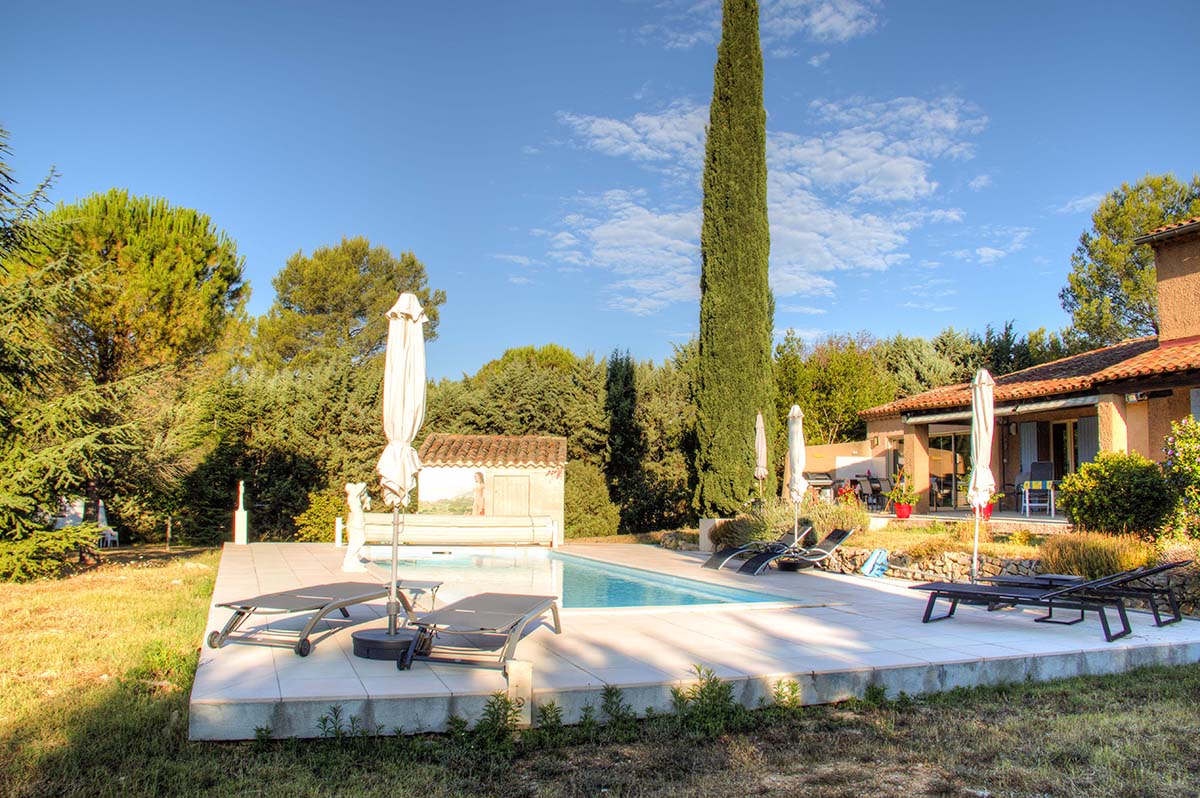 Reservations & Contact
Reservations at La Fenouillère are preferably made via:
✅ Website: https://www.chambres-dhotes-naturiste-provence.com
✅ E-mail: [email protected]
✅ Phone: +33 (0)7 85 08 89 54
It's definitely possible to communicate in French, Dutch, English and German.
Summary
If you're searching for a friendly and comfortable place to stay in France's Var department or in southern Provence, look no further. You've got it right here in Brignoles. At naturist B&B La Fenouillère.
Disclaimer: We have been invited as guests of La Fenouillère, but of course all opinions are our own. We are super confident you will love this place as much as we did!
---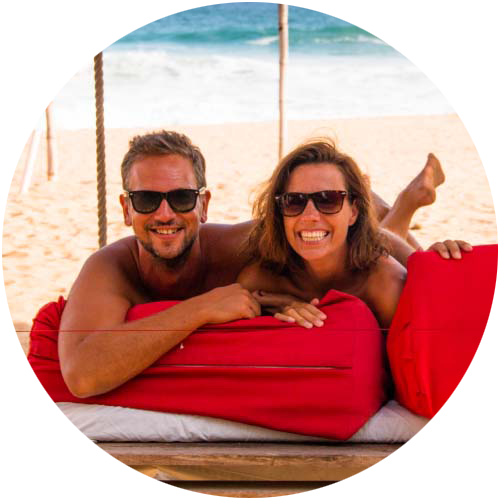 Support Naked Wanderings
Do you like what we do for naturism and naturists? Did we make you laugh or cry? Did we help you find the information you were looking for? Then definitely join our Patreon community!
---