The general opinion about naturism is that it's something social. If you like to hang out in the nude while watching Netflix, you're often considered "just a nude person". Only when you frequent nude beaches or visit naturist clubs or resorts, spending time with other nudies, people start considering you a naturist.
Before we started Naked Wanderings, we didn't have a clue about the existence of
home naturism
. Being nude at our home has been the case as long as we can remember, long before we got a taste of social nudity. But then we started to get in touch with naturists around the world and noticed that for many, social nudity just isn't an option. Some of them have a partner who wants to have nothing to do with naked people. Others live in a country where public nudity is strictly forbidden. Some can't afford the club membership fee or have reduced mobility or live too far away from any nude beach or resort.
This is all perfect when you don't feel the need for social naturism, but what if you want to socialize with other naturists but just don't get the chance? In the end, all good things are better when shared and because naturists are a minority, we sometimes feel the need to belong and to talk about our lifestyle with others who understand what it's all about.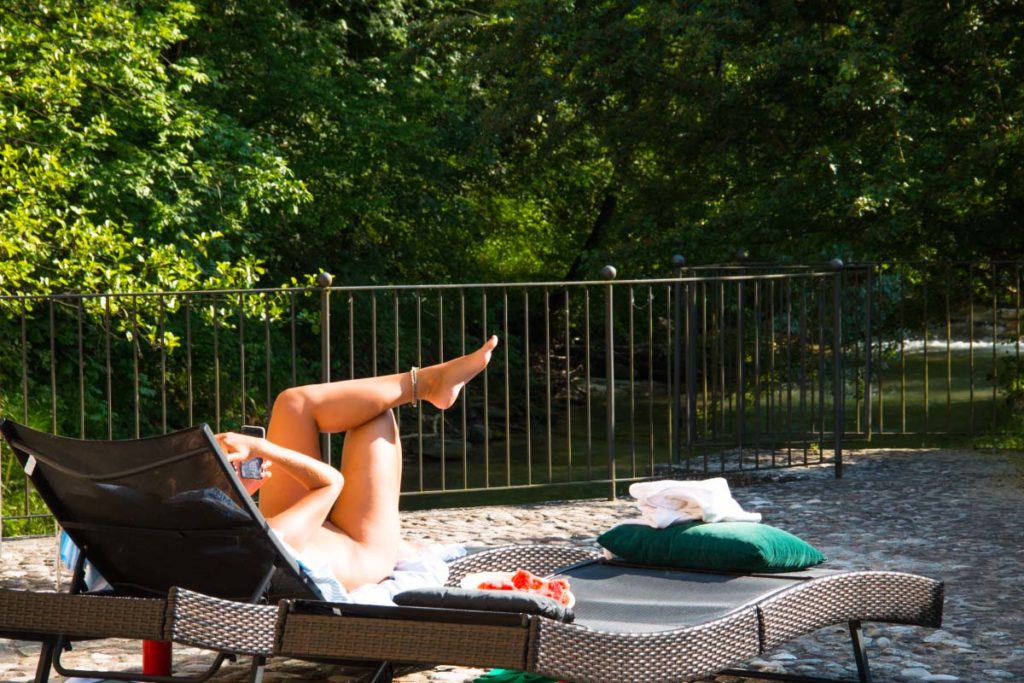 The controversy of online naturism
Luckily, there's always the web. Thanks to the internet, we can socialize with pretty much everyone around the world from our living room. All of our phones have webcams these days, often more than one, so we can actually see each other. Now the main question is: Where to find these other online naturists?
You probably know that Google won't be a big help. Search terms like "nude webcam" or "naturist webcam chat" bring us to websites full of young women who will happily show us all their body parts in close up for only a handful of bitcoins. Sharing tips for the best nude beaches in France or having a philosophical conversation about the ethics of naturism is not on their menu though.
A couple of years ago we discovered the chatbox on the
TrueNudists
website. Hope appeared in our eyes when we weren't asked for credit card details and didn't see a tipping button in the chat window.
Hope soon left again when, being logged on as a couple, suddenly all eyes were on us. Probably literally. Within minutes, we started receiving messages with requests for private video chats (but we just came here for the social aspect?), requests for Lins to stand up and turn around (but then she can't see the screen anymore?) and requests from headless men to give our opinion about their half-erect penises (do you think we're a doctor?).
We soon figured out that online naturism wasn't much for us. We are lucky to have many options to meet with naturists in real life, we don't need the internet for that.
And then the world went in lockdown.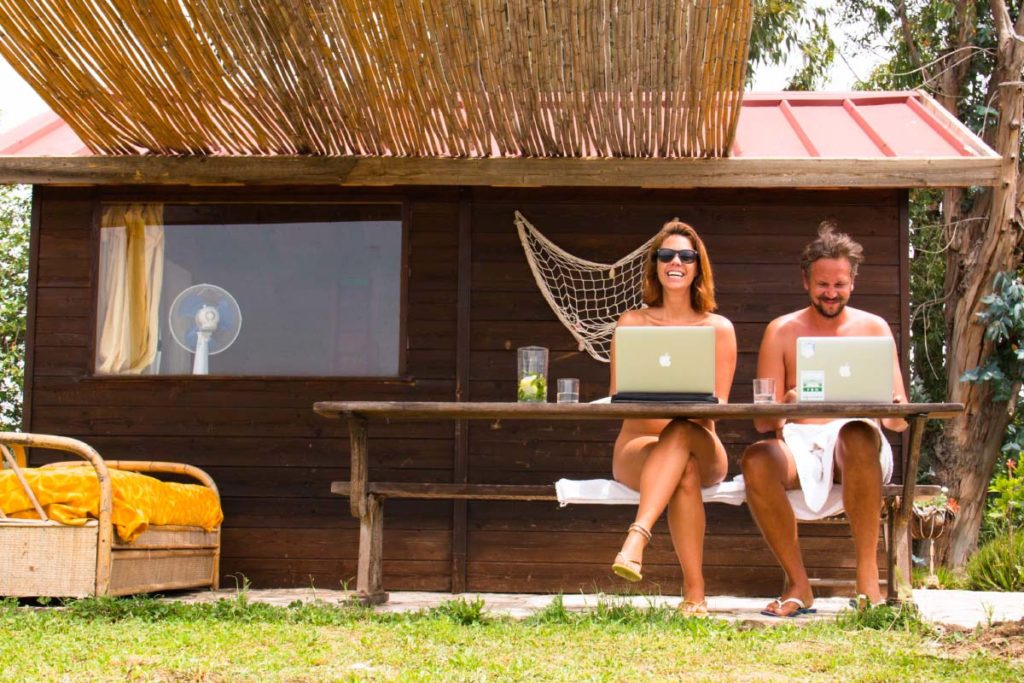 Hangin' with the Carlsons
The corona pandemic suddenly turned the large majority of naturists into home naturists. We are lucky to spend our quarantine days in a naturist resort in Mexico together with two other naturist couples. Even during the lockdown, we have the opportunity of real-life social naturism, so the thought of giving online naturism another try didn't pop up into our minds. Until the Meandering Naturist published
a blog post about his first nude Zoom meetup
.
Although excellent written as always, he didn't convince us. Their Cyber Happy Hour sounded like fun, but we couldn't avoid thinking that the whole webcam idea does have something voyeuristic and exhibitionist. And then there's the organizational aspect. What do you talk about? Are you nude as soon as you turn on the webcam? Do we have to consider the angle of our legs? What if the other side of the line has different expectations, how weird would that be?
When thinking about it now, several weeks later, we realize that our doubts about online naturist meetups are similar to the ones we had when we first visited a naturist resort. There's no roadmap for these things. One of the reasons why we came to that realization is again
The Meandering Naturist
. Not because of his blog post, but because of an e-mail which he would send us a week later.
Just like ourselves, Dan Carlson travels a lot to naturist destinations. Over the years it happened several times that we weren't much further than a car ride away from each other. We always tried to meet up, but something always got in the way. Now, being both locked up at our respective homes, Dan thought that it might be a good idea to meet online.
So we said: "Okay, let's give this virtual thing one more try".
What we half expected to be an awkward fifteen minutes or so video chat with a guy who we hadn't even met in person, turned out to be a fun evening filled with wine and great conversations. We got to meet Dan's wife, their dog and Addie, a regular at the Carlsons and an occasional guest blogger on The Meandering Naturist blog. Only the sign that the battery level of our computer was running dangerously low made us realize that we had been chatting for almost three hours.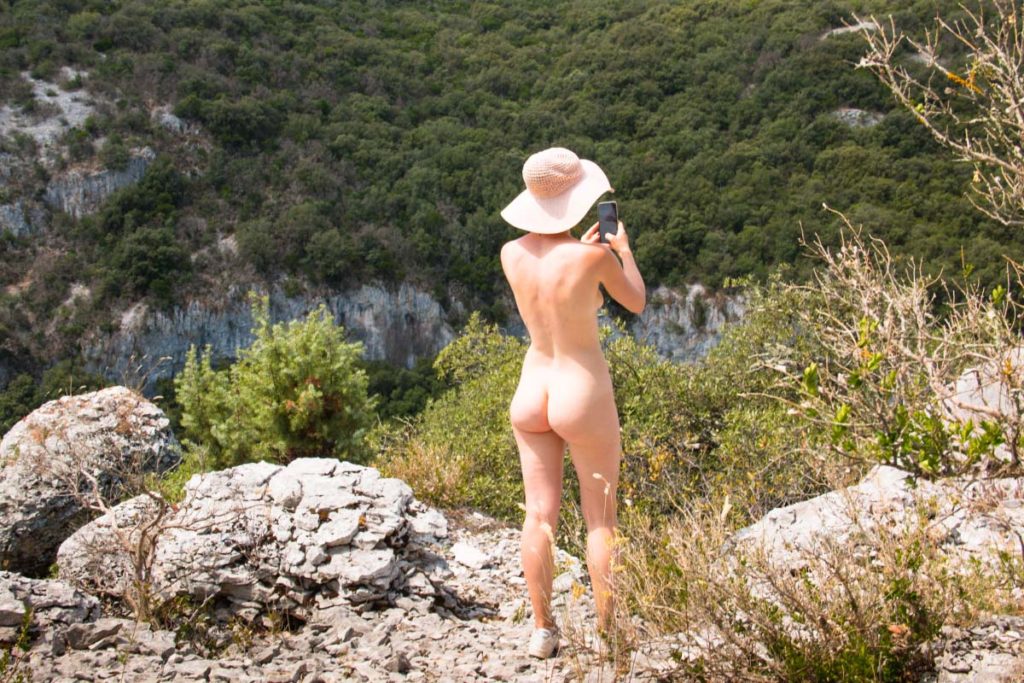 Our virtual trip to Asia
Ok, so it does work and it's actually fun as well. Our first successful virtual naturist meeting. But still, not all doubts had disappeared. Our evening with the Carlsons was a very specific case. We're both naturist bloggers and readers of each other's blog. Even without having met before, it did seem like we already knew each other. Then there were only 5 people, divided among two webcams. That's still something different than a chat room full of naked strangers. Like the one that made us wake up at 6:30 am, one week later.
We had met Gregers about two years ago in his
naturist resort in Bangkok
. Other than running two naturist resorts in Thailand, Gregers is also one of the founding members of the
Thai Naturist Federation
. Ever since we met, we stayed in touch and regularly exchange long e-mails about naturist topics. One of those recent e-mails ended with "would you guys like to be guests in our online weekend meeting?".
Given the 12 hour time difference, we were expected to join at 7 am. Do we really want to wake up at such a horrible hour, to spend our first coffee of the day with about 30 strangers? Like so many times before, our curiosity won from our prejudices. We had taken the first step towards online naturism, now we had to try it all. In the end, if we don't feel comfortable we can make Asia disappear from our room with just one click.
Again, our prejudices were ungrounded. Unlike the bunch of headless men at the TrueNudists chat box, what we found here were all friendly faces. Men, women and couples from different parts of the world, all engaging in interesting conversations ranging from naturism to the coronavirus to the usage of make-up in Asia and the great nature in Australia. Once again, minutes went by as if they were seconds and soon only our cup of coffee made us realize that it was still early morning.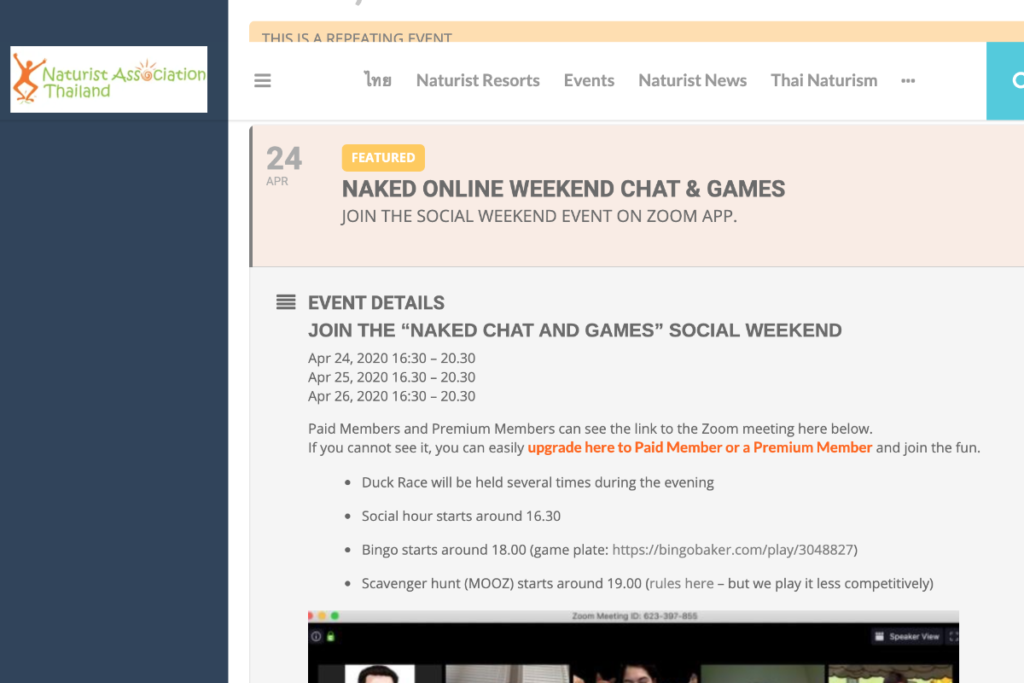 When the corona crisis will be behind us
The Thai Naturist Federation isn't the only one that organizes online meetups during the global lockdown. Also British Naturism has a
calendar filled with online naturist events
. Fitness, meditation, chats, panel discussions and even naked laughter yoga (no idea what that is, but it does sound like fun). The naturist club has gone virtual. We wouldn't be surprised if someone soon comes up with a way to have a virtual volleyball tournament.
What will happen with these great initiatives when people are allowed to leave their homes again? Personally, we still prefer real-life naturism over virtual naturism. But thanks to our friends we did learn that online naturism with genuine intentions is not only possible but also quite fun. When the quarantines are lifted, there will still be many home naturists, for previously mentioned reasons. Now that they finally have a safe place and new opportunities to share their lifestyle with others, it would be a shame if that disappears together with the virus.
One very important aspect of online naturism is moderation. The participants need to feel safe being nude among others. Especially on the internet, where you're always just one screenshot away from world fame on a porn website. This is where it goes wrong at TrueNudists and why it does work for the Thai Naturist Federation. Because chatboxes that are available 24/7 are expensive to moderate, we fear that this will never work. But casual online meetups can easily be moderated, by the organizer or volunteers.
Winston Churchill once said, "Never let a good crisis go to waste". Every medal has two sides. Changing times create space for new opportunities. Maybe the corona crisis will end up in the naturist history books as the time when home naturism also became a form of social nudity.
Naked Wanderings' Complete Guide for the First Time Nudist ebook

Do you still have questions about nudism or naturism?
Are you looking for even more tips and tricks?
Our ebook will be the perfect resource for you!

Learn More
---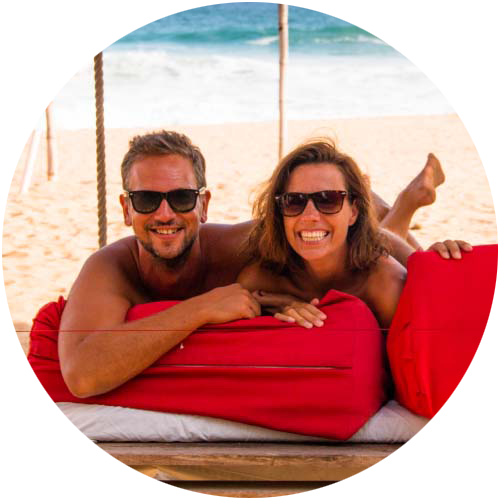 Support Naked Wanderings
Do you like what we do for naturism and naturists? Did we make you laugh or cry? Did we help you find the information you were looking for? Then definitely join our Patreon community!
---