Just like Belgium, Canada has also a French-speaking part: Quebec. It had been our plan from the beginning to try to divide our bare time between
Ontario and Quebec
, the two Canadian states with the most opportunities for naturists, and the time had come for us to move on and try to remember our best French. Something that would prove to be not as easy as we initially had thought. All nudist resorts in the state seemed to be more or less centralized around Montreal, but we were hoping to see some more of what the area had to offer. So we decided to take a week "off" from the nudist clubs, put on some clothes and check out wonderful places like Quebec City and Tadoussac. Wonderful, certainly. But no nudity.
Anyway a great experience but soon the summer sun started burning just that little too much and our laundry bags were getting full just that little too fast. Time to get back to Montreal and do what we came here for in the first place. Get naked.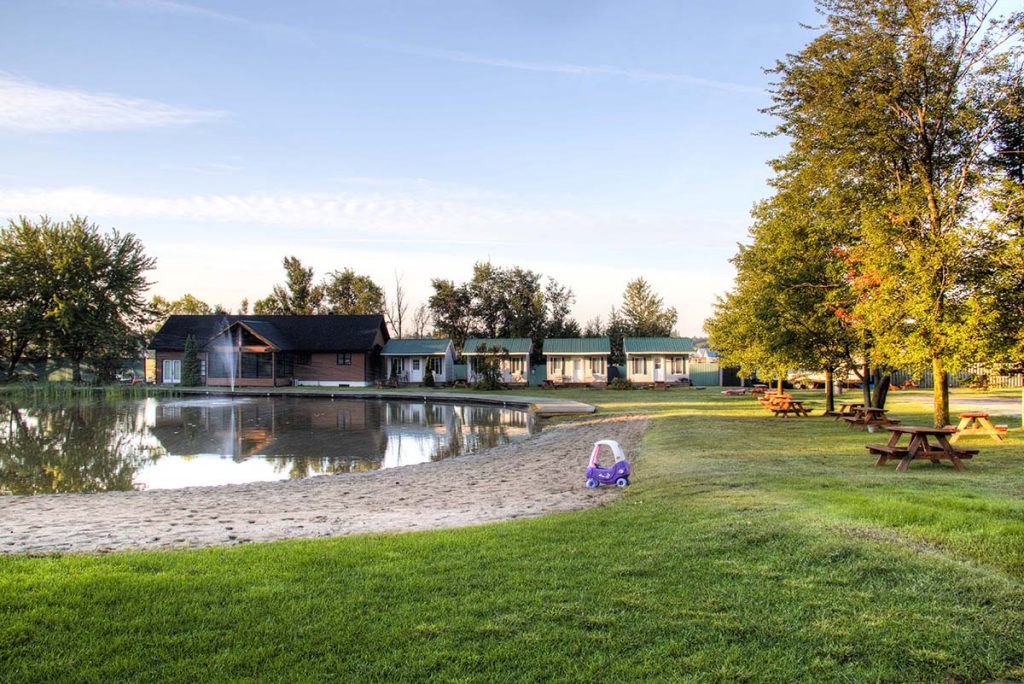 Location
The first place on our list for Quebec was Centre Naturiste Oasis, a naturist campground in the northern outskirts of Montreal. Unlike plenty of other naturist places we had visited, Oasis feels like they have nothing to hide. No kilometers of dirt roads that seem to bring you nowhere, no well-hidden post stamp size direction signs but a huge billboard right at the side of the main road tells you that you have arrived. Coming from the west you'll have to take the 401 to Montreal and from the east, you want the 40. In both cases, you switch to the 640 and get off in Terrebonne. From there, your GPS will show you the quickest way.
So getting to Oasis is easy, getting in proved to be more difficult. We arrived at the main entrance and rang the bell. Nothing. We rang again. Nothing. After a third ring, there still was silence and we decided to park our car in front of the gate and walk in to check whether we could find someone who would talk to us and hopefully show us to a camping spot. While walking through the gate a man in a golf cart drove up and apologized because all the staff members were in a meeting and could not talk to us. He had no idea whether there would be a place available for us.
Of course, we do understand that meetings are important in every company, but really everyone? When we asked him what to do now, he told us to come back in an hour. Well, there has to be a first time for everything and this was the first time we were shown away because everyone was busy. We considered our options, thought about leaving and not coming back but where else were we supposed to go? So we just drove around aimlessly for an hour and got back. Now the reception was open again.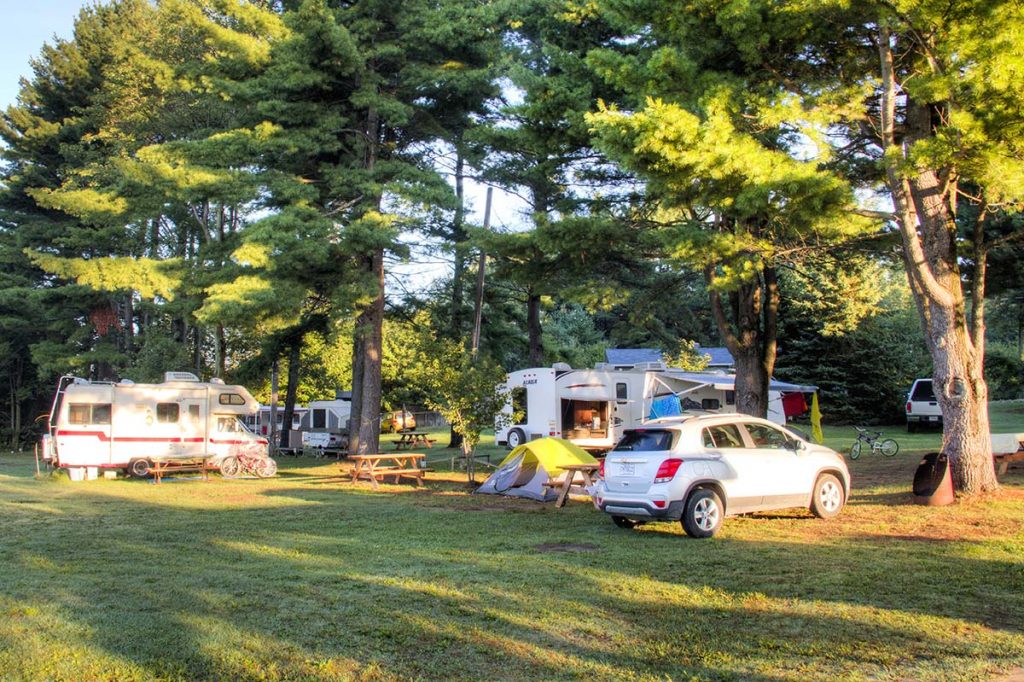 Accommodation
Centre Oasis Naturiste looked much more like a village to us than an average campground. Most of the guests seemed to have a vacation home over there to spend all summer and we think many even live there permanently, seen from the size of their houses. Yes, houses, these are not trailers anymore. Some started from a trailer and had slowly built additional roofs and terraces and even rooms. On other spots, the trailer was nowhere to be seen and an actual house was taking the place. Most of the campground was filled with all different versions of these buildings.
For the more temporary visitors, several spots for tents and campers are reserved in a designated area near the lake. If it seems like the weather will blow you and your tent away or completely wash you out, you could also opt for one of the rental cabins.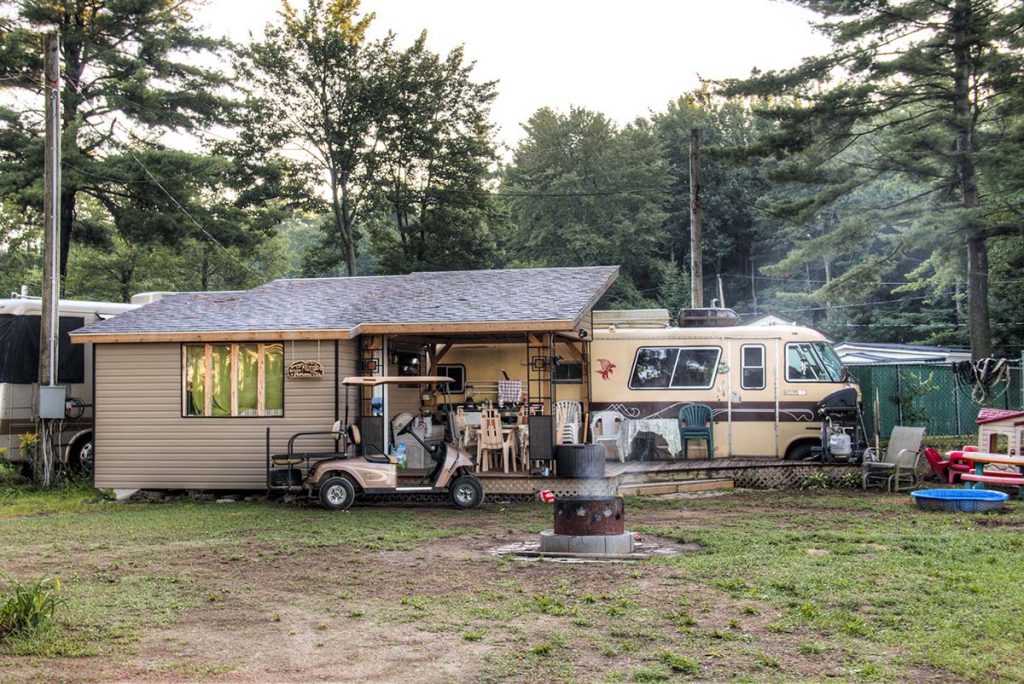 Facilities
Nearby your camping spot, you will find the lake, surrounded by a grass field. There's a nice beach for children to play on or for yourself to do some sunbathing, but swimming in the lake is not allowed. Therefore you have a large and very well maintained swimming pool. Next to it is the pool bar which serves a nice variety of drinks all at very democratic prices. So is the food at the Oasis bistro by the way, decent and certainly not expensive.
Several petanque courts are good to keep yourself busy for an afternoon or so and if you want to get a bit more active tennis courts and ping pong tables are available as well. In the evening you can relax after those intensive petanque games in the hot tub which is only a couple of steps away from the bar. No worries about your next refill.
The whole place is very nicely maintained and you can see that many people put a lot of effort (and probably money as well) in creating a nice place. This in mind we were pretty surprised when we first walked in the shower and toilet block. Although reasonably clean, the dampness slightly reminded us of those old Turkish baths which cater to the lower end of society and normally don't allow tourists. Needless to say that this is a perfect habitat for unavoidable fungi. The water in the showers on the other hand took us back to a trip to Iceland where the sulfur of the hot springs makes everything smell like rotten eggs. Although we liked to think that this water came from a volcanic spring as well, we seriously doubt it.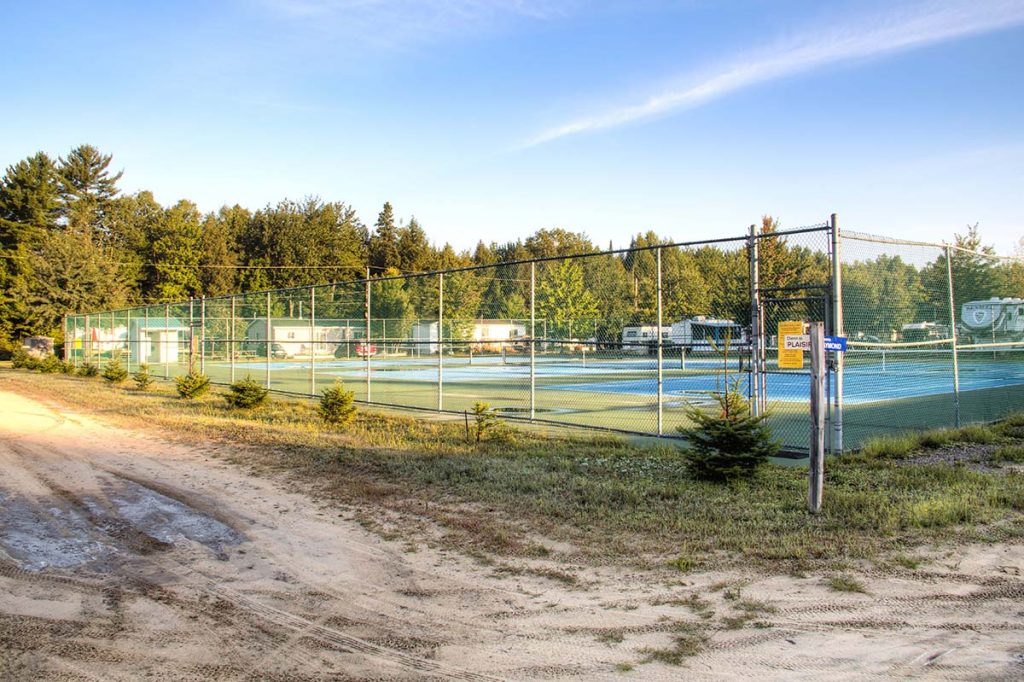 Surroundings
The main nearby attraction is of course Montreal city and the campground being at only half an hour drive from downtown makes it the perfect getaway for some city tripping. In the north, you're also just a half-hour away from the weekend hot spot for many citizens of Montreal:  The Laurentides. A hilly landscape (although here they actually call them mountains) perfect for skiing in winter or hiking in summer. Several historical towns in the area make the image complete. If you don't mind the more than 2 hours' drive, Quebec City could also be an option for a day trip.
We found the town Terrebonne not all that interesting but it does have all the necessities when it comes to shopping or eating out.
Staff
At first, it seemed quite impossible to get hold of someone of the staff, but after our second try an hour later we were welcomed by a friendly couple at the reception who also appeared to be the owners. Fluent in both English and French they gave us a short introduction about the campground, assigned us our camping spots, and there we were. Finally in. The only other staff members we got in touch with were the bartenders (very nice and friendly couple and not only because they gave us drinks) and the lady of the bistro (understanding that we were first-time visitors and didn't know the bistro hours so she made us a poutine after closing time).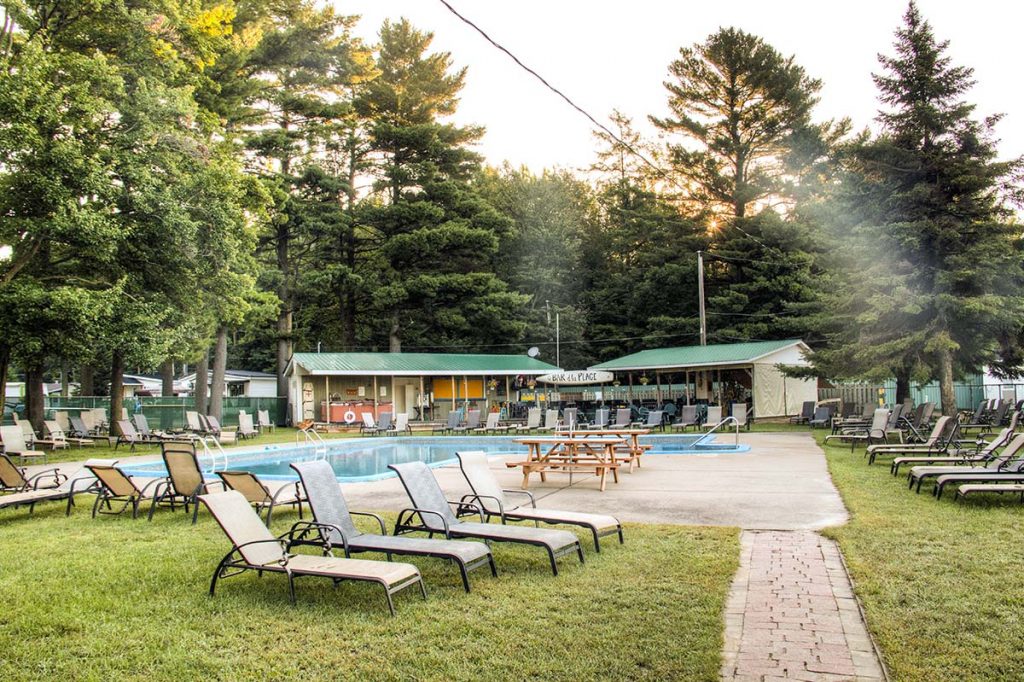 Guests
It should have been easy to make a couple of new friends at Oasis, just after our arrival at the campground and a short walk to check out the place we heard some laughing at the pool bar. We figured that it was about beer o'clock so we decided to have a look. Immediately we were greeted with a "bonjour étranger", French for "hi stranger", and several shots of honey-flavored Jack Daniels got lined up for us. This could have been the start of a great night out if it wasn't that we were both exhausted. Several nights in a row of stormy weather and a tent that promised to be 100% waterproof but really wasn't any like that at all had left us tired and hoping for a decent night sleep. Party was pretty low on our todo list.
On top of that came the language barrier. Although our French is not bad at all, "Quebecois" is a whole other story. Someone once told us that to speak Canadian French you have to pretend to have a hot potato in your mouth. This appeared to contain a lot of truth. Of course, it feels pretty ridiculous to try to talk with your mouth full, and neither did this help much to improve our understanding of the language either. So we just stood there smiling and hoping nobody would ask a question to which we couldn't reply with a well guessed "Oui" or "Non".
The first silent moment we took our chance to excuse ourselves and head towards our tent. The weather had finally cleared out and we had a lot of sleep to catch up to.
The day after we did regret this because apparently we had arrived at the end of the season party. Most other guests were gone in the morning so we had no chance to meet them again.
Summary
While the other naturist campgrounds we had visited in Canada provided a huge natural environment, the Oasis seemed a bit cramped. Determined to create as many camping spots as possible. Nevertheless, it is a nice place to stay for a couple of days while visiting Montreal or its surroundings.
Read more about this resort on  
NUDE
---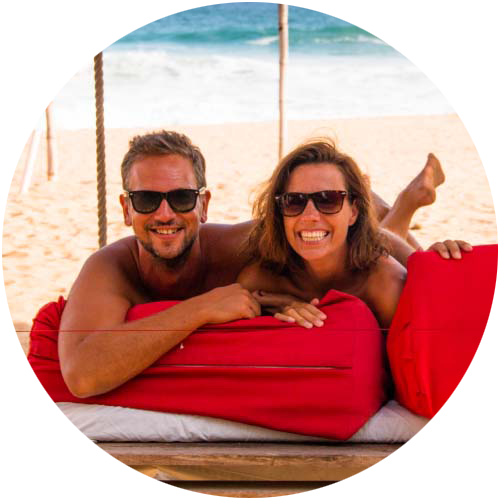 Support Naked Wanderings
Do you like what we do for naturism and naturists? Did we make you laugh or cry? Did we help you find the information you were looking for? Then definitely join our Patreon community!
---