There are lots of opinions about the where and when of the coronavirus lately. But nobody knows what's really going to happen. Meanwhile, we've figured out that it is not something seasonal that the first warm April winds will blow away. More and more we realize that the virus is here to stay for quite some time to come. Can we live together with the virus? Preferably a life in which we can visit our friends and family, in which we can leave the house to go see a concert or a movie.
Can we have a life in which we can still travel to naturist places?
And if we can't, how will we practice naturism? Will the coronacrisis be the end of naturism? Will we all learn that it's not so hard to wear clothes instead of nothing? Or will corona be the trigger that the naturist world was waiting for?
Some scientists predict that when the lockdowns are behind us, we will all get divorced or have babies. Is there a chance that we'll all walk into this new reality without clothes instead?
Everybody nude at home
One of the predictions we hear in naturist circles is that social nudity might suddenly be much more accepted once these lockdowns are over. Think about it, a large part of the world population is currently stuck in their homes. People have little to no places to go to. They have no office or parties that require them to dress up. Nobody will ring their doorbells. Many don't even bother to go to the shop and just have everything delivered. Why on earth would they wear any clothes?
Definitely a reasonable way of thinking, but we shouldn't forget that this theory was born in the head of the naturist. The naturist who has, maybe for the first time ever, been able to spend days in a row without having to wear a single piece of textile. Similarly, the comic book enthusiast could predict that after this crisis, everyone will be reading comic books. It's pretty obvious, we all have huge amounts of time and comic books can easily be ordered from Amazon. Yet, how many of you have gained an interest in comic books lately?
Nude on social media
During the last months, we all have spent huge amounts of time on the internet and most of our social life has moved to video chats.
Zoom
, a company of which few had ever heard at the beginning of this year has now become one of the top searched terms on Google. Our new online presence resulted in several videos of
Zoom calls in which someone forgets that he is not wearing pants
. No doubt that these things can happen and have happened. But how many of those are real? If we look at the video in which the
unfortunate husband in tight undies "accidentally" walks by
, we can't think much else than that they would better spend their time taking acting classes.
Something similar can be found on TikTok with the #nakedchallenge. When we first saw that hashtag passing by, we thought that maybe some naturist association had been able to go viral. It sounded like an excellent opportunity to make people try to do something nude around the house, in the hope that they'll enjoy it. AANR has already been able to make
World Naked Gardening Day
a worldwide event… Maybe they did it again.
That's not what happened. Instead, the goal of the #nakedchallenge is for women to surprise their husbands or boyfriends by suddenly appearing nude in front of them and then film their reaction. What we conclude from the reactions is that in most of those households, normalizing nudity has never been high on the agenda. The majority of the men look as if they have never seen a naked woman in real life.
The sunny side of naturism during COVID-19
There's no doubt that if there is going to be a change in mentality around naturism and nudity, it will come from the naturists themselves. In our
blog post about nude online meetups
we already mentioned some interesting new ideas for social nudity in times when the word "social" is unavoidably linked to "distancing". Not only do these meetups manage to keep the social aspect of naturism alive during the lockdowns, but they've also become safe spaces for
home naturists
who do want to share their lifestyle but don't have a resort or club to do so.
Another interesting prospect could be found in several European newspapers a couple of weeks ago. Suddenly they all started reporting on the local laws about nude sunbathing in your own garden. Europe was seeing some wonderful spring days. Typical days when the naturists would probably spend their weekend at a nude beach or naturist resort if some virus wasn't keeping their front door locked. The patch of grass at the back of their house becomes the only alternative.
No doubt that many naturists who used to keep their lifestyle secretly hidden for the outside world thought "Screw it. I'm allowed to be nude in my garden and nude I will be". Many European neighbors might be shocked those days. But definitely some must have thought "Look at Betty all equally tanned. If she can do it, so can I".
Promote naturism by normalizing nudity
We're pretty sure that semi-nude video calls or naked challenges won't be of much help when it comes to promoting naturism. Betty, getting a tan in her garden, is likely to achieve much more. Many naturists have no problems with being nude among hundreds, if not thousands, of strangers. Yet the biggest fear of most is to run into someone they know. Therefore, they spend many hours in cars and planes to get naked on the other side of the country. If not on the other side of the world.
We aren't any different. When we planned to have our
first social nude experience in a spa
, we actually picked the one the farthest away from where we lived. Knowing that there was an equally good
nude spa
at less than a 15-minute drive. We feared to be misunderstood or to be shamed.
Today, the farthest spa is not an option and neither are foreign naturist resorts. Every day, someone tells us to think locally. Shop local, eat local, support our locals. Are we going to spend our nude moments in our living room, having nude meetups during the weekend? Or are we going to take our naturism local as well? Are we going to step into Betty's footsteps and let the neighbors think whatever they want to think?
Let's all go to the local naturist resort for once, let's go to the local spa or the local nude beach. And if you still fear to run into someone you know, here's a good tip to get over it: Just take someone you know. Bring a friend. You'll soon realize that being nude in front of a nude friend isn't much different than with a nude stranger.
Naked Wanderings' Complete Guide for the First Time Nudist ebook

Do you still have questions about nudism or naturism?
Are you looking for even more tips and tricks?
Our ebook will be the perfect resource for you!

Learn More
---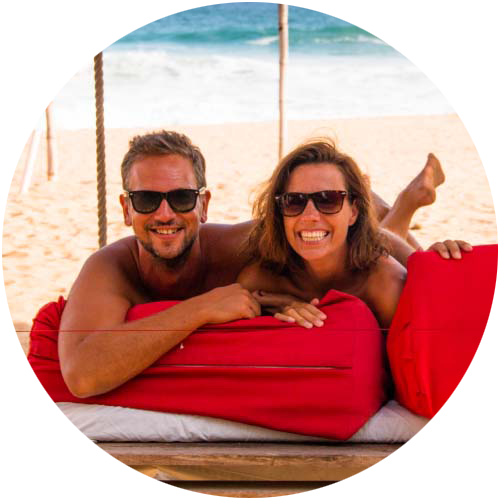 Support Naked Wanderings
Do you like what we do for naturism and naturists? Did we make you laugh or cry? Did we help you find the information you were looking for? Then definitely join our Patreon community!
---