A lot of what we had heard before about Canada had come true in and around Toronto. This had proven to be the perfect starting point for the Canadian lap of our big journey. We had experienced our
first nude cruise
and went to the world-famous naturist resort
Bare Oaks
. But what we were still missing was that great wilderness. The one we used to see on National Geographic. Lakes, forests, snow-capped mountains, and the solitude that comes with camping in those places wouldn't stop tickling our imagination. We wanted to find the best nudist resort in
Ontario
to put our bare behinds in nature. That's how our eye fell on Sunward Naturist Park near Calabogie.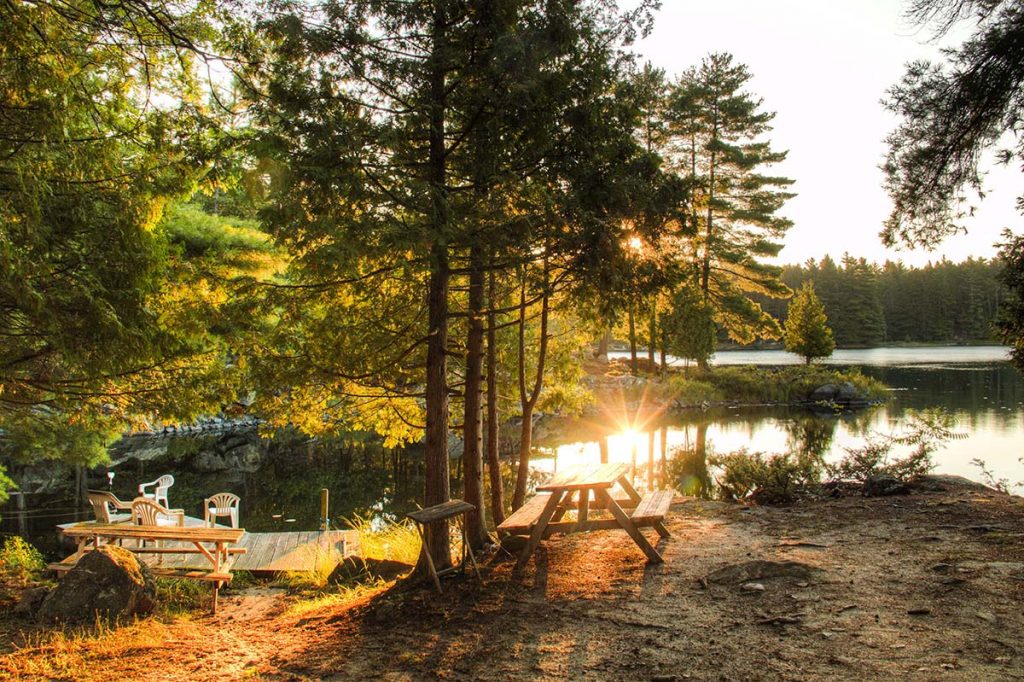 Location
No matter from which direction you try to get to Sunward, you're up for a winding but beautiful road. We probably took the longest one of them all, coming from the south and spent several hours turning left and right and stopping to gaze at amazing landscapes. This started to look a lot like what we had in mind.
The nearest town is Calabogie, about 15 minutes away, which has a shop and a pizza place and the nearest Tim Hortons (the Canadian response to Starbucks which we soon started to call "our office" because of their decent coffee and free wifi) would cost you about a 45-minute drive.
When you get really near the campground there are some small signs but don't count on finding the place without a GPS. Getting there from Ottawa will take you about an hour, from Kingston about 3 hours and from Toronto we're talking about more than half a day (gazing at the scenery stops included).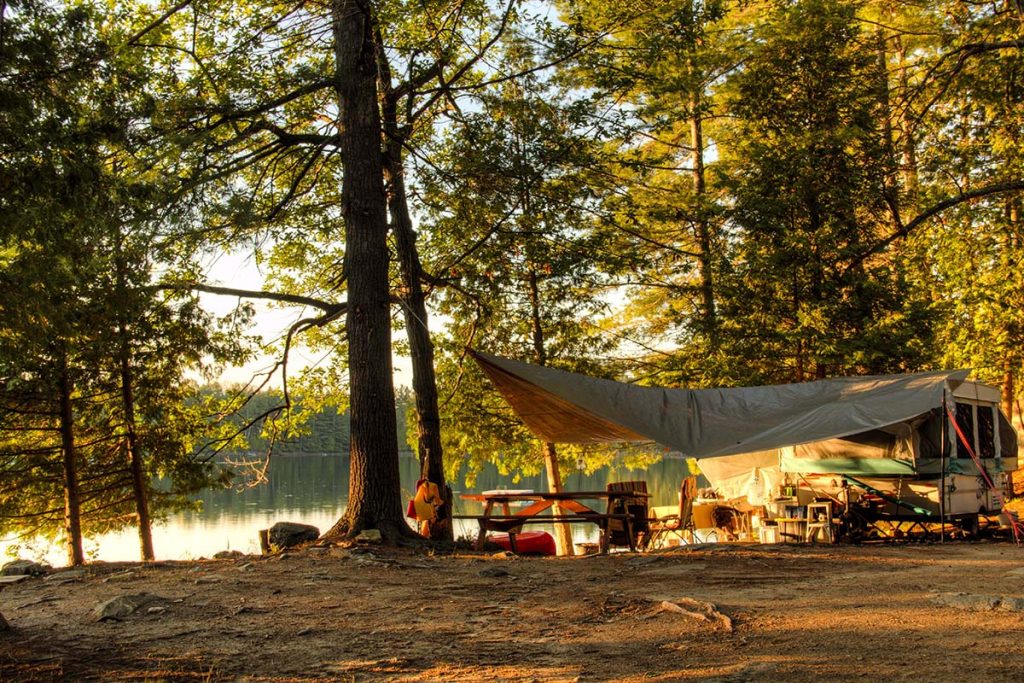 Accommodation
We can be really short about this: bring your own. Unless you happen to know someone at Sunward who has a trailer you can use, your only option will be to build your own camp. There are several tent and trailer spots available, the most beautiful ones are right at the lake. Because of the rough underground (rocks, roots, and all kinds of other hard stuff you tend to find in a forest) the owners have built some wooden platforms to put your tent on. They are flat and rather comfortable but without special pegs and a hammer, there is no way you can secure your tent decently.
A hammer is just that one thing we didn't pack in our backpack. Murphy is never far away and of course, a storm would be passing by during our first night. We tied our tent as much as possible to the surrounding trees, feared a couple of times during that night that our tent would fly with us in it, but in the end, the forest kept away most of the strong winds and we and our tent were still alive in the morning.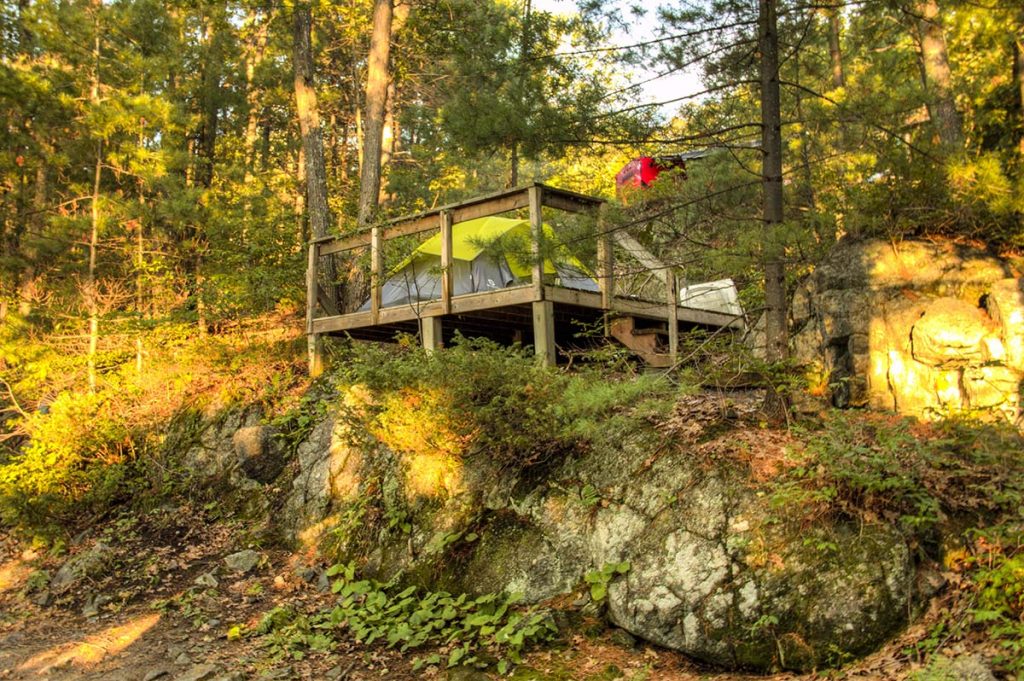 Facilities
Like several other naturist campgrounds everywhere in the world, also this one suffers from what we call the "old club syndrome". Things probably looked very nice in the late eighties but that also seems to be the last time anyone has done some maintenance to the place except for quickly repairing what has fallen down. A pity, but wasn't this what we were looking for after all? Something off the grid and away from the beaten track and would it look all the same if everything was spotless and fancy and brand new? With that state of mind, we could eventually appreciate the shack that was called a toilet.
What makes the place really special though is the huge lake. Not some man-made hole in the ground with a couple of bushes around but a real large lake (okay, maybe not large for Canadian standards but for Europeans it would be quite impossible to own a lake that size). Surrounded by a pine forest this really started to look like what we had seen on TV. There's a small pier that allows you to jump straight into the water and some deck chairs, one more broken than the other. The wooden gazebo aka common area had seen better times as well, only the kayaks which are free to use looked still safe enough for a tour around the lake.
There are an outdoor shower and several indoor ones which all had surprisingly hot water, a volleyball court up the hill and that's about it. You don't come here for the comfort or the action, that much is sure. You come here for nature. The night after the one with the storm would be our first night in Canada when we heard nothing but the sounds of nature. Hundreds of frogs, birds, squirrels, and a distant growl which could have been either a bear or a neighbor snoring. We preferred to think it was a bear until we remembered we had some food left in our tent.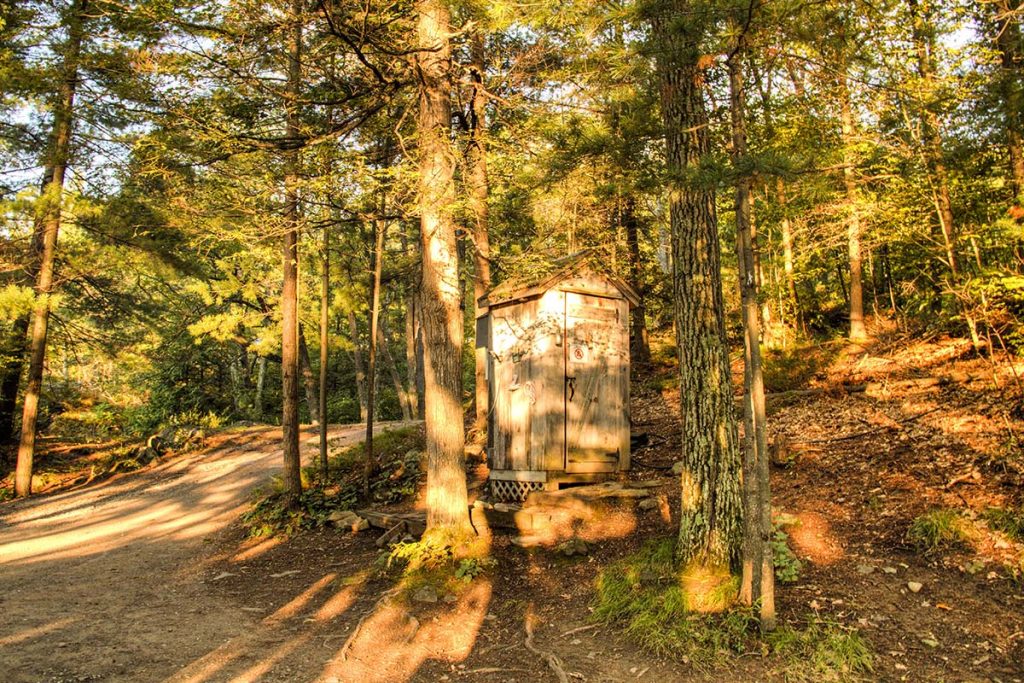 Surroundings
What you find at Sunward, a lake surrounded by a forest is what you'll find all over the area. Lakes in all different sizes and trees in all different kinds and colors. With the only exception that this spot is the only one where you are allowed to be naked. There are some pretty towns around but nothing mind-blowing enough for us to still remember the name. Except for Calabogie. Not because of the town but because it's such a funny thing to say. Calabogie.
A possible day trip destination is Ottawa, the tricky answer to the famous Trivial Pursuit question "What is the capital of Canada?". Not as interesting as Toronto or Montreal but enough to keep you busy for a day.
Staff
Sunward works with an honesty system. We had seen this before at the bar of several other naturist places where you're supposed to take your own drinks and write them down on your tab. At Sunward they took this a step further though (maybe because they really like the system but don't have a bar, we don't know). When you arrive you have to take an envelope from a mailbox which contains a list of the house rules and a registration form. You fill out the form, put it back in the envelope, add the money (you could try to add your credit card but we doubt you'll ever see it again), and put it in a box. There you go, checked in. An extremely easy system to cheat and we doubt that it could ever work in any other place than a naturist one.
So no check-in desk. When we parked our car and started to search for a spot to put up our tent, maybe looking a bit puzzled, a guy named Tony came down to give us a short explanation about the place. Two days later we would briefly meet Tony and his wife again and that would be our only encounter with staff.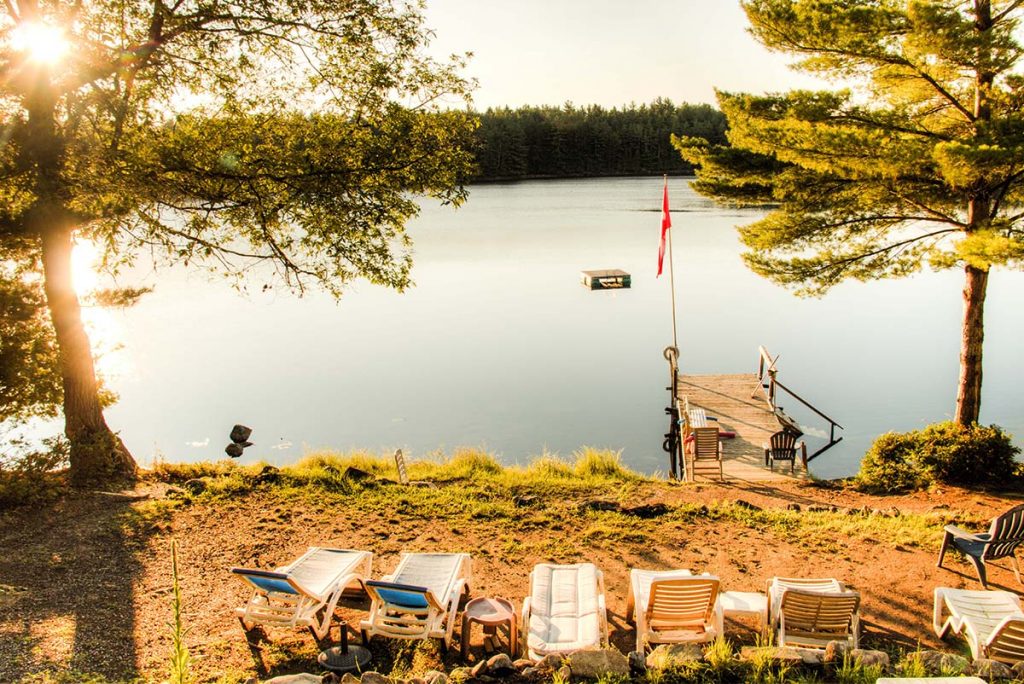 Guests
Although in our imagination we would be camping all by ourselves in the middle of nature, we were happy to see that there were some other guests as well. Especially the guy who told us he had some spare tent covers in case ours would take off and never return. In total, we met about ten other guests, all of them are visitors on a regular basis. Clearly Sunward doesn't attract the number of tourists the larger campgrounds do. But that doesn't mean we felt out of tone, everyone was very friendly and talkative and most of all pretty curious about how we ever ended up there. From Belgium of all places.
Summary
Visiting Sunward means forgetting about luxury (unless you bring your own but be careful, there's no electricity) and leaving most of your comfort behind as well. What you get in return is an excellent piece of nature and a chance to camp in the woods just like on National Geographic.
Oh, and it's near Calabogie. There, we just said it again.
Read more about this resort on  
NUDE
---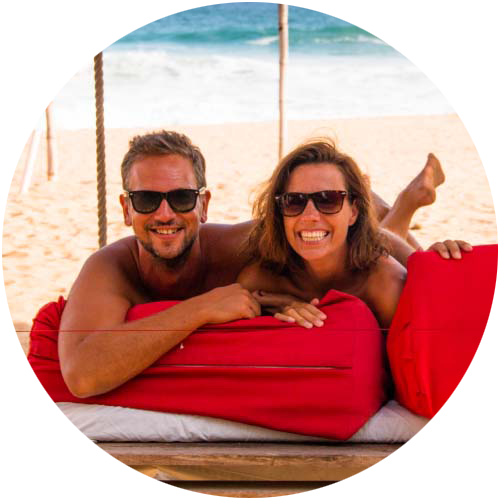 Support Naked Wanderings
Do you like what we do for naturism and naturists? Did we make you laugh or cry? Did we help you find the information you were looking for? Then definitely join our Patreon community!
---