Naturism and nudism mean different things to different people. We've been through this subject maybe a hundred times before. It's a lifestyle which attracts people for many different reasons which are all completely fine. Naturism does contain the word "nature" and is therefore the preferred term for whom the link between nudity and nature is important. If we look at it from that point of view, there will be few naturist places that deserve the term "naturism" more than EcoParque da Mata in Massarandipió.
Ecoparque da Mata is more than just a wonderful natural place though. It's a spiritual place as well. At this naturist camping and guesthouse, everything appears to be connected and in balance. There's the respect for nature and the projects to reserve the Atlantic forest. There are close connections to indigenous tribes that bring traditional ceremonies and medicines. And as a kind of glue, there's the naturism. Nudity as a connection between nature, ancient spirituality, and yourself.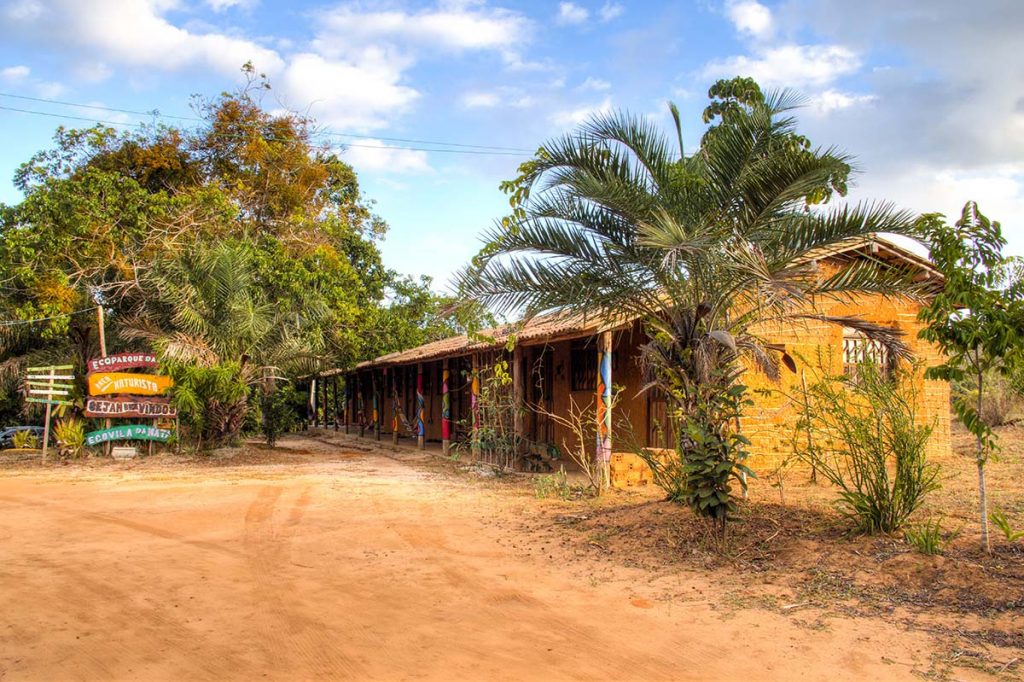 How to get to EcoParque da Mata
The region in Bahia where Massarandupió is located, just north of Salvador, could hardly sound more attractive: The Coconut coast. With its main highway called the Green Line (Linha Verde) or also the Coconut Highway (Estrada do Coco). A less attractive name but the one your GPS will understand is BA-099.
If you're flying in, the nearest airport is Deputado Luís Eduardo Magalhães International Airport (SSA) in Salvador, at about 100km from Massarandupió. This airport has direct connections to most Brazilian cities as well as Buenos Aires, Bogotá, Panama City, Madrid, and Lisbon. Coming from anywhere else in the world, your best bet will be to get a connecting flight in either São Paulo or Rio de Janeiro.
Public transport is pretty much non-existing in the Massarandupió area and there are some distances you prefer not to travel by foot under the Brazilian sun. EcoParque is at about 5km from Massarandupió town which is another 3-4km from the nude beach. Massarandupió does have a number of grocery stores but the nearest decent supermarket is some 20km away.
Having your own transport is very much recommended. Salvador airport has several car rental offices. We found the best deal via
Hotwire.com
but make sure to check our other preferred car rental websites via our
Resources
page because prices tend to differ depending on the period.
To drive from Salvador to EcoParque you just follow the Coconut Highway (BA-099) north until the turnoff to Massarandupió. Instead of turning right towards the town and the beach you turn left in the direction of Entre Rios. After about 2km you'll find Ecoparque da Mata on your left side.
If you prefer not to drive yourself, the people at EcoParque can help you get in touch with a transport agency which can bring you from and to the airport as well as to and from the beach. By doing so you're also supporting a local company (and one that can be trusted).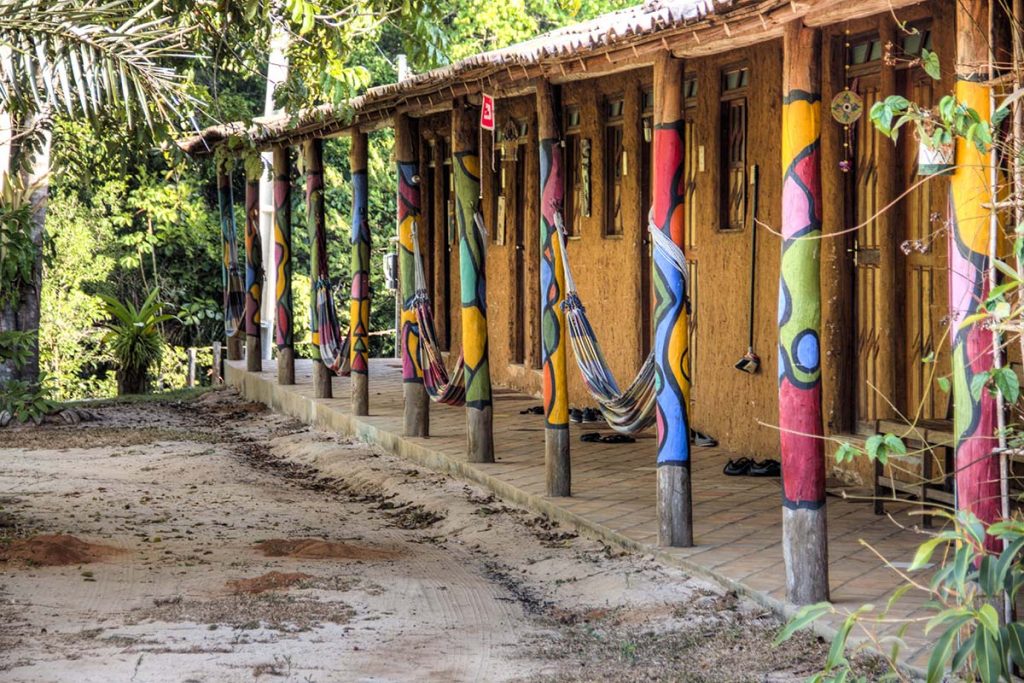 Where to stay at EcoParque da Mata
Theoretically, the domain exists in two different parts. On one hand, there's EcoParque da Mata which is a large domain where most of the facilities are as well as the camping area and the guesthouse. On the other hand, there's EcoVilla da Mata which (as the name suggests) contains houses and bungalows. Technically, both blend in with each other which makes it just one very large (45 hectares) naturist domain.
Camping is of course the most economical option and there are communal facilities like a kitchen and a shower block. We ended up staying twice at EcoParque, the first time in the guesthouse which has spacious rooms with a private bathroom. The second time we stayed in a house in EcoVilla which has its own kitchen with a fridge. It also offers more privacy being tucked away in the forest.
We found all options very economically priced and no matter which budget you're traveling on you'll find something that will cover your needs. All accommodations have been designed to be in harmony with the surrounding forest. This means that only local materials were used and that everything is completely eco friendly. But don't expect a TV or air conditioning.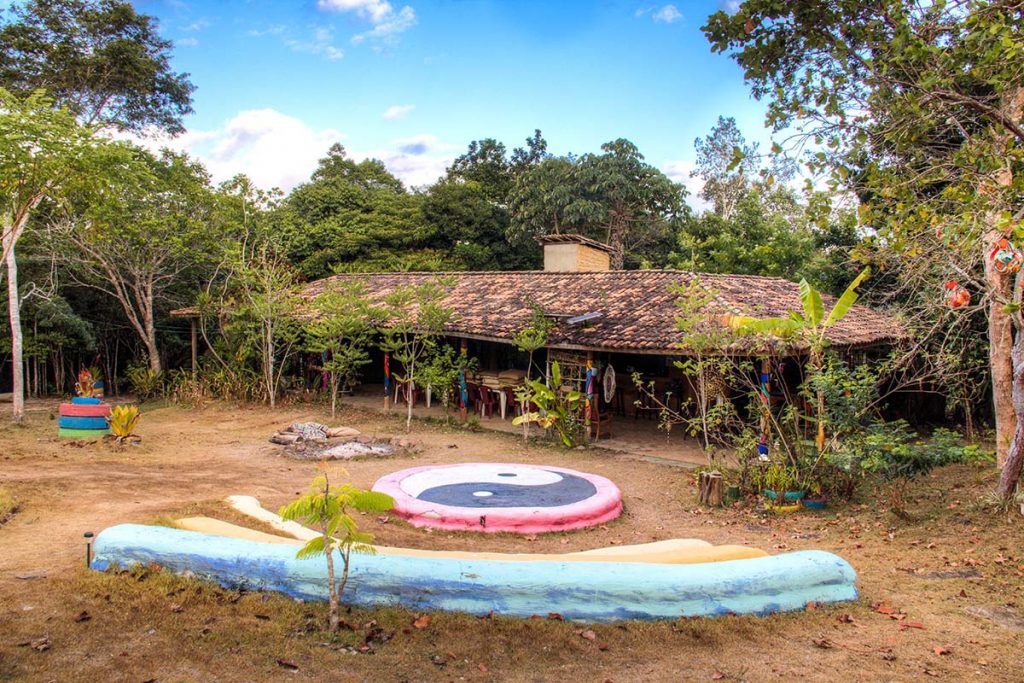 What to do at EcoParque da Mata
You could come to EcoParque da Mata just because it's a large domain where you can be naked under the Brazilian sun at the proximity of a nude beach. And that would be okay. But you would miss out on a lot of things. Many visitors of EcoParque come on a spiritual journey in search of themselves and the connection with nature and other humans. While we came more for the naturist part than the holistic one, we're open-minded enough to let ourselves indulge in the specific atmosphere that characterizes EcoParque da Mata.
We do believe in the healing qualities of ancient indigenous rituals and traditional medicines (think sacred tobacco rather than Xanax). The ceremonies we participated in during our stay were interesting and inspiring and quite likely to have the power to solve certain physical or mental health problems. Did we become better or stronger persons? We don't know, we only got a grasp of it. It certainly has enriched us in a way that these were new experiences. It's up to you whether you want to join those rituals or not, but we certainly want to recommend the Temazcal. This is a sweat lodge based on the same principles as a sauna, with water on hot rocks.
If you're interested in spirituality, we recommend you to contact EcoParque before your visit to check whether any ceremonies will be held during your stay. Even without there's a lot to do though. Early morning yoga can be organized. There are different massage therapies like the standard relaxing massage or more holistic variants like Ayurveda. There's a river to swim in, a mud bath to soak in, and many different spots for quiet sunbathing or meditation. The large chunk of the Atlantic rain forest on the property has several trails that you can hike naked and feel like Tarzan or Robinson Crusoe.
EcoParque da Mata also has a shop where you can buy authentic crafts from the indigenous tribes and a restaurant that serves breakfast, lunch, and dinner on request.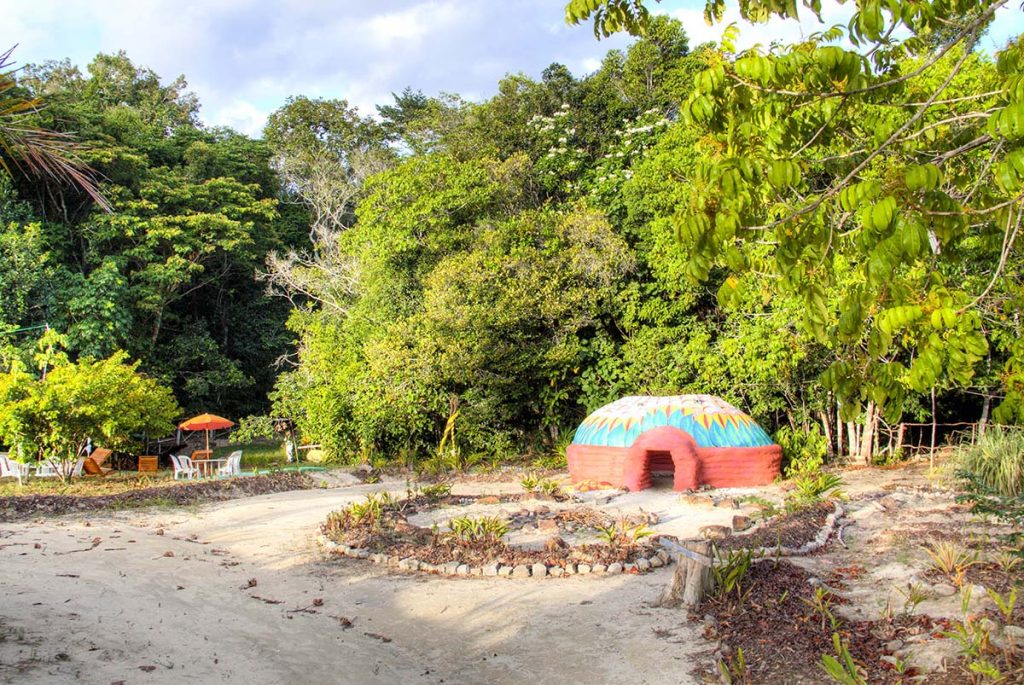 Around EcoParque da Mata
The main reason why people head over to Massarandupió is of course because of its wonderful nude beach. Several years ago this was the first nude beach we ever visited outside Europe so maybe our opinion might be a bit subjective. But we still think it's one of the most wonderful nude beaches in the world. An endless stretch of wide sandy beach, pure white dunes with palm trees on one side, and the emerald Atlantic ocean on the other. Two beach bars serving cold beers, caipirinhas, and seafood make the image complete.
Massarandupió is a fun village to wander around for an hour or so. There are quite some guesthouses and a handful of bars and restaurants. There are also a grocery store or two where you can find some basics (like food, drinks, and toilet paper).
Another interesting beach town worth a visit (although much more touristy) is Praia do Forte. Famous for its lighthouse and sea turtle project. Several other beach towns in the region can give you the perfect idea about the easy life at one of the most wonderful coastlines in the world.
In a 2 hour drive, you can make it from Massarandupió to downtown Salvador, depending on the traffic. This is certainly worth a day trip although we would recommend you to spend some more time in this amazing city. It was both the first city and first capital of Brazil and due to its history in slavery, it still contains a lot of African influences. Expect a picturesque city center (the Pelourinho), lots of music, capoeira, and awesome food.
Here's an insider tip for Salvador: At the steps of Largo do Pelourinho there's a guy who's been selling a lime and coconut drink for many years. Buy one, they are delicious and great against your thirst in the hot weather!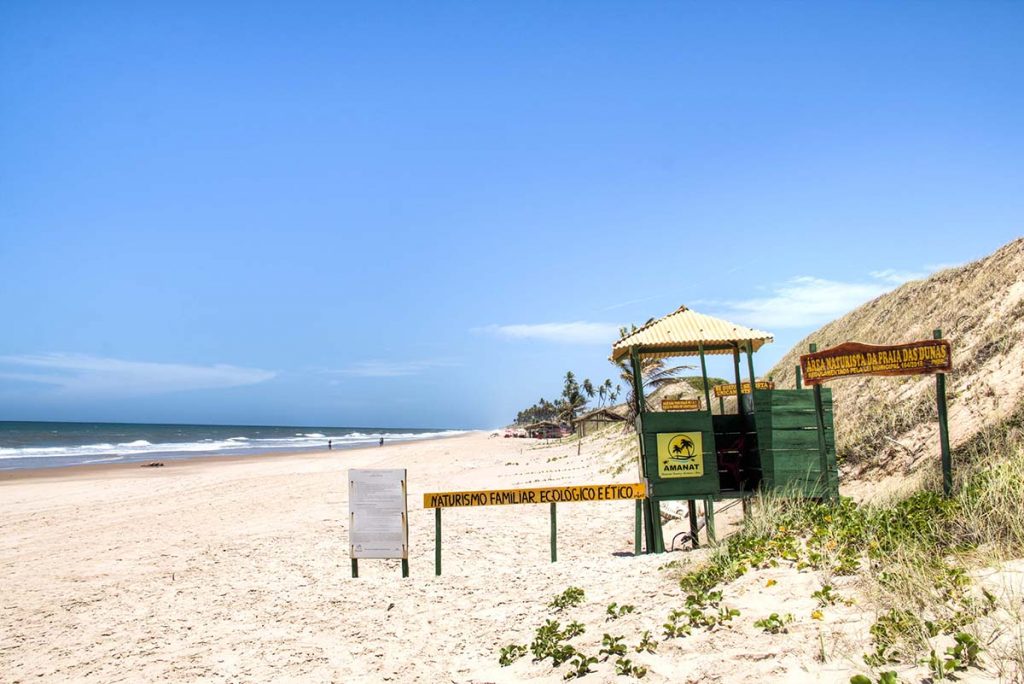 Staff of EcoParque da Mata
The owners of EcoParque and EcoVilla da Mata are Waldo and his wife Marisa. Waldo takes the lead at about everything that's going on and we have to say that he's one of the most charismatic people we've ever met. In fact, if you're interested in ecologically living, the conservation of nature, or spirituality, a chat with Waldo is a reason on itself to head over to EcoParque.
Other staff members tend to vary. There are certain workers who maintain the rooms and the garden and prepare the meals. A number of volunteers are added to the team to help with the daily chores, talk to the guests, and often function as an interpreter between Portuguese and English.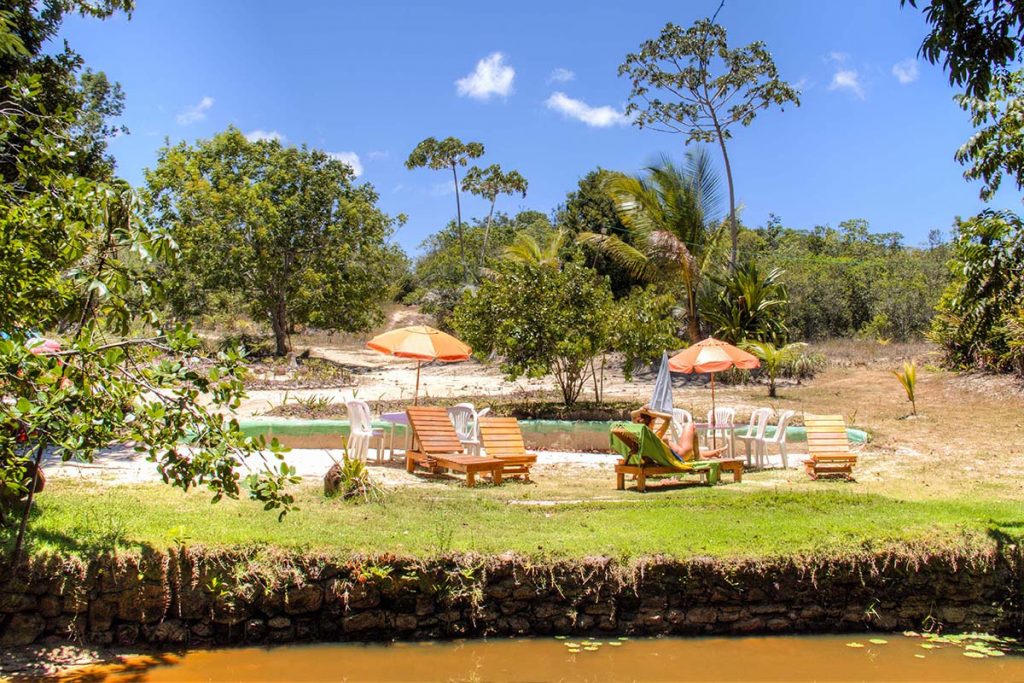 Guests at EcoParque da Mata
As mentioned before, many of the guests at EcoParque da Mata are there for the spiritual aspect. Often they come as a group taking part in a retreat. During our first stay, there was a group of young Americans from different states of the USA who came for a nude yoga retreat organized by
Kemetic Yogi
. The second time there was a large group from within the Bahia state who were part of a holistic retreat including ceremonies and workshops.
Waldo also organizes 4 retreats per year and encourages spiritual, environmental, ecological, and naturist retreats to visit EcoParque. But of course, it's perfectly possible to visit as an individual as well, just like we did two times. The open and relaxed atmosphere at EcoParque makes you easily mingle with the others.
EcoParque da Mata is a clothing optional place and depending on the other guests and their purpose of visiting there will be more or less naked people. While the American yoga group was most often nude, the other group from Bahia only included a few naturists. Nevertheless, it's always allowed to be naked on the property. Waldo, the owner will most often be seen wandering around naked or covered in a sarong. We started to doubt whether he actually owns any clothes.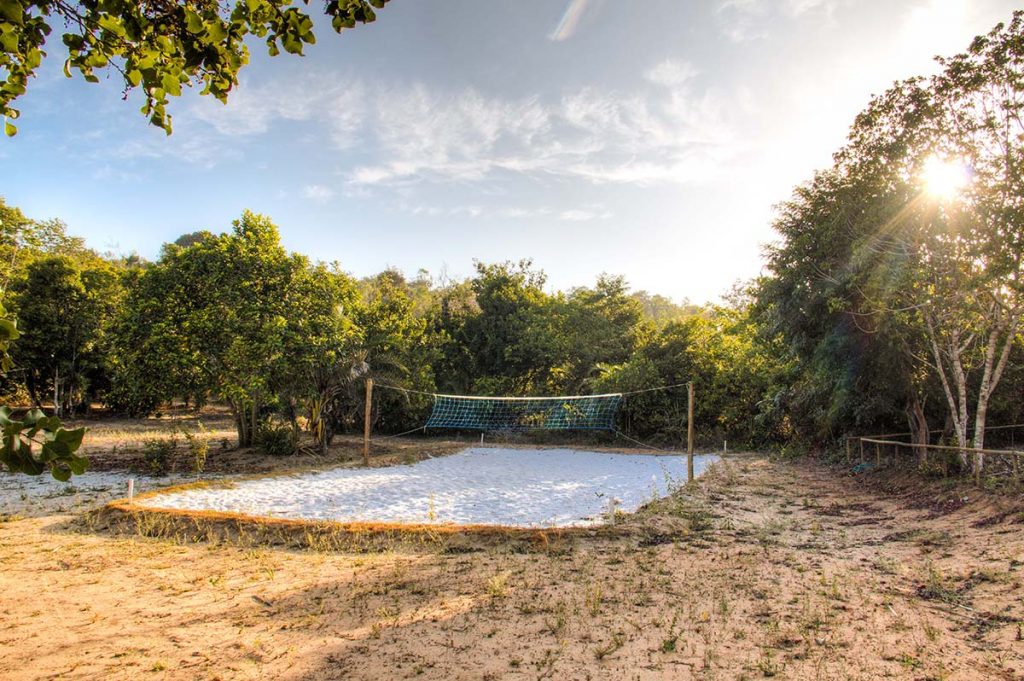 Reservations
For both EcoParque and EcoVilla it's best to contact Waldo directly. There is a
contact form
on the website but we highly recommend using WhatsApp instead.
WhatsApp EcoParque: +55 (71) 997010101
WhatsApp Waldo: +55 (71) 99908-1754
If you're interested in joining the nude yoga retreat with Kemetic Yogi, visit their website at https://kemeticyogi.com
Summary
Naturism can mean so much more than just being naked and EcoParque da Mata is the perfect proof of that. After your visit, you will return with knowledge, in peace with yourself, relaxed and with an amazing tan.
Disclaimer: We have been invited as guests of EcoParque da Mata, but of course all opinions are our own. We are super confident you will love this place as much as we did!
---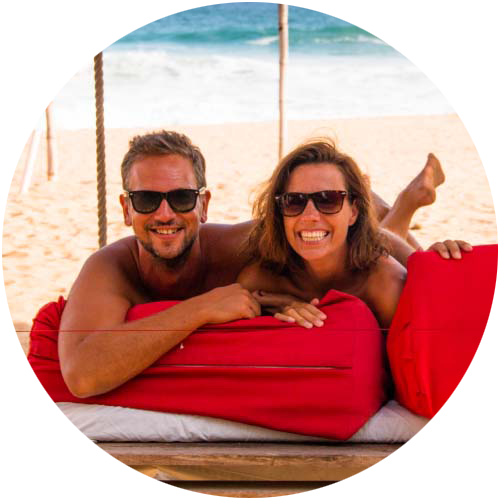 Support Naked Wanderings
Do you like what we do for naturism and naturists? Did we make you laugh or cry? Did we help you find the information you were looking for? Then definitely join our Patreon community!
---