Via the
a survey about naturism
we've done some time ago, we asked more than 1000 naturists (or nudists as 35% of the participants prefer to call themselves) what naturism means to them. One of the most impressive numbers came from the question about what people see as the advantages of naturism. What they gain from it. More than 86% mentioned a "feeling of freedom". The fact that naturists feel more free when they shed their clothes is not really something new. We've experienced this ourselves and you can read about this on thousands of forums and chat groups. Only last week we were at a naturist resort in Argentina and this was mentioned.
Also on Naked Wanderings the subject of freedom has come up, often even in completely off topic comments. We can't really describe what this feeling is all about and for textiles it's even more difficult to understand. How can we believe that we're more free without clothes? They wonder if we aren't just kidding ourselves and each other. In the end, we still have a job to go to, taxes to pay and a government to listen to. Aren't we just creating some surreal environment to escape reality?
The answer, at least to us, is that feelings aren't discussable. Period. Some feel afraid of height when they get two steps up a ladder. Others feel in love with someone we dislike. Some still feel hungry when they just had a big fat steak.
But this answer would be too easy (and make this blog post ridiculously short). Another answer would be that people appreciate naturism for different reasons and that this feeling of freedom tends to come back in many of them.
Freedom of being clothes free
This is the most easy one and also the most logical. If you like to be naked and you're not allowed to, clothes can feel suffocating. Taking them off will make you feel more free. This is not something typical for naturists by the way. How many take off their suit the moment when they come home from the office? It's not that it will get more dirty if you keep it on an hour more and it's not that it's so uncomfortable because you've been wearing it all day anyway. But the moment people come home, they like to switch clothes. Working clothes are changed for home clothes (or no clothes for the naturist) and working time is changed to home time. Just by taking off our clothes we switch of work.
Another especially non naturist place where we've noticed a link with clothes and freedom was in Iran. As most of you probably know, women in this country have to be covered from neck to wrists to ankles and also have to wear something to cover their hair. While we were traveling through this country we stayed at people's homes from time to time. Most of our female hosts, the moment they came home they took off their "outside clothes" and switched into something that could quite often be considered pretty sexy. For them, their clothes were part of the suppression and being able to take them off at home made them feel free.
Free you nude body
Society, the fashion industry and the plastic surgery industry likes to tell us how we have to look. What they like even more, is to change their idea of the perfect woman and man several times a year. Today we have to look skinny, tomorrow we need a beer belly, next week we need big breasts and some time later it's much more "beautiful" to almost have no breasts at all. We need a round butt, a skinny butt or a flat butt. We need to be muscular or cuddlesome. We need to be the new man or the old man or the new man again.
Bottomline of this all: We need to be unhappy about how we look so we would buy their products to look "better". Season after season after season.
Nobody is perfect, or so we are being told. So what most of society does is to spend impressive amounts of money to make their imperfections go away or at least to hide them for the rest of the world. Naturists like to say that "everybody is perfect", which is a nice way of thinking but we don't agree with this 100%. For us it's mostly about accepting our "flaws". We all have things we'd love to be bigger, smaller, stronger or smoother but instead of hiding them from each other we expose ourselves how we are. In this case, the freedom comes from the acceptance. I am who I am and you are who you are. And it does not matter how we look. For this reason, the terms "body acceptance" and "body freedom" are often mixed. Because basically they are the same. When you accept your body, you will feel more free.
Free your mind to a naked state
This is probably the most difficult kind of freedom to explain. Not only does society and the several industries set the norm about how we need to look, they also like to influence how we think. Apple might be a good example here, nobody needed a smartphone until Apple came up with the iPhone. The media and the government tells us who are the good guys and who are the bad ones and we get stuck in a box of ideas that are not really our own.
Naturism and especially social nudity is for many a huge step out of their comfort zone. It's against society's rules and we know that some of our friends and relatives may think that our newly found lifestyle is pretty weird. But we do it anyway. And we enjoy it. And we meet other people who went through the same initial steps. And suddenly we realise that there's life outside of the box.
Some might call this a middle finger towards society's standards. Some might call this a middle finger towards Apple or the government or prudery. But it doesn't necessarily has to have anything to do with fingers. By getting out of your comfort zone this one time and by thinking out of the box you set a spark for other ideas that may not be that conventional either. And lucky you, the same thing happens with other naturists. Therefor we found naturist places in general places where ideas can be shared without having to fear the opinions of others. Places where people listen to you and may agree or may not but where open discussions are still possible.
What does freedom mean anyway?
What does it all matter? We feel free and we like it. Isn't that all that counts? Another idea we'd like to share with you is that maybe we're using the word "free" in a slightly wrong way. A word that comes closer to the truth might be "liberation". We feel liberated. Liberated from clothes, from society, from body issues and from forced ideas. But what's in a name? Freedom is no absolute idea. The feeling of freedom doesn't necessarily mean that we feel free in every possible way. So yes, we feel more free when we are naked. Yes, we feel more liberated when we are naked. And as a consequence, yes, naturism does provide freedom.
---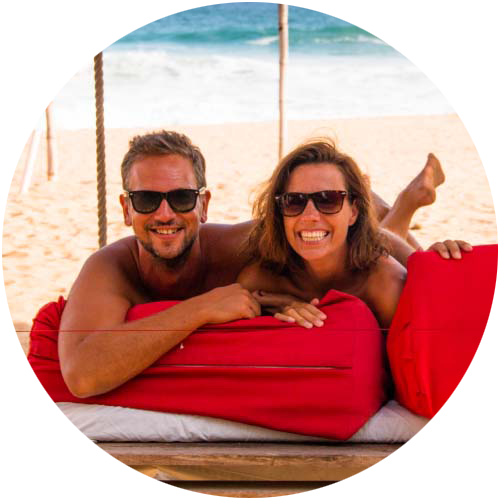 Support Naked Wanderings
Do you like what we do for naturism and naturists? Did we make you laugh or cry? Did we help you find the information you were looking for? Then definitely join our Patreon community!
---