If you want to wake up naked, get your breakfast naked, have a naked swim (yes, a skinny dip), relax and wander around naked, have some naked beers, in short, spend your holiday 24/7 naked on Kefalonia, you only have one option:
Vassaliki Naturist Club
.
But if you have the opportunity to spend your holidays in Kefalonia, you might as well go explore the place as it has picturesque villages, green mountains, old castles, and beaches. Kilometers and kilometers of sandy beaches next to an emerald blue/green sea.
And do you want to know a secret?
Several of these beaches are nude beaches or at least allow nudity on the far ends! How cool is that?
Because Kefalonia is a huge island and our time was a bit limited (yes, indeed, a serious error in our research) we decided to focus on the nude beaches in the south of the island. All easily accessible from Vassaliki where we had set up our base camp.
If you're only planning to take your top off, there's no need for going to the nude beach. Topless sunbathing is allowed and well-practiced on all beaches, but if you like to lose your pants as well, check out one of the following places.
Some of the best activities on Kefalonia are: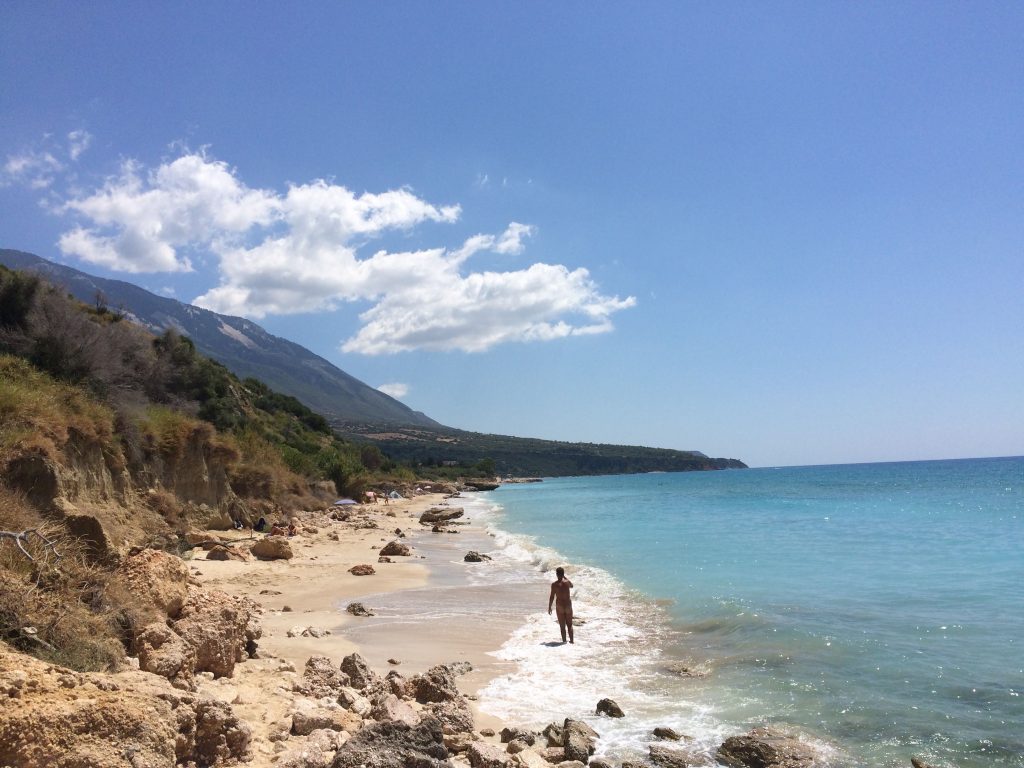 Kanali beach
The life of a blogger can be hard, you know, work never ends. In two days we wanted to cover four nude beaches. But we guess that there are worse jobs…
Our first stop was Kanali beach, which can be accessed from two sides. Either you drive to Lourdes beach and follow the coastline or you park on top of the hill and follow a walking path down. We have no idea why we chose the latter option. But the walk was certainly worth it, along the way we got some beautiful views of the bay and when we finally got down we found an amazing sand beach. Along the beach there are some formations of rocks, it's between two of those that you can find the nude section.
Nowhere in southern Kefalonia, the nude beaches are official, so there are no signs. When we were at Kanali there were luckily enough several other nudists, mostly Italians, so we knew that we were at the right spot. But we wondered: if there was nobody else here, would we dare to take off our clothes only based on the brief location description we'd received? We would find out the day after.
Anyway, Kanali is a great beach and because it's between rock formations there aren't many textiles walking the shoreline, so if you prefer some privacy, this is certainly a place for you!
After visiting
Croatia
and
Montenegro
it was a relief to be able to be nude on an actual clean sand beach and soon we started playing with the idea to skip the plan for the rest of the day and spend some more hours sunbathing and swimming in the blue-green sea. But professional as we are, we picked up our stuff, put on our pants, and moved on.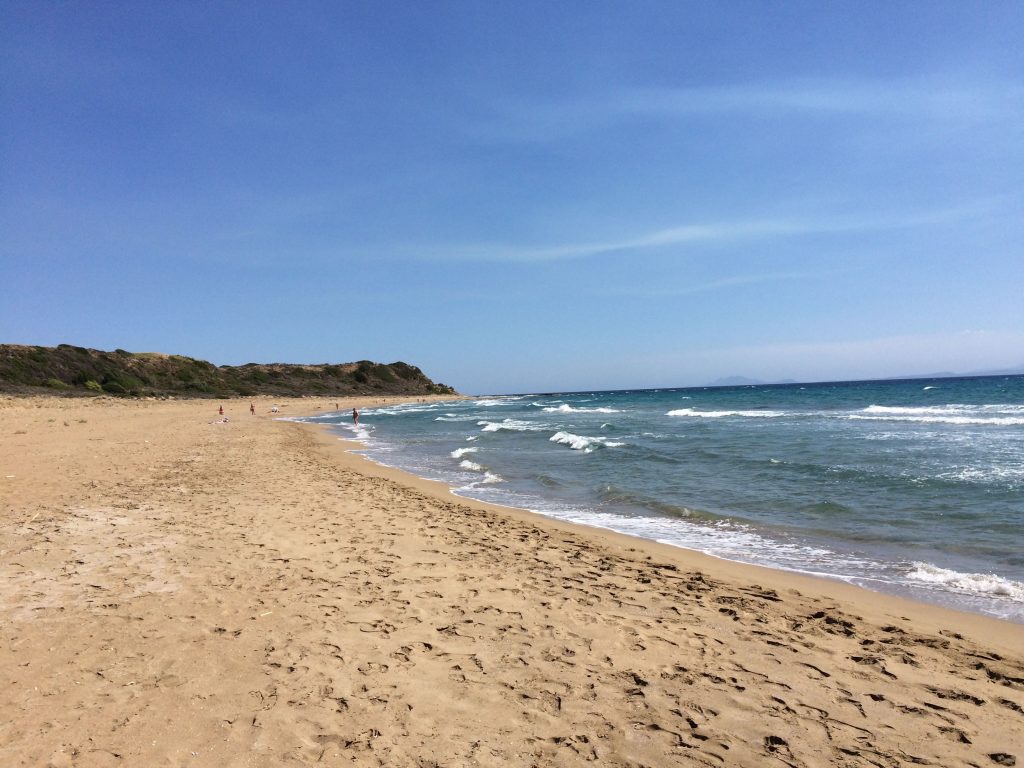 Mounda beach
Its location is a reason on itself to visit the nude beach in Mounda, it's right on the south-eastern tip of the island. As if the nudies wanted to make a statement: You can have the long stretch, but the tip, the creme-freche, is ours!
Mounda beach is a huge stretch of sand with no physical barriers like bushes or rocks to separate the nude beach from the textile one. When you park your car you have a nice overview of the whole stretch, right down you'll see loads of textiles with deck chairs and parasols, further east you see fewer people until it gets almost empty. That's where you want to be!
Because nothing is dividing the nude beach, there are quite some textiles passing by, but none of them seemed to bother or even look at us. There were several other nudists, mostly couples, but all in all it was pretty quiet, given the fact that we were there in the middle of high season.
Be aware that there is no shade at all on the beach so keep in mind to bring an umbrella or sunscreen!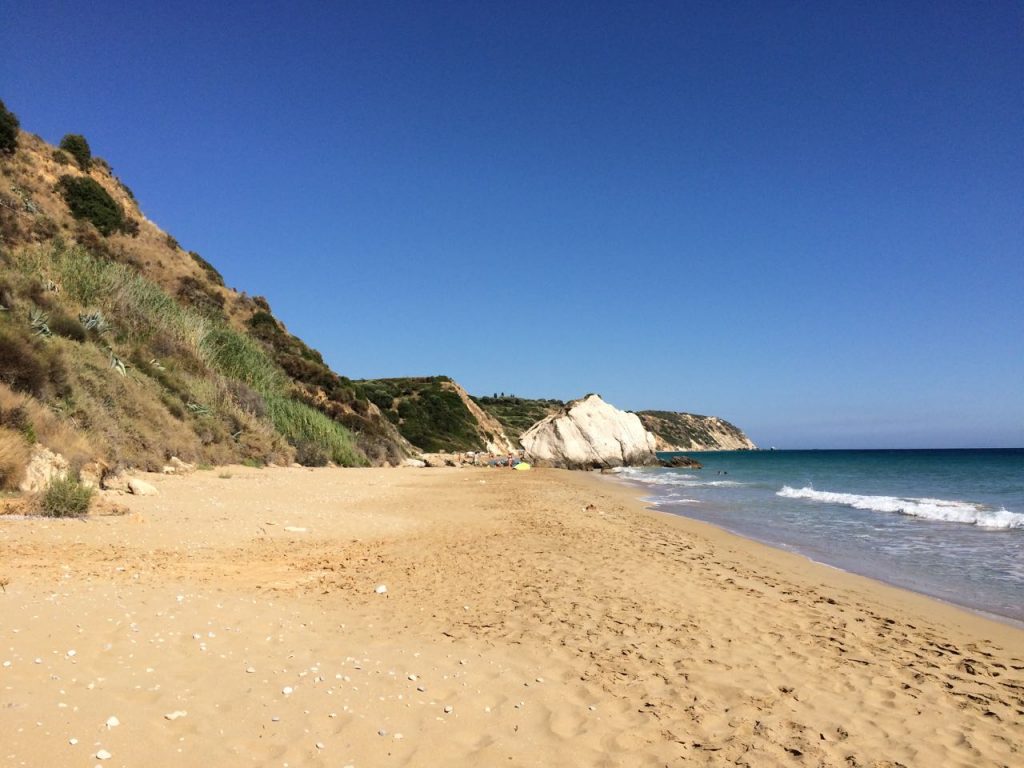 Avithos west beach
Avithos is a huge beach that has nude parts on each side of it. We were actually planning to describe both in the same paragraph, but because they're so different we chose not to. When you enter the beach and you look west, you'll see a huge rock. You really can't miss it, it's impressive. Well, that's where the nude beach starts. Or is supposed to start.
We walked the beach, passed the rock and what we found were more bathing suits. Weird, this should've been the easiest to find nude beach in the world. So we walked further and suddenly among the textiles we spotted a nudie, and another one, and…yes, before we could see a third one we were already with our naked asses in the sun.
Because the combination of beach, sea, and that huge rock really is a magnificent sight, textiles seem to like this place as well, so be prepared for a real clothing-optional scene. When you're there, we hope that you take the opportunity for a great nude selfie as well, because we fear that one day the place might be completely overrun by textiles.
Afterward, you can celebrate your visit with ouzo on the rocks in one of the two tavernas at the main beach, and send the textiles some evil eyes.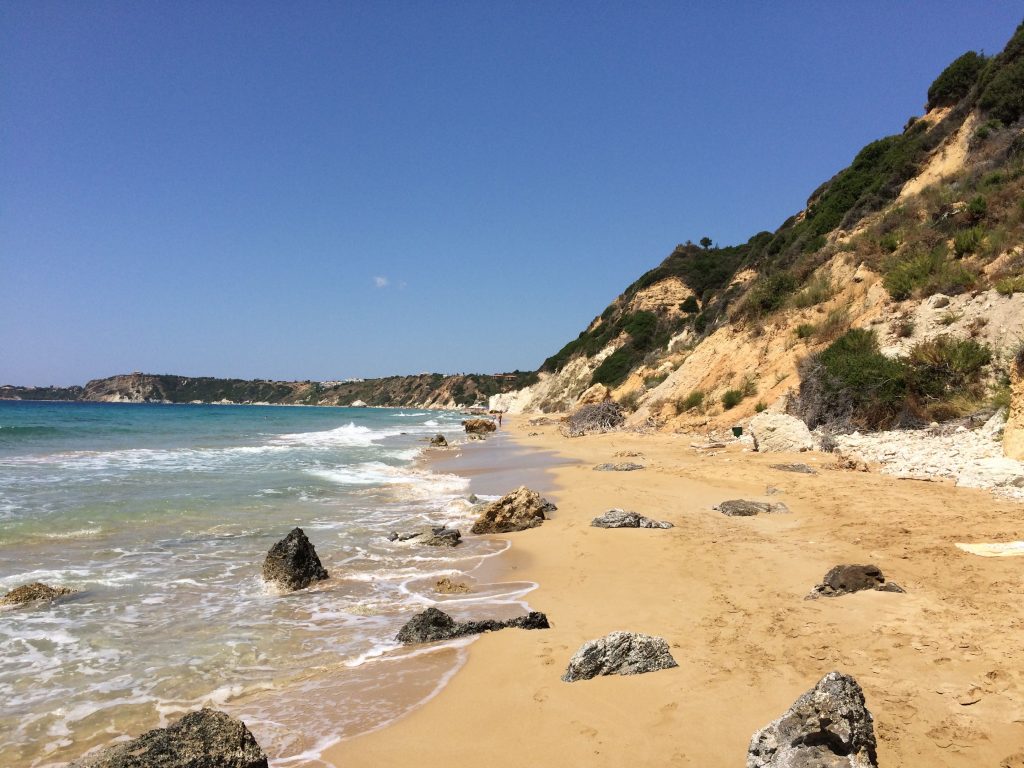 Avithos east beach
Right on the other side of Avithos beach and best accessed from the east parking. This is the only beach where you can get on foot from
Vassaliki
, but be prepared for a steep walk back.
The instructions we got were simple, walk down to the beach, cross the first rock formation and you're there. When we crossed the first rock formation the only others we saw were two textiles. This time however we were really sure that we were on the right spot, so we walked a bit away from them, took out our Naked Wanderings towel, and dropped our pants to have a great nude morning swim. From the sea, we could spot another nudist, hidden behind a rock. Now there were three of us!
Of all four nude beaches we've visited in Kefalonia, Avithos east was probably the least attractive one. There are lots of rocks and branches on the beach, the nudist part is pretty small and with quite some textiles passing by it was not the best experience. But on the other hand, the competition was impressive. If you'd put this beach somewhere in the
Dubrovnik riviera
, nudists would probably come from all over the area to have a skinny dip.
Find the best nudist accommodation in the area on NUDE
Naked Wanderings' Ultimate Guide for Naturism in Greece ebook

Are you looking for great nudist resorts and nude beaches in Greece?
Are you looking for the best tips for a nude vacation in Greece?
Then our ebook will be the perfect resource for you!

Learn More
Need help with planning your trip? Check out our Resources Page for an overview of the best companies we use during our travels
---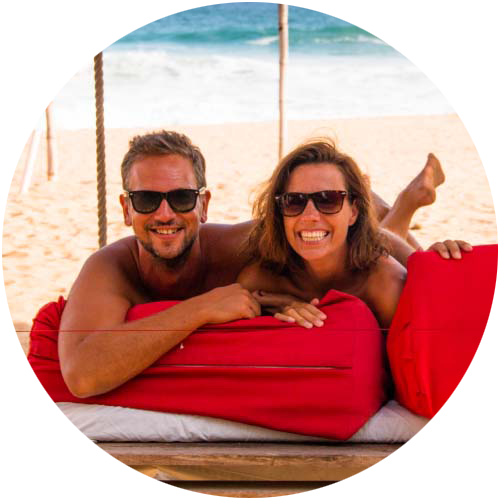 Support Naked Wanderings
Do you like what we do for naturism and naturists? Did we make you laugh or cry? Did we help you find the information you were looking for? Then definitely join our Patreon community!
---