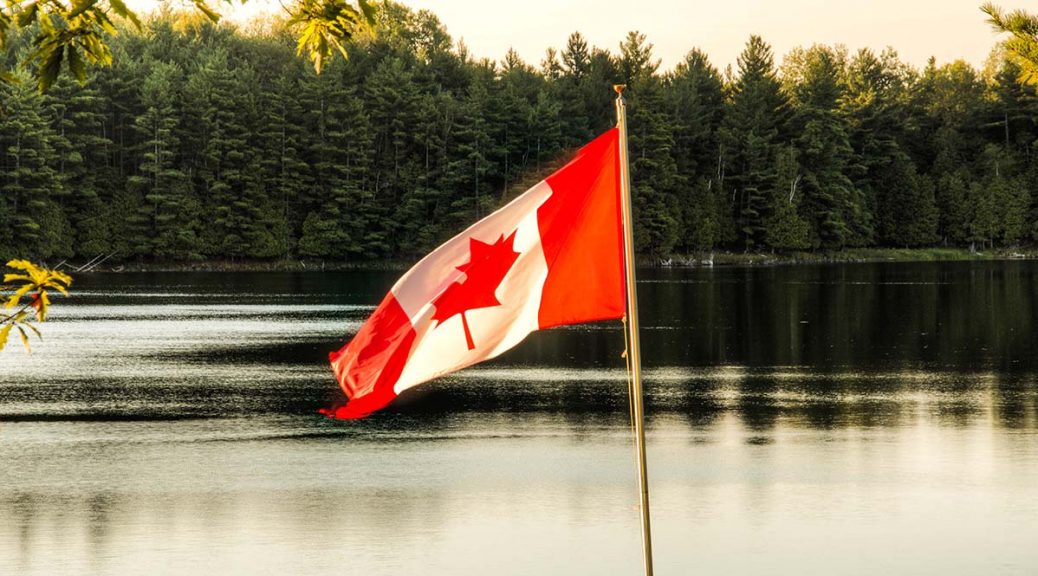 Getting Naked in Ontario and Quebec
Getting Naked in Ontario and Quebec
We had three things we wanted to find during our time in Canada: Bears, moose and places to get naked. At least we found one of them.
Many Canadians we had met during our travels told stories that started with "that one time I rode my bicycle into a black bear…" or "after I chased a moose away from our garbage this morning…". They gave us the impression that Canada was flooded with large impressive wildlife. We wanted to experience that as well, maybe not from too close by but a distant bear now and then was high on our wish list for Canada. After having spent more than a month in the country we joke about the "Great Canadian Scam". Well… joke…. we do have our doubts. Are all those talks about bears and moose just a way to attract unknowing Belgians to the country so they can charge them eight dollar for a beer? Are there really any bears or moose in the country? We surely haven't seen a single one. Maybe they're just hiding all the wildlife for first time visitors so we would have to come back a second time. Those friendly Canadians eh…
The good news is that we did find some places to get naked and although the largest animal we've seen was probably a fat squirrel, we did have an amazing time!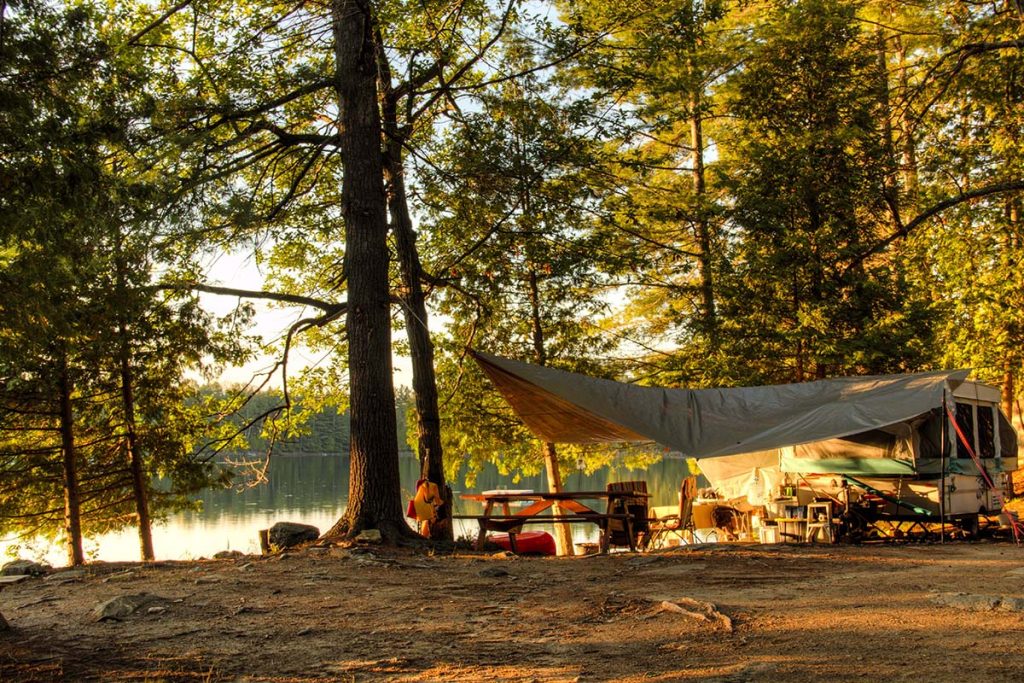 Getting naked in Ontario
Canada is an immensely huge country and a month is certainly not enough to see it all. Barely a fraction of it. We had decided to divide our time between two eastern states, Ontario and Quebec, because those promised to have the most options for naturists.
In any case, although Canada is not exactly the world's capital for naturist holidays, on our second day in the country we already had the chance to do something pretty unique. We joined the first naked cruise ever on Lake Ontario. Talking about a good start.
The cruise was a big success and will certainly be organised again next year, for more info please read our
full review
.
Where to stay in Ontario
We visited three naturist resorts in Ontario but the first one never made our review section because we've only been there with a day pass and can't give you the full experience. This place was called the
Pondorosa
at about 45 minutes drive from Toronto. It's a nice place, well maintained, very spacious with a large size swimming pool and swim-up bar, a restaurant, several volleyball courts and camping spots as well as rental accommodation. Our arrival at the Pondorosa was a bit weird, we went there with two male friends so basically we were 3 men and a woman. A company of strangers that clearly asked for some caution from the other visitors. Our moves were watched carefully and we felt quite stared at, to a point that we considered leaving. But then someone from the members recognised us, came over to have a chat and suddenly the tension loosened up. In the end we've stayed until late in the evening having great chats with many of the other visitors.
More info about the Pondorosa can be found on
NUDE
.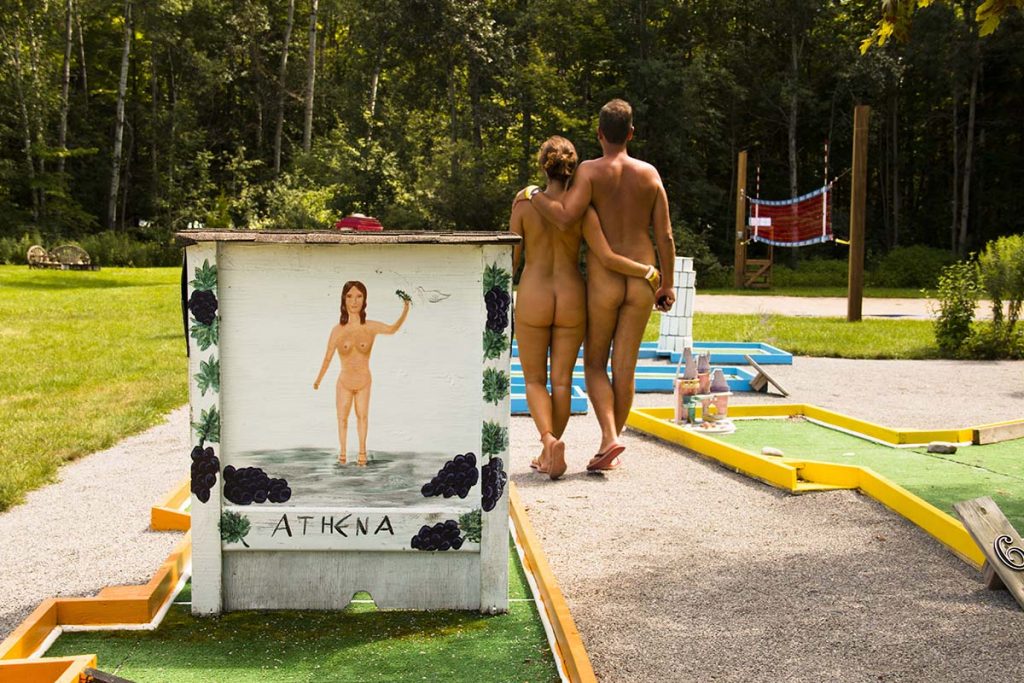 Next stop was a resort to which we had been looking forward for a long time:
Bare Oaks Family Naturist Park
, also at about 45 minutes from Toronto. If you're following what happens in the online naturist world a little bit, that name must certainly ring a bell. The owner Stéphane Dechenes has been very active in promoting naturism in general and Bare Oaks specifically and is also the voice of the
Naturist Living Show podcast
. Although we did have our expectations, we had never imagined a place like Bare Oaks. While other resorts around the world are struggling to gain new and younger members, Bare Oaks has one of the most varied crowds we've ever seen. The place is extremely well run, has a very European feel and is quite modern without losing the traditional naturist values.
More info about Bare Oaks can be found in
our review
.
Our last place to stay in Ontario was something completely different:
Sunward naturist resort
at about an hour drive from Ottawa. We wanted to experience the Canadian nature and received exactly what we asked for: a place deep in the woods next to a magnificent lake. There's no electricity and no noise. Just nature. Although the place could use quite some maintenance, this did add a bit to the experience. There's no rental accommodation at Sunward so you'll have to bring your own and we can strongly advise you to come by tent because then you can camp really next to the lake, waking up with an amazing sunrise over the water.
If you're looking for a place to party, Sunward will not be your thing. If you like to fall asleep with the sounds of nature under a million stars, you'll love this place.
More info about Sunward can be found in
our review
.
There are several other naturist resorts in Ontario which we didn't visit. You can find a complete overview on
NUDE
.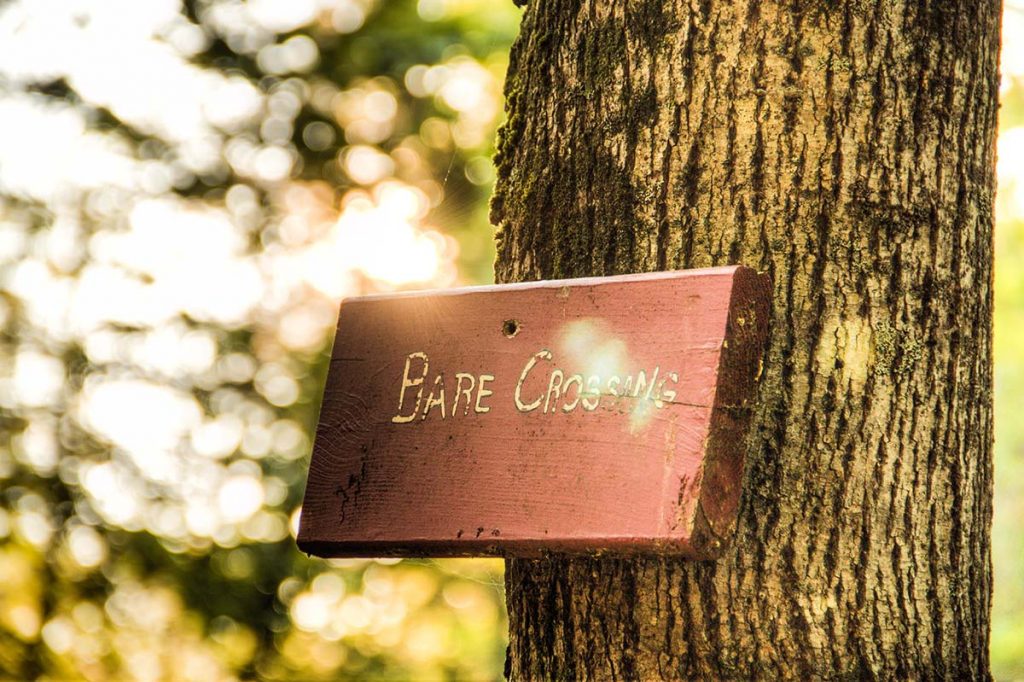 Ontario's nude beaches
Honestly, we had expected a bit more when it comes to public nudity in Canada and were quite disappointed that the whole state of Ontario only happens to have one official nude beach.
At one of the Toronto islands in Lake Ontario in front of Toronto is a place called Hanlan's Point. The best way to get there is from the port in downtown Toronto, either by ferry or by water taxi. Once you arrive at the island, follow the signs "Clothing optional beach".
We arrived there on a beautiful Sunday in the late afternoon, the sun was already pretty near the horizon but yet the beach was packed. People were relaxing, drinking, swimming and having a wonderful time. Although the clothing optional beach is just a part of the complete beach, also on this side the clothing option was represented. A wild guess would say that the amount of nudies vs textiles was about 60 – 40, counting topless to textile. Nevertheless it's a wonderful place to escape the city on a sunny day and relax naked on the beach. If you leave after dark, you'll also get to see the Toronto cityscape by night. Very impressive.
Another stop along our way was Sandbanks provincial park near Kingston (Ontario, not Jamaica). This beach used to be popular among naturists but the government disapproved and tries to chase away anyone looking for a skinny dip. Big signs have been put up along the beach and we've heard that the police regularly comes around. But some people told us that it's still possible to get naked there, so we decided to have a look.
Sandbanks beach is really long and that makes it actually an ideal spot for naturists, even today. Once you arrive on the beach you just turn right and keep walking until you've passed by the last swim shorts and bikinis and there you are, you have the place all by your naked self. How far you actually have to walk will depend on how busy the beach is. We were there on a sunny day in August and had to walk 2.3 kilometers to get away from the crowds.
Be careful: Sandbanks provincial park has 3 beaches, the one you're looking for is called "Lakeshore beach" on the maps but is often referred to as "Sandbanks beach" as well.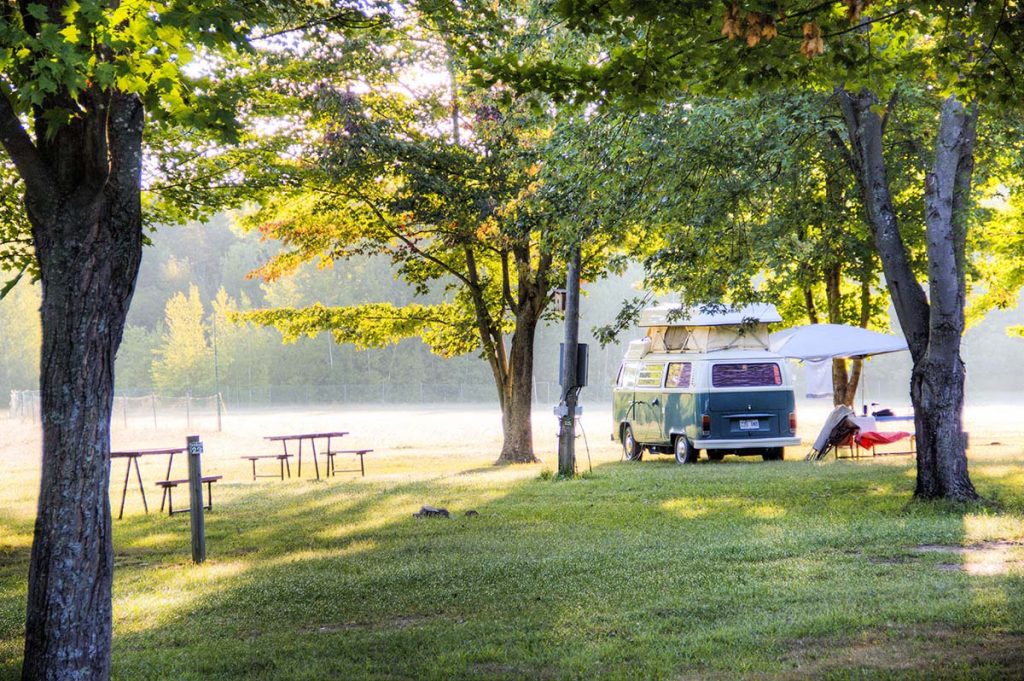 Getting naked in Quebec
Ontario was beautiful and in terms of naturism it was quite diverse. The weather had been on our side and gave us plenty of opportunities to get naked. But it was time to move on, weeks had passed by and we still had another state to explore: Quebec.
Where to stay in Quebec
Although Quebec has several naturist resorts, they all seem to be in the area of Montreal. Which is not really a coincidence, the naturist season in Canada is already pretty short and the more north, the colder it gets and the shorter the summer will be. If you're planning to make big bucks in Canadian naturism, northern Quebec is probably not where you want to be.
Anyway, we decided to visit two of the resorts in Quebec. The first one was
Centre Naturiste Oasis
just north of Montreal. A nice and very well maintained campground, friendly people and quite some things to do. We missed a bit the "naturist feel" though, it looked too much like a textile campground where people can be naked. Especially if we compared it to our last stop in Canada…
More info about Centre Naturiste Oasis can be found in
our review
.
Save the best for last… Our last stop in Canada took us to southern Montreal, near the USA border, to a place called
La Pommerie
. If you remember French class, the name already gave away that it has something to do with apples. In fact, it's an enormous naturist domain, complete with orchards and vineyards and a forest and everything else you need to get back in touch with nature. This place is truly impressive and certainly a recommendation. The diversity in landscapes (within the resort), the things to do, the nice walks you can make, it's all part of the experience. And they have probably the best restaurant we've ever visited at a naturist campground.
More info about La Pommerie can be found in
our review
.
There are several other naturist resorts in Quebec which we didn't visit. You can find a complete overview on
NUDE
.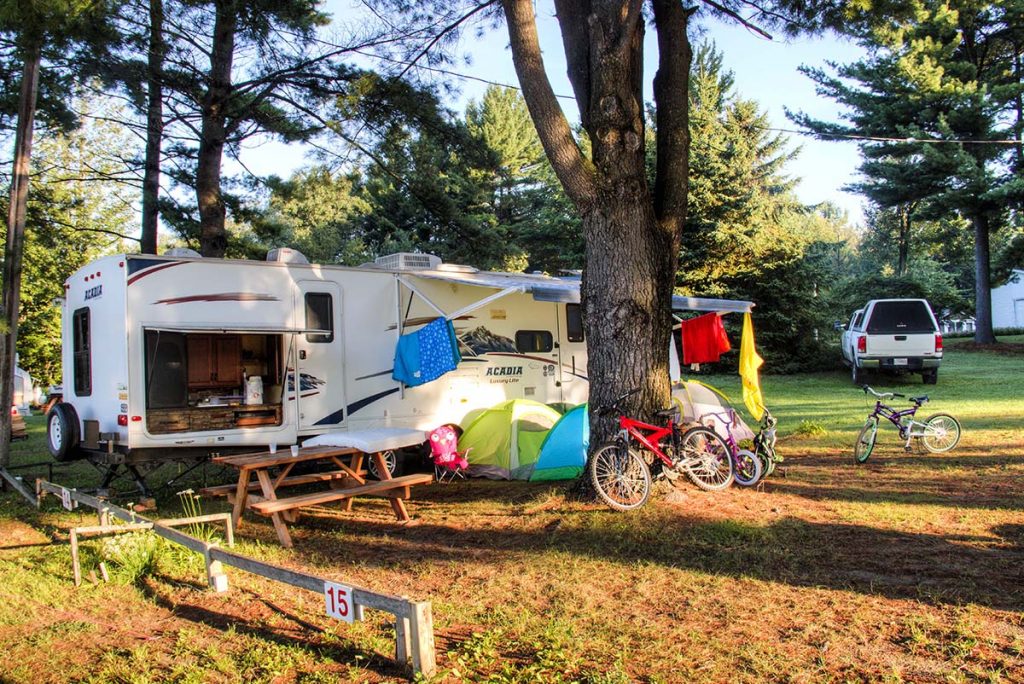 Quebec's nude beaches
Just like in Ontario, the number of places to get publicly naked are very limited, also in Quebec there's only one real nude beach: Oka beach just outside of Montreal. The beach is part of Oka provincial park and is very easy to find. There's only one beach in the park, when you arrive at the water you just turn left and start walking, you'll find some green bushes, pass by them until you encounter a yellow pole. From there nudity is allowed. We didn't actually need to search for the pole, although we were there on a Tuesday afternoon in September, we could see the nudists from far away. For a regular working day the place was pretty crowded, we would guess about a hundred-something people. We can only imagine what this must be during a weekend or the summer holidays. Anyway, if you're in the Montreal area, a visit to Oka beach is much recommended. It's a nice beach, there's a good vibe and you have beautiful views of the lake shores while skinny dipping.
Another place we found online where nudity is tolerated (not legal) was Meech lake, about half an hour north of Ottawa. The internet told us that there were two sections of the lake which were frequented by naturists, one section was rather a gay scene where the other one was more hetero. From the parking lot, search for trail 36 and keep walking until you find a wooden bridge. For the gay section turn right and follow the main path until you notice a side path on your right. Keep following that one next to the water front. You'll end up by a small pond with views of the ruins, that's where you want to be. There are several spots cleared in the high grass where the nudists tend to hang out. When we were there, there were two single men.
If you turn left at the bridge and keep following the path, you'll end up at the hetero nudist section. We don't know where it starts exactly, we just kept walking, passed a lot of textiles and one nudist and then walked a bit further until we found a place for ourselves. By the end of the summer the lake temperature had gotten pretty comfortable and Meech lake is a very nice place to spend the afternoon. Just don't expect a lot of social interaction.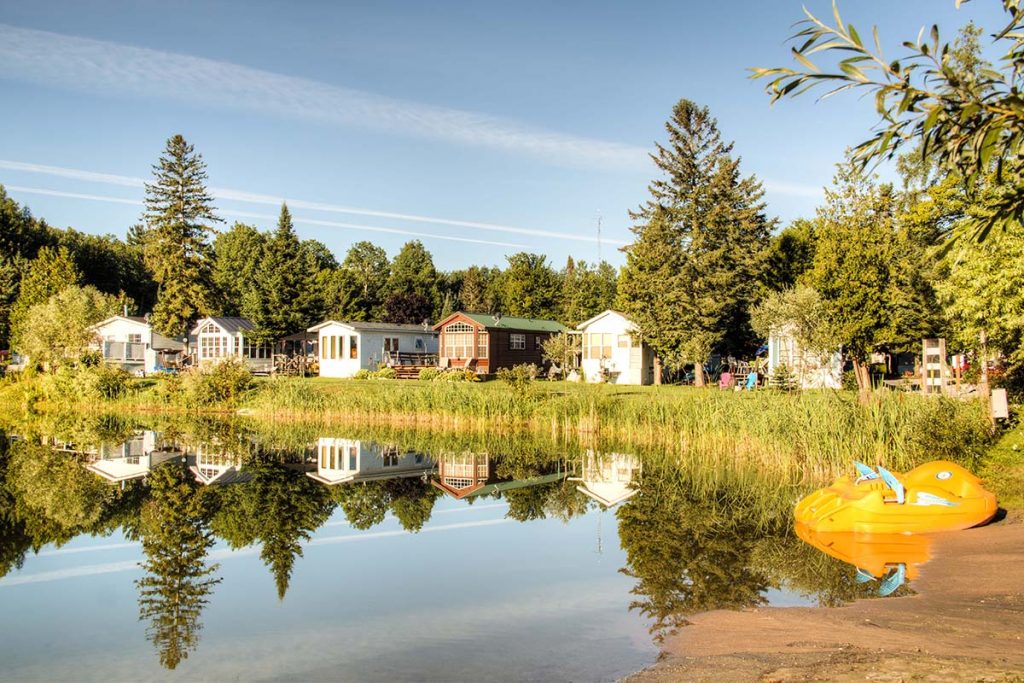 Extra: Tadoussac
Okay, we lied about the fat squirrel in the introduction. We have seen a much larger animal. In fact, we've seen the largest ones in the world: Whales.
The naturist opportunities in Tadoussac are none and there's no reason at all to include this tiny town at the St-Lawrence river (which is way too cold to swim in by the way) in this article except maybe because the name in Montagnais translates to "nipples" or "breasts". But if you have the chance to visit the place, please do. It's one of the most wonderful sceneries we've seen in the whole country.
Other tips for Canada
When to go: Late June to early September
What to eat: Poutine (french fries with gravy and cheese, delicious!)
What to drink: Local craft beer
What not to drink: Blue (really, it tastes like Heineken with extra water)
How to travel: Rent a car and camp
Words to learn to impress Canadians: "Eh" and "awesome".
What to put on your playlist: If I Had 1 000 000 $ (originally by the Barenaked Ladies but the version of Bare Oaks Chris is better)
What to expect: Extremely beautiful nature
What not to expect: Bears or moose