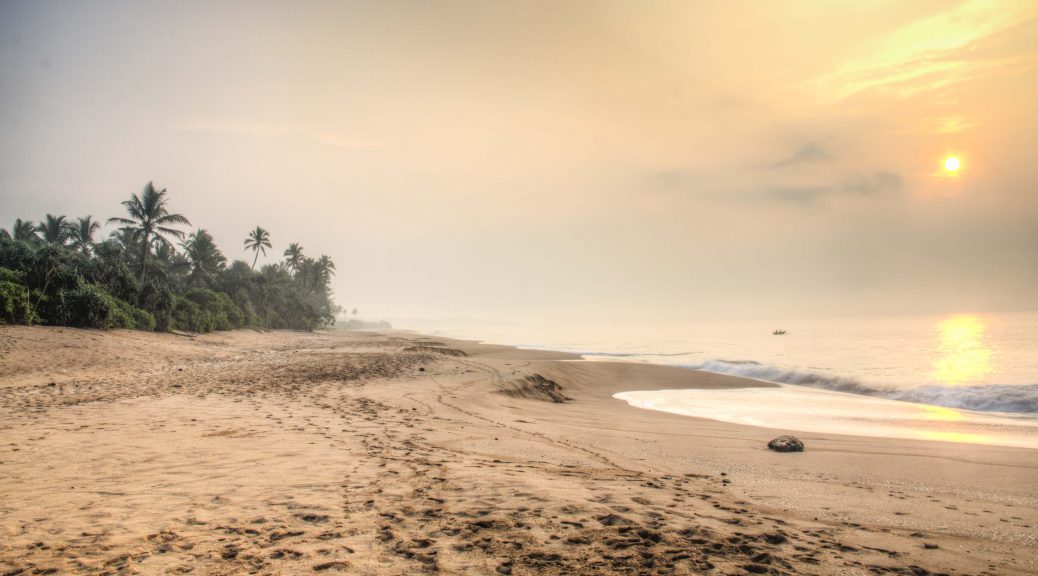 Getting Naked in Sri Lanka
Getting Naked in Sri Lanka
It's that time of the year that people start dreaming about summer holidays, the days are short and rainy and snowy and your thoughts wind off to some exotic place. You took the world map, focused on the equator and started looking for some tropical island. And your eye fell on that little place at the southern tip of India: Sri Lanka. You start thinking about lush green forest and wild elephants and you see yourself watching the sunset over the Indian ocean sipping a coctail with your naked butt (on a towel of course) in a deck chair.
The good news is that you can make this dream come true for about 90%.
The bad news is that the 10% that'll be unlikely to happen is… well… your naked butt.
Sri Lanka has the perfect temperatures for nudists and we've seen so many places where we had to remind each other that we could be put in jail if we'd get rid of our clothes. But that's the sad truth, unfortunately the
historical evolution of the country
has drastically limited the nudist's options.
Note that we said "limited".
Sri Lanka is an island with lots of nature and places that see few other people. The trick is to find them and that happened to be exactly our quest!
IMPORTANT: Being naked in public places is forbidden by law in Sri Lanka and if you get caught you may end up in jail. If you decide to do so, please be careful. Not only for your own safety but as well out of respect for the local community.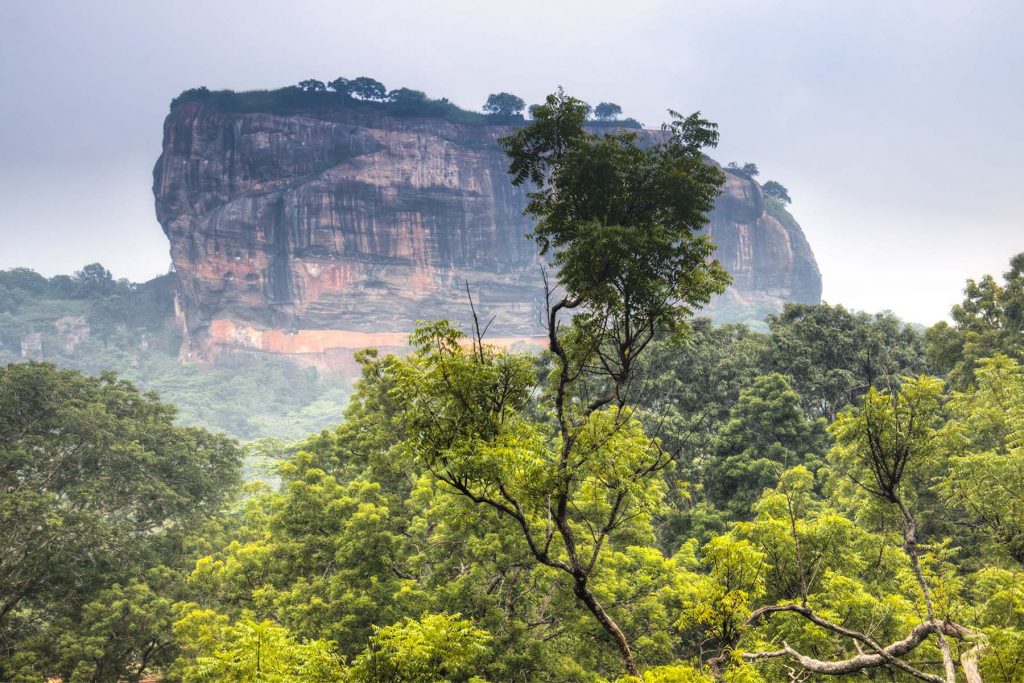 The inside
Every normal person in search for nude opportunities in Sri Lanka would hit the beaches immediately after they had set foot in Colombo. We are not that normal. Well, in fact we are, but when we arrived there, the weather was horrible. We had checked the monsoon months carefully and the part which we wanted to visit, the south-west, was supposed to have sunny weather. It hadn't. Apparently there was a cyclone near by the island which kind of switched the monsoons and would be causing lots of rain for the next two weeks.
We discussed our possibilities, bought two huge umbrellas and set off for the hills.
Our first destination was
Sigiriya
, famous for its beautiful Lion's Rock. It's a small jungle village somewhat north-east from Colombo. Except for that rock there's little else than a couple of guesthouses, trees and monkeys. There are quite a lot of dirt tracks in the area which may seem like a good opportunity for a naked hike but the ones we explored were often frequented by locals. Our only opportunity was being naked inside our room.
Next up were the Knuckles mountains where we stayed at the lovely
Welikande Villas
. The owners have nothing against nudists but it's not a clothing optional place so the other guests may have their objections. Better check with Michael before you drop your pants on their viewing point. There are lots of beautiful hiking tracks nearby the guesthouse and of course in the mountain area as well, so we're sure that you can find an opportunity or two to get some great naked hikes. Just try to stay away from the tea fields, beautiful as they are, they are the working grounds of the local community who won't appreciate your dress code as much as you do.
In the area of
Kandy
the options were again non-existent and neither did we find opportunities to get naked around
Adam's Peak
. Also note that the latter is a very holy place and although we might be prepared to give our left little toe if we could do the amazing hike in the nude, chances are that you'll lose a lot more if they would catch you.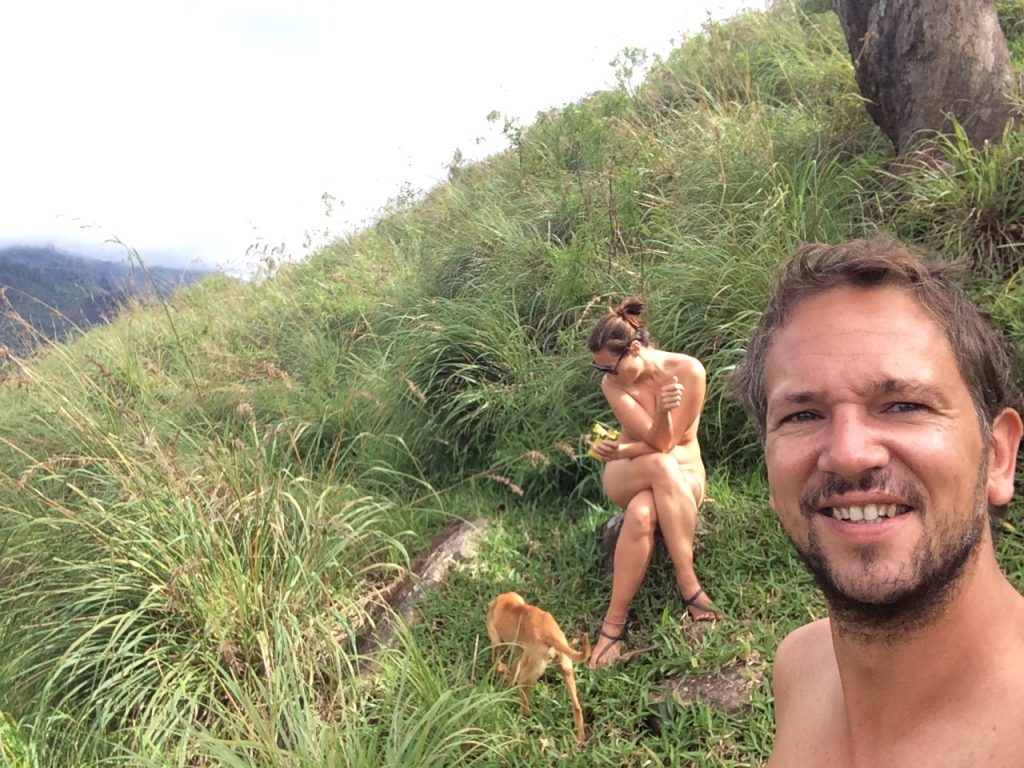 By the time we reached
Ella
it finally stopped raining, which gave us some better chances for finding an off the beaten track path where we could enjoy some nude time. And we actually found it in the place you'd least expect. Little Adam's Peak. This is one of the major attractions of the area and most of the time overly crowded with tourists. But the tourists all come there for only one reason: walk the stairs. We, however, discovered a dirt track via
maps.me
  that was completely overgrown and of which we were pretty sure that nobody had passed by in the last twenty years or so. This gave us finally the opportunity for being naked in nature with some amazing views. Just make sure to pull your pants back up when you reach the top.
Now that the rain was gone, we could not wait to check out the beaches, but there was one last place we wanted to go first:
Udawalawe
. There's only one reason why people visit this rather dodgy town and that's for a safari in the nearby national park, which is amazing by the way, but where you have no chance at all to get naked. Unless you jump out of the jeep and start running until you're out of sight. Then you can be sure that you're all alone and be naked as much as you want. But we didn't want to risk headlining the news as the couple found naked in Udawalawa after being trampled by elephants.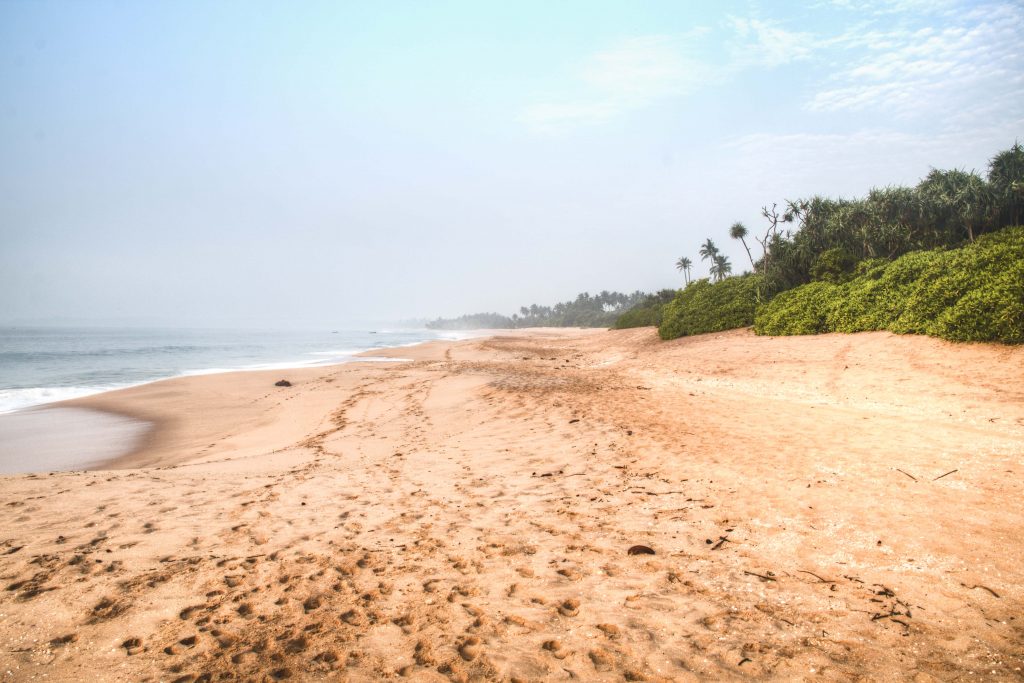 The beaches
The first beach we visited was
Tangalle
. Only a day before we'd overheard someone describing the place as "empty, just beach, no nightlife at all". That sounded like something for us.
The town and its beach are actually quite busy (but nothing compared to the other beach towns as we would soon find out) but we happened to find a guesthouse a couple of kilometers away in a place called Marakolliya. The beach over there is as empty as we could ever hope for. There are two or three resorts with beach views but if you walk just a little further towards the lagoon you have the chance to spend hours in the nude. If someone would come your way, you'll notice them from long before they can see that you're not wearing any clothes so basically you'll be very safe here. Just don't fall asleep.
And then we arrived at
Mirissa's beach
. On the internet sometimes described as a small fishing village but in fact its beach resembles a lot more with any Spanish party town. It's bar after bar after bar. The good news is that topless sunbathing seemed to be accepted at the outskirts of the main beach, but full nudity certainly isn't. In the surrounding area there are quite a lot of smaller and less crowded beaches or big rocks which might provide opportunities for getting a full tan, but they're often visited by fishermen, so watch out where you go.
The same goes up for the whole area between Mirissa and our next destination: Unawatuna. Lot's of empty beaches and although the proximity of the highway is pretty annoying, we're sure that you will be able to find some out of sight spots.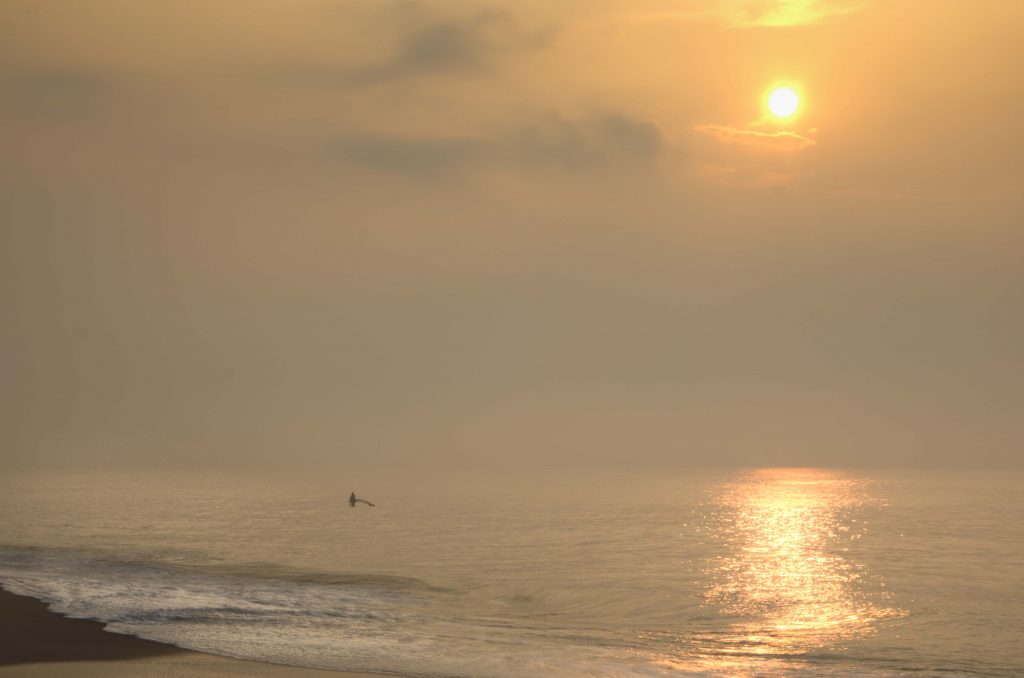 Unawatuna
  was our last destination on this amazing, but nudism wise somehow disappointing trip through Sri Lanka. We didn't expect it to be any different than the rest of the country and in fact it wasn't. Amazing beaches, white sand, palm trees, emerald waters, coctails, everything one could wish for. But not the place to get naked. Again, if you look around you'll certainly find some secluded areas where you can go for a skinny dip but there's always the risk that someone will run into you.
Summary
If you're planning a 
perfect nakation
, we can be short: Sri Lanka is not the place you want to go to. And that's a pity because it's such an amazing island with so many opportunities for tourists, but unfortunately almost none for the nudie ones. At least not in a legal way.
If you want to give the country a chance, you have to be willing to keep your clothes on everywhere outside of your hotel room. Or you'll have to take some risks.
TIP: If you're looking for hiking tracks, we strongly advise you to download the free app maps.me . For us it has been a great help.
TIP 2: If you get deep enough in the sea, a bit away from the crowds, you can take off your bathing suits and swim naked anyway. Just make sure to keep them tight in your hands .