When people talk about going on a nude vacation in Croatia, the name Murter island rarely falls. It's not even a real island. Murter is a small peninsula about 50 kilometers north of Split and famous for… well… about nothing. Yet we found out on the website of 
Cronatur
that the place features 4 nude beaches, which was reason enough for us to go have a look around. What we found were idyllic villages, blue skies and even bluer seas and yes, quite some places to go nude.
Long story short, we visited all four of the beaches that are known for nudism, and what we found was not exactly what we expected. None of the beaches had signs and if it wasn't for the instructions from the internet we would probably never have known that they were there. But yet we saw lots of other nudists, which made us wonder… how did they know about these places? And then we started to get it. It's a trick. On every textile beach on Murter island, when you face the beach, you just walk a path (there's always a path) about 100 meters to the right and there you can go naked. Simple as that. Pretty cool eh? Nevertheless, we've visited the four "official" ones and of course, we're going to give you our opinion.
Kosirina
Most of the beaches on Murter island are either in the center of town or connected to a campground. Kosirina beach is one of the latter. Actually the campground is said to be a clothing-optional one, although about 95 percent of the visitors seemed to have chosen the textile option. Especially in the center of the camp there were no nudists to be found. Once we reached the outskirts, we noticed some people hanging around their camper in the bare. Rather than clothing optional we would call this place something like "nudity tolerated". If that makes any sense.
The same goes up for the beach, we had to walk all the way to the end of the campground to get to a stretch of beach where we could bathe nude. All in all, it was an okay place, we found a nice spot in the sun and enjoyed the cool Adriatic waters. But it's not a place where we could stay for longer than half a day. It's the kind where people are naked around their camper and on the beach, but wrap themselves in a towel to make the 30 meters walk from one to the other.
If you ask us, the 20 kuna entrance fee for a day at Kosirina is better spent on a beer somewhere else.
➡️ Click Here to check availability and rates at Kosirina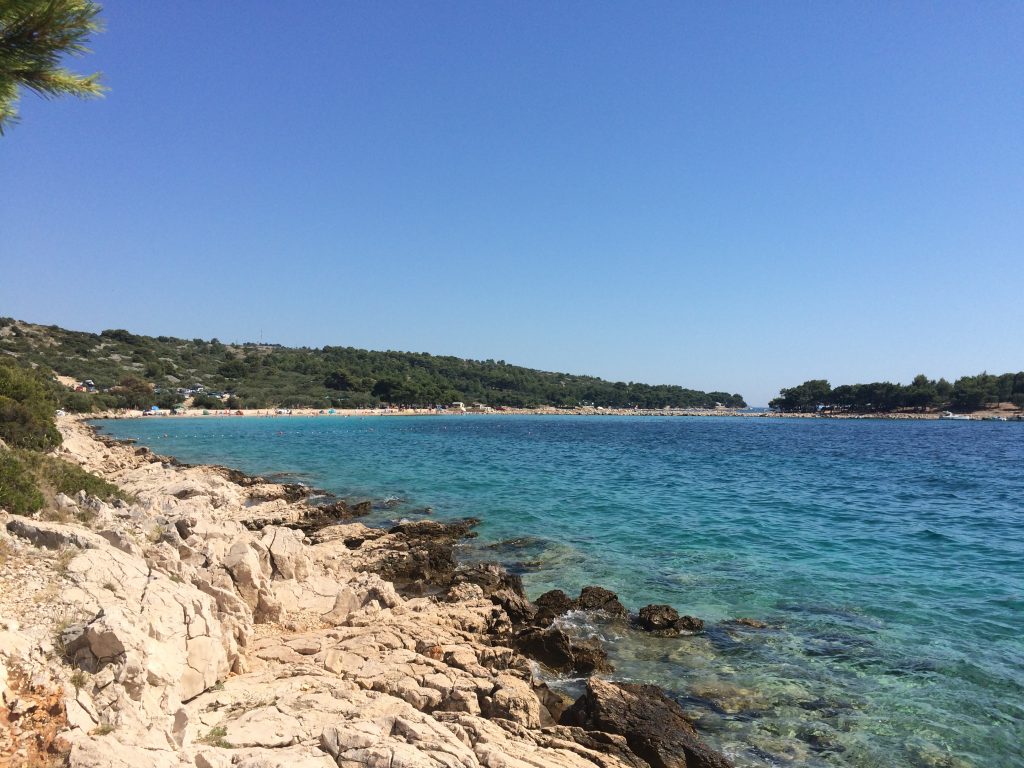 Podvrske
Located on the far end of the peninsula, close to Murter village, you'll find this little piece of paradise. Although it doesn't seem like that when you arrive there. Again it's located next to a campground, called Autocamp Slanica, which is a pretty ugly place to be. The main (textile) beach was extremely overcrowded with several bars playing loud music to complete the horror. But once you walk all the way to the other end of the campground you'll find fewer and fewer people, until there's just nobody. Then you walk about 50 meters further and you'll find yourself on a beautiful rocky nudist beach.
When we were there, even though it was on a Saturday, there were barely any other visitors. We found ourselves a perfect spot on a flat rock under a tree and had a great afternoon laying in the sun and cooling down in the sea.
TIP: Just before you enter the town they will try to charge you 30 or 40 Kunas for the parking. Say you're going to the campground, park somewhere along the road and save yourself some money.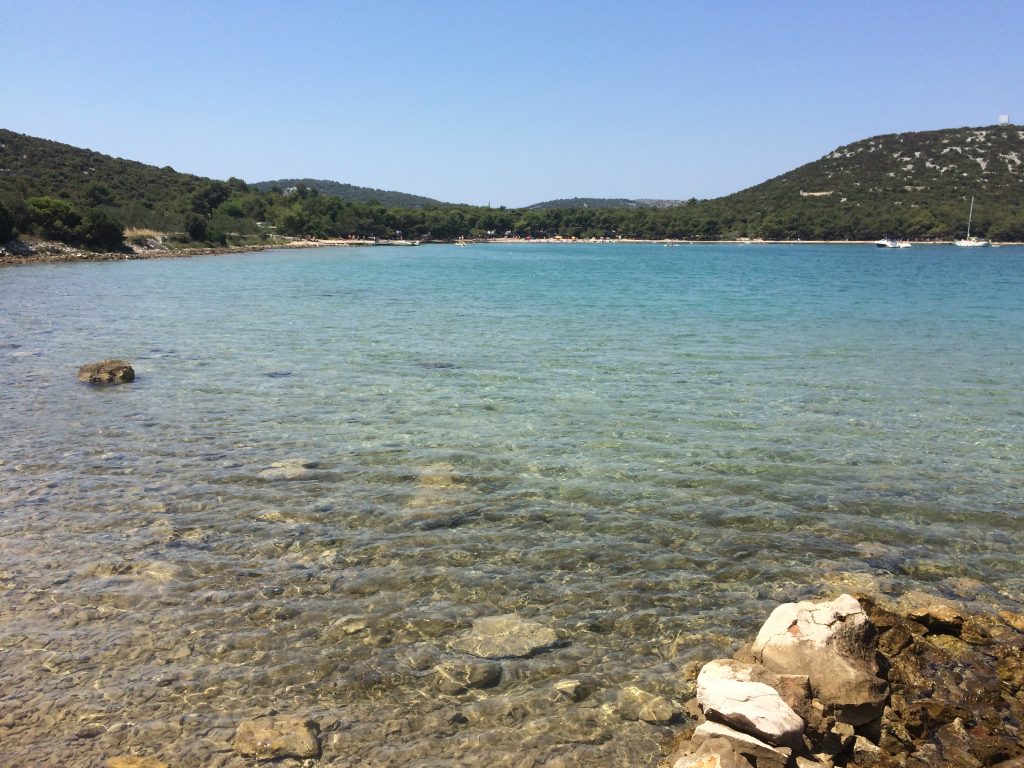 Jasina
It's again the same deal, you enter a campground, go to the beach, walk about one hundred meters to the right and you arrive at a rocky nudist part. The beach at Jasina was by far the worst of the four beaches, and other nudists must have known this because we were there more or less alone, except for one other guy. The biggest problem with Jasina beach was that it's full of very small sharp rocks. Where the other beaches had those huge flat rocks on which you could lay down, in this place there was always something stinging in our backs. It took us about half an hour to find a spot that was only a little comfortable. Going into the sea barefooted on those sharp rocks was hell, getting out was even worse.
If you find yourself on Murter island one day, take our advice and skip Jasina.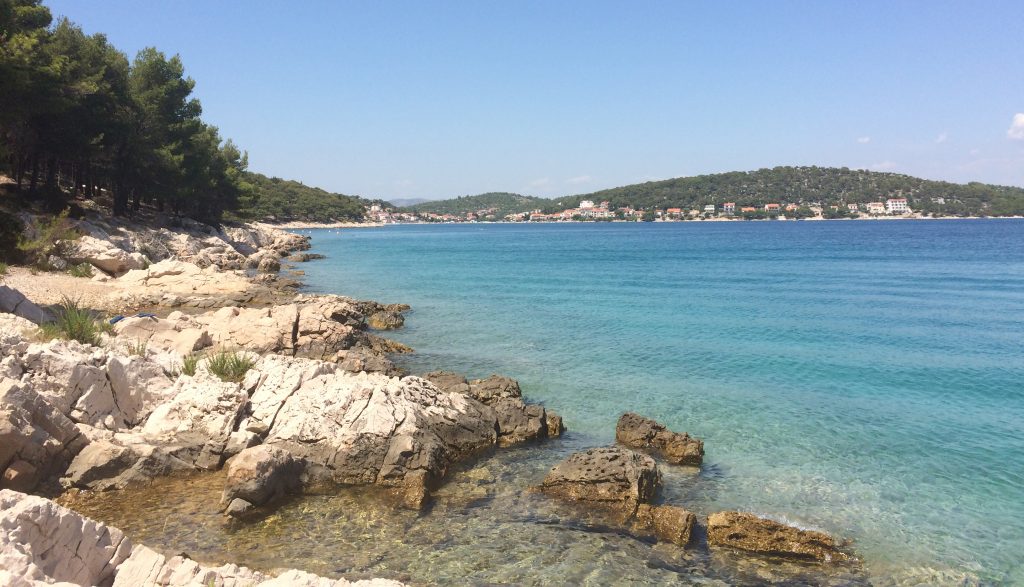 Sveti Andrija
This was the only one of the four nude beaches that were linked to a town beach instead of to a campground. When you enter Murter island by crossing the bridge in Tisno town, go directly to the left and follow the harbor until you can't get any further. At the end of the road there is some parking space. From there you walk the path, passing by the textile beach until, yes, you've guessed it, the concrete turns into rocks and there you can go nude. It might take some time to find the perfect spot, but it's worth it.
The nude beach at Sveti Andrija is within walking distance from Tisno and while swimming you get the most beautiful views of the town. Next to Podvrske, this is certainly one of the better options, and you don't have to pass through a crappy campground. But, yes there is a but, there are many passers-by and quite some textiles who prefer the quietness of the nude beach, which can be a downside for nudists who are not comfortable being naked among clothed.
➡️ Click Here to find hotels near Sveti Andrije beach
Summary
We had a great time investigating the nude beaches of Murter island, but as we said in the introduction, there's more than that. We visited a couple of other beaches as well and on every other beach, as soon as you walk about 100 meters away from the crowd it's perfectly fine to be naked. For example, we stayed at (textile) campground
Stella Maris
, which we can by the way certainly recommend to everyone. This campground has its own beach and a small number of day visitors, and when we walked a bit away from the campground we soon spotted a couple of nudies. And of course, we looked for a nice spot, took off our clothes, and joined them.
Oh yeah, if you're searching for a great place to have dinner, have a look at restaurant Runje in Murter village. We had some delicious fish stew there for a very reasonable price.
Find the best nudist accommodation in the area on NUDE
Naked Wanderings' Ultimate Guide for Naturism in Croatia ebook

Are you looking for great nudist resorts and nude beaches in Croatia?
Are you looking for the best tips for a nude vacation in Croatia?
Then our ebook will be the perfect resource for you!

Learn More
Need help with planning your trip? Check out our Resources Page for an overview of the best companies we use during our travels
---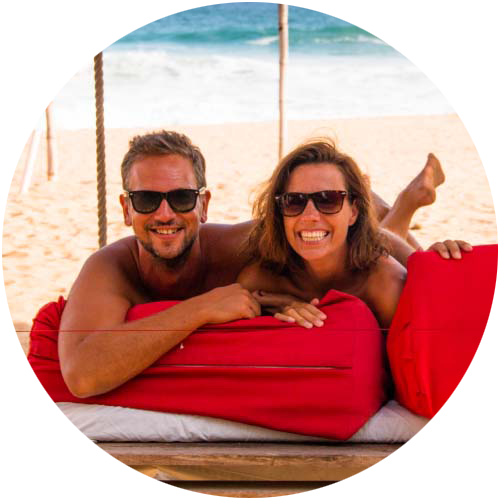 Support Naked Wanderings
Do you like what we do for naturism and naturists? Did we make you laugh or cry? Did we help you find the information you were looking for? Then definitely join our Patreon community!
---