Until today, we still haven't completely recovered from the shock that
our Instagram account @nakedwanderings suddenly got banned
. We were speechless, helpless, sad and angry. Almost did we buy a ticket to Silicon Valley to go kick some butt. Or show some butt, we hadn't really figured that one out yet.
But then we realized that if we want to keep promoting naturism to the outside world, we need mainstream social media. We need to keep appearing on Instagram nude. So we dried our tears and swallowed our pride and started right over. Hoping that this time our nude travel account can remain under the radar of the evil Instagram spies. Will it work? Only the future can tell.
Luckily, we are not alone in this. Many other promotors of nudism, the acceptance of the nude body, and normalization of nudity, in general, are facing the same problems. And they're not caving in either. They're gaining strength. Followers, like we say in social media terms.
We are more than ever determined to use Instagram as a channel to promote nudism and we figured we might as well show you some other amazing nudist nudes.
---
---
Nude Yoga Instagram Accounts
Although she's only in her twenties,
@nude_yogagirl
can be considered the mother of all naked yoga accounts on Instagram. Within the 3 years of her account's existence, she's been able to gain more than 850 thousand followers and inspired lots of yogis around the world.
Even if yoga is not your thing, you might as well enjoy the amazing landscapes.
Willow Merveille is the woman who introduced nude yoga in New York City with her famous Naked in Motion classes. More than naked yoga and pilates she also focuses on the battle against body shame and the empowering of all genders and sexual orientations.
An Atlanta based yoga instructor who organizes nude yoga and spiritual retreats around the world. We've met him during one of his retreats at EcoParque da Mata in Brazil and think that he's a pretty interesting guy to follow.
Nudist Feature Instagram Accounts
Pretty much half of the Aussie naked butts must appear on
@getnakedaustralia
by now. This account has been featuring happy nude people for a long time with the goal to normalize nudity and nudism in Australia.
@naked.in.nature – Naked In Nature
The best place to enjoy yourself in the nude is definitely in a natural environment. If you need some inspiration about great places to drop your pants or amazing photo ideas, you'll surely find them here.
Only the name
@Mynudebeaches
makes us think of the summer, skinny-dips, watching the sunset in the nude and…well… also about wiping sand from between our butt cheeks. Here you will find a collection of the best nude beaches around the world where you can wipe the sand from between your cheeks as well.
https://www.instagram.com/p/Bu10HLmBI_I/
Everyday Nude Life Instagram Accounts
@a.naked.girl – A Naked Girl
Stella Cordes started her Instagram account after being inspired by previously mentioned
@getnakedaustralia
. She shows the beauty of home and garden nudism and living in the nude in general. You'll find her painting the house, cutting the grass, or walk in the woods. All butt naked. Stella is one of the most popular influencers that shares Instagram nudes.
https://www.instagram.com/p/BksXPPlgla1/
Blake and Liz
started their Instagram only last year, so we don't know yet where they will be going with it. What we do know is that they're an active Californian couple who literally live in the nude. Like really, they live in a nudist resort. You'll find them doing average things or enjoying the nature of the nearby national parks.
https://www.instagram.com/p/BuaMt6ShoHB/
@the.naked.farmer – The Naked Farmer
If you thought that farming is not a cool job, you'll seriously reconsider after having a look at this account. It was never the purpose of Ben Brooksby from Australia to promote farming though. With his Instagram account and website he wants to make mental health issues in his country and the rest of the world more discussable.
Nude Travel Instagram Accounts
@naturistgirl – naturist girl
Naturist girl loves to travel to natural places where she can enjoy her time relaxing in the nude. On her account you'll find snapshots of her travels to Croatia, Thailand or just the park behind the corner.
https://www.instagram.com/p/Bsu9_xClDVz/
@Naturistdan – Dan Carlson
We hate to say this, but if there's someone who's been to naturist places in more different parts of the world than ourselves, it must be @Naturistdan. From the USA to Australia and from Greece to South Africa they've seen his naked butt pass by. If he hasn't crossed your path yet, you can also see it on his Instagram account.
If there is one nude Instagram account you just HAVE to follow, like if your life depends on it, it's this one. Yeah, it's our new one of course. Keep following
@n_wanderings
around the world and get inspiration for your next naked vacations. Or just laugh with our silly jokes, that's up to you.
---
---
Do you also have a favorite nude Instagram account or do you own one yourself and we forgot to list it here (shame on us!)? Let us know in the comment section!
Naked Wanderings' Complete Guide for the First Time Nudist ebook

Do you still have questions about nudism or naturism?
Are you looking for even more tips and tricks?
Our ebook will be the perfect resource for you!

Learn More
---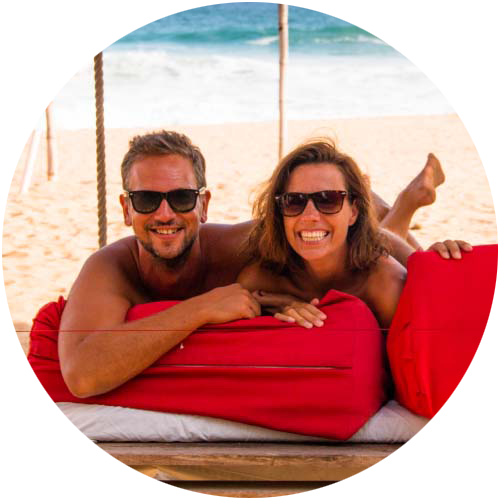 Support Naked Wanderings
Do you like what we do for naturism and naturists? Did we make you laugh or cry? Did we help you find the information you were looking for? Then definitely join our Patreon community!
---